This post may contain affiliate links. By clicking and making a purchase through the links, I earn a small commission at no extra cost to you. This allows me to keep the site up to date and expand on resources. Thanks for reading!
Getting there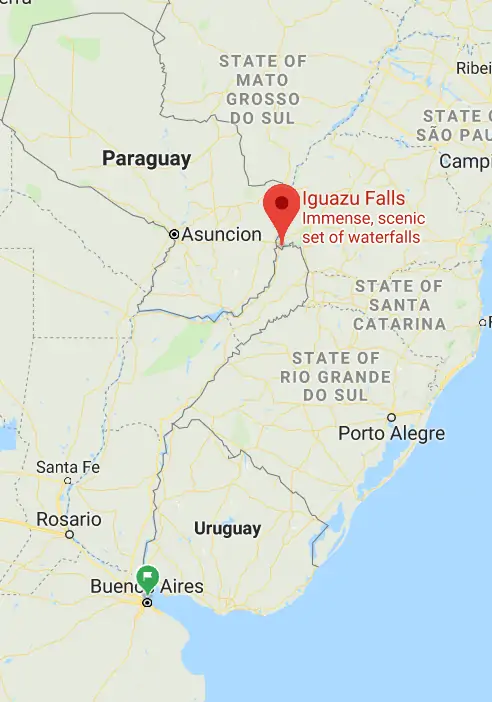 The falls aren't exactly the most accessible thing from the rest of Argentina as they are way up on the east sandwiched between Argentina, Brazil and Paraguay, which is super cool because they can be accessed them from either of those countries and you can easily hop to another place after visiting the Argentinan side. However since for now I'm staying in Argentina I was looking at at at least a 17 hour bus ride there from Buenos Aires and an even longer one back to my next destination, Salta in  Northern Argentina. Honestly even though I am a die hard waterfall chaser the idea of getting on another long bus ride after doing two 24 hour bus rides in 5 days made my face turn white. THANKFULLY while ranting about this at my hostel in Buenos Aires an angel came by and said "Hey did you hear about this new discount airline that does cheap flights to Puerto Iguazu?" so I hopped on my phone and voila, a flight to Iguazu on the day I wanted and it was even cheaper then the bus!! Andes Airlines to the rescue, I was on my way to see the falls!
Puerto Iguazu
Puerto Iguazu is the town in Argentina which people stay at while visiting the falls; it is a small town based mainly on the tourism. I found it to be completely different then the rest of Argentina with it's tropical climate and Brazilian influence next door but I really enjoyed my time here. Honestly there's not that much to do other then go see the falls but the climate is beautiful so it's a nice place to chill, especially if you get accommodation with a pool!
The falls
You can visit the falls from either the Argentinan or Brazilian side and both offer a different perspective. From the Brazilian side you get a full panoramic view of the falls but from the Argentinian you get closer and many different viewpoints. I didn't have a choice since Canadians require a visa for Brazil and I couldn't justify the cost/hassle for a day 🙁 (Brazil will be a whole other trip on it's own)! So I spent my time there exploring from the Argentinan side which was absolutely amazing and magical!
From the bus terminal in Puerto Iguazu you can get a bus every 20 minutes to the falls and the entrance fee is $500 pesos for non-residents. I had been expecting massive lines of tourists but was pleasantly surprised that I was able to walk right in after getting my ticket. Apparently Easter weekend is the busiest time of the year there so I guess the weekend after was a good one to go!
Once inside the park there are three different trails you can walk, one which you need to get a free train to the trail head. The guides at the entrance tell everyone to do the train path first and then the other two so we did the exact opposite to avoid the crowds. I think they say this because that trail is the most popular/provides the most spectacular views so if you are short on time it would be the best one to see, but honestly it only took us 4 hours to do all three trails and we took a ton of photos. There is also another option to visit San Martin island but sadly it was closed while we were there due to high water levels.
We started off with the shortest trail which is supposedly also the 'worst' of the three. It was hard to be disappointed once we first saw the falls, they are truly incredible!
From there we walked to the second lower trail which allows you get very close (and wet!) to the falls.
The third trail provides the most impressive views of the falls as you are able to see most of them. I have visited A LOT of waterfalls in my life but Iguazu was like 250 waterfalls in one (actually how many different ones their are). It is an incredible gift from nature and I can't even imagine what it was like to discover these in the middle of the jungle!
Wildlife
Another awesome thing about visiting Iguazu national park is that there is a ton of wildlife in the park including a CRAZY amount of butterflies. I have never seen so many in my life in one place.They will follow you and hitch a ride as you walk through the park!
Honestly though it is pretty magical walking through the jungle with thousands of butterflies around you. Iguazu is also home to the very unique '88 butterfly', as they have a perfect 88 on their wings!
Coatis are also rampant in the park especially near the food areas. Most people find them annoying but I think their cute! Just watch out if you're having lunch cause they will try and steal your food.
The park is also filled with tons of colorful birds to spot! Be patient because they fly away quick once they know you're taking a photo!
All and all, I absolutely loved my short weekend visiting Puerto Iguazu and the incredible Iguazu falls. It may be out of the way to get there, but it's completely worth the journey.