This post may contain affiliate links. By clicking and making a purchase through the links, I earn a small commission at no extra cost to you. This and display ads allows me to keep the site up to date and give back. Thanks for reading!
Swimming with turtles in Barbados is one of the best things to do while visiting. The island is surrounded by miles of coral reefs that the sea turtles live in, making it a perfect destination to see these magnificent marine animals.
It's incredible to watch the sea turtles glide through the turquoise water! If you've never gone swimming with sea turtles before, Barbados is the perfect place to try it for the first time.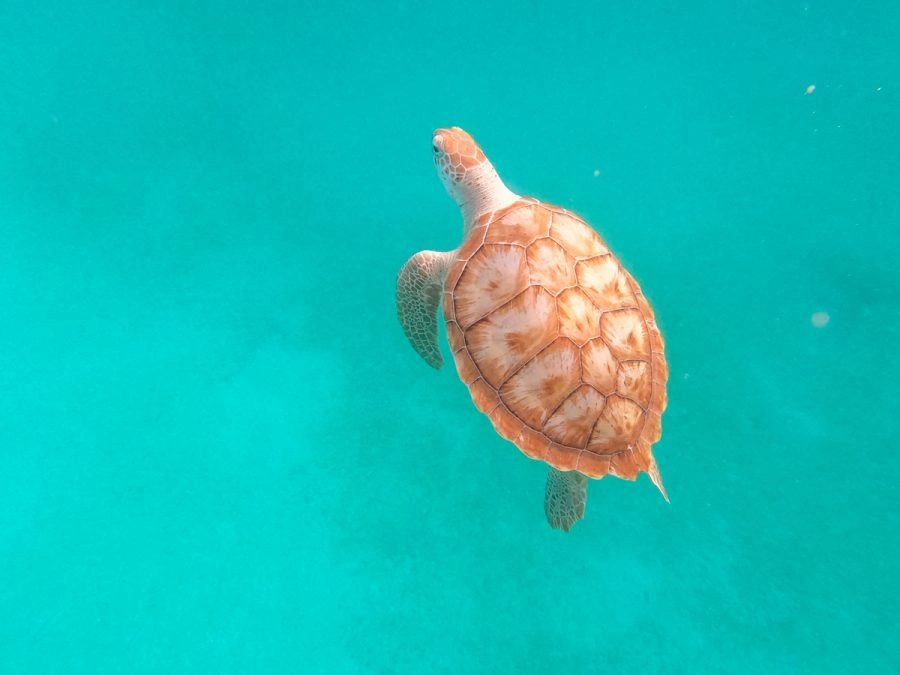 BEST TOUR TO SWIM WITH SEA TURTLES
Don't have time to read this? This premium catamaran tour takes you aboard a luxury catamaran to a turtle site. It arrives before the crowds so you'll be able to get amazing photos!
Guided sea turtle tours in Barbados
One of the easiest ways to swim with turtles in Barbados is to join a catamaran snorkeling cruise that stops at a site with sea turtles.
Catamaran cruises are such a fun way to spend a day in Barbados and should definitely be on your list of things to do!
This tour arrives at the turtle site before the crowds and has solid 5-star reviews.
Another great option is this turtle and shipwreck tour, which takes you out on a glass-bottom boat from Bridgetown toward Carlisle Bay to look for turtles, fish, and rays.
This full-day adventure tour is for wildlife lovers! It starts with monkey feeding at the Barbados wildlife reserve, followed by a stop at Cherry Tree Hill to soak in the views before stopping for a local lunch.
In the afternoon, you'll head to Carlisle Bay to take a cruise where you'll get a chance to swim with the turtles and snorkel at the shipwreck.
WhatsUp Barbados runs a fun tour where you can go for a stand-up paddleboard session and see the turtles at the same time! These tours last about 1.5 to 2 hours, and while seeing a turtle is likely, it is not guaranteed as they are wild creatures that come and go as they please.
If you're a scuba diver, another great way to see turtles is to go diving in Barbados at one of the many beautiful coral reef sites. There are several dive companies on the island, with Barbados Blue being one of the largest.
Where to swim with sea turtles in Barbados?
The best places to go swimming with sea turtles in Barbados are on the south and west coast, as this is where you'll find the calmest waters and nicest beaches.
Carlisle Bay Marine Park
Carlisle Bay is by far one of the most popular snorkeling spots in Barbados, with multiple shipwrecks that have created a thriving habitat for marine life. In addition to sea turtles, you can also see tropical fish, sea horses, rays, and eels while snorkeling here.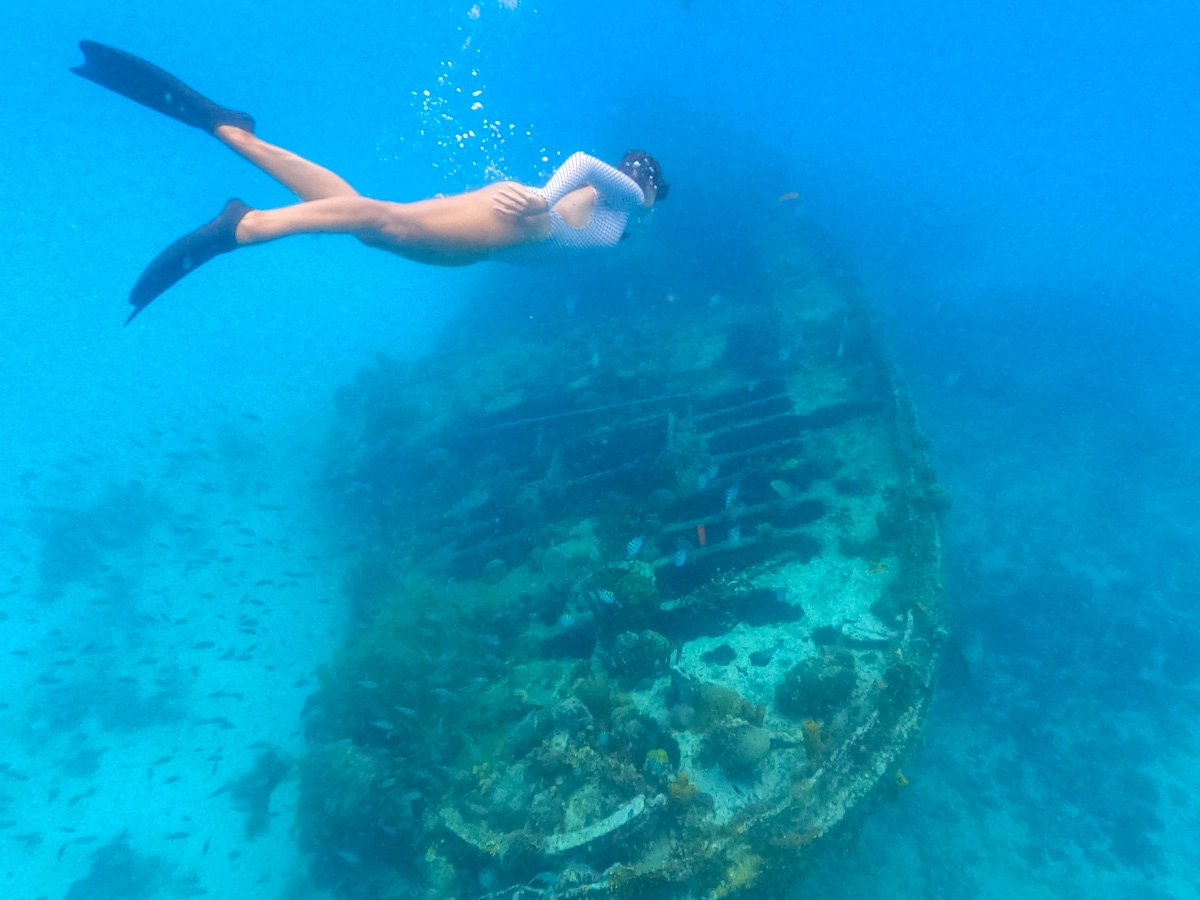 Several beaches in Barbados surround Carlisle Bay, such as Pebbles and Brownes. Another great way to visit is to head to Boatyard beach club. If you buy a day pass ($45 BDS), you get a boat ride out to Carlise Bay, where they will take you snorkeling to see the turtles and shipwrecks.
You also get to use the beach chairs/umbrellas for the day and $40 back in credit to spend on drinks and food at the bar. It's a great deal and a great way to spend a day in Barbados!
If you join a catamaran tour in Barbados (which is so much fun), they will likely make a stop at Carlisle Bay to go snorkeling with the sea turtles.
I've seen turtles every time I've gone snorkeling at Carlisle bay. However, I've also noticed many tour companies feed them here, which I disagree with because this is not ethical animal tourism.
Feeding the turtles supplemental food to their natural diet puts them at risk for various health conditions as well as boat strikes and injury as they learn humans are a source of food.
Turtles are perfectly capable of finding food themselves, so please don't feed them. It's so much more fun to watch sea turtles feed in their natural habitat anyway!
Freights Bay
Freights Bay is one of the best places to surf in Barbados, but I also see turtles every time I go here!
That said, I don't recommend it as a place to go snorkeling as the water is packed with beginner surfers, and it's not that easy to get into from the shore. But if you are surfing there, the sea turtles are a pleasant backdrop while waiting to catch a wave!
Swimming with turtles in Barbados at Worthing Beach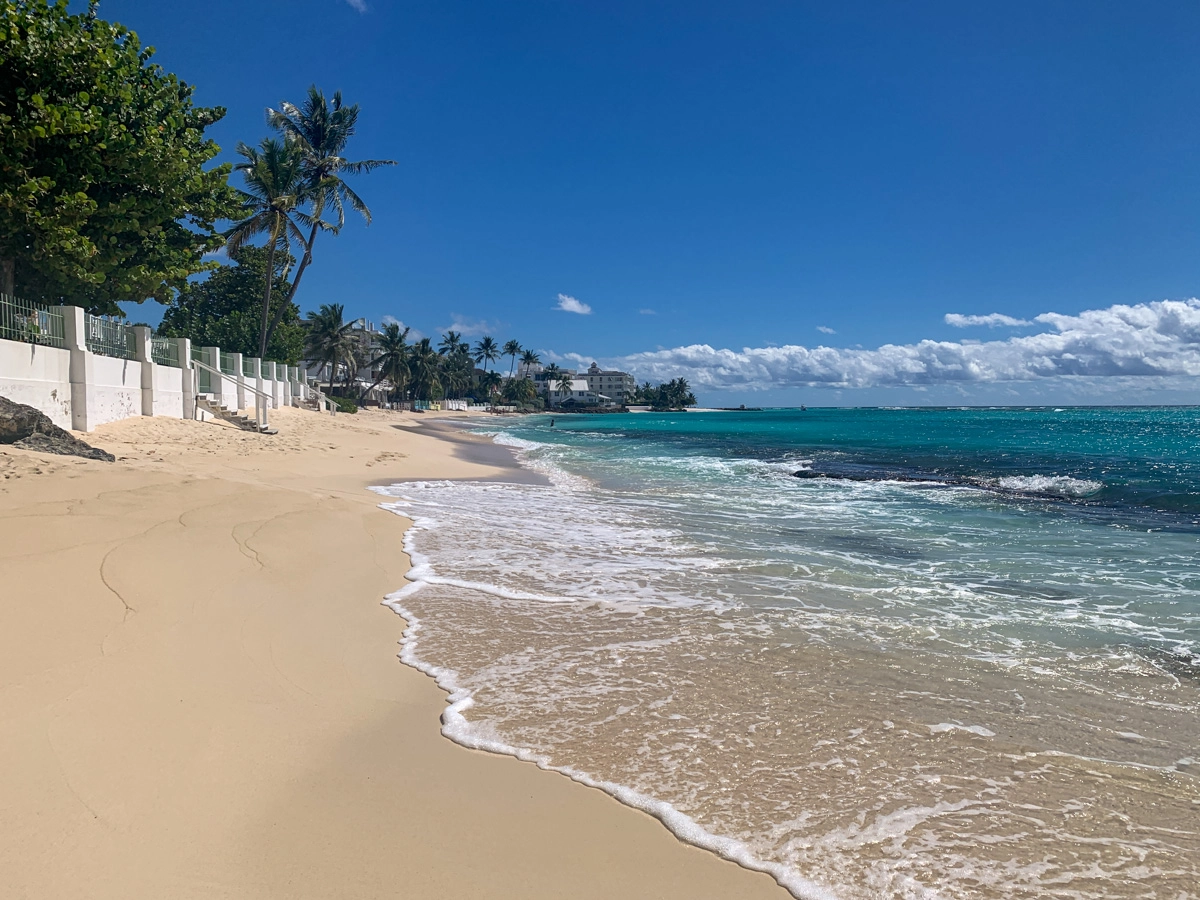 Worthing beach is a long stretch of golden white sand with water that is great for snorkeling. The water is calm and not that deep, so it's an excellent spot for kids, families, and inexperienced swimmers to swim with turtles. Just bring your own snorkel and mask as there aren't any places to rent here!
Paynes Bay
If you're on the west coast of Barbados, a great place to check out is Paynes Bay. It's got one of the calmest seas and a gorgeous backdrop. The beach is also well-serviced with shops, restaurants, and gorgeous rental properties.
Types of Barbados sea turtles
Barbados is home to three different species of sea turtles. There's the hawksbill turtle, the green turtle, and the leatherback turtle – the largest of them all.
The hawksbill and leatherback sea turtles are critically endangered, while green turtles are endangered.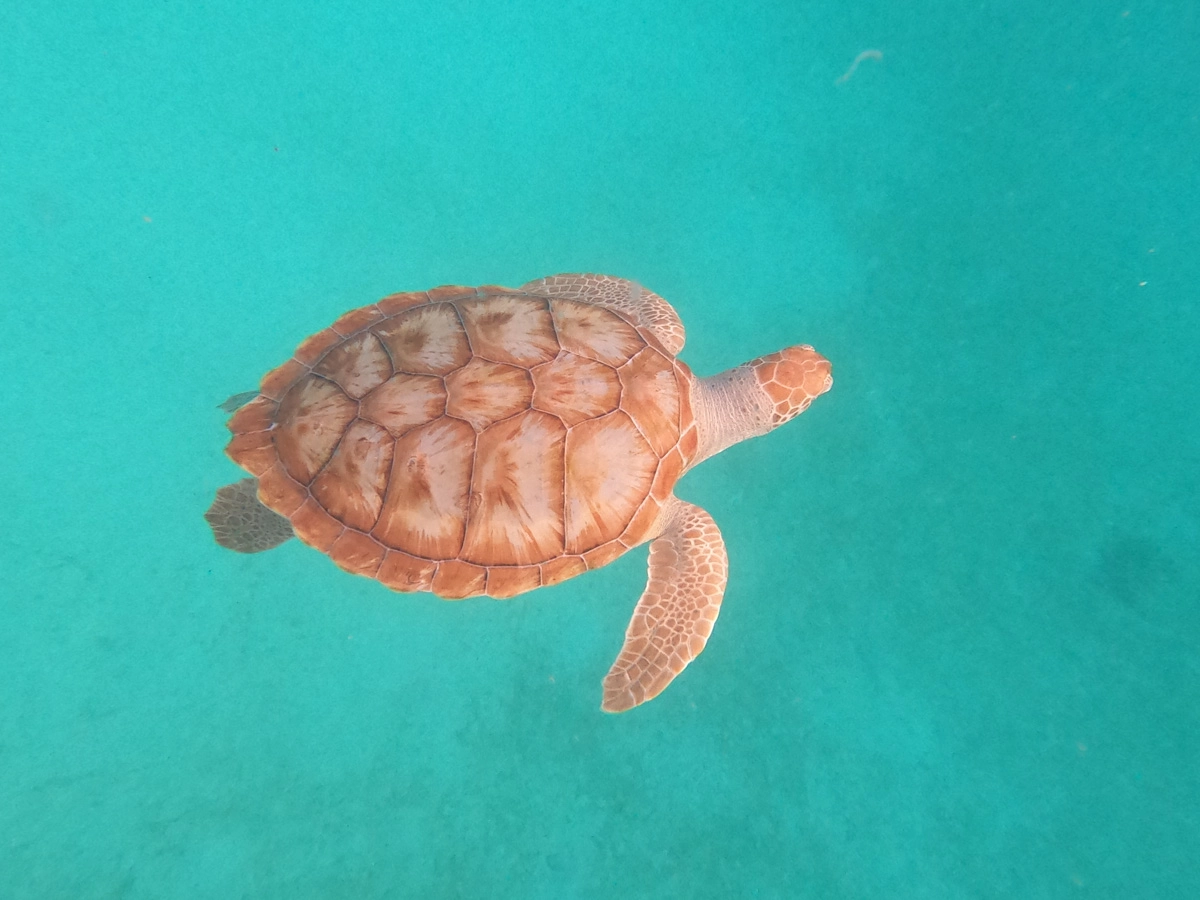 When can you see turtles in Barbados?
You can see turtles in Barbados year-round, but certain months are better if you want to see a specific species or increase your odds. Most hawksbill and green turtles nest between mid-May to Mid-October in Barbados, while the leatherback turtles nest between February and July.
Even though November through January is out of the turtle nesting seasons, these are the months I have been living in Barbados, and I have seen plenty.
The Barbados Sea Turtle Project
Unfortunately, Barbados has a long history of sea turtle hunting for their meat, eggs, and shells, which has significantly reduced the population to what it used to be. Now there is a ban on turtle hunting in Barbados, and the population is slowly recovering thanks to the Barbados Sea Turtle Project.
Based at the University of the West Indies, the Barbados Sea Turtle Project has been involved in the conservation of marine turtle species in Barbados for the last 25 years.
They do several things to help protect the sea turtles in Barbados, such as relocating nests too close to the tide line, rescuing hatchlings disoriented by hotel lights, and rehabilitating turtles that have been accidentally hooked in fishing nets.
They also patrol the beaches during the high-density nesting season to record data to see if the project's conversations efforts are helping.
The Barbados sea turtle project has a 24-hour Sea Turtle Hotline (230-0142) year-round that the public can call in information about turtles nesting, hatching of eggs, or lost or injured turtles.
If you are interested in volunteering with wildlife, you can also apply to volunteer with the Barbados Sea Turtle Project! Volunteering is a great way to give back and travel the world on a budget.
Turtle hatching season in Barbados
Another remarkable wildlife experience you can have in Barbados is to witness the baby sea turtles hatching and swimming out to sea for the first time.
You may be lucky enough to come across hatching sea turtles while walking along the beaches of Barbados – they are a favorite nesting ground for both the hawksbill and leatherback turtles!
Hawksbill turtles nest from mid-July through to mid-October, while Leatherback turtles in Barbados nest between February and July. Hatchlings usually emerge between 6 pm and 6 am.
Only 1 in 1000 hatchlings survive to maturity, so you can't help but root for them as they are released onto the sand and begin their journey into the ocean. It's incredible to witness!
If you don't encounter a turtle hatching in the wild, the Barbados Sea Turtles project also invites the public to rescue hatchling releases. You can get alerts of releases from the Barbados Sea Turtle Project Facebook page.
Sadly, the baby sea turtles sometimes get confused by the restaurants' lights along the shore and head there instead of the ocean (they are meant to follow the moon). If you see lost baby sea turtles, you should contact the sea turtle hotline to let them know. The number is 230-0142.
Tips for safely swimming with turtles in Barbados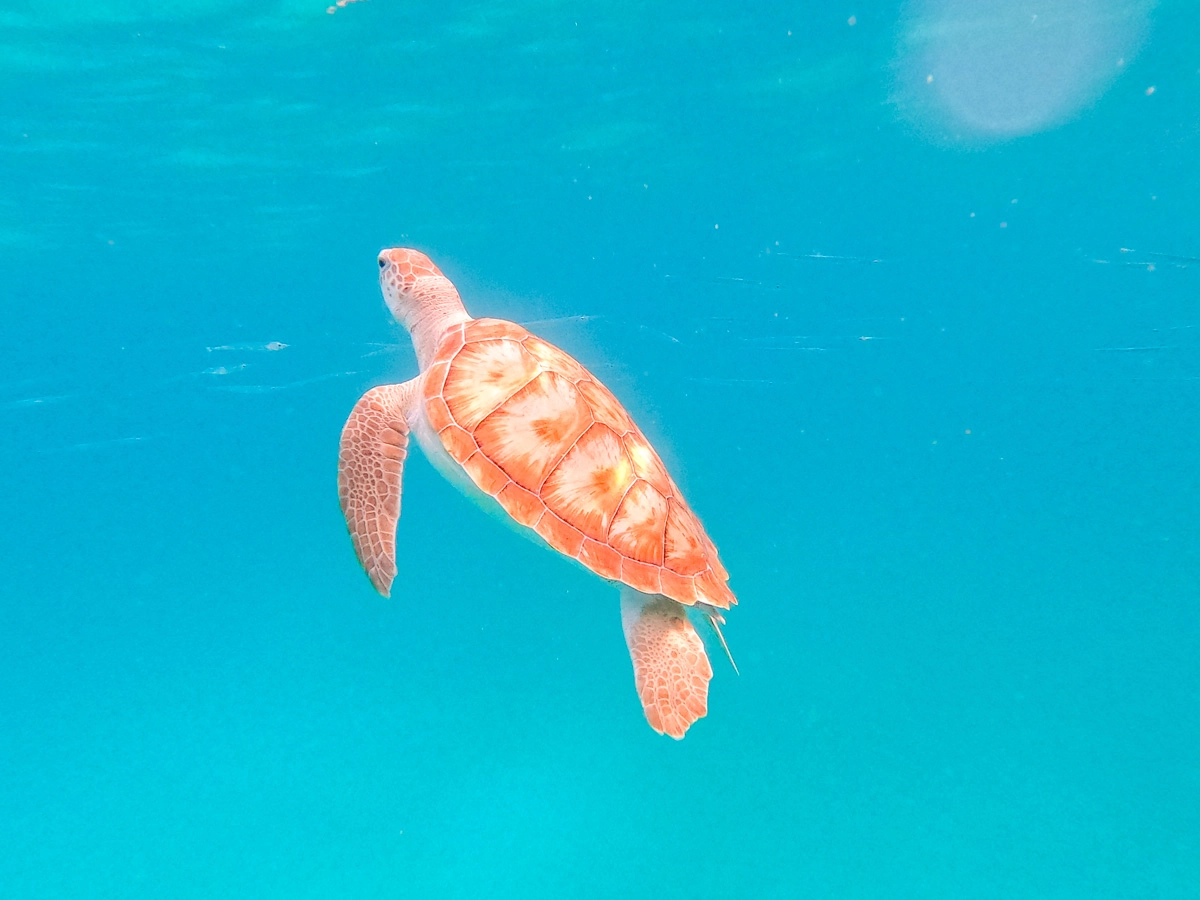 You should always approach a sea turtle by its side; this gives them a clear view of you and an avenue to get away if they want to. Never swim directly above a sea turtle as they come up to breathe and you may get in the way.
Be quiet when swimming up to a sea turtle. Otherwise, the loud noise may scare it away.
Respect their space – keep a distance of 1.5 m and do not disrupt their natural behavior. Simply observe them – they are incredible to watch.
Do not touch the turtles. Aside from this stressing out the turtles, it's illegal to touch a sea turtle in many places under the Endangered Species Act.
Do not feed the turtles – they can find food on their own and may accidentally bite you if you try and feed them.
Do not chase after the turtles – this will stress them out.
Stay relaxed – the more relaxed you are, the more they will be and likely to swim near you.
Can you swim with turtles in Barbados?
Yes! Barbados is one of the best places in the Caribbean to swim with sea turtles. There are several beaches along the west and south coast where you can easily see sea turtles in their natural habitat.
What month do turtles hatch in Barbados?
Most hawksbill and green turtles nest between mid-May to Mid-October in Barbados, while the leatherback turtles nest between February and July.
Is swimming with sea turtles dangerous?
Swimming with sea turtles is very safe. Sea turtles are not aggressive unless they are in danger. However, becoming too close increases the risk of getting a painful bite, so you should always keep a safe distance of 1.5m and not feed them!
Swimming with turtles should be on your Barbados bucket list. It's one of the best places in the world to swim with sea turtles in their natural environment, so be sure not to miss this fantastic experience!
Planning a trip to Barbados? Don't miss these posts!
Enjoyed this post? Pin it for later!