This post may contain affiliate links. By clicking and making a purchase through the links, I earn a small commission at no extra cost to you. This and display ads allows me to keep the site up to date and give back. Thanks for reading!
Galapagos Islands on a budget, is it possible? After spending two weeks exploring these beautiful islands on my own, I can happily say that yes, it is possible. It's by no means a cheap destination to visit, but you don't need to spend thousands of dollars on a luxury cruise.
Visiting the Galapagos Islands was not only the highlight of my time in South America but one of my favorite destinations to date. I can't encourage visiting these islands more, it is truly worth the money spent.
To help you plan and save money on your trip, I've created this guide to visiting the Galapagos on a budget.
The Galapagos Islands revived my travel enthusiasm as I was beginning to feel worn down after half a year on the road. As soon as I stepped on the plane to go to the Galapago I could feel the waves of excitement rushing through me. I felt like a little kid walking through the islands of the Galápagos, wondering what animal would appear in front of me next.
Cruises vs. Island Hopping
When visiting the Galápagos, you have two options for getting around. You can either join a cruise, or fly to one of the islands and hop around via boats.
Cruises are significantly more expensive then island hopping but have the benefit that they are able to access some of the islands that you cannot get to by island hopping.
On the other hand, these cruise ships present a huge problem for the islands of the Galápagos. Most of them are run by foreign companies and almost none of the profits go back to the local economy. On top of that, most of them don't care much about the local environment and contribute to massive pollution to the island.
The Galápagos Islands are one of the world's last untouched places we have on this planet. When planning my trip the environmental impact of cruises played a huge role in my decision. Not only is island hopping a more budget-friendly way of visiting the islands, but it also helps support the local economy and is significantly cheaper than taking a cruise.
If you're trying to visit the Galapagos on a budget, I encourage you to go island-hopping on your own.
Getting to the Galapagos
Getting to the Galápagos is the most expensive part about visiting, as there are only a couple of flights that go there each day and the prices are fairly stable.
From mainland Ecuador, you can either fly from the capital, Quito, or Guayaquil. It's slightly cheaper to fly from Guayaquil as all flights from Quito go via Guayaquil.
The three airlines flying to the Galápagos Islands are Tame, Avianca, and Lame. I personally recommend booking with Avianca as I've only had positive experiences flying with them in South America.
Find the cheapest flights going to the Galapagos on Skyscanner.
A note on buying flights to the Galapagos: When I originally purchased my flights, I got them through a third-party website and thought I had gotten a really good deal compared to the price I had seen online. It was a $300 round-trip ticket from Quito-San Cristobal/Baltra Airport-Quito.
However, upon getting to the airport I was told my flight wasn't valid because I had bought it at the price that is only offered to residents. This immediately caused me to panic, but was luckily solvable by paying an additional $110 at the airport.
What happened is that local residents pay less for flights to the Galapagos. If you buy your flight directly from the airline it will come up with a message to confirm your residence, but on a third party website, it will just allow you to buy the cheaper ticket. To avoid this situation I recommend buying the flights directly from the airline.
It seemed to be relatively common as I encountered other frustrated tourists at the airport, including a family of five who had to pay an additional $600 in total to get on their flight. Ouch! Not what you want to start your vacation.
The other unavoidable expense for visiting the Galápagos is a $20 fee you pay at the airport in Ecuador prior to leaving, and then another $100 upon arrival in the Galápagos (which can only be paid in cash).
These are tourist fees and the only way I know you can avoid them is if you are going to the Galápagos to study and or work. In this instance, the government may waive it for you. But you need to arrange this in advance, and if you plan to spend any time there for recreation afterward you still have to pay the fee.
Unfortunately, there's no way to budget around these fees, so they are important to take into account when planning your trip to the Galapagos.
Getting around the Islands
There are four islands you can visit on your own in the Galapagos: San Cristobal, Santa Cruz, Isabella, and Floreana.
Getting between the islands is easy because there are daily ferries. You can buy boat tickets from almost any tour office in town. There may be a slight variance price, but it should cost you about $25 for a ticket between each island. The boat rides are rocky, so be sure to bring your sea legs.
Once you're on the islands, getting around them is also simple. On San Cristobal and Santa Cruz, the ferry drops you off at the main pier where all of the hotels, tour offices, and restaurants are located. Isabella is slightly different, but the main street is still only a 10-minute walk from the pier.
Generally, all of the day tours will be leaving from the tour offices or pier so you don't have to worry about paying for transport since everything is within walking distance.
If you do want a cab there is a flat rate for anywhere in town for $1.50 USD in San Cristobal. Taxi drivers will probably try to charge you more if you look touristy, but the going rate is $1.50 and make sure to say that and negotiate the price beforehand.
Even getting from the airports in San Cristobal and Santa Cruz can be done on a budget. The San Cristobal airport is extremely close to town, you could actually walk if you wanted too.
The airport in Santa Cruz island is actually on Baltra Island which is about an hour away from town. A taxi will cost you $25, but there is a bus that goes from town which costs $2.
Free things to do in the Galapagos
Going on tours will be your biggest expense in the Galapagos, so a good way to budget is to explore on your own. One of the most wonderful things about visiting the Galápagos is that wildlife is everywhere. You don't have to hire a guide to point it out for you because it's so obvious.
Just as when Charles Darwin stepped foot on the island, the animals on the Galapagos have no fear of humans. You will share the local beaches with Sea Lions and Marine Iguanas, often having to look for a spot between all the animals. The underwater world is just as friendly as the land, with playful sea lions ready to make friends as you go snorkeling.
Here are some of the free activities you can do:
Rent a snorkel for $5/day, or better yet bring your own and jump into the surrounding water. Some of my favorite spots to snorkel for free are Cerro Tijeretas in San Cristobal island and Concha de Perla in Isabella island.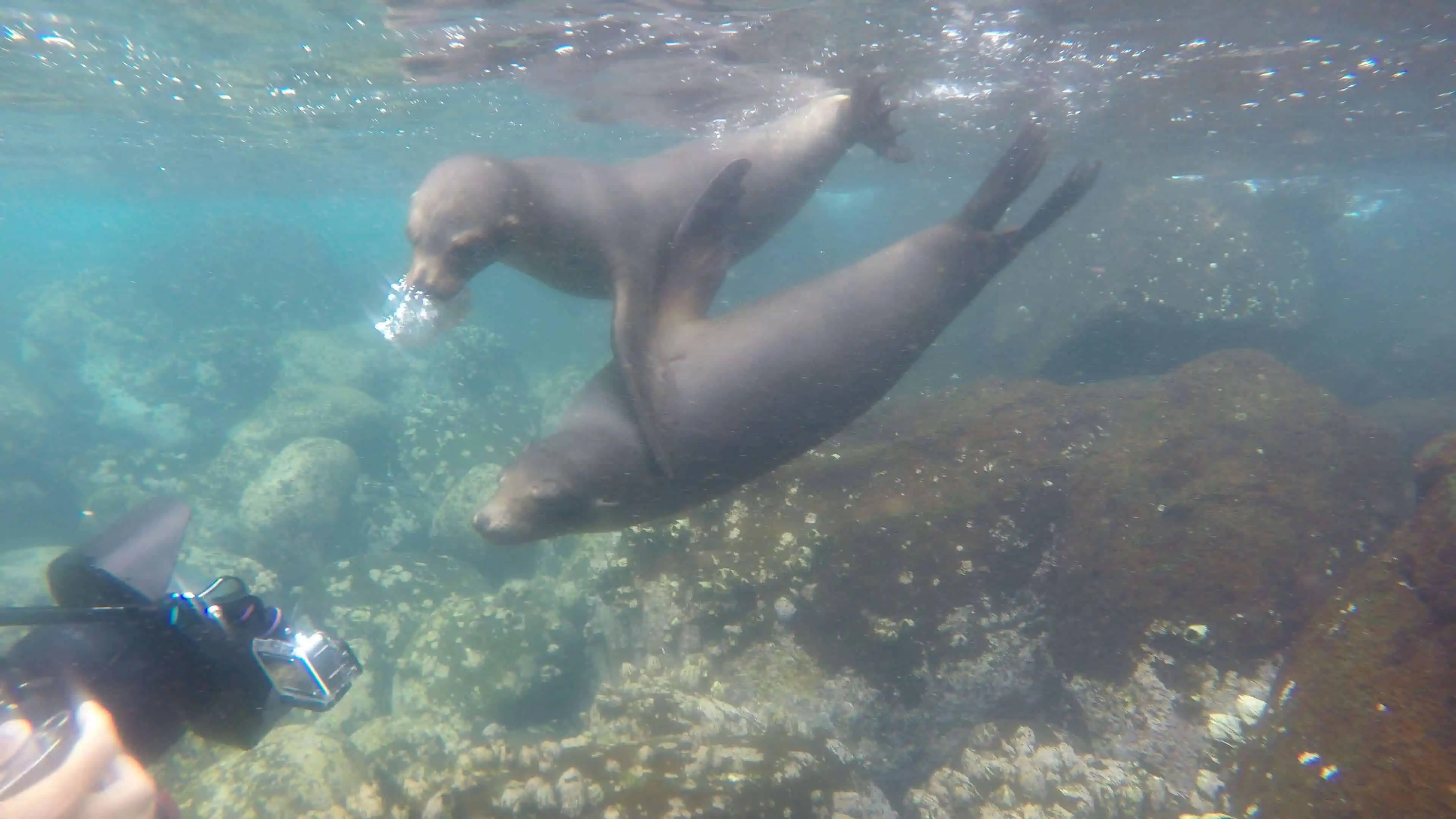 Visit a breeding center! San Cristobal is home to the Charles Darwin Research Station which is free to visit, and you can walk to there from town. It's home to several types of giant tortoises as well as yellow iguanas. There is also another free giant tortoise breeding center on Isabella island with many adorable baby tortoises.
Chill at the beach! The Galapagos has some of the most beautiful beaches in the world and they are completely free to visit. You just need to find a spot between the sea lions! Some of my favorite beaches are Turtle Bay in Santa Cruz which has beautiful white sand, surfing opportunities, and a ton of marine iguanas. Playa Mann is also a great beach in San Cristobal to watch the sunset and swim with sea lions.
Take a hike! If the water's not your thing there is a lot of land to walk around. I loved the trail in San Cristobal which leads up the Charles Darwin Interpretation Center and then eventually to Playa Mann. Another great trail is the Isabelle Islands Wetlands Complex which is just a 10-minute walk from town. This was the only place I saw bright pink flamingos in the Galapagos!
Saving money on tours
As you can see, there are a number of activities you can do on your own without having to pay for a tour. But in order to see some of the wildlife, you will need to take some day tours, and they are not created equal.
The best day tours are the ones that transport you to places otherwise inaccessible on your own, or that require a guide. Guides in the Galapagos are quite well trained, and will give you a lot of information about the wildlife.
If you go into any tour agency on the islands they will give you a crazy high price, so you need to barter. Most of the tourists who visit the islands are wealthy and simply don't argue with the given price, so it's not hard to get them down on the price. In my experience, I was able to negotiate most tour prices down by at least 30% of what they originally stated.
The day tours that give you the most value are Isla Lobas (San Cristobal), Kicker Rock (San Cristobal), Highlands Tour (Santa Cruz), and Los Tuneles (Isabella Island).
Read this post for more information about choosing the best Galapagos Day Tours.
If you are certified to dive, I definitely recommend trying at least one dive while there. The Galapagos has some of the most exciting dive sites in the world, and although this was the most expensive part of my trip, it was absolutely worth it.
Saving money on accommodation
Surprisingly, accommodation in the Galapagos is actually not that expensive. In my experience, hostel beds were usually pricier than a hotel, so I often ended up with my own private room. On average, I paid about $20 USD a night for accommodation. Here are some affordable places to stay in the Galapagos:
Volunteer to save money
Give back to the islands! There are several volunteer opportunities around the islands where you pay a small fee but are given meals and accommodation.
I volunteered at the Jatun Sacha Foundation, which focuses on long-term programs for the eradication of invasive species and the promotion of sustainable agriculture in the islands.
The facility is about an hour away from San Cristobal and in a beautiful forest. We had a lot of free time to explore nearby hiking trails, and the food there was delicious.
Eating Out
Each island has a main street down by the water with several restaurants that have similar prices you would find in North America. Most tourists are willing to pay this, but remember that this is still Ecuador, and the locals certainly aren't dining out at those prices.
If you leave the main drag and go up about one block you can find local traditional restaurants that will make you a meal for a couple of dollars. There are also several street food vendors that sell items for just $1 each. They were delicious and I never got sick from eating at food stands.
Lunch and supper time specials are common at restaurants, where you can get a full meal for about $5/7, respectively. It's not the most amazing food ever, but it definitely did the job.
If you feel like splurging a little more, there are still restaurants where you can get decently priced meals. One of my favorites was Coco Surf in Isabella Island, where I go an incredibly tasty seafood burrito for $9.
Most hotels will offer free breakfast and if you are doing a full day tour they include lunch, so generally, I was only eating out for supper.
Final Thoughts
Once you get past the initial flight and entrance fees to the Galapagos, it's actually not an expensive place to be. Stay in budget hotels, eat local, do free activities like hiking and snorkeling, and save your money for the best of the tours.
Visiting the Galapagos doesn't have to break your budget and is one of the most unique places I visited on my trip, in fact anywhere in the world. Don't write off this beautiful paradise for the fear of its price tag, they are completely worth it!
Need more Ecuador travel inspo?
Like it? Pin it for later!