This post may contain affiliate links. By clicking and making a purchase through the links, I earn a small commission at no extra cost to you. See my disclaimer for more information. This and display ads allow me to keep the site up to date and give back.
If you want to go island hopping through the Philippines, it doesn't get better than on a TAO Philippines Expedition.
With over 8000 islands throughout the Philippines, there's plenty of tropical paradise for everyone. But with so many beautiful islands to visit in the Philippines, where do you start?
Joining a TAO Philippines expedition will take you through the most beautiful and remote islands of Northern Palawan.
Taking part in a TAO expedition was not only the highlight of my time in the Philippines but one of my favorite island-hopping experiences of all time.
Find out why TAO Philippines is such a great operator and everything else you need to know about joining and making the most of the TAO experience.
Jump to: What is TAO | What to expect | How to Join | What to Bring | Packing List
What is TAO Philippines?
Tao Philippines is a tour company that immerses participants in authentic Filipino island life while at the same time helping the remote island communities of Northern Palawan. It's an incredible experience.
In the Filipino language, TAO means human. The company aims to involve as many people as possible in the communities they visit, encouraging each to offer travelers a personal insight into life in Northern Palawan.
Why is TAO the best Philippines island hopping experience?
Aside from being an incredible adventure through some of the most beautiful islands I've ever seen, what I love about TAO Philippines is that they are more than just a regular tour company. It's a social enterprise.
TAO Philippines use tourism as a tool to build resilient communities throughout Palawan.
The TAO community aims to prove that there are many ways in which every Filipino can benefit and share in the opportunities that tourism brings.
During the tour, you will see examples of projects that TAO has established to help the local communities and how they are making a difference in the lives of locals.
Taking a TAO Expedition is not only a wonderful experience but a great way to be a responsible traveler.
What to Expect on a TAO Expedition
TAO Philippines offers several different lengths of expeditions that you can view on their website. They have both 3 or 5 Day expeditions which run from El Nido to Coron (or vice versa).
In December 2018, I completed the 5-day island-hopping expedition between El Nido and Coron, which was the highlight of my time in the Philippines.
There is no itinerary, plan, or set of destinations for the TAO expeditions. You know you will start in either El Nido or Coron and end in the other, but what happens in between is left open.
At the beginning of each day, our tour leader would bring out a map of the area, and we would discuss where we were going that day. It was so much fun to feel like a true explorer charting our course through new territory.
TAO tours Accommodations
TAO Philippines has 13 base camps throughout Palawan, and each day, the team decides where we will sleep that night.
This is mostly based on how far we've gotten that day by boat, which is influenced by weather and the speed of the group.
Sleeping arrangements
All of our accommodations at the base camps were in simple but gorgeous bamboo huts overlooking the ocean.
As a solo traveler, I expected to have to bunk up with other guests, but I had my own hut each night, which was so nice after a year of backpacking.
Facilities
All of the base camps have western toilets, and they were all pretty clean. The base camps also have simple showers inside a bamboo hut. Two of the camps we stayed at even had hot showers. : )
Electricity
Electricity is available at some of the base camps. They even had individual plugs in the bamboo huts so you could charge your electronics overnight.
I recommend bringing a portable battery bank to charge your electronics on the days you don't have electricity and then charge the battery when you can.
Wi-Fi
There will be no Wi-Fi on the trip. I had a local SIM card and occasionally picked up a signal, but it was weak. Embrace this and get off the grid!
The Food
Oh my god, the food. It's hard to describe just how good the food on the TAO expedition was – it's part of the experience. I wasn't expecting much, given the fact that we were on remote islands, but the quality of the food far exceeded my expectations.
The crew serves you three delicious meals each day, which usually involve fresh seafood caught just before it's served. As a pescatarian, this was perfect for me.
There were a couple of vegetarians and vegans on my tour as well, and they were still able to eat well. Aside from the main fish dish, they would usually serve a salad, rice, and vegetable dish.
On the first night, we stayed at the original TAO base camp, which has an organic sustainable farm onsite. There is a large kitchen there, and that night the staff cooked us a heavenly seven-course meal.
They provide an afternoon snack each day which is perfect after coming back on the boat after being in the water.
The food was dependent on what they could get from the local producers they work with on the island and what we were able to catch from the boat. One day we had fresh ceviche made with a Tuna the crew caught. YUM.
On the last night of the expedition, they had a traditional Filipino pig roast for us. This is another example of a project they run.
They get locals within the community to raise pigs and then buy them back when they are ready to eat. As a non-meat eater, I didn't love the pig roast, but everyone else enjoyed it.
They also provide coffee and ginger tea on the boat at all times. And beer, which is not included but is cheap. 🙂
The TAO Expeditions Boat
The boat you take on the TAO expedition is great. It's not super spacious, but there's more than enough room for everyone to get around.
There's the main area at the front where everyone eats, the captain's area and luggage storage in the back, one bathroom, and an upper deck where guests could relax. We took many naps here.
The Guests on the TAO Expedition
I'm not sure if I just got lucky with my crew, but I'm willing to bet that TAO expeditions attract a certain type of traveler. I loved my group.
There was a good combination of small groups of friends, solo travelers, and couples. Altogether we were 25 people, which is the max group size. Everyone got on well, and we were all sad to say goodbye at the end!
The TAO Experience Crew
The TAO Philippines crew are all local, amazing people. They just want to make you have the best experience possible.
There is a main tour leader who speaks excellent English and several other staff members that cook/run the boat/kayak bags, etc. Of course, everyone's favorite staff is the barman.
One of my favorite aspects of the TAO experience is that they have at least one dog on board every ship. Our dog, Gilet, was an adventure expert. He would kayak, swim, party, and nap. He was up for it all.
At one of the TAO basecamps they had two sets of puppies that were being raised to be boat dogs, and I got to meet them. Look at these little Jack Russell terrier Puppies; so sweet!
The Islands of Northern Palawan
The islands of Northern Palawan are gorgeous. Everywhere we went, it was white sand beaches and crystal-clear turquoise water.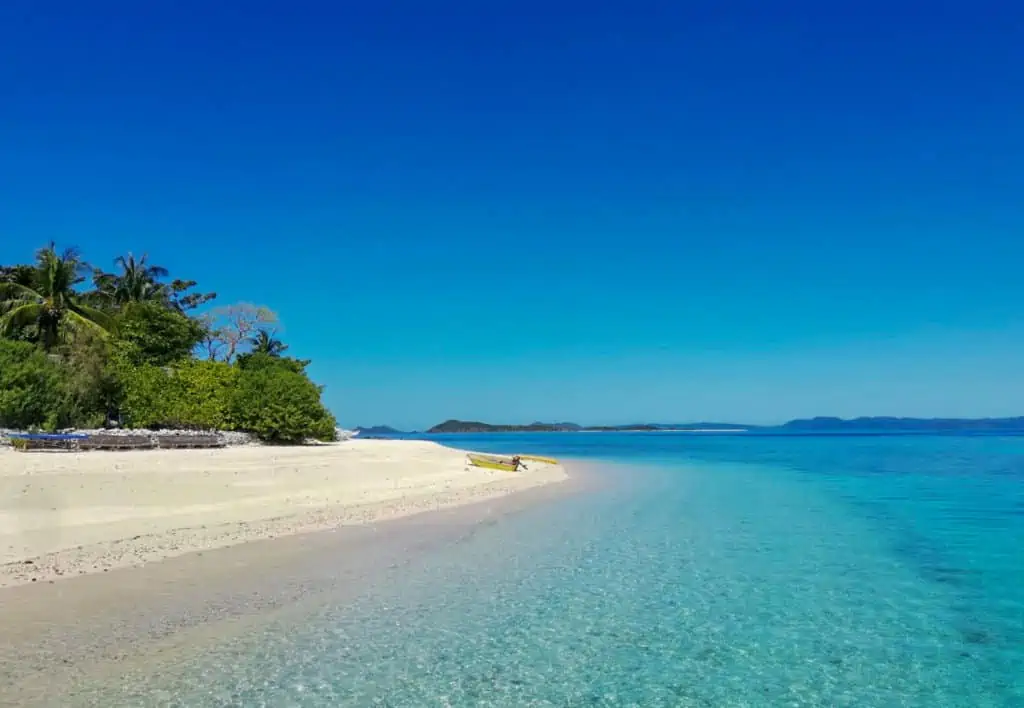 Activities on the TAO experience
After breakfast at Basecamp, you set out for the day with the aim of reaching the next camp before sunset. During the day, while we traveled between camps, here are some of the activities we got up to:
Snorkeling
Snorkeling is a big part of the TAO experience. We went 2-3 times each day.
It was some of the best snorkeling I've ever done because the water is so clean, clear, and full of abundant marine life.
At one site, we saw sea turtles, cuddle fish, and reef sharks. The sites are all full of beautiful corals, and we even got to explore a sunken ship on the last day!
Swimming
Every time we went snorkeling, the boat would dock at sea, and you had to option to either stay on, go snorkeling, or just swim to the beaches nearby and relax on the beautiful white sand.
Kayaking
The boat also had a few kayaks onboard which guests could take out while we stopped for snorkeling.
As a safety precaution, two of the TAOphilippines staff would go out in the kayaks while we snorkeled to make sure everyone was okay. The water is beautiful, but the currents are strong in the Philippines, so it's easy to get tired out fast!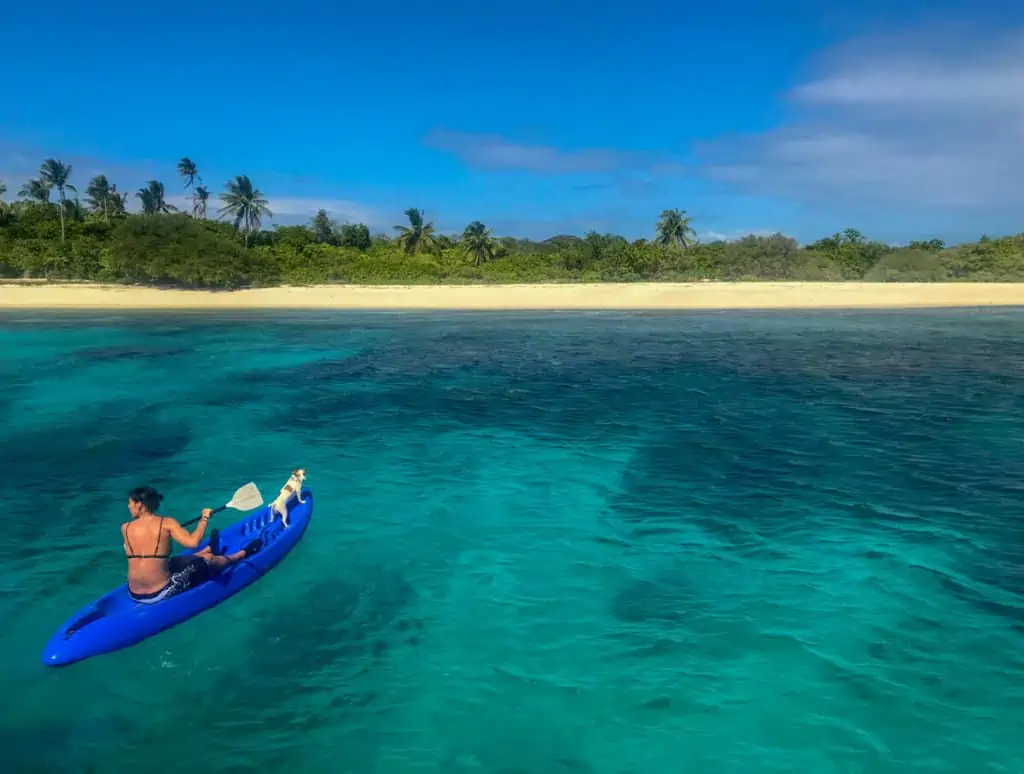 Fishing
During the day, the crew would try to catch fish off the boat, and guests could try their luck at it!
Cooking
As an option, guests could help out in the kitchen and learn more about Filipino cooking. The chefs onboard were top notch, and the food was delicious, so it's a great opportunity to learn.
Watch the breathtaking sunsets
The sunsets every night were perfect. We would arrive at basecamp just before the sun started to set so everyone would hang out on the beach drinking jungle juice and watch the sun go down.
For those that don't know, jungle juice is rum and juice mixed together. It's generally strong, which was no exception here. But it's included in the price of the tour!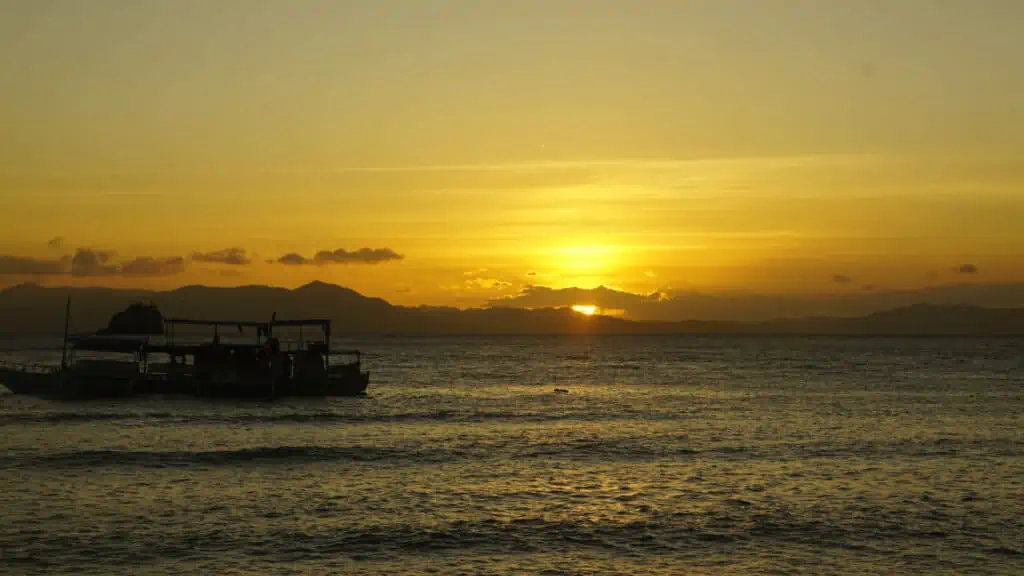 Visit the local villages
On some of the islands, we had the opportunity to visit the local villages nearby and see some of the TAO projects, including a sustainable organic farm and school for the children.
Massages
This was a complete surprise, but on the first night, everyone got a free massage at the base camp by local women. It was a great massage.
In fact so good that I went back for a second one the next morning. You have to pay for a second one, but the price is more than reasonable.
Drinking
They sell beer and rum on the boat and at base camp, but I wouldn't say the TAO experience Philippines is a crazy party boat.
We all had a few drinks each night and enjoyed the amazing nature around us (so many shooting stars), but it wasn't a raging party all night long. We still had lots of energy to explore the next day.
With the exception of the last night, where we did stay up pretty late dancing under a million stars with bioluminescent plankton lighting up the ocean and fireflies lighting up the mangroves. I mean, you just can't beat that, right?
How to join a TAO Expedition
If you want to join one of the TAO expeditions, you can apply through their website. There isn't much to the application process; you just need to say when you want to go, your basic info, and what appeals to you about the TAO experience.
As long as there's room, you should get an e-mail letting you know you're accepted. There's a short welcome meeting the night before the boat departs, and then you set off on your adventure!
The cost of the 5-day tour is $545 USD (2018 prices), but it's well worth every penny. Participating in the TAO experience was the highlight of my time in the Philippines. TAO is one of the best tours to go on in Palawan. It's a great way to participate in responsible tourism.
The tours run year-round, but the best time to go is from October to February during the cool dry season. I went in December, and the weather was perfect every day.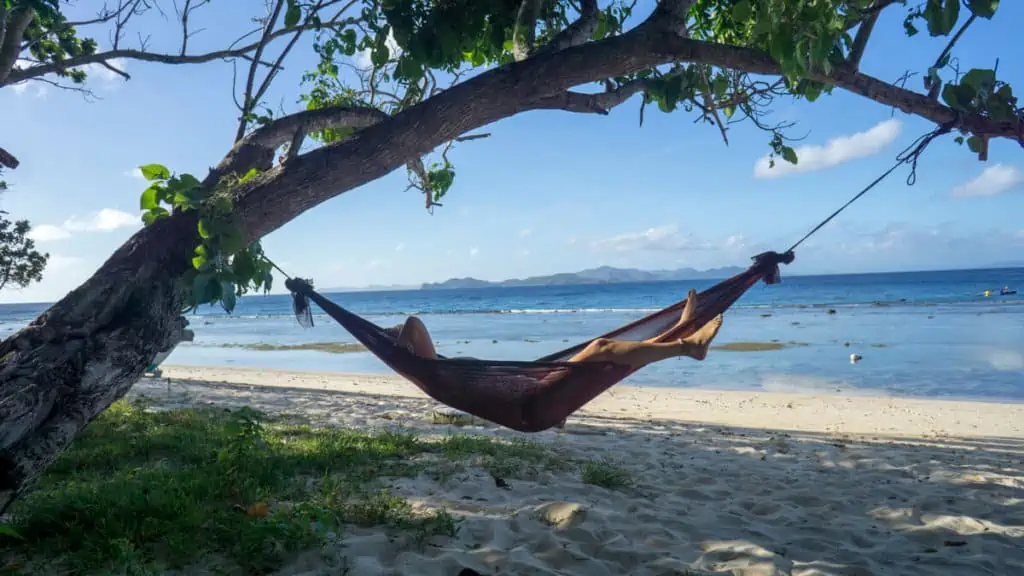 What to Bring on a TAO Expedition
You're allowed to bring all your bags on the boat, but your large bag gets locked away behind the captain's area.
On the website, it says you can access it twice a day, but in my experience, they let me access it whenever I wanted. However, it's difficult to get your bag as they pile them on top of each other.
Your daypack will stay in the sheltered area in the back (not locked). Your dry bag stays in the main area at the front of the boat so this is where you put the items that you access frequently.
You NEED a dry bag for this area as water will splash in the boat. You will also need the dry bag for carrying items from the boat to the islands over kayaks (the crew does this).
Money: The TAO Tours don't accept cash on the boat or on the islands. They use a cashless system where you load money onto a bracelet before going on the trip (like at a music festival). This makes life so much easier.
Don't worry about loading too much, as they will give you back any remaining balance at the end of the trip.
Make sure to bring some cash to give the crew a tip at the end!
Packing list for a TAO Philippines Expedition
Reef Suncreen – It's so important to use sunscreen and not get burnt, but since you'll be swimming in fragile ecosystems it's important to use a sunscreen labeled as reef safe.
Sarong – great for lying on the beach and protecting you from the sun.
Sun hat & Sunglasses
Towel – A towel for after swimming. I recommend the microfiber towels as they pack super light!
Moisturizer/after sun
Refillable water bottle (no plastic allowed) – I love hydro flask because they keep your drinks cool for 24 hours
Reusable Straw – Straws are great for drinking out of coconuts but the plastic ones are terrible for the environment. Take a reusable straw on your trip to cut back on your environmental footprint!
Clothing: 1 – 2 pairs of shorts, 3 – 4 tops, 2 – 3 swimwear, & 1 pair long sleeve shirt/pants for mosquitos
Fins if you want them for snorkeling (masks and snorkel are provided)
Sandals and Reef Shoes (the corals can be painful), and rash guard for snorkeling if you want extra protection from the sun
Toiletries
Kindle – The upper deck of the boat is the perfect place to kick back and relax with a good book. Save on space and bring a kindle with books downloaded beforehand. Plus the new Kindle is waterproof so you don't need to worry about getting it wet!
A deck of cards
Portable battery bank – I love this one because it's small and can charge your phone up to six times!
A camera to capture the moment! GoPros are great for snorkeling. If you have a drone it's an incredible place to use one. Sadly my Mavic Pro was out of commission while I asked and they said it's no problem to use one on the islands, and you don't need a permit.
An open and adventurous mind!
If you don't have these items, most can be picked up relatively cheaply in El Nido or Coron beforehand.
Don't forget to buy travel insurance before your trip. In case of an injury means you end up with expensive medical bills or even have to cancel your trip mid-way. I recommend World Nomads as travel insurance for a TAO Philippines expedition.
What to do after a TAO Expedition
You will either end your TAO Expedition in either El Nido or Coron, depending on where you started. Both cities are excellent places to add to your Philippines itinerary.
They each have a number of activities to do, including day island hopping tours, zip-lining, kayaking, and diving.
Coron is home to a number of world-famous dive sites, including several Japanese shipwrecks!
Where to stay in El Nido/Coron
I spent a few nights at Outpost Beach Hostel in El Nido, which is great if you're looking for a party hostel, not if you want to sleep.
If you're looking for something a little quieter in El Nido, check out Suites by Eco which is just down the beach and very affordable. El Nido has a range of accommodation options from budget to luxury, including private beach villas.
Coron is also well-equipped with accommodations from budget hostels to luxury hotels. Check here for accommodation options in Coron.
Final Thoughts on TAO Philippines
This post went over why TAO is the best island hopping tour in the Philippines and everything you need to know to prepare and go on your own TAO expedition.
I hope it inspired you or helped in making the decision to take a TAO Philippines expedition.
If you're thinking about it but have some questions, let me know in the comments below, and I'll answer them. If you've already been, let me know how your experience was!
It's a great tour that I would recommend to any adventure seeker headed to the Philippines.
Looking for more island-hopping adventures? Try the San Blas Islands between Panama and Colombia or Island Hopping in Belize!
Like it? Pin it for later!