This post may contain affiliate links. By clicking and making a purchase through the links, I earn a small commission at no extra cost to you. See my disclaimer for more information. This and display ads allow me to keep the site up to date and give back.
Have you been wondering about the best Galapagos day tours? I've got you covered!
I spent three weeks island-hopping through this nature lovers' paradise, going on just about every tour in the Galapagos there is.
Some are better than others, and I'm sharing which ones are worth your money in this post.
My Top 3 Picks: Galapagos Day Tours
⭐️⭐️⭐️⭐️
✅ See frigate birds and blue-footed boobies
✅ Snorkel with sea lions
✅ Chance to see hammerhead sharks
⭐️⭐️⭐️⭐️⭐️
✅ See giant tortoises up close
✅ Walk through lava tunnels
✅ Best land tour in the Galapagos
⭐️⭐️⭐️⭐️
✅ See Galapagos penguins
✅ Best place to see seahorses
✅Snorkel with sharks and sea lions
As a digital nomad, connecting with nature when I'm not working is one of my favorite ways to destress from working online while traveling – and the Galapagos Islands are one of the best places in South America to do just that.
They are one of the last untouched places on this planet – I've never felt so connected to nature as I did there. It's truly my favorite wildlife experience to date.
While many people think you have to do an all-inclusive cruise to see the Galapagos Islands, that's not the case. It's possible to visit the islands on your own and take Galapagos day tours for wildlife viewing.
In fact, island hopping in the Galapagos is the more economical, environmentally friendly, and socially responsible way to go, as your money will be going directly back to the island and conserving wildlife.
There are many day tours in the Galapagos you can take from the main four islands, and some are much better than others. To save you money and time, I'm sharing the ones worth going on in this guide.
Best Day Tours In The Galapagos From San Cristobal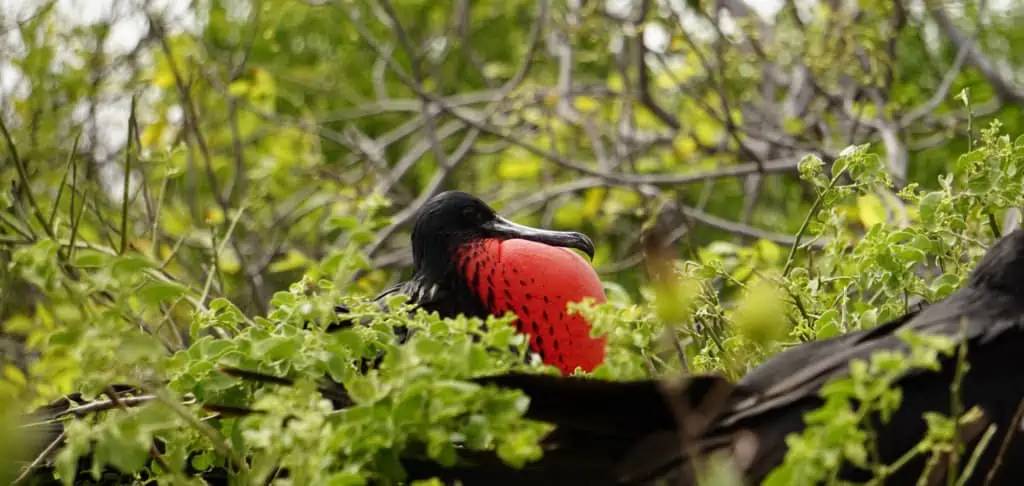 ⭐️ RATING: 4/5 Stars | ⏳ TOUR LENGTH: 9 hours | ✅ Book it!
This full-day tour is a must-do if you're visiting San Cristobal island in the Galapagos. It includes visiting Isla Lobos, an island about an hour away from San Cristobal.
Once you arrive, the guide will take you on an hour hiking trail to look for wildlife.
Isla Lobos is the only place in the Galapagos Islands where I saw the frigate birds up close. It also happened to be the frigate birds' mating season, which made the experience all the more special.
The male frigate birds will inflate their necks during this time to court a mate. It's unbelievable how big they can get!
Isla Lobos was also where I first saw the incredible blue-footed boobies. On this tour, we saw many different life stages of the boobies. Some were trying to court a mate, while others were nesting with their eggs. We even saw a whole family of them snuggled up. Aww!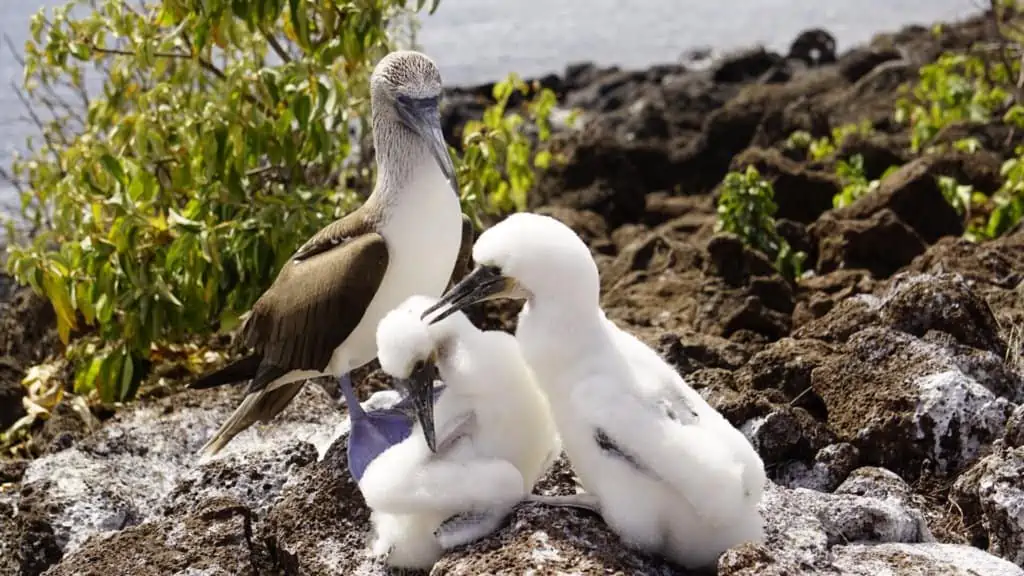 The landscape of Isla Lobos is rocky and wild. Wear closed-toe shoes for this day tour, as walking in sandals is difficult. As we walked along the rocks, we saw hundreds of marine iguanas.
Isla Lobos is also a perfect place to jump in the turquoise water and go snorkeling.
As soon as we jumped in the water, baby sea lions came to play with us! This happens all over the Galapagos, but I never got tired of it.
After Isla Lobos, you'll be taken to Kicker Rock, an amazing landmark and place to snorkel. You can spot sea turtles, marine iguanas, rays, Galapagos sharks, tropical fish, and maybe even hammerhead sharks there.
This was an excellent tour especially the last stop at Kicker Rock. Here we saw at least 2 dozen large hammerhead sharks swimming 10 – 20 meters below us!

– Walter (read more reviews here)
Snorkel equipment (mask and fins)
Naturalist guide certified by the PNG
Lunch
⭐️ RATING: Not yet rated | ⏳ TOUR LENGTH: 9 hours | ✅ Book it!
Known for its diverse range of fascinating species, this tour to Española Island promises an up-close and personal experience with some of the best wildlife you'll find in these enchanted islands.
Once you arrive on these uninhabited islands, you'll go on a two-hour walking tour, allowing you to explore the island's breathtaking landscapes and come face to face with the majestic Galapagos albatross, the charismatic blue-footed boobies, and the curious iguanas that roam the island.
Your expert guide will be there every step of the way, sharing fascinating insights and ensuring you don't miss a moment of this incredible wildlife spectacle.
After your exploration on land, it's time to set sail to Gardner Islet to go snorkeling.
Keep your eyes peeled for sharks gracefully gliding through the depths and playful sea lions darting in and out of the underwater playground. Don't worry about packing any gear because all the necessary snorkeling equipment is provided on this tour.
One of the best parts of this day tour is that it operates with small groups, ensuring you receive personalized attention from your knowledgeable guide.
With a smaller group, you'll have more opportunities to ask questions, interact with your guide, and fully absorb the beauty and wonder of Española Island.
🤩 Check Prices and Availability!
Galapagos Day Tours From Santa Cruz Island
⭐️ RATING: 5/5 Stars | ⏳ TOUR LENGTH: 7-8 Hours | ✅ Book it!
Diving in the Galapagos does not come cheap, but it is worth every penny. Two of the best dive sites in the Galapagos are Gordon Rocks and North Seymour Island.
This tour begins with a scenic boat ride from Puerto Ayora to the northeast side of Santa Cruz Island.
Gordon Rocks is one of the best places in the world to find hammerhead sharks and oceanic sunfish.
You can also see Galapagos sharks, white-tip reef sharks, giant sea turtles, stingrays, moray eels, Galapagos eels, Barracudas, and various colorful reef fish.
This Galapagos diving day trip felt like I was in an episode of Planet Earth!
To dive at Gordon Rocks, you need to be an open-water diver and have a minimum of 25 logged dives due to the strong currents.
I didn't have enough dives, but the instructors tested my skills at the first dive site, Seymour, to decide if I could dive at Gordon Rocks. Thank goodness they allowed me to do the second dive; I would have been so disappointed to miss it!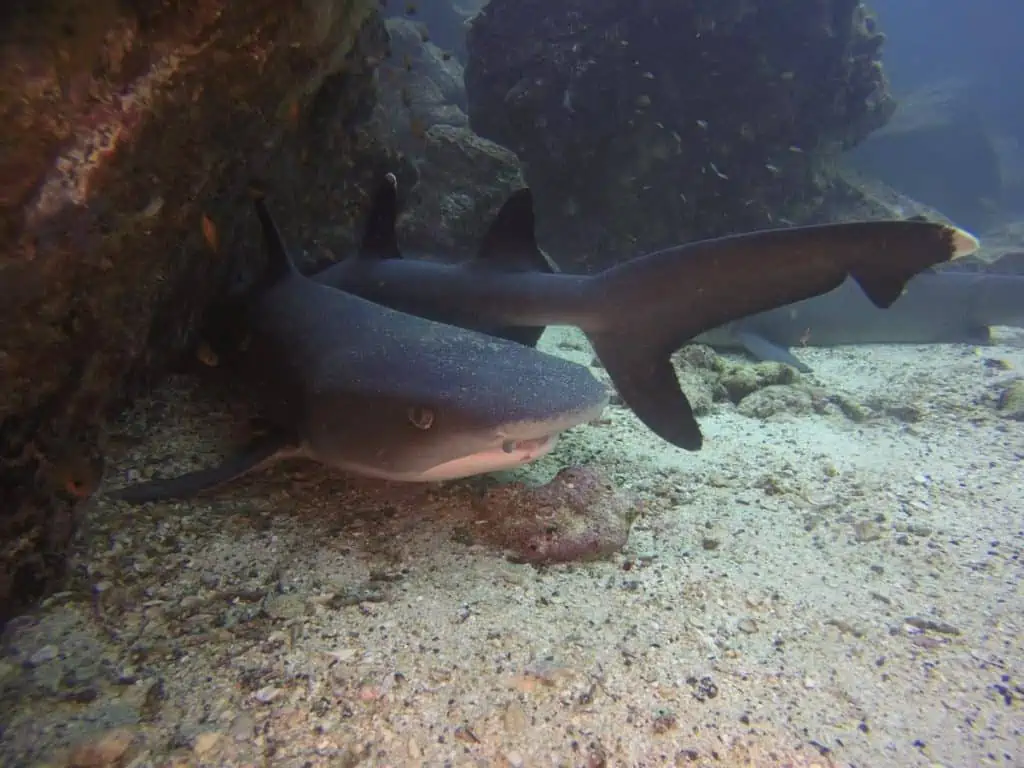 Small group size of maximum eight people
Prepared lunch on board the boat
Naturalist guide leading the way
Pull relevant information from the sales page, from reviews on booking platforms, and from your personal experience.
"We were 4 divers and did daily diving with the agency to Seymour and Gordon Rocks. Everything was great and we had two amazing experiences!" – TripAdvisor Review (Read more reviews)
⭐️ RATING: 5/5 Stars | ⏳ TOUR LENGTH: 3.5 hours | ✅ Book it!
The highlands tour is one of the cheaper day tours in the Galapagos and the best way to see the incredible Giant Tortoises in their natural habitat.
It takes you about an hour from the main town, Puerto Ayora, into the highlands of the island of Santa Cruz to the Giant Tortoise Wildlife Reserve, where you'll be guaranteed to see these amazing creatures.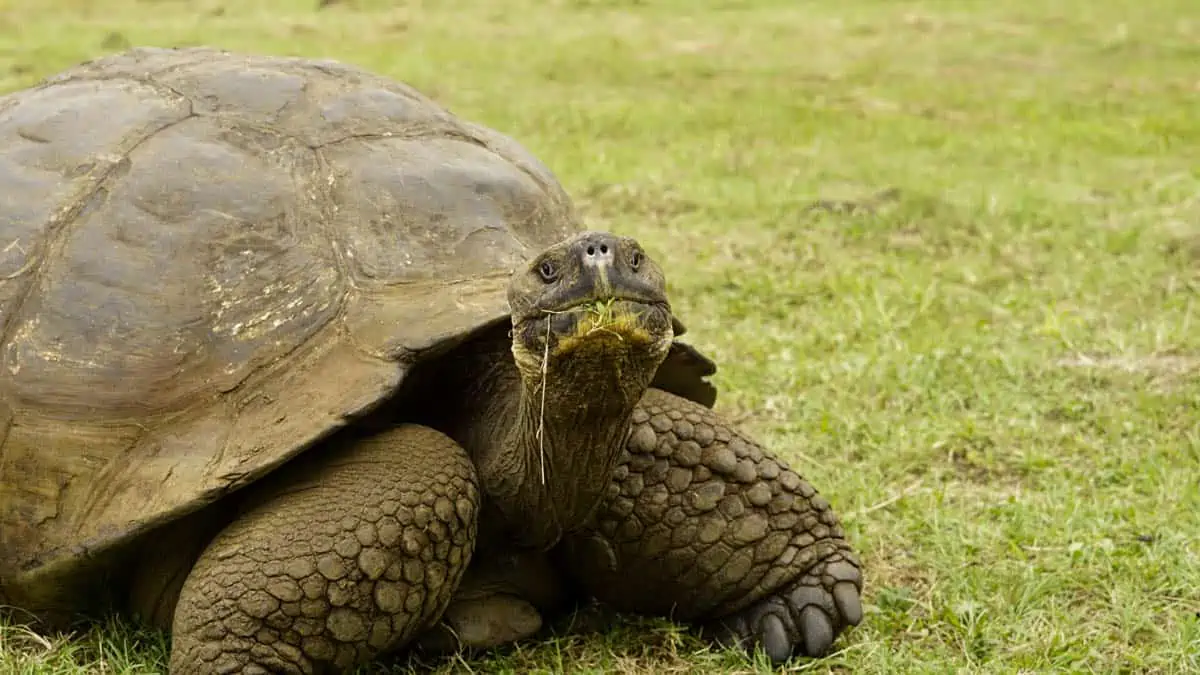 After visiting the tortoises, you'll get to walk through these incredible lava tunnels. It's such a cool experience and one of the best-land-based tours in the Galapagos.
" Carla was the perfect guide, she knew everything from the types of birds we saw to the layers of rock names in the lava tubes. I highly recommend this tour as we had private access to the lava tubes and the giant tortoise experience as well as private transportation" – Emilio (Read more reviews)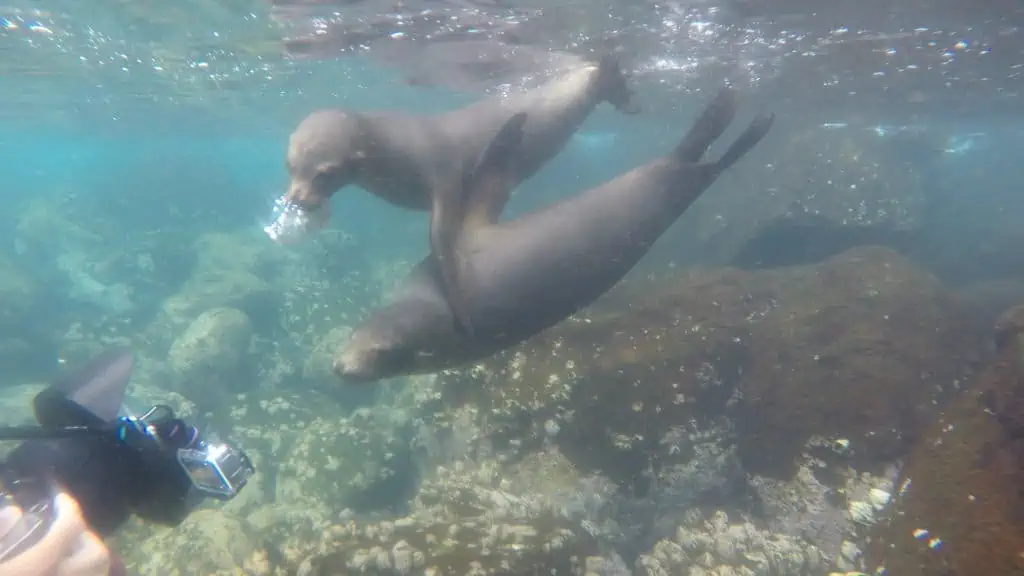 ⭐️ RATING: 5/5 Stars | ⏳ TOUR LENGTH: 8 hours | ✅ Book it!
This tour to Santa Fe Island was the last one I did, and it ended up being one of my favorites on the trip. Santa Fe Island is home to rare land iguanas, a giant cactus forest, and great snorkeling opportunities.
While snorkeling, we got to swim with a colony of sea lions and saw sea turtles, reef sharks, and colorful schools of fish!
After snorkeling, a delicious hot lunch is served on the boat to keep you fueled up.
The second part of the tour takes you on a guided hike around Santa Fe Island, where there are many marine iguanas sunbathing on the rocks.
Marine iguanas are a unique species of the Galapagos Islands. They are black and can survive in the water for up to an hour, a biological adaptation unique to the Galapagos.
"I just didnt want to do the big cruise for my trip so did a lot of Galapagos day trips and this might have been my favorite. The crew and guide on the boat were outstanding and could not have been nicer " -TripAdvisor (Read more reviews)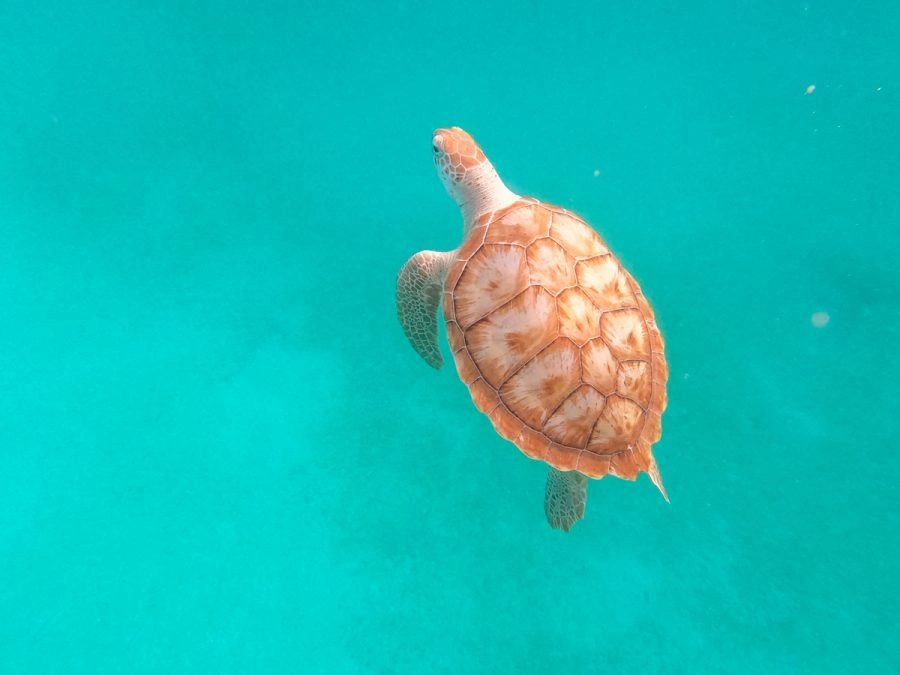 ⭐️ RATING: 5/5 Stars | ⏳ TOUR LENGTH: 8 hours | ✅ Book it!
For travelers eager to explore the extraordinary wildlife without committing to a cruise, this day trip to South Plaza Island is an absolute must.
From the moment you step aboard the yacht at Itabaca Canal, you'll be treated to a seamless experience with complimentary hotel pickup, ensuring a stress-free start to your adventure.
As you embark on this scenic journey, prepare to be amazed as you get up close and personal with the iconic inhabitants of the Galapagos. It's the only island where land iguanas and marine iguanas meet!
Upon reaching Punta Carrion, dive into the crystal-clear waters and snorkel alongside magnificent white-tip sharks and graceful sea turtles.
The provided snorkel gear ensures you have everything you need to fully immerse yourself in this underwater paradise, where vibrant coral reefs and an abundance of marine life await.
No need to worry about packing a meal either, as a delicious box lunch is thoughtfully provided during the tour.
"We loved this small island with a great vegetation, amazing sea lions and iguanas! We will definitely come back !" -TripAdvisor (Read more reviews)
Isabella Island Galapagos Day Tours
⭐️ RATING: 4.5/5 Stars | ⏳ TOUR LENGTH: 6 hours | ✅ Book it!
If you visit Isabella Island, this day tour to Los Tuneles is an absolute must.
The area was formed by a lava flow that hardened, leaving tunnels that flow through the ocean. It is such an interesting place to see!
What makes Los Tuneles even more amazing is that it is a refuge for many sea animals from the larger predators in the ocean. This is because the water is shallow, so bigger mammals like whales cannot get in.
The tour starts with a boat ride from Isabella Island into the Tuneles area. We saw Galapagos penguins on the boat ride over, which was so exciting. It's my dream to see all penguin species in the wild, so I was pumped to cross these guys off the list.
After the boat tour, we walked onto the land and took a short guided walk through the area, where we saw many blue-footed boobies. These ones were particularly interesting because they were trying to court a mate by showing off their feet.
From there, we went on a guided snorkeling tour where we saw several sea turtles, white-tipped sharks (and baby ones!), seahorses, and large pools of tropical fish.
Los Tuneles is by far one of the best day tours to take on Isabella Island in the Galapagos.
"Seahorses! Octopus! Sharks! Turtles! Rays! All within 15 minutes of snorkeling. There no way we would have found the seahorse or the octopus without our guide, Darwin" – TripAdvisor (Read more reviews)
🤩 Check Prices and Availability
⭐️ RATING: 4/5 Stars | ⏳ TOUR LENGTH: 4 hours | ✅ Book it!
Sierra Negra is a large volcano at the southeastern end of Isabela Island. You can join this day hiking tour to see the volcanic crater, which looks incredible.
Unfortunately for me, this tour was a disappointment for me due to uncontrollable weather circumstances.
We hiked for about an hour to what was supposed to be a viewpoint of the crater of Sierra Negra. However, because it was raining and cloudy that day, we couldn't see anything.
I'm sure this volcano would look amazing on a clear day, but it just wasn't the case for me. But these other guests seem happy, so give it a try if the weather is on your side.
"This tour was amazing! The hike towards Sierra Negra wasn't too bad but the views of the caldera and the view of the north side of the island and Fernandina was great too! " – TripAdvisor (Read more reviews)
🤩 Check Prices and Availability
⭐️ RATING: 4.5/5 Stars | ⏳ TOUR LENGTH: 10 hours | ✅ Book it!
If you don't have time to stay overnight on Isabella Island but want to see the Galapagos penguins, this Isabela island day tour from Santa Cruz is the best way.
You'll first stop at Las Tintoreres Islote, which is located just 15 minutes from the boat of Isabela. We saw the penguins leaving the port, and then you'll have the chance to snorkel in the water with marine life.
Afterward, you'll be taken to the Centro de Crianza Arnaldo Tupiza, an important turtle breeding center in the Galapagos, where you can see 5 species of giant tortoises of the 14 that exist in the Galapagos.
At the last stop, you'll explore the Isabela Island Wetlands Complex, which is a 1.6km trail where you can spot a variety of seabirds.
"Great day saw lots of animals penguins sea lion flamingo and sharks actually we're able to snorkel with sharks" -Deborah (Read more reviews)
FAQs About Day Trips Galapagos
What are the best day trips in the Galapagos Islands?
Some of the best day trips in the Galapagos Islands include visiting Bartolome Island, North Seymour Island, Kicker Rock, Los Tuneles, and Isabela Island.
What Day Trips in Galapagos Islands are good for avoiding crowds?
Day trips to lesser-known islands such as Española tend to have fewer visitors and offer a more secluded experience.
Can you do a day trip to Galapagos Islands?
You cannot do a day trip to the Galapagos Islands from the mainland, but you can take day trips to various islands in the Galapagos once you're there. This is a great option for travelers who want to explore the islands without committing to a longer cruise.
What is the best way to tour the Galapagos Islands?
The best way to tour the Galapagos Islands is through a combination of day trips to different islands and exploring their unique ecosystems, wildlife, and natural wonders.
Can you visit Galapagos without a tour guide?
Yes, you can visit the main islands without a guide. However, many of the smaller islands that you can visit as day trips require a licensed tour guide to ensure the preservation of the delicate ecosystem and wildlife, as well as to provide valuable information and guidance during your visit.
How much time do you need to see the Galapagos Islands?
To fully experience the Galapagos Islands, it is recommended to spend at least 5 to 7 days exploring the different islands and their diverse habitats. I spent three weeks in the Galapagos and didn't get bored.
What is the entrance fee to the Galapagos Islands?
The amount of this entrance fee depends on the age and nationality of the tourist. Most foreign tourists over the age of 12 pay $100, while children pay $50.
What month is best for Galapagos?
The Galapagos Islands can be visited year-round, but the best months for wildlife sightings and favorable weather conditions are generally considered to be from December to May. However, I visited the Galapagos in June and had a great time.
Final Thoughts: Galapagos Tours
From the captivating South Plaza Island to the wildlife extravaganza of Española Island, these Galapagos day tours offer a gateway to rare wildlife encounters and breathtaking natural wonders without taking a cruise.
I loved every second of my time in the Galapagos, and can't wait to go back.
🤩 Still can't decide? This tour to Santa Fe Island is my top choice. It gives you a great overview of Galapagos wildlife – including marine iguanas and snorkeling with sea lions.
Need more wildlife travel inspiration?