This post may contain affiliate links. By clicking and making a purchase through the links, I earn a small commission at no extra cost to you. This and display ads allows me to keep the site up to date and give back. Thanks for reading!
Looking for the best Galapagos day tours? You're in the right place! I spent weeks island-hopping through the islands, going on just about every tour imaginable. Some are better than others, so I'm going to share the ones worth spending money on in this post.
The Galapagos Islands are my all-time favorite destination for wildlife. As one of the last untouched places on this planet, I've never felt so connected to nature as I did being here. And you don't have to do an expensive cruise here to see them – there are so many fantastic day tours in the Galapagos to go on if you're island hopping!
If you plan to visit the Galápagos Islands, you have two options for getting around: take a cruise or island-hop. As explained in my post on budgeting in the Galapagos, island hopping is the more economical, environmentally friendly, and socially responsible way to go.
If you go island hopping, this means that you will either be exploring on your own during the day or taking a Galapagos day tour with one of the many tour operators located on the islands.
Day Tours from San Cristobal
Isla Lobos
A day tour to Isla Lobos is a must-do if you visit San Cristobal island in the Galapagos. This full-day tour takes you to Isla Lobos, an island about an hour away from San Cristobal. Once you arrive, the guide will take you on an hour hiking trail to look for wildlife.
Isla Lobos is the only place in the Galapagos Islands where I saw the frigate birds up close. It also happened to be the frigate bird mating season which made the experience all the more special. 
During this time, the male frigate birds will inflate their necks in an attempt to court a mate. It's insane how big they can get!
Isla Lobos was also the first place where I saw the incredible blue-footed boobies. During the tour, we saw many different life stages of the boobies. Some were trying to court a mate, while others were nesting with their eggs. We even saw a whole family of them snuggled up. Aww!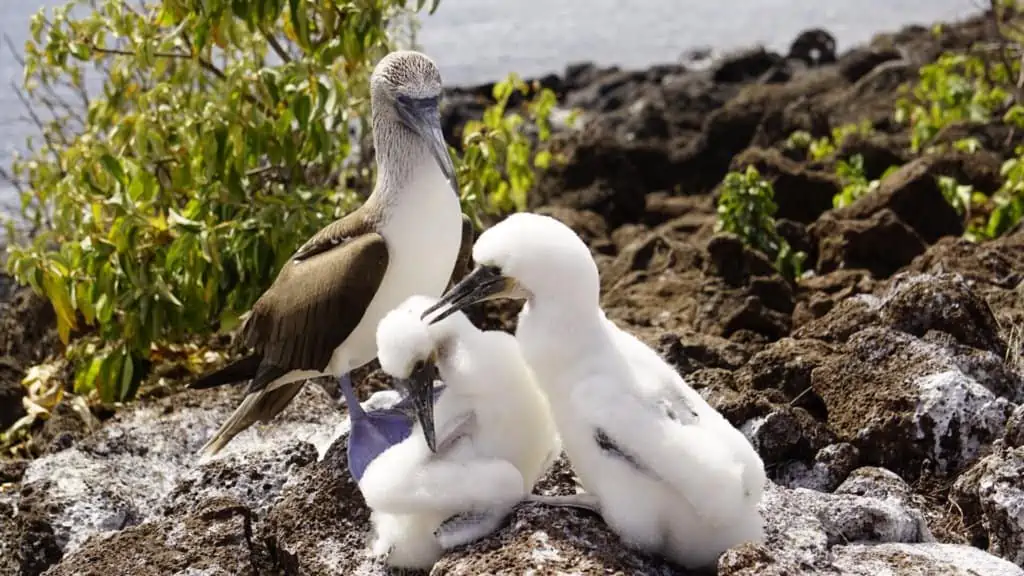 The landscape of Isla Lobos is rocky and wild. Make sure you wear closed-toe shoes for this day tour, as it's difficult to walk in sandals. As we walked along the rocks, we saw hundreds of marine iguanas.
Marine iguanas are a unique species to the Galapagos Islands. They are black and can survive in the water for up to an hour, a biological adaptation unique to the Galapagos. Isla Lobos was the first place I saw Marine Iguanas, although they can be found throughout most islands.
After about an hour of walking around Isla Lobos, the guides serve you a hot lunch on the boat. The second part of the tour is a guided snorkeling tour in the nearby water. As soon as we jumped in the water, baby sea lions came over to play with us! This happens all over the Galapagos, but I never got sick of it. We also saw massive schools of fish while snorkeling.
After snorkeling, we went to a nearby private beach with beautiful white sand and turquoise-blue waters. There was no one else on the island besides our group and the resident seas lions. Talk about paradise!
With the exception of a sunburn, I loved the Isla Lobos tour. I highly recommend it if you visit San Cristobal Island – you can book online below!
Click here to book an Isla Lobos day tour from San Cristobal.
Kicker Rock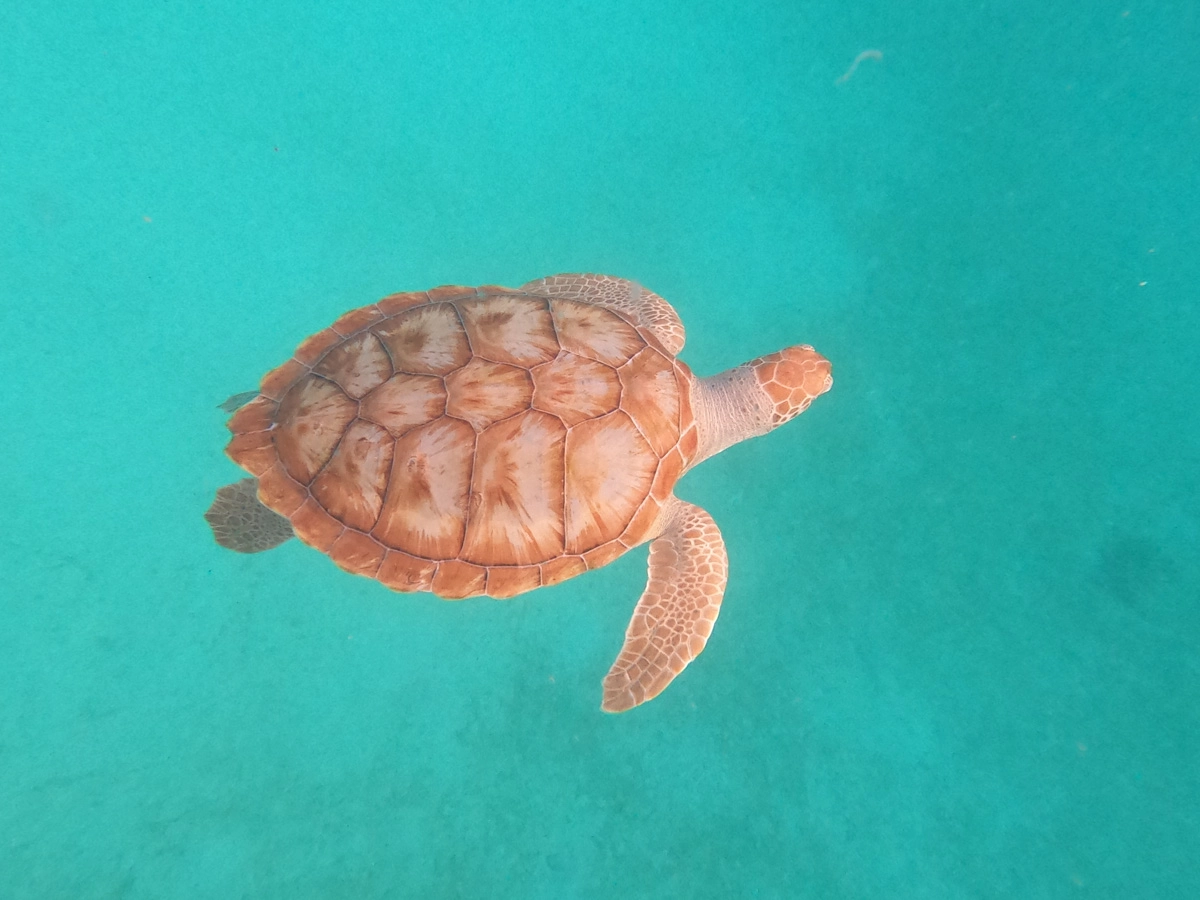 Kicker Rock is the other popular day trip from San Cristobal in the Galapagos. It's a large rock that sticks out of the ocean and attracts marine life, so it's a paradise for snorkeling and diving.
At Kicker Rock, you can swim with sea turtles, marine iguanas, stingrays, Galapagos sharks, tropical fish, and more!
Sadly, I couldn't do this due to time constraints, but I have heard awesome reviews about it for snorkeling and diving, so check it out if you can! It's one of the most popular day tours in the Galapagos.
Click here to book a day tour to Kicker Rock from San Cristobal.
Find accommodation in San Cristobal
Galapagos Day tours from Santa Cruz Island
Diving – North Seymour / Gordon Rocks
Diving in the Galapagos does not come cheap, but it is worth every penny. Two of the best dive sites in the Galapagos are Gordon Rocks and Seymour. Most tours will pick up in Puerto Ayora, the main town in Santa Cruz.
These dive sites are some of the best places in the world to find hammerhead sharks and oceanic sunfish. You can also see Galapagos sharks, white tip reef sharks, giant sea turtles, stingrays, moray eels, Galapagos eels, Barracudas, and various colorful reef fish.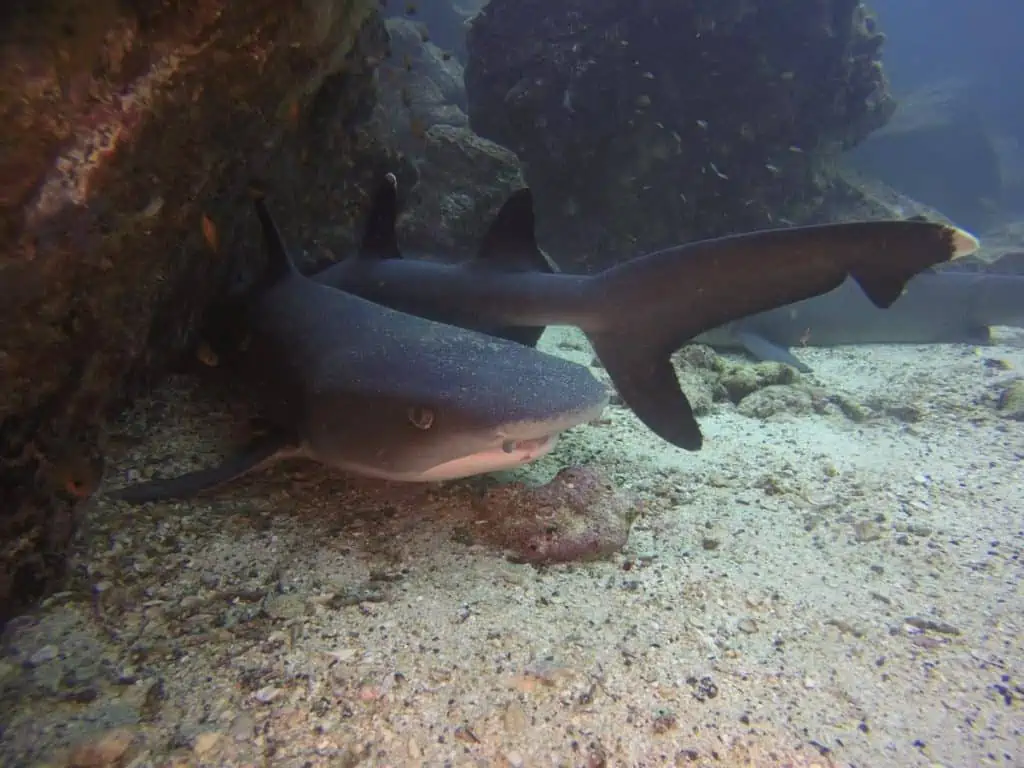 To dive at Gordon Rocks, you need to be at least an open water diver and have a minimum of 25 logged dives due to the strong currents. I didn't have enough dives, but the instructors tested my skills at the first dive site, Seymour, to decide if I could dive at Gordon Rocks. Thank goodness they allowed me to do the second dive; I would have been so disappointed to miss it!
Funny enough, on the day we went diving, we saw more Hammerhead sharks at Seymour than Gordon Rocks. If you aren't a diver, they also offer snorkeling day trips to North Seymour, which I've heard great reviews about.
Click here to book a dive tour to Gordon Rocks
Highlands Tour (Giant Tortoises & Lava Caves)
The highlands tour is one of the cheaper day trips to go on in the Galapagos. It takes you about an hour from the main town, Puerto Ayora, into the highlands of Santa Cruz. The best part about this tour is that you get to see giant tortoises in their natural habitat!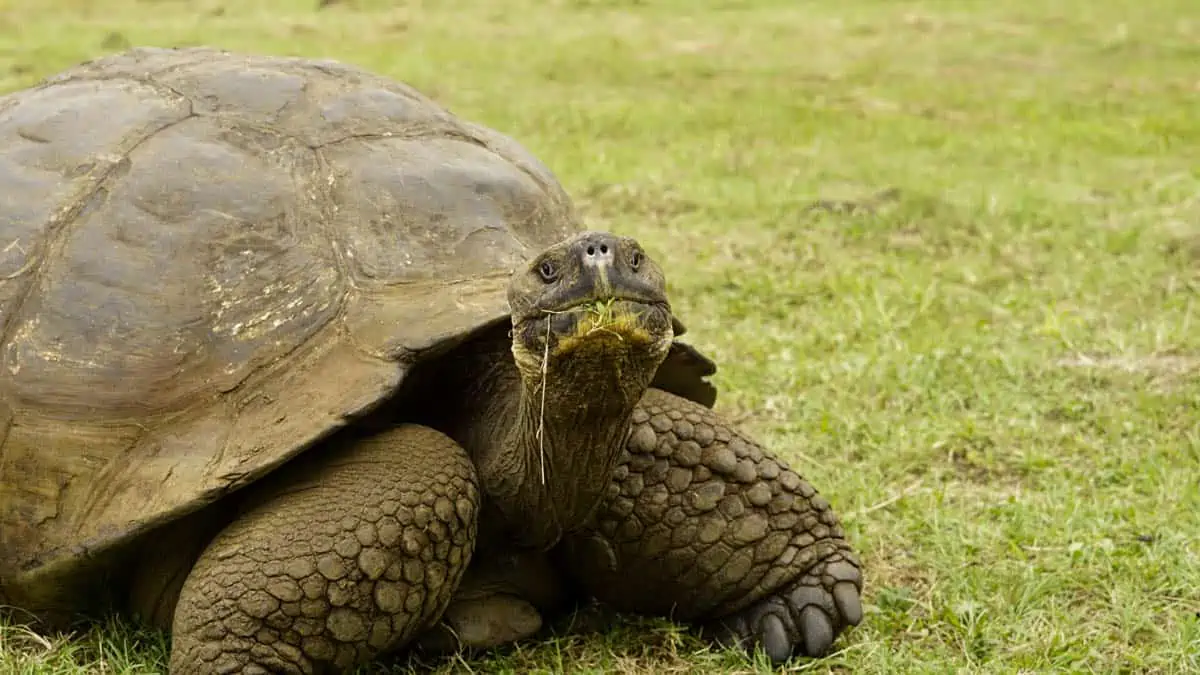 If you want to save money, you can also see giant tortoises for free at the breeding centers in both Isabella and San Cristobal island, but they will be behind a protected barrier.
After visiting the tortoises, the tour will take you to these giant lava caves, which you can walkthrough. Such a cool experience!
Click here to see prices for the tortoise and lava tour.
Santa Fe Island
A day trip to Santa Fe Island was the last tour I did, and it ended up being one of my favorites of the trip. It took us to a nearby snorkeling site from Santa Cruz, where we swam with a massive group of playful sea lions! We also saw huge schools of fish, sea turtles, and reef sharks.
After snorkeling, a hot lunch is served on the boat. The second part of the tour takes you on a guided hike around Santa Fe Island, where there are many marine iguanas sunbathing on the rocks.
Click here to book the Santa Fe Island day tour.
Academy Bay
Academy Bay was my least favorite tour in the Galapagos. They brought us to a snorkel site about half an hour away from Santa Cruz, where the water was murky and the visibility was poor. We swam around on our own for about an hour and only saw one sea turtle, which by Galapagos standards is terrible.
Galapagos Day Trips from Isabella Island
Isabella Island is another island you can visit on your own while island hopping in the Galapagos. Many people prefer this Isabella over the others because it's more natural and has fewer tourist shops selling "I love boobie" shirts. I'd have to agree with that, Isabella Island is awesome.
Los Tuneles
If you decide to visit Isabella Island, a day tour to Los Tuneles is an absolute must. The area was formed by a lava flow that hardened, leaving tunnels that flow through the ocean. It is such an interesting landscape to see.
What makes Los Tuneles even more amazing is that it is a refuge for many sea animals from the larger predators in the ocean. This is because the water is shallow, so bigger mammals like whales cannot get in.
The tour starts with a boat ride from Isabella Island into the Tuneles area. We saw Galapagos penguins on the boat ride over, which was so exciting!
After the boat tour, we walked onto the land and took a short guided walk through the area, where we saw many blue-footed boobies. These were particularly interesting because they were trying to court a mate by showing off their feet.
From there, we went on a guided snorkeling tour where we saw several sea turtles, white-tipped sharks (and baby ones!), seahorses, and large pools of tropical fish. Los Tuneles is by far one of the best day tours to take on Isabella Island in the Galapagos.
Click here to see prices for tours to Los Tuneles.
Sierra Negra Volcano Tour
Sierra Negra is a large volcano at the southeastern end of Isabela Island. There are day hiking tours that will take you to see the volcanic crater, but unfortunately, this tour was a big disappointment for me due to uncontrollable circumstances.
We hiked for about an hour to what was supposed to be a viewpoint of the crater of Sierra Negra. However, because it was raining and cloudy that day, we couldn't see anything. I don't even have pictures to show you, it was just fog.
The hike is usually much longer (4 hours), but because the volcano had a yellow warning when I was there, they only allowed us to walk to a certain point. I'm sure this volcano would look amazing on a clear day, but it just wasn't the case for us.
Click here to check prices for a day tour to Sierra Negra.
Las Tintoreras
Las Tintoreras is a half-day tour that takes you snorkeling to a body of water close to the port of Isabella. By Galapago's standards, I found this tour subpar. We did see penguins leaving the port, but you will likely see those on the Los Tuneles tour. Another aspect I disliked about this tour was that there were about 40 of us, which meant anytime we did come across wildlife, it became crowded.
None of the wildlife we saw was particularly special, the most exciting marine life we saw was sea turtles. After the snorkeling, the tour takes you walking on lava rocks where you can see sharks swimming and lots of marine iguanas. Seeing the reef sharks below was the best part of this tour!
Find accommodation on Isabella Island here.
What are the best day trips in the Galapagos Islands?
The best day trips in the Galapagos islands depends on what you want to see! For overall wildlife, Isla Lobos and Santa Fe Island are excellent value.
What Day Trips in the Galapagos Islands are taking additional safety precautions?
Many tour operators in the Galapagos are taking additional safety precautions, such as this tour to Isla Lobos and this day tour to North Seymour.
I loved every second of my time in the Galapagos, but I realized after my trip that I'd spent way more than I needed to on day tours. After a few, you will start to see the same wildlife repeatedly. While some tours are worth the money, there's no need to do them all.
I hope this post could help you choose what tours to do in the Galapgos and save you some money!
Need more South America travel Inspo?
Like it? Pin it for later!