This post may contain affiliate links. By clicking and making a purchase through the links, I earn a small commission at no extra cost to you. This and display ads allows me to keep the site up to date and give back. Thanks for reading!
Nestled on the Pacific coast of Canada, Vancouver's moderate climate, waterfront location, and proximity to some of the most attractive views in Canada make it the ideal city to experience. But if you have some extra time, there are plenty of incredible weekend getaways from Vancouver to make your trip even better.
Vancouver is close to an abundance of nature, culture, and thrilling exploits. So, if you have a few extra days and are looking for a new destination within driving distance, here are some places to consider for your next weekend trip from Vancouver.
Best Weekend Getaways From Vancouver In British Colombia
Vancouver Island
Vancouver Island is a classic location for a nature-filled weekend getaway from Vancouver!
The island is only a short drive and a ferry ride away. You can spend it exploring the province's charming capital, camping in Pacific Rim National Park, or catching waves in Tofino.
Named for the queen herself, Victoria is British Colombia's capital city and one of the prettiest in Canada. Be sure to check out Butchart Gardens, a designated National Historic Site of Canada full of beautiful flowers.
If you're craving more time in nature, then plan a road trip through the rest of the island to experience some of Canada's best nature. Here are some places you don't want to miss:
The Abyss, Extension Ridge: A part of a longer hike, The Abyss is a 50 cm fissure that runs through the earth in Nanaimo. Be careful; it's a long drop down!
If you do the full hike, you'll be treated to breathtaking views of nearby mountains and the Extension Ridge itself. Reward yourself with a delicious Nanaimo bar afterward, as this is where they were originally invented.
Whale Watching/Wildlife Tours: Several companies around the island offer unique wildlife watching activities. Vancouver Island is one of the best whale-watching destinations in the world, so don't miss out on this!
See whales, sea lions, porpoises, and more as you explore the waters and shorelines of Vancouver Island from Victoria or the Campbell River.
Pacific Rim: Enjoy local First Nations culture and ancient routes for travel and trade. Along the Pacific Rim Highway, you can find First Nations villages, parks, and beaches that allow you to feel a little more in tune with the island's culture. Don't miss out on the beautiful hiking trails in Pacific Rim National Park!
Go surfing. Tofino is not only one of the most beautiful places to visit on Vancouver Island but home to some of Canada's best surf spots.
If you haven't tried before, there are qualified instructors there to give you a lesson. Or you can simply relax and take in the breathtaking beaches of the area.
Wherever you stay on Vancouver Island, whether in hotels or campsites, ensure that nature is at the heart of your adventures.
Weekend Getaways Near Vancouver: Squamish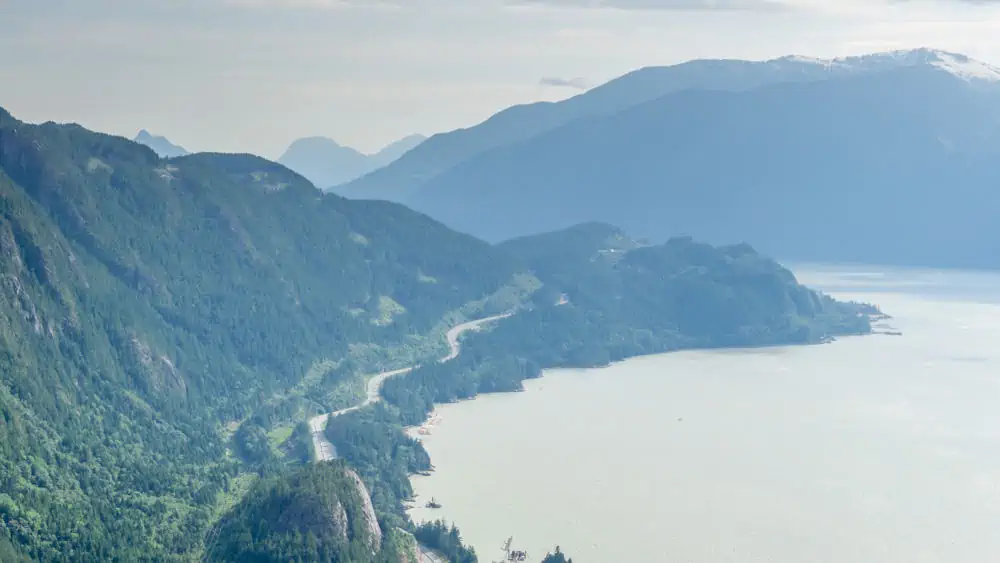 Just north of Vancouver, you'll find the town of Squamish.
The best part about choosing Squamish for your weekend getaway from Vancouver is that you get to drive the world-famous Sea-to-Sky Highway. This is also one of my favorite routes to take if you're driving from Vancouver to Banff!
Start your adventure in Squamish with a ride up the Sea to Sky Gondola, where you can get a birds-eye view of Howe Sound and the surrounding landscape.
You can also hike to the same viewpoint via the Sea to Summit trail if you want something more active.
This isn't an easy hike; it's a 900m ascent over 7km. At the top, there is also a suspension bridge you can walk along, making this a perfect activity for adventure seekers.
Another beautiful hike to do is the Stawamus Chief, a giant granite dome that pears over the town of Squamish.
The town is famous for its outdoor recreation activities, which go beyond hiking. It's a popular spot for rock climbing, or you can get wet on an exhilarating rafting experience.
There is also a great selection of accommodations, from campgrounds and cabins to hotels and resorts.
Whistler
If you're visiting Canada during winter and want to take advantage of the great skiing and snowboarding opportunities, then Whistler is the place to go for your weekend getaway from Vancouver.
Whistler served as the official mountain resort of the 2010 Olympic Winter Games and is continuously named one of North America's top four-season resorts.
Unlike many Canadian ski resorts which are typically closed by May, Blackcomb Village in Whistler still has plenty of life left to it into the spring season.
After a day on the slopes, grab an apres-ski in Whistler Village, where you can find extensive dining and lodging options.
This beautiful town has more to offer than just winter sports; it's home to several bucket list adventures that you'll want to put on your list
Fly across the longest zip-line in North America, take a helicopter up to a glacier, or marvel at the landscapes of Whistler by seaplane. There's no shortage of adventure in Whistler!
Kamloops
A small city surrounded by mountains, Kamloops is the furthest journey on this list. But if you're doing your weekend getaways by car, you can hardly do better than British Columbia.
The winding roads, hidden rivers, and mountain scenery make this 4-hour journey an adventure by itself.
The city serves as the ideal base to venture from; spend the entire day outside and then head back to the city or nearby wineries for good food and drink. Here are some activities to check out in Kamloops:
Horseback Riding with Local Stables: With many riding trails surrounding Kamloops, you can immerse yourself in nature and the nearby mountains on horseback. Join a group tour or spend a little extra for private tours and see the world like the early settlers did.
Fun on the Water: Kamloops is surrounded by water. The Thompson, North Thompson, and South Thompson Rivers converge in the city, and Kamloops Lake is a stone's throw away. Be sure to take advantage of the paddleboarding, boating, or white water rafting tours offered around the city.
Skiing and Snowboarding: Not as busy as a place like Whistler but just as beautiful, Kamloops' ski resorts are a perfect stop on your winter weekend trips from Vancouver. Spend the entire weekend tackling the slopes during the day and warming up in the European-style accommodations in the evenings.
Weekend Trips From Vancouver In The United States
The best part about planning a weekend trip from Vancouver is that you aren't limited to British Colombia.
The city is just a couple of hours' drive from the United States border, opening up endless options for new places to discover. Here are two weekend getaways from Vancouver in the U.S. to consider.
The Islands Whidbey and Fidalgo
Heading outside of Canada, Washington's Island County is host to the Deception Pass State Park that straddles the islands, Whidbey and Fidalgo.
Named for the deceiving width of the waterway, Deception Pass is home to several hiking trails, water sports, and camping.
Make your way to The Fidalgo Rock Quarry worked by convicts in the early 20th century, or over (and under) the 180-foot-high, 1,487-foot long Deception Pass Bridge that sees 20,000 cars per day. To put that into perspective, the local town of Oak Harbor only has a population of 22,000!
At the end of the day, treat yourself to brilliant sunsets before finding sleep in local accommodation or campsites.
Seattle, Washington
Another trip to the south, Seattle is roughly 2.5 hours away from Vancouver by car.
It is accessible via train as well, which makes this weekend getaway a little more attainable if you don't drive. Being in the city also means plenty of choices for accommodation, from cozy cabins to five-star hotels.
Explore a long list of attractions in science, arts, and culture, but make sure you don't miss out on:
The Space Needle: Synonymous with the Seattle skyline, the Needle is iconic. You cannot leave the city without stepping foot inside. When you get to the top, you're treated to unparalleled and stunning views of the city.
Hop on the Seattle Center Monorail when you're done and experience a quick, unique, and eco-friendly ride downtown.
The Museum of Pop Culture (MoPOP): Gain an insight into the history of popular culture from Star Trek to Nirvana. Its seriously cool architecture and interiors complement the interesting exhibits. Fantastic for any pop culture aficionado.
The Pacific Science Center (PacSci): Space, butterflies, super-strength – the science center is family-friendly and speaks to the child within. With both permanent and temporary exhibits, you're bound to learn something new!
Pike Place Market: You can't visit Seattle without making a trip to this iconic market. To make your experience even better, join this chef-guided food tour, where you'll embark on a culinary adventure with a local chef.
Learn about local food production in the region and taste your way through the delicious flavors of the Northwest!
—
If you're traveling outside of the city for the weekend and want easily drivable destinations, the above short trips from Vancouver are for you! Whether you travel in summer or during a Canadian winter, you're bound to find a marvelous experience.
Planning a trip to Canada?