This post may contain affiliate links. By clicking and making a purchase through the links, I earn a small commission at no extra cost to you. See my disclaimer for more information. This and display ads allow me to keep the site up to date and give back.
Looking for the best Toronto food tours? I lived in Toronto for years, and one of my favorite things to do was eat my way through the city.
Toronto is known as one of the most multicultural cities in the world, reflected in its diverse food scene. There is a neighborhood for almost every type of cuisine, from Little Italy to Chinatown.
The city loves to celebrate its world-class food culture. From food festivals to restaurant weeks, there's always something fun and food-related happening in Toronto.
If you're planning a trip, check out some of these amazing dining experiences and food tours in Toronto!
Dining at Toronto restaurants
Toronto is home to some of Canada's top restaurants! If you're planning on dining out, it's best to book in advance as many of the restaurants here fill up, especially during the busy summer season in Toronto.
The easiest way to make a reservation is on OpenTable, which lists most restaurants in Toronto. If you're not sure where to go, you can put in a date, time, and type of cuisine, and OpenTable will suggest highly-rated restaurants for you to try.
My top pick? Canoe Restaurant and Bar. Sitting on top of the TD Bank Tower, this restaurant offers breathtaking views of the city and Lake Ontario.
But it's not just the view you'll love. Chef Ron McKinlay has crafted a brilliant menu of regional Canadian cuisine that features local and seasonal ingredients.
I recommend getting the tasting menu, which can be made vegetarian or pescatarian if given advance notice. The wine list is one of the most extensive in the city, making it perfect for pairing.
Pro tip: The city of Toronto runs two events every year – called Winterlicious and Summerlicious, which was a program started to showcase Toronto's diverse cuisine.
During these events, you can dine at Toronto's best restaurants for a set price that's much cheaper than the regular menu. Be sure to make reservations early during this time, as the top restaurants fill up quickly. This is a great way to keep your spirits high during winter in Toronto.
Best Toronto food tours
Food tours can be a great way to introduce yourself to the city and the best places to eat, so you can spend more time enjoying Toronto!
⭐️ 5/5 (350+ reviews) | 🕕 2.5 hours | ✔️ Check availability here
Kensington market is not only one of Toronto's coolest neighborhoods but is one of the best places to sample the international flavors of Toronto.
On this 5-star walking food tour in Toronto, you'll taste your way through Kensington market food tour. Your knowledgeable guide will take you to the area's best eateries to sample six international cuisines, from Tibetan momos to Jamaican patties.
The best part about this international food tour? You get to skip the line, which means more time for eating and enjoying the eclectic bohemian vibe of Kensington.
This was our favorite part of the trip! Jessica was super knowledgeable and passionate about both the food and the culture at Kensington Market. She had a great relationship with all the shop owners and provided the best experience. We'd recommend her and this tour to anyone!

– Rebecca (read more reviews here).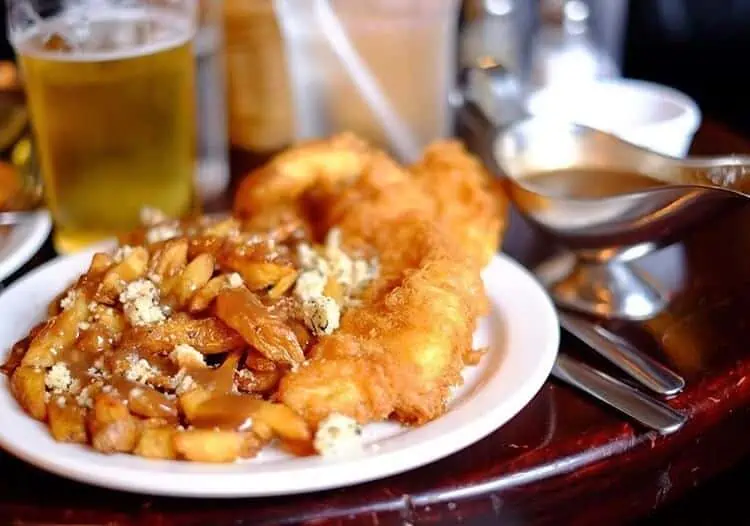 ⭐️ 5/5 (350+ reviews) | 🕕 3.5 hours | ✔️ Check availability here
This 5-star rated tour run by Secret Food Tours starts at the famous St. Lawrence Market, where you'll try some of the market's best comfort eats, from fish and chips to sweet treats. You'll also try a delicious secret Canadian dish that will be revealed on the tour!
From the market, your knowledgeable guide will take you to another side of the city as you visit some favorite local eateries, sampling cuisines ranging from sushi to pierogies. Along the way, you'll learn about the different communities that have contributed to the city's culinary heritage.
What's included on this tour?
Peameal bacon sandwich
Maple syrup tasting
Bagel with cream cheese
Butter tart
Our delicious Secret Dish
I had a great time on this trip with Julia. She was easy to talk to and explained the history of most of the stalls, shops, and food. A few extra surprises and sights. I had an amazing time.

– Bill (read more reviews here)
⭐️ Not yet rated | 🕕 5 hours | ✔️ Check availability here
If you want a private food tour, check out this brand-new Toronto world food tour. Starting at 5 pm, you'll head out for a globe-trotting journey to some of the city's best restaurants.
Enjoy feasting on food froms five different cultures, including Italian, Indian, Thai, Peruvian, and Mexican! All food is included on this tour, as well as cocktails and desserts. By the end of the night, you'll have a happy stomach and some new favorite restaurants to return to.
⭐️ 5/5 | 🕕 3 hours | ✔️ Check availability here
This tour takes you through St. Lawrence market, one of the city's most famous food markets that National Geographic namedhic as one of the top 10 food markets in the world! It's inside the gorgeous St. Lawrence Hall building, which was declared a National Historic Site of Canada.
From poutine to the peameal bacon sandwich, you'll learn about Canada's best culinary creations. As you savor the delicious flavors, your guide will provide insights into how the food fits into the cultural landscapes of Canada.
Foods you may try on this tour include butter tarts, Montreal-style bagels, cheese curds, maple candy, and more! At the end, you'll stop into a local pub that has been around for decades.
I LOVE that this tour is carbon neutral and operated by a travel B corp accredited company so that you can feel good about booking!
Great commentary during the tour. Enjoyed the tasting of select items throughout the walk as well. Knowledgeable and entertaining tour guides!

– Albert (read more reviews here).
⭐️ 5/5 | 🕕 2 Hours | ✔️ Check availability here
If you're a fan of donuts, this underground donut tour is for you.
Beginning in the heart of the fashion district, you'll start with hot and fresh donuts from Cops Doughnuts.
Walk along to Queen street for more sweet treats, where your knowledgeable guide can provide you with more information about shops and restaurants to add to your itinerary. This area has some of the best boutique hotels in Toronto, so it's a great place to base yourself.
Walking through Alexandra Park, you'll head to Kensington Market for two more delicious stops. This tour is a great way to introduce yourself to some of Toronto's most vibrant areas!
Toronto Food Festivals
Toronto LOVES festivals – and there are some epic food ones. This is by no means an inclusive list, but here are a few of my favorite festivals to enjoy sampling Toronto's incredible cuisine.
March 31st to April 2nd, 2023
Grab your friends and head to the Metro Convention center this spring to taste the very best from local chefs, restaurants, winemakers, spirits, beer, and cider companies. Tastings, classes, pairings, and music take place during this 3-day festival.
Every weekend in the summer 2023
Scarborough Town Centre hosts a giant food truck market every weekend throughout the summer, including an Ice Cream Fest and Poutine Festival!
July 14th-16th, 2023
This massive Ribfest is touring its way through Canada with a stop in Toronto in July.
#9. Taste of Little Italy
June 16-18, 2023
Need I say more? The streets of Little Italy close down during this 3-day festival and the restaurants have extended patios. This is the perfect place to go with drinks and sample Italian cuisine, wine, and cocktails. The streets are so much fun to be on!
August 4th-7th, 2023
If you love food trucks, don't miss this event in Woodbine park. Admission is free, and you can sample flavors from all over the world alongside a locally brewed cold beer.
August 10th-13th, 2023.
A huge festival of music and food and award-winning jerk chicken.
August 11th-13th, 2023
Taste of the Danforth is one of my favorite Toronto neighborhood festivals. Known as "Greektown", the entire street shuts down for a giant festival of drinks and food all things greek.
August 18 to September 4th
The CNE is one of Toronto's most beloved summer events. It's a giant carnival with games, amusement park rides, and the weirdest food you can think of.
September 23rd, 2023
Your mind will be blow away at how delicious vegan food can be after attending this festival.
FAQ: Toronto Food Tours
What is the most famous food in Toronto?
Toronto is known for its diverse food scene, but peameal bacon sandwiches are one of the most famous. This sandwich consists of thinly sliced, cured and rolled pork loin, which is then coated in cornmeal and grilled until crispy. The sandwich is often served on a Kaiser roll and topped with mustard or other condiments. Peameal bacon sandwiches are a staple at the St. Lawrence Market, which you can visit on these Toronto food tours.
Is Toronto a foodie city?
Yes, Toronto is widely considered to be a foodie city with a thriving food scene. The city is known for its diverse range of cuisines, reflecting the multicultural population of the city. Toronto has a wealth of restaurants, cafes, and food markets, as well as a number of food festivals and events throughout the year, highlighting the city's vibrant food culture.
What is a foodie tour?
A foodie tour is a guided excursion focused on exploring local cuisine and food culture. Foodie tours are typically led by knowledgeable guides who will take you to various food-related destinations, such as restaurants, markets, food trucks, and specialty food shops. During the tour, you'll have the opportunity to sample a variety of dishes and drinks, learn about the history and cultural significance of the foods, and interact with chefs and food vendors.
—
I hope this post could inspire you with ideas for restaurants, food festivals, and food tours in Toronto.
The city is a great destination for foodies looking to explore new flavors and cuisines. Whichever culinary adventure you choose, enjoying the cuisine of Toronto is sure to be a highlight of your time here.
Planning a trip to Toronto? Don't miss these posts!