This post may contain affiliate links. By clicking and making a purchase through the links, I earn a small commission at no extra cost to you. See my disclaimer for more information. This and display ads allow me to keep the site up to date and give back.
Wondering what to do in Toronto in spring? Let me help! I lived in Toronto for five years, and spring is one of my favorite times to explore the city.
While most people plan their trips during the busy summer months, spring is actually the best time to visit Toronto.
After a long Canadian winter, the city comes to life again with spring flowers and cherry blossoms, bustling patios, and parks full of locals celebrating the warm weather. By early June, you'll have consistently warm and sunny days without the tourist rush.
In the following sections, we'll delve into the heart of Toronto's spring. From photographing cherry blossoms to the city's best patios, this guide will help you plan a perfect trip to Toronto this spring.
Things to Do in Toronto in Spring
When it comes to places to visit in Ontario, none offer as much as Toronto. As a top tourist destination for travelers worldwide, there's something for everyone here.
World-class attractions, sprawling green spaces, and thrilling amusements are just the beginning.
As you explore the city, you'll find many historical landmarks, museums, cultural venues, and stately architectural wonders, including the CN Tower, which towers high above all the rest.
As one of the most multicultural cities in the world, just as many restaurants are serving local specialties as there are serving traditional dishes from just about every country. Many festivals and cultural events highlight this vibrant and diverse culture.
The city's location along the shores of Lake Ontario allows for easy escapes from the bustling city streets. I bet you didn't think eleven public beaches would be a short distance from downtown.
Yes, that's right. You can go from shopping on Yonge Street to beachcombing along the shores of Lake Ontario in the same afternoon!
These are the best things to do in spring in Toronto:
1. Walk along the edge of the CN tower
It's the most well-known attraction in Toronto, and no visit to the city is complete without checking out the CN Tower. Yes, you can admire it from the outside,, but don't miss the chance to go inside, where many fascinating attractions await.
Take the elevator to the main deck, where you'll enjoy incredible views of the city and beyond. The rotating restaurant is one of the city's best, serving delicious meals with an equally astonishing view. Pro tip: If you're dining at the restaurant, you don't need to pay to go up the tower.
If you love adventure, don't miss the hang off the edge of the CN Tower on the Edge Walk. Don't worry; you're harnessed in safely, but this attraction is not a good choice for anyone afraid of heights!
2. Explore the city neighborhoods
Springtime is the best time to walk around the city's colorful neighborhoods. Go for a stroll along the waterfront, which has designated biking/walking paths with views of Lake Ontario and the islands.
Kensington Market is another great place to explore with restaurants, vendors, street art, and vintage stores.
Explore the best of Kensington market on this 5-star guided food tour!
The Beaches neighborhood, situated east of downtown, is another neighborhood you'll want to check out.
This area is so laid-back it doesn't feel like you're in the city at all. Enjoy long walks on lakefront beaches, hiking in the parks, and checking out the little shops in the village.
3. Pack a picnic in the park
Spring is the perfect time to pack a picnic and head to one of the city's many parks! High Park is one of the most popular places to go for Toronto spring activities, with its dozens of cherry blossoms and gorgeous walking trails.
Tommy Thompson Park also has some lovely trails with nice views, and it's one of the best places to go bird watching in the city.
4. Go for a patio drink
In spring, most days are nice enough to enjoy a drink on one of Toronto's many rooftop patios.
Whether it be a plain coffee, a cafe latte, or a fancy cocktail, you'll find a refreshing (or warming, depending on the temperature outside) drink to enjoy while watching the busy street below.
Hemingway's, Drake Sky Yard, and Pauper's Pub are some of the best places in the city with rooftop patios.
5. Attend a sports game
Even if you don't follow baseball, attending a Jays game at The Roger Centre is one of the most exciting things to do during a visit to the city. You can find cheap tickets online, and the excitement of being in the arena is the perfect way to spring a spring afternoon in Toronto.
If you're in town at the right time, you might even be able to catch a Toronto Maple Leafs game at the Scotiabank Arena.
6. Visit the Toronto Islands
It's not hard to escape the hustle and bustle of the city for a day, and one of the best places to head to on sunny spring days is the Toronto Islands.
There are two ways to get to the island. The first way is by ferry at Jack Layton Ferry Terminal, which departs every hour in the spring. The second way is by water taxi, which is a little more expensive but will get you there quicker.
Once on the island, you'll find a variety of attractions, including several beautiful beaches, a theme park with a rollercoaster, sprawling green spaces, and nature trails. Kayaks, canoes, and bicycles are available to rent.
Bikes are a perfect way to get around the islands. You can rent them from bike-share stations in the city and bring them on the ferry or join a guided Toronto islands bike tour.
7. Visit Allan Gardens Conservatory
If you need somewhere warm to go, Allan Gardens Conservatory is an excellent option in the downtown area. This indoor sanctuary is home to a botanical garden with several plants, including cacti, tropical plants, and spring flowers.
8. Visit the museums and art galleries
If you find yourself in Toronto on a rainy day, don't worry because this is the perfect opportunity to visit one of the museums and art galleries that are among the best in Canada.
The Royal Ontario Museum is the most visited museum in Canada, housing a vast collection of art, world culture, and natural history.
Don't waste your time in line – buy your tickets to the ROM before you go.
The Art Gallery of Ontario is another place not to miss, with a collection of more than 90000 works of art. Every Wednesday evening, admission is free!
9. Take a day trip to a nearby town
Spring season in Toronto is the perfect time to rent a car and explore one of the many beautiful places near Toronto on a day trip.
Some of the best places to visit near Toronto in spring are Canada's top natural wonder, Niagara Falls, which is just a two-hour drive away. Or you can chase hundreds of waterfalls on stunning hiking trails in Hamilton.
I use and love Discover Cars to find the best rates worldwide!
Springtime Festivals in Toronto
Toronto is known worldwide for its many festivals throughout the year, and some of the best festivals take place in spring. Whether it be the arts, film, food, or music, there's bound to be something going on during your visit.
Each spring, The Enercare Centre hosts the One of Kind Spring Show that showcases Canadian companies and locally made products that you can purchase.
If you're looking for something unique and local, you'll find plenty of souvenirs and gift ideas here.
Hot Docs Festival, features documentary screenings in various venues around the city. See some of the top documentaries from around the world and attend seminars featuring talks from some of the directors.
Doors Open Toronto is a free event hosted in May. It invites visitors to come and explore Toronto's architectural, historic, and cultural significance sites that are either not usually open to the public or would typically charge an entrance fee.
With more than 150 different places to check out, this is a great way to explore Toronto and learn more about the city and its history.
Canadian Music Week is a long-standing festival that features hundreds of musical acts, and North by Northwest showcases a mix of comedy, music, art, and film.
Cherry Blossoms in Toronto
No article about visiting Toronto during spring is complete without mentioning the cherry blossoms that bloom in High Park around the end of April. This gorgeous green space draws people from all over during the short period when blossoms peak.
The roads and paths through the park are lined with these pretty cherry blossoms, but be aware that they only last between four and ten days, with the average peak time around May 4. High Park is also home to hiking trails, picnic areas, and a lakefront.
If you'd like to see cherry blossoms without the crowds of High Park, you can also see them at Cedarvale Park, Toronto Island Park, Trinity Bellwoods Park, and Centennial Park.
Weather in Toronto during Spring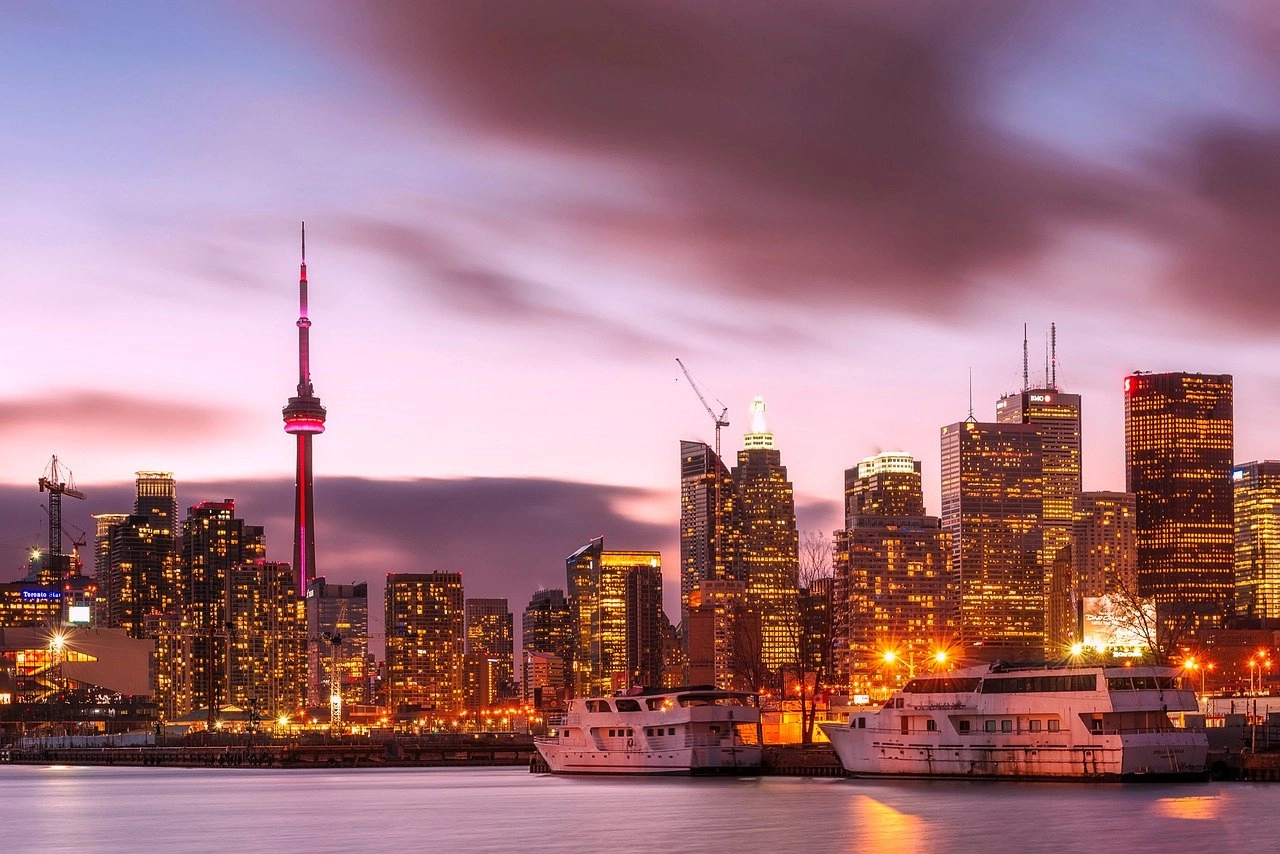 If you've heard stories about the harsh Canadian weather, you might be debating whether it's a good idea to travel to Toronto in the spring.
While much of Canada sees snow, freezing rain, and cold temperatures well into spring, Toronto is lovely this time of year. Spring is the best time to travel to the city!
Winter in Toronto is cold and snowy, and summer days can be unbearably hot, but average spring temperatures in Toronto stay pleasant, around 54°F/12°C degrees in April and 72°F/22°C by June.
Snowstorms can happen in early spring, but the snow doesn't stick around as long as in the colder months of January and February.
You're more likely to see some rain during a trip to Toronto in spring. Still, rainy days are the perfect excuse to visit the fabulous museums around the city or take in an indoor cultural event.
Where to Stay in Toronto
There are many great places to stay in Toronto to suit all budgets and tastes.
The five-star Fairmont Royal York, located downtown on Front Street, is a luxurious, historic hotel with beautifully decorated public spaces and rooms, an indoor swimming pool, a full spa, and several restaurants.
The Park Inn on Shuter Street is a budget-friendly three-star hotel close to downtown. The basic but comfortable rooms make for an excellent base to launch your adventures around the city. The best part is breakfast is included with your stay.
If you prefer to stay in a hostel while traveling, you're in luck. Toronto has many fabulous hostels that won't break the bank.
The Planet Traveler Hostel on College St is only a ten-minute walk from downtown. It features a complimentary breakfast, a lively rooftop bar with city views, and solar-generated hot water for eco-friendly travelers.
Read more: Why the Westin Harbour Castle is your perfect Toronto stay
FAQ: Toronto Spring
Is spring a good time to visit Toronto?
Yes, spring is a great time to visit Toronto as the city comes alive with blooming flowers, pleasant weather, and a variety of outdoor activities.
What month is best for Toronto?
June is often considered the best month to visit Toronto, offering warm weather and a full bloom of spring without the peak summer crowds.
When is spring in Toronto?
Spring in Toronto typically runs from late March to early June, characterized by gradually warming temperatures and blooming flora.
What is Toronto like in March?
March in Toronto is a transition month, with lingering winter chill and occasional snow, but with increasing daylight and the early signs of spring.
Is Toronto snowy in April?
Snow in Toronto in April is possible but less common, with the weather transitioning more towards spring conditions.
How do people dress in Toronto in April?
In April, people in Toronto typically dress in layers, with warmer clothing for cooler mornings and lighter options for milder afternoons.
What is Niagara Falls like in April?
Niagara Falls in April is striking, with the thawing ice and increased water flow, but visitors should be prepared for cooler temperatures and occasional rain.
Is April a good month to visit Toronto?
Yes, April is a good month to visit Toronto, offering milder weather and fewer tourists compared to the summer months.
What do you wear in Toronto in spring?
In Toronto during spring, it's best to wear layered clothing, including a light jacket or sweater, to adapt to the variable temperatures.
Does it rain in Toronto in spring?
Yes, spring in Toronto often brings rain, making it advisable to have an umbrella or raincoat handy when exploring the city.
When does spring start in Toronto?
The official start date is the vernal equinox, around March 20th or 21st. However, the true spring weather with milder temperatures and blooming flowers usually becomes more evident in April.
Final thoughts: Should you visit Toronto in the Spring?
Whether you're cheering at a lively sports game, exploring the rich tapestry of neighborhoods, or finding tranquility on the Toronto Islands, each moment is set to be unforgettable.
From the first thaw of March to the balmy breezes of June, the city unfolds in a spectacle of life and celebration. And while the occasional spring shower may grace your visit, it only adds to the charm, offering a perfect excuse to delve into the world-class museums and galleries.
So pack your layers, grab your camera, and get ready to embrace all that Toronto offers in the spring. Whether it's your first visit or a return to a beloved destination, Toronto in spring promises a blend of adventure, relaxation, and discovery.