This post may contain affiliate links. By clicking and making a purchase through the links, I earn a small commission at no extra cost to you. See my disclaimer for more information. This and display ads allow me to keep the site up to date and give back.
Toronto is affectionately known as the "City of Neighborhoods," and each one is distinct and worth getting to know. I lived there for years, and one of my favorite things to do was explore and find the new neighborhoods in Toronto! Many also host their own annual festival, which are always a fun time.
Whether you're moving to Toronto or just visiting, these are the best neighborhoods in Toronto to stay from east to west.
12 Coolest Toronto Neighborhoods
The Beaches
Did you know Toronto is home to sandy beaches? This Toronto neighborhood will make you forget you're in a city at all.
Sitting in the East End, it's a popular spot for locals to play beach volleyball, soak in the sunshine, and swim in the lake. If you're looking for some renewal and relaxation on your trip to Toronto, this is the place.
Leslieville sits adjacent to it, which is a great choice if you want to be closer to downtown while still having quick access to the beach.
If you're visiting Toronto in the summer, be sure to check out the Beaches International Jazz Festival which runs through July. It's one of Canada's largest free jazz festivals with nearly a million attendees!
In the winter, check out the Winter Stations public exhibition at Woodbine Beach to see some unique art installations.
Danforth
While the Danforth started as a quiet community of Greek Immigrants in 1907, it is now one of the best places to go for nightlife on the weekends, with endless restaurants and bars to choose from.
The biggest draw is the Danforth Music Hall, one of the city's best live music venues. Be sure to check out the schedule to see what's on during your trip, as you may discover a new favorite band!
The Danforth also hosts the Taste Of The Danforth Festival every August, one of my favorite summer street festivals in Toronto.
This 3-day street festival is one of the largest in Canada, with music, arts, sports, and of course, delicious greek food.
Distellery District
If you're visiting Toronto in winter before the Christmas season, the Distillery District is the place to stay as it hosts the annual Toronto Christmas market, which was recognized as one of the best in the world by CNN.
The smell of mulled wine, sparkling Christmas lights, and signing carolers is magic for your senses. But even at other times of the year, the distillery district is full of magic.
This pedestrian-only village is where you'll find some of Toronto's best Victorian-era buildings. That's all it was at one point but has since been turned into a vibrant space for creatives and artists while still retaining its historic charm.
If you want to get an insider look at the Distillery District, check out these guided segway and walking tours. The Distillery District is also one of Toronto's most haunted spots, so if you want to be spooked, check out this ghost tour!
Cabbagetown Toronto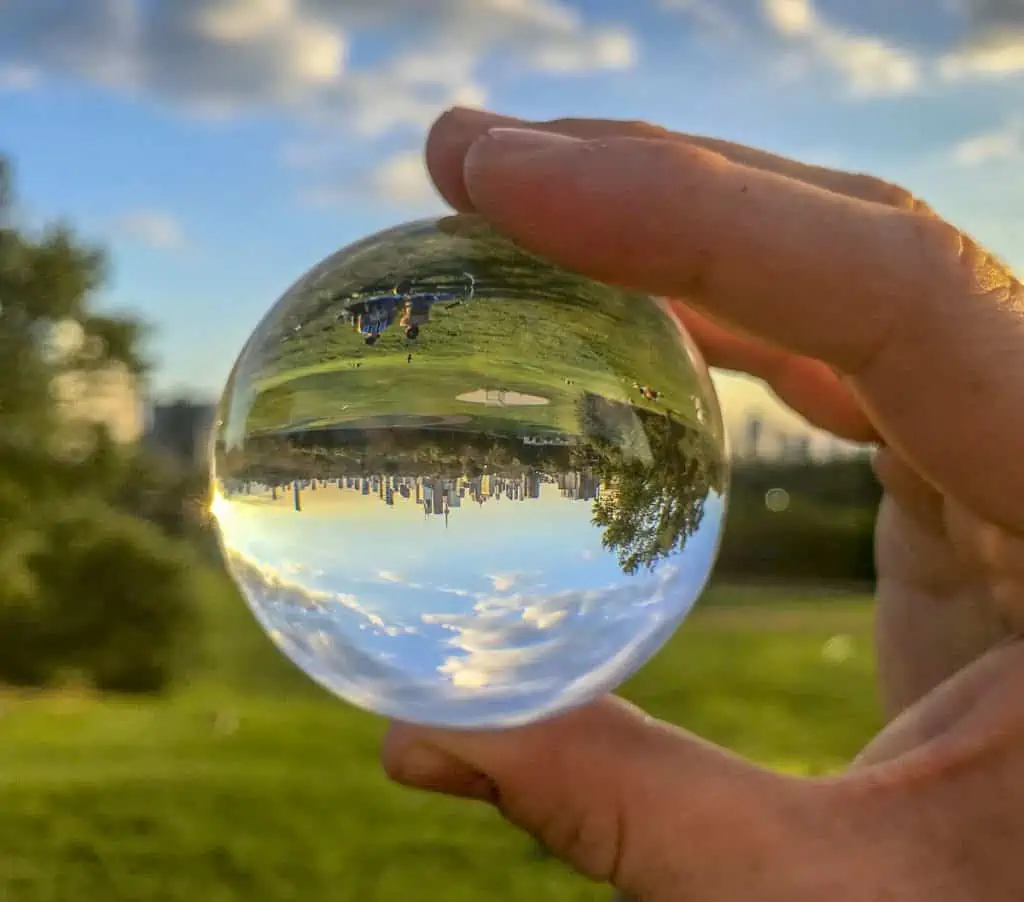 Cabbagetown was the Toronto neighborhood I lived in for years and is a place dear to my heart. It's primarily residential Victorian homes, but stroll along Parliament Street and you'll find many mom-and-pop shops that give it a community feel.
Be sure to stop in House of Parliament for a pint and meal. This was my local watering hole and the food here is so tasty!
Another reason to visit Cabbagetown is to check out the Riverdale Farm. It's a locally-owned farm in the heart of the city where you can see cows, horses, goats, chickens, and more. It's completely free to visit!
This is a great thing to do with kids, but even as an adult I loved coming here to see the cute animals. Riverdale Park is right next to it, which is also a lovely place to hang out.
Every September, Cabbagetown hosts the Cabbagetown Festival which is so much fun. Parliament streets comes alive with performances, food stalls, and street vendors selling local goods.
Cabbagetown is in the east end, so it's a convenient base for exploring both the east end and downtown which are just a short walk or bus ride away. It's just a 10-minute walk to the Village, so if you want to experience the awesome nightlife without the noise, Cabbagetown is the perfect spot.
Neighborhoods in Toronto: The Village (Church Street)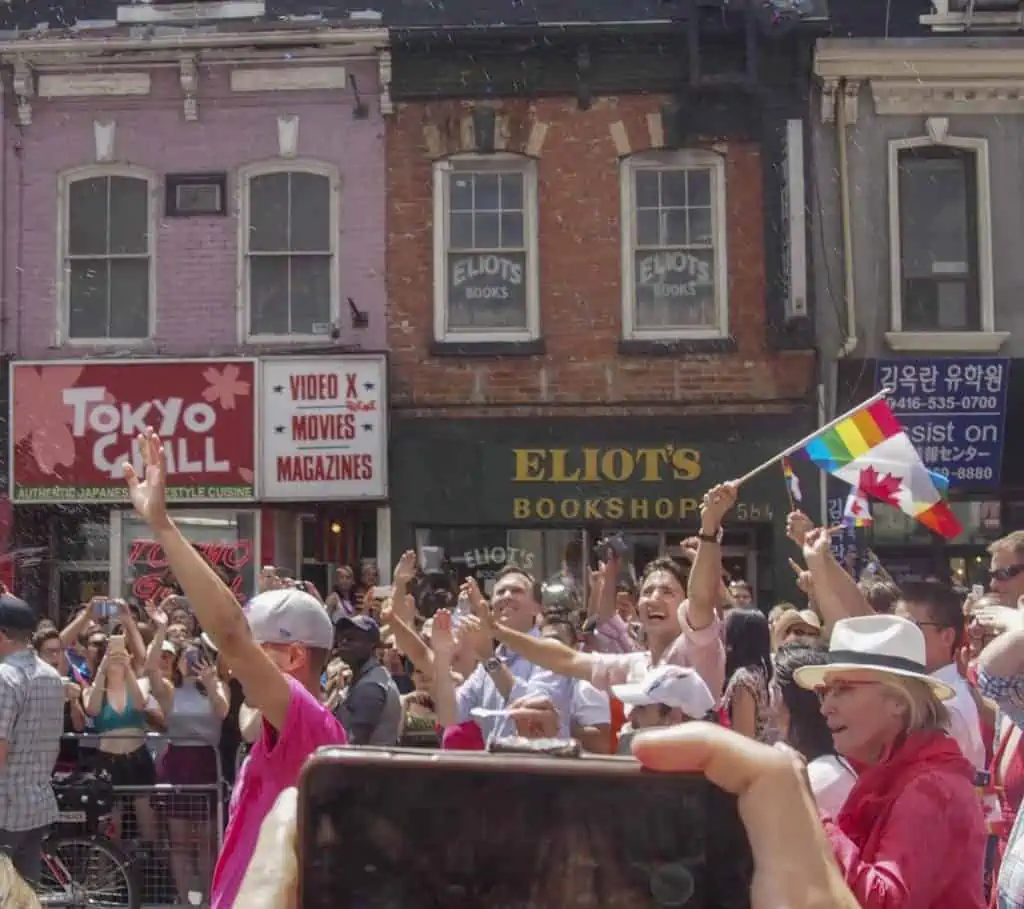 For LGBTQ+ travelers, you won't find a more fun environment than the Village on Church Street. It's lined with gay bars and clubs hosting nightly drag shows.
Be sure to stop at Hair Of The Dog for a pint and then bar crawl your way through the many bars. Summer is the best time to do this when you can take advantage of the outdoor patios.
Every summer during pride month Church Street gets closed off for a giant street party and parade as part of Toronto Pride. It's one of the largest prides in the world so if you can try to time your trip with this I recommend it!
The Village sits in the middle of the city, so it's a great base to experience Downtown Toronto with easy access to all major transit networks that can take you elsewhere.
Yorkville
Widely known as the fashion district, Yorkville is where you'll find some of Toronto's highest-end brand stores, including Dior, Chanel, and Tiffany. The quality of its dining is just as high as the stores, so this is a great place to eat out!
It's also near some of Toronto's top attractions like the Royal Ontario Museum (ROM), the largest natural-history museum in Canada with new exhibits every few months. If you're visiting during the summer, be sure to check out Friday Night Live where you can dance among dinosaur bones.
Recommended hotel: The Hazelton is an upscale boutique hotel that perfectly compliments the vibe of Yorkville. All of the rooms have been uniquely designed by internationally renowned design firm Yabu Pushelberg.
Annex
Sitting adjacent to Yorkville, the Annex is a heavily student-populated area. It's got endless coffee shops, bookstores, and restaurants to choose from, but the neighborhood really comes alive in the summer when patios open up. Be sure to check out The Annex Food Hall for quick, tasty eats.
The Annex is also where you'll find one of Toronto's most unique sights: Casa Loma, the only castle in the city!
You can admire it from the outside or take a tour inside. In the winter, the outdoor area becomes lit up in a dazzling display of lights that you can walk through.
This Toronto neighborhood is the place to stay for those who want something a little quieter, with lots of green spaces to hang out in. You can still get into the city's core easily!
Entertainment District
If you're coming to Toronto to see a Blue Jays or Raptors Game, then the Entertainment District may be your best bet as it's where you'll find Scotiabank Arena and The Rogers Center where the games take place.
It's also home to the Bell Lightbox cinema, which hosts the annual Toronto International Film Festival in September.
But even if you're not coming for a specific event, there are plenty of restaurants and nightclubs to keep you entertained all night.
It's also near Toronto's top attractions like Ripley's Aquarium of Canada and the CN Tower, one of the tallest buildings in the Western Hemisphere.
If you decide to go up, it's better value to get a meal at the 360-restaurant as you won't have to pay to go up and the food is good!
The Entertainment District is also near the Harbourfront, a great place to go for a scenic stroll along the water.
Recommended Hotel: The Westin Harbour Castle is an ideal base for exploring the Entertainment district as it's a 5-minute walk to many of the main attractions including the CN tower, Rogers Centre, Scotiabank Arena, and more. Here's why you should stay at the Westin.
Old Town
Located near the water in downtown Toronto, Old Town is where you'll find some of Toronto's best-preserved buildings, like the famous Flatiron Building.
This red-brick, narrow building is one of the most photographed places in Toronto, as it's quite the contrast to see against the surrounding high-rises.
What makes Old Town Special is the St. Lawrence Farmers Market, which National Geographic named as one of the top food markets in the world.
It's been around since 1803, offering a selection of locally sourced food products and local artisans selling jewelry and clothing. If you visit, be sure to grab a bagel from St Urbain Bagel Bakery.
Old Town is also nearby Union Station, so if you're traveling to Toronto by train, this makes a convenient base.
Kensignton Market
There's no feeling like Kensignton Market on a summer day, especially if you're there no for the weekly 'pedestrian Sundays where the street gets closed off for a street part of dancing.
At Kensington, you can truly see the diversity of Toronto, with a mix of Caribbean, Latin American, European, and Vietnamese influences in its shops and restaurants. This makes for a wonderful fusion of flavors and energy that's contagious. It was even designated a National Historic Site of Canada!
It's a great place to go shopping if you're looking for unique and vintage pieces with lots of local stores.
Kensington is close to the Art Gallery of Toronto, home to over 90,000 works, including pieces from Picasso and Rembrandt. It's the largest collection of Canadian art in the world!
China Town
Just south of Kensignton is China Town, the place to go if you want to try out some of Toronto's best Asian restaurants. One of my favorites is R&D, which is owned by the winner of Masterchef Canada.
If you're looking for specialty Asian food items in Toronto, this is a great place to look, and the prices of food here are very affordable.
Come during Chinese New Year, and you'll see the community celebrating with dancing dragons roaming down the streets.
West Queen West
It doesn't get cooler than Queen Street West. Just ask Vogue; they named it one of the coolest neighborhoods in the world. Home to trendy shops, design studios, fantastic restaurants, and live music venues, you can pretty much have it all here.
Walking around, you'll see many painted murals that make for a great Instagram photo up, but by far the most famous is Graffiti Alley, a street of ever-changing art murals.
Queen Street West is also where you'll find Trinity Bellwoods Park, which unsurprisingly is one of the most popular parks to hang out in Toronto.
Come during any summer day, and you'll see thousands of locals slacklining, day drinking, and generally having a good time. There's also always a ton of cute dogs here.
The area never fully shuts down, so if you want to be at the center of the action, it's a great neighborhood in Toronto to stay.
Recommended hotel: If you're looking for a hip place to stay on Queen West, then head to the Drake Hotel. It frequently makes the list of best boutique hotels in Toronto!
It's been around since 1890 but was renovated in 2004 with contemporary features while still retaining its historic features.
Those are my favorite 12 neighborhoods in Toronto! Which one is yours?
Planning a trip to Ontario? Check out these posts!