This post may contain affiliate links. By clicking and making a purchase through the links, I earn a small commission at no extra cost to you. See my disclaimer for more information. This and display ads allow me to keep the site up to date and give back.
Looking for unique places to stay in Ontario? You're in the right place! I lived in Ontario for three years and am a sucker for unique hotels. Throughout my staycations in this diverse province, I've discovered some of the most unique places to stay that you won't find in any typical travel guide.
You're planning a trip to Ontario and you're tired of the same old hotel chains. You're craving a unique experience that will make your stay unforgettable. I get it; the last thing you want is to end up in a cookie-cutter room that dampens the excitement of your adventure.
I've been where you are, scrolling through endless lists of hotels, looking for that one place that catches my eye. That's why I've curated this list: to save you time and add that extra layer of magic to your Ontario trip.
Imagine spending your hard-earned vacation time in a bland hotel room when Ontario offers much more. You'd miss out on the chance to make your trip truly special, and let's be honest, that's a regret waiting to happen.
So, keep reading to discover some of the most unique places to stay in Ontario.
Unique Places To Stay In Ontario
1. The Wilfrid Inn
The Wilfrid Inn may be a 175-year-old farmhouse, but the interior decor and amenities are luxurious and modern. This boutique property features private en-suite rooms. Some of the amenities you'll enjoy on-site include a spa, sauna, library, and fitness area.
The in-house chef prepares a lavish brunch every morning, and this is your chance to indulge with fine wine and top-quality Caviar.
Wi-Fi and Smart TV service are available to guests, but you might want to use any free time you have to explore the lovely five-acre property, which features a vineyard and several old buildings. You'll find this property in Prince Edward County, a perfect Ontario weekend road trip getaway.
2. The Grove Hotel
The Grove Hotel isn't just any old ordinary hotel. It's hip, it's exciting, it's fun, and it's one-of-a-kind. Even the outside of this historic building looks nothing like your ordinary hotel, but inside is where you'll enjoy a truly unique experience.
Every room offers a different theme. There's the room with a Brew which looks over a former brewery and features craft-beer-inspired decor. The Vintage Auto Room has local artwork and a vintage traffic light. The Viva Las King room is a glamorous room that pays homage to the allure of Las Vegas and features a gold canopy bed.
The Ultimate Crashpad room is for visitors who want to feel like a kid again and features a Playstation 3 with retro games. You'll find this hotel on the north shore of Lake Erie at 12 Main Street in Kingsville.
3. Loft in the Entertainment & Financial District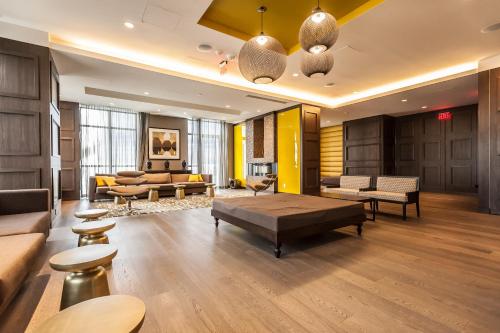 This loft in Toronto is an urban sanctuary in a lively location in the middle of the entertainment district.
After an evening checking out some live music or theater, return to your cozy escape with complimentary Wi-Fi service, satellite tv, and a spacious open-plan living area with a fully equipped kitchenette. You'll love relaxing on the private balcony looking out over the city.
The floor-to-ceiling windows don't just provide great views but also offer plenty of natural light. This incredible location is within walking distance of many of the things you'll want to do during a visit to Toronto, including the CN Tower, Ripley's Aquarium, the Hockey Hall of Fame, and the Art Gallery of Ontario.
4. Hotel the Westin Harbour Castle
That striking building you see towering over a harbor in Toronto is the Hotel the Westin Harbour Castle.
This four-star waterfront property offers a luxurious stay with beautifully decorated rooms, some of which overlook that stunning harbor view and city skyline, and that's just the beginning!
During your stay at the Westin, you'll have access to an indoor swimming pool, a rooftop tennis court, and a fully equipped gym.
The on-site restaurant serves a delicious breakfast each morning, and the Chartroom bar and lounge is a great place to kick back in the evenings with handcrafted cocktails.
The CN Tower, Harbourfront Centre, St. Lawrence Market, and Toronto Eaton Centre are within walking distance to this fantastic hotel making it the perfect base for your trip to Toronto whether you're visiting in the spring, summer, fall, or winter.
5. Lake of Woods Houseboat
When you think of accommodations while traveling, traditional hotels and inns are likely what comes to mind, but there's are so many unique stays in Ontario that aren't necessarily on land. For example, take this spacious houseboat on a beautiful lake with views of the nearby mountains.
This particular houseboat offered at Ontario Houseboat Rentals in Morson is the perfect getaway for a large family or group of friends seeking an adventurous getaway far from the city lights and crowds.
Onboard, you'll have access to many amenities, including kitchen utilities and cooking supplies, a sundeck, BBQ facilities, and a fireplace. There's satellite TV too, but you won't need that when there's so much to do in the area. Swimming, hiking, fishing, beachcombing, and biking are just a few of the activities on offer.
6. Cadillac Motel
Yes, boutique motels exist, and Cadillac Motel in Niagara Falls is one of the most unique ones around! Add a bit of retro to your visit to this iconic destination with a trip back to the '50s and '60s and be surrounded by retro decor honoring the iconic luxury car that all the top celebrities were driving.
The hotel has been the location of many movie scenes, music videos, and photoshoots, so you never know who might be around during your visit. In your guest room, you'll find a fabulous Cadillac mural, free Wi-Fi, a mini-fridge, and flat-screen TV. A bar is also on-site.
You'll find this hotel on Ferry Street within walking distance of the falls and many of the town's casinos, restaurants, and attractions. It's the perfect base for a weekend in Niagara Falls!
7. Modern Beach/Ski House
Whether you travel to Ontario in the winter or summer, this modern beach and ski house in Tiny Township is the perfect beach or ski getaway during winter in Ontario. In summer, you're only a short walk away from beautiful sandy beaches and in winter, many cross-country skiing trails are nearby.
Inside, you'll find five bedrooms, a full kitchen, and indoor games, such as billiards and foosball for those days when it's too rainy or cold to go outdoors. Outside, you'll find a heated saltwater pool, a lovely garden, and a spacious deck where you can cook up a meal on the charcoal BBQ while listening to your favorite tunes on the SONOS sound system.
This property feels about as far away as you can get from any city, but Wasaga Beach is only 13 kilometers away, and Barrie is only 35 kilometers away.
8. Treehouse on a private, isolated forest
Rugged on the outside, luxurious on the inside. That's how one might describe this unique stay in Ontario. This treehouse in port perry feels like it's in the middle of nowhere, but Toronto is only an hour away!
What makes it feel so far away from the hustle and bustle of the city? How about 300 acres of land with hiking trails, fire pits, swimming ponds, a beach, and a gazebo. Inside there's a full kitchen, indoor fireplace, and spiral staircase leading to a cozy loft area. From the balcony, you'll enjoy stunning views of the scenery by day and clear, starry skies by night.
9. Lil Crow Cabin & HydroSpa
A tranquil location surrounded by nature in a tiny, rustic cabin overlooking the Bay of Quinte in lovely Prince Edward County and the Sandbanks Provincial Park. Sounds heavenly, right? Well, how does access to a hot tub, outdoor gazebo lounge, and fire pit sound?
When it comes to unique stays in Ontario, Lil Crow Cabin & HydroSpa has all this and more! Your cozy cabin comes equipped with a kitchenette, a sitting room, and a shower room.
Whether you're looking for a romantic getaway with your significant other, seeking a quiet place to pen your next novel, or embarking on a solo getaway to get away from it all, you'll find it here.
There are so many things to do in the area, like canoeing, kayaking, fishing, and wildlife viewing. Your host even has a couple of bicycles available for guests to use. You'll find this amazing property east of Highway 49 on the Tyendinaga Mohawk Territory.
Why visit Ontario?
Whether you dream of boating on the Great Lakes, skiing world-class slopes, exploring remote backcountry locations, walking along sandy beaches at sunset, or taking in the sights and sounds of world-class cities, Ontario offers it all. There are many beautiful places to visit here!
Although this central Canadian province has the largest population with 14 million people, you can find many places around Ontario that feel like they're a million miles away from everything and everyone, making it a perfect place to connect with nature.
That being said, if being in the middle of a bustling city is your ideal escape, Toronto has many diverse neighborhoods to explore, and Ottawa is an outdoor lover's paradise with urban flair.
FAQ: Traveling in Ontario
What is the best month to visit Ontario?
The best month to visit Ontario depends on your interests: July and August for warm weather and outdoor activities, or September and October for colorful fall foliage.
What is the rainy season in Ontario?
The rainy season in Ontario typically occurs in the spring, especially during April and May.
What is the coldest month in Ontario?
January is usually the coldest month in Ontario, with temperatures often dropping well below freezing.
What do you need to go to Ontario Canada?
To visit Ontario, Canada, you need a valid passport and, depending on your nationality, a visa or an Electronic Travel Authorization (eTA).
Can I drive in Canada with a US license?
Yes, you can drive in Canada with a valid US driver's license for short visits.
What is the sunniest month in Ontario?
July is typically the sunniest month in Ontario, offering the most hours of daylight.
Final thoughts: Unique places to stay in Ontario
Ontario is not just about the destinations but also about the extraordinary places you can call home, even if just for a night. From the rustic charm of a 175-year-old farmhouse to the quirky allure of themed hotel rooms, and the adventurous spirit of a houseboat, Ontario offers a stay for every taste and fancy.
Whether you're seeking a cozy retreat amidst nature, a luxurious urban escape, or a quirky spot that adds a dash of whimsy to your travel tales, Ontario's diverse accommodations ensure your trip is as memorable as the places you explore.
Traveling in Ontario? Check out these posts!