This post may contain affiliate links. By clicking and making a purchase through the links, I earn a small commission at no extra cost to you. This allows me to keep the site up to date and expand on resources. Thanks for reading!
Looking for gifts for outdoor women? I've got you covered! At home or abroad, I spend most of my time in the outdoors and have an idea or two about what gifts the outdoorsy woman in your life might want.
If you're a little intimidated about picking out gifts for outdoorsy girls, this guide is here to help you find that special something for the adventurous woman in your life.
I've broken this list of outdoor gifts for women down into sections based on price so that you can find the perfect gift within your budget. At the end, there are some cute stocking stuffer-sized gift ideas.
Outdoor Gifts For Women Under $25
1. Buffs
Buffs are such a useful item to have while outdoors. It saved me in Yellowknife while II was out in -40 chasing the northern lights, as you can easily pull it up to cover the part of your face exposed to the wind.
Buffs are also helpful for warm climates as sun protection, making them one of the most versatile gift items for outdoorsy women.
Check prices: Amazon | REI | Backcountry
2. Nature Inspired T-Shirts
These nature-inspired t-shirts are a great way for adventurous woman to show off their love of the outdoors with fashionable nature-inspired prints.
3. Books That Inspire You To Get Outdoors
Give the gift of inspiration with one of these outdoorsy books.
Wild by Cheryl Strayed is one of my all-time favorites. This beautiful memoir tells the story of how Strayed hiked the entire Pacific Crest Trail with no prior experience after the death of her mother.
Another inspiring gift book is 'Women Who Hike,' which profiles over twenty of America's most inspiring women adventurers and provides readers with practical how-to suggestions to maximize their own potential in hiking and life.
Better yet, get your outdoorsy woman a kindle so she can download all of her favorite books. They are lightweight, waterproof, and last days on a single charge.
4. Weatherproof Journal
This all-weather notebook is a thoughtful gift choice. It's designed with materials that repel water, oil, mud, and grime, so she can take it to document all her outdoor adventures.
5. Phone tripod
As a solo traveler, I know the struggle of taking nice photos on solo outdoor adventures. This phone tripod solves that problem, making it super easy to snap insta-worthy photos no matter where you are.
6. Hiking Socks
Let's face it, who doesn't love getting socks as a gift when you're an adult? I stepped into so many puddles wearing SmartWool socks while hiking around St. John's and was super impressed at how comfortable I was even after getting my feet wet.
My two favorite brands of hiking socks are Smartwool and Darn Tough Socks, which are more dense and absorbant than SmartWool.

Buy Smartwool on: Amazon | REI | Backcountry
7. Female Urination Device
While this might not be the sexiest gift out there, this female urination device is by far one of the most practical. Peeing as a woman sucks, and this makes it way easier.
8. Outdoor blanket
An outdoor picnic blanket is a cute gift for any outdoorsy woman. It's always nice to have something to sit on while camping at parks or to throw in the car for a road trip. Who knows, she may even take you on a picnic after receiving this gift.
Gifts for the adventurous woman between $25-50
The next section of gift ideas for outdoor woman are all versatile items she can bring on multiple adventures.
9. Portable Campfire
This portable campfire is such a cute gift idea! Each mini fire pit is only 3.94 inches wide and 2.76 inches high and only weighs one lb., so you can easily bring it on picnics, camping, hiking, fishing, hunting, traveling, beaches, and almost any outdoor activity.
It will create an instant atmosphere in any outdoor gathering. I also love that it's made of safe soy wax and recycled materials!
10. Trucker Hat
I bought a trucker hat from Patagonia earlier this summer for all my hiking adventures on the East Coast Trail, and I've grown pretty obsessed with it. I don't know how I lived without one before!
An outdoor themed trucker hat is a great gift choice for women who love the outdoors because it's useful for sun protection, getting hair out of your face, and generally looking cute.
11. Clever Travel Companion Clothing
Clever travel companion is a brand of clothing designed to help protect you from pickpockets, with built-in stealth pockets.
While these clothes are designed for travel, they also make an excellent gift for an outdoor woman as you can easily carry your belongings while you're out exploring. Plus, women who love the outdoors probably also love to travel!
12. Nature Inspired Jewelry
I love showing off my passion for the outdoors through the jewelry that I wear. Etsy has some adorable options, like these mountain and tree necklace pendants. Fashionable women who love the outdoors will also love these cute accessories!
This lightweight, packable hammock is one of the best gifts for outdoorsy women because it's suitable for all kinds of adventures!
It easily packs up small, so you can throw it into a backpack while hiking and then hang it up between the trees if you want to relax. Or bring it to the park to chill – the possibilities are endless!
13. Yeti Rambler Tumbler
This 14oz tumbler is the perfect outdoor companion for morning coffee. The double-wall vacuum insulation keeps beverages hot for hours! I got one as a gift from Nova Scotia Tourism on my trip to Cape Breton and have no idea how I lived without it before.
14. Quick Dry Towel
These quick-dry towels by Nomadix are so versatile. They pack up light and are ideal for travel and all kinds of outdoor adventures like day hikes, camping, or hitting the beach. Plus, it comes in a cute national park print!
15. Headlamp
I always have a headlamp in my bag when I hit the outdoors! Even if I don't plan to be out late, you never know what will happen. They can be a lifesaver! Any hiker, climber, camper, or stargazer will appreciate this gift.
Buy headlamps on: Amazon | REI | Backcountry
16. Lifestraw
Lifestraw is a game-changer If you're spending a lot of time outdoors and don't have easy access to clean drinking water. With a lifestaw water bottle, you can have safe, clean-tasting water on every adventure, whether you're refilling straight from the lake, river, well, or tap.
Buy lifestraw on: Amazon | REI
17. Solar Battery Bank
If you know an outdoorsy girl who loves to go on long adventures, she'll love these solar battery banks which can keep your electronics charged without a plug.
18. Dry Bags
These dry bags make fantastic gifts for outdoorsy girls who love the water. Whether it's kayaking, canoeing, or sailing, these bags ensure your gear stays dry no matter what the adventure is.
19. 3-in-1 Camp Chair
This 3-in-1 camp chair is genius! It's a lightweight backpack with a cooler that can convert into a stool camp chair. This would be ideal to bring camping, as well as outdoor concerts, picnics, and festivals!
Best gifts for outdoorsy women between $50- 100
20. Merino Wool Base Layers
Base layers are one of the most essential parts of your outdoor gear, especially if you're hiking in winter or visiting cold climates such as Canada.
I cannot explain how much I love merino wool base layers for all my outdoor adventures, especially backpacking. It's not only lightweight but keeps you cozy as the material traps your body heat to keep you warm and dry. It's a gift they will be sure to thank you for time and time again!
Buy Merino Wool On: Amazon | REI | Backcountry
21. Hydro flask water bottle
Water is an adventurer's best friend, and Hydroflask is my fave water bottle. The stainless steel design keeps your water cool for up to 24 hours, which is ideal for long adventures! Plus, it's much more environmentally friendly than buying plastic bottles.
22. Hiking Leggings
Leggings are a woman's best friend. They are my go-to item for almost every hike, providing protection from the sun or warmth when in cooler areas! Get a thermal pair if you know your outdoorsy woman will be in cold climates.
Shop leggings on: Amazon | REI | Backcountry
23. Travel Coffee Press
Because instant coffee isn't okay. If you know a woman who loves the outdoors as much as she loves a good cup of coffee, then this travel coffee press is the perfect gift choice. The insulated double-walled stainless steel keeps her favorite beverage hot for hours, and the micro-filter keeps the cup free of grit and sludge, so each cup tastes as delicious as the first.
24. America The Beautiful Pass
If you know a woman who loves visiting U.S. national parks, then this park pass is the ultimate gift. It gives her free entry to all the parks for a year for only $80. Considering entry into most parks is around $30, this is a bargain!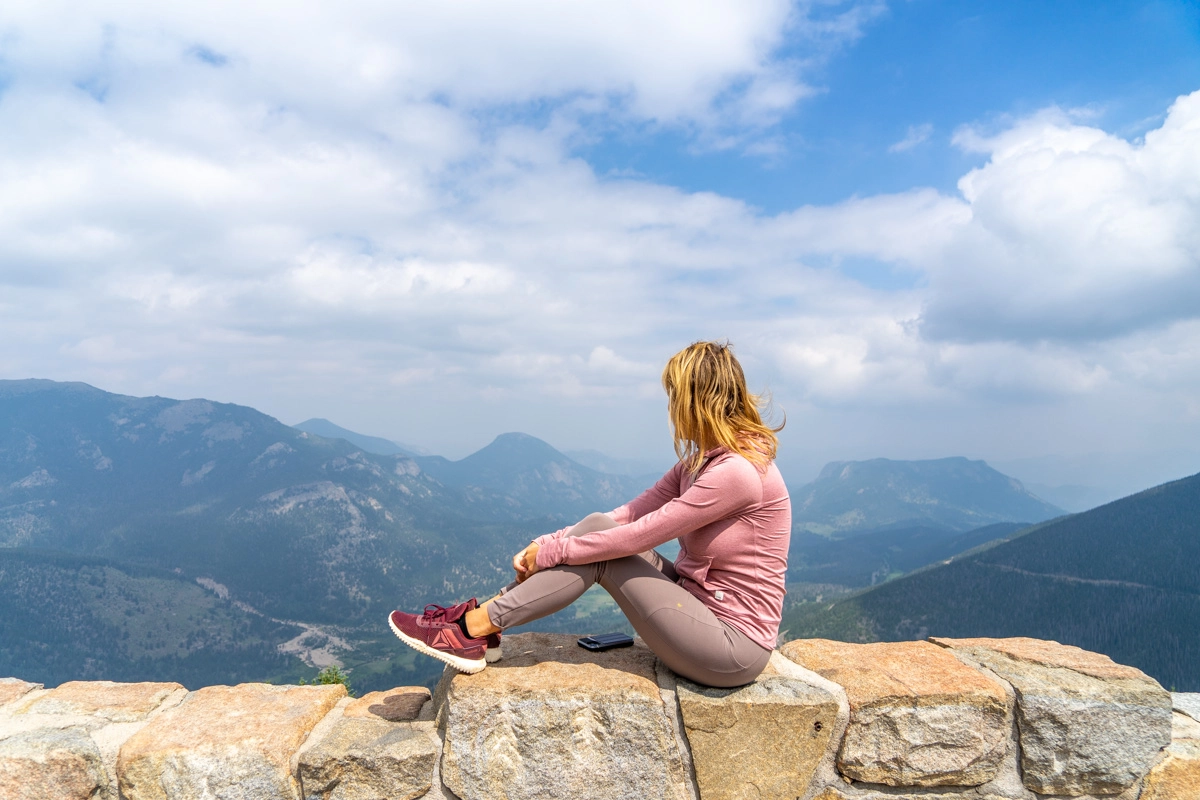 Gift ideas for adventurous woman over $100
25. Binoculars
I never knew how much I wanted a pair of binoculars until I received them as a gift for Christmas one year simply because they are excellent for viewing wildlife!
26. Bose Portable speaker
While not completely necessary, I take my Bose speaker on most of my adventures and never regret it. Nothing like taking in a gorgeous mountain sunset with your favorite song!
27. An Experience
I truly believe that experiences make the best gifts for outdoor woman, and through Tinggly you can give some epic bucket list adventures.
You can browse hundreds of unique experiences worldwide, like a hot air balloon in Cappadocia or a helicopter ride over Niagara Falls. Whichever experience you choose, any outdoorsy woman is sure to love it.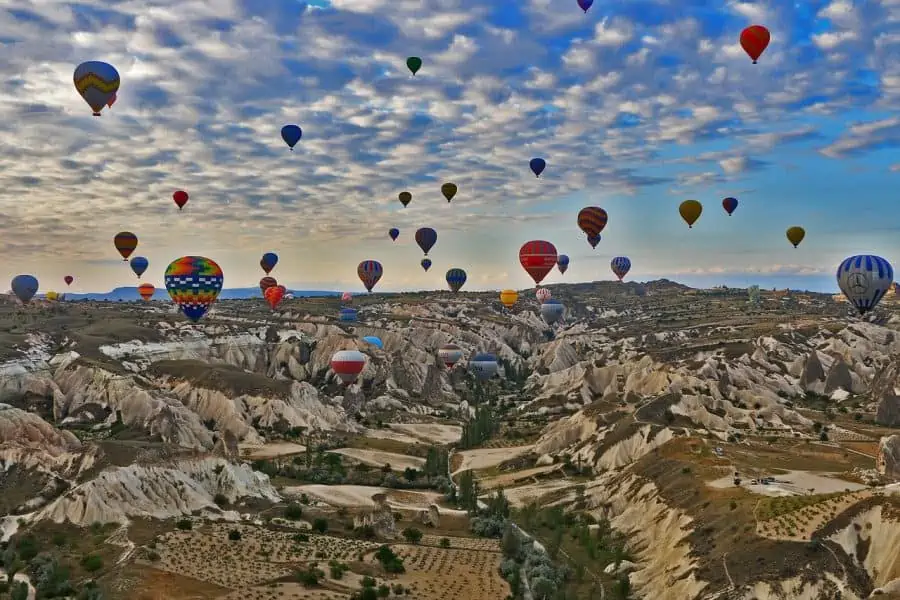 28. GoPro
GoPros are the ultimate adventure camera, so any woman who loves to document her adventure will love owning a GoPro. I take mine on all my adventures, whether that's hiking, diving, or paragliding!
The Osmo Pocket is another travel camera I love, but I think the GoPro is the better of the two in terms of gifts for women who love the outdoors. You can read my full review comparing the Osmo Pocket and GoPro here!
29. Fitbit
Fitbits are excellent outdoor companions because they track all the hard work you do. The battery can also last up to a week, which is great if you're headed into the backcountry.
These nano puff jackets are one of my favorite items to wear while in colder areas! It's ideal for backpacking because it compresses into itself and hardly takes up any room in my backpack.
31. Hiking boots
Any woman who loves to hike needs a good pair of boots to go with her. These hiking boots are my go-to boots for the trails! I've worn them on both day hikes in Patagonia and multi-day treks through Nepal and on the Inca Trail in Peru, and they show no signs of being worn down.
31. Handheld GPS
If you're feeling generous, any outdoorsy woman will appreciate a handheld GPS like the Garmin inreach mini. Not only helpful but potentially life-saving!
Shop GPS' on: Amazon | REI | Backcountry
32. Inflatable Paddleboard
If you know an outdoorsy woman who loves to be on the water, then this inflatable paddleboard is a solid gift choice. It's easy to set up and comes complete with all of the essentials, including a safety leash, oar, manual air pump, and storage bag.
33. Patagonia Better Sweater
I've never met a woman who doesn't love these sweaters by Patagonia. They are the perfect mid-layer, with 100% recycled polyester that's comfortable and breathable.
Buy sweaters on: REI | Backcountry
Stocking Sized Outdoor Gifts For Her
Why not get a stocking and fill it with camping gear and outdoorsy stocking stuffers? I would LOVE to get this as a gift – so thoughtful!
—
There you have it, 31 thoughtful gift ideas for outdoor women. If you're looking for more ideas, check out my gift guide for hikers or travel gift guide next to complete your adventure lovers' gift list.