This post may contain affiliate links. By clicking and making a purchase through the links, I earn a small commission at no extra cost to you. See my disclaimer for more information. This and display ads allow me to keep the site up to date and give back.
Volunteering with wildlife is an amazing way to enhance your time abroad. There are so many benefits to volunteering with wildlife. From making a positive impact on the lives of animals, developing new skills, and traveling to remote parts of the world. Not to mention all the cuteness you will encounter on a wildlife volunteer project!
I've volunteered on a few wildlife projects throughout my travels, but I was curious about what other wildlife volunteer projects are out there. So I asked some fellow travel bloggers to share their experiences volunteering with wildlife abroad. In this post, you'll discover 11 unique and ethical projects throughout Latin America, Africa, and Asia where you can volunteer with wildlife.
Can't read this right now? Pin it for later!
Volunteer Wildlife Projects in Central and South America
ARCAS, Guatemala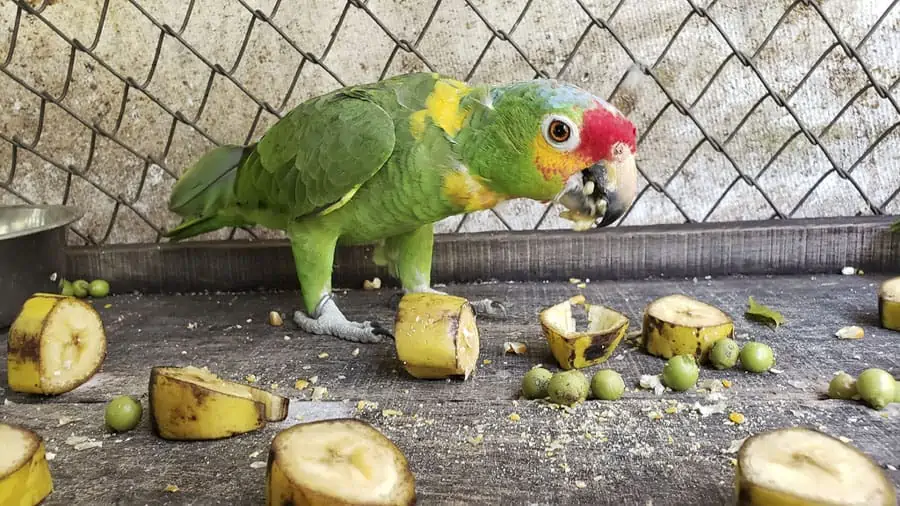 Recommended by Lauren of Justin Plus Lauren
ARCAS is a wildlife rescue center near Flores, Guatemala that rescues, rehabilitates, and releases animals that are victims of wildlife trafficking. It's possible to volunteer in Guatemala at ARCAS to assist in daily duties and chores to help care for the animals.
Every year, the Guatemalan government seizes between 300 and 600 animals across 40 different species. ARCAS is a non-profit NGO that rehabilitates these animals to improve their chances of survival when they're released back into the wild. It can take between two and four years to rehabilitate a parrot, and up to eight years to rehab a monkey.
While the majority of employees at ARCAS are local residents, they can use extra assistance around the rescue center from volunteers. There is a volunteer house with shared accommodations, and you can stay for a couple of weeks or months at a time.
While employees take care of veterinary duties and animals that require more specialized care, volunteers help clean living spaces, feed the animals, help with fruit deliveries, build enrichment activities for the animals, and other daily tasks. It's possible to help endangered and threatened animals like howler monkeys, spider monkeys, crocodiles, turtles, owls, woodpeckers, parrots, macaws, jaguars, anteaters, coatamundis, and many more.
Volunteering at ARCAS is a fantastic hands-on experience that truly makes a long-lasting impact in conservation. While it's a lot of hard work that can be challenging at times, you don't need any formal veterinary training. Anyone can book a trip to ARCAS to help the animals at any time of the year, and I highly recommend that you do.
ARCAS Website: https://arcasguatemala.org/
Comunidad Inti Wara Yassi (CIWY), Bolivia
Recommended by Thea of Zen Travellers
The Amazon rainforest is home to an impressively bio-diverse and important ecosystem. Spanning over 9 countries in South America, Amazonia is home to a myriad of iconic jungle animals such as sloths, jaguars, pumas, spectacled bears, many kinds of monkeys, and countless species of birds, reptiles, and plants.
Recent reports of large fires burning throughout the Amazon region are concerning and make the work of wildlife rescue and advocacy organizations such as Bolivia's Comunidad Inti Wara Yassi (CIWY) so important.
CIWY is a wildlife advocacy organization that battles illegal wildlife trafficking, promotes the conservation of the Amazon ecosystem, and rescues wild animals that have been the victim of illegal trafficking and mistreatment.
In fact, CIWY manages three wildlife sanctuaries throughout Bolivia which are Parque Machia near Cochabamba, the more remote Ambue Ari near Santa Cruz de la Sierra, and Jacj Cuisi which is north of La Paz and specializes in caring for large cats.
The organization's dedicated staff, as well as the hundreds of people who volunteer every year work tirelessly at caring for rescued Amazonian wildlife.
Seeking an opportunity for practicing responsible tourism, my partner and I were fortunate enough to be able to volunteer with CIWY at Parque Machia. I worked with all the beautiful and utterly lovable parrots and parakeets, while my partner worked with the coatis, which are kind of like the raccoons of the jungle.
It was an amazing experience to care for such magnificent animals, and to learn about conservation efforts in the Amazon which are needed now more than ever.
CIWY Website: https://intiwarayassi.org/
Rancho dos Gnomos, Brazil
Recommended by Wendy of The Nomadic Vegan
Not far from the teeming metropolis of São Paulo is Rancho dos Gnomos, a wildlife sanctuary and haven of peace in the Brazilian countryside. It was created by Silvia and Marcos, an animal-loving couple who rescue animals from circuses, the illegal pet trade, and other situations of mistreatment.
Whenever possible, the animals are rehabilitated with the aim of returning them to their habitat. Those who would not be able to survive in the wild are provided a forever home where they receive the love and care they need for the rest of their lives.
Silvia and Marcos are currently in the process of moving the animals to a larger property not too far from the original sanctuary location, which was becoming surrounded by urban development. Animals that were already at the new place when I visited included a jaguar, a bear, and domesticated animals such as dogs, cats and cows. Other wild species such as lions, tigers, monkeys, sloths and many more will soon be joining them.
The new property was previously a luxury resort and is still fitted out with beautiful rooms and facilities such as a swimming pool and sauna. However, it no longer functions as a resort. Silvia and Marcos are adamant that Rancho dos Gnomos is not a zoo and that they will not put the animals on display for people's entertainment. Therefore, the only way to experience this beautiful location is by volunteering to help care for the animals.
Weekend volunteering programs are available and include three delicious meals per day and unlimited snacks. In keeping with the Rancho dos Gnomos mission to protect all animals, the food served at the sanctuary is completely vegan.
Rancho dos Gnomos website: http://www.ranchodosgnomos.org.br/
La Senda Verde, Bolivia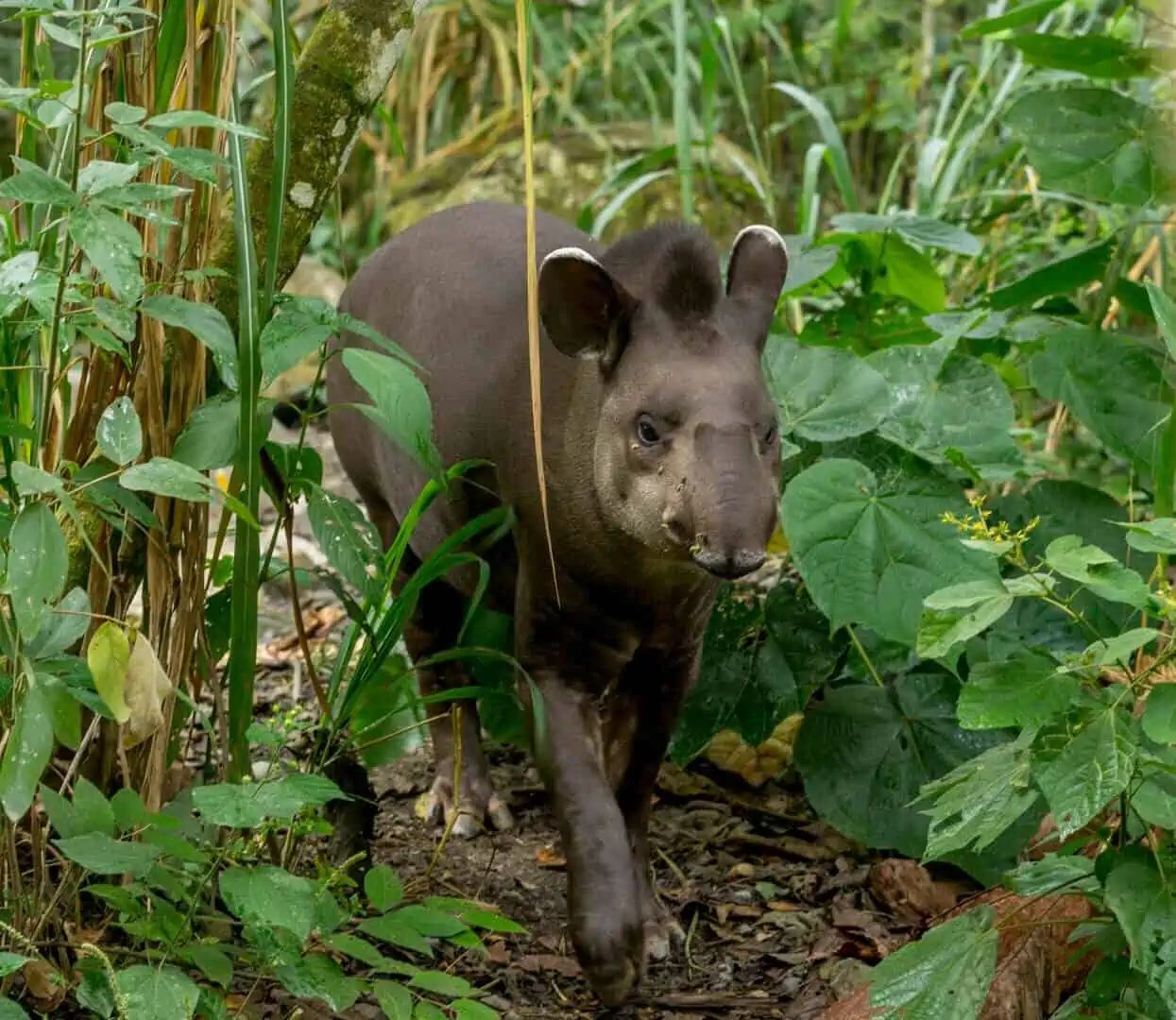 I spent two weeks as a volunteer at La Senda Verde Wildlife Sanctuary in Bolivia. The sanctuary is in the jungle of Bolivia near the town of Coroico, a three-hour drive from La Paz.
The mission of La Senda Verde is to take care of rescued wild animals that are victims of illegal trafficking, cruelty and habitat loss within Bolivia. The sanctuary is home to over 700 animals and 54 species. As a volunteer at La Senda Verde, your main responsibilities include cleaning, feeding, and enriching the lives of the animals.
There are five different areas that volunteers work in on a rotational basis. These include specials, big cats/bears, monkeys, quarantine/tortoises, and the aviary. Volunteers are also responsible for giving tours to visitors who come to visit La Senda Verde, which training is provided on.
The days are long and tiring as you must be awake early to feed the animals, and the weather is hot and humid. But the work is rewarding as you will form bonds with the animals and directly see your impact. You also get to learn a lot about wildlife care, and the issues with wildlife trafficking in Bolivia.
La Senda Verde Website: http://www.sendaverde.org/
Volunteer Wildlife Projects in Asia
Elephant Valley Project, Cambodia
While backpacking through South East Asia, I was looking for a way to see elephants in an ethical way when I discovered the Elephant Valley Project (EVP). The EVP is an NGO in Mondulkiri, Cambodia that was started to provide a home for injured and overworked elephants. The EVP offers visitors and volunteers an opportunity to get an up-close viewing of elephants in their natural habitat, well helping to preserve their future.
Volunteer placements can be as short as one day or up to several months. As a volunteer at the EVP, we spent half the day observing the elephants in the wild, and the other half working on various projects that supported the organization. The staff at EVP are incredibly knowledgeable about elephants and you will get to learn so much about them during the observations. Volunteering at EVP is a great way to see elephants up-close while giving back.
EVP Website: http://www.elephantvalleyproject.org/
Read more: 20+ Ethical Ways to See Elephants Around the World
Juara Turtle Project, Malaysia
Recommended by Emma Walmsley of Small footprints, big adventures
My family and I volunteered together at a sea turtle conservation project on Tioman Island, Malaysia. The Juara Turtle Project has a professionally-run volunteer program which accepts unskilled helpers, and children.
We stayed for a week and were able to help with many tasks, including patrols looking for evidence of new turtle nests, cleaning and gardening, talking to visitors to the Project, a beach clean-up, and making souvenirs.
We were also blessed to help with the relocation of a nest of turtle eggs to the Project's hatchery, excavating a site of eggs that had hatched, and watching some hatchlings scurry to the water! Seeing turtles isn't guaranteed but there's a high likelihood in the peak season, from March – November.
The cost of volunteering for a week (the minimum requirement) is RM1000 in the peak season and RM700 in the off-peak. Discounts apply for longer stays and children. The fee includes a delicious breakfast and lunch each day, hot drinks, filtered water, shared accommodation, laundry use, Wifi, and use of recreational equipment including kayaks and snorkeling masks.
There is plenty to do each day but also time to relax and enjoy the stunning, safe beach in Juara Bay, the mangrove forest, and the lovely cafes along the shore. Some days team-building exercises were part of the schedule, including a hike to a waterfall and a cooking class. It was a wonderful experience for my family, and I believe all volunteers who go to JTP love it, too. We left with many new friends made from all over the world, and pride in being able to help this wonderful program in a small way.
Juana Turtle Project Website: https://www.juaraturtleproject.com/
Elephant Nature Park, Thailand
Recommended by Alexandar of Gourmand Trotter
The Elephant Nature Park is one of the oldest elephant sanctuaries in Thailand. It was founded by Sangduen "Lek" Chailert, who has become one of the most well-known persons in Thailand for fighting for elephant rights.
The Elephant Nature Park allows volunteers to stay and help with the park. More experienced volunteers who stay longer may get the chance to work closely with the elephants.
As a visitor, you can come to the Elephant Nature Park to learn more about the sanctuary and the elephants. All elephants are rescue elephants that come from circuses, illegal logging, or other abusing conditions. At Elephant Nature Park, they get a haven where they can roam freely within a large area.
The park is located in Northern Thailand, outside Chiang Mai. As a volunteer, you'll start by booking one-week volunteering, which can be extended for another week. For those who are student vets and animal medical specialists, there are other volunteer options as well.
Volunteers can expect to do the following tasks:
Area Introduction and meeting with the staff and mahouts
Experience Elephant Families and how they choose friends
Find out about the problems that elephants are facing in Thailand today
Discover how Elephant Nature Park is helping
Feed elephants, Scooping elephant poo, a variety of tasks concerned with elephant care.
Cleaning and preparing elephant food
Construction, maintaining mud pits, helping in local villages, walking
Caring for dogs and more.
Meet volunteers, visitors and park staff from around the world.
Elephant Nature Park Website: https://www.elephantnaturepark.org/
Volunteer Wildlife Projects in Africa
Lilongwe Wildlife Centre, Malawi
Recommended by Brianne Miers of A Traveling Life
Lilongwe Wildlife Centre is Malawi's only wildlife sanctuary and largest environmental education facility. Founded in 2008 as the flagship initiative of Lilongwe Wildlife Trust, the Centre is home to about 200 wild animals – mostly primates but also turtles, owls and an alligator – many of which have been rescued from the illegal pet trade. Center staff and volunteers work tirelessly to rescue, rehabilitate and care for these animals, and release ones that have the best chance of surviving in the wild.
The Centre has numerous volunteer opportunities available, both short-term and long-term. Those without prior experience can choose from the following options:
Sanctuary volunteers (2-12 weeks) support the animal care team with tasks like cleaning and feeding, and conduct outreach in classrooms and out in the community.
Research volunteers (2-12+ weeks) mostly spend their time in Vwaza Marsh Wildlife Reserve in northern Malawi collecting data on elephants, primates and other animals.
The Centre also has a need for skilled volunteers including vets, vet students, and vet nurses to support the Wildlife Emergency Response Unit as well as law students and lawyers, who monitor court proceedings in cases of poaching and other wildlife crimes. There are also research internships available for undergraduates and postgraduates in conservation-related fields.
LWT Website: https://www.lilongwewildlife.org/
Biosphere Expeditions, Malawi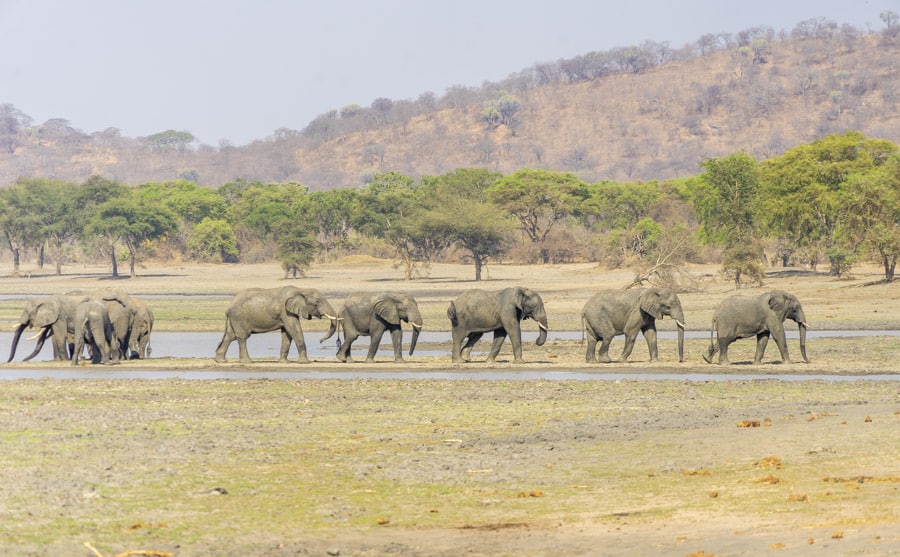 I spent last month as a volunteer on a wildlife conservation project in Malawi, Africa studying four of the big five animals (elephants, lions, leopards and buffalo) at Vwaza Marsh Game Reserve. As a volunteer, we were helping the scientists with various projects in the reserve to assess the nature and patterns of biodiversity.
The project lasts two weeks and two days of training are provided at the beginning. Every day, activities were posted which volunteers could sign up for. Some of the activities included hippo walks (counting the number of hippos in the area), elephant observation and identification, primate observation, camera trap setting and analysis, dung analysis, and bat surveys. While some activities are not as glamorous as others, they are all important for getting a complete picture of the biodiversity in the area. And sorting through elephant dung is truly not as bad as it sounds!
Link to Biosphere Expeditions: https://www.biosphere-expeditions.org/volunteeringinmalawi
Panthera Big Cat Sanctuary, South Africa
Recommended by Stuart of Stuartfahy.com
The first time I did any volunteer work while traveling was in South Africa. I'd never thought about it before but when I found a placement working with big cats, I knew immediately it was something I wanted to do.
Panthera Big Cat Sanctuary is based close to the seaside town of Hermanus on South Africa's southern coast, around two hours from Cape Town. It is a sanctuary in the truest sense of the word, as all of their animals are rescues, donated from other sites, and there is no physical interaction with the big cats.
There are 25 animals at Panthera including lions, tigers, caracals, leopards, cheetah, and jackals plus house pets (four dogs and a cat). Whilst a lot of the volunteers' work time is spent doing general farm maintenance and cleaning the spacious enclosures, there is still ample opportunity for getting to know the entertaining and loving characters of the animals.
You can also spend time preparing enrichment for the cats, giving them something to play with and bringing a little joy to their lives after harrowing experiences earlier in their existence.
Volunteer costs are €449 per week (but reduce for longer stays) and include two meals a day plus accommodation in a large farmhouse which is well equipped and even has its own swimming pool. All costs go towards the running of the sanctuary, food, and medication for the animals plus the building of enclosures and the newly opened medical center.
Panthera Africa Website: https://pantheraafrica.com/
Earthwatch, South Africa
Recommended by Shara Johnson of SKJ Travel
I didn't know it at the time, but the day I decided to sign up to volunteer in the bi-annual Earthwatch expedition, Walking With African Wildlife, in South Africa's Hluhluwe-iMfolozi National Park, was a life-changer.
For thus began my safari addiction. But this project is not just a safari — volunteers are tasked with completing surveys of the herbivore populations. To do this, you must walk through the Big 5 game park, accompanied by a ranger with a rifle for safety. Using GPS coordinates, volunteers walk transects through the park and mark the species and number of any of a long list of animals in the study.
Volunteers stay in African bush camps surrounded by the wildlife, listening to lions roar and hyenas whoop throughout the night. I've been on numerous safaris and been on tourist walking safaris since, but nothing beats walking along with only a Zulu ranger by your side, nobody keeping you in line with a group, telling you to do this or that. You have a mission, a purpose, freedom, but also a lot of heart-pounding and harrowing moments running into cape buffalo, elephants, lions, and both black and white rhino, where you must completely trust your ranger when he tells you what to do!
White rhinos were brought back from the very brink of extinction in Hluhluwe, and it's now one of the best places in Africa to see them. This is a truly exhilarating experience, and an important part of park management to monitor the wildlife populations.
Earthwatch website: https://earthwatch.org
Final Thoughts
If you're considering volunteering with wildlife abroad, I hope this post could give you some inspiration for finding the right wildlife volunteer project. There are so many wildlife volunteer opportunities out there, but it's important to remember to do your research and choose a responsible organization. I've written more tips on choosing the right project here.
Have you volunteered with wildlife before? Let me know about your experience in the comments below!
In it to pin it!