This post may contain affiliate links. By clicking and making a purchase through the links, I earn a small commission at no extra cost to you. This and display ads allows me to keep the site up to date and give back. Thanks for reading!
If you're looking for the best diving in Costa Rica, look no further then Cano Island. With unbelievable visibility, incredible coral reefs and abundant marine life, you're guaranteed an unforgettable diving experience here.
Diving was one of the main reasons I wanted to visit Uvita, which is just over an hour away from Cano Island by boat. I'm so grateful that I did, because I had the chance to partner with Mad About Diving while I was there to explore Cano island biological reserve and a few other dive sites in Uvita – which was an amazing experience! Here's everything you need to know about planning a scuba driving trip to Caño island.
My dives at Cano Island were kindly sponsored by Mad About Diving. As always, all opinions are my own.
Diving at Cano Island
Marine Life
Caño Island Biological Reserve has beautiful healthy coral reefs full of brain coral and giant sea fans. This gives way to an abundance of marine life – there are over a hundred different marine species in the waters of Cano island! During our two dives, we saw sea horses, sting rays, round rays, green turtles, white tipped reef sharks, amberjack, pacific goat fish, snappers, green moray eel, huge areas of garden eels, barracudas, and giant schools of snapper. You may also see manta rays, although I was not so lucky.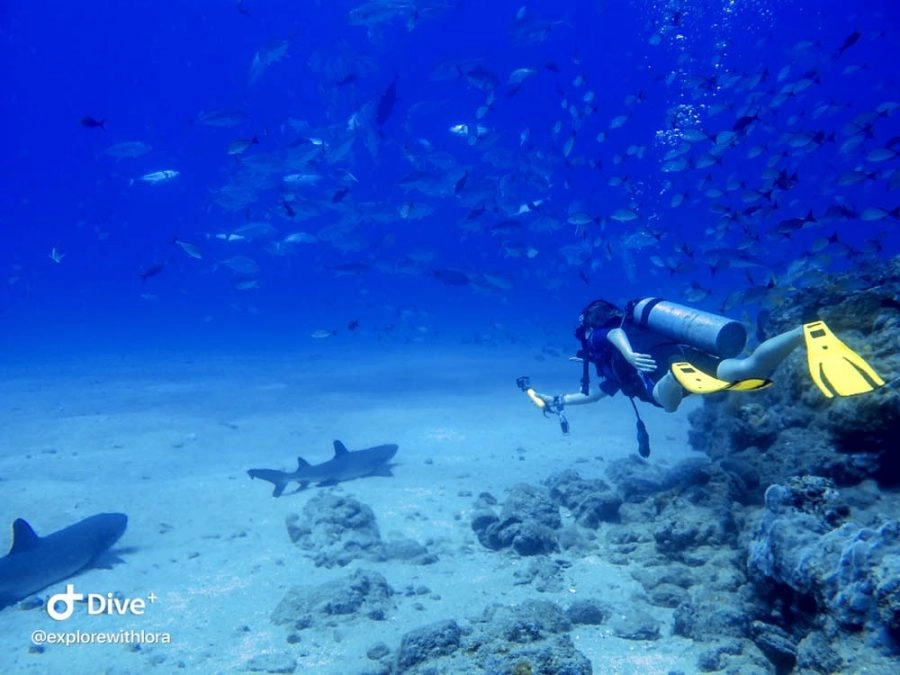 It was actually crazy how many sharks we saw at Cano island diving! At one point I was just chilling out with four sharks around me. If you are lucky, you may also see giant bull sharks or whale sharks.
This area is also famous for being one of the best places for whale watching in the world. Twice a year thousands of pods of humpback and pilot whales migrate through the area. Southern Hemisphere humpback whales come from July to October and Northern hemisphere whales migrate from December to February. I wasn't lucky enough to see whales while I was there in February, but the staff they told me it is common to see whales and dolphins on the boat ride to Cano Island from Uvita.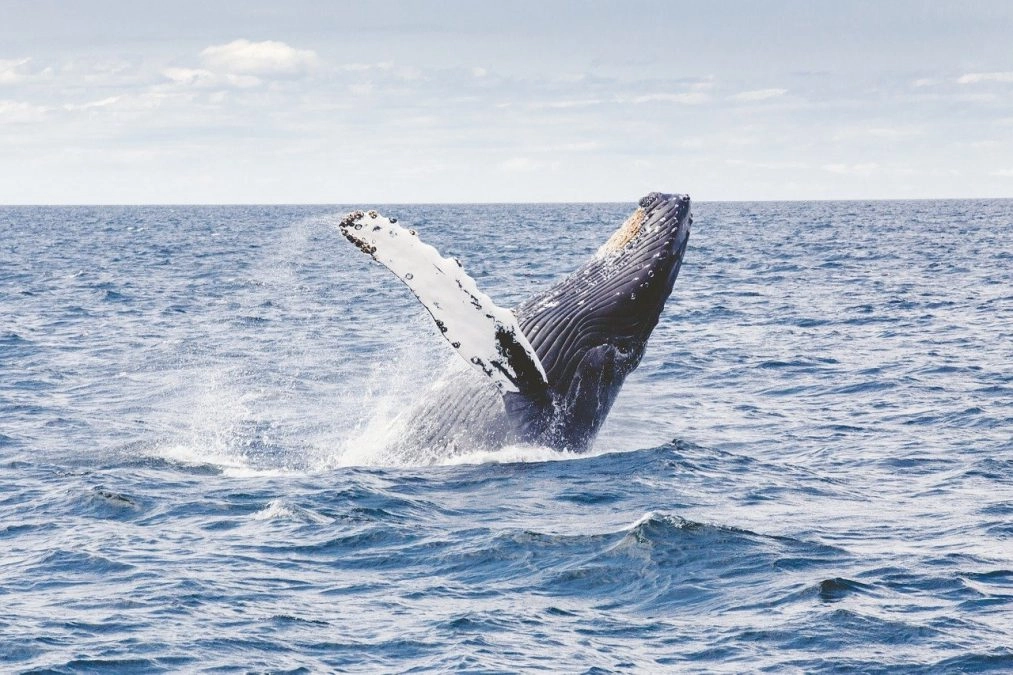 Visibility
The visibility diving at Cano Island is incredible. It's one of the clearest places I've ever dived! This is attributed to the fact that it is far enough away from the mainland of Costa Rica to not be affected by seasonal rain and human development. Mo people mo problems.
The water visibility in Cano island ranges from 45ft to 100ft, depending on the site and time of year. It was about 60ft while we were diving there in February.
Best time to Dive at Cano Island
The best time to go diving at Cano Island is during dry season from December to June, as this is when the diving conditions are most ideal. Water temperatures are generally within a 24 – 29°C (75 – 84°F) range, while the outside air temperature stays between 24 C – 29 C (77 F – 84 F).
I went scuba diving at Cano Island in early February and both the water temperature and outside temperature were warm and lovely. You're swimming in the Pacific Ocean, which is generally very pleasant on Costa Rica's Pacific Coast! This was a nice way to leave Costa Rica since I was going 80 degrees colder to Yellowknife Canada the next day.
How to Get to Cano Island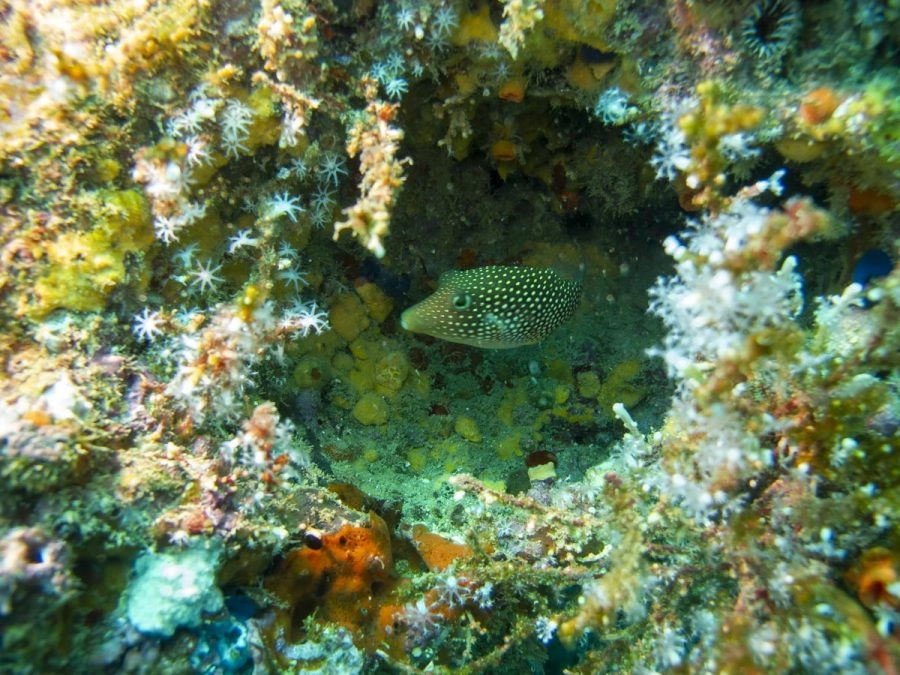 Cano Island is reachable on diving tours from Drake Bay, Manuel Antonio, or Uvita. I was staying in Uvita, and did the day scuba diving tour to Cano Island with Mad about Diving.
What to Expect on a day of Diving at Cano island with Mad About Diving
The day started at 7am where I met my dive group at the Mad About Diving in Uvita. I already had my scuba diving gear sized from our previous day of diving at Marino Balleno national park, so no prep was needed.
We left the dive shop to get the boat from Playa Uvita which is just a 5-minute walk away. There were three other divers in the group, our instructor Pablo, as well as three other people who were going snorkelling with another guide.
The boat ride to Cano Island is about an hour and 15 minutes and it can be a bit choppy. From August to October during humpback breeding season, it's common to spot whales on the way out. Unfortunately I wasn't there at that time, but Pablo kept us entertained with information about marine life and diving in Uvita.
Upon arriving at Cano Island we got off the boat to go the gorgeous beach for a couple of minutes while the crew got the dive gear ready on our boat. From there we got back on the boat, geared up, and traveled a few minutes to the first dive site named Arches.
Arches is a shallow (max 12m) but gorgeous dive site with rock arches to swim in. They are full of marine life including huge schools of snapper. We also saw stingrays, reef sharks, moral eels, sea horses, star fish, and more.
After the first dive, we returned back to the beach for our surface interval and to enjoy some delicious Costa Rican fruit courtesy of Mad About Diving. During the surface internal you can relax on the beach or hike up 10 minutes to a view point of Cano Island, which is worth it.
We then hopped back in the boat to go to the second dive site at Coral Gardens, which was even more amazing than the first!
It was another relatively shallow dive (max 17m) with easy diving conditions. There was an abundance of coral here, large schools of fish, eels, white tip reef sharks, string rays, and turtles!
On the boat ride back to Uvita, they gave us delicious Argentinan style empanadas. We got back to Uvita around 2pm.
Snorkeling in Cano Island
If you aren't a diver, Mad About Diving also has snorkelling tours to Cano island which I highly recommend. We had three snorkelers on the boat with us and they basically did the same thing, just snorkelling at the top rather than diving. They all seemed to really enjoy the snorkelling, and actually saw more turtles then we did diving!
Caño Island is a protected marine reserve so the number of people allowed in per day at any one time is limited. Therefore, it's recommend to book in advance if you want to go snorkelling or diving at Cano island.
What to Bring
High-quality scuba gear is included in the price of the Cano island dive, so you don't need to worry about bringing any of it with you. The boat ride over and the island itself is sunny and hot, so bring sun protection including sunscreen, sunglasses, and a sun hat. During rainy season, a rain jacket is a good idea.
You'll also want to wear shoes/sandals you are comfortable getting wet as the boat is launched from the beach and your feet will get wet. You can also just carry your shoes and go barefoot, which is what I usually do on the beach anyways!
They have a supply of filtered water on the boat, but it's a good idea to bring your own water bottle. You can bring snacks if you want, but they do supply you with delicious local fruit between dives, as well as empanadas on the way back, including a choice for vegetarians!
Why Mad about Diving?
Since learning to dive in Utila, I've dived with A LOT of companies over the last two years in some of the world's best locations including Sipidan Island, Belize, and the Galapagos Islands. It doesn't get better than Mad About Diving. The owners, Laura and Pablo, and such kind people who will make sure you have an amazing time. They are not only incredibly knowledgeable about the marine life of the area, but equally passionate about marine conservation and protecting it for future generations. They have started a coral reef restoration project, which there is more information about below.
The service at Mad About Diving is top notch. You won't be expected to lift any of your gear around or change tanks/rinse equipment, that is all done for you. Pablo, the dive instructor, is very good at spotting marine life and will point out lots to you. He will also take awesome pictures of you diving!
If you aren't certified to dive yet, you can do your diving certification with Mad About Diving in Uvita. They are the only PADI 5 Star Instructor Development Centre in Osa Peninsula, and offer training in English or Spanish.
Costa Rica Coral Restoration
What I loved most about Mad About Diving is how passionate they are about marine conservation and protecting the area for future generations. The owners, Pablo and Laura, have actually recently launched a non-profit called the Costa Rica Coral Restoration (CRCR) to recover, restore, and propagate the coral community at Marino Ballena National Park.
The idea for the organization came from a group of friend's combined love of the ocean, diving, environmental conservation, and giving back to the local community. Mad About Diving is working in partnership with friends, the MINAE Costa Rica and the Marino Ballena National Park Administration, and several other organizations.
The mission of the organization is to change the tide of damage done from present and past generations to reverse course for future generations. As Pablo explained to us, when they first built highways to Uvita they didn't consider the environmental consequences of the development which reached the ocean and badly damaged the corals of Marino Ballena National Park.
CRCR will use artificial reefs, and fragmentation tanks in order to help restore the coral population at Marino Ballena. They are building a laboratory in Playa Reserva Tortuga, which will be used to grow coral that will later be introduced in the park. First, they will be hung on "Coral Frag Trees" to acclimate to the new open ocean environment. After the coral have shown signs of healthy growth, they will be transplanted on nearby rock shelves and closely monitored.
Coral can grow 10x faster in a lab setting so this project is crucial to helping the remaining corals in the park survive. Corals can take 400-500 years to reestablish on their own if left naturally.
The focus will not only be on the breeding of coral in the lab, but the space will also be used for educational and social tools involving the local community. They want to give people an opportunity to see the marine life that typically only divers see. As Pablo explained, the best way to save the coral reefs in Marino Balleno is to get the local community involved. If you give kids an opportunity to get involved with the coral regrowth project, the more invested they will be in helping restore and end harmful practices which have led to the corals' demise in the past.
They told me in the future that they will also have opportunities for tourists to become involved in Costa Rica coral restoration, which would be such a cool form of sustainable tourism!
If you wish to donate or become involved with the project you can email: [email protected] and follow them on social media on Facebook and Instagram.
—
If you go diving anywhere in Costa Rica, make it a trip to Cano Island with Mad About Diving! I had such an incredible day diving there, big thanks to the team for an unforgettable experience. If you have any questions about diving at Cano Island or in general, let me know in the comments below.
Enjoyed this post? Pin it for later!