This post may contain affiliate links. By clicking and making a purchase through the links, I earn a small commission at no extra cost to you. See my disclaimer for more information. This and display ads allow me to keep the site up to date and give back.
Wondering about Cano Island diving and snorkeling tours? Let me help you! I've visited Costa Rica five times, and diving at Cano Island is one of my favorite experiences.
The Cano Island biological reserve offers some of the best diving and snorkeling in Costa Rica, if not all of Central America.
With unbelievable visibility, incredible coral reefs, and abundant marine life, you're guaranteed an unforgettable underwater experience here.
Why Go Diving at Cano Island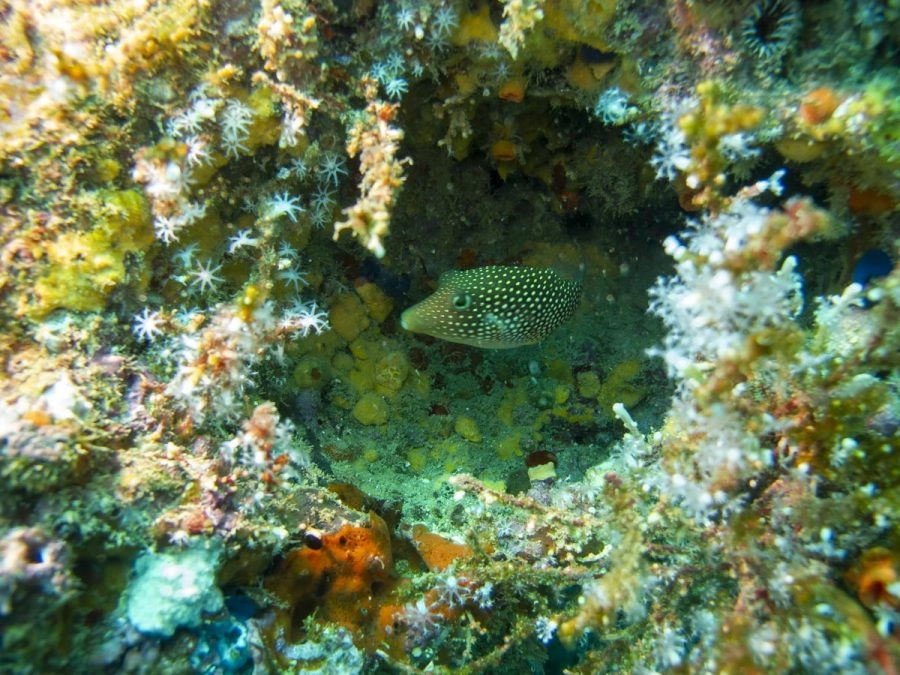 Rich marine life
The Caño Island Biological Reserve is part of the Osa Conservation Area, renowned for its rich biodiversity. It's home to 2.5% of the planet's biodiversity in less than a thousandth of a percent of its total surface area! Needless to say, you can see some incredible marine life here.

Cano Island's marine ecosystem is a haven for a diverse range of marine species, with beautiful, healthy coral reefs that are protected. These delicate ecosystems provide shelter and sustenance to countless marine organisms.
Over a hundred marine species are in the waters around the island!
While diving, I saw sea horses, sting rays, round rays, green turtles, white-tipped reef sharks, amberjack, pacific goatfish, snappers, green moray eel, vast areas of garden eels, barracudas, and giant schools of snapper. You can also see giant manta rays, although I was not so lucky.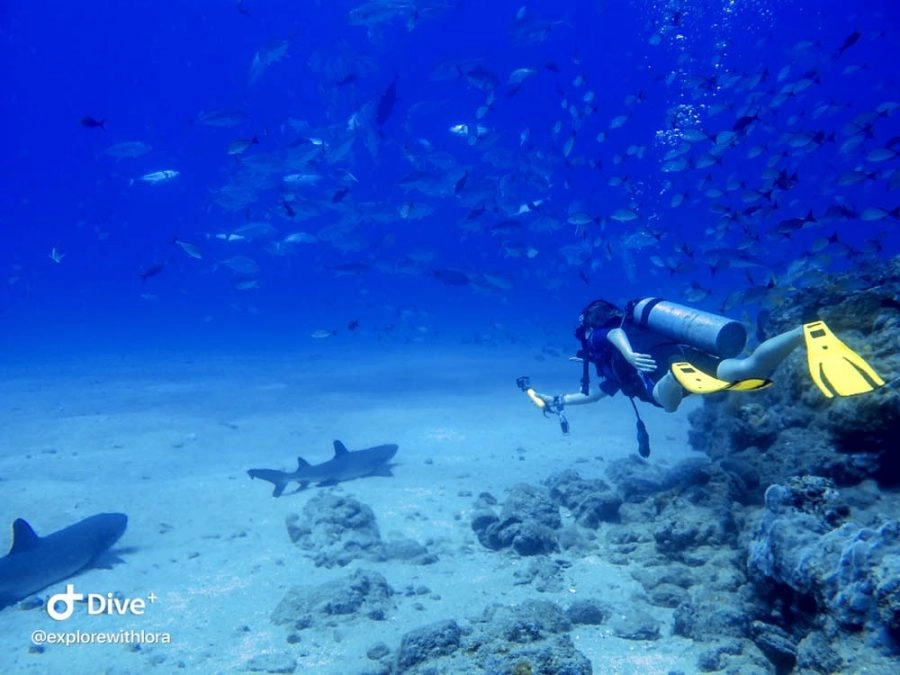 It was unbelievable how many sharks we saw! At one point, I was diving with four sharks around me. If you are lucky, you may also see giant bull sharks or whale sharks. Next to diving in Fiji and the Galapagos Islands, this is some of the best shark diving I've done.
This area is also famous for being one of the best places for whale watching. Twice a year, thousands of pods of humpback and pilot whales migrate through the area, which you may see on the boat ride out to the dive site.
Southern Hemisphere humpback whales come from July to October, and Northern Hemisphere whales migrate from December to February.
Incredible Visibility
One of the highlights of diving at Cano Island is the exceptional visibility.
It's one of the clearest places I've ever dived! This is attributed to the fact that it is far enough away from the mainland of Costa Rica not to be affected by seasonal rain and human development. Mo people mo problems.
With visibility often exceeding 100 feet, you can admire the intricate details of the coral formations.
The water visibility in Cano Island ranges from 45ft to 100ft, depending on the site and time of year. It was about 60ft while we were diving there in February.
Conservation and protection
Cano Island is part of Corcovado National Park, protected by the Costa Rican government. The authorities have implemented strict regulations to preserve the island's natural beauty and ensure the sustainability of its marine ecosystem.
Diving operators adhere to responsible diving practices, emphasizing the importance of conservation and leaving no trace behind. By diving at Cano Island, you contribute to the conservation efforts and help protect this unique environment for future generations.
Cano Island Scuba Diving Tours
Cano Island is most easily accessible on diving tours from Drake Bay. I went while I was visiting Uvita in 2020 with Mad About Diving, but unfortunately, they are no longer operating diving tours.
Instead, you can go from Drake Bay on this tour if you have your open-water certification.
⭐️ RATING: 5/5 Stars | ⏳ TOUR LENGTH: 6 hours | ✅ Book it!
This highly-rated tour that leaves Main Beach in Drake Bay is a great option.
You'll head out on the boat for a 45-minute journey to the Isla del Caño Biological Reserve. As you arrive on the island, your divemaster will brief you on the dive before jumping in.
As you descend into the first dive, you'll enter a magical underwater world surrounded by turtles, sharks, seahorses, rays, and more.
"100% recommendation from a very experienced diver around half the world. These ladies were amazing and knowledgeable from booking thru the boat ride, the great diving with a great dive master and also a wonderful lunch after. The entire two tank dive trip went off perfectly with everything done for us, from gear to snacks and so much fun!" – TripAdvisor (read more reviews here).
After your first dive, you'll take a surface interval break of 40 minutes, with snacks and water provided as the boat heads towards the next dive site.
After the last dive, the boat will journey to Playa San Josecito, where you can enjoy a beautiful golden sand beach, crystal clear waters, and a cold and delicious beer.
Returning to Drake Bay around 1:30 pm, you'll have lunch at a local restaurant to finish the fantastic day.
Two-tank dive in Isla del Cano
Use of Scuba equipment
Instructor and small group size (max six)
Lunch, snacks, and alcoholic beverages
Cano Island Snorkeling
If you aren't a diver, there are also snorkeling tours to Cano Island.
We had three snorkelers on the boat with us, and they basically did the same thing – just snorkeling at the top rather than diving. They all seemed to enjoy the snorkeling and saw more turtles than we did diving!
Caño Island is a protected marine reserve, so the number of people allowed in per day at any one time is limited. Therefore, it's recommended to book online in advance.
⭐️ RATING: 5/5 Stars | ⏳ TOUR LENGTH: 7 hours | ✅ Book it!
Starting at 7 am from the main beach in Drake Bay, this highly-rated tour takes you on a one-hour catamaran ride to Cano Island, where you might see whales and dolphins, depending on the season.
You'll have two snorkeling sessions at Isla del Cano, each about 45 minutes long. While snorkeling, you may see turtles, white-tipped reef sharks, and colorful fish.
"Beautiful catamaran ride out to Cano Island. This tour is great for people who tend to get sea sick because the boat is more steady than the smaller ones. The snorkeling was awesome, we saw several turtles, sharks and even an octopus!" – TripAdvisor review (read more reviews here)
Between the snorkeling, you'll take a break at the beach of Cano Island, where you can relax on the catamaran nets, use the paddle boards or jump into the ocean from the waterslide.
After the snorkeling, it's time for a picnic lunch buffet on the boat, followed by an open bar for a 2 pm return to Drake Bay.
My experience diving at Cano Island
The boat ride to Cano Island from Uvita is about an hour and 15 minutes, which can be choppy. From August to October, during humpback breeding season, it's common to spot whales on the way out.
Upon arriving at Cano Island, we got off the boat to go to the gorgeous beach for a couple of minutes while the crew got the dive gear ready on our boat.
From there, we got back on the boat, geared up, and traveled a few minutes to the first dive site named Arches.
Arches is a shallow (max 12m) but gorgeous dive site with rock arches to swim in. They are full of marine life, including huge schools of snapper. We also saw stingrays, reef sharks, moral eels, sea horses, and starfish.
After the first dive, we returned to the beach for our surface interval and to enjoy some delicious Costa Rican fruit.
During the surface interval, you can relax on the beach or hike up 10 minutes to a viewpoint of Cano Island, which is worth it.
We then hopped back in the boat to go to the second dive site at Coral Gardens, which was even more impressive than the first!
It was another relatively shallow dive (max 17m) with easy diving conditions. There was an abundance of coral here, large schools of fish, eels, white-tip reef sharks, string rays, and turtles!
Best time to Dive at Cano Island
The best time to dive at Cano Island is during the dry season, from December to June, when the diving conditions are ideal.
Water temperatures are generally within a 24 – 29°C (75 – 84°F) range, while the outside air temperature stays between 24 C – 29 C (77 F – 84 F).
I went scuba diving at Cano Island in early February, and the water and outside temperatures were warm and lovely.
You're swimming in the Pacific Ocean, which is generally very pleasant on Costa Rica's Pacific Coast! This was a nice way to leave Costa Rica since I was going 80 degrees colder to Yellowknife, Canada, the next day.
What to Bring
High-quality scuba gear is included in the price of the Cano Island dive, so you don't need to worry about bringing any of it with you.
The boat ride over and the island is sunny and hot, so bring sun protection, including sunscreen, sunglasses, and a sun hat. During the rainy season, a rain jacket is a good idea.
You'll also want to wear shoes/sandals you are comfortable getting wet as the boat is launched from the beach and your feet will get wet. You can also carry your shoes and go barefoot, which I usually do on the beach anyways!
They have a supply of filtered water on the boat, but bringing your own water bottle is a good idea.
Costa Rica Coral Restoration
While Mad About Diving is no longer running dive tours from Uvita, you can still support their non-profit, the Costa Rica Coral Restoration (CRCR), which aims to recover, restore, and propagate the coral community at Marino Ballena National Park.
The idea for the organization came from a group of friends' combined love of the ocean, diving, environmental conservation, and giving back to the local community.
They are working in partnership with friends, MINAE Costa Rica, the Marino Ballena National Park Administration, and several other organizations.
The organization's mission is to change the tide of damage done by present and past generations to reverse course for future generations.
As the owner, Pablo, explained to us, when they first built highways to Uvita, they didn't consider the environmental consequences of the development, which reached the ocean and badly damaged the corals of Marino Ballena National Park.
CRCR will use artificial reefs and fragmentation tanks to help restore the coral population at Marino Ballena. They are building a laboratory in Playa Reserva Tortuga, which will be used to grow coral later introduced in the park.
First, they will be hung on "Coral Frag Trees" to acclimate to the new open ocean environment. After the coral has shown healthy growth, it will be transplanted on nearby rock shelves and closely monitored.
Coral can grow 10x faster in a lab setting, so this project is crucial to helping the remaining corals in the park survive. Corals can take 400-500 years to reestablish if left naturally!
The focus will not only be on the breeding of coral in the lab but the space will also be used for educational and social tools involving the local community. They want to allow people to see the marine life that typically only divers see.
As Pablo explained, the best way to save the coral reefs in Marino Balleno is to involve the local community. If you give kids an opportunity to get involved with the coral regrowth project, they will be more invested in helping restore and end harmful practices that have led to the corals' demise in the past.
They told me in the future that, they will also have opportunities for tourists to become involved in Costa Rica coral restoration, which would be such a cool form of sustainable tourism!
If you wish to donate or become involved with the project, you can email: [email protected] and follow them on social media on Facebook and Instagram.
FAQ: Cano Island Biological Reserve
How to get to caño island costa rica?
To reach Caño Island, you can take a boat or join a guided tour from various coastal towns in Costa Rica, such as Drake Bay.
How deep is the dive at cano island?
The depths of dives at Caño Island vary depending on the site and your level of experience. Some dive sites have shallow areas of around 30 feet (9 meters), while others can reach depths of 80 feet (24 meters) or more.
How do you get from Drake Bay to Cano Island?
To get from Drake Bay to Caño Island, you can arrange a boat transfer through local tour operators or dive centers.
What is the history of Cano Island?
Caño Island holds significant historical and cultural value. It was once a sacred burial ground for indigenous communities, and archaeological remains suggest it was a ceremonial center for pre-Columbian civilizations. Caño Island was designated a Biological Reserve in 1978 to preserve its important marine ecosystem, indigenous cultural history, and natural beauty.
How long does it take to get to Cano Island?
The journey takes approximately 45 minutes from Drake Bay and provides scenic views.
Is Cano Island good for snorkeling?
Yes, Caño Island is an excellent destination for snorkeling. The clear waters and abundant marine life make snorkeling a rewarding experience, allowing you to observe the vibrant coral reefs and encounter various species up close.
Does costa rica have good scuba diving?
Absolutely! Costa Rica is renowned for its excellent scuba diving opportunities. With its rich marine biodiversity, pristine waters, and various dive sites, it offers a rewarding experience for scuba divers of all levels.
Is cano island worth it?
Definitely! Caño Island is a true gem for divers and snorkelers. Its remarkable marine life, vibrant coral reefs, and the chance to encounter pelagic species make it an unforgettable destination worth exploring.
Final thoughts: Cano Island Diving
Diving at Cano Island in Costa Rica is an extraordinary experience that should be on every diver's bucket list. The island's breathtaking beauty, incredible biodiversity, and well-preserved marine ecosystems make it a true gem in the Pacific Ocean.
Whether you are an experienced diver or a snorkeler, Cano Island offers a diving adventure that will inspire you.
Planning a trip to Costa Rica? Check out these posts!
Enjoyed this post? Pin it for later!