This post may contain affiliate links. By clicking and making a purchase through the links, I earn a small commission at no extra cost to you. This and display ads allows me to keep the site up to date and give back. Thanks for reading!
Monteverde is of the most beautiful places to visit in Costa Rica. It translates to 'green mountain', which is what you'll see as soon as you arrive. Though once just a rural farming area, Monteverde has grown into one of the most popular areas to visit in the country. There are so many wonderful things to do in Monteverde, Costa Rica – you'll fall in love as soon as you arrive!
What makes Monteverde so special is the cloud forest, a rare ecosystem that occurs in tropical mountainous areas. The conditions in Monteverde allow for this unique region to be consistently covered by clouds, which promotes incredible biodiversity. It's a paradise for outdoor lovers, with hiking, bird watching, wildlife, zip-lining and more.
If you're wondering what to do in Monteverde, I've got you covered. Read on to discover the best Monteverde tours, as well as tips for getting to Monteverde, where to stay, when to go, and what to bring.
Things to do in Monteverde
Extreme zip-lining tours the Monteverde Cloud Forest
Monteverde is one of the best places in the world to go zip-lining! A canopy tour is a great way to experience these epic zip lines. Most canopy tours will have anywhere from 8-16 zip-lines included in the tour, taking you flying through the Monteverde cloud forest.
The Selvatura Canopy Tour is a popular option that comes with an included Tarzan swing, where you swing through the forest tied to a high-security rope. You can also bungee jump here (one of the highest in Central America), or superman zip-line through the forest! If you love adrenaline, don't miss the Monteverde canopy tours.
Go hiking through the Monteverde cloud forest
If you aren't up for flying through the forest there are still plenty of options for visiting on your own two feet. Monteverde Cloud Forest Biological Reserve is open for visitors to come and walk through with an entrance fee of $25 USD. There are also many other cloud forest reserves around the area.
Walking through the cloud forest reserves feels like you are in a fairytale. There are few places left on earth with this type of vegetation, so it's a very special experience. There are many well-maintained trails and easy trails throughout the reserves (one to five kilometers) so this is a perfect activity if you love to hike!
You can also do guided tours through the reserves with a naturalist for bird watching, natural history, or for night animals. While the reserves are open to walk through on your own, having a guide really adds to the experience. They have so much knowledge about the local flora and fauna and can spot animals you likely won't see.
Bird Watching
If you're into bird watching then Monteverde is the place for you. Home to over 400 species of birds, the Curi Cancha reserve is one of the best places to go bird watching.
National Geographic named Monteverde as the best place in the world to see the Resplendant Quetzal. I was lucky enough to spot one while with a guide while in the Monteverde cloud forest reserve. Had I not been with the guide, I never would have spotted it on my own!
The vibrant green feathers on this bird are just stunning. During mating season (Feb-June) you may even be lucky enough to see a male Quetzal dancing and flashing their vibrant colors while trying to court a mate!.
Hummingbirds are another common bird you can see in Monteverde, and Costa Rica has so many beautiful colorful ones! You may also see toucans, trogons, and motmots.
Walk the Hanging Bridges
Another way to take in the stunning scenery of the cloud forest is to walk along the hanging bridges through the cloud forest. Many of the adventure parks have their own hanging bridges you can use while visiting. Monteverde Biological Reserve has a long one. This is a great thing to do in Monteverde if you are looking for something in-between hiking and zip-lining.
Explore the El Tigre Waterfalls
El Tigre Waterfalls is a relatively new tour in Monteverde that takes you hiking to some stunning waterfalls in the rainforest. The property is private so you can't do the hike on your own, you need to go on a guided tour.
I booked the tour through Selina and we set off into the jungle. We started high up where it was raining and descended into the rainforest, where it was surprisingly drier. It was magical walking through the rainforest with many lush, green plants along the way.
There are also some fun bridges to cross along the trail. Eventually, we could hear the sound of water and found our first waterfall! They only got bigger and better as we continued hiking through the rain forest.
I loved this hike. The rainforest is so magical to walk through and it's nice that there aren't any other tourists there than your own group. The hike is all downhill but still challenging due to the slippery terrain. You don't have to worry about hiking back up as horses will take you as part of the tour.
The hike took about three hours in total and afterward we returned to the starting point for a traditional lunch (not included, costs $8 USD).
Horseback Riding or ATV Monteverde Tours
Another popular activity in Monteverde is to go horseback riding up the beautiful mountains. Most tours take about 2.5 hours. I did a horseback riding tour at sunset which I highly recommend, the sunset was absolutely gorgeous from the top. On a clear day, you can actually see both the Pacific and Atlantic ocean from Monteverde!
If you don't want to ride a horse, they also have similar tours that go via ATV.
Take a Coffee, Chocolate & Sugar Cane tour
Costa Rica is famous for its coffee and Monteverde is one of the main places it's produced. If you are interested in learning more about how coffee and chocolate is made, Monteverde is the perfect place to go on a coffee and chocolate tour!
During the tour, the guide will walk you through the history of coffee, sugar cane, and chocolate in Costa Rica, and show you how the products are made from start to finish. Of course, delicious samples are included with the tour.
Spot Wildlife at Night
Over 80% of wildlife in Monteverde is nocturnal. If you are interested in spotting nocturnal wildlife, one of the best things to do in Monteverde is to take a guided night walk. During the hike, you may see two-toed sloths, armadillos, snakes, frogs, spiders, and birds. Experiencing the forest this way is a unique way to see new wildlife you may have never seen before.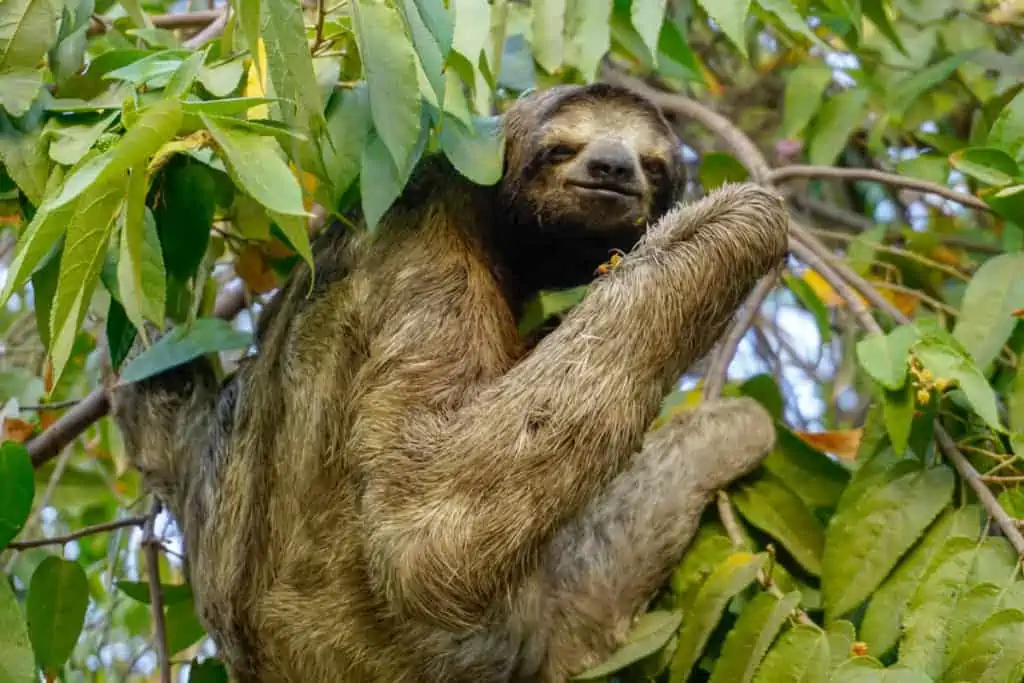 Dine in a treehouse
In downtown Santa Elena, there is a tree-house restaurant you can eat inside. Of course, as a tourist attraction, the prices here are going to be somewhat overpriced (around $20 USD for a meal) but the novelty is worth it. You could always go in just for a delicious coffee. The atmosphere is lovely!
Visit the Butterfly Garden
Located between Santa Elena and Monteverde Biological Reserve, the Monteverde Butterfly Gardens are a great spot to visit if you want to see butterflies. Inside there four butterfly gardens, with over 50 species of butterflies from Costa Rica. If you are really passionate about butterflies, they also have a volunteer program!
Visit the Orchid Garden
Costa Rica has some of the most beautiful orchids in the world, with over 1,400 species. Inside the Monteverde Orchid House, you can see over 420 types of these! Visit the Monteverde orchid gardens and take an hour tour to learn about the orchids, including how to grow your own at home.
Getting to Monteverde
Since Monteverde is somewhat of a remote location high up the mountains of Costa Rica, getting here is a little challenging. But that's all part of the adventure! The easiest way to get to Monteverde is by renting a car and driving there yourself. It should take about 2.5 hours.
Car rentals can be picked up from both the San Jose or Liberia airport upon arrival in Costa Rica. If you are planning to drive to Monteverde, I recommend getting a 4×4 because the roads are not in great condition.
Don't fret if you don't have a car, there are still options for getting to Monteverde. Shuttle buses are the second easiest option, which can be booked from various locations online here. Selina (a hostel which I review below) also offers shuttles between all their locations. However, shuttles are not cheap and can break your budget quickly if you're backpacking Costa Rica. So that leaves public transit!
From San Jose
A shuttle bus from San Jose to Monteverde should cost about $50 USD, but there are also public buses from Terminal 7-10 in San Jose. There are many bus stations in San Jose and the city is large, so you may need to get a taxi from wherever you are first.
If you're short on time, there are also day tours that go from San Jose to Monteverde. However, I recommend spending at least a few days in Monteverde since there's so much to do.
From Liberia
There are shuttles that go directly from Liberia to Monteverde which should cost around $50 USD. There is also the option to take a public bus from the main bus depot in Liberia which is what I did.
Get the 7 am bus from Puntarenas bus station that's going to San Jose (approx $8 USD) and tell the driver to let you off at lrma (takes between 1 1/2-2hrs). From Irma you catch another bus to Monteverde, but it doesn't come until 10am. There is a restaurant next to the bus station where you can get a local breakfast while you wait. The second bus costs about $2 USD and takes you into Santa Elena (the main town in Monteverde).
From La Fortuna
There is actually an adventure transfer that goes between La Fortuna and Monteverde which is the quickest way to get between the two. While I haven't done this it sounds like a great way to travel as you can awesome views of Arenal Volcano while on the lake.
I've also driven from La Fortuna to Monteverde and the roads are quite the adventure, as it's mostly a dirt road. It's a beautiful drive, but you'll want to have a 4×4 for this!
Where to stay in Monteverde
The main town near Monteverde is Santa Elena, which is where many of the accommodation options are. Santa Elena is about a 10-minute drive ($8 USD taxi) or one-hour walk (beautiful, but steep) to the Monteverde Biological Reserve, where there are a few more lodging options nearby.
I was hosted at Selina in Monteverde and highly recommend it to anyone looking for a beautiful place to stay in Monteverde. It's right next to the Biological Reserve, so it's perfect if you want to spend time there. The location itself is set in a forest, with plenty of outdoor space to relax. My favorite part? The two hot tubs overlooking the sunset.
Selina is perfect for digital nomads since all locations have high-speed internet and dedicated co-working spaces. At the Monteverde location, they have a beautiful open-space common area with more than enough space for guests to eat, work, and mingle. The kitchen serves excellent food options – try the wood fire pizzas!
Inside the common area, there is a cozy fire to warm up by if you end up getting rained on in Monteverde. They also have a cinema and reading room if you just want to chill out. Selina has rooms for any budget, from backpacker shared dorms to private lofts. All the rooms have beautiful decor and are well-kept.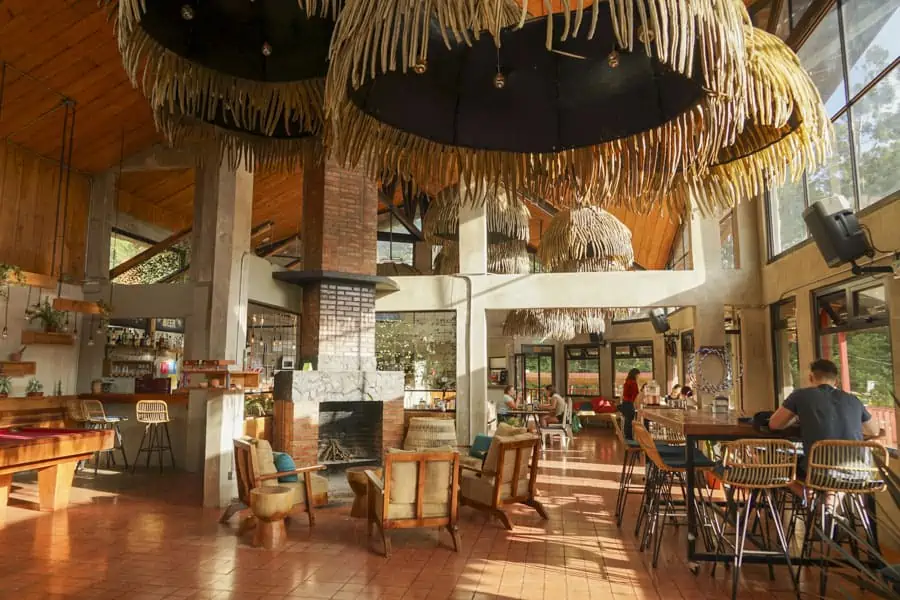 Another aspect I love about Selina is that they have yoga classes at all locations. At the Selina in Monteverde, yoga class are available every day at 6:30 pm. The yoga studio in Monteverde is all glass with trees just outside. It's the perfect way to relax after a day of hiking!
Monteverde has a chilled out atmosphere, and the Selina location exemplifies that. However, you won't find yourself getting bored, with plenty of daily activities going on at Selina including free salsa classes and movie nights. They also have more tours available then you could ever book. All the things to do in Monteverde that I mentioned in this guide you can book with Selina. If you book a tour they will pick and drop you off from Selina, so no worries if you don't have a car. Transport to other locations in Costa Rica can also be directly booked through Selina!
How long to spend in Monteverde
Depending on how many tours you want to do, I recommend spending at least two full days (three nights) in Monteverde. It takes a while to get there from other locations in Costa Rica, so don't count on being able to do Monteverde tours on your travel days. There's more then enough to keep you occupied for two days, if not longer!
Best time to visit Monteverde
Like the rest of Costa Rica, Monteverde has a dry and wet season. The best time to visit is during the dry season from December-May since it would be too wet to enjoy these activities during the rest of the year. However, since Monteverde is a cloud forest, you can never expect it to be completely dry. It would go from raining to sunshine in a matter of minutes while I was there in January during the dry season.
Given Monteverde's rainy climate, you'll want to bring some warm clothes with you. Light pants and a sweater will be enough, along with a rain jacket. I also recommend bringing hiking shoes as many of the reserves have muddy terrain!
Final Thoughts
I fell in love with Monteverde as soon as I arrived. With so many outdoor things to do in Monteverde, it's the perfect destination for adventure travelers. Whether you're looking for a relaxing hike or want to get your adrenaline pumping on a zip-line, there's a Monteverde tour for you. Have you been to Monteverde before? Let me know in the comments below!
Looking for more Costa Rica travel inspo? Check out these posts!
Love it? Pin it for later!