This post may contain affiliate links. By clicking and making a purchase through the links, I earn a small commission at no extra cost to you. This and display ads allows me to keep the site up to date and give back. Thanks for reading!
Dominica might just be the Caribbean's best-kept secret. This nature paradise is home to an abundance of beautiful waterfalls, hot springs to soak in, incredible opportunities for whale watching, world-class scuba diving, and enough hiking trails to keep you busy for months. Given the incredible access to nature, it's no surprise the best things to do in Dominica revolve around getting outdoors.
Whether you want to find sperm whales, chase waterfalls, or simply relax on Caribbean beaches – this post has you covered. Here's the ultimate list of fun Dominica activities for adventure seekers!
The best things to do in Dominica
Explore Morne Trois Pitons National Park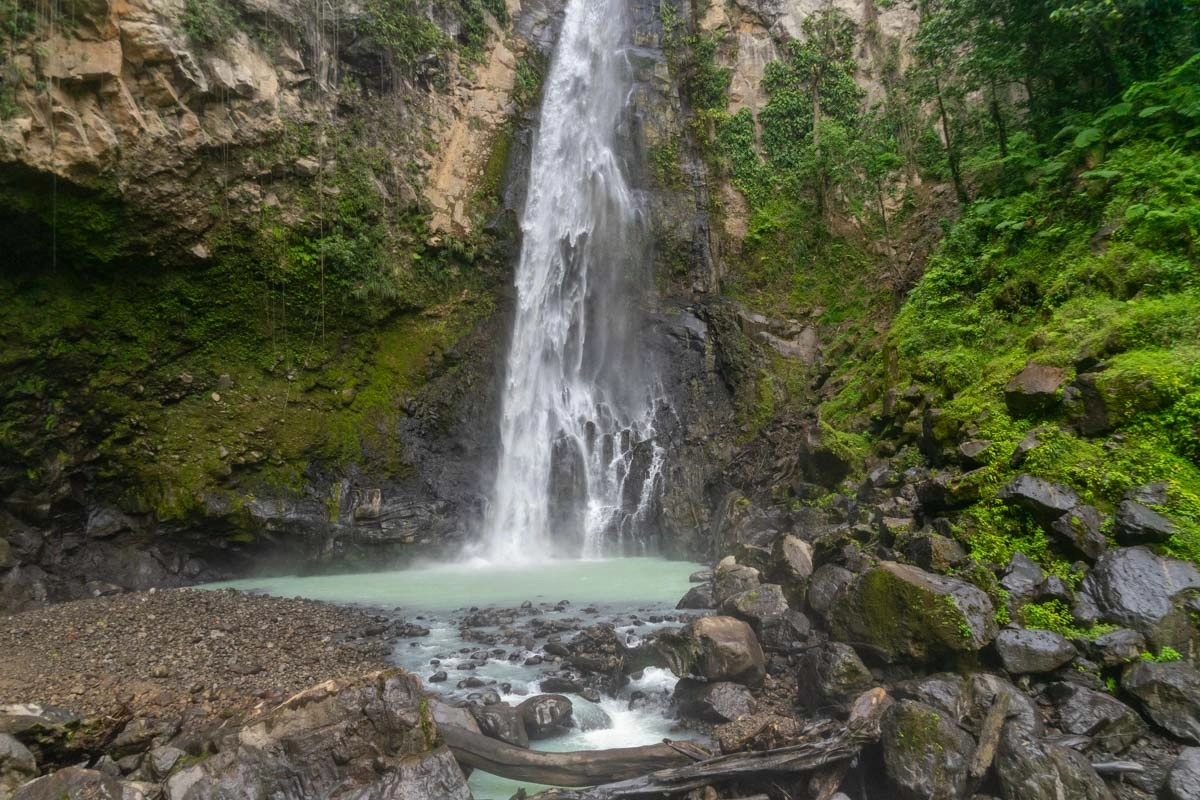 This national park is not only a UNESCO world heritage site but home to some of the top rated tourist attractions in Dominica. Encompassing much of the island's gorgeous mountainous interior, It's where you'll find the Boiling Lake trail, Titou Gorge, Freshwater Lake, Victoria Falls, Middleham Falls, Papillote Tropical Gardens, and much more. Take a few days to explore the park – there's so much to see here.
Hike to waterfalls in the jungle
One of my favorite things about Dominica is how many incredible waterfall hiking trails there are. With 365 rivers (one for every day of the year) there's ample flowing water here leading to many waterfalls. Dominica has waterfall hikes for all levels, but here are a few you don't want to miss.
Victoria Falls in the east side of the island is one of the most unique waterfalls to visit because getting there involves hiking along a gorgeous milky blue river – you won't find that color anywhere else.  I also loved Middleham Falls – another waterfall in Morne Trois National Park.
It's only an hour hike to get there, but it made me feel like I was Indiana Jones finding a lost waterfall in the middle of the jungle with no one else around. Lastly, don't miss Sari-Sari falls – just get a guide, or you might end up lost like me.
Hike to the second largest boiling lake in the world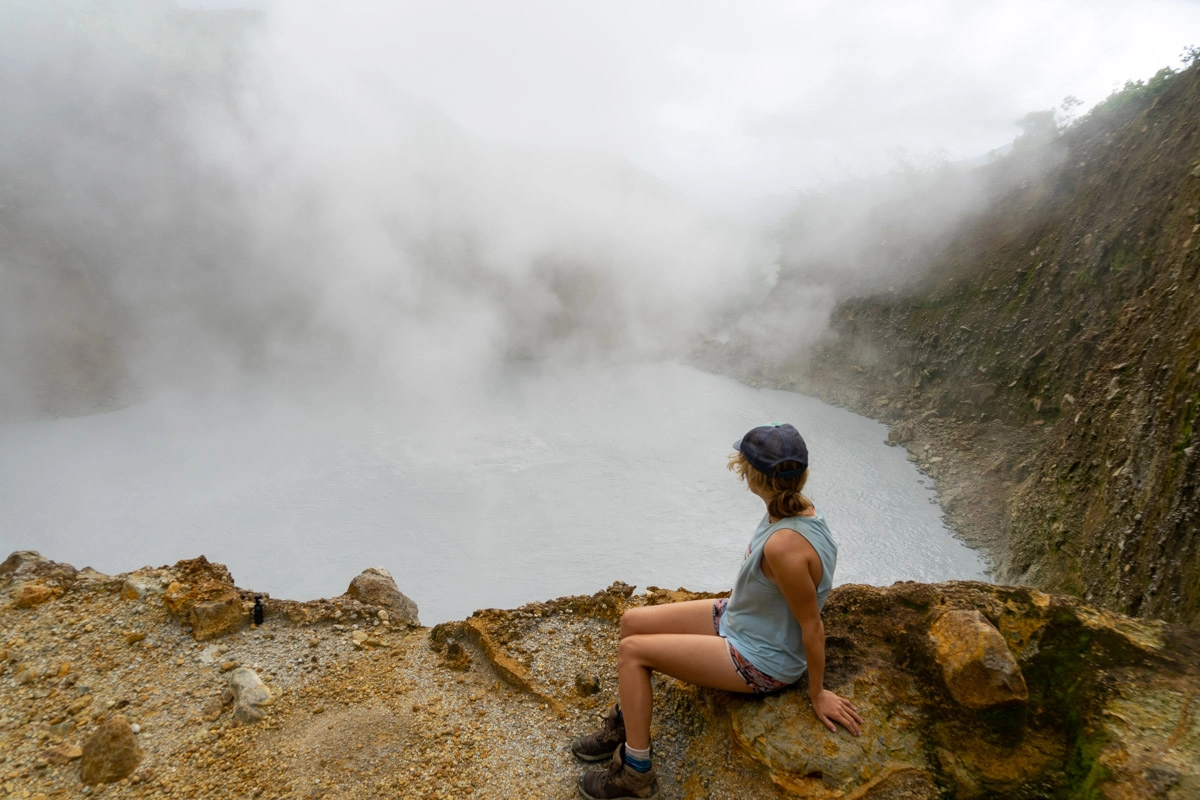 If you only have time to do one hike in Dominica, make it Boiling Lake.
This epic eight-hour journey takes you through several different landscapes, including rainforests, cloud forests, through the valley of desolation, all the way to a viewpoint where you'll be standing in front of the second-largest hot lake in the world.
It's not an easy journey but one that you don't want to miss as it's easily one of the most unique experiences in Dominica.
Swim through Titou Gorge
This was one of the first things I did in Dominica. Swimming through Titou Gorge was the moment I realized I was going to fall head over heels in love with the country.
Here you can jump into the refreshing crystal clear jade-green water and make your way through the narrow canyon as you gaze up at the unique carvings in the rocks all the way to the waterfall at the end. It's no surprise Pirates of the Caribbean chose this spot as one of their filming locations!
One of the best ways to enjoy Titou Gorge is after hiking Boiling Lake – as it just happens to be right next to the entrance.
Go whale watching
One of the coolest things about visiting Dominica is the abundance of wildlife that lives there. My favorite wildlife experience was going out to look for sperm whales – one of the largest species of whales on the planet. And the good news is that in Dominica, you can see them year-round, so you don't need to worry about timing your trip!
We started our journey leaving right from the pier at Rosseau using a sound device to track them. It was less than an hour before we found a large pod, including a mother and her calf. My heart!
While sperm whales are not as big show-offs as humpback whales in Newfoundland, it was still a magical experience to see so many of them. On a whale-watching tour in Dominica, you're most likely see dolphins too!
Go Canyoning
If you want to take your adventure up another level then join a canyoning tour with Extreme Dominica. Dominica is home to some spectacular canyons and there's no better way to see them than from the inside. You don't need to have any prior experience to join one of their canyoning tours – just a sense of adventure!
Try freediving
I never expected to go free diving while I was in Dominica, but it ended up being one of the favorite memories. It all started when I got to Soufriere Guesthouse.
Everyone staying there is a free diver, if not a world champion, so after a few nights there I was convinced that I had to try it now, knowing that Dominica is one of the best places in the world for free diving. This is due to its good visibility, calm water, and accessibility of depth close to shore.
Having a near-drowning experience a few months before, I never expected that I would be able to hold my breath underwater for more than a few seconds, but the instructor made it so achievable.
It actually helped me overcome my fear of the ocean and was truly an amazing experience. If you've ever wanted to freediving, don't miss your chance in Dominica.
Fort Young on Friday nights
If you're looking for nightlife and Dominica, you might be disappointed. That said, a few events happen where you can dance the night away with other travelers alike. Fort Young has a 'Grill and Chill' event on Friday nights with a live DJ and delicious food. It's great fun!
Hike a section of the Waitukubuli National Trail
Dominica is home to the only long-distance hiking trail in the Caribbean – the Waitukubuli National Trail. While the entire trail takes two weeks to complete, it's broken into 14 paths that you can do as day hikes during your stay.
Swim in Waterfalls
Dominica is home to many beautiful waterfalls. There are so many here that you could easily swim in a different one for every day of your trip. And not all of them are long hikes, so don't worry if you just want to relax. Some are quite quick to access from the parking lot!
The easiest waterfalls to get to that you can swim in are Jacko Falls, Spanny Falls, and Emerald Pool.
Take a boat ride down the Indian River
While most things to do in Dominica are around Roseau and Morne Trois Pitons National Park, there are a few attractions in the north of the island not to be missed. One of these is taking a boat ride down the Indian River in Portsmouth.
This beautiful place in Dominica was used as a filming location for the Pirates of the Caribbean. It's a dream place for birdwatchers – we saw so many! It only costs 20 USD to get a local to row you down the river, and at the end, there's a local rum bar in the jungle where you can stop to get a drink to take with you on the way back. This is still the Caribbean after all!
Tip: Go at sunset for an even better view.
Go river tubing
With over 365 rivers throughout the island, it's no surprise that river tubing is a popular activity. There are a few places to experience it; I did it while staying at Pagua bay resort on the island's east coast.
It's complimentary as part of your stay – they'll set you up with tubes, beer and send you on your way down the river. The rapids aren't anything crazy, but it's an enjoyable way to spend a day in Dominica, especially if you have a group of friends.
Relax in an all-inclusive resort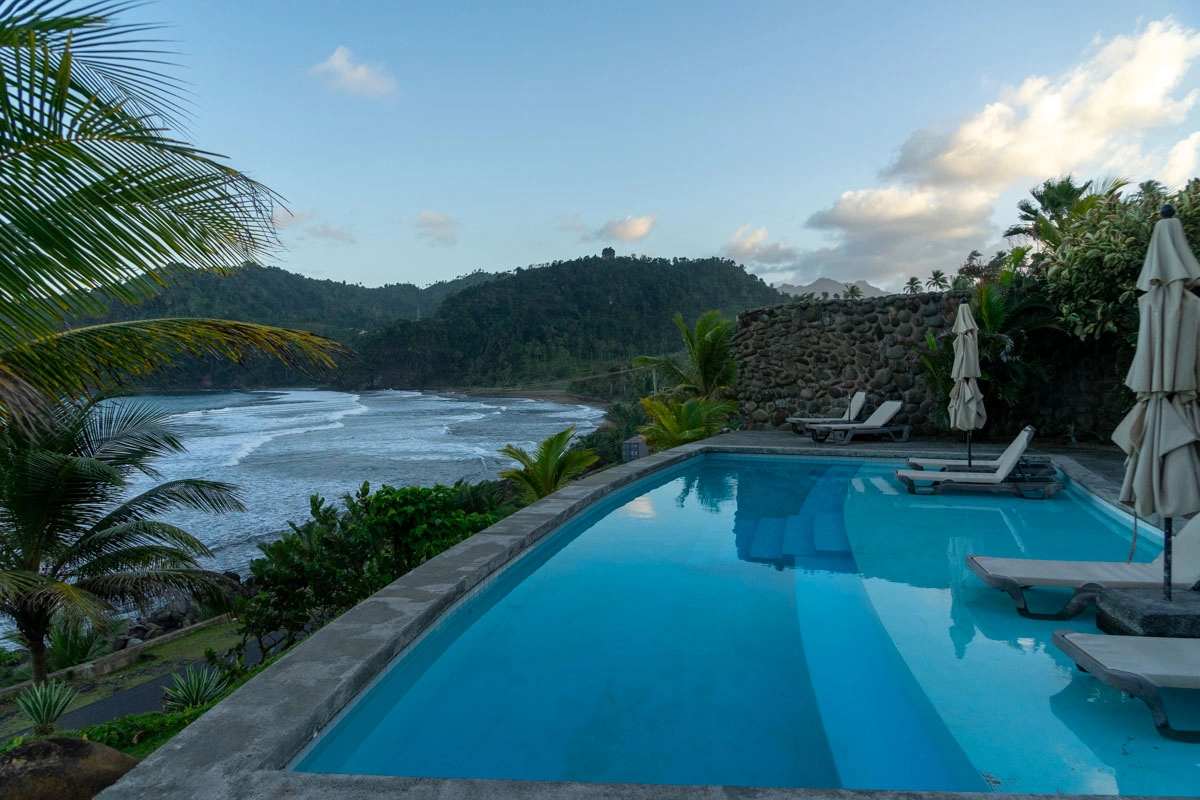 Dominica may appear rustic, but it's actually home to one of the Caribbean's best all-inclusive resorts – Secret Bay.
A stay at this five-star hotel is sure to be an incredible experience as it offers guests luxury through and through with some of the best views and service on the island. Don't worry if you can't afford it- there's are many other beautiful resorts and places to stay for all budgets.
Soak in hot springs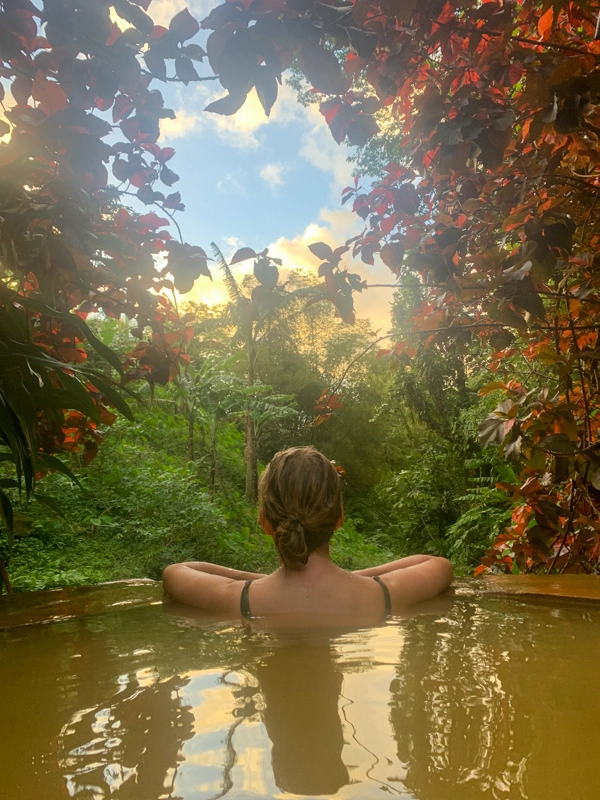 There is ample geothermal activity happening in Dominica with nine volcanoes, so don't miss the opportunity to soak in hot springs during your time here.
There are many to choose from, including paid springs and free natural ones. Some of the most popular springs are in Wotten Waven near Roseau. Check out this post for the complete guide on where to find hot Springs in Dominica!
Plan a road trip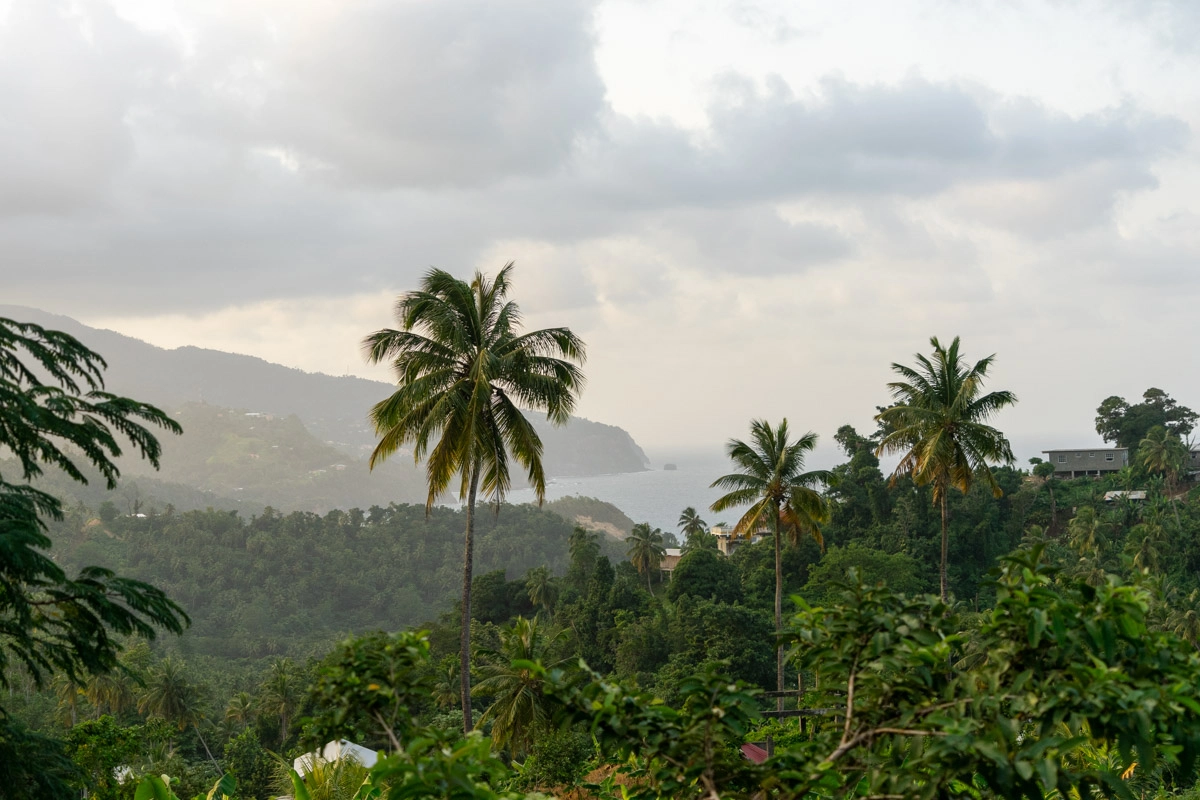 If you're planning a trip to Dominica, I highly recommend renting a car and driving around the country for at least part of your trip.
Not only is this the easiest way to visit the many attractions, but it's also super fun thanks to the windy and scenic roads. Even though it's a mountainous country, the roads are actually very well-maintained (thanks, China).
Fair warning – I actually got carsick here, which is rare for me. Granted, the guy I was traveling with was having fun rallying through the turns, so take it slow if you don't want to feel ill.
Jump into Chauderie Pool
While there's no shortage of places to go swimming in Dominica, there are not that many natural pools you can jump into.
Chauderie Pool on the north island is an exception to this, as the water here is deep enough that you can jump in from the top without hitting your face off rocks. It's also just a gorgeous place to visit and relax for the afternoon.
Enjoy the local cuisine
Dominica is not world-renowned for its cuisine, but overall I enjoyed eating here. A typical dish consists of meat or fish with various sides like beans, rice, salad, and lentils.
It's very affordable to eat here if you're going to local restaurants. Some of the best local meals I ate on the island were at Keeping It Real on Toucarie beach and River Rock Cafe and Bar on the road to Trafalgar Falls.
Have a beach day
Dominica is not known for its beaches as other islands in the Caribbean are like Barbados and Antigua. Most beaches here are volcanic black sand, which is unique to see! I rounded up the best beaches and Dominica here. Be sure not to miss the rugged beaches on the east coast, Mero Beach on the Caribbean side, and Purple Turtle Beach by Portsmouth.
Hike to Scott's Head Viewpoint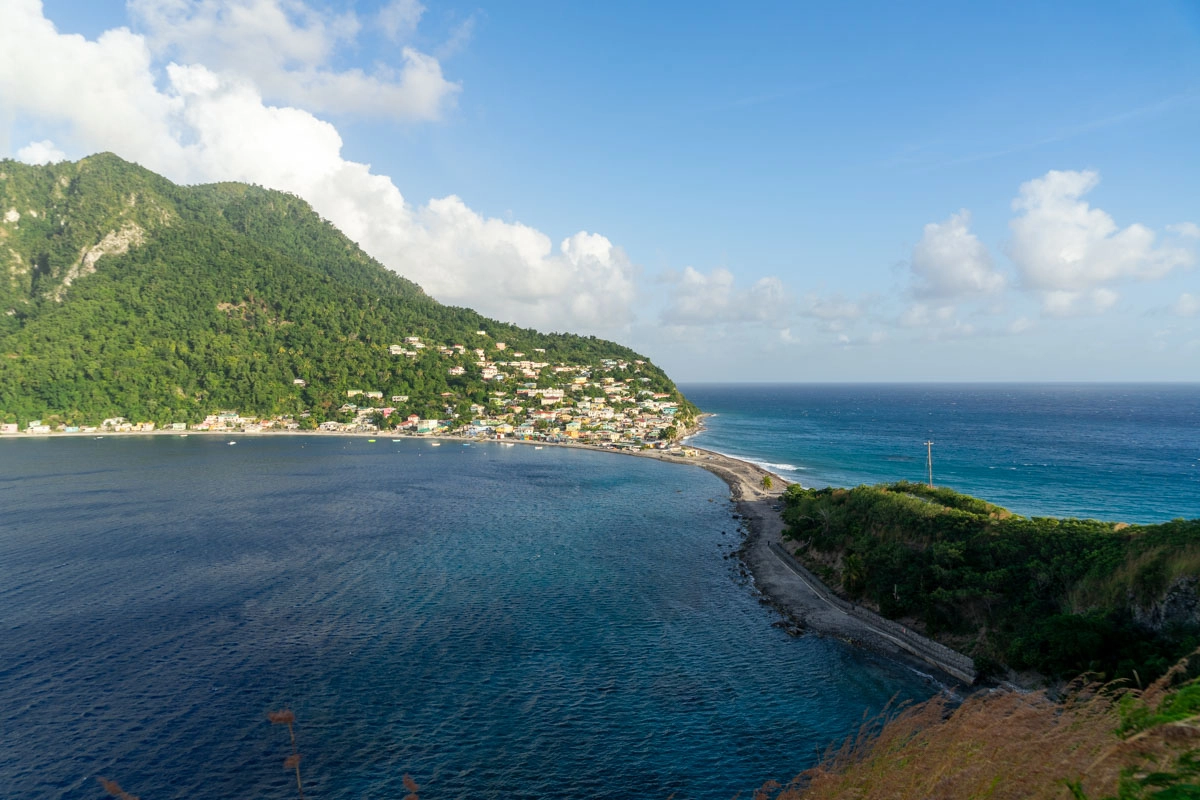 There are so many gorgeous viewpoints in Dominica, but one of the best is Scott's head near Soufriere in the south of the island. It's not a long hike – about half an hour to the top, where you'll get the most amazing views of the Caribbean Sea and Atlantic Ocean meet. It's easily one of the most beautiful places to visit in Dominica!
Champagne Reef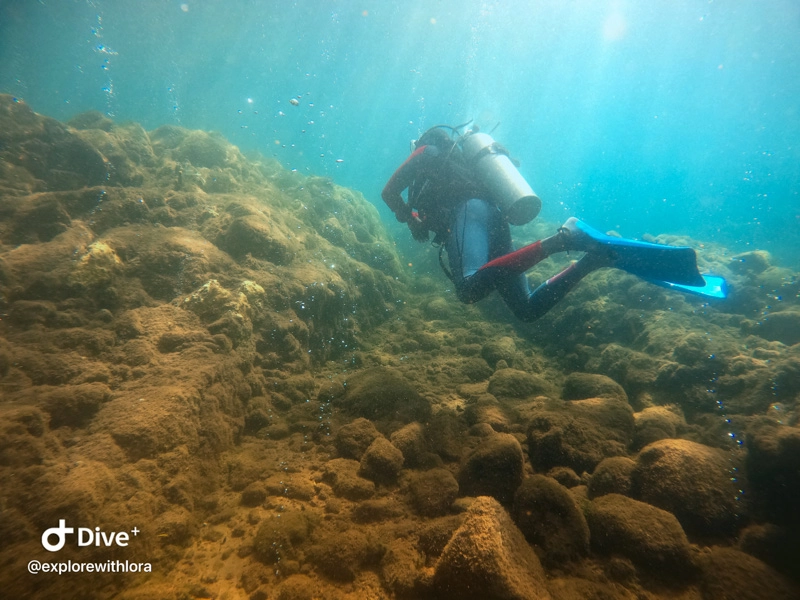 One of the most unique things to do in Dominica is to go snorkeling and diving through Champagne Reef. Geothermal activity causes thousands of bubbles to emerge from the ocean floor, just a few feet from shore. It's one of the best scuba diving spots in Dominica, and is also a popular place for snorkelers.
See cold Soufriere
I already mentioned the hot springs in Dominica but did you know that there's actually a cold volcanic spring that you can see?
This unique phenomenon is in the north of the island near Portsmouth. It's only about a 10-minute hike from the parking lot and worth stopping in as you can actually touch the bubbling water safely – so strange!
Chill out at Bubble Beach Spa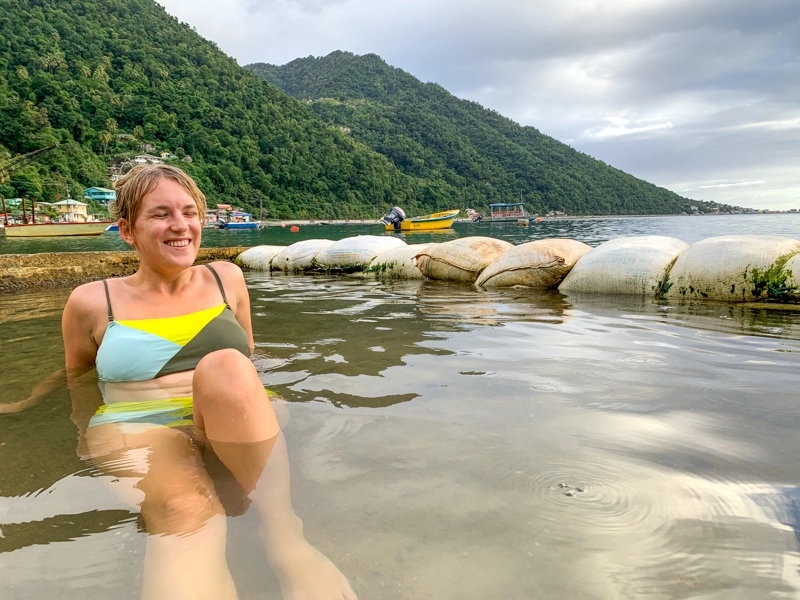 Another unique example of Dominica's geothermal activity is Bubble Beach Spa in Soufriere. They have sectioned off part of the ocean with sandbags where geothermal vents push warm water and bubbles up from the ocean floor. This creates a natural pool of warm ocean water that you can soak in while enjoying the beautiful surrounding mountain views.
Visit Roseau Market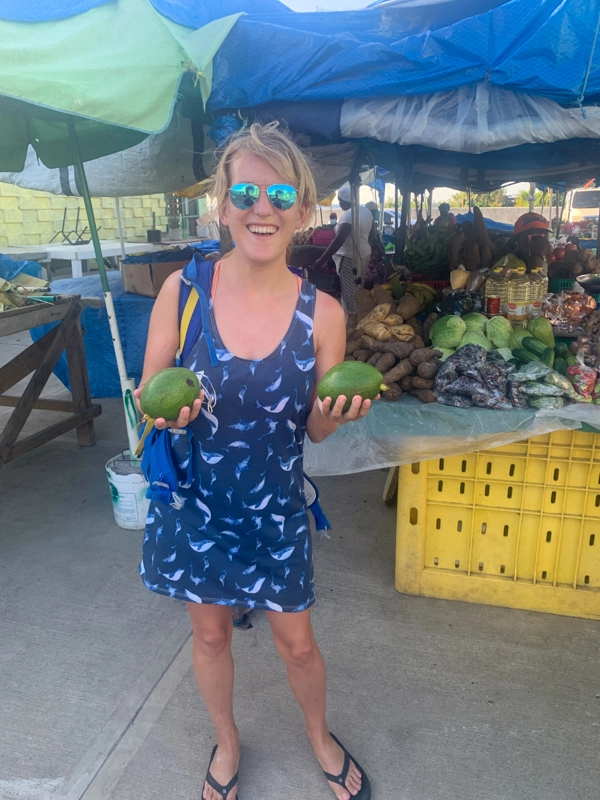 Visiting Roseau Market was my favorite thing to do in the city. Here you'll see locals going about their daily lives and selling some of Dominica's best produce.
Agriculture is the second main industry on the island so be sure to try some while here. Not only is it an incredibly affordable way to eat while visiting but it's also a great place to chat with locals. The market is on the pier in Roseau and happens every day of the week except Sunday.
Kalinango Territory
One fun fact about Dominica is that it has the largest remaining tribe of Kalinago people in the Caribbean! If you want to learn about their fascinating culture, you can visit a model village, Kalinago Barana Autê, on the northeast coast.
Explore Cabrits National Park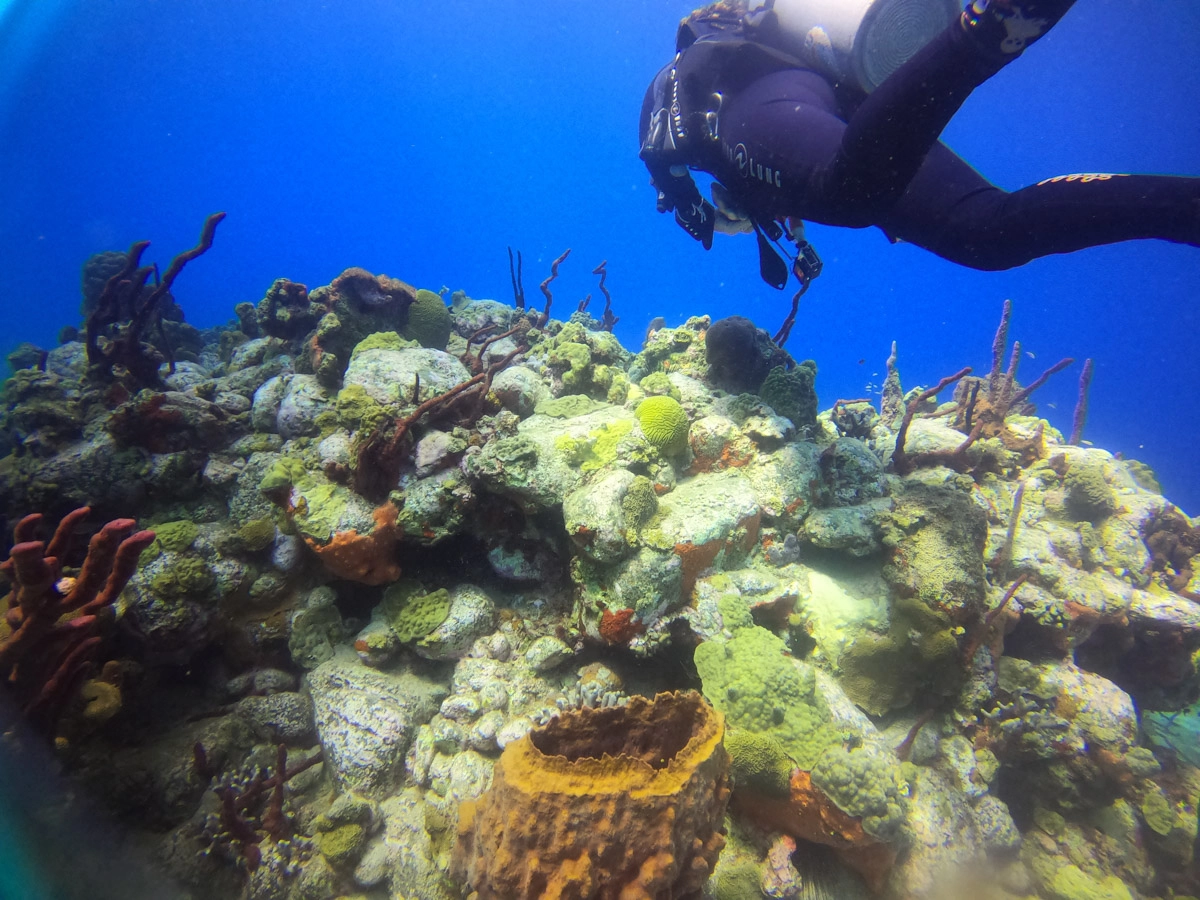 Another national park worth adding to your Dominica itinerary is Cabrits National Park in the north of the island. It encompasses the entire peninsula north of Portsmouth and is home to several hiking trails as well as 18th century-old Fort Shirley where British troops were once housed.
Sadly the park was closed while I was visiting due to Covid, but I did get the chance to go scuba diving here, and the coral reefs were spectacular.
Morne Diablotin National Park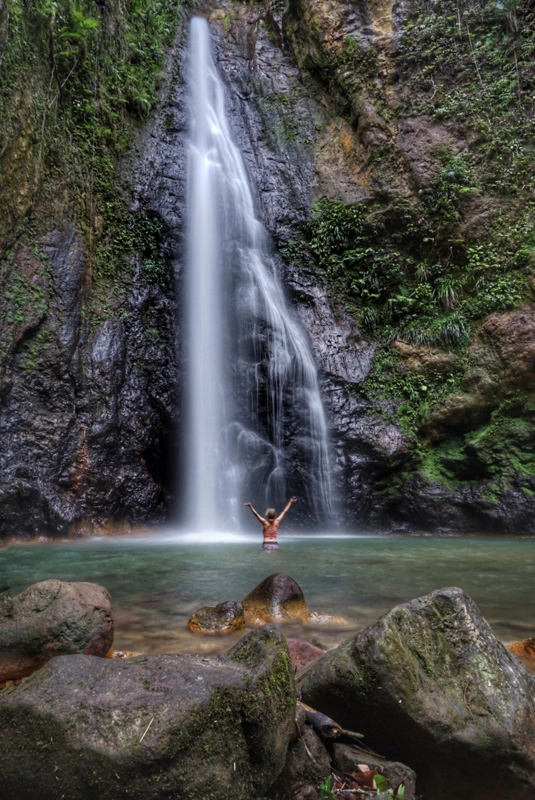 If you're exploring the north of the island, be sure to make a stop in Morne Diablotin National Park and check out Syndicate Falls and the Syndicate Nature Trail, which was created to protect the habitat of the island's two endemic parrots!
—
There you have it, the best things to do in Dominica! Did I miss any incredible Dominica activities? Let me know in the comments below!
Enjoyed this post? Pin it for later!