This post may contain affiliate links. By clicking and making a purchase through the links, I earn a small commission at no extra cost to you. See my disclaimer for more information. This and display ads allow me to keep the site up to date and give back.
The biggest mistake I made when I started my travel blog was not investing in a travel blogging course from the start. There are so many things you need to learn to become a successful full-time blogger, and a travel blogging course gives you a road map of how to get there.
In 2018 I went on a one-year backpacking trip around the world when I started this blog. Truthfully, it was neglected most of the year as I didn't have a clue about the business of blogging, and at that point, I thought I was returning to 'normal' life anyways. But when I got home from that trip, I realized that I would never be happy in my 9-5 and that I needed to find a way to become a full-time blogger.
I knew what I was doing wasn't working, so I started looking at blogging courses, and that's when I discovered Travel Blog Prosperity. I signed up for a month, and shortly after committed to the one-year discounted price offer. That was the same year I quit my job, made my first blog income, got my first paid writing gig, and went on my first press trip.
That was the defining year of my blog going from hobby to business, and I honestly don't know if I would have found the same success had I not enrolled in Travel Blog Prosperity.
While the doors are technically closed, I've got a special link for backdoor access.
Who is Travel Blog Prosperity run by?
When choosing a travel blogging course it's important to consider who is offering it (unfortunately, there are far too many people out there offering courses just to make money). Analyze their blog and social media channels. While you can't see everything on the surface, there is a lot you can.
Do they have an engaged audience? Are they doing what you want to be doing (press trips, high-paying ad networks, etc)? Do you think they have something to teach you? Do their values align with yours?
Travel Blog Prosperity is a travel blogging course taught by Jessie Festa who runs two successful travel blogs: Jessie on a Journey and Epicure & Culture. I was a fan of her blog before taking the course and we share a lot of the same values when it comes to responsible travel, so I knew it would be a good fit for me.
What do you learn in Travel Blog Prosperity?
As soon as you enroll, you'll have immediate access to 45+ course collections, with a new one published every month.
Monthly topics include branding for success, setting up your blog, growing your traffic, crafting a profitable content plan, coming up with an effective social media strategy, creating your first product, growing and monetizing your email list, procuring paying brand partnerships, ranking your content in Google, increasing passive affiliate earnings, and more! Basically, everything you could ever need to know to be a full-time blogger. And trust me, there's a lot!
I've taken my fair share of courses, and Travel Blog Prosperity goes far beyond what many other travel blogging courses do. It covers the not so sexy but oh-so-important topics like blogging legally, accounting and avoiding burnout.
One aspect I loved about the course is that Jessie cross-collaborates with experts for many of the modules. For example, the module on Pinterest was co-created by Anastasia Blogger, who receives hundreds of thousands of page views per month solely from Pinterest!
She brought on CovertKit for the module on e-mail marketing, who shared helpful e-mail prompts with us as a bonus. When you enroll in the course, you won't only be getting advice from Jessie but dozens of other experts who have found success blogging. This is also great for networking!
Working with brands
One topic Travel Blog Prosperity covers well that other blogging courses lack is working with brands and tourism boards. Jessie has done several successful paid campaigns with popular brands and tourism boards, so she's a wealth of knowledge about this topic which can be extremely confusing navigating when you're first starting.
There is an entire module on how to profitably work with brands as a blogger, including some invaluable pitching templates that I have used with success. You'll learn how to pitch yourself, what to charge, and may even find your first gig through her weekly opportunities that are sent to your inbox every Monday as a student of the course.
Teaching Style
Each course collection comes with a step-by-step video masterclass as well as implementation tools like a text guide with visuals, a workbook (to help you map out your strategy), and a checklist.
I actually prefer text over video when I'm learning (unpopular opinion), but I found the videos engaging and quite helpful when she's showing you things like doing keyword research. I loved having the workbooks, which made mapping out my plans that much easier!
If you want to see what Jessie's teaching style is like, check out some of her free blogging videos on Youtube!
All of the advice she provides is around building a genuine, sustainable business. There aren't any get-rich-quick schemes here (not that those even really exist in blogging), but practical advice that will set up your blog for success in the long run.
Other perks of Travel Blog Prosperity
When you enroll in Travel Blog Prosperity you'll be given immediate access to all these perks.
VIP opportunities
Every Monday, Jessie sends out five opportunities related to blogging. This could be a press-trip opportunity, companies looking for sponsored posts, freelance writing work, a remote job, etc. Through these e-mails, I have gotten press trips, writing assignments, and sponsored posts, which have more than covered the cost of the course.
I got my first long-term freelance writing assignment with Skyscanner through a VIP opportunity posting, which helped me build up my writing resume and get even more freelance work.
I also got my press trip to Malawi with Biosphere Expeditions through these opportunities, a truly amazing experience where I got to live on a research camp for two weeks tracking elephants and other African wildlife!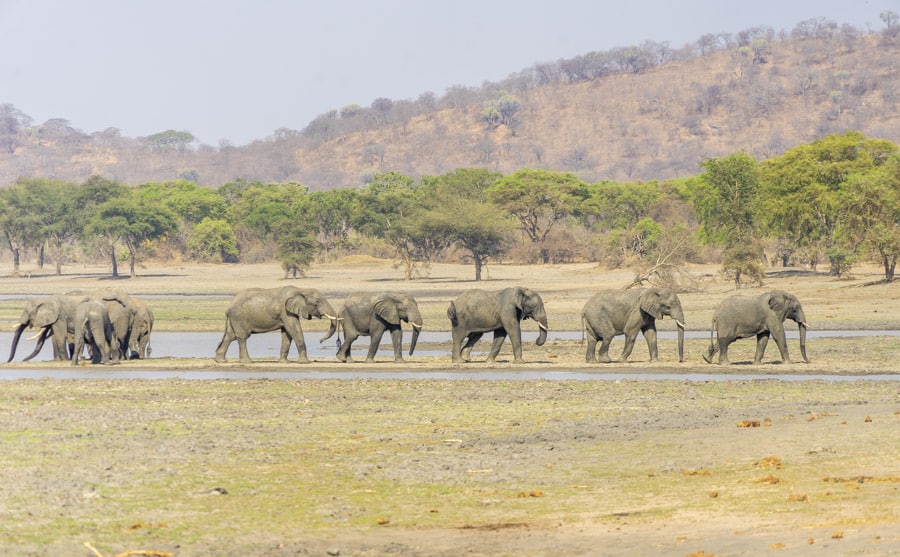 Bonus Material
Along with the course material, you'll get over $2200 in bonuses, including a 15-minute onboarding call, rate card templates, content planning worksheets, e-mail writing prompts, social media prompts, Instagram story templates, and so much more.
Monthly Calls
As a member, you'll have access to 2 monthly live coaching calls where you can ask questions and network with other members, plus one monthly live goal-setting workshop to get you planned out for the month!
These calls are a great place to get all your blogging questions answered by Jessie and meet other course members. Networking is key to success in the blogging world, so this is a huge benefit.
Mastermind Group
Every quarter, Jessie will send out an e-mail to form small mastermind groups (3-4) of enrolled students to help you stay accountable. I actually didn't take advantage of this in her course, but I am in a mastermind with some other bloggers I met through a travel conference, and it's been invaluable.
Lastly, you'll get access to private Facebook group where you can ask questions anytime you want!
What I didn't like about the course
You don't get lifetime access. Travel Blog Prosperity has a monthly fee of $49 (there is an option to pay yearly and pay $399, which is what I did). Once you stop subscribing, you lose access to all the course materials, whereas many other travel blogging courses come with lifetime access. However, this isn't necessarily a bad thing. It's easy to neglect things when you have lifetime access. There's no sense of urgency. I've bought so many courses and said to myself, "I'll do it later," and never touched them. When there's a time limit, it motivates you to take action.
The amount of material in the course felt overwhelming to me. While it's great that she covers so many topics, I never caught up with all the 20+ modules already in the course when I joined. At the same time, it's nice that there are so many topics covered – you can pick and choose what you want to learn!
Why Travel Blog Prosperity should be your next travel blogging course
If you feel lost about the vast amount of blogging advice online and want to focus on what gets results, I can't say enough good things about Travel Blog Prosperity! You'll gain immediate access to a nurturing membership community that includes everything you need to turn your blog into a profitable business.
Not only does this course give you the knowledge and tools you need to build a successful blog, but it will pay for itself through all the bonuses, networking, and paid opportunities you'll get sent straight to your inbox.
How to enroll
You can get your first month of Travel Blog Prosperity for just $9 using promo code EXPLOREWITHLORA. You can cancel at absolutely any time, even before your discounted month is up. For less than the price of lunch, this is an amazing deal. Tryy it out for a month and if you decide it's not for you, there's no commitment. But, I'm pretty sure you'll love the course as much as I did.