This post may contain affiliate links. By clicking and making a purchase through the links, I earn a small commission at no extra cost to you. This and display ads allows me to keep the site up to date and give back. Thanks for reading!
With nine volcanoes on the island, it's no surprise that Dominica is home to some fantastic hot springs, given all the geothermal activity. I love a good hot spring and made sure to try as many as I could while I was visiting Dominica for a month. This post rounds up the best paid and natural Dominica hot springs, so you can enjoy them as much as I did.
The best things to do in Dominica are adventure activities – whether you're bouldering over rocks to waterfalls, hiking to boiling lakes, or scuba diving on top of volcanic vents. But all of this leaves you with some pretty sore muscles, so the hot springs in Dominica are the perfect place to cure that ache!
Paid Dominica hot springs
While these hot springs are sourced from natural water, they are easier to visit as facilities have been built around them, which you can pay to come and use. Don't worry, the price for hot springs in Dominica is very reasonable as opposed to some other hot spring areas I've been like La Fortuna in Costa Rica.
These paid spas often have several pools of varying temperatures with a colorful backdrop of tropical flower gardens, rivers, or forests. Some also offer mud treatments, massage, and peaceful garden walks!
Wotten Waven hot springs
Wotten Waven is by far the most popular hot spring area in Dominica. It's a tiny village, conveniently located just 20 minutes from the capital city Roseau in the Roseau Valley. It's well-known for its natural hot sulfur springs and mud pools believed to have medicinal qualities.
Tia's Hot Spa
The first hot spring we visited in Dominica was Tia's hot spa on one of our safe in nature tours during quarantine. (While waiting to take your second PCR test on the 5th day in Dominica, you can go out on tours with a certified guide).
We entered Tia's hot spa via the restaurant/bar, got a potent mixed rum drink, and made our way into a little wooden shack filled with brown water coming from a tap. It wasn't exactly what I had been envisioning for my first Dominica hot spring experience, but the water was warm and relaxing. I wonder now if we had to be in the closed-off shack because we were in quarantine, and perhaps there is a more public, open area at Tia's as this was fairly no-frills.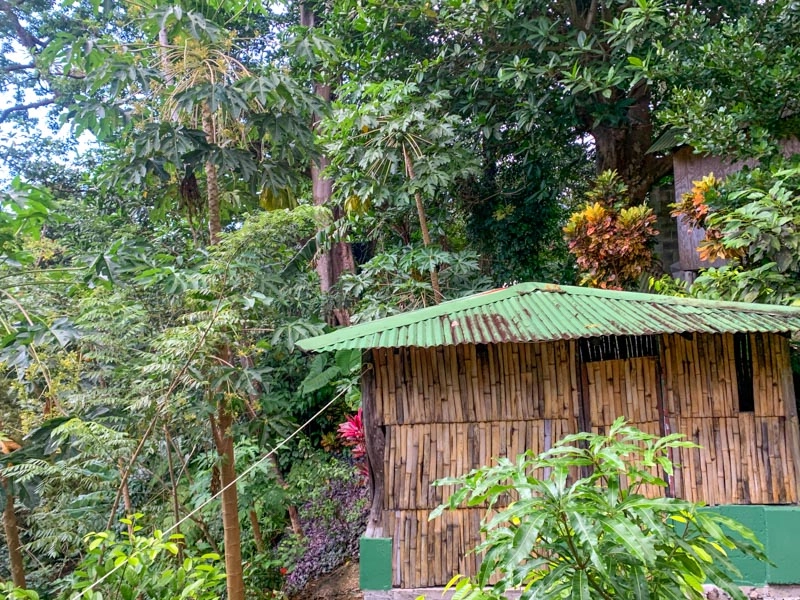 That said, the cost to enter is Entrance was only 5 USD per person!
Ti Kwen Glo Cho
A couple of weeks later, we returned to the Wotten Waven area to visit Ti Kwen Glo Cho upon recommendation from some local friends. The name is Creole for "little corner of water."
This hot spring spa is much bigger, offering two large pools surrounded by lush jungle. One of the pools is much hotter than the other, so it's nice that you can switch between them if you get too warm.
They also have a bar that you can purchase drinks from, changing rooms, and outdoor showers to cool down and clean off.
The scenery surrounding the pools is gorgeous. There are beautiful tropical plants, a peaceful river, and even a small waterfall you can hike to. Overall this was my favorite hot spring in Dominica! We spent the entire afternoon lounging around here, drinking local rum, and taking lots of pictures in this adorable bathtub.
The following week we ended up coming back to Ti Kwen Glo Cho at night with some friends after hiking Victoria Falls to soothe our muscles. That's when I realized that nighttime is by far the better time to visit hot springs in Dominica. It's just too hot in the day, and at night with the cooler air, it makes the experience so much more enjoyable. Plus, you can stare up at the incredible starry sky!
The cost to enter Ti Kwen Glo Cho is $10 per person, and you can stay as long as you like. It's open from 8 am to 11 pm.
There's also Bongo Baths hot springs in the Wotten Waven hot springs area, which I didn't have a chance to visit.
Bubble Beach Spa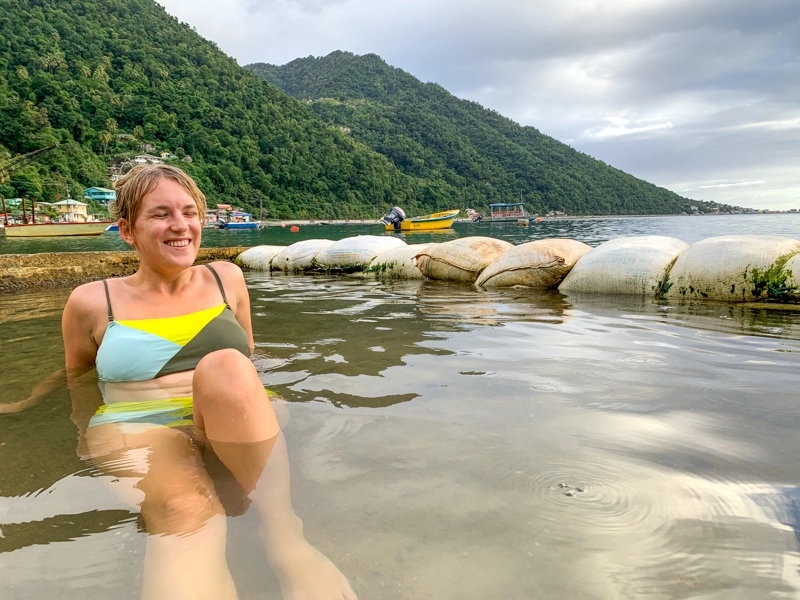 Another half natural/half man-made hot spring you can visit in Dominica is Bubbles Beach Spa in Soufriere in the south of the island. There's hot water here coming up from the vents on the ocean floor, and what they have done is trapped the water with sandbags so it stays in one place. It's actually very relaxing to soak in, especially because the scenery around Soufriere is so beautiful. It's free to use too, just buy a drink at the bar!
Natural (Free) hot springs in Dominica
I had visions of finding large, secluded pools in the middle of the jungle while hiking through Dominica, but sadly I did not find exactly my vision. Still, I did find some smaller natural hot pools!
Trafalgar Falls
One of the natural hot springs I found was at Trafalgar Falls, one of the most famous waterfalls in Dominica. While you can easily hike to the viewpoint of the twin waterfalls in about 10 minutes, it's a whole other adventure getting to the hot springs.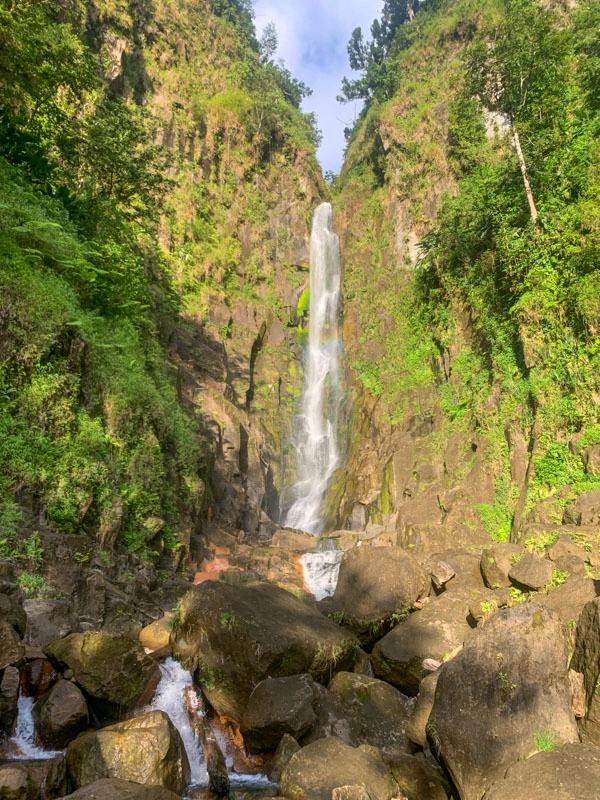 As you face Trafalgar Falls, the Father Falls are on the left-hand side and the Mother Falls on the right. The hot springs are beneath Father falls on the left. There's no clear path, and it took us a lot of trial and error to get up there. We were just trying to swim under the waterfalls, but right before getting there, we realized that there's actually a stream of hot water coming down that you can sit in. So neat!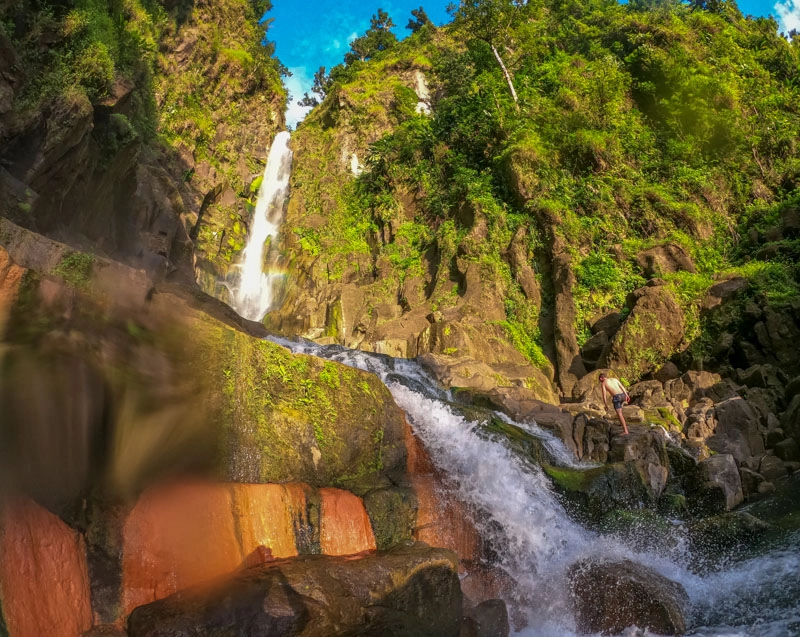 Soufriere hot springs
The other natural hot spring I found was in Soufriere behind  Soufriere Guesthouse (where I highly staying in Dominica). The guys who run the guest house will happily direct you to springs, it's just a 10-minute walk up the road from the guesthouse towards The Soufriere Sulfur Springs Dominica Eco-Tourism site.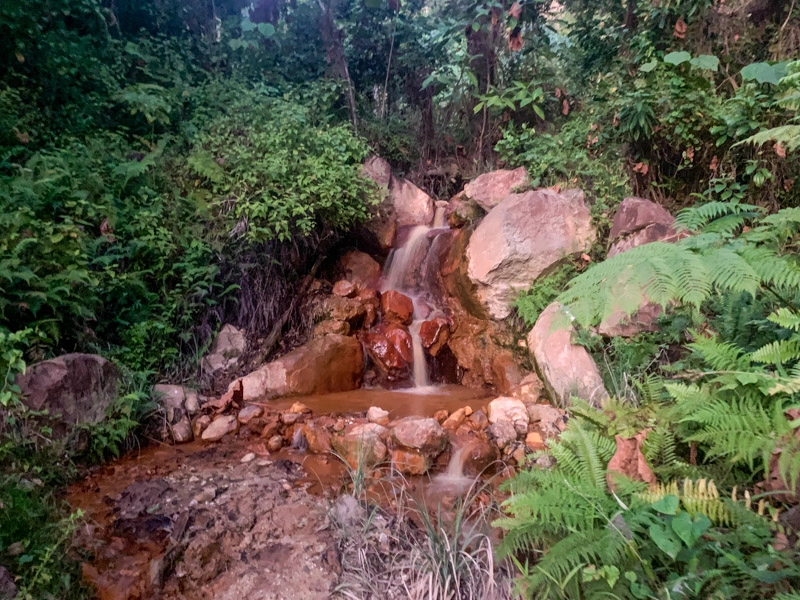 As you began the hike up, you'll see a tap with hot water coming out into a small pool – a few locals were bathing there when we visited. If you walk even further up, there's a hot spring waterfall which we had all to ourselves!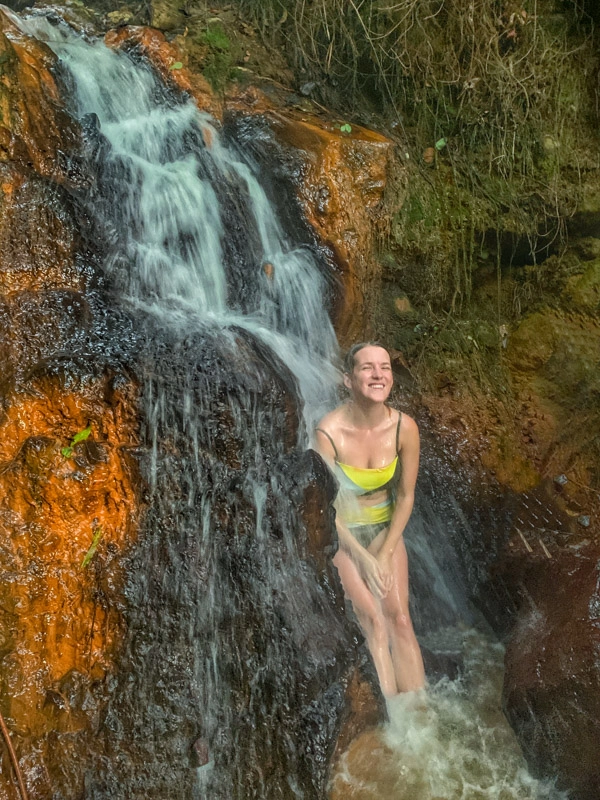 Big warning about these two natural springs: the sediment WILL stain your clothes, so don't wear anything light. I completely ruined one of my bathing suits, and it now has orange strains I can't get out. My friend wore black, and he seemed to be okay!
Champagne Reef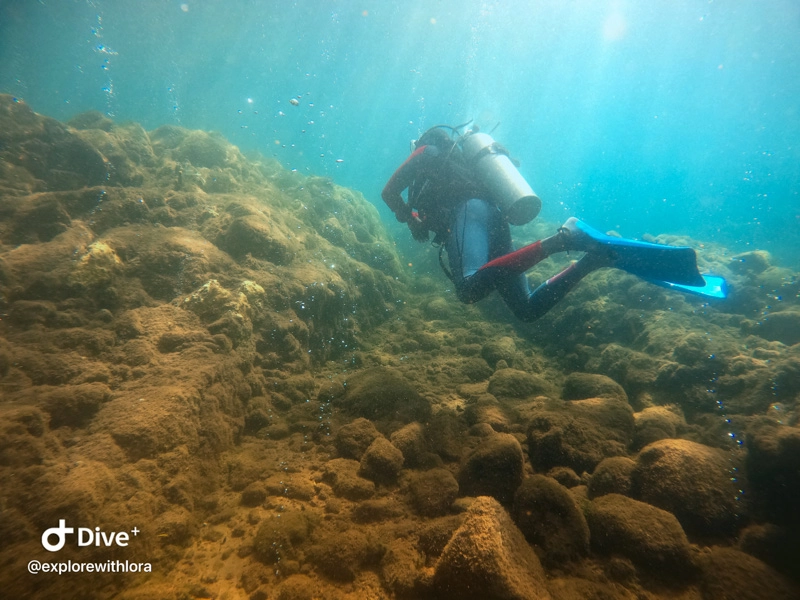 While it's not really a hot spring, Champagne reef is a place where you can see springs coming up from vents on the ocean floor. The best way to experience this is by scuba diving, but you can also go snorkeling and see the bubbles coming up by entering via champagne beach – one of the best beaches in Dominica.
Boiling Lake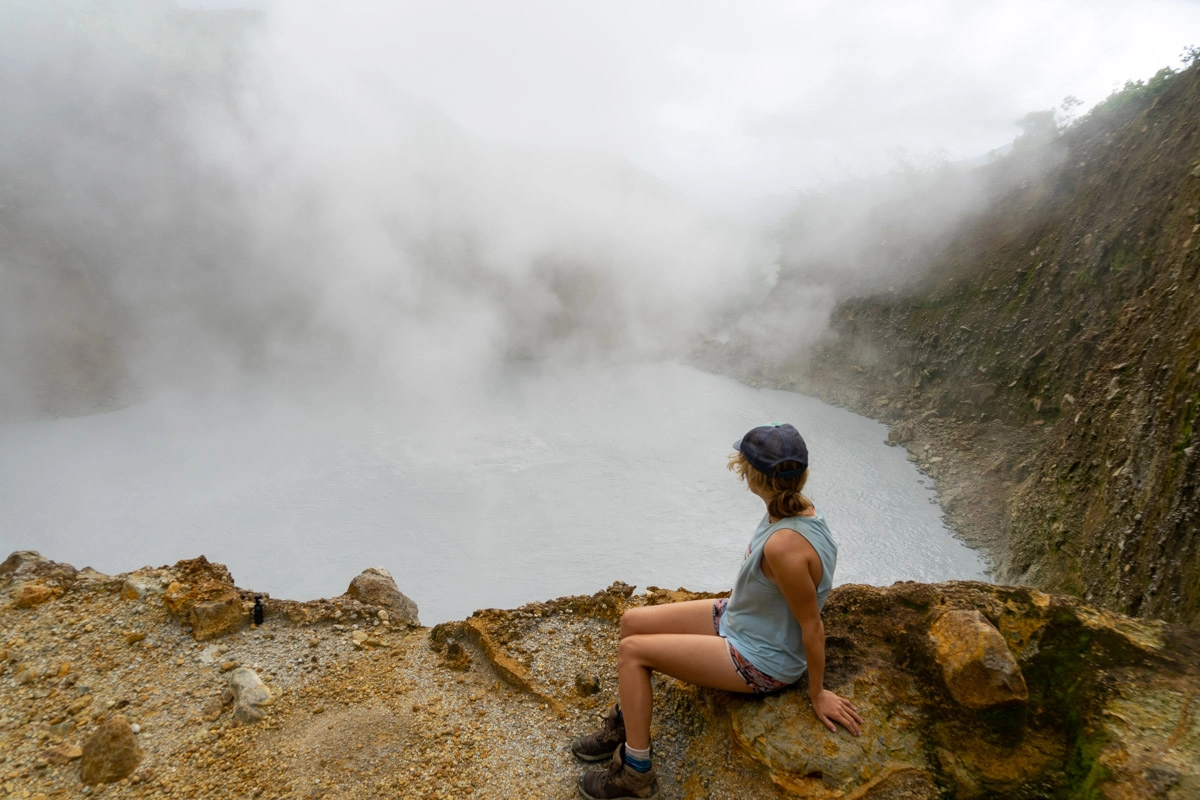 While technically Boiling Lake is one giant hot spring, you wouldn't dare get in it. However, there are some smaller pools of warm water along the hike to the lake that you can take a dip in.
These are not marked, and since some of the water here can be excruciatingly hot, I highly recommend taking a guide on this hike so they can point out the pools that are safe to swim in (it was the only hike I got a guide for in Dominica). Even though you can't get in boiling lake, it's absolutely worth the trip there to see this crazy natural phenomenon. It's the second-largest hot lake in the world!
What to bring to Dominica hot springs
Bring a towel, a change of clothes, and water! Most of the commercial hot springs have changing rooms and showers but do not provide towels. The natural waters can oxidize jewelry, so leave it at home and wear dark swimming wear to be safe. Bring cash when visiting the hot springs, especially if you want to have a few drinks. And remember to stay hydrated with water – sitting in hot water can be extremely dehydrating.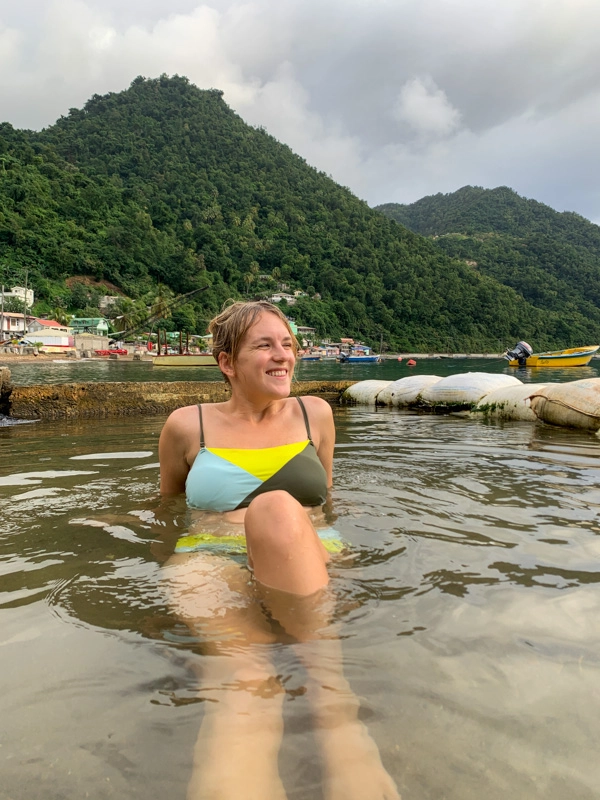 Benefits of hot springs
Aside from being the perfect way to relax your soothing muscles after adventuring in Dominica, hot springs also have many other benefits. Hot springs boost blood circulation, promote sleep, relieve pain, and reduce stress. Plus, Just being around natural hot springs can do wonders. The simple act of breathing in fresh forest air and opening your eyes wide to the abundance of nature around you can have huge benefits on your mental health.
Planning a trip to Dominica?
Enjoyed this post? Pin it for later!