This post may contain affiliate links. By clicking and making a purchase through the links, I earn a small commission at no extra cost to you. This and display ads allows me to keep the site up to date and give back. Thanks for reading!
If you do any hike in Dominica, make it the Boiling Lake hike. While the island is full of amazing hiking trails to go on, boiling lake is by far one of the most unique (and challenging).
This full-day journey is not for the faint of heart, taking you up and down the mountain of Trois Pitons National Park through rainforests, cloud forests, and thermal areas to the second-largest boiling lake in the world.
Essential info about the boiling lake hike Dominica
Where does the boiling lake trek start?
The trailhead for boiling lake is in Morne Trois Pitons National Park, a UNESCO world heritage site where you can find other natural attractions like Middleham falls, Trafalgar falls, Victoria falls, and emerald pool. It's where you'll find many of the best hikes in Dominica!
The trailhead for boiling lake is across from Titou Gorge, in the middle of the rainforest.
When I visited in January 2021, the trailhead was "closed" and marked off by tape. However, our guide still took us.
He told us the trail was closed because of the landslide that happened a few months ago, and as tourism was slow because of COVID, they hadn't officially reopened it yet. The trail is still safe to be on, so don't be put off by this!
How long does the boiling lake hike take?
The total length of the hike is around 13.65 miles/22 km return. It took us eight hours to complete the round-trip, but I'm a slow hiker and take many photos. I know people who have completed it in 6 hours, but you will need to be fast.
The entrance sign advises not to start the hike after 10 am to ensure you have enough daylight to get out. As usual with hiking, the earlier you start the better.
Do you need a guide for boiling lake?
Boiling lake is the only hike in Dominica that I got a guide for (although I should have gotten one for sari sari falls). I'm glad I had a guide for this hike, especially for the last third when you hike through the valley of desolation.
There is so much thermal activity going on here, and if you don't know where to step, you could easily break through the ground and step in hot water that could leave you with severe burns!
I know people who have hiked this trail without a guide, but I wouldn't recommend it.
If you're looking for a guide for boiling lake, contact Chadi on Instagram. He was our guide and made the experience so enjoyable with several surprises along the way! He knows how to pace the hike and where to get water along the way.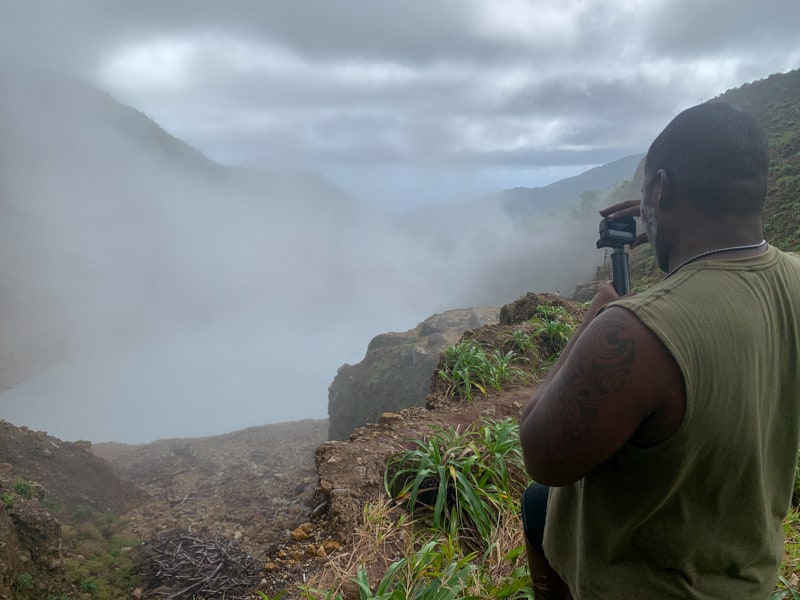 How challenging is the boiling lake hike?
Boiling lake is a challenging hike. You should be in reasonable shape as it is a long day of hiking in humidity up and down a mountain.
Having a guide will help you as they know the right pace for the hike and when to stop for breaks.
What to expect on the boiling lake hike
The trail starts seemingly easy, taking you through a beautiful rainforest on a relatively flat, well-maintained path with only about 100m of elevation gain.
This part of the trail takes about 45 minutes, ending at breakfast river – a great place to fill up your water bottle.
The next section of the trail is the ascent to Morne Nichols's peak, the highest point on the trek.
It's a 3168 foot (985 m) mountain named after the Englishmen who first recorded boiling lake.
The steps up the mountain are wide; I found them challenging to climb up with my tiny legs!
It's a steady climb, so you'll want to pace yourself on this part of the hike. It took us about an hour to get up.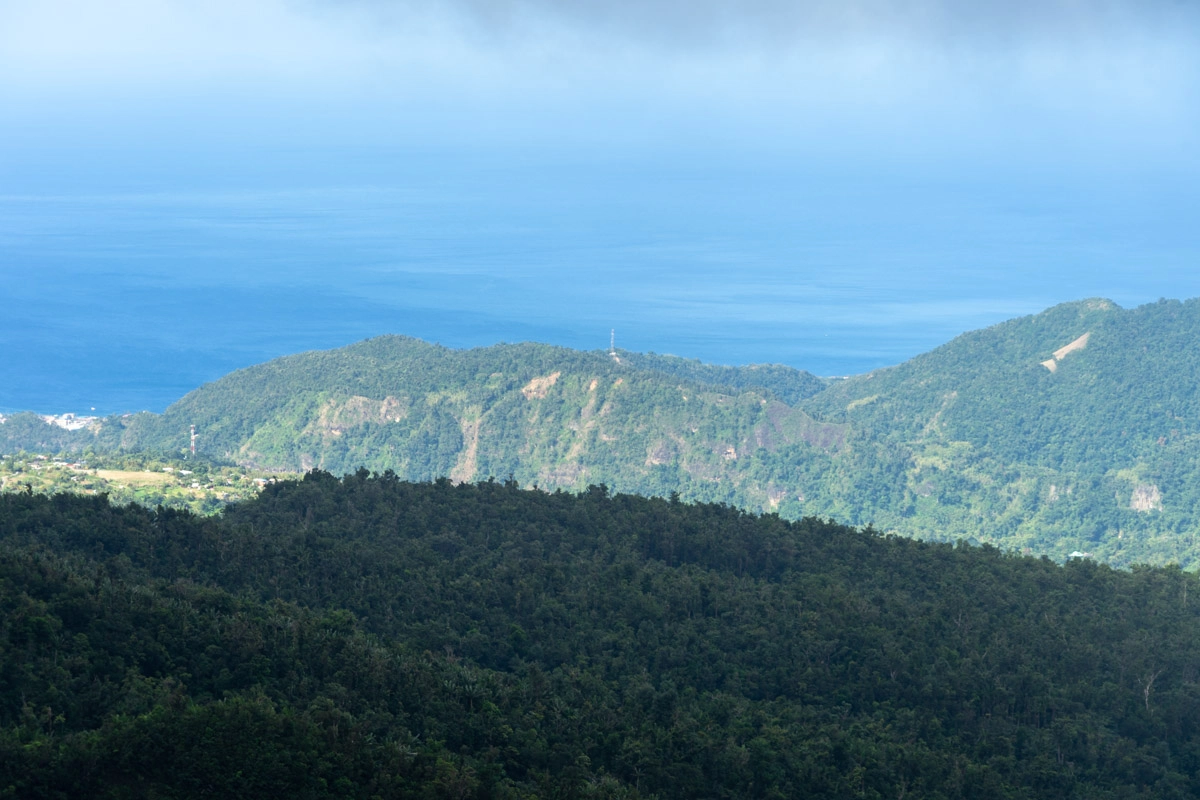 The views are incredible once you reach the top of the mountain! It's in the center of the southern part of the island, with breathtaking 360-views around you.
You can see the capital city, Roseau, on one side, and boiling lake on the other. We enjoyed a well-deserved break here, admiring the clouds rolling in and out of the surrounding mountains.
From there, it's a steep descent down to the valley of desolation. Although you're going downhill, this part of the trail is quite challenging as it was wiped out by a landslide a few months ago.
Prepare to get dirty here as you have to use your hands to climb down!
You'll then reach the valley of desolation. Sounds nice, right? It's made up of many fumaroles and hot streams, and cold water streams coming down from the higher elevations.
The valley of desolation was my favorite part of the hike. It's so cool walking through the path with steam surrounding you. You can also hear the boiling water, and of course, it smells like sulfur. Sensory overload!
Our guide surprised us here with a bag of eggs to boil in the hot water! So tasty!
Leaving the valley of desolation, our guide found natural clay and gave us mud facials! I couldn't get over how soft my son felt after removing the clay; it's truly better than anything you'll find in the store.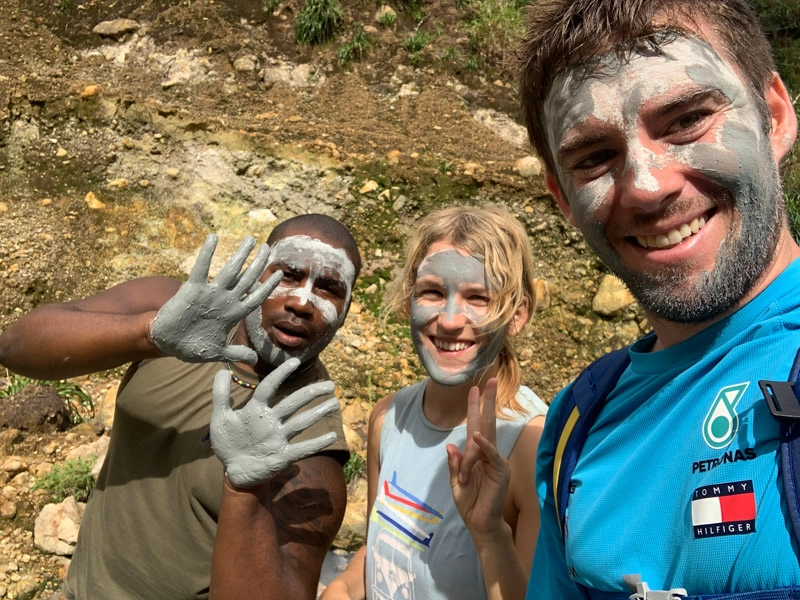 From there, we hiked the remaining third of the hike, which took us by beautiful pools of turquoise water with small waterfalls running into them.
The trail runs parallel to a river that combines the hot groundwater bubbling up from the valley and the cold water streams from above.
Parts of it are safe to touch, but I'd recommend checking with a guide first as people have gotten seriously burned here.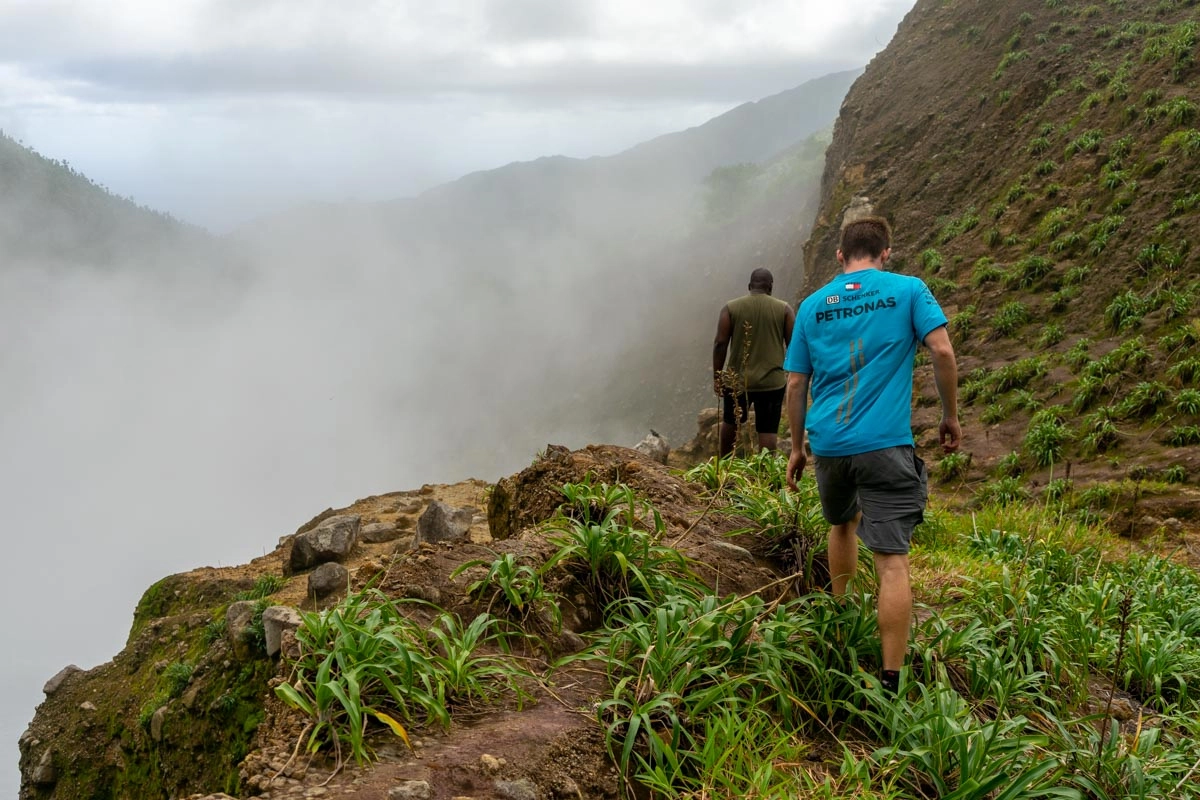 Finally, we reached boiling lake. I couldn't believe it when we got there. The lake is unlike anything I've ever seen before – it's 200 feet (61 m) to 250 feet (76 m) across, with a center boiling point!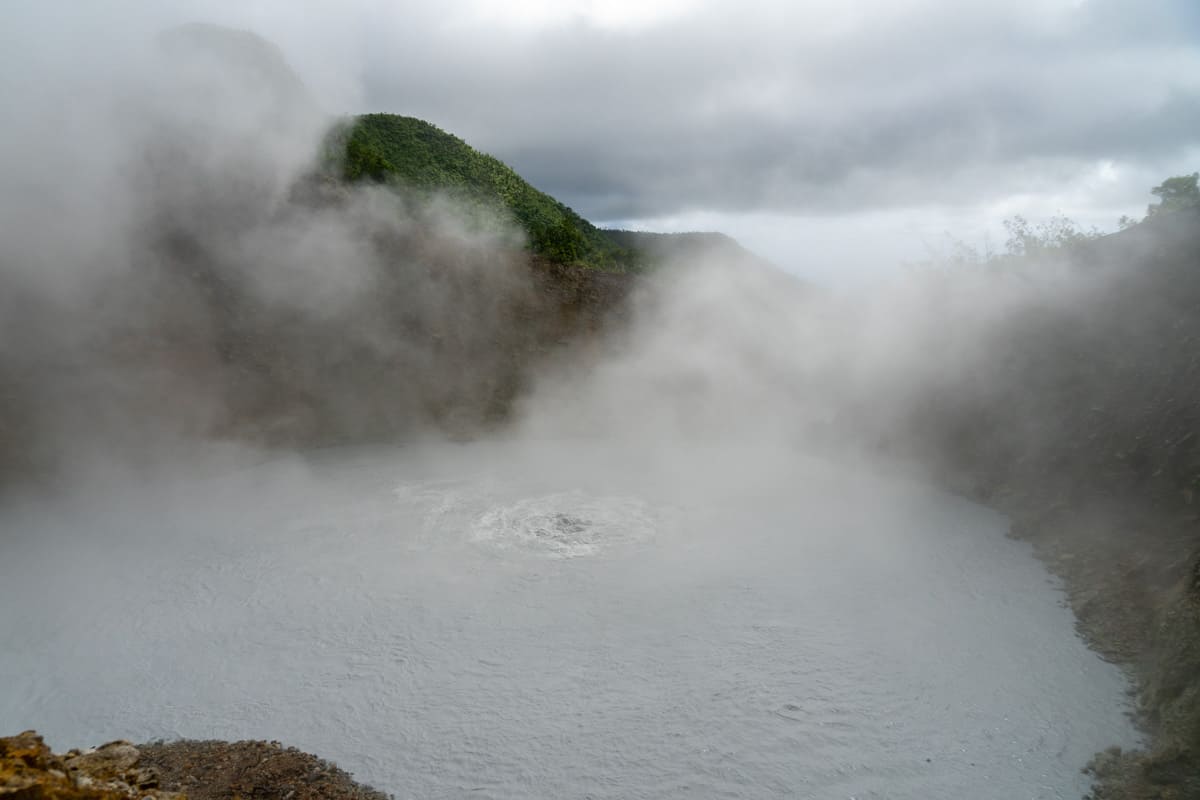 The temperature is over 200 degrees, so it's NOT safe to go swimming here. People have died falling in so do be careful!
There's no guard rail in front of the lake, but there's plenty of space to watch it from a distance and take photos.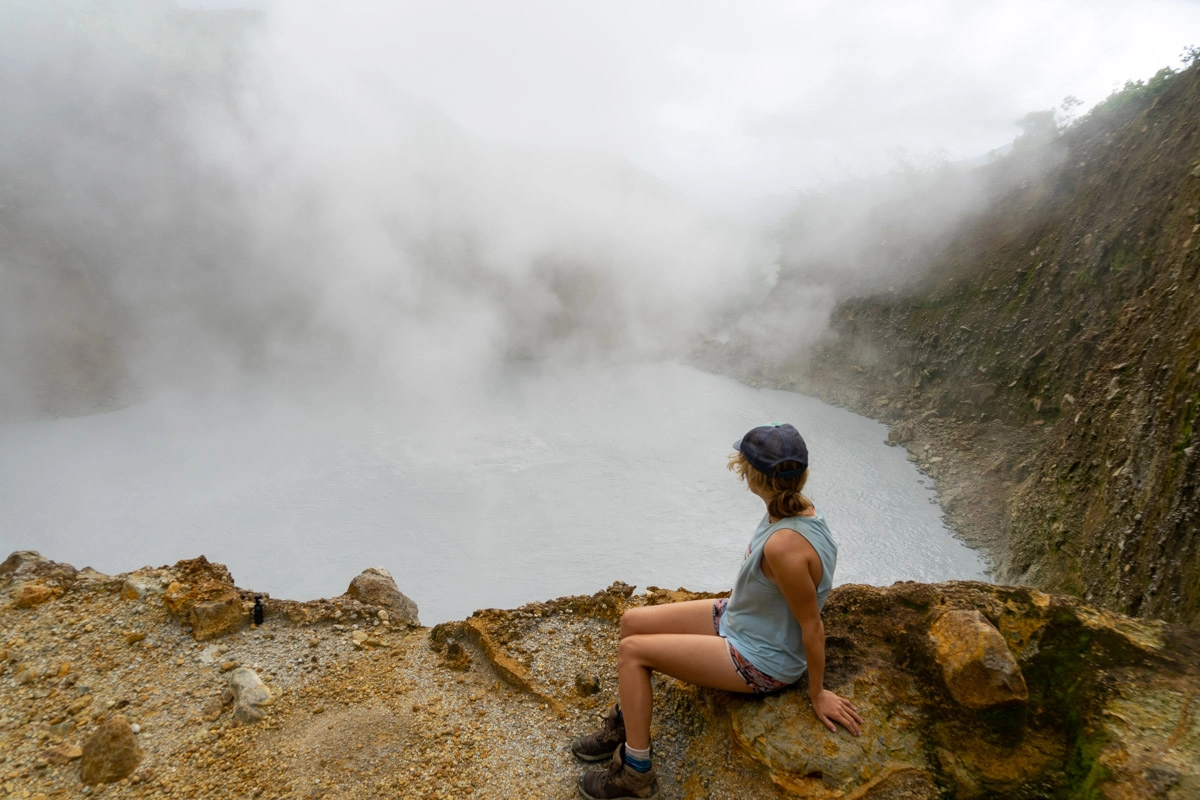 Boiling Lake is the second-largest hot lake in the world after Frying Pan Lake, near Rotorua, New Zealand.
We stayed at boiling lake for half an hour, watching the steam roll in and out with the wind over the lake while eating our lunch.
I could have stayed there for hours, especially knowing we had the long journey back. Unfortunately, there's no helicopter pick-up for boiling lake, so we had to keep moving.
After leaving the lake to start the journey back, we came across a giant boa constrictor in the rocks! It was so incredible to see in person and just the motivation I needed to finish the hike.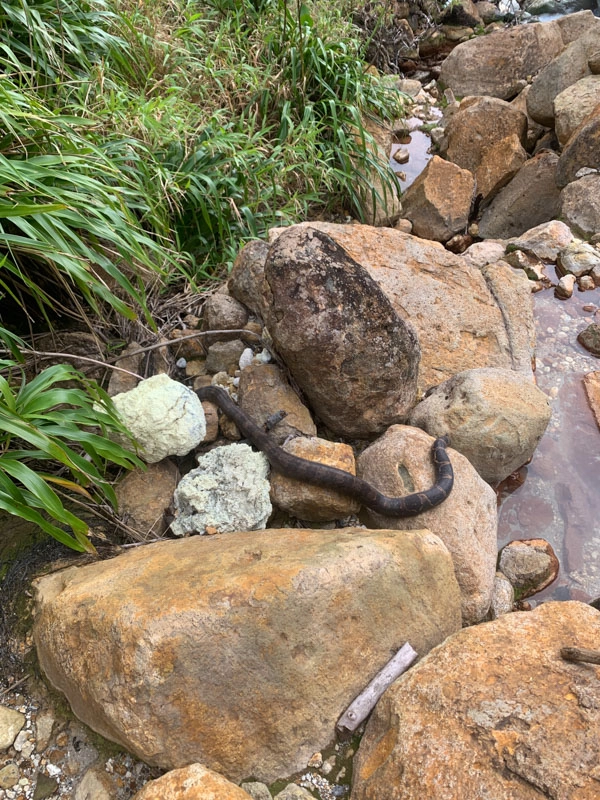 As much as I was dreading the journey back, I did find it easier. The views were even more beautiful as the sun had come out, which brought out the landscapes' colors. Plus, we got to eat our boiled eggs along the way! Yes, snacking is my favorite part about hiking.
At the end of the hike, we enjoyed a refreshing dip in Titou Gorge, a must-do. Although the water is cold, swimming here is the perfect way to end the day! Or, head over to one of Dominica's incredible hot springs to soothe your muscles.
What to bring on the boiling lake hike
I have an entire post on what to pack for day hikes, but here are some essentials you don't want to miss for the boiling lake hike.
A reusable water bottle. It's not necessary to bring enough water for the hike's duration as there is natural water you can fill up your bottle with! Our guide used a leaf to create this water fountain for us from the cold streams coming down from the mountains. Nature is so amazing!
Food. You'll want to bring ample snacks and a lunch to enjoy at boiling lake. Hiking burns up to 500 calories an hour, so take more food than you think you need. And if you're going on your own, bring some eggs to cook in the hot water!
A light sweater – it can get chilly on top of the mountain if the sun isn't out!
A rain jacket – you can never trust the weather in the mountains.
A good pair of hiking shoes. The trail is rocky, and at times muddy (especially if you're going during the wet season), so you'll want a good pair of shoes that can protect your feet. I use and love La Sportiva hiking boots.
A swimsuit for swimming in Titou Gorge afterward. There are change rooms by the gorge you can use.
Trekking poles will help you with the downhill section of the hike. Our guide provided us with wooden ones at the start of the trail.
Sunscreen and insect repellant
A backpack to put it all in + a camelback for carrying water. It makes carrying the water so much easier!
Planning a trip to Dominica? Don't miss these posts!
Enjoyed this post? Pin it for later!