This post may contain affiliate links. By clicking and making a purchase through the links, I earn a small commission at no extra cost to you. See my disclaimer for more information. This and display ads allow me to keep the site up to date and give back.
Looking for things to do in Antigua and Barbuda? I worked remotely from Antigua in 2021 and recently had the chance to visit on a press trip, exploring all the island has to offer by land and sea. In this guide, I'm sharing all my favorite gems!
The island of Antigua is only 108 square miles, most famous for its pristine white-sand beaches. It has one for every day of the year!
But don't think a trip to Antigua is just lying around working on your tan. While that's certainly an option, I get bored of sitting on the beach pretty quickly.
Luckily, there are plenty of fun and adventurous Antigua and Barbuda attractions beyond the beaches.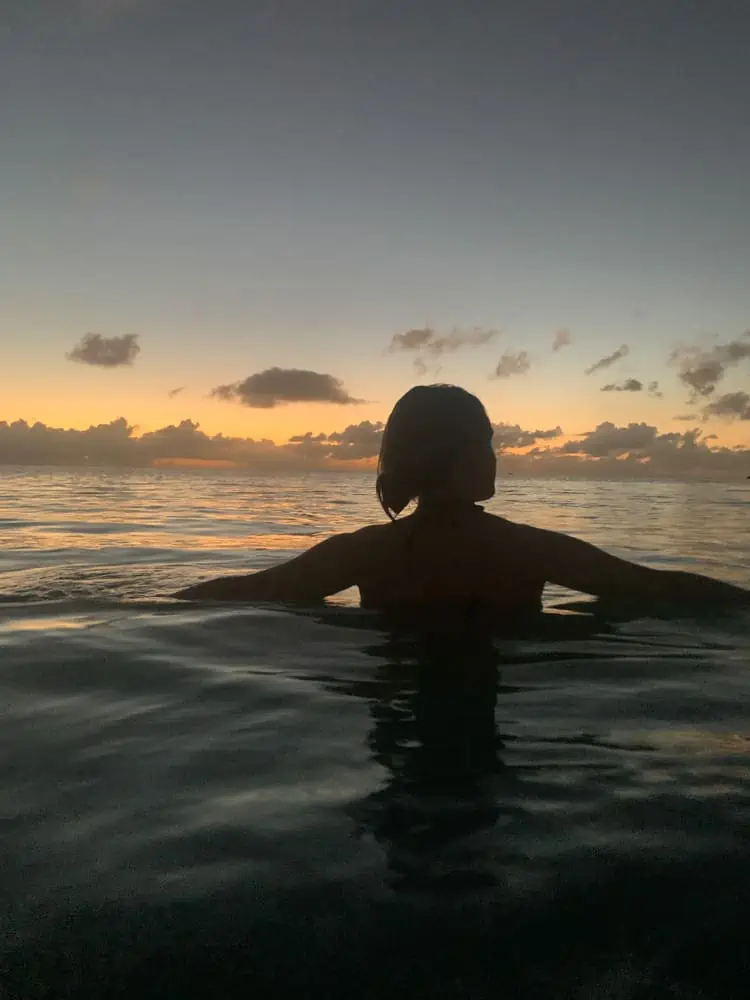 Big thanks to Traverse Events and Visit Antigua & Barbuda for hosting me! Some of these activities were kindly paid for by the tourism board. As always, all opinions are my own.
The Best Things to Do in Antigua on The Water
Antigua is the main island of the country called Antigua and Barbuda, located in the northeast Caribbean. First, let's explore everything you can do in Antigua in the sea.
#1. Embrace the sailing culture
If you're interested in sailing, Antigua is the best Caribbean island to visit. With calm harbors and a steady Atlantic breeze, it offers perfect sailing conditions. It's known as the super yacht capital of the world!
Many aspiring sailors come here to train and find work on boats. As a young traveler, the second question you'll likely be asked after meeting someone is what boat you work on. If you're interested in trying it out, you can take a one-day sailing class with the National Sailing Academy.
There's also Antigua Sailing Week, the event of the year, during which sail lovers and professionals gather to compete in races. Of course, there are also many parties and gatherings during the week.
But of course, the best way to get a taste of sailing culture in Antigua is to get on a sailboat!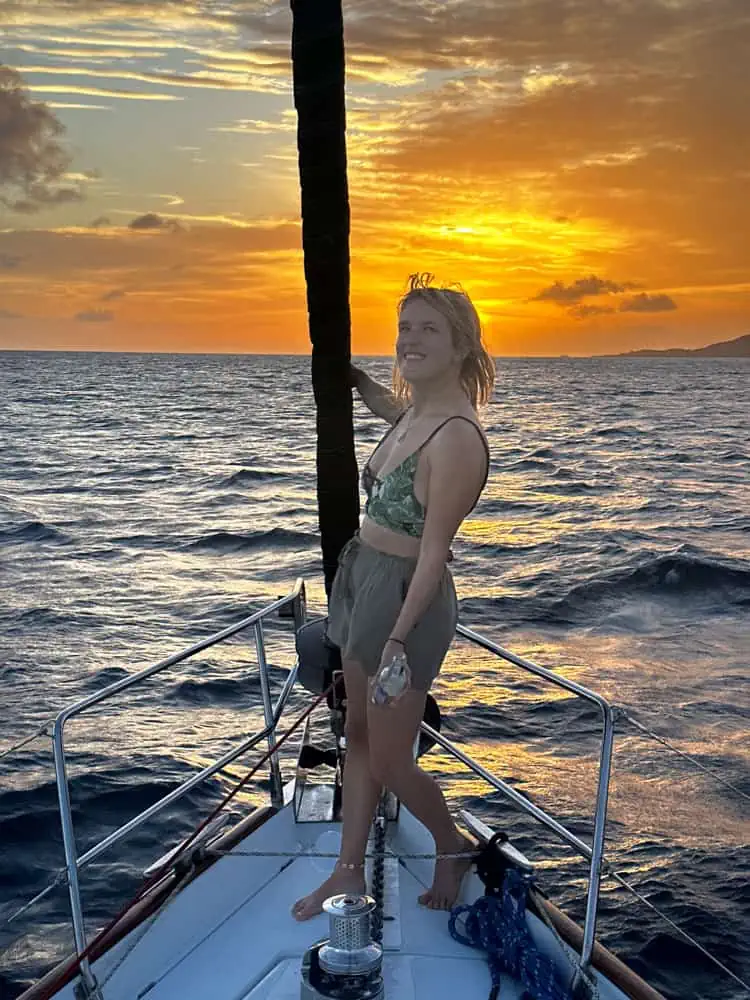 During my recent trip to Antigua, we spent a day on the water with Dojo On The Waves, which offers luxurious private customized sailing trips.
It was one of the most memorable days of the trip, sailing along the gorgeous coastline, sharing drinks and laughs with new friends.
The crew working on this boat are so much fun and will ensure you have the best time. They supplied plenty of alcohol, food, and made us feel right at home.
After an afternoon of Caribbean bliss, we ended the tour with a stunning sunset before being dropped off in Carlisle Bay.
Dojo On The Waves can customize your tour to be exactly what you want (even around the Caribbean). It could be one of the most romantic things to do in Antigua!
#2. Scooter snorkeling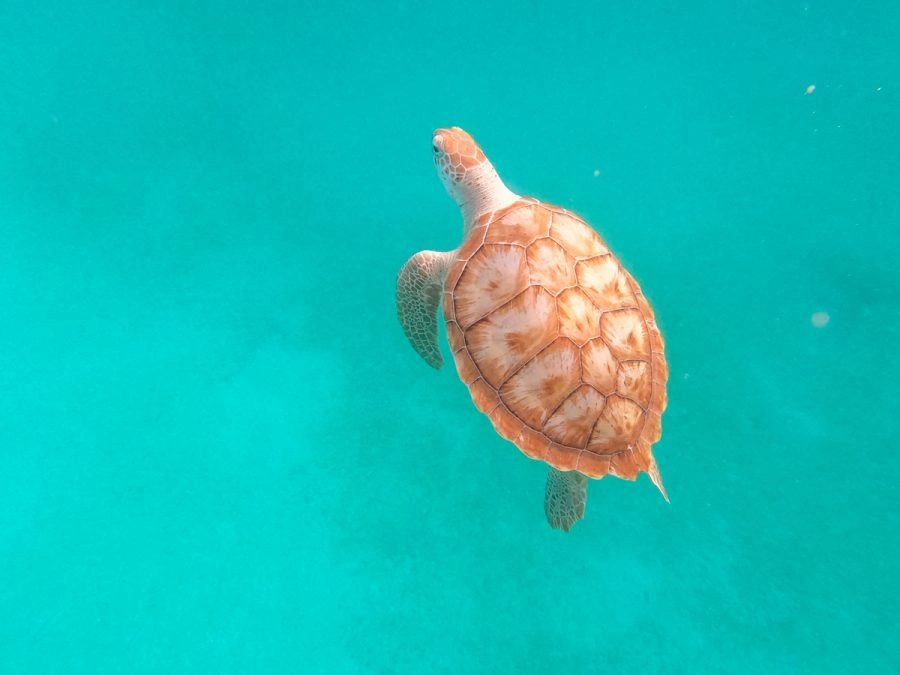 One of the most unique things to do in Antigua underwater is going on a scooter snorkeling adventure.
Also known as sea scooter diving, this activity combines the excitement of snorkeling with the ease and speed of a specially designed underwater scooter that allows you to glide effortlessly through crystal-clear waters.
This allows you to cover more distance and explore a larger area of the reef, all while conserving your energy. Using the scooter, you can effortlessly navigate through the water, getting closer to the marine life and immersing yourself in the vibrant underwater world.
I didn't have a chance to try scooter snorkeling, but many friends did and said it was an absolute blast!
#3. Stingray City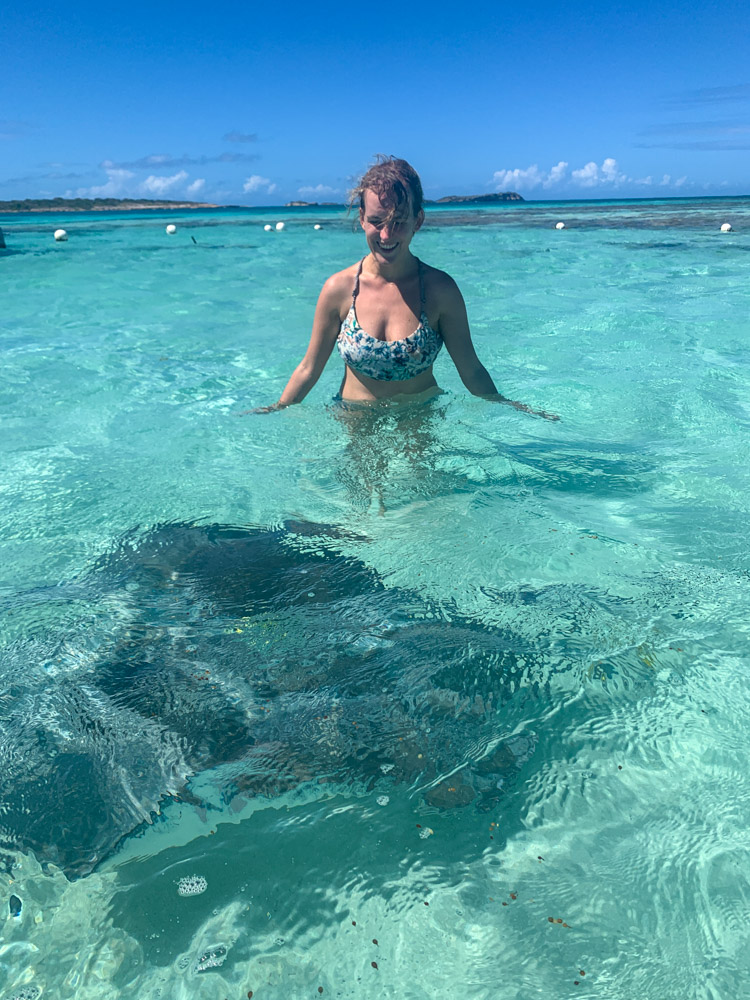 If you've ever dreamt of being surrounded by hundreds of stingrays, this can happen in Antigua! Located in the clear, shallow warm waters of the Caribbean Sea, Stingray City offers a unique wildlife experience.
Board a boat and set off to the Stingray City sandbar, where you'll be greeted by a friendly and knowledgeable guide who will introduce you to the stingrays. Wade into the water and watch as they glide around you. Be prepared – they will touch you!
Aside from interacting with the stingrays, you'll also have the chance to snorkel in the surrounding waters, which have vibrant coral reefs and tropical fish.
I don't love that they let you take photos holding the stingrays, and I would refrain from doing this.
#4. Catamaran Cruise
Another great way to enjoy the landscapes of Antigua is on a sunset catamaran trip.
Our group of creators took a sunset cruise from St. John's with Tropical Adventures, which was a blast. We sailed into the sunset, had a dance party/conga line, and enjoyed plenty of delicious rum punches from the open bar.
In 2021, I also took a daytime catamaran trip with Wadadli Cats from Dickenson Bay.
The trip takes you on a 360-degree circumnavigation of the island, stopping at some of the most beautiful beaches. Along the way, the catamaran will pass by Long Island, where you might spot some celebrities, as it's home to several million-dollar residences, including Oprah's!
From there, the boat will anchor for snorkeling, followed by a delicious lunch near Green Island, where the water here is crystal-clear. The beaches on Green Island are full of soft, white sand to relax on. It's some of the nicest I visited during my time in Antigua.
On the cruise back to Dickenson Bay, plenty of rum will be included. I did this trip with an ex, and it was a good way to meet some other travelers, but it's very touristy and packed with people. I enjoyed the sailing trip with Dojo much more, but Wadadli is a good option if you're traveling solo.
#5. Snorkel at Half Moon Bay
Half Moon Bay is a gorgeous white-sand beach that's so named because it's shaped like a giant half-moon. As you drive down to the beach from the road and see it suddenly appear, you can't help but stop and take a photo.
While this pristine beach is one of the most popular on the island, it also happens to be one of Antigua's best snorkeling and windsurfing spots. This is because it's on the eastern side, facing the Atlantic.
The beach is protected from the ocean's strong waves by a reef just off the shore, naturally creating a spot where you can easily walk off the coast and snorkel in calm and clear water. There isn't anyone renting snorkeling gear at the beach, so make sure to bring your own.
Aside from the cost of getting there, this is one of the cheap things to do in Antigua!
#6. Take a snorkeling or diving tour
Antigua and Barbuda boast beautiful diving sites that attract divers from all around the globe. Explore the vibrant coral reefs, swim alongside tropical fish, and discover the fascinating marine life beneath the surface.
I went diving here in 2021 with Soul Immersion and saw a lot of marine life, including sea turtles, stingrays, and reef sharks. Whether you're a beginner or an experienced diver, there are dive sites suited to all skill levels.
On my recent trip, we took a snorkeling trip with Coco Vibes, which was fantastic. Our guide provided a ton of info about the island and took us to some beautiful beaches and a fantastic shipwreck that we got to snorkel in.
He also offered rum, because you know, Antigua. I also loved that they included eco tips on minimizing your impact on the reefs and provided reef-safe sunscreen!
Top things to do in Antigua on land
#7. Explore the Islands by e-bike
Biking is one of my favorite ways to explore a new place, but with the heat in Antigua, you won't want to pedal hard, or you'll be drenched in sweat. That's why this e-biking tour is the perfect way to explore the island!
This unique, eco-friendly activity is a great way to see the islands' scenic landscapes and charming villages. Cruise along coastal roads, pedaling effortlessly with the assistance of the e-bike's motor.
On our e-bike tour from Dark wood beach, we also got to bike on a dried-up salt lake which was so much fun! We even took a detour to make a small hike up to a stunning viewpoint.
The guides provided plenty of local knowledge and stories about the area, and a support truck followed us with Ziplineter and coconuts supplied at stops.
#8. Ziplining through the rainforest
For an adrenaline-fueled adventure, head to Antigua Raziplinet Zipline Tours and soar through the treetops on a ziplining excursion.
They offer zip-lining courses for varying levels. We did the 6-course zipline, and I wish it had been the 12 because the first four were very short in length. The last one, however, the screamer, was a blast!
Feel the rush as you glide from one platform to another, marveling at the lush vegetation and stunning scenery below.
#9. Walk Around Nelson's Dockyard National Park
Nelson's Dockyard was once a British maritime hub and has since been fully restored as a working dockyard home to hundreds of sailing boats, as well as restaurants and shops.
The Naval Dockyard is the only UNESCO World Heritage Site in Antigua. Although it has been updated with modern facilities, its historic feel has been well preserved, making it a charming place to explore historic sites and go for a walk. You can also join this guided tour if you want to learn more about the history.
It's part of Nelson's Dockyard National Park, which also contains Clarence House and Shirley Heights. The park occupies 15 square miles of coastline and is Antigua's center for heritage and sailing.
There's also a fantastic restaurant here called Copper and Lumper – I highly recommend stopping here for lunch. The restaurant's interior is beautiful, the staff are friendly, and the food is fantastic (as is the rum punch)!
#10. Hike with Goats
If walking among goats sounds like your kind of day, then you'll definitely want to check out Middle Ground Trail. While that's the official name, it's known locally as "the goat trail" due to the friendly animals you're sure to encounter along the way.
It's a one-mile trail that takes about an hour to hike, starting from Pigeon Beach and ending at Nelson's Dockyard (or vice versa). It climbs steeply at first and then levels out before descending down toward Fort Berkeley and the dockyards. At the top, you'll be rewarded with gorgeous panoramic views of both Falmouth Harbour and English Harbour.
Stretching more than 15 square miles along the coastline, the park is the island's center for sailing and heritage. It's a great place to go for a walk and dream about what life on a yacht would be like.
#11. Visit the Pillars of Hercules
Another interesting geological formation to check out is the Pillars of Hercules. These naturally occurring limestone columns on the coastline guard the entrance to Freeman's Bay and English Harbour.
These natural rock formations have been carved out by decades of rain, wind, and waves. The best way to appreciate them is from the sea. If you are taking a diving tour from English Harbour, you'll likely pass the Pillars along the way, as many of Antigua's top dive sites are nearby.
They can also be reached from a hiking trail from the end of Galleon Beach and then scrambling over large boulders.
#12. Watch the Sunset at Shirley Heights Lookout
Shirley Heights is a retired military lookout 490 feet above the sea, offering an incredible view of English and Falmouth Harbours. It's famous for its Sunday night parties at the restaurant with a BBQ and live reggae music.
Even if you can't make the party, it's still worth heading up here, as the views are some of the best on the island. It's the perfect place to watch the sunset. On a clear day, you can see as far as the neighboring islands of Montserrat and Guadeloupe.
You can drive straight to the viewpoint, but many visitors and locals walk or hike up from Galleon Beach. If you plan to do this, aim to go early in the morning or at sunset to beat the heat. This is one of the best free things to do in Antigua!
#13. Walk on Devil's Bridge
One of the best places to visit in Antigua and Barbuda is Devil's Bridge National Park in the northeast part of the island.
It's where the Atlantic Ocean and the Caribbean Sea meet, and powerful waves have carved a large limestone rock into a bridge. Natural blowholes surround the natural arch, making for a spectacular scene as the waves splash up.
If you're feeling adventurous, you can walk across Devil's Bridge, but be warned that the rocks can be very slippery, and it can be dangerous if the sea is rough.
#14. Rent a car and get lost
Renting a car and driving around is one of my favorite ways to explore a country, and Antigua is no exception. You can drive around the island in a single day, although there are so many beautiful places to stop that you'll need at least a few.
Since many of Antigua and Barbuda's tourist attractions are spread out across the country, renting a car is one of the best ways to get around. Besides, local transportation is not that reliable, and the scenery along the coastlines is spectacular.
Be sure to drive along Fig Tree Drive, which goes through the middle of the island, giving you a chance to see the beautiful interior landscapes.
#15. Take in the views at Signal Hill
If you're looking for a rewarding hike, climb to the summit of Signal Hill. Starting from Wallings Nature Reserve on Fig Tree Drive, this trail takes you up through the lush rainforest. Along the way, you'll pass by Walling's Dam, a historic Victorian-era dam that's home to many kinds of plant life and wildlife.
The trail is steep, but in less than an hour, you'll be standing on the second-highest point in Antigua. From the top, you'll get to enjoy stunning 360-degree views of the island, including Carlisle Bay, Rendezvous Bay, and the capital city, St. John's. The trail is one-way, so plan to spend at least two hours on this hike.
Note: Several other trails cut through the rainforests from Fig Tree Drive, including one to Rendezvous Bay.
#16. Explore St John's
St. John's is the capital city of Antigua (not to be confused with St. John's, Newfoundland) and is worth spending an afternoon exploring. Its streets are lined with colorful houses, shops, and restaurants serving delicious Antiguan cuisine.
Be sure to stop at the Saturday market, where you can find a rich assortment of fruits and vegetables. Keep an eye out, especially for the famous tiny pineapples — they're adorable and as delicious as the ones you're familiar with. The market is also a great place to go shopping for groceries if you're renting an apartment.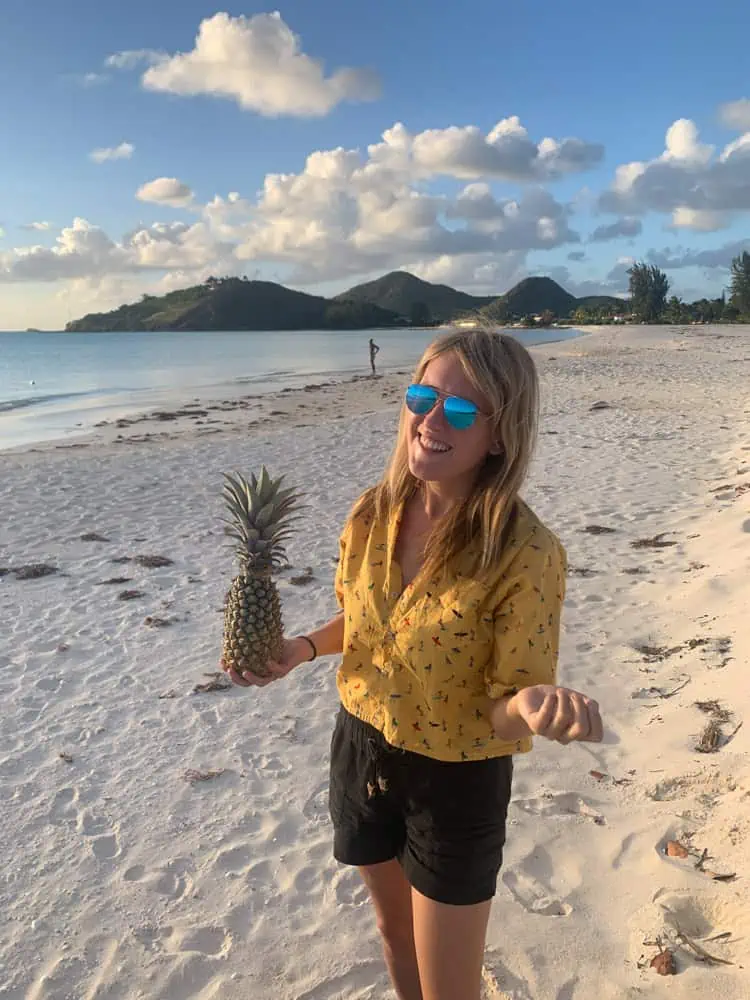 If you're interested in learning more about the island's history, stop in at the Museum of Antigua and Barbuda, which is in a historic colonial house. You can visit Fort James, an 18th-century fort built by the British at the entrance to the harbor of St. John's.
#17. Glamp on the Beach
If you're looking for a unique place to stay, check out Wild Lotus. It offers six glamping tents set on a secluded beach near Jolly Harbour.
Staying here is an experience in itself — and you won't want to leave! The inside of the tent is furnished with a comfortable queen-sized bed and couch, along with a gorgeous outdoor shower surrounded by tropical plants.
Everything here is entirely off-grid and sustainable, yet it still feels like you are staying in luxury. There are also yoga classes in the morning and campfire dinners, adding to the experience.
Of course, the best part is being able to step outside onto a gorgeous white-sand beach anytime you want. Yes, you can even go swimming under the stars!
#18. Party in English Harbour
If you're looking for things to do in Antigua at night, a visit to English Harbour is a must. This historic area, known for its maritime heritage, also offers a lively party scene that attracts both locals and tourists.
Start your evening by exploring the charming Nelson's Dockyard, which houses various bars and restaurants. Enjoy a refreshing cocktail or a local beer while soaking in the ambiance of the harbor.
Afterward, head to one of the lively bars or clubs in the area, where you can often find live music during the high season. The Garrison is where most locals hang out, and while it's nothing fancy, it's always a good time.
#19. Take photos with the spaceman
At Hodges Bay Hotel in Antigua, you'll encounter a captivating and thought-provoking art installation known as the Spaceman. This mesmerizing sculpture adds a touch of creativity and wonder to the hotel's surroundings.
The Spaceman art piece portrays an astronaut, clad in a spacesuit and helmet, standing tall and capturing the imagination of all who see it. It's a great place to take photos and one of the reasons this hotel was given the title of one of the most Instagrammable hotels in Antigua!
#20. Hike to the highest point on the island
For adventurers and nature enthusiasts, a hike to the summit of Mount Obama (formerly Boggy Peak) is an absolute must-do activity in Antigua.
Standing at 402 meters (1,319 feet) above sea level, Mount Obama is the highest point on the island and offers breathtaking panoramic views that make the trek well worth the effort.
Be warned that the road here is not well paved – we couldn't make it in our little rental car but thankfully got picked up by some travelers in a jeep!
#21. Indulge in the Restaurant Scene
Antigua & Barbuda are known for their vibrant and diverse culinary offerings, making them a paradise for food lovers. From local Caribbean delicacies to international cuisines, the restaurant scene on the islands offers a delightful gastronomic experience.
We were lucky enough to be visiting during restaurant week, which was such a great experience. From fine dining experiences in English Harbour to a casual BBQ lunch on the beach, each meal in Antigua was memorable!
#22. Party on a private island
By far, my favorite memory of my last trip to Antigua was spending the night on Prickly Pear Island at Hodges Bay. This stunning island is accessible as a short boat ride from the hotel and is the perfect venue for an unforgettable night.
#23. Learn to make rum
As the Caribbean's rum capital, Antigua offers a perfect setting to learn about the art of rum production.
Join a guided rum-making tour at one of Antigua's renowned rum distilleries, where expert craftsmen will take you on a journey through the fascinating process of rum-making. Discover the rich history and heritage of rum production on the island, dating back centuries to its colonial past.
With guidance from the experts, unleash your creativity and create your own signature blend of rum. At the end of the class, take home your own bottle of handcrafted rum, a perfect souvenir to remember your time in Antigua!
#24. Take a buggy tour
With the wind in your hair and the excitement in your veins, explore the islands' rugged terrains, scenic trails, and hidden corners on this buggy tour built for off-road exploration.
Follow knowledgeable guides as they lead you through the stunning landscapes, sharing fascinating insights along the way. Traverse sandy beaches, lush forests, and rocky terrains, taking in the breathtaking views and immersing yourself in the natural beauty that Antigua and Barbuda have to offer.
#25. Relax by a hotel pool
After all the outdoor adventures and explorations in Antigua, it's time to unwind and recharge by indulging in some relaxation by a hotel pool. Most all-inclusive resorts and hotels in Antigua offer exquisite pool areas that provide a tranquil oasis for guests to enjoy.
Some hotel pools in Antigua and Barbuda offer stunning views of the surrounding landscapes, whether it's overlooking the calm waters of the Caribbean Sea or nestled amidst lush tropical gardens. Immerse yourself in the serene ambiance, surrounded by natural beauty, and let the peaceful atmosphere wash over you.
If your hotel doesn't come with a pool, in English Harbour is a great place to hang out.
#26. Chill on the beach
Of course, I can't write a post about Antigua without mentioning the beaches. While there are plenty of things to do in Antigua and Barbuda beyond the beach – you can't visit without admiring its pristine white sand beaches.
With crystal-clear turquoise seas and rolling hills as the backdrop, enjoying the pristine, soft white-sand beaches is undeniably one of the best things to do in Antigua. The sunsets are always spectacular, so this is one of my favorite ways to end a day there.
With over 365 to choose from, it can be hard to know which to visit. Some of the best beaches are Dickenson Bay and Jolly Bay, which offer amenities like restaurants, beach chairs, and umbrellas. Dickenson Bay is also home to a British telephone booth, which makes for one of the cutest photos in Antigua.
If you prefer to get away from the crowds, adventure over to Rendezvous Bay, which is only accessible by four-wheel drive or footpath.
I also love Darkwood Beach, which has a nice beach restaurant for lunch with mesmerizing views of turquoise water. It was my favorite swim of my recent trip!
Last but not least, Pigeon Beach Point is always a good choice if you're staying in English Harbour. It's not as beautiful as the others, but it's always a good time with many of the yachtees hanging out there.
#27. Take a day trip to Barbuda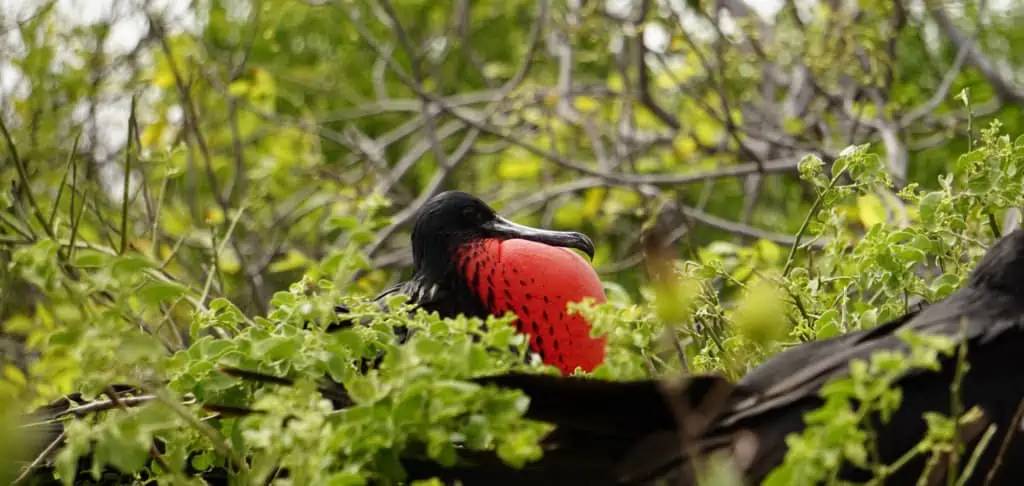 While exploring Antigua, don't miss the opportunity to take a day trip to the nearby sister island of Barbuda. Hop on the public ferry or hire a charter to experience the unspoiled beauty and tranquility of this hidden gem. There are plenty of things to do in Barbuda to keep you busy for a day!
Upon arrival, embark on a guided tour to visit the famous Frigate Bird Sanctuary, home to over 100 species of birds, including a large frigate bird colony (the same ones you see in the Galapagos)! Marvel at their impressive mating rituals when the males make their bright red necks balloon up to impress the females.
Afterward, relax on Barbuda's pristine pink sand beaches, known for their breathtaking beauty and seclusion. Enjoy a beachside picnic or indulge in water sports such as kayaking, paddle boarding, or snorkeling in crystal-clear waters.
Barbuda offers a serene escape for nature lovers, allowing you to unwind and immerse yourself in the untouched natural wonders of the Caribbean.
***
This trip made me fall back in love with Antigua, and miss living and working remotely in the Caribbean!
Whether you're seeking adrenaline-pumping activities or a more relaxed exploration, there's no shortage of fun things to do in Antigua and Barbuda. Take a rum-making class, take a sailing trip, or simply unwind by a hotel pool, soaking up the Caribbean sun. And don't forget the thrilling experiences of ziplines and buggy tours, which allow you to see a different side of the island.
Antigua and Barbuda's natural beauty, warm hospitality, and diverse range of outdoor adventure activities make it a dream destination for those looking to immerse themselves in nature and relax in world-class hotels.