This post may contain affiliate links. By clicking and making a purchase through the links, I earn a small commission at no extra cost to you. See my disclaimer for more information. This and display ads allow me to keep the site up to date and give back.
While Dominica isn't known for being lined with high-end beach hotels like its Caribbean neighbors, that doesn't mean there aren't any incredible places to stay here. In fact, Dominica is home to the #1 Caribbean resort as ranked by Travel and Leisure! But as the nature island, what makes accommodation special in Dominica is staying in a place where you can truly immerse yourself in the breathtaking scenery. Which is easy to do here with so much nature around!
Whether you're looking for a luxury resort, an off-grid cottage, or a social guesthouse – here are the best places to stay in Dominica.
Best area to stay in Dominica
The island of Dominica isn't that big which means no matter where you stay, you'll be able to access all of the main points of interest with a car or tour guide.
That said, the majority of Dominica's main attractions are in Morne Trois Pitons national park such as the boiling lake hike, which is near the capital city Roseau. If you're short on time and driving around on your own, this is one of the best areas to base yourself in. Roseau is also just a 20-minute drive to Soufriere in the south and an hour to Portsmouth in the north.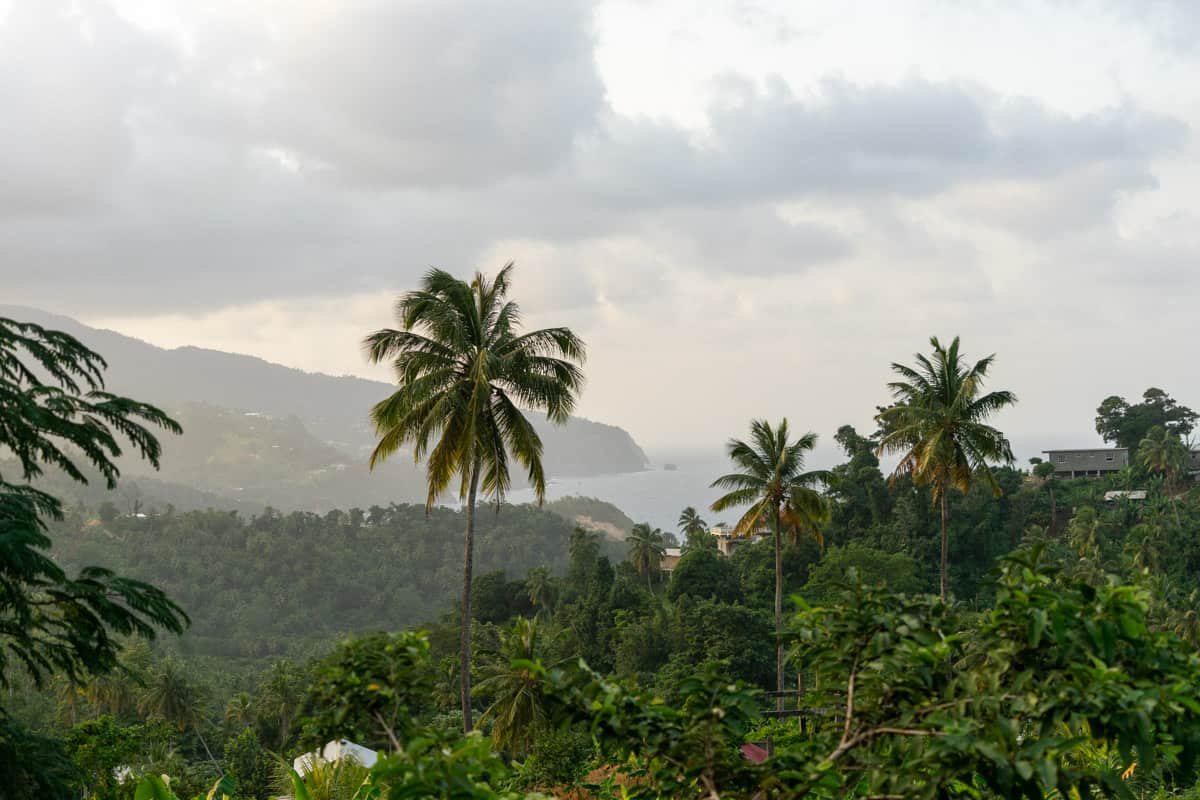 The second-largest city is Portsmouth, although it's still quite a small place (the entire population of Dominica is less than 50k). A few high-end resorts are up there so if you're looking to just relax for a week in luxury, this can be an excellent area to stay in Dominica.
I spent a month in Dominica and stayed in places all over the island, including Portsmouth, Roseau, and Soufriere. In the end, we ended up basing ourselves in an apartment in Copthall, which is about 10-minutes away from Roseau towards the national park.
Note: Dominica is currently open for international tourism, but you will need to stay in a safe in nature accommodation while quarantining if you are coming from a high-risk country. You can see the complete list of approved accommodations here. Most of the places I've listed in this post are safe in nature approved accommodations, which I've noted in their descriptions.
Budget hotels and guesthouses in Dominica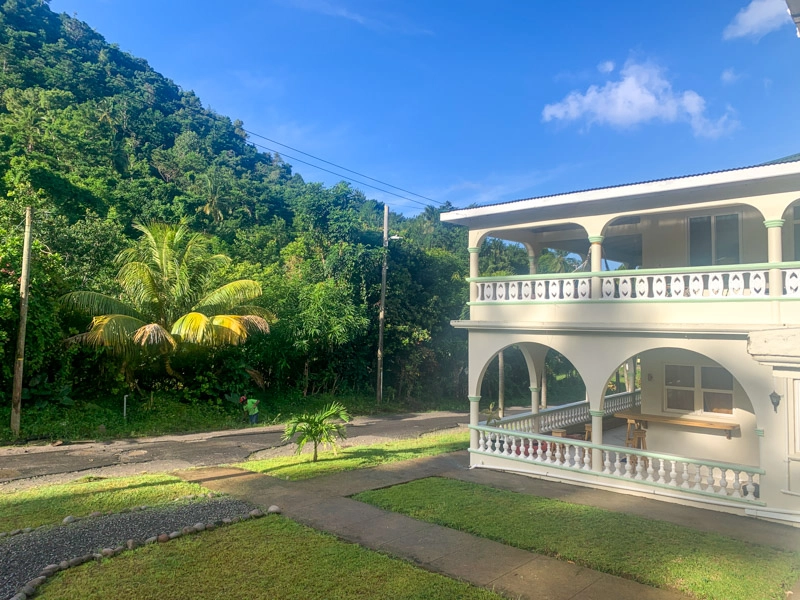 One of my favorite places to stay in Dominica is Soufriere Guesthouse. It's located in the southern half of the island, in the town of Soufriere. They offer private and shared dorms, along with a shared kitchen and gorgeous balcony with hammocks.
There aren't many places to stay in Dominica where you can meet other travelers, so this is an excellent option if you're visiting solo. The people that stay here are mainly free divers, as Soufriere is one of the best places to go free diving in the world. I only discovered this by visiting here!
Many of the world's top freedivers come here to train, but no worries if you haven't tried it before. Soufriere Guesthouse also has a diving school on-site called Blue Element Diving. I took an intro to freediving course with one of the owners, Jon, which was an incredible experience. I was so nervous at the start but he made me feel at ease, and I got down to 10m!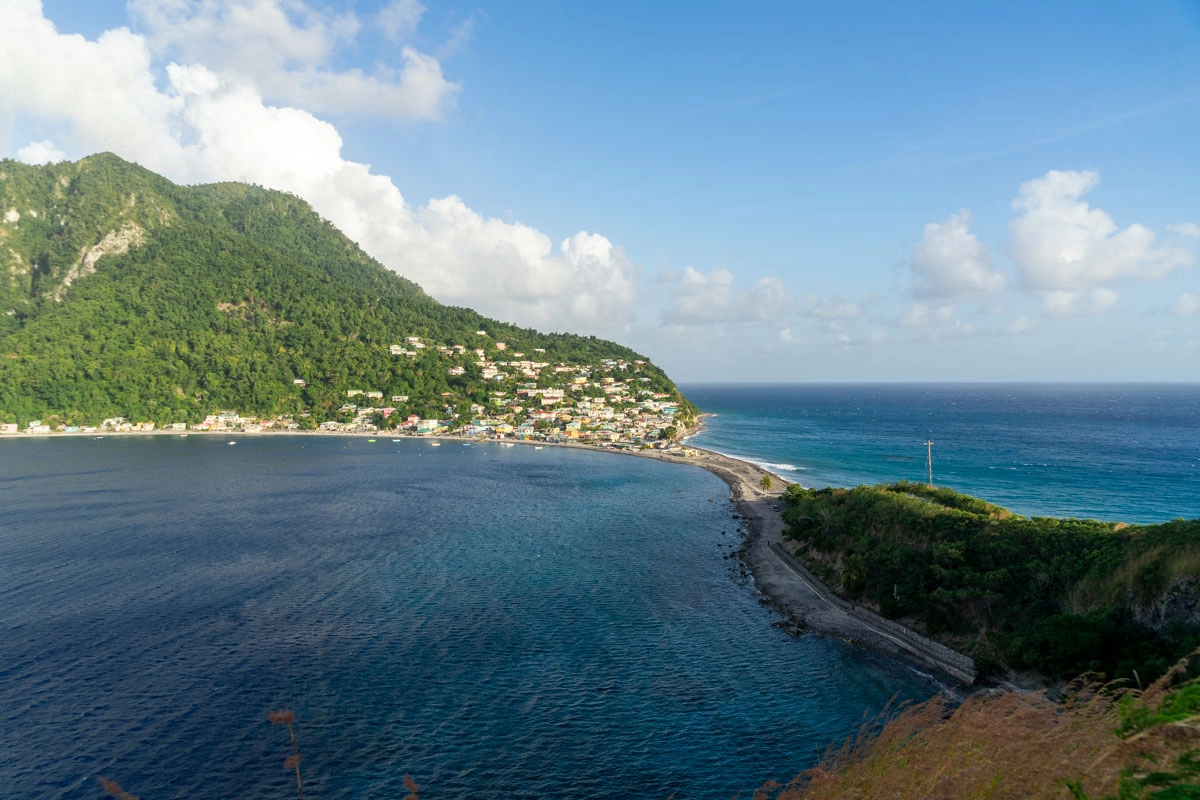 Soufriere has some of the best diving sites in Dominica, along with one of the prettiest viewpoints (Scott's Head), as well as some natural hot springs and hiking trails to explore.
Soufriere guesthouse is also on the list of approved safe in nature accommodations, so you can quarantine here.
Surrounded by rivers and mountains in the lush Rosalie Rainforest, 3 Rivers Eco Lodge is a great place to check out if you're on a budget or want to fully immerse yourself in nature.
The hotels offers private apartments, dorm rooms, and villas depending on what your budget is. If you're traveling solo in Dominica, this is a great place to meet other travelers!
They also offer ziplining and kayaking in the natural river pool, which you can come and use as a day pass if you're not staying there.
3 Rivers Eco Lodge is in Rosalie on the east coast of Dominica, nearby to Sari-Sari falls and Victoria Falls!
Kootney Resorts offers affordable apartments in Portsmouth. This is where I did my quarantine upon arriving in Dominica! It was a great place to do so because we were allowed to swim in the nearby river, walk around the property, and pick fruit from the trees. The owner also picked up several rounds of groceries for us and arranged all our safe in nature tours!
The apartments themselves aren't fancy but have everything you need for an enjoyable stay, including a large bathroom (great water pressure), separate bedroom, fully-equipped kitchen, living room with smart TV, and an outdoor balcony.
Kootney Resorts is in Portsmouth in the northern part of the island. It's an excellent location for exploring the attractions on the northern side, and Roseau is just an hour's drive away.
Mid to upper range places to stay in Dominica
If you're looking for a unique place to stay in Dominica, look no further than Banana Llama Eco Cottages!
This fully off-grid sustainable property is in the rain forest of Dominica on a pristine river. It's the type of place where you can go escape from it all.
It's an adventure to get here – the property is only accessible by foot and a zipline across the river!
Banana Llama is a great place for sustainable travelers, as the property is entirely off-grid powered by solar and fresh spring water. Nearby the property are hiking trails, magical waterfalls, and places to go swimming. You can also enjoy homemade meals here grown from the organic garden!
Banana Llama is a safe in nature property.
If you're looking to stay right in the center of Roseau, Fort Young Hotel is a great choice. Where luxury meets adventure, this four-star hotel offers modern rooms, a selection of casual and fine dining restaurants, and an on-site dive shop in partnership with Dive Dominica.
Fort Young also features a gorgeous outdoor pool that overlooks the Caribbean sea, along with a jacuzzi pool and sun loungers for soaking in the Caribbean sunshine. On Friday nights, Fort Young hosts an event called 'Grill and Chill', where they get a live DJ and grill up BBQ. There isn't a lot of nightlife in Dominica, so this is one of the best places to go if you're looking for it!
Fort Young is in the center of Roseau, nearby to restaurants, bars, the local market, and the cruise port and ferry terminal. It's a safe in nature property.

Jungle Bay Resort and Spa is a gorgeous hotel near Soufriere, in the southern part of the island. It's set in the jungle, with a dreamy infinity pool that overlooks the Caribbean sea.
This award-winning hotel focuses on nature-based activities and wellness, with a spa and yoga studio on-site. They also have a strong focus on sustainable tourism!
If you aren't staying at Jungle Bay, you can still visit the restaurant and buy day passes to use the pool. The restaurant has great pizza!
Jungle Bay Resort is a certified Safe in Nature property where you can do managed experiences from.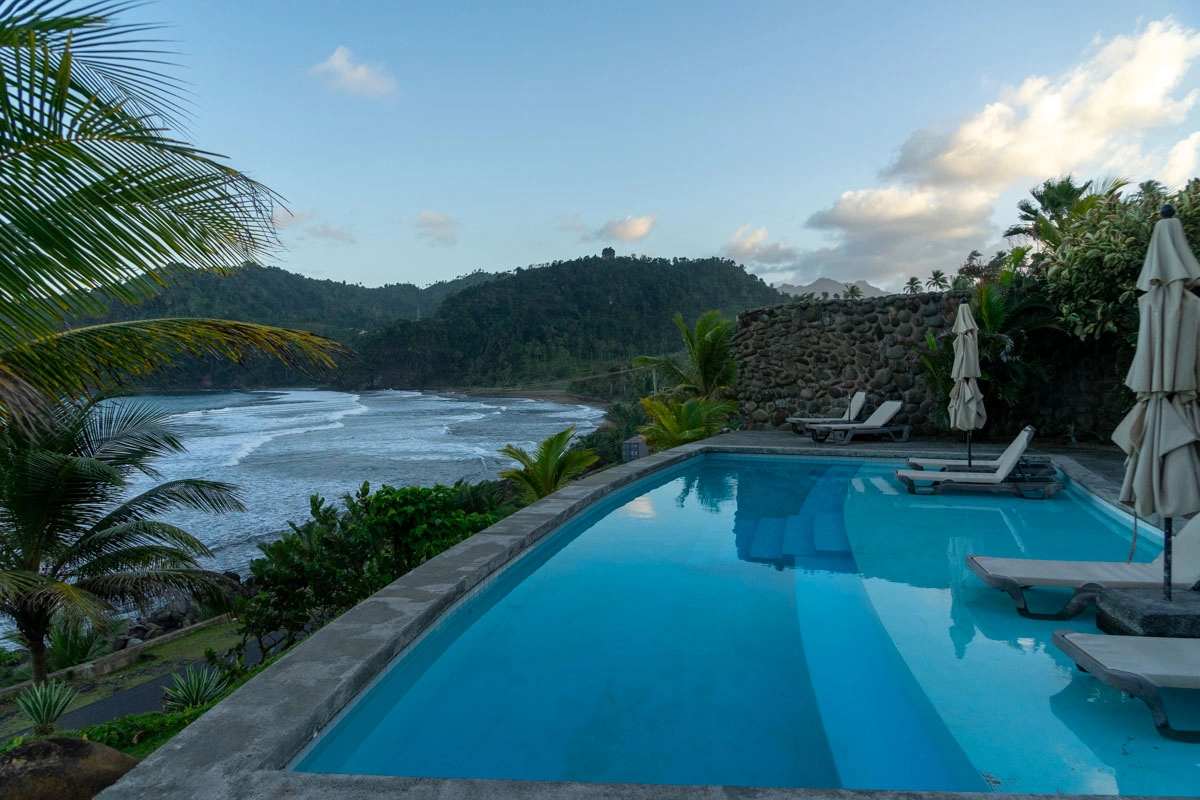 Pagua Bay House was one of my favorite hotels in Dominica. Where nature meets luxury, this gorgeous boutique hotel is situated on the east coast of Dominica near the airport in Marigot.
It features a gorgeous outdoor pool that overlooks the Atlantic ocean, a delicious restaurant, and six stunning oceanfront cabanas.
The cabanas are designed for relaxation, with wooden floors, high ceilings, and large windows that fill the room with natural light (but you can close them if you don't want the sunshine). The king-size bed is one of the most comfortable I've slept on in months, and there's also a desk in the room which was perfect for working remotely. Wifi was great, and the bathrooms are huge and feature rainfall showerheads with fantastic water pressure. Outside of each cabana is a large double hammock – perfect for catching up with your favorite book.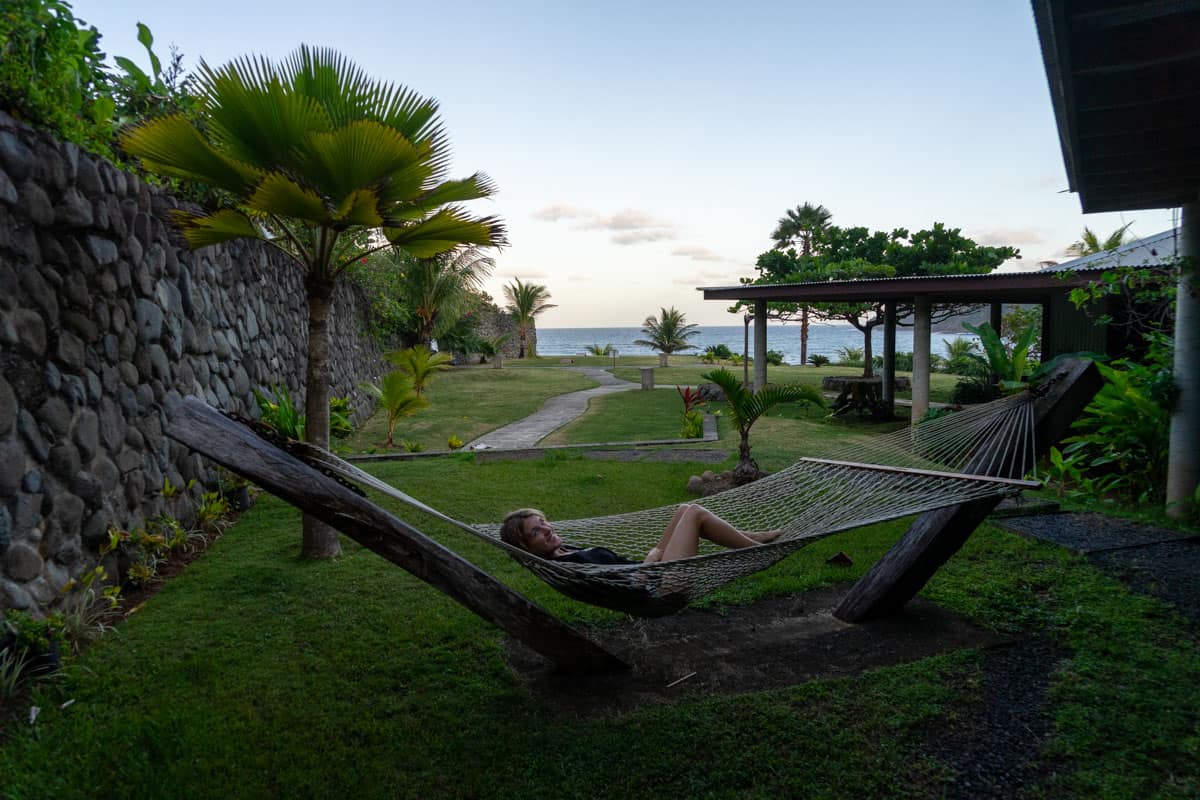 One fun thing about staying at Pagua Bay is that they offer free river tubing to guests. It's so much fun! We took a few drinks from the hotel bar and spent a couple hours slowly floating down the river surrounded by lush jungle. Such a fun way to spend the day in Dominica!
There are also some other attractions nearby, including Kalinago Territory and Calibishie, where you go surfing. There is also a chocolate factory there, as well as some interesting red rocks.
Pagua Bay House is a certified safe in nature property.
If you're looking for more mid-range options, I've also heard great thing about Picard Beach Cottages and Mango Island Lodges Boutique hotel.
Ultra Luxury Places to Stay in Dominica | Best Dominica Resorts
If you're looking to pamper yourself on your holiday in Dominica, here are two luxury resorts to check out.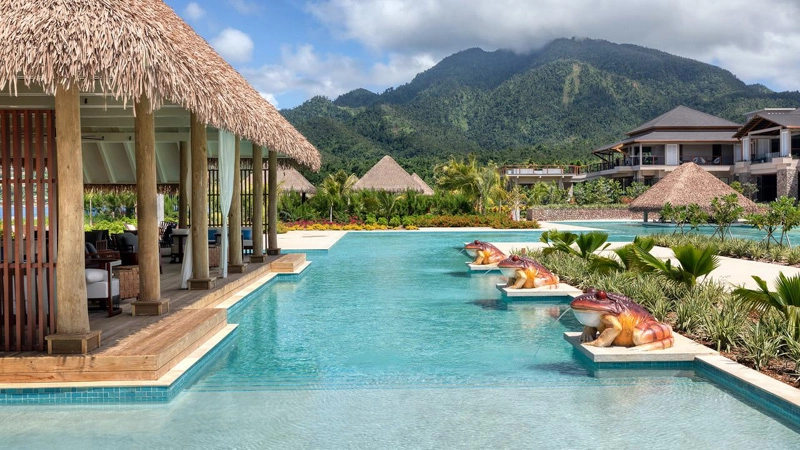 Cabrits Resort and Spa Kempinski Dominica is a newly built 5-star luxury resort near Portsmouth. It's surrounded by Cabrits National Park, so you'll be immersed in nature here while still having every luxury offered.
This resort offers 151 rooms with breathtaking panoramic views of the Caribbean sea. Amenities at the resort include a full-service spa, international cuisine at 4 different restaurants and bars, and a state-of-the-art fitness facility. It also features two floodlit tennis courts, 4 swimming pools, and meeting space if you're hosting a retreat or wedding.
Natural attractions are outside your door, including Indian River, hiking trails and scuba diving in Cabrits National Park, and nearby waterfalls. If you want to explore further, tours can be arranged from the resort.
Secret Bay. is known as one of the best Caribbean resorts after being named the #1 resort hotel in the Caribbean by Travel & Leisure's 2020 World's Best Awards! You'll be guaranteed an unforgettable stay here.
At secret bay you'll experience a six-star service with award-winning villas renowned for their fusion of high design and local craftsmanship. This is truly where luxury meets nature, with open-air luxury villas composed entirely of sustainably sourced tropical hardwoods.
Secret Bay also features expansive indoor and outdoor living spaces, including private plunge pools, gourmet kitchens, covered terraces, and breathtaking ocean views. This is a dream place for a honeymoon or romantic getaway!
Enjoyed this post? Pin it for later!