This post may contain affiliate links. By clicking and making a purchase through the links, I earn a small commission at no extra cost to you. See my disclaimer for more information. This and display ads allow me to keep the site up to date and give back.
Wondering about scuba diving in Dominica? Let me help you! I spent a month living in Dominica while working remotely and exploring the underwater world was one of my favorite things to do on the weekends. I'm sharing the best Dominica dive sites and essential tips in this guide.
Dominica is known as the nature island of the Caribbean, so it's no surprise that the topography of the underwater world mirrors the diverse landscapes above.
The high mountain peaks above the water create dramatic drop-offs, steep walls, canyons, and pinnacles below that you can explore while scuba diving in Dominica.
#1 Dominica scuba diving tour
⭐️⭐️⭐️⭐️⭐️
✅ Dive the famous bubbles and marine life in Champagne Reef
✅ Certified instructor accompanies you
✅ All equipment provided
Best Dominica dive sites
Most of the scuba diving on Dominica takes place within one of three Marine Reserves: Cabrits National Park Marine Section in the north, the Salisbury Marine Reserve in Dominica's central west, and Soufriere Scotts Head Marine Reserve.
There are approximately 20 dive sites to explore, including caves, swim-throughs, volcanic vents, and coral gardens.
Diving at Soufriere Scotts Head Marine Reserve
Soufriere Scotts Head Marine Reserve is one of the oldest reserves on the island, located on the island's southwest coast.
This protected area boasts an array of dive sites suitable for all experience levels. The diversity of things to see here is impressive, from vibrant coral gardens teeming with colorful fish to impressive underwater pinnacles, caves, and lava flows.
Champagne Reef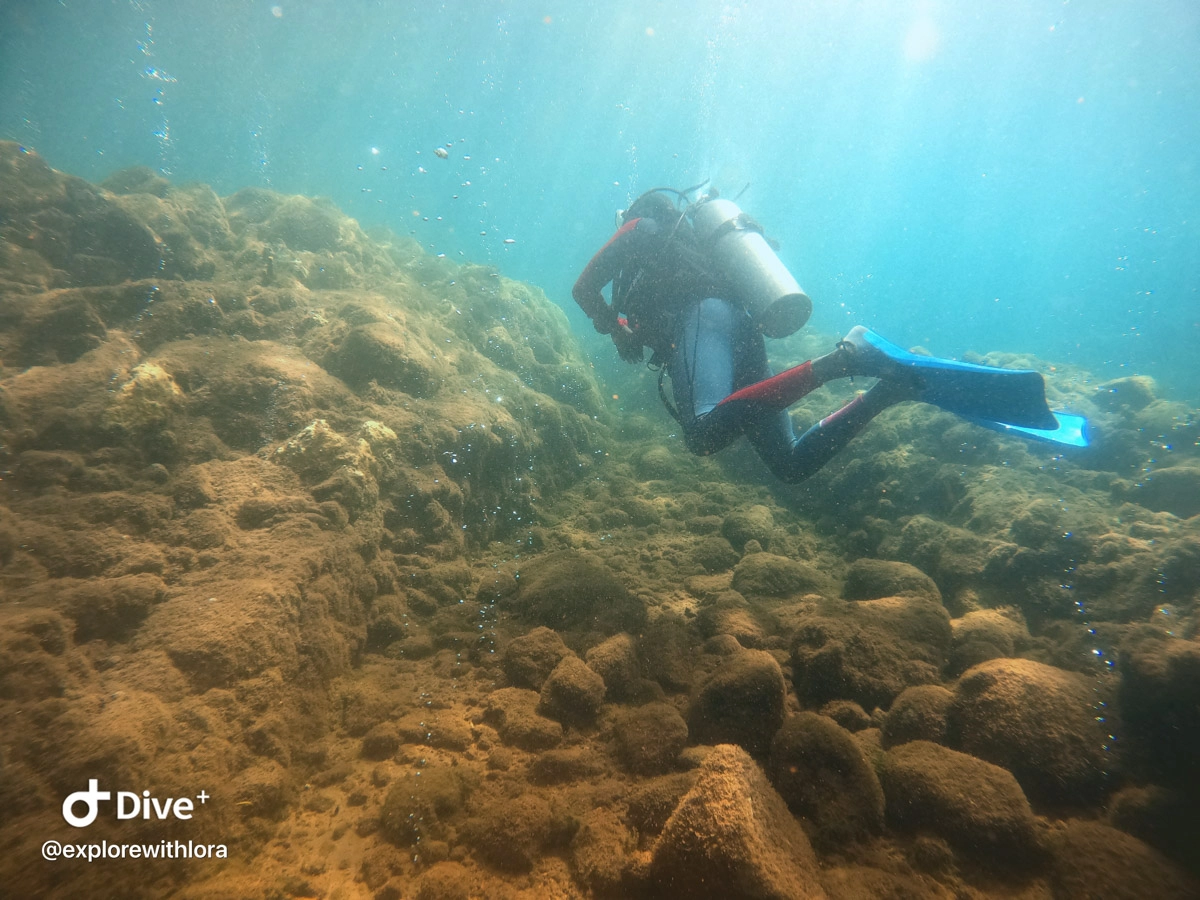 Champagne Reef is one of the most unique dive sights I've seen and the most famous in Dominica! This volcanic site gets its name from the effervescent bubbles that rise from the seafloor due to geothermal activity.
It's so much fun to swim through; it feels like you're in a champagne glass! You can also feel the rising water temperature and touch the thermal vents. I always get cold diving, so I appreciated the warmth provided at this dive site.
The feeling of swimming through a natural jacuzzi while being surrounded by marine life is nothing short of magical.
Champagne Reef is also accessible from the shore at Champagne Beach, so you can also go snorkeling here if you aren't certified to dive.
L'Abym
This dive site takes you to a steep underwater cliff diving 500 meters deep, covered with corals, gorgonians, anemones, and sponges.
I couldn't believe it when I saw the dramatic wall drop off; it looked endless and was mesmerizing to dive along.
Witches Point/La Sorcière
Witches Point is another dramatic wall dive near L'Abym, full of colorful colors. We saw massive schools of fish while diving here!
Danglebends Pinnacles
Dangleben's Pinnacle is a series of 5 pinnacles with various shapes and depths. This is one of Dominica's deeper dive sites, with a minimum depth of 18m to a max of 30m.
This submerged volcanic crater offers a dramatic drop-off and strong currents, attracting schools of jacks, snappers, and larger pelagic species.
It forms a fascinating underwater landscape with abundant marine life and the mighty huge barrel sponges. The coral formations are very impressive here!
While you're near Scott's Head, be sure to take a short hike up to the top of this viewpoint, where you can get a fantastic view of the Caribbean Sea and the Atlantic Ocean meeting!
Cabrits National Marine Park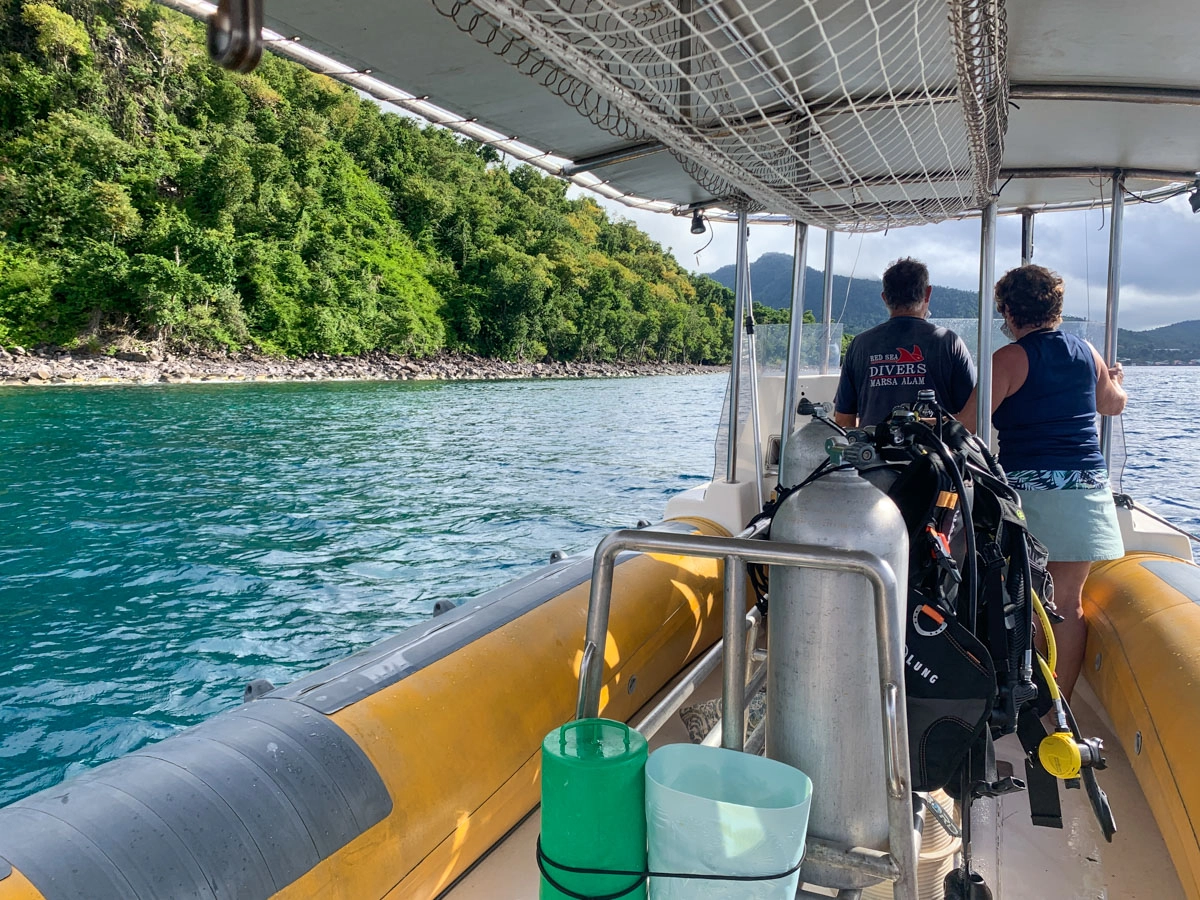 Cabrits National Marine Park, on the island's northern tip, is another great place to dive in Dominica.
The reefs there are incredibly healthy, as evidenced by the abundance of incredible and colorful sponges.
What's nice about the dive sites in Cabrits National Marnie Park is that they are just a 5-minute boat ride away from shore, so you can get diving quickly.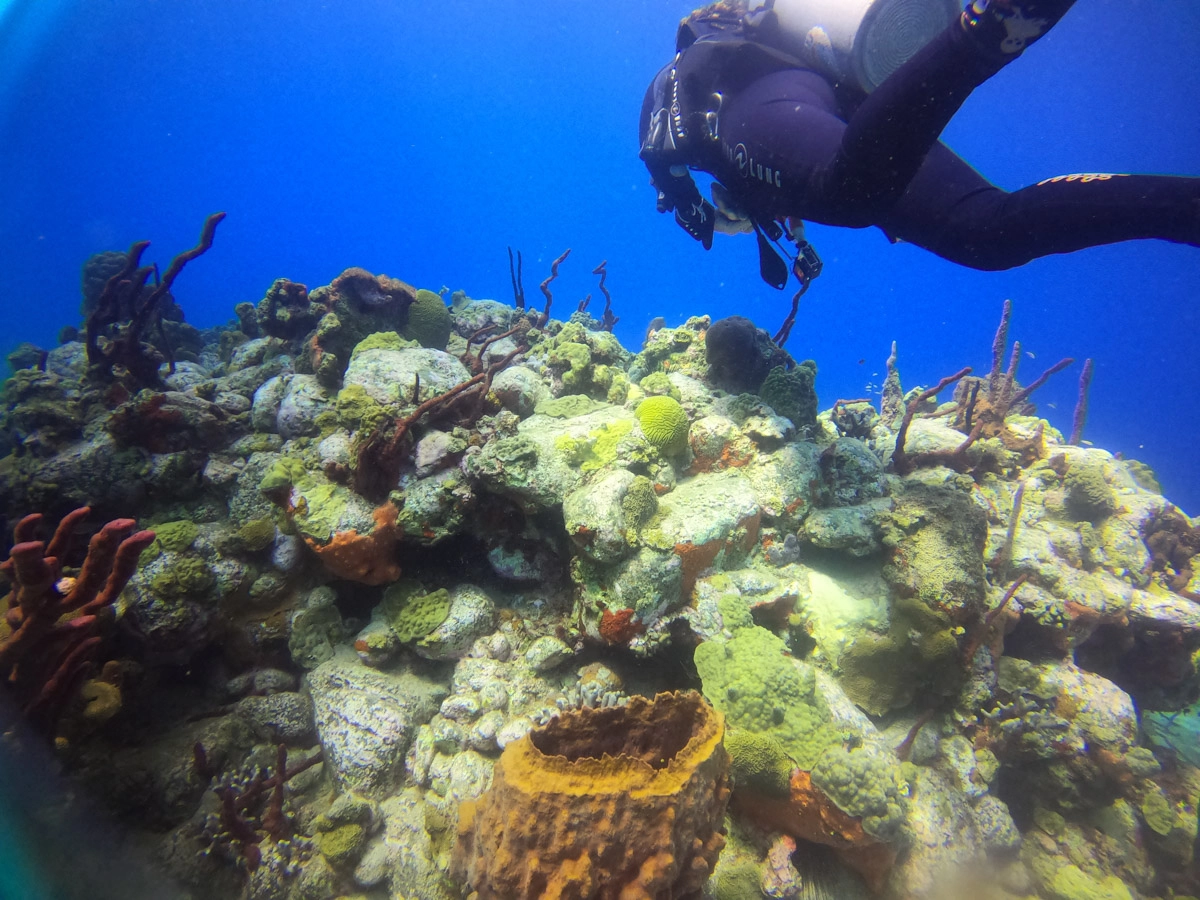 Dive Conditions in Dominica
Dominica is one of the best places to go diving in the Caribbean, with excellent diving conditions.
It's a warm island, so you can expect water temperatures between 26 and 28oC (78-82°F). Visibility is also excellent here – you can expect to see anywhere between 60 and 100 ft (18-30m).
The water in Dominica is extremely calm on the Caribbean side, so minimal current adds to the great diving conditions. There are plenty of beginner-level dive sites and more advanced ones, so Dominica is a great place to dive, no matter your level!
Dive Operators in Dominica
There are several dive operators across the island, but one of the best is Dive Dominica.
As soon as I got to the Dive Dominica office, I felt welcomed by the friendly staff.
They were quick to organize the forms and get me suited up in my diving gear. You are welcome to bring your own gear, but Dive Dominica has a fully-stocked dive shop with excellent quality equipment if you need to rent.
We left on the boat from Roseau and set off for the 20-minute boat ride to Soufriere Marine Park.
I felt very safe on the boat as the captain gave a briefing and made it clear our safety was their top priority. The scenery on the way over was spectacular!
It was just me, one other diver, the instructor, and a dive master. The crew was extremely knowledgeable and ensured we were both comfortable throughout the dives.
One thing I loved about diving with Dive Dominica is that the instructor brought a board that he could write on underwater and wrote out the names of the animals we came across during the dive.
I've never seen this while diving before, but it was so much easier to understand rather than trying to figure out underwater sign language!
On top of diving, they also offer whale-watching tours and snorkeling tours. You can even do your PADI certification with them if you're learning to dive.
Another reputable dive operator in Dominica is PH Whale Watch Dominica.
Best time to go scuba diving in Dominica
The dive conditions in Dominica are generally favorable year-round, with excellent visibility and warm water temperatures, particularly during the dry season from November to April. This coincides with the high season in Dominica, although you'll find far fewer tourists than other Caribbean islands.
Unfortunately, Dominica is vulnerable to hurricanes and tropical storms during the off-season. While traveling in Dominica, you'll undoubtedly hear about Hurricane Maria, which wreaked havoc on the island in 2017, destroying 90% of the buildings.
Marine life in Dominica
I didn't find Dominica particularly impressive for larger marine animals while diving (maybe I'm just spoiled by the sea turtles in Barbados), but it's excellent for macro marine life.
Seahorses, frogfish, gurnards, and sea snakes, are just a few things to watch while scuba diving in Dominica! We also saw lobster and crab.
You'll see lots of lionfish here, which are considered an invasive species.
Hunting and eating lionfish is a normal part of life in Dominica, so be sure to try some when you're here – it's pretty tasty, and you're helping save the reefs!
Dominica is known as the whale-watching capital of the Caribbean, with 22 species of whales in the surrounding waters, including a population of sperm whales that live there year-round. It's also home to spotted and spinner dolphins.
Does Dominica have good diving?
Yes, Dominica is renowned for its exceptional scuba diving opportunities and is considered one of the best diving destinations in the Caribbean. The island's unique volcanic topography, pristine reefs, and abundant marine life create a diver's paradise suitable for beginners and experienced divers alike.
The waters surrounding Dominica are teeming with diverse marine life, including colorful tropical fish, seahorses, frogfish, barracuda, sea turtles, and more. The island's volcanic activity also contributes to creating intriguing underwater formations, such as submerged pinnacles and bubbling vents like those found at Champagne Reef.
The dive conditions in Dominica are generally favorable year-round, with excellent visibility and warm water temperatures, particularly during the dry season from November to April.
The island's relatively untouched and uncrowded dive sites further enhance the diving experience, offering a sense of tranquility and a chance to explore pristine underwater landscapes.
Free Diving in Dominica
Dominica is one of the best places in the world to go free diving. It has a combination of ideal conditions: warm and calm water, and depth close to shore, so you don't need to hire a boat.
While staying at Soufriere Guesthouse (mainly occupied by world-class free divers), I decided to try with Blue Element Free Diving, which operates out of the same building.
I had low expectations for myself, given that I'd never free-dived, but I was surprised at how much I loved it. I got down to 10m. It was an incredible experience and something I'd love to improve at.
Whale watching Dominica
Dominica is also known to be one of the best places for whale watching in the Caribbean. The waters around Dominica are blessed with a healthy population of resident and migratory cetaceans.
One of the most remarkable aspects of Dominica's whale-watching scene is the presence of resident sperm whales. Throughout the year, pods of female sperm whales and their calves call these waters home.
Unlike some other destinations where whale sightings are seasonal, Dominica offers year-round opportunities to spot these awe-inspiring giants of the sea. This makes planning a trip to the island more flexible and increases the chances of encountering these gentle giants during your visit.
Final thoughts: Dominica scuba diving
Diving in Dominica has been incredible! If you're visiting this nature paradise, be sure to spend some time exploring underwater.
From exploring vibrant coral gardens in the Soufrière Marine Reserve to encountering the bubbles at Champagne Reef, each dive site in Dominica brings its own magic and charm.
Dominica's commitment to marine conservation, evident through its protected marine areas, ensures that its underwater world remains pristine and thriving for generations. As divers, we have the responsibility to respect and protect these fragile ecosystems by adhering to responsible diving practices and leaving only bubbles behind.
Beyond its magnificent dive sites, Dominica's natural wonders extend to its lush rainforests, stunning waterfalls, and warm-hearted locals. Exploring the island's terrestrial beauty is just as rewarding as the underwater adventures it offers.
Planning a trip to Dominica? Don't miss these posts!
Enjoyed this post? Pin it for later!