This post may contain affiliate links. By clicking and making a purchase through the links, I earn a small commission at no extra cost to you. See my disclaimer for more information. This and display ads allow me to keep the site up to date and give back.
Wondering what the best Caribbean islands to visit are? I lived and worked remotely in three different Caribbean islands and have visited over half of them! In this guide, I'm sharing all my insider knowledge to help you decide what island is right for you.
Whether you want to chase waterfalls, surf waves, drink rum, or simply relax on pristine beaches – the Caribbean can offer it.
There are 13 sovereign island nations and 12 dependent territories in the Caribbean archipelago, each offering a unique experience.
If you're wondering which one to choose for your next vacation, here are the best Caribbean destinations to visit for every type of traveler.
Best Caribbean islands for adventure and nature
Dominica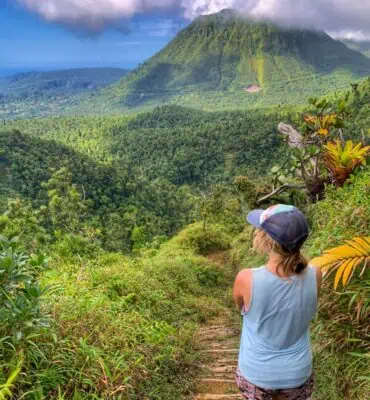 Dominica is one of the best islands to visit for adventure seekers, with nine volcanoes, a hiking trail across the entire country, and endless waterfalls to chase.
You don't have to go far to find adventure in Dominica. The island is home to some of the best diving sites in the Caribbean, along with a large population of sperm whales that live there year-round. Hop in the water with them on a snorkeling trip or join a whale-watching tour to see them from the safety of a boat.
Dominica is also one of the best places for free diving in the world, with depth close to shore, incredible visibility, and calm water. Head to Soufriere on the south of the island if you want to take a lesson! There you can also enjoy natural hot springs in the ocean.
If that's not enough, hike to the second-largest boiling lake in the world and cool off afterward with a dip in one of the countries' many waterfalls like Sari-Sari or Victoria Falls. Every day can be a new adventure in Dominica!
Saba
Recommended by Erika Bisbocci of Erika's Travels
Saba is a special municipality of the Netherlands that lies in the Lesser Antilles, near St Martin. The small island—nicknamed the 'Caribbean's Unspoiled Queen'—is a paradise for hikers and nature enthusiasts. It boasts jungle-like scenery, picturesque towns, and mountainous topography.
Saba does not fit the classic Caribbean cliche of powdery beaches and all-inclusive resorts. In fact, the small emerald island doesn't even have any sandy beaches. Instead, Saba caters almost exclusively to hikers and independent travelers.
The verdant Caribbean island has four main towns: The Bottom, Windwardside, St John's, and Hell's Gate. Each town consists of white gingerbread-style houses with green trim and red roofs.
The Mount Scenery Trail begins in Windwardside and passes through the lush tropical rainforest. Hiking Mount Scenery is one of the best hings to do when visiting Saba.
The 2,910 ft volcano is the tallest point in the Netherlands and the island's primary landmark. On a clear day, its summit showcases 360-degree views of the Caribbean's island-speckled waters.
Over at Condado, there is a gay beach, which is usually the focal point of the many gay annual events happening in Puerto Rico, including the Winter Pride Fest (in December) and Pride Puerto Rico (in May/June).
Martinique
Recommended by Elisa from France Bucket List
The island of Martinique is one of the best Caribbean islands for active travelers.
Martinique is one of the French Antilles islands, together with Guadeloupe, Saint-Martin, and Saint-Barthélemy. Martinique is one of France's overseas departments, and the requirements to enter the island are the same as for France's mainland.
Martinique's beaches are great, but there are many other fun things to do in Martinique apart from lazy days under the sun.
Martinique has some spectacular hikes. The most famous is the hike up to Montagne Pelée, the volcano that destroyed the city of Saint-Pierre during its last eruption. The walk to the Presque Ile de la Caravelle is beautiful too.
Active travelers looking for water sports or activities will also be spoilt for choice. There are the classics, like snorkeling or scuba diving, and new proposals, like step paddling or sailing on a transparent dugout canoe.
Martinique also has beautiful waterfalls, and most of them are located in National Parks. Walk through the thick jungle, cross rivers, and tunnels to reach the most spectacular waterfalls.
Curaçao
Bret Love & Mary Gabbett of Blue Ridge Mountains Travel Guide
Curaçao is a curious country, just as colorful as any of its Caribbean neighbors but with a distinctive personality all its own, and an ideal destination for diving enthusiasts.
Located just off the coast of Venezuela, the island's distinctive blend of Dutch and Spanish influences on its architectural style earned the capital city of Willemstad a UNESCO World Heritage Site, and the old town remains Curaçao's most popular tourist attraction.
For outdoor adventurers, there are St. Christoffel and Shete Boka National Parks. St. Christoffel, at 4,446 acres, features hiking trails leading to Curaçao's highest point (1,292 feet); wildlife such as iguanas, birds, and the rare white-tailed deer; and ancient paintings from the Arawak Indians in the caves at Boca Grandi. Shete Boka is home to a natural bridge, blowholes, and seven caves, some of which serve as breeding grounds for three species of sea turtles.
You can also explore the island's arid, cactus-strewn backcountry via an ATV excursion or Jeep safari or try an undersea adventure with Substation Curaçao, which takes visitors 1,000 feet beneath the waves.
But arguably, the island nation's biggest tourism draw is snorkeling and Scuba diving, for which it is often ranked among the top places in the world to go diving.
The waters off the coast are teeming with coral reefs that thrive with aquatic life, with world-renowned sites such as the Tugboat (a 25-year-old shipwreck that attracts angelfish, parrotfish, and more) and the Blue Room (a massive sea cavern that has become a diver's haven) drawing scuba divers from all across the planet.
Turks and Caicos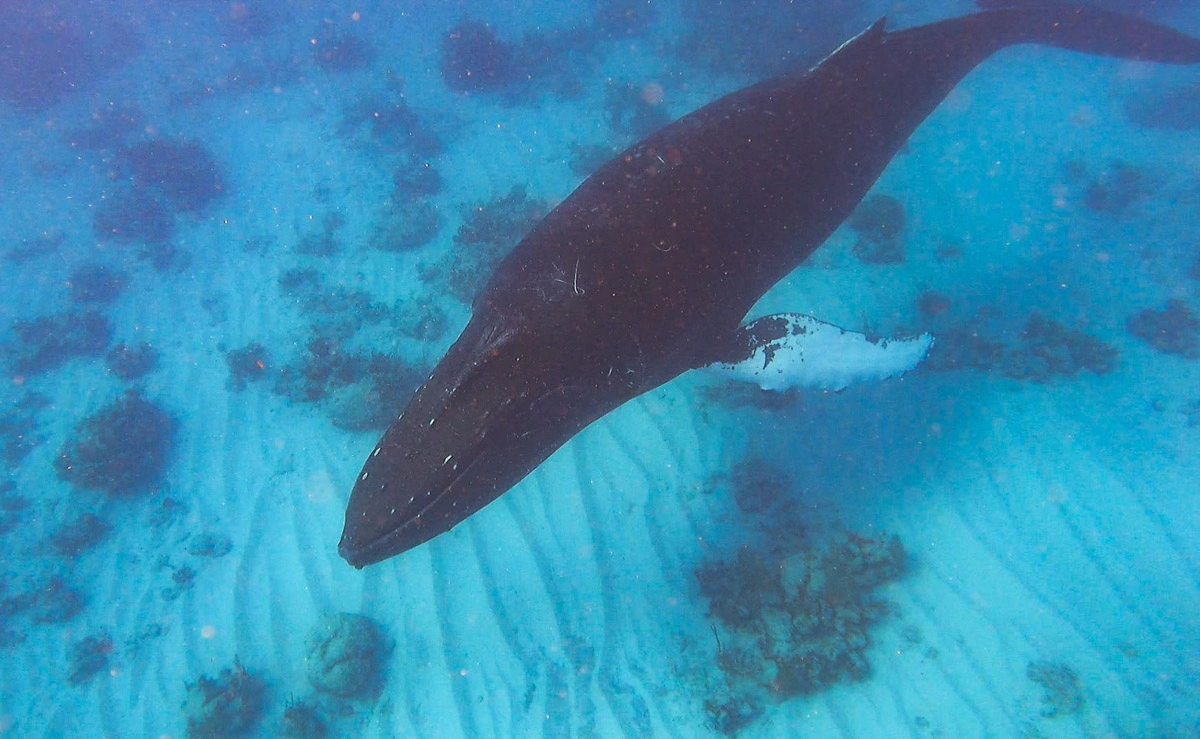 Recommended By Lindsey Puls of Have Clothes, Will Travel
Turks and Caicos typically bring to mind images of white sand beaches, vacationing celebrities, and luxury resorts. So, it may be surprising to know Turks & Caicos is one of the best Caribbean islands for nature lovers!
There are 40 different islands in Turks and Caicos (8 of which are inhabited). Providenciales is the most popular island, and where the luxury resorts and villas are located, like Beaches Turks and Caicos.
However, the tiny island of Salt Cay is the best island for amazing wildlife encounters. This is especially true if you love humpback whales.
Every year, typically between January and March, humpback whales migrate to Salt Cay to raise their calves. You can see them breaching right from the shore!
If that isn't cool enough, Salt Cay also offers another amazing experience – you can snorkel with humpback whales here! (Do this through reputable companies, like Salt Cay Divers.) It's my favorite travel memory to date.
Salt Cay also offers incredible diving just a few minutes boat ride from shore and reef snorkeling right from its north shore. It is also fantastic for bird watching in its old salt pans, and there are more (adorable) feral donkeys than people on this island!
Trinidad and Tobago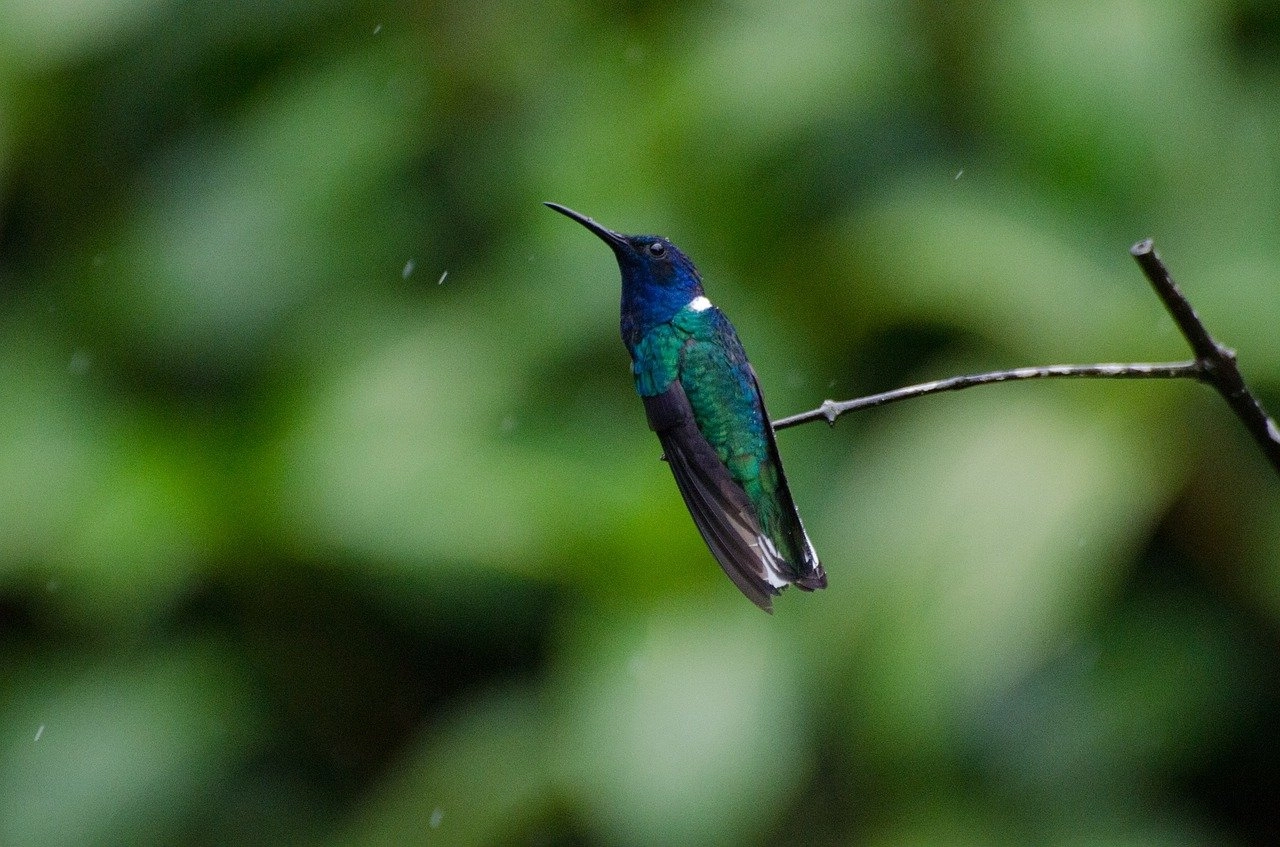 Recommended by Claire of Stoked to Travel
Tobago is one of the best Caribbean vacations for nature lovers, and particularly avid bird watchers. The island is a truly idyllic escape with an abundance of natural beauty and a jungle interior that is teeming with wildlife.
Ornithophiles flock to Tobago each year to enjoy endless bird spotting opportunities with over 230 species of bird, including the Ruby Topaz Hummingbird, which is often considered to be one of the most beautiful birds in the world.
One of the best places to birdwatch in Tobago is in the UNESCO-listed Main Ridge Forest Reserve, home to several stunning walking trails, including the famous Gilpin Trace trail.
Weaving its way through the park, the trail is particularly popular for sightings of the world's rarest hummingbirds, the white-tailed brewing. This hummingbird was actually considered to be extinct before being rediscovered in 1974!
Birdwatchers can also enjoy sightings of the white-necked jacobin, the blue-backed manakins, and the fuscous flycatcher. Another rare bird to see on the island is the endemic Trinidad motmot, which is best spotted at Miss Mills Trace, located in the foothills alongside the Main Ridge.
U.S. Virgin Islands
Recommended by Theresa of Fueled By Wanderlust
The U.S. Virgin Islands, a U.S. territory, is a gorgeous island chain in the Caribbean Sea. Its three main islands are St. Thomas, St. Croix, and St. John, and all three have the most beautiful beaches worth seeing.
However, if you are a national park lover, St. John is the island for you.
The Virgin Islands National Park makes up over sixty percent of St. John and protects the island's pristine white sand beaches from becoming overdeveloped or commercialized. This leaves visitors the chance to enjoy the beauty and purity of nature in beautiful tropical surroundings.
Snorkelers enjoy the crystal clear waters, where you can see coral reefs and sea turtles. The park's calm beaches are also perfect for stand-up paddle boarding or kayaking, especially at the Maho and Honeymoon beaches, where rentals are available.
Finally, Virgin Islands National Park offers over twenty awesome hiking trails, and there is something for everyone. There are short hikes, like the Peace Hill trail, that end in rewarding views and old Danish plantation ruins. Then there are longer, more adventurous hikes, like the Ram Head and Reef Bay trails, which also lead to amazing views and ruins, respectively.
After all this outdoor fun, grabbing dinner and drinks in St John's Cruz Bay, or hopping on a twenty-minute ferry ride to St. Thomas's Red Hook, is the perfect way to end the day. Especially in Cruz Bay, where the sunset is visible from the bars along the coast.
Best Caribbean islands for digital nomads
Barbados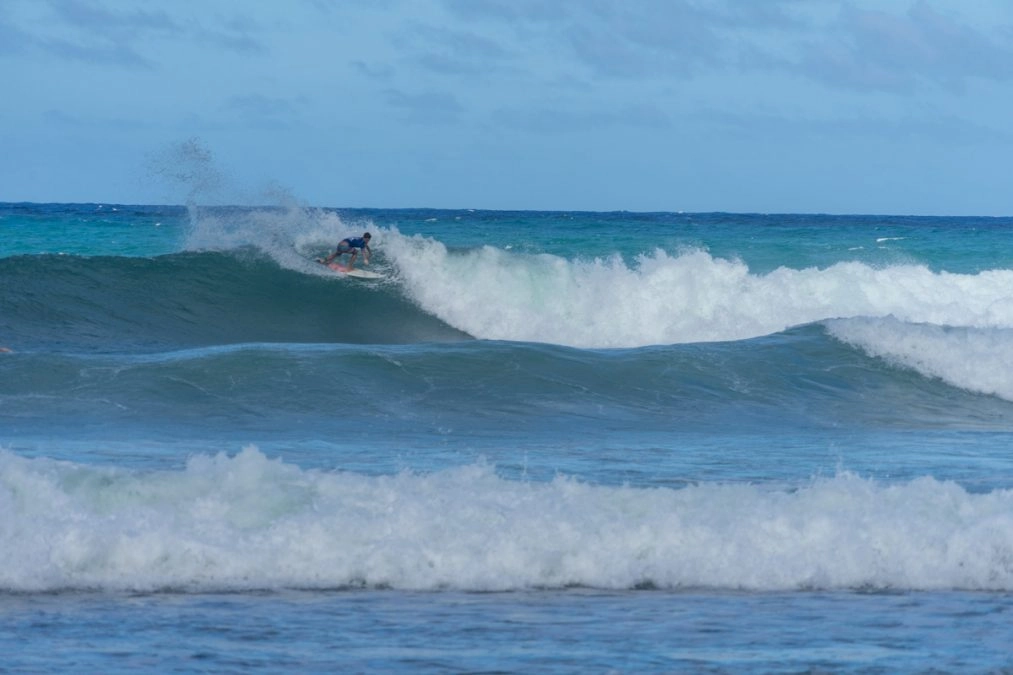 If you're a digital nomad who loves to surf, then head to Barbados. There are amazing surf spots in Barbados for all levels, with access to both the Atlantic Ocean and the Caribbean Sea.
If you're learning to surf, Freights Bay on the south coast is the ideal place to go. The waves are small and consistent, and there are sea turtles around to keep you occupied while you're waiting for the next set! It's by far the place I've been most comfortable surfing in all my travels.
Intermediate surfers can head to south point, or Brandon's on the west coast, and Bathsheba on the east coast is ideal for advanced surfers. There you'll find Soup Bowl, a world-renowned surfing spot famous for its barrels.
In addition to surfing, Barbados is also a great place to work remotely in the Caribbean with a one-year remote work visa, fast Wi-Fi, beautiful beachfront Airbnbs, and a growing digital nomad community.
It also happens to be one of the safest Caribbean islands. I felt very safe living here as a solo female traveler, even walking back to my apartment at night.
Guadeloupe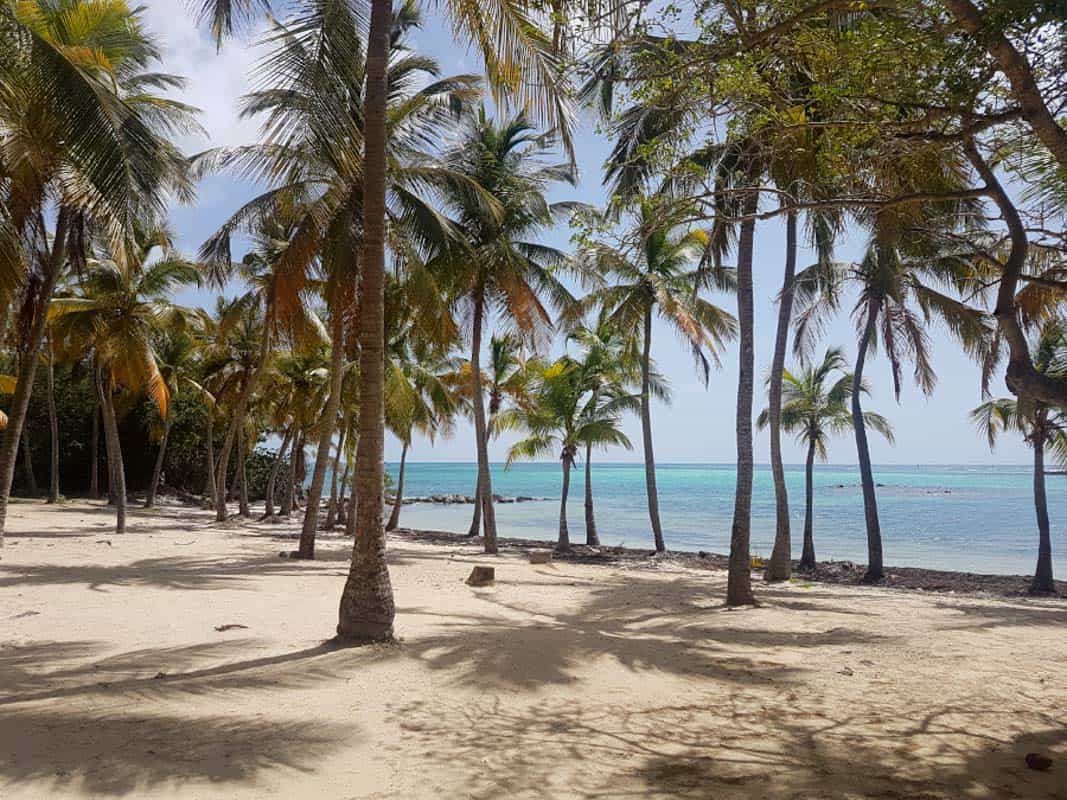 Recommended by Dominika byś of Sundays in Wonderland
With remote work easier than ever, a new type of traveling is emerging. Digital nomads are spreading widely around the world, and the beautiful islands in the Caribbean are perfect for their adventures.
Guadeloupe is one of the best choices for someone who'd like to try digital nomadism. Especially for European Union citizens. It's the French overseas department, so technically, it's part of the EU. This means that all the European life standards can be found on this little island, including fast Internet and even EU roaming.
You can easily find a nice place to live via Airbnb or Booking.com and enjoy working remotely in paradise. Airbnb often offers pretty huge discounts for longer stays, so you can easily reduce the costs.
You can live for a month or two by the tropical beach and enjoy the sounds of the ocean and jungle while working. And after the job, you can experience all the attractions that Guadeloupe has to offer.
Water sports, jungle hikes, tasting local kitchens, or delicious rum. And, of course, spending long hours on the beautiful beaches.
Best Caribbean island for LGBTQ travelers
Recommended by Stefan and Sebastian of Nomadic Boys
Puerto Rico is one of the most gay-friendly Caribbean islands, which we love. This is a region that, over time, has been notorious for homophobia. Thankfully this has changed a great deal over the past decade, with Puerto Rico leading the way.
Puerto Rico offers so much for LGBTQ travelers. It has an entire gay neighborhood in the Santurce barrio in Old San Juan, with awesome bars/clubs like Oceano, The Bear Tavern, Circo, and SX Club.
In terms of hotels, this is one place in the Caribbean where same-sex couples can feel safe booking a double bed without fear of awkward stares/judgment. One of the most famous gay-friendly hotels to check out in Puerto Rico is the "adults-only" Coqui del Mar San Juan guesthouse, which has some impressive cabanas and villas to stay in.
Finally, the weather is pretty much always amazing, rarely dipping below 70°F (around 20°C), and there are a ton of ecotourism activities in Puerto Rico.
Best Caribbean islands for history and culture
St. Kitts and Nevis
Recommended by Stella from Around the World in 24 Hours
Some think that the Caribbean is only for people who want to relax on the beach all day, but it also has many fascinating cultural experiences to offer. And the best Caribbean island for history is St. Kitts.
Visit Romney Manor, home to the Saman tree, the oldest living organism on St. Kitts. Romney Manor was a sugar plantation, and it was also the first plantation on St. Kitts to free its enslaved workers. Today you can visit a batik workshop in Romney Manor and enjoy the beautiful flowers.
To learn more about the history of rum production in St. Kitts, visit the Fairview Great House and sample the local rum. Finally, take a ride on the unique St. Kitts Scenic Railway. This train used to transport sugar cane around the island, but now it only transports travelers.
History buffs will want to spend most of their time on St. Kitts in the capital Basseterre. Here you can see remnants of when St. Kitts used to be a British colony, like the red phone booths. Visit the National Museum of St. Kitts to learn more about the history of this beautiful island nation!
Grenada
Recommended by Michele of A Taste for Travel
While the tri-island country of Grenada, Carriacou, and Petite Martinique might be best known for its beautiful white-sand beaches, it has another attraction that's equally appealing.
Grenada is the most cultural Caribbean island, offering a vast array of fascinating things to do beyond its beaches and natural landscapes.
One of the most unique of these cultural offerings takes place on Shrove "Fat" Tuesday on the island of Carriacou during Pierrot or Shakespeare Mas. During this event, costumed participants recite Shakespeare's "Julius Caesar" in dueling matches.
The performances are a commentary on the slave era when plantation owners would force slaves to perform skits and then punish them if mistakes were made.
Other special cultural offerings include Big Drum Dance, the 3-day Carriacou Maroon and String Band Festival, Tombstone feasts, the Grenada Spicemas festival in August, and many other events featuring music, dance, crafts, and food.
They all work to preserve and protect Grenada's unique culture, one that's influenced by African, European, and Caribbean traditions.
Culture aficionados will also appreciate the country's well-preserved Georgian architecture in the historic capital of St. George's, its tradition of wooden boat-building passed down from Scottish settlers, its Underwater Sculpture Museum, the Grenada National Museum built on the foundations of Fort George and culinary diversity seen in famous Grenadian food and drink such as Oil Down, spiced rum, spices, and organic chocolate. It all adds up to a fascinating kaleidoscope of cultural experiences.
St. Martin
Recommended by Anisa of Two Traveling Texans
St. Martin is home to the culinary capital of the Caribbean, Grand Case. You can enjoy an amazing meal with a beach view. It doesn't get much better than that.
Since half of St. Martin is French and the other half is Dutch, those influences blend with a Caribbean flair to create a unique cuisine.
You have many choices when it comes to dining in St. Martin. There are several gourmet options like Auberge Gourmande or Sol y Luna, perfect for a romantic date night. For a more casual meal, check out a lolo, which is a traditional St. Martin-style bbq stand.
In addition to the fresh seafood, be sure to try a johnny cake, which is a local fried bread specialty. On the Dutch side of the island, you should visit the Sunset Bar at Maho Beach. They have a fun air travel-themed menu because it's the best place to watch airplanes take off and land. It is one of those experiences that you can't miss.
With all these options, St. Martin is the best island for foodies, but don't worry there are plenty of other attractions to entertain you! If you want to explore more, there are several exciting day trip options from St. Martin too.
Best Caribbean islands for luxury travelers
Jamaica
Recommended by Nicole Sunderland of Bucket List Lists
If you are looking for a luxe getaway, Jamaica is the best Caribbean island for the luxury traveler. The island nation is covered with luxury resorts to suit all needs.
For almost the entirety of existence, getting the opportunity to stay in an overwater bungalow meant heading to the South Pacific to visit Bora Bora or the Indian Ocean for the Maldives. This is a top bucket list experience for many.
But Sandals Resorts offers its guests the opportunity right in the Caribbean region – one in Montego Bay and the other in South Coast.
Jamaica is the only Caribbean island that has two resorts that offer overwater bungalows, giving luxury travelers another option for this type of experience.
If you are based in the USA, this tends to be a much closer option, but the price tag remains. However, the all-inclusive gourmet food, alcohol, and butler service are what create the elevated experience for one of the best tropical vacations.
St. Barth
Recommended by Isabella of Boundless Roads
If you are looking for an exclusive luxury vacation in the Caribbean, St. Barth is your island. Its beauty goes beyond words. This tiny and elite French island in the Lesser Antilles flaunts the European style and the Caribbean feel.
You can get there either by boat or by small planes from St Martin. With its $1000 USD a night hotels, St. Barth is the Hollywood stars' favorite destination.
However, do not despair because if you are willing to go a little off-budget, this spectacular island can also be enjoyable for us common humans, although definitely off-limits for the ultimate backpackers.
Besides the billion dollars hotels and luxury homes, you can also find cute little boutique guest houses and B&B for a relatively affordable Caribbean holiday. What is recommendable, though, is renting a car once you arrive on the island, which will allow you to explore freely and discover its hidden gems.
Although tiny, there are so many things to do in St Barts, including secluded beaches and nice hiking trails to keep you busy every day.
Stroll around Gustavia, the historical capital city, which is actually a tiny village with awesome views over the bays. Enjoy the fancy restaurants and high-end shops, and walk around the harbor to see the out-of-this-world-magnificent yachts.
You can explore St. Barts in two full days, although the spectacular beaches, swaying palm trees, and crystal clear sea will definitely tempt you to stay longer.
If you can splurge, spend a couple of nights in one of the amazing hotels, such as the incredible Le Guanahani, Sereno, or Le Toiny, for the full St. Barth luxury experience.
Bermuda
Recommended by Victoria of Guide Your Travel
With a population of just 63,000 people, Bermuda is a tiny island. Its remote location means that this island is quite expensive and definitely best suited for luxury travelers. Bermuda is a hotspot for cruise ship tourists who come here for a few days before moving on to the next island in the Caribbean.
Those who come to Bermuda for longer usually stay in upscale hotels and spend their time golfing, sailing, or laying by the beach.
Bermuda is known for its pink sand beaches that have tiny red coral particles in them, which cause the unique color. The island is also a popular scuba diving location with a lot of nearby shipwrecks that are ideal for those who like to dive.
Snorkeling is also an option, and you'll be impressed by the colorful underwater world of this beautiful island. Remember Bermuda's high prices, though, and make sure your budget is big enough for a trip to this tiny piece of paradise.
Cayman Islands
For luxury travelers, the Cayman Islands is one of the best laces to visit in the Caribbean with it's unrivaled blend of opulent resorts, world-class amenities, seven mile beach, and refined experiences.
First and foremost, the Cayman Islands boasts a collection of luxurious resorts and accommodations that offer the finest in comfort, service, and amenities. Indulge in lavish suites, private beachfront villas, or even overwater bungalows.
When it comes to fine dining, the Cayman Islands have earned a reputation as a culinary destination. Luxury travelers will be delighted by the array of gourmet restaurants, celebrity chefs, and Michelin-starred dining experiences available.
Embark on private yacht charters to explore the azure waters and secluded cays, or tee off at world-class golf courses boasting breathtaking views.
Pamper yourself with spa treatments inspired by ancient healing traditions, or take advantage of exclusive shopping opportunities at upscale boutiques and designer stores.
Best islands in the Caribbean for couples
St. Lucia
Recommended by Tori of Tori Leigh
Romantic travelers looking for a sunny Caribbean getaway should look no further than the island of St. Lucia.
Situated in the southern Caribbean, Saint Lucia offers the perfect balance of romance, luxury, and fun that most couples travelers seek. Plus, it is the perfect island for a honeymoon or destination wedding.
Saint Lucia is popular among romantic travelers because of the abundance of all-inclusive, adults-only resorts, including Jade Mountain and three Sandals properties.
Visitors don't need to leave their luxurious accommodations to experience gorgeous beaches, water activities, romantic seaside dinners, and champagne while overlooking the majestic landscape.
For those looking to venture out, Saint Lucia is home to the famous Piton Mountains, the world's only drive-in volcano, fishing villages, and coastal towns. Marigot Bay, for example, offers high-end dining, catamaran charters, and more of the island's famous coastal views.
Whether you're looking for adventure, relaxation, or fun, Saint Lucia is sure to add a romantic flair to it all.
Antigua & Barbuda
If you're dreaming of a romantic holiday, then check out Antigua and Barbuda. This island paradise is home to some of the most luxurious all-inclusive hotels and resorts in the Caribbean, perfect for a romantic getaway.
Plus, it's impossible not to fall in love with the setting of sailboats around you.
English Harbor is full of yachts you can come and admire at the docks or maybe hire a private charter out for the day. For an incredible view of English Harbour, head up to Shirley Heights viewpoint at sunset.
One of the best times to visit Antigua is during the sailing week, a week-long yacht regatta held in April. It's cited as one of the best regattas in the world and guaranteed to be a fun time!
You can also visit its sister island, Barbuda, to see incredible pink sand beaches. Antigua is regularly ranked as one the top 10 Caribbean islands, and I'd have to agree after my last visit.
Best Caribbean island to visit for families
Aruba
Recommended by Nichola of Globalmouse Travels
Aruba is a fantastic island for a family Caribbean break.
From the award-winning Eagle Beach to the seclusion of Baby Beach, there is something for everyone with beautiful warm waters and gorgeous sand.
The Arikok National Park, through the center, is perfect for walks, and you can take a guide from the visitor center based there to guide you through the cactus-filled landscape. Kids will love visiting the donkey sanctuary and the butterfly farm, both of which do so much to care for the creatures here.
There are some great family resorts in Aruba that take full advantage of the landscape, many set on the beach.
De Palm Island is another great part of Aruba with a whole host of activities on offer, from a safe version of scuba diving for kids to a mini water park.
Aruba is small enough and friendly enough to be perfect for those traveling with children and full of family-friendly restaurants and attractions.
Best Caribbean islands for relaxing
St Vincent & The Grenadines
Recommended by Abigail King of Inside the Travel Lab
The small nation of St Vincent and the Grenadines provides a tonic for all those who want to escape the big bling resorts and uncover an authentic, chilled-out Caribbean vibe.
Capital Kingstown lives on the main island of St Vincent, and the northern two-thirds of the Grenadines island chain completes the nation. What that means for travelers and locals alike is that if you want to get around, you need to be happy with small boats and planes.
The island of Mustique steals the headlines as the playground for the rich and famous, with royalty and David Bowie among the regulars who turned up for a rum cocktail and recharge.
But the other islands lie within reach of the average traveler. There's beautiful Bequia (pronounced "Beckway") with its reefs and white sand beaches. And to really get a taste of island life, head to Canouan Island and listen out for the sound of a traditional steel band.
But if you don't just want to fly and flop, don't worry. You can hike a volcano, explore SVG's colonial architecture, visit shipbuilders and model makers, or simply sail your days away.
Cat Island, Bahamas
Recommended by Jackie Gately at Enjoy Travel Life

If you're finally footloose and ready to chill on the beach with adult drinks, Cat Island is for you. Don't worry, there aren't any cats in this pristine paradise in the Bahamas Out Islands.
In fact, there really won't be anything you'll have to tend to, especially if you stay at a full-service resort like Fernandez Bay Village. You can simply sit back, put your feet in the sugar-fine sand (it's pink on one beach!), or float in the gentle waves of the warm Caribbean.
If you're feeling a little more adventurous, you'll find great options for boating, diving, kiteboarding, and fishing for Marlin! Or, hike Mount Alvernia and get a birdseye-view from the small stone monastery known as The Hermitage.
Evenings, after a moonlit dinner by the shore, head on over to the local scene at the Regatta for some Caribbean music.
So far, the cruise ships haven't caught on to this dreamy island getaway, so it's not overrun by tourism (yet). For that reason alone, Cat Island makes for an incredible getaway. And if you're an empty-nester, you may just find yourself thinking about escaping to Cat Island on a more permanent basis.
British Virgin Islands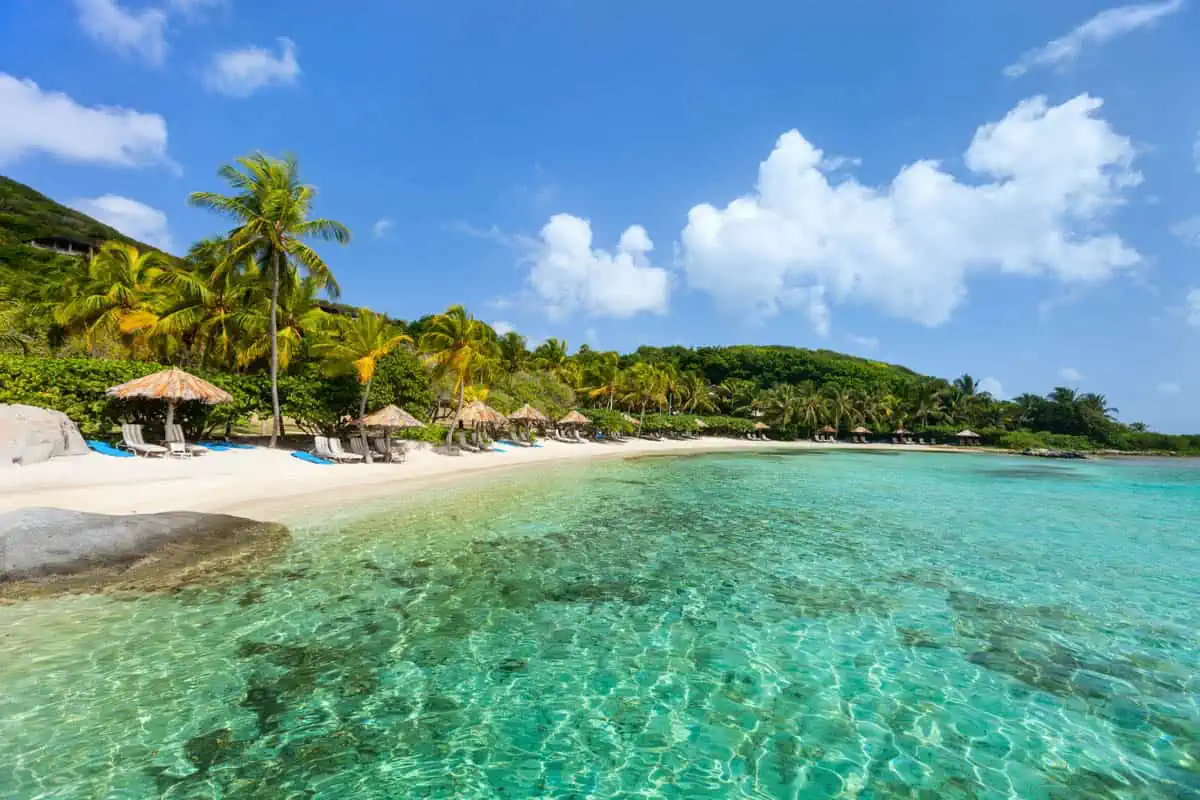 The British Virgin Islands (BVI) offer an idyllic retreat for those seeking a truly relaxing vacation in the Caribbean. With its pristine beaches, serene atmosphere, and captivating natural beauty, the BVI is the perfect destination to unwind and rejuvenate.
To start, the British Virgin Islands boast some of the most beautiful beaches in the Caribbean that make it one of the best tropical vacation spots. Picture yourself strolling along powdery white sands, gently caressed by the warm, turquoise waters.
In addition to the stunning beaches, the BVI's laid-back island lifestyle is the perfect atmosphere to unwind and disconnect from the stress of everyday life and embrace a slower pace. Whether you choose to sip on a refreshing cocktail at a beachfront bar, take a leisurely stroll through charming towns, or simply sway in a hammock while listening to the gentle lapping of the waves.
With its unspoiled landscapes, lush green hills, and breathtaking viewpoints, the BVI offers numerous opportunities to connect with nature and find inner peace. Explore the verdant trails of Gorda Peak National Park or meander through Sage Mountain National Park, soaking in the serenity and enjoying panoramic vistas.
Best Caribbean island for off-the-beaten-path travelers
Dominican Republic
Recommended by Chris from Punta Cana Travel Blog
The Dominican Republic is the perfect island for road trips in the Caribbean for several reasons.
First of all, the Dominican Republic is large enough for a road trip of multiple days or weeks – even when touring for around three weeks, you won't get bored. You can see around a dozen different regions.
Second, there are so many amazing things to see on a Dominican Republic road-trip.
It doesn't matter if you are looking for pristine beaches (check out Bahía de las Águilas), secluded waterfalls (Salto de la Jalda is an adventure by itself), picturesque fishing villages (Punta Rucia is my favorite), wild animals (in the Southwest you can see flamingos, birds and giant lizards), soaring mountains (the Cordillera Central with more than 10000ft altitude), historic sites (Puerto Plata is beautiful) or lush vegetation (Samaná is like heaven for road-trips) – you can find it all.
The roads are in pretty good shape, considering that we are talking about a developing country. You just have to deal with some crazy drivers, but if driving defensively, this won't be a problem.
Unfortunately, it is difficult to impossible to take your rental car across to Haiti, but the Dominican Republic will keep you entertained and is perfect for a Caribbean road trip.
As a bonus, the Dominican Republic is one of the most affordable countries to visit in the Caribbean.
Haiti
Recommended by Rai of a Rai of Light
Haiti, found between the Caribbean Sea and the North Atlantic Ocean on the island of Hispaniola, offers the chance to experience beautiful scenery, interesting history, a vibrant culture, good food, and one of the cheapest tropical vacations.
This tiny, tropical country has an interesting past as the only nation to achieve freedom as a result of a revolution by an enslaved population. It also hosts a rich culture that is unique in the region.
Home to miles of amazing beaches and blue waters, the tropical climate guarantees inviting weather and a whole lot of sunshine throughout most of the year. Despite a turbulent past and a number of natural disasters, many of Haiti's sights remain intact.
Highlights of a visit include Citadelle la Ferrière, a mountaintop fortress, the ruins of Sans-Souci Palace, and Champs De Mars. Don't miss seeing the resort town of Labadee and the blue waters of Bassin Bleu.
As the cheapest island to visit in the region, Haiti attracts both the adventurous traveler as well as the budget backpacker looking to get off the beaten path.
Cuba
Contributed by Linn Haglund of Brainy Backpackers
Cuba might not be at the top of your mind when you think about sustainable tourism, but it is definitely a destination that needs mindful travelers to visit.
There is not much you really know about Cuba before you get to the country, as the government controls a lot. But once you get there and take the time to chat with the locals, you soon realize what they need.
They need travelers that come and stay in Casas Particulares, that take shared, private taxis, that eat in local restaurants. They need all the economic support they can.
Most hotels are government-owned. The employees don't get much paid. There are government-owned taxis and public transport too. The way the country is run, not much money goes to the actual people if you choose these alternatives. And the employees won't tell you much either.
But take your time and use the private options that are out there. They still pay a whole lot to the government, but they get a share to support their families.
They are usually super friendly and can give you a real picture of how it is to live in Cuba, their real struggles, and how you, as a traveler, can do your part to support those who need it.
San Andres
Recommended by Bailey from Destinationless Travel
Few Caribbean islands are as budget-friendly as San Andres Island. San Andres Island is the perfect destination for backpackers as it is easy to get to from the typical South American "backpacker route" and, comparably speaking, cheap.
San Andres Island technically belongs to Colombia; however, its location is very remote in the Caribbean, and geographically the island is actually closer to Nicaragua. The only way to get to San Andres is to fly.
Flights are frequent and cheap from popular tourist destinations in Colombia, including Cartagena and Bogota. You can easily find a return flight for less than $150 USD.
The cheap flights make San Andres a popular weekend destination for Colombians, and in turn, the accommodation and restaurants are pretty affordable here and suitable for budget backpackers (yes, there are even hostels on this gorgeous Caribbean island!)
The island has a 26-kilometer-long ring road all the way around it that basically leads from one pristine beach to the next. One of the best ways to get around the island is to rent a buggy, golf cart, or motorbike and explore as much as your heart desires.
You can scuba dive at beaches, snorkel, explore smaller islands that are reached by sandbars, visit waterparks, bars, and so much more!
FAQ: Best Caribbean islands to visit
What are the best Caribbean islands to visit?
Barbados, Jamaica, Antigua and Barbuda, and Puerto Rico, each offering unique experiences and attractions.

What are the best Caribbean islands to visit on a cruise?
Barbados, the Bahamas, St. Maarten, Puerto Rico, and the U.S. Virgin Islands, as they offer convenient port facilities and a variety of shore excursion options.
What are the best Caribbean islands to visit in December?
The best Caribbean islands to visit in December are Aruba, the Dominican Republic, St. Lucia, and the Turks and Caicos Islands, as they typically enjoy warm weather and are less prone to hurricanes during this time of year.
What are the best Caribbean islands for a relaxing vacation?
The British Virgin Islands, Anguilla, Turks and Caicos, and St. Kitts and Nevis, known for their serene atmosphere, stunning beaches, and laid-back island vibes.
What are the best places to go scuba diving in the Caribbean?
The best places to go scuba diving in the Caribbean are Grand Cayman in the Cayman Islands, Cozumel in Mexico, Bonaire in the Dutch Caribbean, and the Bay Islands of Honduras (Utila, Roatan, and Guanaja), known for their vibrant coral reefs, diverse marine life, and excellent dive sites.
Which Caribbean island has the best internet?
When it comes to internet access, Barbados, Bermuda, and the Cayman Islands are often considered to have some of the best internet connectivity in the Caribbean, with reliable and high-speed internet services available to residents and visitors alike.
There you have it, the best Caribbean destinations for every type of traveler! Which island would you love to visit?
Enjoyed this post? Pin it for later!