This post may contain affiliate links. By clicking and making a purchase through the links, I earn a small commission at no extra cost to you. This and display ads allows me to keep the site up to date and give back. Thanks for reading!
While most Caribbean islands are known for their fantastic white-sand beaches, Dominica is slightly different. What makes Dominica unique isn't the country's coastline. In fact, many of Dominica's beaches consist of dark volcanic sand or rocky shores. Instead, it's the epic waterfalls, volcanoes, hot springs, and hiking trails that make this country special.
That said, if you want to relax on beaches during your time in Dominica, you'll be able to do that too. They are just a little harder to find – but no worries, I've rounded up the best beaches in Dominica to make it easy for you!
Best Beaches in Dominica
1. Purple Turtle Beach
Purple Turtle Beach is in the north of the island near Portsmouth, the second largest town on the island. The beach boasts golden sand and warm and blue waters. It's a great place to watch the fisherman come in with their catches and maybe buy some for yourself!
There are also a few beach bars and restaurants along the shore where you can grab local Dominican cuisine and enjoy the stunning sunsets. Nearby is Cabrits National Park, which was sadly closed while I was there but I've heard it has some nice beaches to explore.
2. Mero Beach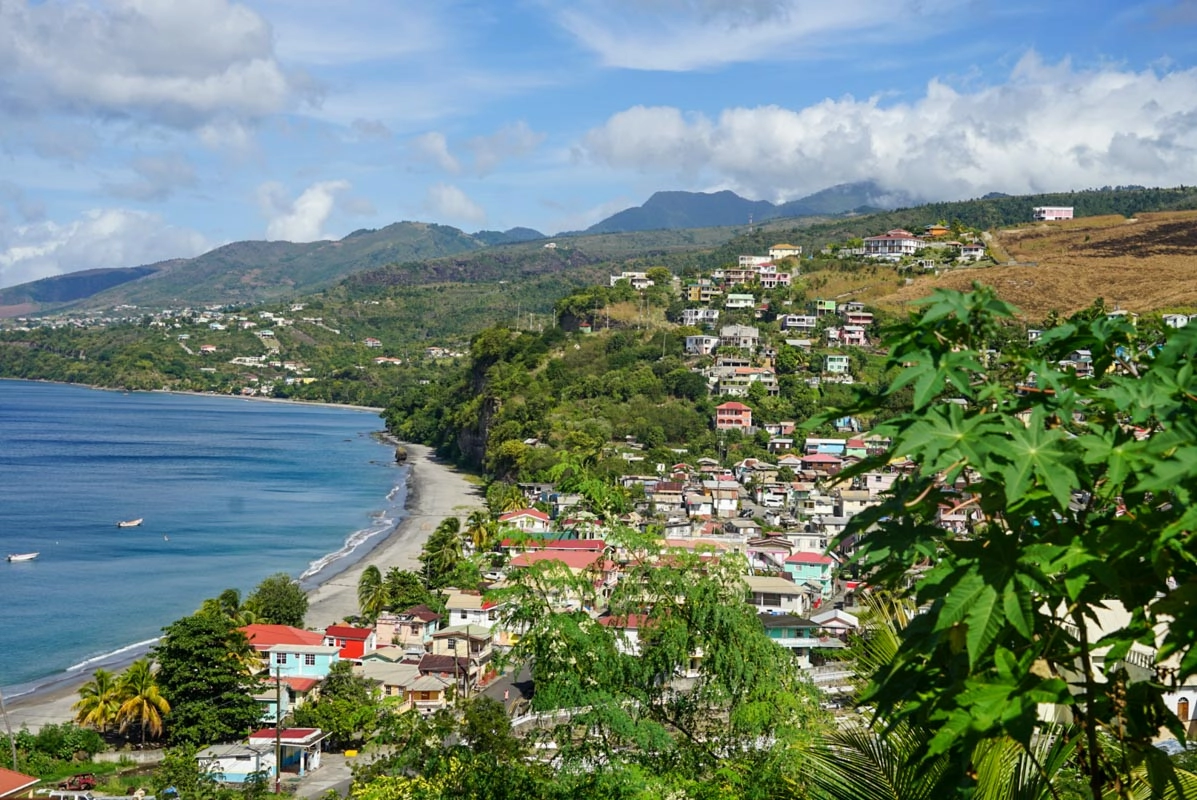 Mero Beach is one of the most popular beaches in the country for several reasons. It's an exception to the island's rocky beach landscape – although the sand is black here, it's soft and perfect for relaxing on. It's also close by to many popular beach resorts and not far from the capital city Roseau making it a popular afternoon trip.
The beach is lined with bars, music, and tasty restaurants, making it a perfect place to embrace the local Dominican culture and have some fun with locals.
3. Batibou Beach
Batibou Beach is easily one of the most beautiful beaches in Dominica, but you'll have to work to get here. It's on the rougher, Atlantic coast in the northern half of the country. As you're driving along the windy roads, you'll see the beauty of Batibou Beach appear from above, but it's not apparent how to get down there. That's because there is no road straight to the beach. Instead, you'll have to park your car on the side of the road and hike 15-minutes down through the jungle to reach the beach.
This north coast beach was a filming location for "Pirates of the Caribbean," and you'll see why once you get down there. While it's scenic, rough surf makes this beach more for admiring than swimming. That said, it's one of the few places you could try and surf in the country if the winds are in your favor!
4. Number One Beach
Nearby Batibou Beach on the northeast of the island is Number One Beach. It's another moody black-sand beach fringed by coconut palms. The waters are strong here too, so it's not suitable for swimming either. It's about a 15-minute walk down from the road through a muddy path – about 2km from Calibishie.
5. Toucari Beach
Toucari Beach is a lovely black sand beach in the north of the island, about a 15-minute drive from Portsmouth. The sunsets are beautiful here!
While visiting Toucari Beach, you must eat at Keepin'It Real Beach Bar. This was hands down my favorite restaurant that we ate at on the island. They do fresh seafood served with local Dominican sides – it's so delicious. The vibe here is just nice, it's a cute beach bungalow perfect for watching the sun go down after a day of playing in the sand.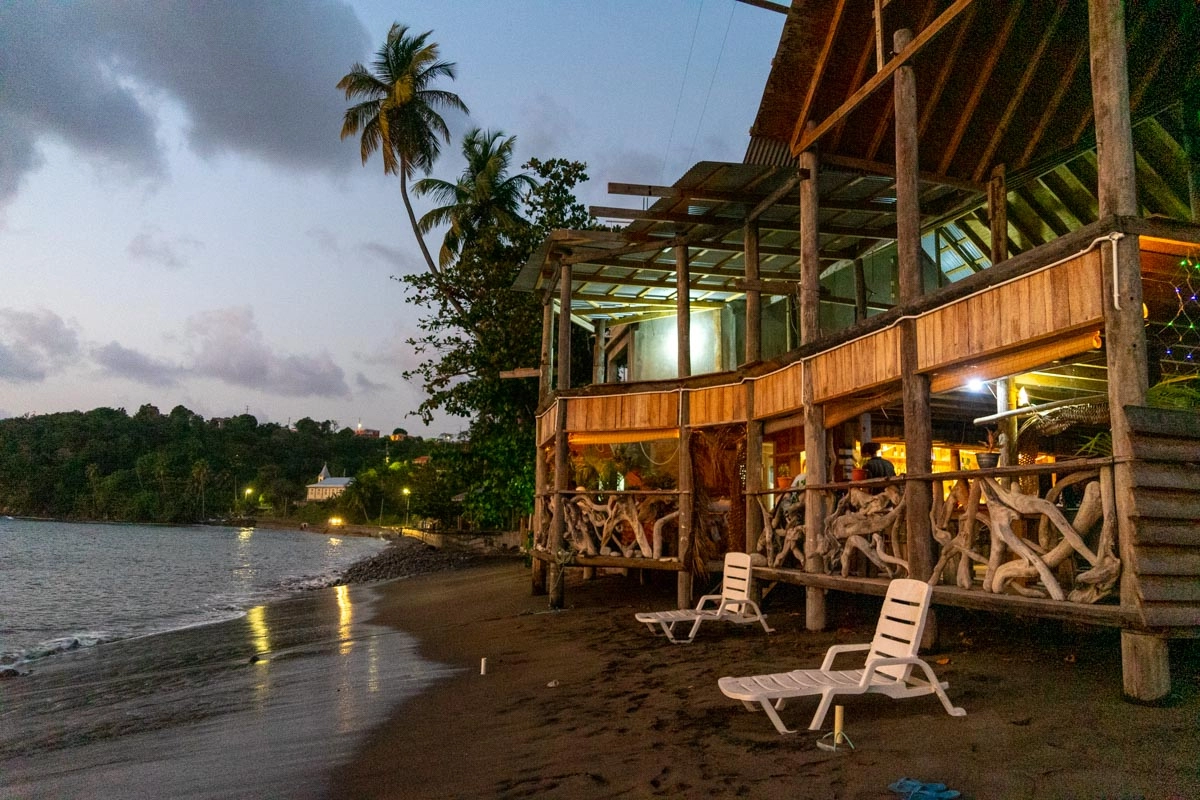 6. Point Baptiste
At Point Baptiste, you can find both white and black sand beaches along with gorgeous views out to the sea where you can see as far as neighboring Guadeloupe. It's nearby to Dominica's famous red rocks, as well as the Point Baptiste Chocolate, where you can stop in for a tour afterward!
7. Champagne Beach Dominica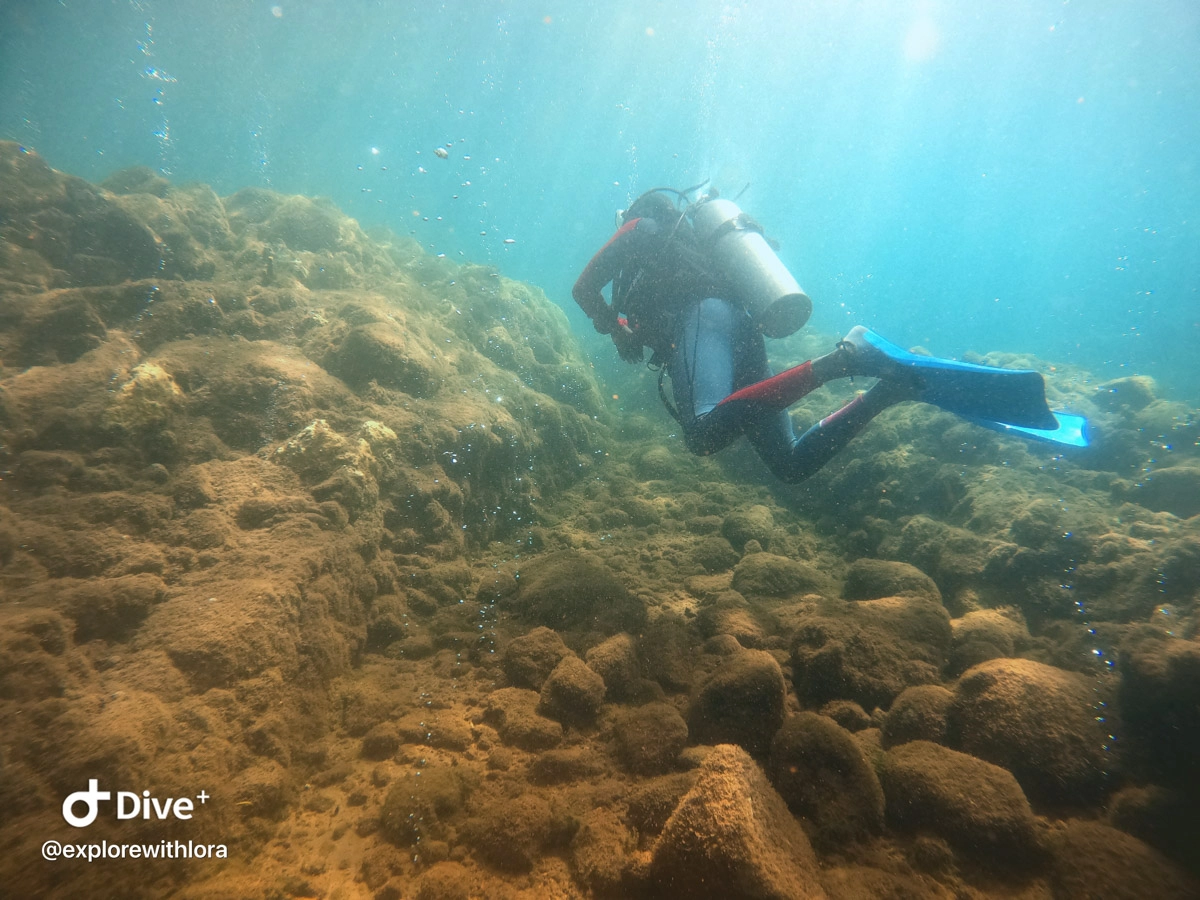 Champagne Beach is one of the best scuba diving and snorkeling sites in the country. The beach is named for its bubbling waters that surface from the hot spring vents on the ocean floor. Meaning that when you go swimming here, you'll float through warm bubbles as if you're in a champagne glass!
The warm water attracts local marine, making this a great place to go snorkeling with tropical fish. We even saw an eagle ray here! If you're a diver, be sure to go scuba diving here as you can fully immerse yourself in the bubbles and touch the hot spring vents. It's such a unique experience!
The beach itself is a long stretch of black sand, rocky at parts. Some of it is soft though, so bring a towel and layout for the afternoon and enjoy the surrounding scenery.
8. Scott's Head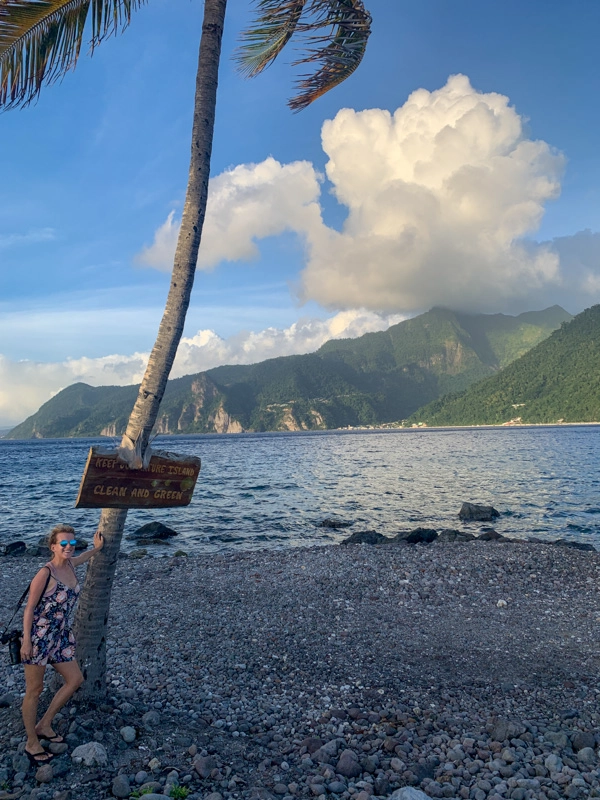 This narrow beach leads up to one of the prettiest viewpoints in Dominica. It's a small peninsula that divides the Atlantic Ocean and the Caribbean Sea. Although the beach itself is rocky and not ideal for lounging, it's worth visiting here and hiking up to the top of Scotts Head, where you'll get an aerial view of where the two seas meet. The surrounding ocean is also a popular spot for snorkeling!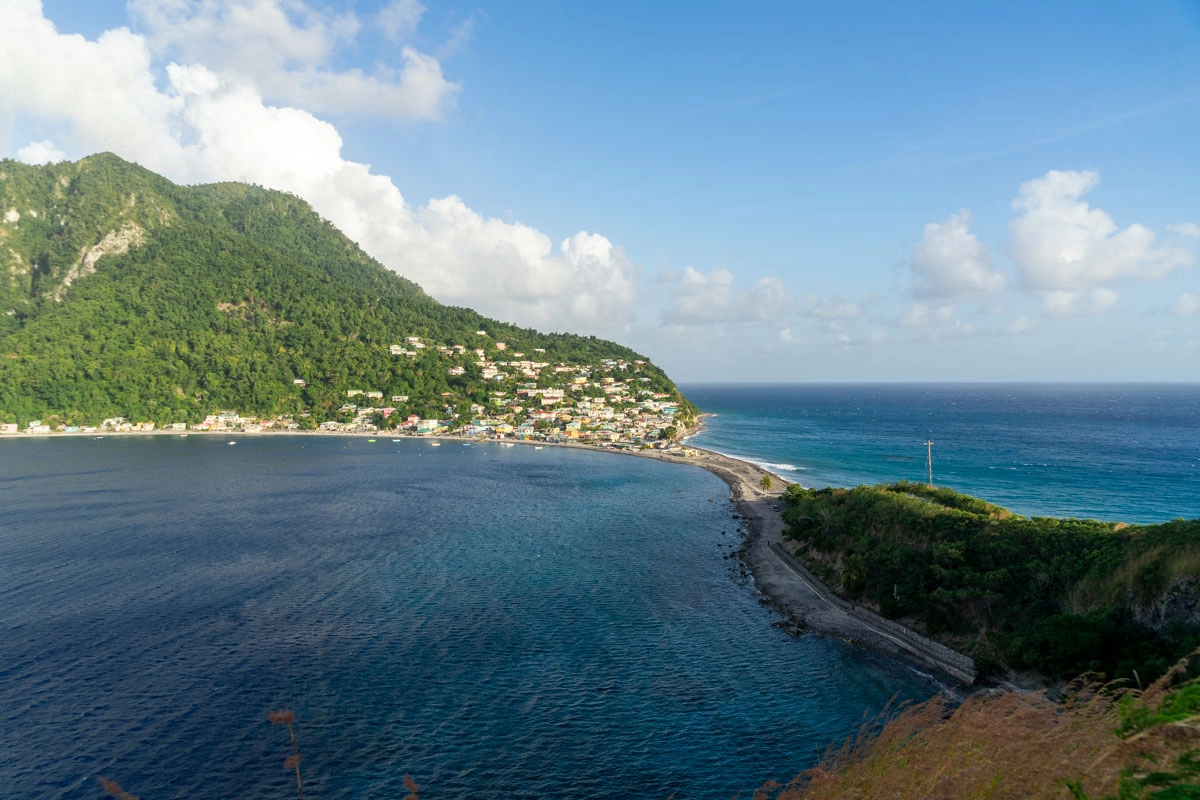 9. Soufriere Bay
Soufriere Bay is south of Roseau, about a twenty minutes drive. It's one of my favorite places in the country, with beautiful scenery. Although the beach is rocky, the sunset are still quite nice from here. It's also the best place in Dominica to go scuba diving and free diving – which I got to try for the first time during my trip!
Along the pebbly shore in Soufriere is one of my favorite 'hot spring' experiences in Dominica. It's called Bubble Beach Spa, and what they've done is trapped the geothermal-heated water by makeshift rock borders to create a unique spa experience. There's a bar there as well so you can kick back with a local drink and soak in the hot water. It's very relaxing and free to use if you get a drink.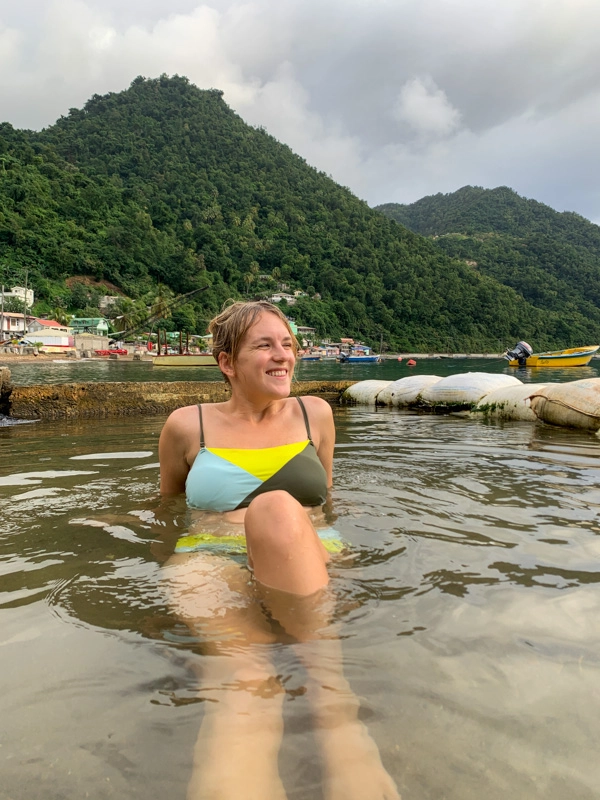 What to do in Dominica beyond the beaches
If you are coming to the Caribbean to relax on beaches, Dominica's probably not the best Caribbean island for you. Instead, I would go to Barbados or Antigua. However, if you're looking for lots of adventure with a side of beaches – then Dominica is a great choice!
While visiting the island, be sure to check out some of the fantastic hiking trails. There are trails for all levels, from one-hour easy loops to full-day adventures like boiling lake. My other favorite thing to do in Dominica is swim in waterfalls! With a river for every day of the year, you could easily swim in a new waterfall for every day of your trip. Dominica is also an incredible place for marine life – whether you want to encounter marine life while scuba diving or go out whale watching for sperm whales.
There you have it, 9 unique beaches to explore in Dominica. Did I miss any amazing beaches in Dominica that should be on this list? Let me know in the comments below so I can add them!
Planning a trip to Dominica? Check out these posts!
Enjoyed this post? Pin it for later!