This post may contain affiliate links. By clicking and making a purchase through the links, I earn a small commission at no extra cost to you. This and display ads allows me to keep the site up to date and give back. Thanks for reading!
As the nature isle of the Caribbean, it's no surprise that there are dozens of gorgeous hikes in Dominica.
With nine volcanoes, 365 rivers, countless waterfalls, and 2/3 of the country covered in rainforest to say Dominica is lush would be an understatement.
Whether you're looking for a short and sweet easy hike or a full-day adventure, this post will help you find the best Dominica hiking trails so you can have an amazing vacation!
Note that many of these hikes are tourism sites that require a pass. You can buy an individual site pass for 5 USD or a weekly pass for 12 USD that gets you into most natural attractions on the islane. That's a phenomenal price considering what it gives you access to.
Easy Hikes in Dominica
1. Trafalgar Falls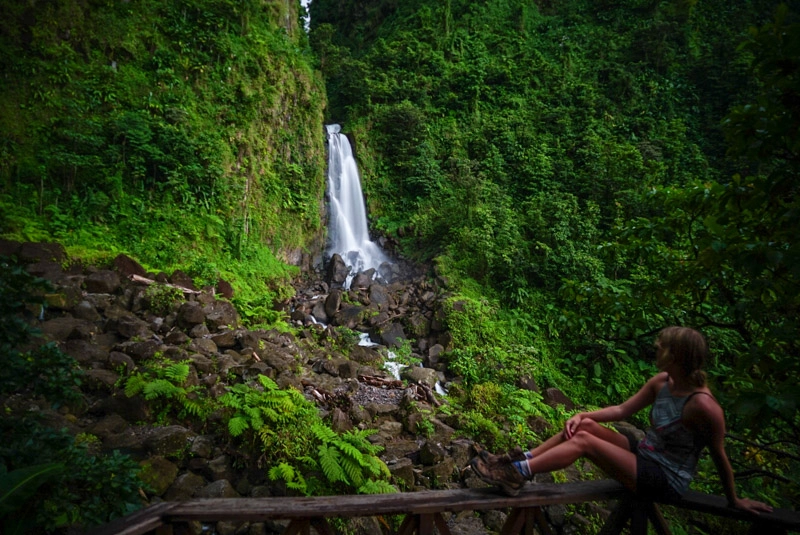 Trafalgar Falls is one of Dominica's most popular hikes, given that it's an easy to access and close by Roseau valley.
From the parking lot, An easy, 10-minute paved trail takes you to a viewing platform where you can get a gorgeous view of the two twin waterfalls.
Mother is the right falls, and father is the left. If you want something more challenging, you can hike up to mother falls by scrambling over the boulders.
It's not easy, but so worth it as you can swim under the waterfall and there are secret hot springs at the top!
If you're hungry afterward, stop in to Rick Rock Cafe & Bar on the road just before the falls. They've got a gorgeous view and delicious food.
Time required: 10-15 -minutes each way if you're just going to the viewing platform. Add at least an hour more each way if you're bouldering to the pools.
2. Emerald Pool Falls Dominica
Emerald Pool is a short rainforest walk on a well-maintained trail to a waterfall. It's just 15-minutes to the viewing platform, where you'll see the 40-foot waterfall that feeds into a gorgeous, clear emerald pool of water. It's easy to access the water, so jump in for a refreshing dip.
Time required: 15-minutes each way.
Tip: This is a top attraction for cruise ship tourists, so plan to go later afternoon if you're visiting during this season to avoid the crowds.
3. Jacko Falls
Jack Falls is just a two-minute walk down a set of well-constructed stairs to a waterfall. It's privately owned property, so there's a small entrance fee (although no one was there to collect it when we visited in 2021).
The waterfall is lovely to swim in, and there's a rock in the water that makes an excellent place for photos.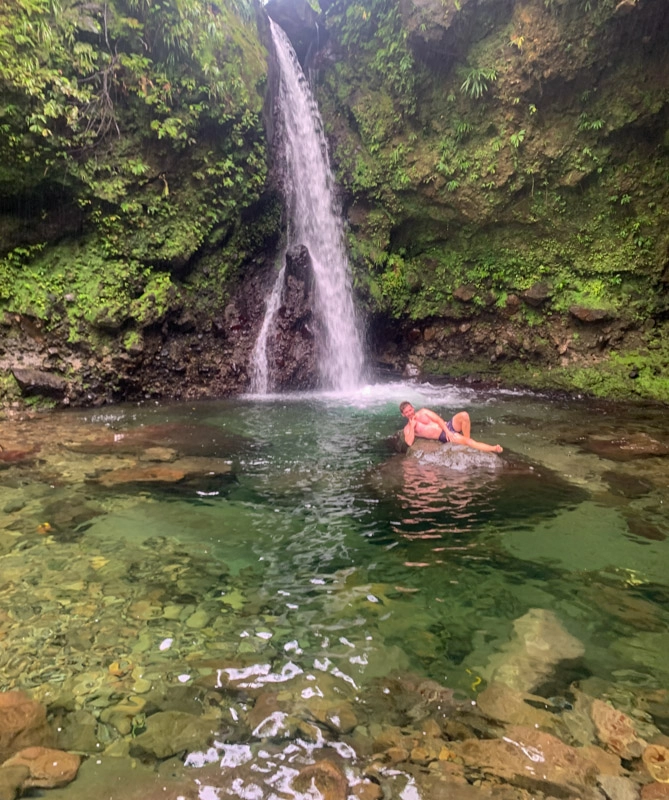 It's close by to Spanny Falls and Emerald Pool, so the three together make for a fun afternoon or morning in Dominica.
Afterward, stop into Zeb's bistro for lunch which you'll pass by driving to the falls trailhead. It's a wonderful French restaurant, but they are only open from 12-3.
Time required: It depends on how long you swim, but the walk down is not more than 5-minutes each way.
4. Spanny Falls
Spanny Falls is a short and easy hike to a small waterfall that you can swim in. You have to pay an entrance fee at Spanny's Bar, as the trail is on private property. From there, it's an easy 10-minute walk down to the falls.
I found out after that there is a second waterfall above the first one – it's a rope-assisted scramble up and over a ridge to get there. We didn't know about it, but it sounds like a fun adventure!
Time required: 10-minutes each way
5. Scott's Head Viewpoint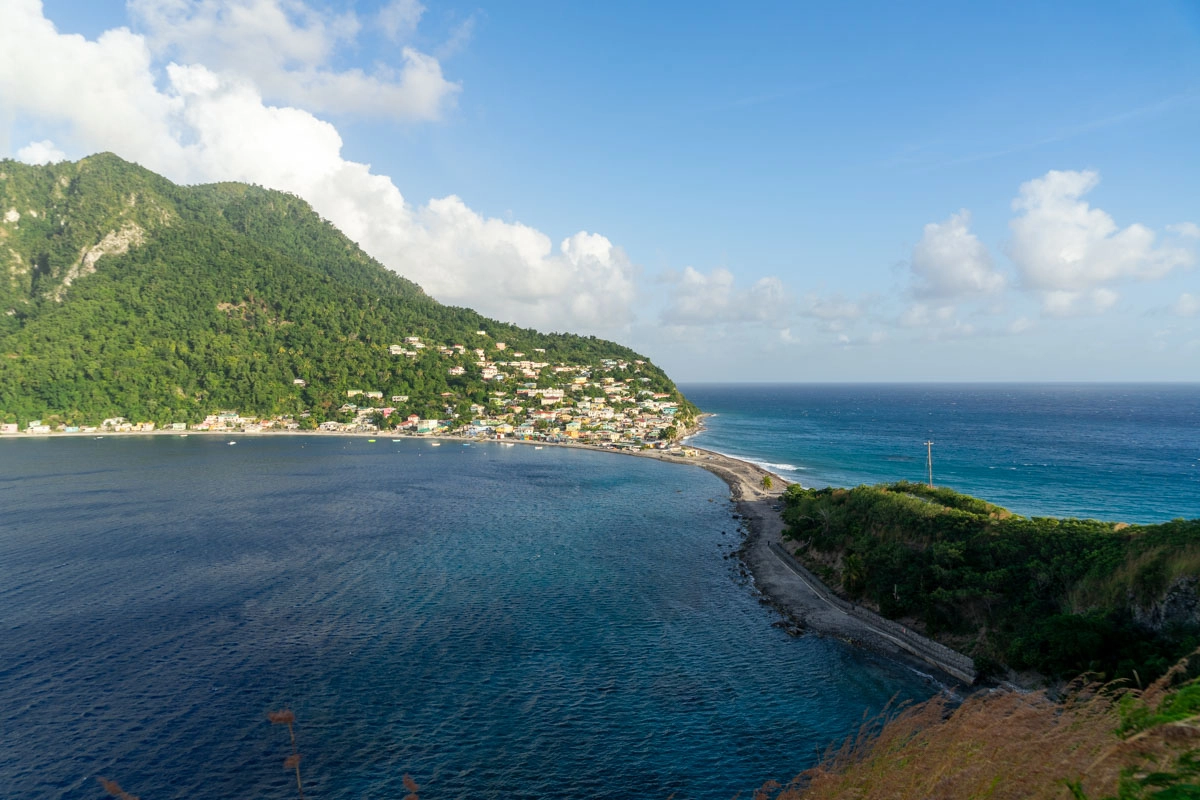 The view on top of Scott's Head was one of my favorites in Dominica – it's where you can see where the Atlantic Ocean and the Caribbean Sea meet.
It's a 15-minute hike up to the top from the village of Scott's head, where you'll get stunning views of Soufrière Bay — one of the most popular diving spots in Dominica. It also marks the beginning of the Waitukubuli National Trail!
Time-needed: 15-minutes each way
6. Chaudiere Pool
This is an easy 15-minute hike to a nice swimming pool. What's more challenging about visiting Chaudiere Pool is the drive here.
The road is in rough shape, and although we started driving it in our 4×4, we ended up parking the car half way down and walked the rest of the way for fear of busting a tire!
The walk itself is easy though, I did it with a half-busted foot from when I went bouldering up Trafalgar. And the pool is so refreshing to swim in! What's neat about this pool is that it's deep enough that you can jump in from the rocks above.
Time needed: 15-minute walk each-way
7. Roseau Botanical Gardens
If you're just looking for a light stroll where you can see some of the flora in Dominica, visit Roseau Botanical Gardens right in the city centre. There's also the Papillote tropical gardens you can visit in Morne Trois Pitons National Park.
8. Syndicate Falls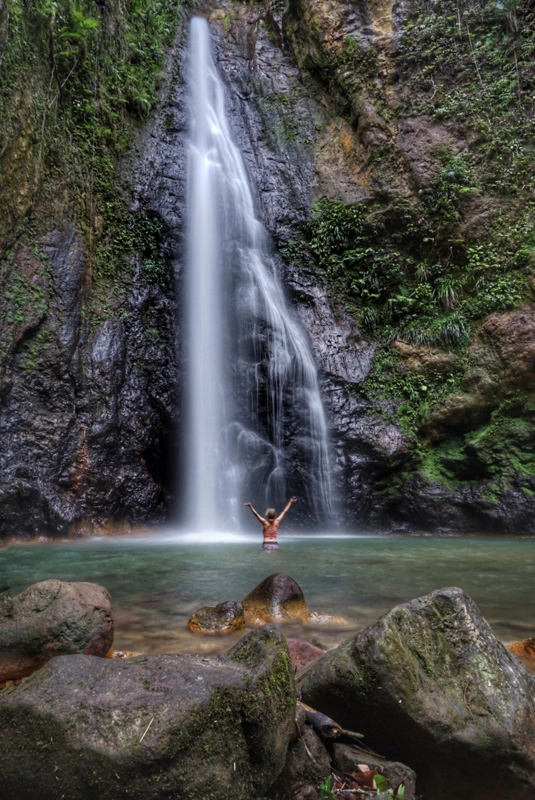 Syndicate Falls is an easy hike to a gorgeous waterfall in the north of the island. The trail is easy to follow, although there are a few shallow river crossings. Look out here for parrots as this is one of the best places in the country to see them.
At the end of the trail you'll reach Syndicate Falls, where you can take a refreshing dip.
Time required: 1-hour round-trip, add in more time if you want to swim at the end.
Tip: The trailhead is close to Syndicate Nature Trail, so the two combined make for a great day trip.
9. Syndicate Nature Trail
The Syndicate Nature Trail is a popular trail for bird enthusiasts, as you're almost guaranteed to see parrots here. It's an easy loop trail that's nearly all flat.
Along the way, there are viewpoints where you can look out into the vast rainforests. This trail is a great place to see the various flora and fauna of Dominica.
You'll see some damage from hurricane Maria, but it's incredible to see how resilient nature is and how much of the forest has already rebuilt itself. The trees are massive on this trail!
Time required: one-hour round trip
Moderate Dominica Hikes
10. Boeri Lake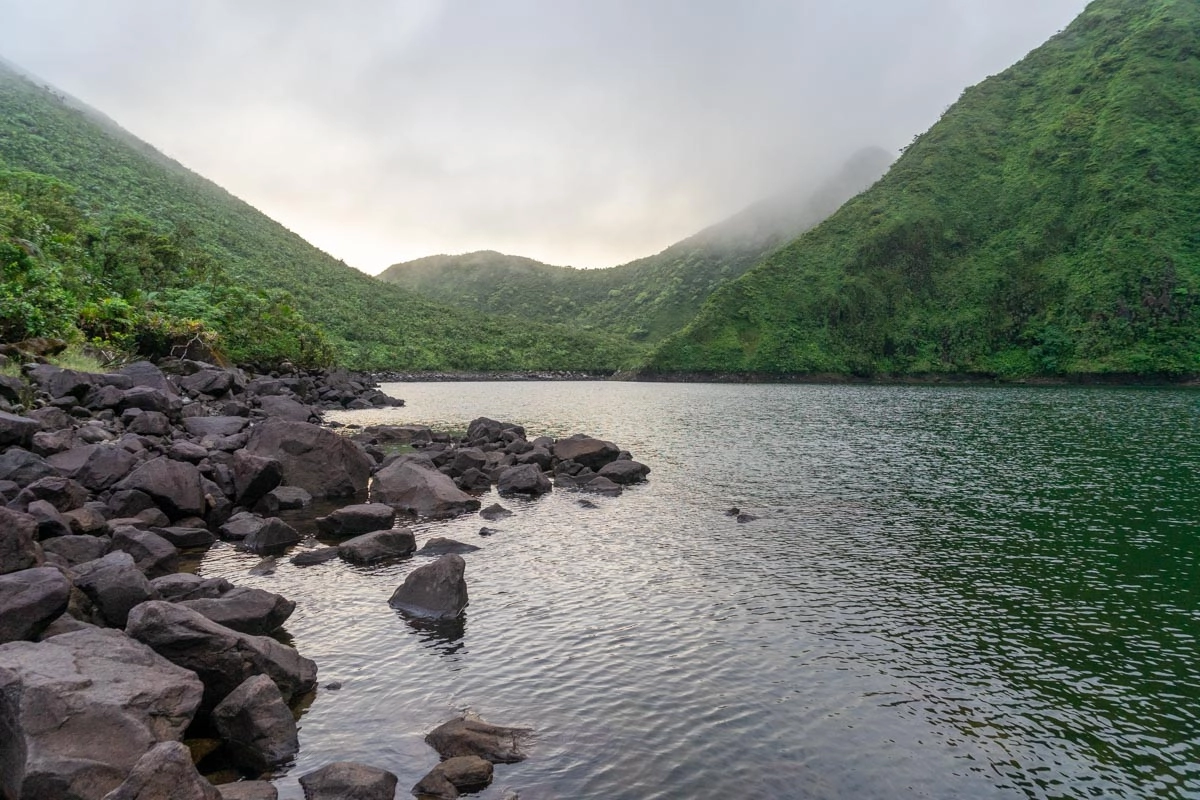 Another trail within Morne Trois Pitons National Park, Boeri Lake is a moderate 45-minute one-way hike that takes you to Dominica's highest crater lake at an elevation of around 850m. You can drive to the trailhead, where there is a large parking lot.
The trail is well marked with a sign, and it's a steady climb to the lake.
The views along the way are gorgeous, but the terrain is rocky, so be careful if it's recently rained (which it often does in Dominica)! It's a tranquil place to hangout, easily one of the most beautiful Dominica lakes.
Time required: 45-minutes each way.
11. Freshwater Lake
Freshwater Lake is a beautiful lake in Trois Pitons National Park. You can drive straight to the lake, but there's also a moderate loop trail that goes around it. If the weather is clear, it offers gorgeous views of the volcanoes in the park.
However, the lake's elevation and location on the spine of the island means that the weather is often cloudy and wet, so your chances of getting a clear view are slim.
Don't be fooled by the weather below – many times we drove up here from a bright and sunny day in Roseau only to enter clouds as we climbed up the road.
Time required: 1-hour round-trip
12. Victoria Falls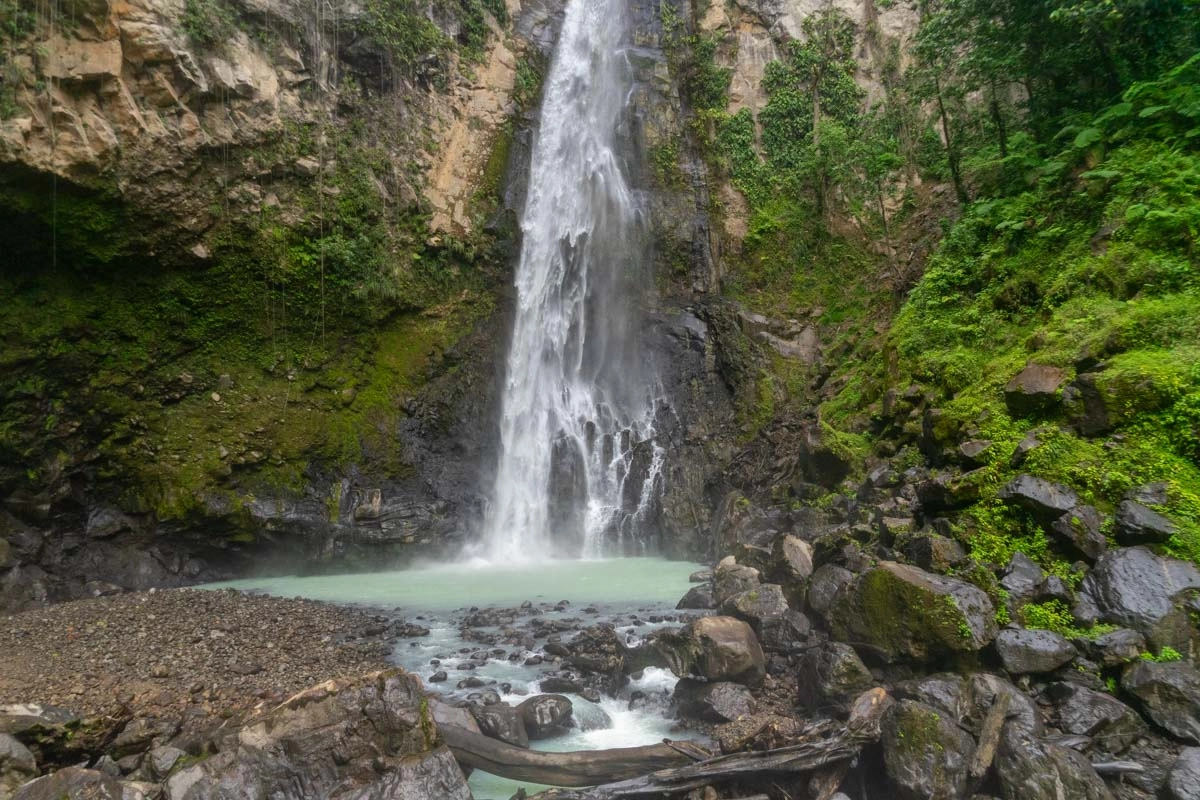 Out of all the waterfalls in Dominica, Victoria Falls is one of the most unique due to the gorgeous milky blue color in the river then runs to the fall.
The trail itself is tricky – it's a combination of land and river trails with several crossings and scrambling over boulders.
We didn't have a guide as I was with a friend who had previously done the hike and knew the way, but I wouldn't have been comfortable doing this hike on my own.
We also got yelled at by a local for not having a guide as the start of the trail goes by some private property. There is a local guide who lives by the parking lot for Victoria Falls who can take you.
You can go swimming in the waterfall but it's pretty powerful so be careful if it's been raining a lot.
Time required: 2-hours at least round-trip. More if you want to swim.
13. Middleham Falls Dominica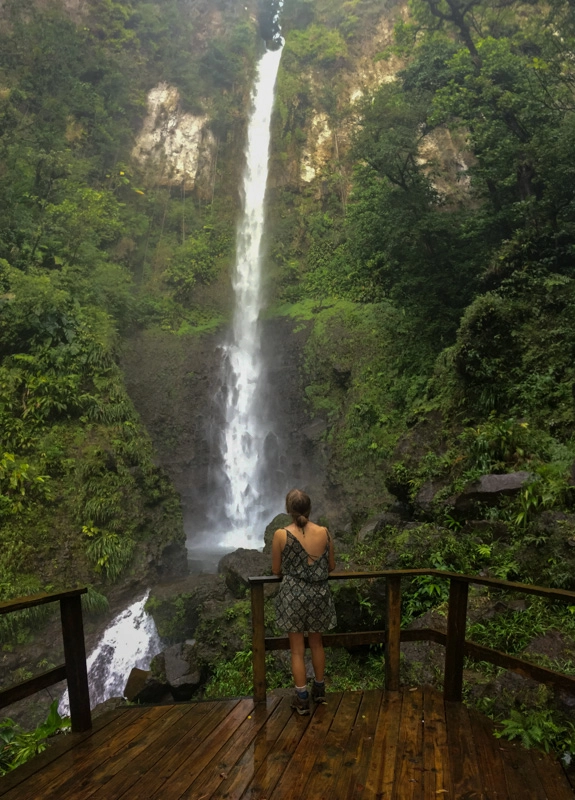 Even though I hiked the Middleham Falls trail in the rain, it was still one of my favorite hikes in Dominica.
The trailhead is inside Morne Trois Pitons National Park. The road there is very rocky, so you'll want a 4×4 if you're going on your own. Many people also choose to hire a guide for this hike, although we did it without one.
The trail begins with a river crossing and a steep uphill climb that levels off into the rainforest and then descends sharply into a river gorge.
The trail isn't overly challenging until it gets closer to the waterfall where it can be VERY slippery (especially if it's raining).
Once we arrived at Middleham Falls, I couldn't believe it. Standing high at 200m in the middle of the rainforest, it felt like I was Indiana Jones discovering it for the first time!
There's a platform to take photos, and you can also scramble down boulders to go swimming in the pool. Unfortunately, we couldn't as it had been raining a lot and the current was strong.
Time required: Plan to spend 2-3 hours here. It took us an hour to get there as it was so slippery going down and about 45 minutes to get out.
14. Sari-Sari Falls
Sari-Sari falls is the hike that got me lost in the jungle. A guide is recommended which I did not listen to, but now I can see why.
The journey to Sari-Sari falls combines forest trail, river, and boulders. The trailhead is not obvious at all.
You have to descend through the jungle down a steep path, then climb over boulders through the river to the falls. Although we did end up finding the trail and the waterfall without a guide, we got lost on the way out and almost got stranded in the jungle.
All that said, the waterfall is stunning and I still really enjoyed the hike until the end. Just get a guide unless you are very confident in your navigation abilities!
Time required: 2 hours round-trip if you don't get lost.
Challenging Dominica Hikes
15. Morne Diablotins
Morne Diablotin is Dominica's highest mountain and one of the most challenging hikes – but also offers one of the most rewarding views if the clouds are kind to you!
The terrain is very steep and requires upper body strength as you must climb through trees and over boulders. If you're looking for challenging hiking in Dominica, More Diablotin may be just the hike.
The trailhead is in Morne Diablotin National Park, on the way to the Syndicate Nature trail.
Time required: Minimum of 6 hours.
16. The Boiling Lake Dominica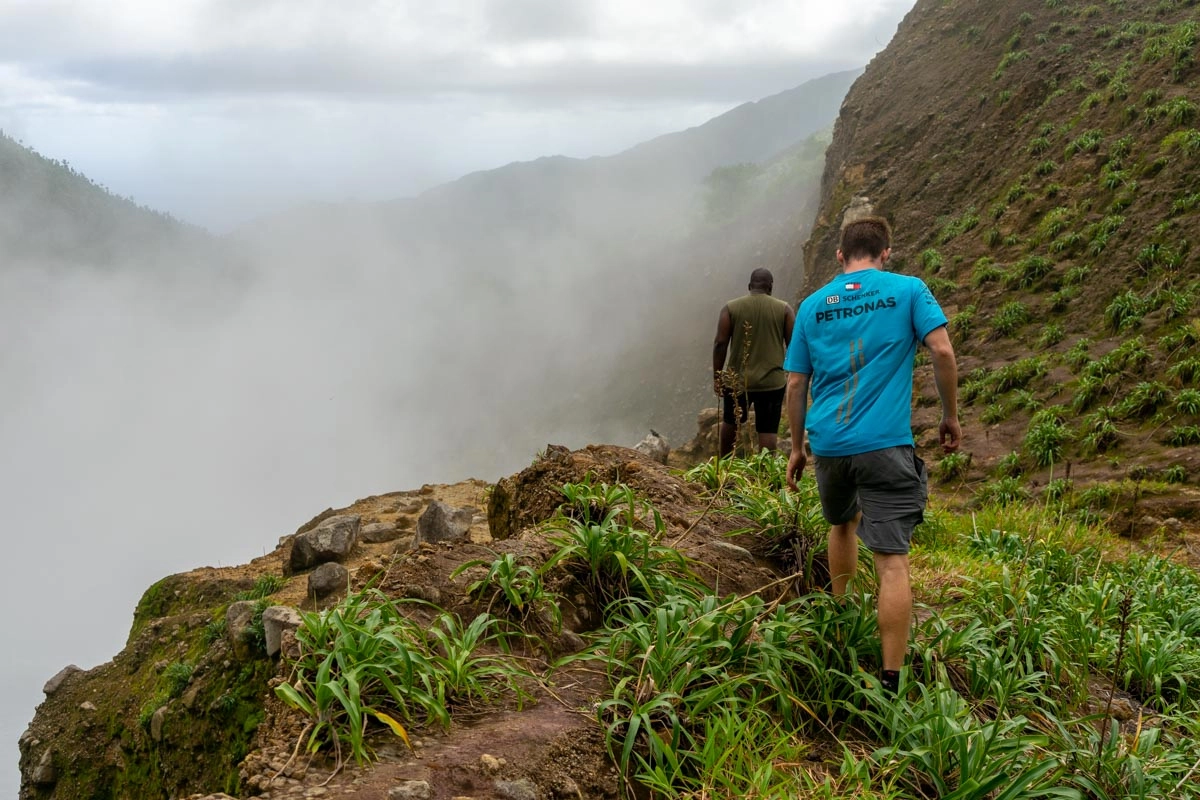 If you can only do one hike in Dominica, make it Boiling Lake. It's Dominica's signature hike and takes you through many different landscapes.
The Boiling Lake hike starts from Titou Gorge, taking you through the rainforest up to a gorgeous mountaintop viewpoint where you can get 360-views of the island, including the capital city Roseau.
The trail then descends into the Valley of Desolation, where you'll be surrounded by bubbling pools and hissing vents letting out steam. It's an incredible place to walk through, but you need to be careful here as people have severely burnt themselves walking into boiling water.
This is why a guide is recommended for this hike which I would concur with – it's the only hike in Dominica I got a guide for.
The last quarter of the hike takes you past gorgeous blue pools of water and finally onto a ledge where you'll be overlooking the second-largest boiling lake in the world. This is a great place to enjoy a well-deserved lunch and sit and take in the views.
The lake has a center-boiling point, and steam rises from it. I loved watching the steam roll in and off the lake from the wind – it's one of the most unique experiences to have in Dominica. On the way back, jump into Titou Gorge for a refreshing dip. 
Time required: Minimum 6 hours if you hike quickly (it took us 8). Check out my full post on the boiling lake for more tips on completing this hike.
17. The Waitukubuli National Trail Dominica
Dominica's Waitukubuli National Trail is the only long-distance hiking trail in the Caribbean.
It's a joined-up series of 14 hike segments that run from Scotts Head in the south of the island to the Cabrits National Park in the north, covering almost 200km (124 miles) and showcasing Dominica's diverse natural habitats.
The whole route takes about two weeks to complete. Camping is not permitted to protect the local ecosystems, but there are eco-lodges and B&B's en route. A hiking pass is required for the WNY, which can be purchased on the website.
When I was visiting Dominica in January 2022 many sections of the trail were closed for repairs, so be sure to check in advance if you're planning a trip here to do the entire hike.
While hiking the trail in its entirety would be an incredible experience, it's not necessary. The trail is broken into 14 trail segments, many of which can be done as day hikes. Section 1 is a popular choice, which takes you from Scott's Head to Soufriere (approx 4 hours).
***
There you have it, 17 amazing hikes in Dominica! Did I miss any amazing Dominica hikes? Let me know in the comments below!
Enjoyed this post? Pin it for later!
Planning a trip to Dominica?