This post may contain affiliate links. By clicking and making a purchase through the links, I earn a small commission at no extra cost to you. See my disclaimer for more information. This and display ads allow me to keep the site up to date and give back.
If you're a new digital nomad planning to hit the road in 2022, the coming black Friday and Cyber Monday sales are the perfect time to stock up on the things you'll need for the road.
Love it or hate it, Black Friday (Nov 26th) and Cyber Monday (Dec 29th) are a great time to find deals on just about anything. These days, the two seem to have morphed into one big week of sales, with many traditional retailers now having their products sold online. The best part about this? All of these deals can be obtained from the comfort of your pajamas at home. No tackling required!
Deals on Digital Nomad backpacks
Aside from your laptop, choosing the right digital nomad backpack is one of the most important investments you'll make! And I say investment because this is not something you want to cheap out on. You'll be living out of the bag, so you want one that's durable and comfortable.
I'm a huge fan of the Nomatic Brand, which made the 40L travel backpack that I use. They are having a huge black friday sale right now, with many bags and accessories up to 50% off! So if you're in the market for a new travel bag or accessory, this is a great time to buy.
Deals on Accommodation
As a digital nomad living, accommodation is likely to be one of your biggest expenses, depending on where you live. Whether you want to do co-living or get your own place, many accommodation providers have huge sales right now.
Booking.com, which lists everything from hostels to hotels and apartments, is offering 30% off stays worldwide for the next week (ends Dec 1st). I stopped using Airbnb after having many issues and now find most of my short-term apartment rentals on Booking and have found it's often cheaper.
Selina, a popular chain that is a hybrid of hostel/co-living, is having a sale up to 45% off worldwide. I've stayed at a lot of Selina's over my travels in Costa Rica and Portugal, and for the most part, they have all been good experiences.
They all have dedicated co-working spaces and a great atmosphere for meeting others. They also often have extra amenities like pools, bars, and restaurants.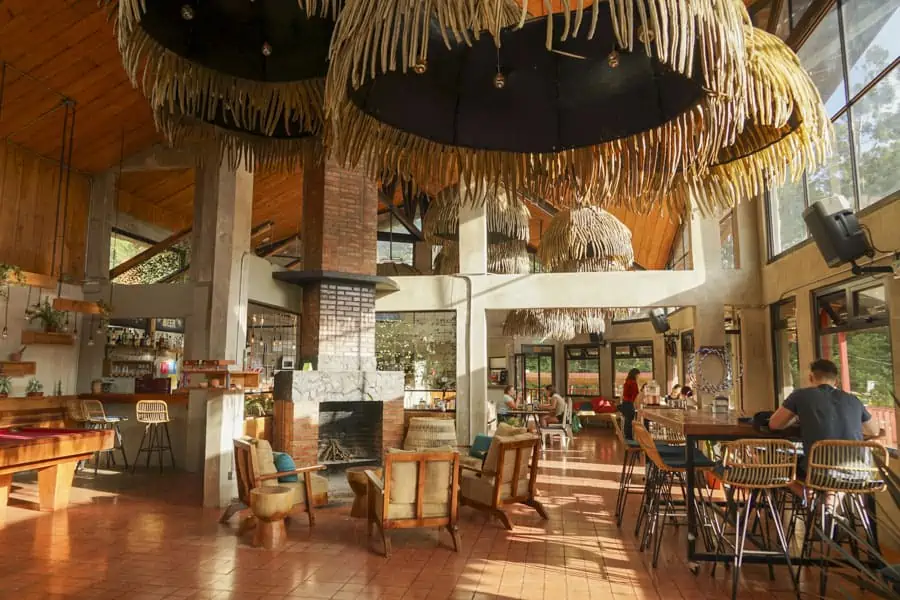 Housesitting
If you love animals and want to save a lot of money on your travels, then housesitting may be for you. I've saved thousands in accommodation costs by house sitting!
TrustedHousesitters is one of the most widely used platforms for finding housesits. Although they are not having an official black Friday sale, you can get 30% off anytime using my referral link.
You can also get a membership as a house owner to find house sitters to watch your place while you travel!
VPN for digital nomads
A VPN is essential if you're going to be traveling between countries. Not only will this keep your data protected, but it allows you to watch Netflix from any country. That's SO many more TV shows! But seriously, get a VPN and keep your information protected.
I use and love NordVPN on my laptop and phone. It's super easy to connect and keeps me feeling safe! They are offering 72% off this Black Friday for their two-year plans, which works out to just $3.29 per month. I grabbed this deal a couple of years ago and have been super happy with the service.
Amazon Black Friday Deals
While you don't need a lot of material items as a digital nomad, there are a few essentials I'd recommend that you can grab on Amazon for a discounted price this week.
A Kindle! As much as I love a good hardcover book, it's just not practical when you're traveling around. Kindles are AWESOME for traveling if you love to read. I take mine everywhere I go. They are super lightweight, and the battery lasts forever! This has saved me on long bus rides so many times.
A lightweight, quality laptop. If you don't already have one, this will be the first thing you'll need!
A portable laptop stand so you can work from anywhere! Unfortunately, you won't always have a high-quality desk around, but these laptop stands can make a world of difference for your back.
A GoPro to capture your memories, especially if you want to get into content creation! I also love the DJI Osmo Pocket, you can read my comparison between the two here.
Black Friday Travel Deals
If you fly frequently, Priority Pass is offering up to 40% off their memberships! Having a lounge pass has honestly changed how I feel about airports. I show up extra early now!
Lounges are a quiet space away from the rest of the airport, with free alcohol, food, and super fast wi-fi. As a digital nomad or remote worker, a lounge pass will change your life.
Tours
While you may be working remotely, you also want to go out and see the places you're in! There are some great black Friday deals for day tours and group tours to take advantage of.
Viator, one of the best platforms for booking tours around the globe, is offering 10% of all tours from Wednesday, Nov 24th, 2021, through Wednesday, Dec 1st by using code BLACKFRIDAY10.
Get Your Guide, another great website for booking sightseeing tours, attractions, and excursions worldwide, is offering up to 15% off all tours and activities using code BLACKFRIDAY21.
Tinggly is offering 20% off all their gift box experiences! This is a company I recently discovered that sells gift boxes of experiences, not stuff. I LOVE the concept of this company. If you know someone who doesn't want any more stuff but loves to try new experiences, a Tinggly gift box is perfect.
I'll keep updating this post as more crazy deals roll in throughout the week, but there's already lots to take advantage of. Happy shopping!
More digital nomad resources: