This post may contain affiliate links. By clicking and making a purchase through the links, I earn a small commission at no extra cost to you. This and display ads allows me to keep the site up to date and give back. Thanks for reading!
As more people embark on the nomadic lifestyle, more destinations are popping up across the globe as digital nomad hotspots. Tenerife is quickly becoming one of the top choices in Europe, with its affordable cost of living, eternal spring weather, and outdoor adventure opportunities.
I've been living in Tenerife as a digital nomad for the last two months and am sharing everything you need to know if you're thinking about moving to Tenerife.
Jump ahead to what you need:
Where is Tenerife?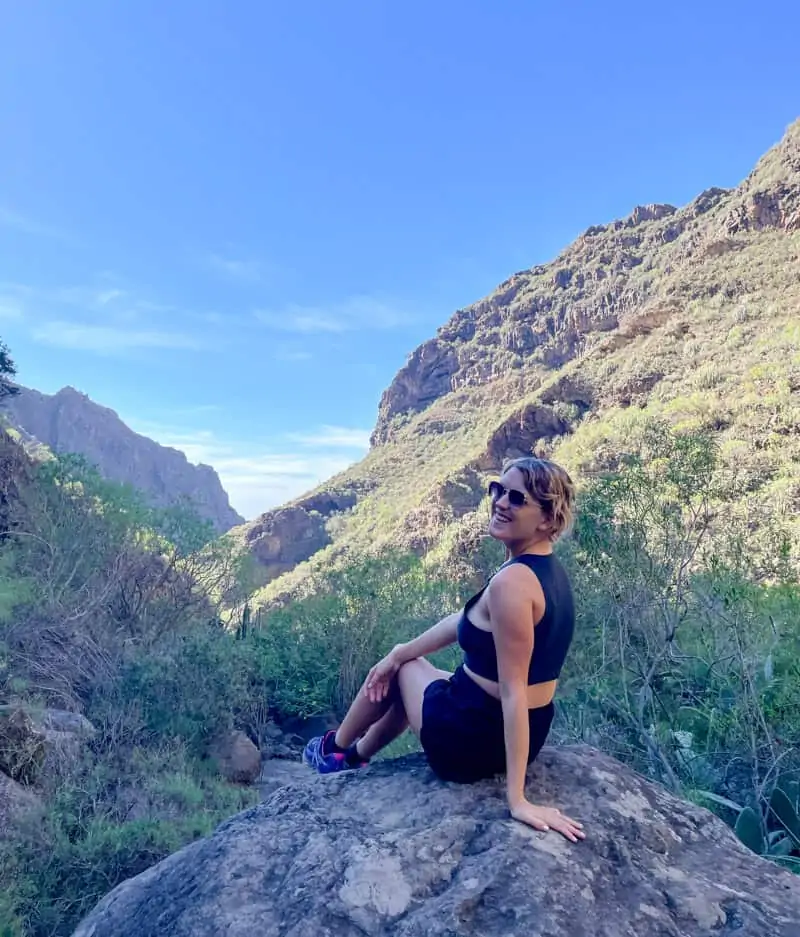 Tenerife is a part of the 'Canary Islands' – an archipelago owned by Spain in the Atlantic Ocean to the West of Africa. It is the most populated and largest island of the Canary Islands, with almost 1 million permanent residents and 5 million tourists visiting each year.
Getting to Tenerife
One of the aspects that makes Tenerife such an attractive destination is how easy it is to get here from mainland Europe.
There are daily direct flights from many cities such as London and Lisbon, and flight prices are considerably low given the distance. For example, I flew here for €30 from Portugal and know other nomads who paid less than €10 for a flight from mainland Europe.
The island has two airports, Tenerife North and Tenerife South. Tenerife South Airport is considered the main airport and the one that I recommend arriving at if you're staying in the south; otherwise, you're looking at a €100+ taxi or a long bus journey.
Airlines that fly to Tenerife include Ryanair, TAP Air, Vueling, and Iberia.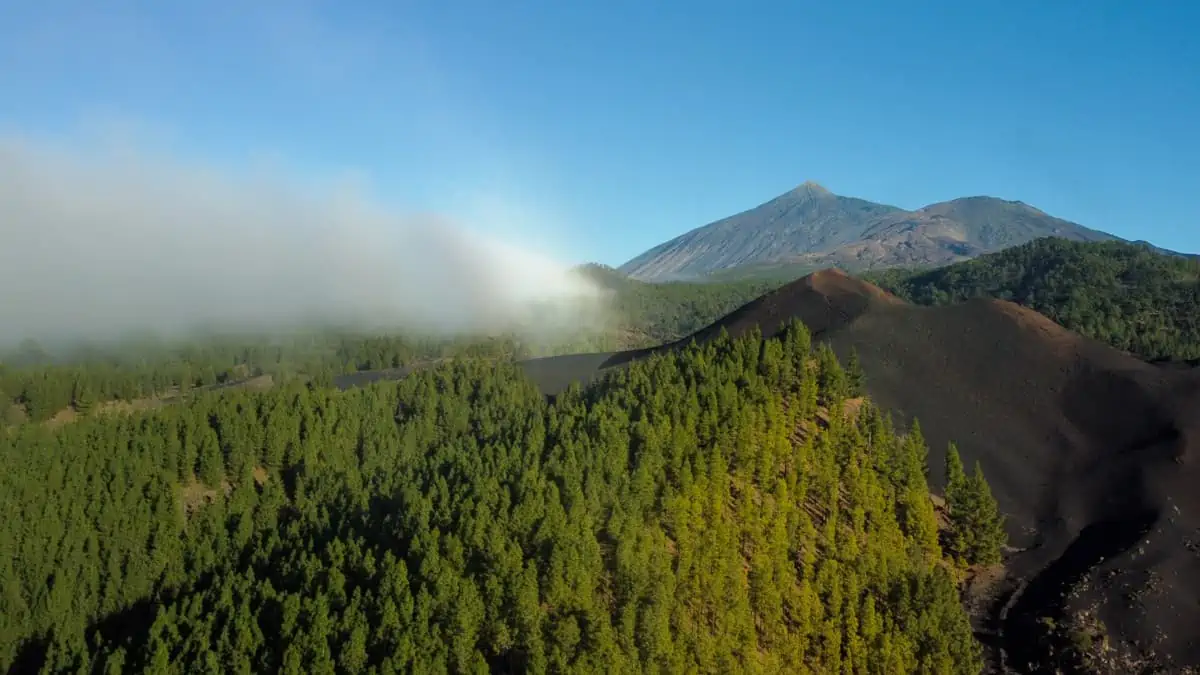 Why live in Tenerife?
Why would you want to live here? Well, I moved to Tenerife because I was getting cold in mainland Europe and a few people told me it was the warmest place to be during the winter.
When you want to visit every country in the world, it doesn't take much for me to pack up my bags and move somewhere in the spur of the moment. But, I realize you may want more rationale for picking up their life and moving to an island off the coast of Africa.
Aside from being cheap to get to, here are some reasons to consider Tenerife as your next digital nomad destination.
Year-round warm weather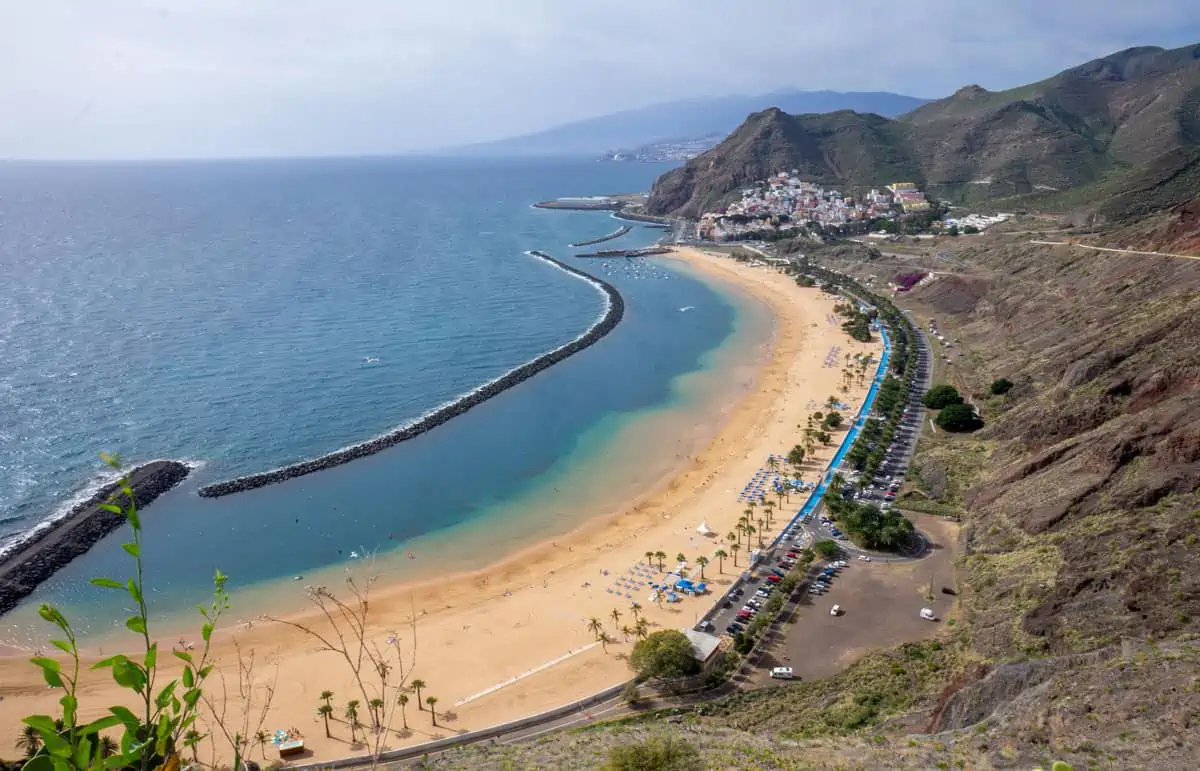 Tenerife has a Mediterranean-subtropical climate, with 320 days of sun a year! It's known as the "Island of Eternal Spring," with warm temperatures year-round. In the summer, temperatures are between 24ºC and 33ºC, and in the winter, 18ºC and 21ºC.
However, it's important to know that Tenerife has microclimates around the island. The south is MUCH warmer than the north, at least in the winter.
I spent my first few weeks living in the north and had to buy new sweaters because I wasn't prepared. But now I am happily living in the south, wearing sundresses most days.
The other thing to know about weather in Tenerife is that it's susceptible to 'Calimas,' which are wind storms from the Sahara. I experienced two, and they were entirely different experiences. The first Calima brought a warm wind over Christmas, where we enjoyed daily temperatures of 30ºC+.
I was so excited when I heard another Calima was coming, only this time it brought vicious winds and sand for over a week. It made Tenerife look grey and apocalyptic! But Calima's aren't that common, so you'll mostly enjoy non-stop sunshine.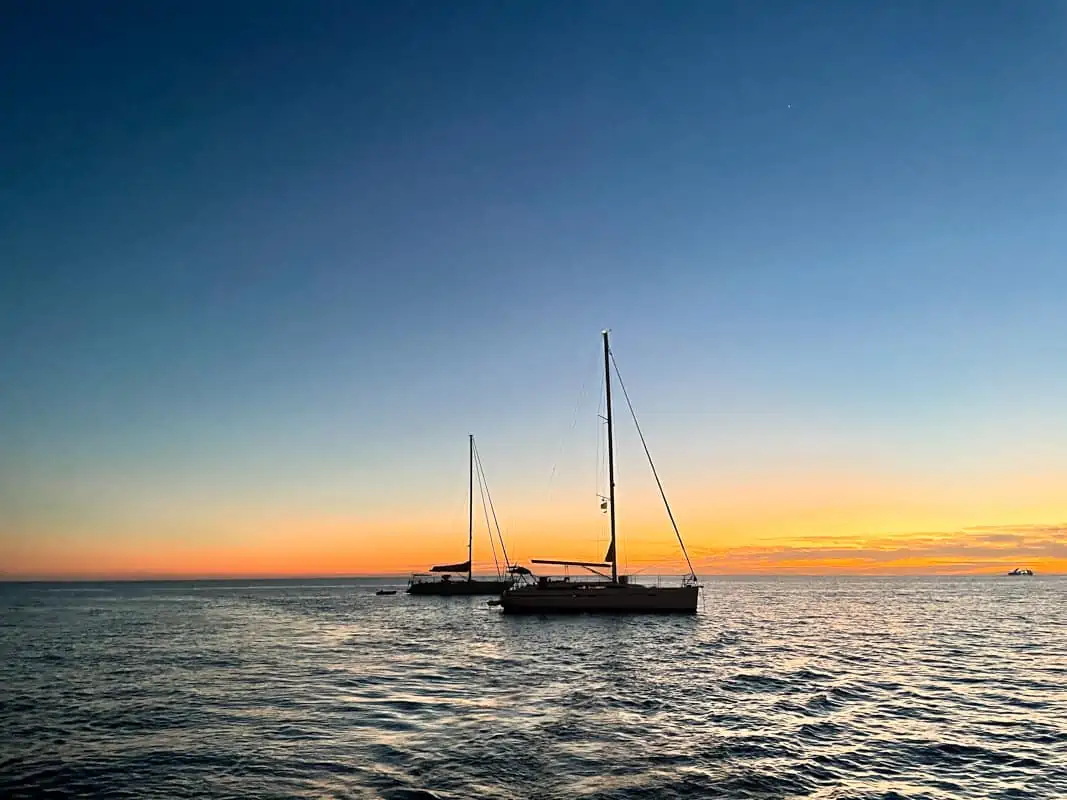 Same time zone as mainland Europe
Many digital nomads in Europe choose to live in Tenerife because it's Greenwich Mean Time (GMT), the same as the UK and Portugal. If you're looking for somewhere to escape the cold winters of Europe but need to stay around the same time zone, Tenerife is a great choice.
Digital nomad community
Tenerife has a very active digital nomad community which is great if you're new to the lifestyle as it will be easy to integrate, find people to hang out with, and make lifelong nomad friends. I've listed some Facebook groups for digital nomads in Tenerife at the end of this post.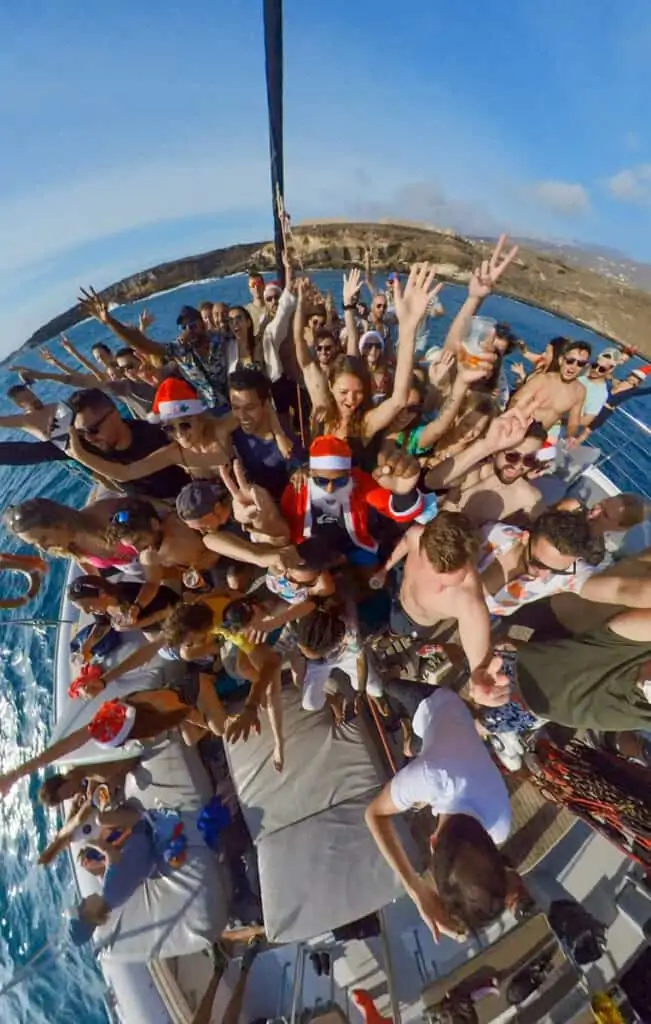 Outdoor Adventure and Surf
One big reason that so many people choose Tenerife is the excellent year-round surf conditions. It's considered one of the best surfing destinations in Europe, and there are waves for everyone, whether you're a newbie or an advanced surfer.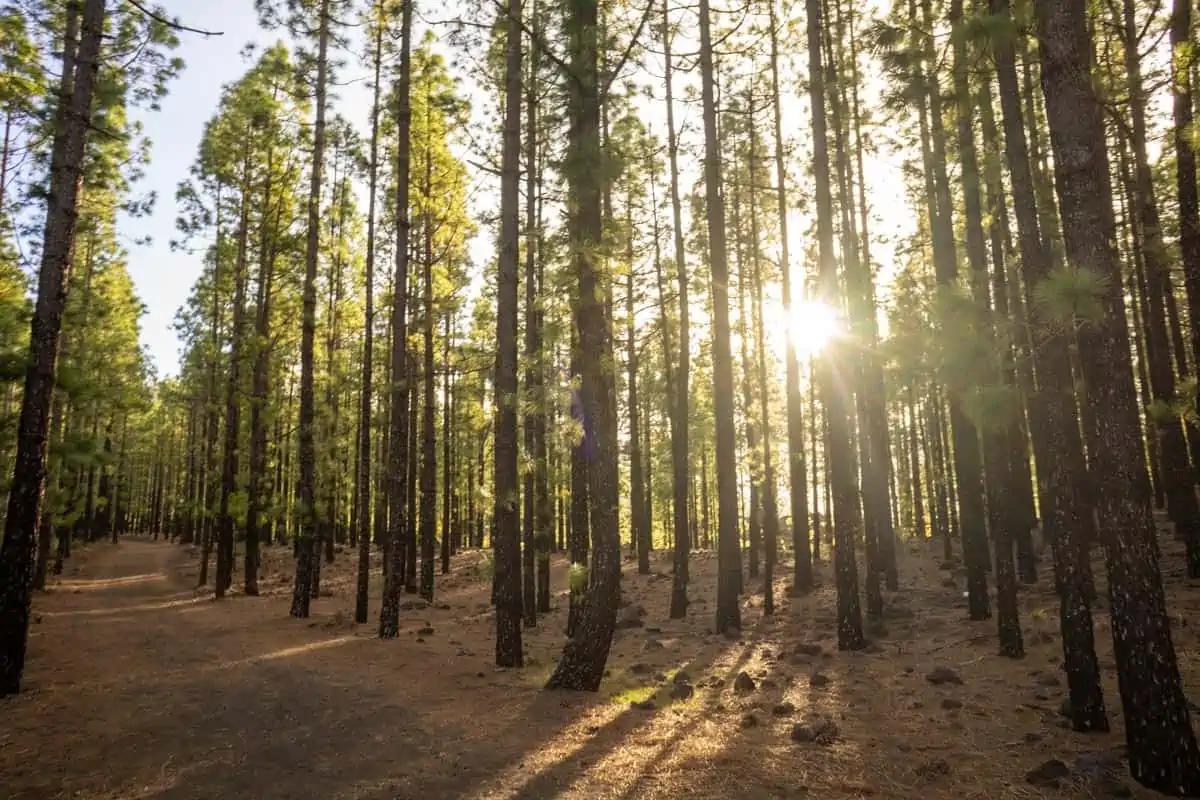 It's not just surfing; Tenerife is a hub for all outdoor adventures. You can go jet skiing, windsurfing, rock climbing, mountaineering, diving, biking, and more. Just about any sport imaginable, you can do here!
My favorite thing to do in Tenerife is explore the abundant hiking trails and gorgeous landscapes. It has volcanic black sand beaches, arid desert landscapes, lush green forests full of pines, and several volcanoes – including Spain's highest peak. Every hike I did in Tenerife brought a completely different view!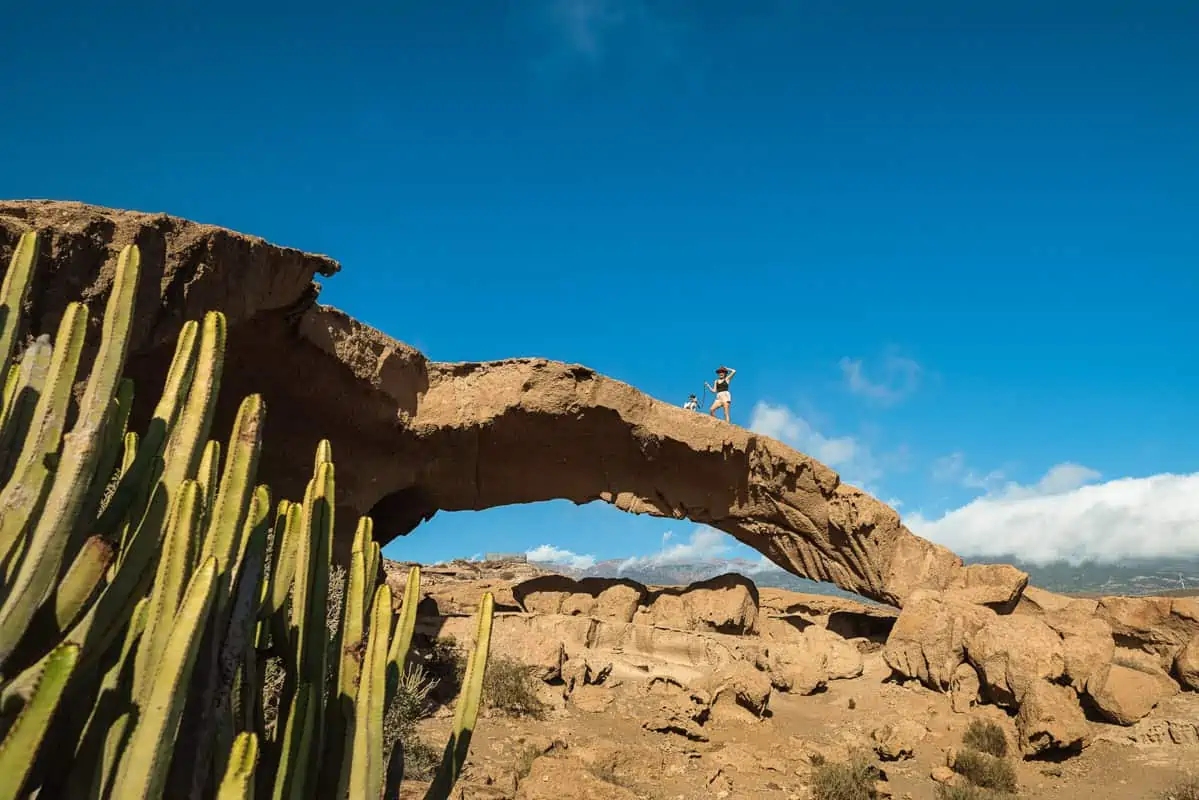 Safe and easy to live in
Tenerife has a fairly low crime rating and is considered safe to travel. I came here are a solo female traveler and felt safe the entire time, even walking around Playa Las Americas at night.
Tenerife is set up for tourists, so it's an easy place to come and live for a few months, with all amenities readily available.
My personal experience living in Tenerife
Tenerife was not a place I immediately fell in love with, but it grew on me over time. I spent my first three weeks in Puerto de la Cruz, in a somewhat isolated neighborhood without a car.
Even though the north is the more beautiful part of the island, I felt a lot happier when I moved to the south because of the ease of access to everything.
That's not to say you can't have an enjoyable experience living in the north. Many digital nomads in Tenerife live here and love it – it just wasn't for me. In the south, I had a much more active social life and got a lot more sunshine.
The best week I had in Tenerife was when I rented a car because it allowed me the freedom to get out and explore the island. There's so much to see here, but honestly, it's a bit challenging without a car.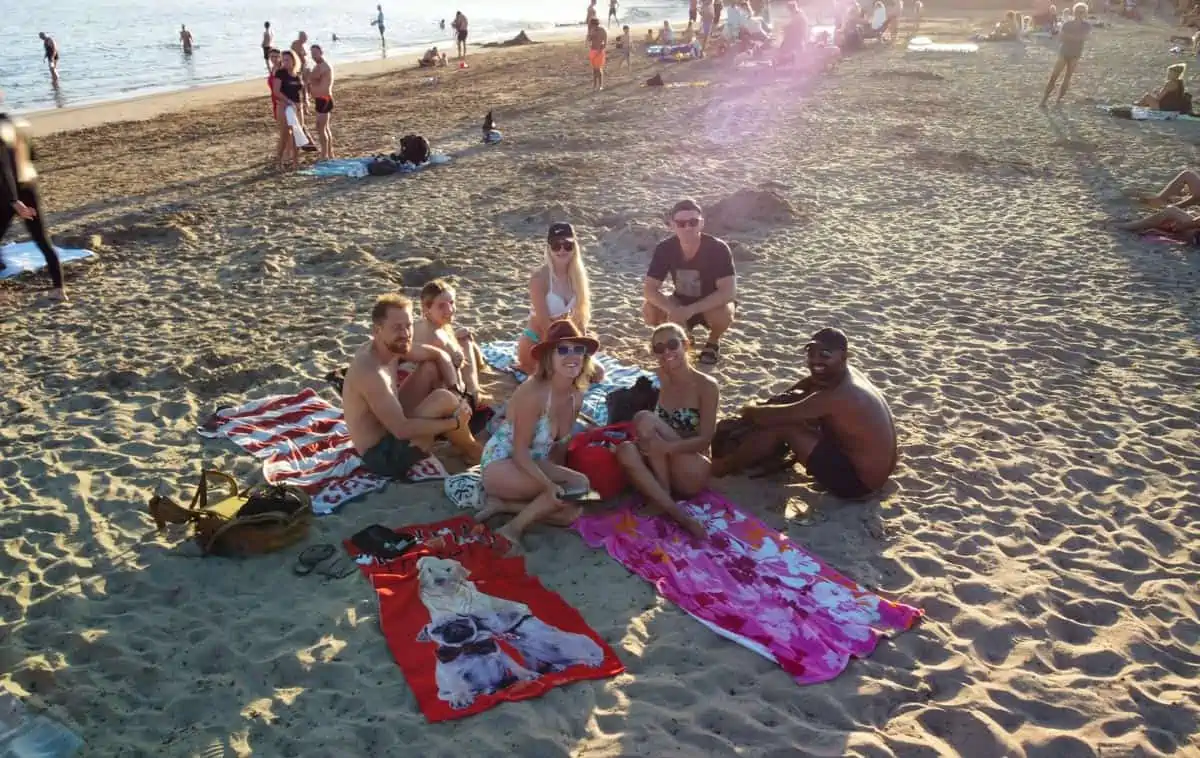 Tenerife Visa
Tenerife is part of Spain and the Schengen Area. So if you're European, happy days because you don't have to worry about visa issues. However, for Canadians or Americans, things are a bit more complicated.
You're only allowed to stay 90 days in the Schengen Area within a 180-day period, so the maximum amount of time you can stay in Tenerife on a tourist visa is three months.
If you want to stay longer, Spain does have a temporary residence visa for stays longer than 90 days and less than five years. This visa could be a good option if you want to get permanent residency in Spain, as foreigners who have been temporary residents in Spain for five years and meet the conditions are entitled to long-term residence.
Spain is also creating a digital nomad visa that will permit internationals to live in Spain while working remotely for companies outside the country without needing a full work visa.
The draft law still has to go to parliament to be passed, but it's expected to permit digital nomads to spend between 6 and 12 months living and working in Spain without the right to residence. It's exciting to see so many countries in Europe offering digital nomad visas!
Tenerife during COVID-19
Like most of Europe, Tenerife has been impacted by Covid-19. When I arrived on the island it was level 1, and by the time I left, it was level 4. However, it didn't affect my experience here much. It just meant that bars closed at midnight instead of 5 am, which I was actually grateful for because I wasn't drinking in January.
Group sizes are limited to 6 at restaurants and masks are required in most places, but otherwise, life still feels pretty normal here, and the island is still open for tourism.
Rules frequently change though, so check the latest travel advisories before making any plans. You can read about the different alert levels in the Canary Islands here.
Where to stay in Tenerife
Although it's a small island, there are many different places to stay in Tenerife, and each has its own vibe.
Your biggest decision about what area to stay in Tenerife will be whether you live in the north or south of the island. The north has more permanent residents, picturesque villages, and is similar to mainland Spain.
The south of Tenerife is more catered for tourists. It's where you'll find many English-speaking people, large resorts, nightclubs, and warmer temperatures.
Many Tenerife digital nomads find themselves in the south of the island, embracing the year-round sunshine and party atmosphere. However, if you wish to experience a more authentic, Canarian experience, you'll be better off in the north.
In the middle of the island is Mount Teide, the highest point in Spain at 3,7000m. It divides the north and south, and although it's popular to visit, not many people live around here.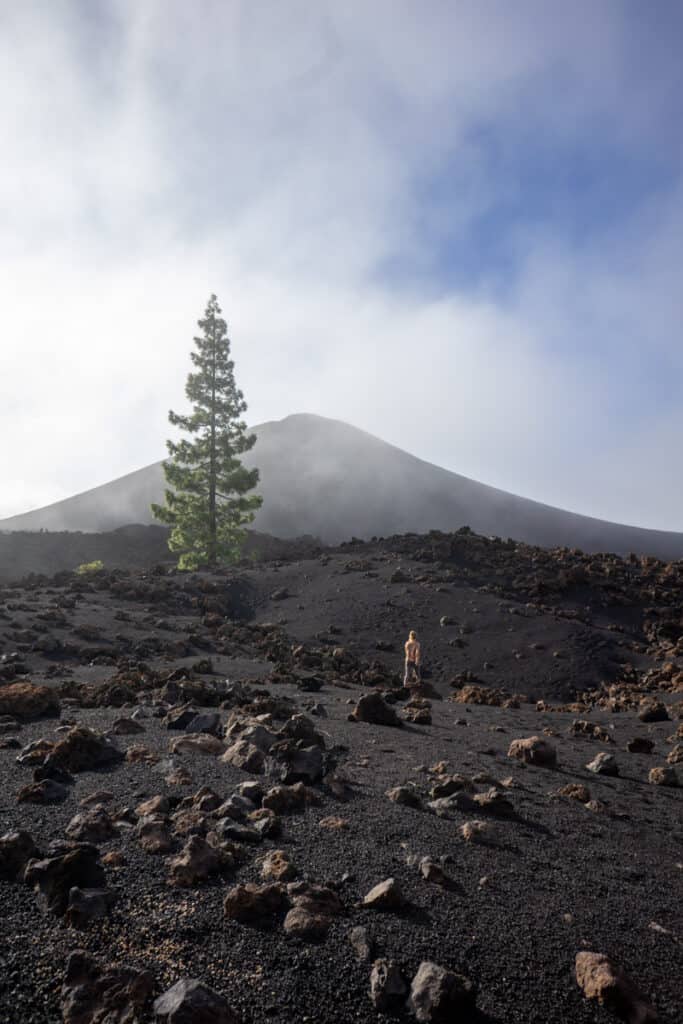 Given that there's a giant volcano in the middle of the island, the main highway goes along the coast.
It takes about an hour to drive between the north and south, but it's two hours minimum if you take the bus. And that's if you manage to catch an express bus. If not, it will take you almost three and a half with transfers. So, you can see that living on one side of the island is not convenient for visiting the other if you don't have a car.
Best place to live in Tenerife North
Santa Cruz is the largest city on the island and a sharp contrast to Tenerife south. It's populated by nearly half of the island's population, with over 200,000 permanent residents. It's home to museums, theatres, major government buildings, and a busy harbor.
It has a much more local atmosphere than the south, and you'll want to know some Spanish to get around here comfortably.
Santa Cruz is the best place for expats to live in Tenerife who want to live like a local. Rent prices are considerably lower than other locations, and it's also close to Anaga rural park which is great if you love hiking.
Puerto de la Cruz is a popular city for digital nomads who want to live in the north, especially with Germans. I spent my first three weeks living near here at Igikai coliving. It has a relatively active digital nomad community, with Whatsapp groups you can join.
It's a cute city, with several squares, restaurants, and bars that regularly have live music. It's right by the sea, so you'll have quick access to beautiful coastal hikes as well as Teide national park.
Another perk of Puerto de la Cruz is that there are also beaches right in the city center, which Santa Cruz doesn't have.
Best places to stay in Tenerife South
Once a small fishing village, El Medano is now a hippie paradise and Tenerife's wind and kitesurfing capital. It's the best area to stay in Tenerife if you're into those sports! It has a chilled-out vibe, with many cute cafes and veggie-friendly options.
If you want to be in the heart of the action, the best area to live in Tenerife is Los Cristianos or Las Americas, which are right next to each other.
Las Americas is where I lived for my second month in Tenerife, and it has its pro and cons. It's home to Playa Las Americas, one of the most popular areas of Tenerife for surfing.
It's probably the most touristy place on the island, but this means you'll be in the center of everything with restaurants, shops, and bars right outside your door. On the downside of this, it can be pretty loud living here, especially if you are living next to the main bar strip called Veronicas. They play music until 4am in non-covid times.
Next to Las Americas is Los Cristianos, my preferred neighborhood to live in Tenerife. It's got all the perks of Las Americas yet somehow feels slightly more local.
Many expats in Tenerife live in Costa Adeje, another tourist hot spot further down the coast. Again, you'll find plenty of lovely beaches, resorts, hotels, bars, shopping malls, and restaurants.
Being in the center of the south means you can café and bar hop around without having to worry about a long bus route or taxi home.
I've also met a few nomads who live in Los Gigantes, famous for its 600m high cliff face, stunning natural pools, and being one of the sunniest places on the islands. It may be the best place to stay in Tenerife if you want to benefit from the better weather in the south without being too much in the party scene.
Accommodation in Tenerife
Many digital nomads choose coliving spaces for their accomodation in Tenerife because of the convenience.
All you have to do is make a booking, and you'll have instant access to a community of like-minded people and the joys of not having to deal with lease agreements and apartment deposits.
If you're only coming to Tenerife for a short period, a coliving space is a great option.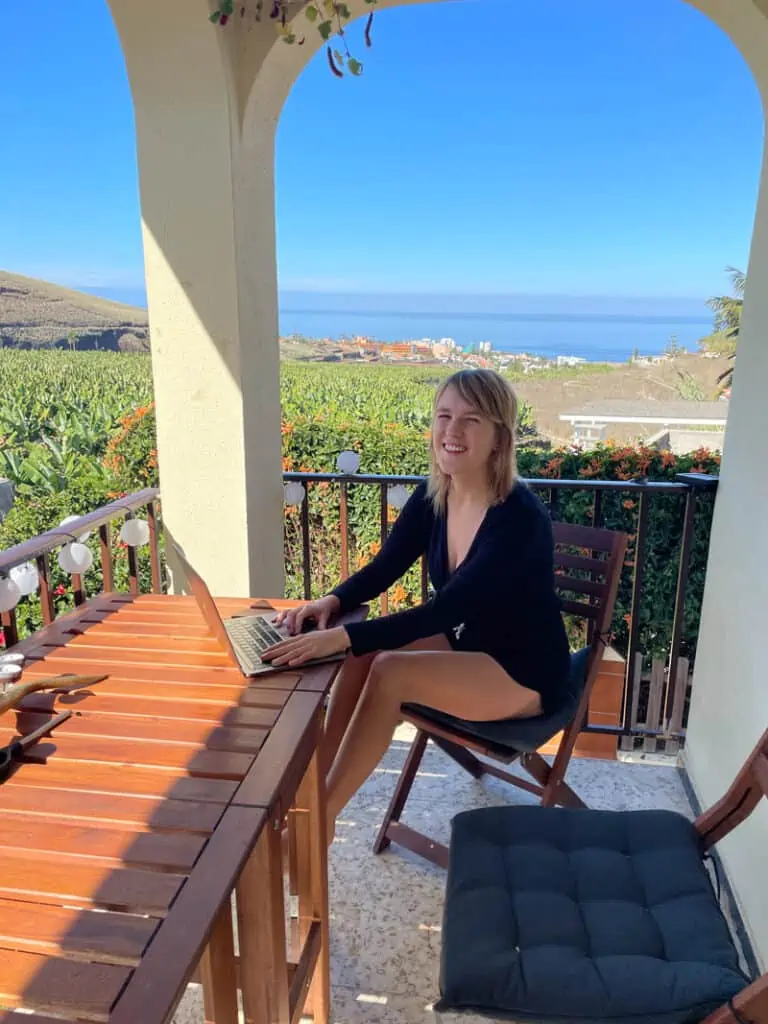 Tenerife Coliving Spaces
This post goes into more detail about all the Tenerife colivings, but here's an overview:
Igikai Coliving is near Puerto de la Cruz. It's a two-story house with seven bedrooms, several bathrooms, a shared kitchen and living space, and a beautiful outdoor area. There are coworking desks in the living room, and other perks include an avocado tree outside the kitchen window and a hot tub in the backyard.
Nine Coliving was one of the original Colivings on the island and books up month in advanc. It's in a historical building in the center of La Orotava, a beautiful town in the north. Perks include a rooftop with amazing views, daily fresh breakfast, daily yoga, and a resident pup.
Taoro Coliving is a renovated six-bedroom villa in north Tenerife. There's a gorgeous pool overlooking the mountains, and spacious, outdoor areas where people often play music.
Maraya Coliving is another coliving in the north half of the island nestled in a beautiful barranco overlooking the ocean. Perks include stunning views, an outdoor pool, fresh breakfasts, family dinners, daily yoga, and an active community.
Amarilla Coliving is in the south of the island in Golf Del Surf. They have a mix of villas and apartments that you share with other nomads, including private and shared rooms. Perks include an outdoor pool, a hot tub, organized meetups, dinners, outdoor classes, and excursions.
Cactus Coliving is in the south in Valle San Lorenzo, one of the villages that leads the way to Teide. Perks include a wine cellar with wine workshops, community, daily breakfast with local ingredients, organized activities and adventures, coworking and conference room, and daily yoga classes.
Oasis Coliving – A central locally coliving in Playa Las Americas, walking distance to many restaurants, bars, and shops. They offer short-term and long-term private rooms, shared workspaces, and a pool.
Palma Coliving is in the south of Tenerife in Costa Adeje. It's a gorgeous villa with high ceilings, large windows, private terraces, a garden, a swimming pool, and a sea view. Perks include community sessions, mastermind sessions, networking events, and more, depending on the group's requests!
Coliving spaces are plentiful in Tenerife, but they are also very popular, so you need to book in advance (for some of them, you need to book months in advance).
Apartments in Tenerife
After living at Igikai coliving, I moved into a 3-bedroom apartment in Las Americas with another digital nomad I met on a catamaran tour. Talking to other nomads or asking in Facebook groups/Telegram chats is the best way to find shared apartments in Tenerife.
I haven't gone through the process of renting my own apartment in Tenerife, but it seems that most landlords will want a background/employment check, a hefty deposit, and ask for you to sign a lease.
If you are only planning to stay in Tenerife short-term, I would instead look to a provider like VRBO, which offers quality apartment-style accommodations all over the island.
For example, This one-bedroom apartment is just over 1,000/month. It is a quiet area close to Los Cristianos, with restaurants, bars, supermarkets, bakeries, and the beach all within walking distance. It has been beautifully renovated with modern furnishings and an outdoor balcony. Perfect for enjoying the amazing Tenerife sunsets!
You can also find apartment rentals on these websites:
Tenerife cost of living
Tenerife is by no means the cheapest place I've lived (thank honor goes to Puerto Vallarta), but it's also far from the most expensive. Generally speaking, Tenerife is fairly affordable. Of course, your expenses in Tenerife will vary significantly depending on your lifestyle.
I've written a separate post that breaks down the cost of living in Tenerife by category, but here's an overview of how much I spent living in the Canary Islands.
Rent
Rent will likely be your biggest expense, and cost will vary depending on the area you stay in Tenerife and if you want your own place. Generally speaking, the south is more expensive than the north.
While staying at Igikai coliving, I paid €800/month for a double bedroom which included all amenities, a coworking space, and free avocadoes (that saved me a lot)! If you choose a coliving, expect to pay anywhere from €750-1500/month.
Afterward, I moved to Las Americas, where I paid €680/month for a room in a modern 3-bedroom apartment. Bus stops are right outside my door, and the beach is a ten-minute walk away.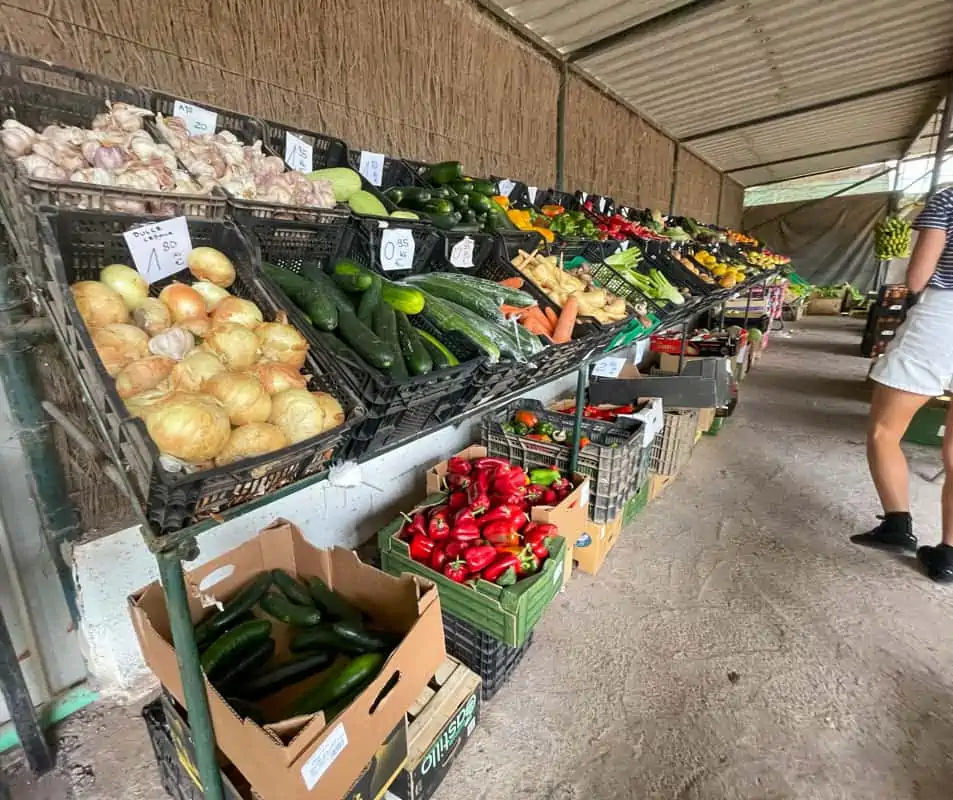 Groceries and eating out
Thanks to the rich, volcanic soil, a lot of fruits and veggies are grown locally here. For fresh produce in the south, check out Finca La Caldera. I got a bag full of fresh fruits and veggies for the week, and it only cost me €8.
Mercadona, HiperDino, and Lidl are the cheapest/largest grocery stores. I spend about €30/week on groceries.
Most meals eating out at restaurants are between €10-15. The cheapest places to eat are Guachinch (local Canarian restaurants) or the endless restaurants in the south serving English breakfast for as cheap as €3 (but you get what you pay for).
Transportation
Renting a Tenerife expenses considerably. I only rented a car for a week, but it was €250 (I had insurance through my credit card). Gas was €35 to fill up the tank. If you plan to be in Tenerife for a long time, you'd be better off buying a used car and re-selling it.
Public transportation is relatively cheap. A short ride on the bus will cost you €1.50, while a monthly pass is around €40.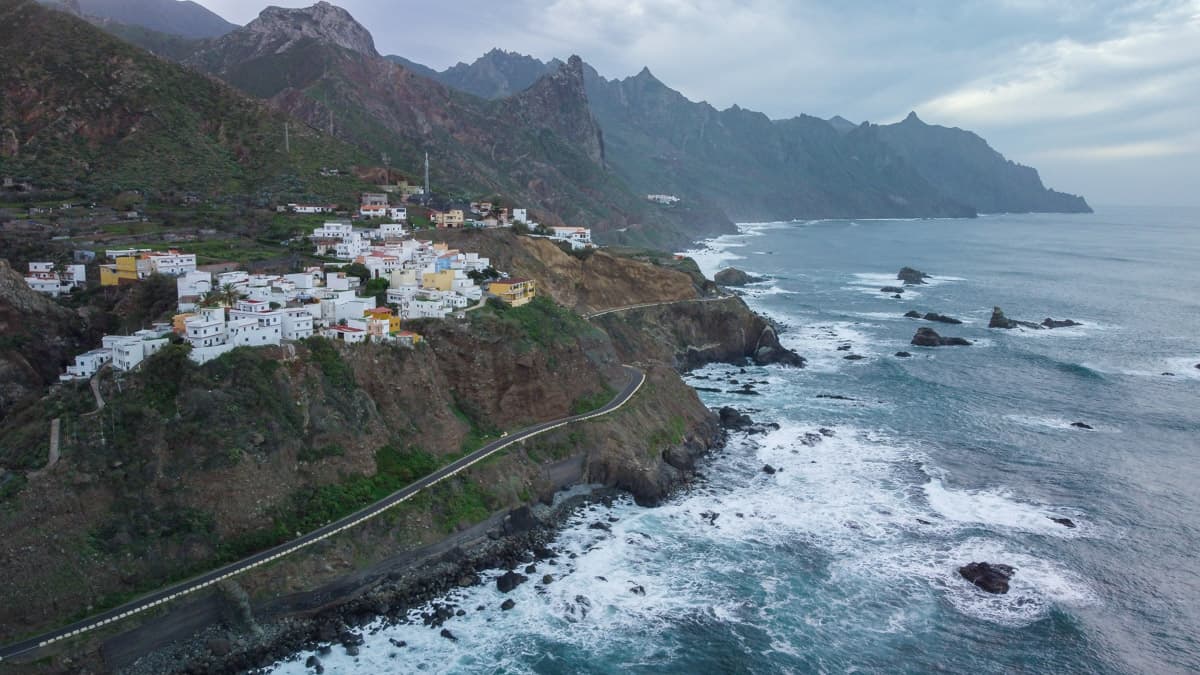 Health care and insurance
Thankfully I never had to use the Tenerife health care system, but I've been told it's great. However, health care is not free unless you are a resident which is why you should get travel insurance.
I use and recommend SafetyWing, which is subscription based-insurance for digital nomads.
Entertainment and leisure
Tenerife is a paradise for outdoor adventure, providing plenty of fun activities at little to no cost. Popular outdoor activities include surfing, rock climbing, kitesurfing, hiking, and of course, swimming at the beach!
I did yoga classes in a park for €10/class and got a gym membership for €40/month at Minimal fitness in Las Americas.
The digital nomad community here is quite active with regular events that you can join. I did many catamaran boat trips for €40 and a La Gomera day trip for €90. There's also no shortage of day tours you can join on Viator.
Tenerife is famous for its party scene. A beer is €2 on average, cocktails are €5-10 (beach clubs tend to be pricier), and a beach party with all-you-can-drink is usually €15. So depending on how much you like to go out, this can really add to your expenses.
Coworking space
I never joined a coworking space and worked from home/cafes instead, but I looked at some coworking space prices (provided in a table below), and you can expect to pay 150-200 for a monthly pass.
Total: As a single person, I spend around €1,500 per month to live as a digital nomad in Tenerife. It varies per month, but that's what I spend on average. To break that down, that works out to be €680 for rent, €120 for groceries, €250 for restaurants and cafes, €200 on activities, and the rest is for misc expenses like shopping and transport.
Coworking spaces and cafes in Tenerife
The internet is fantastic in Tenerife, so you don't have to worry about this. There are many undersea internet cables routing through the islands and high-speed fiber internet in nearly all developed areas. You can also pick up a 4G SIM Card with loads of data for less than €20.
If you love working from cafes, then you may find your options a bit limited in Tenerife. It's not yet a widespread phenomenon, but I did find a few nice cafes to work from.
Tierra Cafe and Pistacho Coffee Brunch are two of my favorites, and I worked from both without issues.
Just as the coliving spaces are popping up, so are the coworking spaces. Here's a look at the prices of some of the most popular coworking spaces in Tenerife.
Tenerife coworking spaces
Things to do in Tenerife
There are so many things to do in Tenerife that you'll never get bored of discovering new places on the island.
Hit the beach
Tenerife has over 65km of coastline to explore. From the black sand beaches of Anaga rural park to the golden sand beaches in the south, there is something for everyone.
Beach volleyball is very popular among nomads in Los Cristianos, and you can find people playing every day.
Explore the national parks
Tenerife is a paradise for hikers. There are three main parks on the island, each with several hiking trails to explore.
The largest park, Teide, is home to the iconic Teide volcano – the highest point in Spain! You'll need a permit to hike up here in the day, but many people do it at night to watch the sunrise over Tenerife.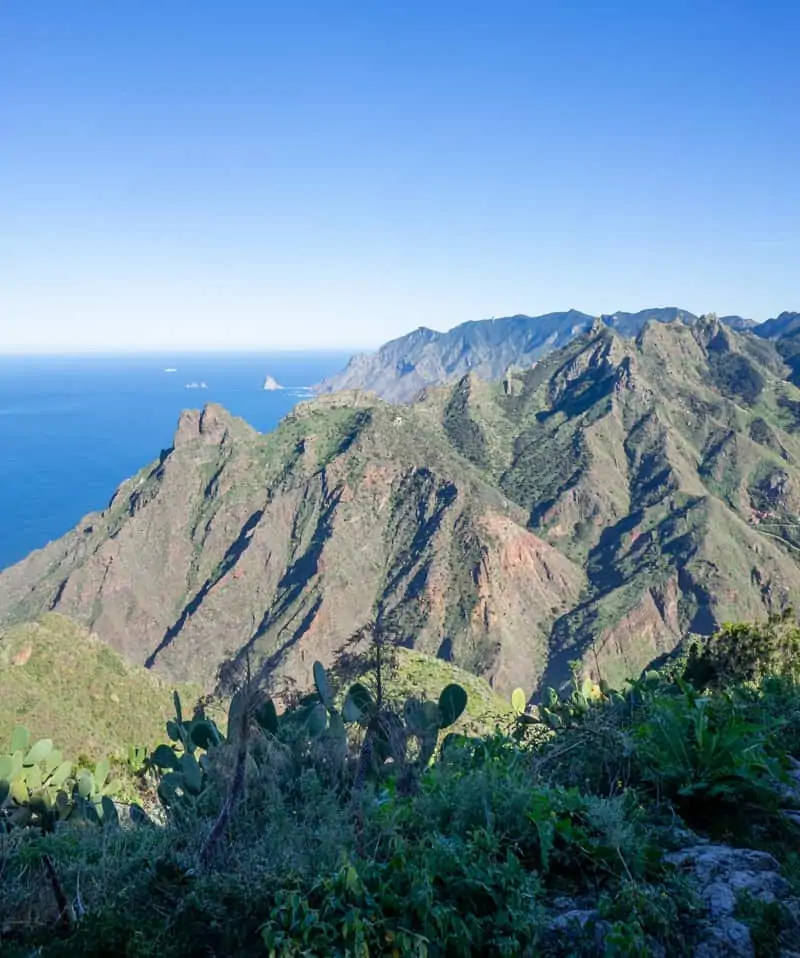 Ananga Rural Park, which covers the north of the island, is one of the most beautiful places. It makes me feel although I've been transported to another country!
Lastly, there's Masca village. Nicknamed the "Machu Picchu of Spain," the beautiful village nestled in the Toro mountains is home to several hiking trails and viewpoints.
Aside from hiking, Tenerife is a hub for all kinds of outdoor sports, including windsurfing, kitesurfing, rock climbing, paragliding, sailing, and surfing. One of the main reasons people move to Tenerife is to hit the waves.
Party
Whether you're bar-hopping in Playa Las Americas or drinking all night at a beach party, you don't have to look far to find a wild party here. But at the same time, Tenerife is so much more than just a party destination.
Yoga and spiritual gatherings
Yoga is very popular on the island, with endless retreats and classes to choose from. Tenerife is a very spiritual place and many people move here for that reason.
To sum it up, your lifestyle can be whatever you want in Tenerife. You can spend your day getting drunk on the beach in the south, or you can live in the mountains in the north meditating every day. I've met all kinds of people here, even some who live in caves.
Digital nomad Tenerife community
The digital nomad community in Tenerife is active and growing every day. If you are new to the island, check out these Facebook groups. You can ask just about anything and someone will point you in the right direction, and you can find meetups and events through these groups.
The easiest way to meet people is to attend one of the nomad meetups, they happen all the time. Another great way to meet people is through outdoor activities – surf lessons are great or join a group hike.
Tenerife Remote Workers and Digital Nomads
Group for Yoga, Arts, Sports and Dance
Puerto de la Cruz Facebook group
Meet-up group: Tenerife Remote Workers & Digital Nomads Meetup
Tenerife Digital Nomads South Telegram Group
—
I hope this post could give you some insight into what life in Tenerife is like! If you have any questions, just let me know in the comments below or send me a message on Instagram.