This post may contain affiliate links. By clicking and making a purchase through the links, I earn a small commission at no extra cost to you. See my disclaimer for more information. This and display ads allow me to keep the site up to date and give back.
Wondering what the cost of living in Tenerife is? This popular digital nomad destination is by no means the cheapest place I've lived, but it's also far from the most expensive. Generally speaking, living in Tenerife is fairly affordable for western Europe, especially when compared to cities like London or Paris.
This guide breaks down average living expenses in Tenerife by category, based on my experience living here for the last few months.
All prices listed are in Euros (€). Tenerife has a sales tax of 7%.
Cost of accommodation in Tenerife
Accommodation will likely be your most significant expense in Tenerife. The cost will depend on what part of the island you want to live in and the type of place. Generally speaking, the south is more expensive than the north as it's much more touristy.
Many digital nomads in Tenerife choose to live in coliving spaces because of the convenience and access to community. I have a separate post that details all the colivings in Tenerife and the amenities they provide, but here's an overview of the price range you can expect.
Cost of coliving in Tenerife
All prices in Euros per person, range depends on room type (discounts offered for double occupancy – check on websites).
Most colivings offer a weekly or monthly discount, so you can save costs by staying longer.
The cost will depend on the room type you choose, but you can generally expect to pay anywhere from 750-1500/month renting a room in a Coliving. While staying at Igikai, I paid 800/month for a double room with a shared bathroom.
What's nice about staying in a coliving is that you don't have to worry about extra bills such as utilities or internet. They also include coworking spaces, so you don't have to factor that into your budget.
Some also come with other perks, such as pools, hot tubs, and free meals. At Igikai, there was an avocado tree outside the kitchen window! Nothing makes me happier than free, fresh avocadoes.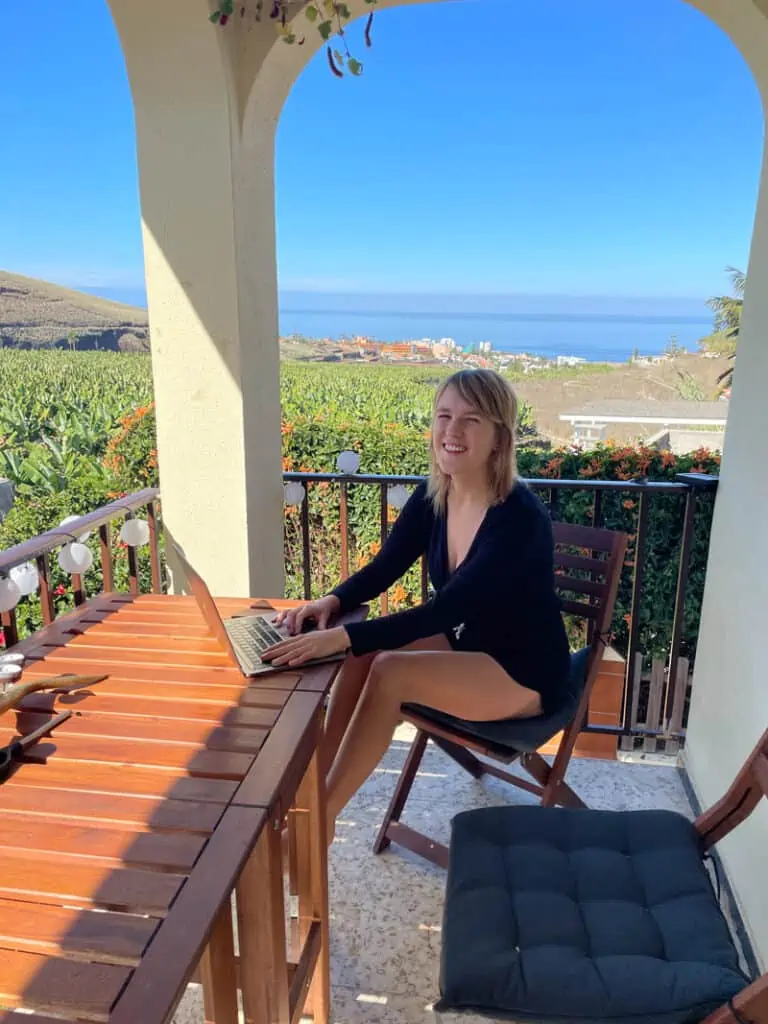 Hostels in Tenerife
If you can put up with living in a hostel, you can get a bed for as low as 18/night. It's a good way to meet other people too! Here's an overview of some of the top-rated hostels in Tenerife:
All prices listed in Euros
Apartment rentals in Tenerife
After a month in Igikai, I moved into a 3-bedroom apartment in Playa Las Americas with two other digital nomads.
I found the apartment through a girl I met on a catamaran boat, which made things easy because she had already signed the lease agreement.
I paid 680/month, which included utilities and internet. The location is perfect – bus stops are outside the door, the beach is a 10-minute walk away, and I can see the ocean from my balcony.
I haven't gone through the process of getting my own apartment in Tenerife, so I can't speak too much about this, but from what I understand, most landlords will want to do a background/employment check, ask for a hefty deposit, and for you to sign a lease.
If you are only planning to stay in Tenerife short-term, I would look to a provider like VRBO, which offers quality apartment-style accommodations for all budgets.
This one-bedroom apartment has been beautifully renovated with modern furnishings and an outdoor balcony with seating for two. It's in a quiet area but close to Los Cristianos, with restaurants, bars, supermarkets, bakeries, and the beach all within walking distance. All this for just over 1,000/month!
Apartments in the south will cost you more, especially if you want to be by the beach. If you stay in a more local area like Santa Cruz or La Laguna, you can save considerably.
Some other websites you can look for apartments in Tenerife are:
If you're looking for shared rooms in an apartment, a good way to find them is through Facebook groups and Telegram chats. Otherwise, rent something short-term and ask around once you get here!
Facebook group for Tenerife Remote Workers
Tenerife Digital Nomads South Telegram Group
Cost of food and drinks in Tenerife
Groceries
I found groceries very affordable in Tenerife, especially for produce. Thanks to the rich, volcanic soil, many fruits and veggies are grown locally. In Igikai, there was an avocado tree and mango tree that I could pick from!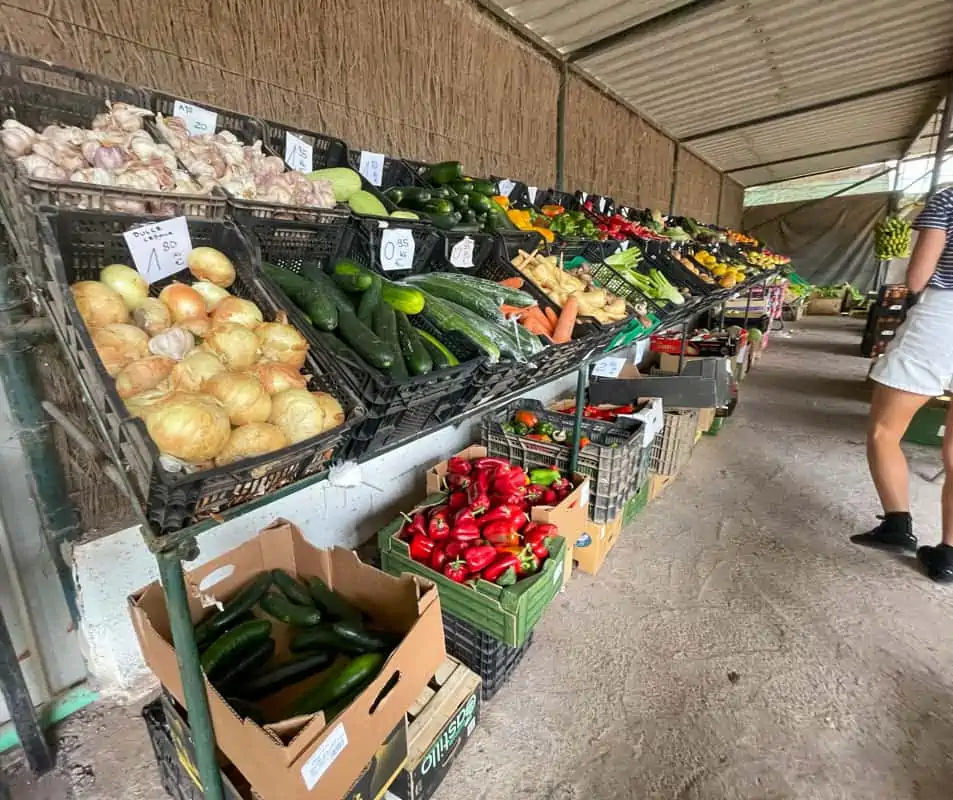 For fresh produce in the south, check out Finca La Caldera. I got a bag full of fresh fruits and veggies for the week from here, and it only cost me €8!
Mercadona, HiperDino, and Lidl are the cheapest/largest grocery stores, but there are also a few organic shops where you can pick up specialty items.
I spent about €30/week on groceries and cooked a lot at home. Note that I have a vegetarian diet, so I wasn't buying meat or fish.
Drinking tap water is a debatable issue in Tenerife. I was drinking it for the first month (unknowing that I wasn't supposed to), and nothing happened. Everyone seemed horrified when I told them, so I stopped. Apparently, the salt/mineral concentration is strong. So you do need to factor in bottled water in your budget if you care about this. We bought 8l water jugs from the mini-mart for €2.
Eating out
Your expenses for food are going to be a lot more if you eat out frequently. Tenerife south is full of restaurants, and honestly, many of them are crap. Walking along Playa Las Americas, you'll see English breakfasts for as cheap as €3, but you get what you pay for.
Some of my favorite brunch places in Tenerife are Tierra Cafe and Pistacho Coffee Brunch, where you'll pay about €10 for a meal, including a drink.
Meals at a standard restaurant in the south cost around €10-15 for dinner without drinks.
The cheapest places to eat are Guachinche, which are local Canarian restaurants. This is best done with a group of friends, as they will give you a large portion of homemade wine to share.
Menu items are just a few dollars each, so you pick a bunch and then split the bill at the end, which shouldn't be more than €10 for a TON of food. It's mostly meat/seafood, so not a great option if you're veggie.
Drinking and nightlife
Tenerife is famous for its wild nightlife. Beer can be as low as €1.50 but is usually between €2-3, and cocktails cost anywhere from €5-10.
Most places are free to enter, but I never found a bar that I really loved. I lived next to the famous Veronica strip, which I'm happy to say I never entered. The beach clubs are nice to go for sunset and most are free – the drinks are just overpriced. Papagayo is one of the nicer clubs and costs €15 to enter.
If you're a party animal, you could spend hundreds going out in Tenerife, but it wasn't a priority for me, so I didn't spend much money drinking here.
Transportation costs in Tenerife
This is where your living expenses in Tenerife can add up. Car rentals here are not cheap, so if you plan to stay here for a long-time, you may be better off buying a used car and reselling it.
If you're renting a car, search on Discover Cars as they will quickly search ALL the car rental agencies in Tenerife and find you the best deal. So much easier than going through them all individually!
I rented a car for a week in January 2022 and paid €250, with insurance through my credit card. Gas is relatively cheap; it only cost me €35 to fill up the tank, which lasted most of the week.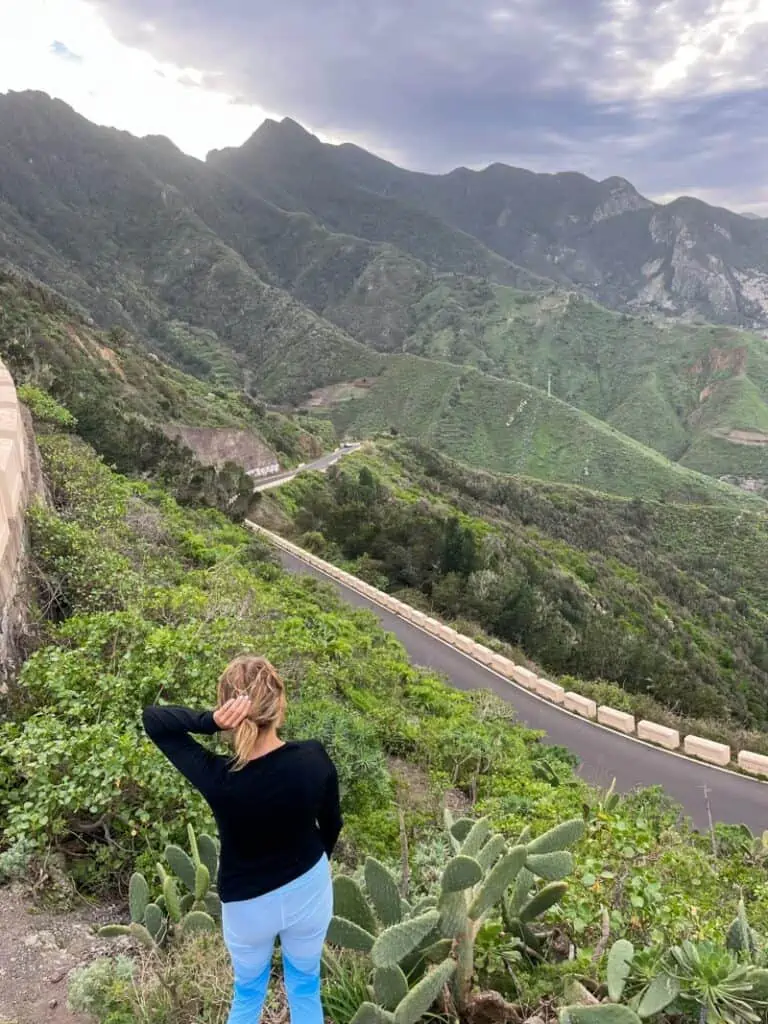 Do you need a car?
Honestly, having a car in Tenerife will make your experience a much more enjoyable one. There's so much to see on this island – the week I rented a car was my favorite one here.
That said, you can get by without it – especially if you're living in the south. In Playa Las Americas or Los Cristianos, you'll be able to walk to the beach and never-ending restaurants and bars.
It's only when you want to visit another area of the island that it becomes problematic. But you can always join a tour, or make friends with someone with a car. There are also public busses that go around the island; they are just time-consuming.
Bike rentals
I rented a bike from Tenerife Bike Experience, which was a great way to get around. It was €50 for the week, so in hindsight, I wish I'd boughten one and sold it after I left.
Public Transportation
Taking public transportation is a great way to save money in Tenerife. You can purchase a reloadable transport card and fill it up with funds at a machine outside the airport.
Monthly passes are available for around €40, but I didn't use the bus that often, so I just put some money on it. A short ride on the bus will cost you €1.50.
You can also pay cash on the bus, but this seems to be considerably more expensive. I'm not exactly sure what the price difference is, but when a friend and I took the bus from the north to south of the island, I tapped my card and got charged 5.50, but she paid in cash and it was almost 15!
Taxis start at €3.50 and go up €2 per kilometer, so it's not that expensive for short distances but can add up significantly if you're traveling far. A taxi from the south to the north of the island will cost you over €100, so it's not an affordable way to get around.
Internet, mobile data, and coworking spaces
Like most of Europe, mobile data is affordable in Tenerife, especially compared to Canada. I purchased a SIM card from Vodafone with 20g of data for the month, which was €12.
The SIM cards can be used all over the EU Schengen Area, so most European digital nomads from Europe use their home plan. Tenerife has fast 4g service in most places, except some rural areas in the parks. But who wants service while you're hiking in nature anyway?
Internet was included in my coliving/apartment rent, but I've been told it is around €50/month.
Unfortunately, Tenerife's cafe scene is not that great for digital nomads looking for somewhere to work from, but there are some coworking spaces with more popping up all the time. Here's a look at the prices of some of the most popular coworking spaces in Tenerife.
Tenerife Coworking Spaces
Expect to pay 150-200 for a monthly coworking pass.
Health care and insurance
Thankfully I never had to use the Tenerife health care system, but I've been told it's one of the best in the world. Health care is not free unless you are a resident, but if you have travel insurance, this should cover you should something happen.
I use and recommend SafetyWing, which is insurance for digital nomads. It's a subscription-based service that renews every month. For less than $40/month, I couldn't be happier with them. And yes, I have successfully claimed benefits before.
Entertainment and leisure
Tenerife is a paradise for outdoor adventure, providing plenty of fun activities at little to no cost. Popular outdoor activities include surfing, rock climbing, mountain biking, kitesurfing, and hiking. And of course, going to the beach is completely free!
There are also many paid activities you can do, with prices highlighted below:
The yoga community in Tenerife is fantastic. There are retreats, studios, and outdoor classes all over the island. I did classes with Sandrita near Playa Del Duque, which is such a lovely spot. The classes cost €10.
I also got a monthly gym membership at minimal fitness club, which was €40.
The digital nomad community here is quite active and runs frequent events that you can join. I did a lot of catamaran boat parties which were €40.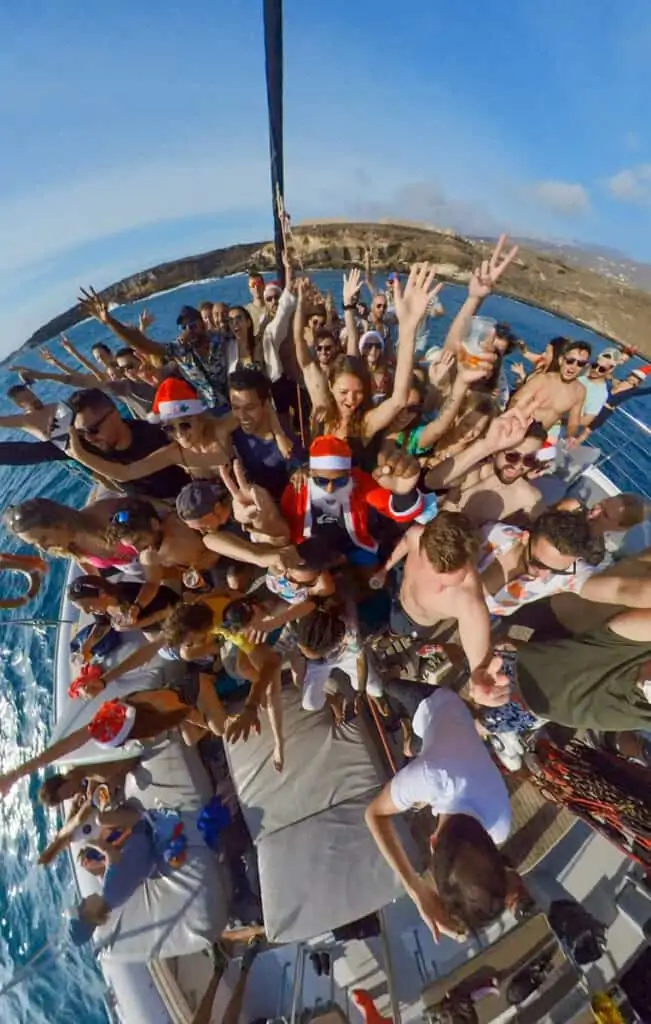 Cost of living in Tenerife Summary
Living in Tenerife, I spent around€1500/month. I shared an apartment with other nomads in a central location, which meant I didn't have to rent a car.
I walked/biked most places and sometimes took the bus. I cooked a lot at home but also ate out frequently with friends and at cafes that I would work from. I didn't get a coworking space pass.
My social life was pretty active. I was out most days but took advantage of many free activities like hiking, swimming, or just chilling at the beach. I would do a paid tour/event about once a week.
You could get by on less than I did in Tenerife, but you could also easily spend a lot more. If you're living on your own near the beach and renting a car, your expenses will be about double mine.
Hopefully, this post could give you some insight into living costs as a digital nomad in Tenerife!
While not the cheapest place in the world, it provides an amazing lifestyle for a relatively low cost in western Europe. If you have any questions about expenses in Tenerife, let me know in the comments below!