This post may contain affiliate links. By clicking and making a purchase through the links, I earn a small commission at no extra cost to you. See my disclaimer for more information. This and display ads allow me to keep the site up to date and give back.
If you're an established or aspiring digital nomad wanting to spend more time in Europe, things just got easier with so many countries in Europe starting to offer remote work visas.
This post will go over the top countries offering digital nomad visas in Europe, with information about how to apply and why you may want to live in each country.
Europe Digital Nomad Visas
Estonia Digital Nomad Visa
Estonia was one of the first countries to embrace this new phenomenon, welcoming foreign entrepreneurs, freelancers, and digital nomads who help attract more visitors and boost their economy. In 2020 they introduced a one-year visa, enabling foreigners to work remotely in Estonia.
Basic conditions include providing your employment contract with a company outside Estonia, being self-employed, or freelancing for companies outside Estonia with a minimum of €3 504 per month over the last six months. A short-term visa (C) costs €80, while a long-term visa (D) will cost €100.
Online applications are not yet possible but can be submitted at your nearest Estonian Embassy. More information, such as tax implications, or relevant documents necessary, or for the latest laws, can be obtained from the Estonia Ministry of Foreign Affairs website.
Why live in Estonia?
Situated in Northern Europe bordering the Baltic Sea and the Gulf of Finland, this former Soviet Union territory declared its independence in 1991. Today, it is a democracy and part of the European Union.
It boasts a diverse landscape of rocky coastlines, 1 500 islands, dense forests, and many beautiful lakes. Steeped deeply in history, the countryside is dotted with magnificent castles, churches, and museum. The capital, Tallinn, looks like it came straight out of a fairytale!
The cost of living is substantially lower than most European countries, while still offering a similar lifestyle. It has one of the highest literacy rates in the world and almost everyone speaks a foreign language, mostly English, German, Swedish, or Finnish, making it an easy place to live and work for digital nomads.
Iceland Digital Nomad Visa
Iceland offers long-term digital nomad visas valid for up to six months, but that includes time spent in any European country under the Schengen Agreement. This means that if you've been traveling in any Schengen country for three months, you may only apply to stay in Iceland for a further three months.
Basic conditions include providing proof that you are self-employed or working for a company outside Iceland, and you are earning a minimum of one million ISK (approximately $7 700) or 1.3 ISK for a couple. You will also need to have full medical/travel insurance for your stay in Iceland. The cost for the application is 7,800 ISK. Digital nomads may take their families along too.
For more information and application forms, visit the Directorate of Immigration website.
Why live in Iceland?
Situated just outside the Polar Circle in the North Atlantic, Iceland is the least populated country in Europe, with two-thirds of the population living in the capital, Reykjavik.
It has a rugged yet beautiful coastline dotted with dramatic fjords, while the interior is mostly uninhabited and consists of sand, mountains, active volcanoes, lava fields, glaciers, and a lot of ice. It's home to some of the beautiful natural attractions in the world!
It does however possess an abundance of geothermal and hydroelectric energy sources, providing the population with the cheapest electricity and heating in the world. Virtually all the power comes from renewable energy.
Due to its remote location, the cost of living is regarded as one of the highest in the world, so from an economic prospect, it may not be ideal for digital nomads.
The language sounds extremely difficult to pronounce, but don't stress, most Icelanders speak fluent English. it's possibly the safest country in the world – It doesn't even have an army.
A fascinating country nevertheless, just remember your warm clothes. The average winter temperature is around 1 – 2°C, warming to a "sweltering" 12°C in summer!
Croatia Digital Nomad Visa
Croatia's digital nomad visas were made available as of January 2021. They apply for different periods, and depending on your nationality, you may apply online.
Basic conditions include proof of employment or self-employment, clients' contact details, having a minimum of €2 500 savings or monthly income, having passed a criminal check in your country, and proof of accommodation and travel insurance while in Croatia.
For more information and how to apply, go here.
Why live in Croatia?
Situated on the east coast of the Adriatic Sea, Croatia provides the perfect base for any digital nomad traveling around Europe. If that is not enough motivation, the country is rated as one of the top 20 tourist destinations – it's an absolute gem.
Its landscape varies with high mountains, lush forests, and a picture-postcard coastline with hundreds of islands that easily match anything the Mediterranean offers. It has an intriguing history dating back to prehistoric times, with a rich blend of ancient Greek, Roman, and Byzantine influences and cultures.
It's not the cheapest country in Europe, but the beauty makes up for it.
Czech Republic Freelance Visa
Although the Czech Republic does not yet have a specific digital nomad visa, it does offer a Zivno (Freelance) visa valid for a year but can be extended.
This allows non-EU citizens to start a business or freelance for foreign companies. But be warned; it's pretty complicated as you need to have a trade license first. The good news is that if you intend to stay for less than 90 days, you'll be able to work remotely and independently on a normal tourist visa.
Basic conditions include having a minimum of €5 600 in the bank and be required to pay a minimum of €70 per month in tax. Also need to submit proof of purpose (Trade license), proof of accommodation, travel/health insurance, and a clear criminal record.
Your application cannot be submitted in the Czech Republic but through an embassy outside the country and may take 3 – 4 months to be approved. For more information and application forms, go here.
Why live in the Czech Republic?
A good reason to work in the Czech Republic is the low cost of living, being almost half of that of London or Paris. Being centrally situated, it's also relatively easy and cheaper to travel anywhere in Europe, whether by road or air.
A stunning landscape of hills and low mountains, rivers, and four national parks provide the perfect getaway for hikers and nature lovers.
The cities are full of historic buildings with a rich blend of architecture dating back over 1 000 years. The historic center of the capital, Prague, with its cobblestones streets, colorful baroque and gothic buildings, and iconic medieval Astronomical Clock, is a national treasure to behold.
Spain Non-Lucrative Visa
Spain seems to be slow in recognizing the potential digital nomads have to boost their economy and attract foreign capital into the country. To date, they have no genuine digital nomad visa.
Instead, most people apply for the Non-Lucrative visa, which does not legally allow you to work in Spain. It is more designed to attract foreign retired or self-supported people. The good news is, however, that they are busy devising a visa specifically for digital nomads, which is expected to be finalized shortly.
People that have gained entry using the Non-Lucrative visa, which is a complicated affair, are complaining of being double-taxed at a rate of 24%.
Why live in Spain?
Once the new regulations are released, Spain is sure to become a favorable destination for all nomads. It offers stunning landscape of fine beaches, lush countryside dotted with wonderful historic landmarks, beautiful cities, and a laid-back lifestyle.
Spain is a large country, offering nomads various climates and cities to choose from. Barcelona and Madrid are perfect if you want to live in a vibrant city, while Tenerife in the Canary Islands is attracting spiritual and nature-loving nomads.
Portugal D7 Visa
Portugal, on the other hand, has grasped this opportunity to attract digital nomads with great success.
They even created the Madeira Digital Nomads Village in Ponta do Sol on the south-facing coastline of the main island, offering a wonderful lifestyle and free Wi-Fi.
The freelancer visa is called the D7 visa, which grants you a residence permit for two years, with the option to renew for another three. Afterward you could then apply for permanent residence, making the Portugal D7 visa one of the most attractive in Europe. It's my plan!
That said, getting the visa is not as simple as filling out a form. You will first need to get a Portugal tax number (NIF), open a bank account, find a one-year lease, and then go back to your home country to apply at the nearest embassy.
The other conditions require you to earn a monthly income of only €600, have sufficient travel insurance, and submit a criminal background check. More information and application forms can be obtained from the Ministry of Foreign Affairs website.
Why live in Portugal?
With a mild Mediterranean climate, stunning countryside, many historic yet modern cities, excellent food and warm, friendly people, who wouldn't want to live and work here?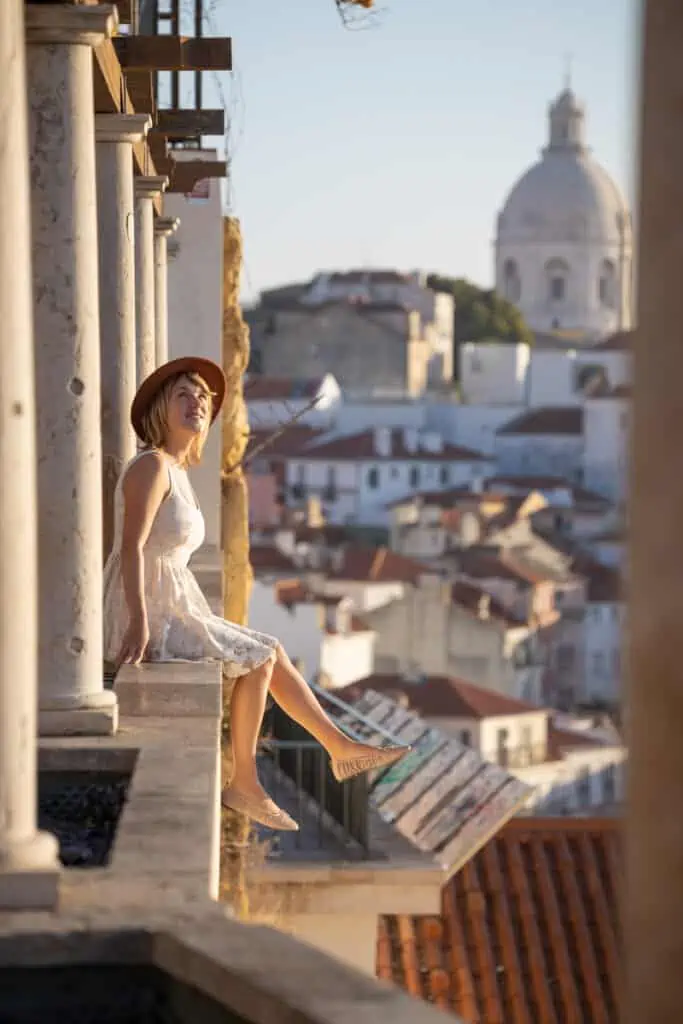 Many digital nomads flock to Lisbon, which is my plan for 2022. This vibrant city has a huge nomad community, with meetups organized every Thursday night. Food and wine is cheap, and you'll never get bored walking around the charming streets. While there aren't any beaches in the city center, a short train or bus ride will take you to some.
Greece Digital Nomad Visa
Greece is another country that is lagging behind, as it is still working on its digital nomad visa requirements. So far detailed information is sketchy, but it is anticipated that it will not have too many requirements. They are expecting the visa to be available very shortly with the following conditions:
A one-year or 18 months visa that can be requested online with proof that you can work for the entire duration of your stay, and a declareation that you will not work for any local employer. The minimum income to be around €3 500, but the good news is that only half of that will be taxable.
The island of Crete has jumped at the chance to boost its economy and is currently on a drive to install 5G Network across the entire island, creating what is aptly named the "Work in Paradise" project.
Why live in Greece?
Greece is a country where culture, history, and simple country life all collide together to create the perfect lifestyle to suit almost anyone.
To all that, add magnificent beaches at every turn, hundreds of picture-postcard islands, breathtaking mountain scenery, great food, and warm people. It's no wonder digital nomads are flocking to this Mediterranean paradise.
Germany Freelance Visa
Germany was the first country in Europe to create a freelance visa. The visa is valid for a period between 6 months up to 3 years, but be prepared for some serious red tape, as it may take 3 – 4 months to be approved. The cost of the visa is €100.
Basic conditions include registering with the German tax office and submitting a series of documents, i.e., your portfolio, bank statements, health insurance, address in Germany, and proof that you can sustain yourself. Basically, they want to ensure that you are providing services benefitting their country.
For more detailed information and application forms, log onto the Berlin Service Portal.
Why live in Germany?
Germany has the strongest and largest economy in Europe. Its landscape is a mix of tall mountains, lush forests, and beautiful river gorges, all providing breathtaking scenery, while many modern and cosmopolitan cities are interconnected with a most efficient road, river and rail system.
The entire country is dotted with countless picturesque villages and towns with hundreds of medieval castles, cathedrals, churches that draw millions of tourists every year.
Bordering no less than nine countries, it makes the perfect base for digital nomads who want to explore Europe. And of course, it's the place to be if you love beer as the birthplace of Oktoberfest!
Norway Independent Contractor's Visa
Norway is a wonderful destination for digital nomads, although the cost of living is pretty high compared with other European countries. They have created the Independent Contractor's Visa, allowing foreigners to live and work in the country for a period between 6 months to 3 years.
Basic conditions require you to be self-employed with a contract to work for a local business, proof of accommodation, relevant qualifications, and an annual income of €35 719.
The visa is fairly expensive at €600, and applications must be submitted to your nearest Norwegian Embassy. Further information can be obtained from the Directorate of Immigration website.
Why live in Norway?
Norway boasts of providing one of the highest standards of living in the world. Modern cities offer all the amenities you could ever want, while the rugged coastline with countless mountains, ancient glaciers, and majestic fjords ensure a vibrant tourism industry and a paradise for all nature lovers.
The subarctic climate can be a little harsh in the "Land of the Midnight Sun" as daylight hours vary considerably from summer to winter. Other than that, a most desirable place to live in or visit.
Romania Digital Nomad Visa
Romania is in the final process of introducing a digital nomad visa, which could make this country a top destination for digital nomads. Reasons are simple – low rentals and low cost of living, and the fastest internet speeds in Europe. Although we have not yet seen the final version, it is expected to be most favorable.
Basic conditions are anticipated to include being self-employed or employed by a foreign company, and a monthly income of €1 100, which will allow you to stay in the country for up to 6 months. The normal conditions of having travel/medical insurance, proof of accommodation will probably also apply. It's unknown yet whether applications will be made online or by physically submitting them to an embassy.
Until then, you can apply for a Long-Stay Visa (D), which allows you to stay and work in Romania for up to 90 days. For more details, visit the Ministry of Foreign Affairs website.
Why live in Romania?
Surprising to many people, Romania offers a great lifestyle, whether in a modern urban city like Bucharest or rural laid-back environment in the countryside.
The beautiful Carpathian Mountains and undisturbed forests, the rich Danube Delta, and Black Sea resorts offer excellent scenery and wonderful recreation, while the medieval towns with their castles, churches, and monasteries are of historical and cultural interest.
What if you don't want to get a visa?
If you don't want to go through the process of getting a digital nomad visa, then you can still live and work remotely in Europe under a normal tourist visa. The only issue with this is that if you're not an EU citizen you are only allowed to stay in the Schengen Area for 90 days in a 180 day period.
But the joys of being a digital nomad are being able to move around, so simply hop over to another non EU country for 90 days and come back to experience an entirely new country!
Aspiring digital nomad? Check out these posts!