This post may contain affiliate links. By clicking and making a purchase through the links, I earn a small commission at no extra cost to you. See my disclaimer for more information. This and display ads allow me to keep the site up to date and give back.
Tenerife has quickly positioned itself as a digital nomad hotspot, thanks to all the Europeans now working remotely, seeking somewhere close to their time zone where they can escape the cold. And with the digital nomads comes the coliving spaces.
Tenerife seems to have a new coliving popping up every month, so I've rounded them up in this post to help you decide which one is right for you.
Why choose coliving in Tenerife?
Coliving spaces offer many benefits to digital nomads in Tenerife.
Getting a long-term apartment can be complicated in Tenerife as landlords will typically want you to sign a lease agreement and pay a hefty deposit.
If you're only coming for a short period, it's often not worth the hassle. With a coliving space, you can simply book and show up without having to worry about apartment hunting, lease agreements, and furnishings.
While they can add to your Tenerife cost of living, they also come with added amenities like coworking spaces, yoga classes, activities, and sometimes even food. And of course, there's the community aspect.
By choosing one of these coliving spaces in Tenerife you'll be instantly integrated into the digital nomad community, which is great if you're traveling solo or new to the lifestyle. And unlike a hostel, you still get privacy as most colivings have private bedrooms (and sometimes private bathrooms). Best of both worlds!
Coliving spaces in Tenerife
Someone told me that Tenerife had two Coliving spaces this time last year, and now they're at least eight. More seem to pop up by the time, but beware as they are not all created equal. Many are also in less than ideal locations, so choose carefully if you don't plan to rent a car.
Another thing to know is that while coliving spaces are plentiful in Tenerife, they are also very popular. You need to book most in advance (sometimes months). From north to south, here are the top coliving spaces in Tenerife.
Note the only Coliving space in Tenerife I have stayed in is Igikai. The information about the other Colivings is based on research and information from talking to other digital nomads in Tenerife.
Igikai Coliving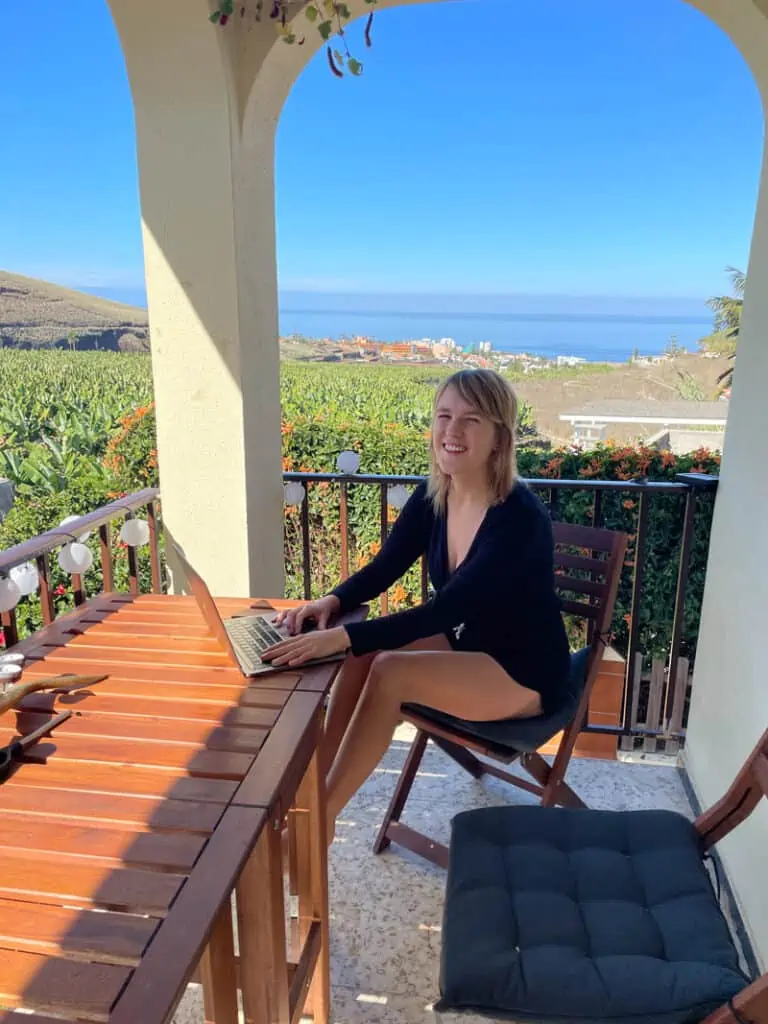 Igikai Coliving– This is where I stayed for my first three weeks in Tenerife. The location is beautiful; it's a house in a small neighborhood, a 40-minute (uphill) walk from Puerto de la Cruz. You get stunning views overlooking Puerto, A banana plantation, and mount Teide in the distance from the balcony. I loved working from here!
It's a two-story house with seven bedrooms, several bathrooms, a shared kitchen and living space, and a large outdoor area with a hot tub. There are coworking desks in the living room with 600Mbps internet, and other perks include an avocado tree outside the kitchen window free to grab.
Like many places in Tenerife, the location isn't great if you don't have a car. There are bus stops that can take you to other places on the island, but the busses take a long time in Tenerife. However, the owner, Leyber, does have a car and often drives guests places.
Guests at Igikai tend to do things together, but the vibe frequently changes as many guests stay only a week.
Nine Coliving Tenerife
Nine Coliving was one of the original Colivings on the island and is by far the most popular. You have to book MONTHS in advance if you want to stay here, seriously! I wasn't so lucky to get a spot, but I've heard fantastic things about it.
It's located in a historical building in the center of La Orotava, which is a beautiful Spanish town in the north of the island. Perks include a rooftop with amazing views, a daily fresh breakfast, daily yoga, and a resident pup to bring on nearby hikes with you.
This is Nine: a Coliving Promo Video from Nathalie Baker on Vimeo.
Taoro Coliving
Taoro Coliving is a smaller Coliving villa in the north. It's a renovated six-bedroom villa with spacious and cozy rooms. A gorgeous pool overlooks the mountains, with several outdoor areas to hang out on where people often play music. The location is somewhat remote, but this is a great place to go if you want to unwind and be inspired by nature.
Maraya Coliving
Maraya Coliving is another coliving in the north half of the island, but you'll enjoy warmer temperatures as it sits below Santa Cruz. It's nestled in a beautiful Barranco, overlooking the ocean and surrounded by nature.
Perks include incredible views, an outdoor pool, fresh breakfasts, family dinners, daily yoga, and an active community. I've had a few friends stay here who all had positive things to say!
Maraya Coliving Presents: Life at Maraya from Maraya Coliving on Vimeo.
Amarilla Coliving
Amarilla Coliving is in the south of the island in Golf Del Sur, with impressive 360º views of the Amarilla Golf golf course. It's near the south airport and within walking distance to the beach, but most clubs and bars you'll need to cab or bus.
Amarilla is a mix of villas and apartments that you share with other nomads. Perks include an outdoor pool, hot tub, organized meetups, dinners, outdoor classes, and excursions.
They post a lot of organized events in the digital nomad's Telegram group, so even if you're not staying here, you can take part in some events.
Cactus Coliving
Cactus Coliving is another coliving in the south of the island. The house is in Valle San Lorenzo, one of the villages that leads the way to Teide national park. In 15-minutes you can drive to Playa Las Americas, one of the most popular places for surf.
Perks include staying in a historical house, a wine cellar with wine workshops, community, daily breakfast with local ingredients, organized activities and adventures, a coworking and conference room, and daily yoga classes.
Oasis Coliving Tenerife
Oasis Coliving – If you want to be in the heart of the action near surf, then check out Oasis coliving. It's a central apartment in Playa Las Americas, so you'll be within walking distance to many restaurants, bars, and shops. I live just down the roads and love the location for getting around.
They offer short-term and long-term private rooms, shared workspaces, and a pool. I have heard that this coliving is a party vibe, so something to keep in mind if you're looking for a quieter vibe.
Palma Coliving Tenerife
Last but not least is Palma Coliving, one of the most popular colivings in the south of Tenerife.
Palma Coliving features a gorgeous villa with high ceilings, large windows, private terraces, a wonderful garden, a swimming pool, and a sea view. It's located up the hill from Costa Adeje, one of the most popular areas to stay in the south. There you can find endless restaurants, bars, and shops.
Other perks of Palma Coliving include community sessions, mastermind sessions, and networking events. They will also organize fitness sessions, cooking diners, yoga, volleyball, hiking, depending on the group's requests.
They host 6-10 residents per month and you must apply, so do so in advance if you want to stay here.
Tenerife Coliving Price Overview
All prices in Euros per person, range depends on room type (discounts offered for double occupancy – check on websites).
*I didn't include Palma Coliving because they don't list any prices on their website.
What area should you live in Tenerife?
Although Tenerife is not a huge island, where you decide to live will have a big impact on your experience here. The south and north of the island are completely different, split by Teide national park in the middle.
The south of the island is where you'll find warmer weather, great surf, resorts, and lots and lots of parties. The north is where you'll find traditional Spanish towns and Anaga national park, arguably one of the most beautiful places on the island. On the downside, the temperatures are cooler, and it's often cloudy.
Here are some places digital nomads tend to live in Tenerife:
Puerto de la Cruz is a popular holiday destination in the north of the island. It's right by the sea, so you'll have quick access to beautiful coastal hikes as well as Teide national park. There are plenty of bars and restaurants with frequent live music and nomad meetups.
Santa Cruz is the largest city in Tenerife, located in the north of the island, just below Anaga national park. It's one of the more traditionally Spanish towns where you can experience a local vibe. That said, there is a small nomad community here, and it has all the amenities you would expect in a city.
El Medano is a small beach town in the south of Tenerife. It's the best place for windsurfing and kitesurfing on the island and thus attracts nomads who are most interested in those water sports. It has a laid-back vibe with cute boho shops and cafes. It is one of the windier places to live though!
Los Cristianos is another town further down the coast where many digital nomads in Tenerife live. It's got lovely beaches, consistently warm weather, and lots of bars and restaurants. If I had my time back, I would live in Los Cristianos.
Playa De Las Americas is just a 20-minute walk from Los Cristianos and where I have been living on the island. It's full of resorts and is the island's party capital with endless restaurants, bars, and clubs. It's also popular with surfers as Playa Las Americas is one of the best surf spots. It's a great location for being close to just about everything, but it can be pretty noisy at night.
Costa Adeje is another coastal town further down the south coast. Again, you'll find plenty of nice beaches, resorts, hotels, bars, shopping malls, and restaurants. It's an area popular with tourists, but many nomads live here too.
—
I hope this post could help you decide what Tenerife coliving space to stay in. Many nomads spend a week or two in one and then move on to another to see a different part of the island.