This post may contain affiliate links. By clicking and making a purchase through the links, I earn a small commission at no extra cost to you. See my disclaimer for more information. This and display ads allow me to keep the site up to date and give back.
As a digital nomad, you'll be living out of your backpack – making this item one of the most important purchase decisions!
I've gone through my share of digital nomad backpacks and have finally found my dream nomad backpack.
Whether you want a minimalist bag or something that can handle outdoor adventures, this post will help you find the right backpack for your nomadic adventure.
Features to Consider When Purchasing a Nomads Backpack
Size and weight
You'll be carrying everything you own, and having a large bag can become a burden.
On my first year traveling through South America I took a 75l travel backpack, and it became the bane of my existence – I could barely get the thing on! So I downgraded to a 40l after that trip and never looked back.
If you can manage, I highly recommend going with carrry-on luggage. It makes life so much easier if you're moving around a lot!
Not to mention you don't have to worry about airlines losing your luggage, saving costs on bag fees – there are many benefits to going with a carry-on backpack.
Laptop and electronics storage
As a digital nomad, you'll likely have a fair amount of electronics with you – at the very least, a laptop.
So one important feature you'll want to look for in your travel backpack is a secure storage space for your laptop and other electronic devices.
Security
If you are concerned about theft while traveling, you may want to look for a backpack with built-in anti-theft features like cut-resistant material and a way to secure the bag with a lock.
Waterproof
It's a good idea to get a travel backpack made of waterproof materials as your chances of getting caught in the rain while traveling are pretty high, and electronics don't like getting wet.
Durability
Your bag is going to be moving around with you – a lot. Even if it's a carry-on, bags eventually wear down, and if they aren't quality – they wear down fast.
It's worth investing in a bag made of durable materials that will last you a long time. This brings me to my next point…
Cost
While cost may be one of your primary deciding factors when choosing your digital nomad luggage, look at your bag as an investment.
It's worth spending money on something you can rely on to get your gear around securely.
Best digital nomad backpacks
Nomatic Backpack
I purchased the Nomatic 40l backpack in 2019, which was my ride-or-die for years! I've written a full review about why I love the Nomatic bag so much, but here are the cliff notes:
It's carry-on sized (40L), meaning I often don't have to pay for a checked bag.
It has a secure laptop storage and a side compartment for storing cords and electronics.
A waterproof exterior means you don't have to worry about being caught in the rain while traveling.
Separate shoe compartment so I can store my dirty hiking shoes away from everything else!
Removable waist straps so you can also carry it as a duffel bag.
It comes with a mesh laundry bag, which is great for separating your dirty clothes from your clean ones
Easy access side pockets, including RDIF safe storage for your cards and mesh pockets for smaller electronics.
Fantastic customer service – they have already replaced my bag once at no charge.
The Nomatic backpack is one of the best digital nomad backpacks out there – it hits all the main features you want.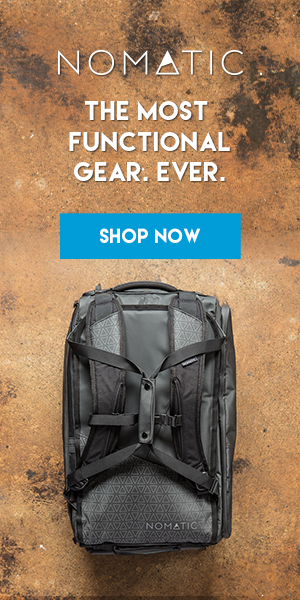 Minaal Carry On 2.0
I discovered the Minaal Carry On 2.0 bag through another digital nomad I met in Costa Rica, and it's one of the best options with similar features to the Nomatic Travel Bag.
It has a minimalist aesthetic, a shock-proof laptop compartment, and compliance with US and European airline carry-on limits.
The laptop compartment goes against your back, unlike the Nomatic bag, which has a padded laptop/tablet sleeve on the opposite side.
It also has a seam-sealed rain cover to keep your gear dry and tuck-away shoulder straps for a briefcase-style business mode.
Overall, it's a nice-looking bag that hits the key features you'll want in your digital nomad backpack.
TropicFeel Shell
If you are someone who likes organization in your backpack, check out the TropicFeel Shell bag.
It has a built-in wardrobe system, expandable kangaroo pocket for your shoes, and an additional elastic to hold a yoga mat or towel.
One of this backpack's best features is its adaptable design that shifts between 22L to 40L. This means you can get more space as needed, whether you're out for a day trip or a week-long trip.
Like the Nomatic brand, they have specially designed accessories so you can build the ultimate daily-to-travel ecosystem to fit your needs, including detachable pouches at the front.
Complete with water resistance material, this is a very functional bag designed with remote workers in mind.
Tortuga Outbreaker
The Tortuga Outbreaker is another one of my top picks. It's well-organized, roomy, extremely comfortable, and has all the features you could want in a nomad backpack.
The best part about this travel bag is that it packs like a suitcase but carries like a backpack.
The front-loading bag opens like a suitcase, so you can organize your stuff and quickly grab whatever you need.
The Tortuga Outbreaks comes in two sizes, 35-liters and 45-liters, and both have pockets to carry 17" laptops.
This backpack comes with height-adjustable shoulder straps and chest strap that you can adjust up or down for the perfect fit on your body.
The hip belt will transfer 80% of the bag's weight from your shoulders to your hips, which makes moving around long distances much easier.
The exterior is made of waterproof fabric originally developed for racing boat sails, so you can feel confident that it's built to last.
CabinZero
CabinZero is a UK-based company that has created the ultimate hassle-free travel pack perfect for minimalists.
The bags have a lightweight design that won't weigh you down, yet they are still spacious to carry everything you need.
It can be carried on your back and comes with a comfortable top and side grab handles.
One great feature about the CabinZero bags is that they have lost and found tags built-in. This ensures your bag can be traced back to you if it is lost or stolen.
The system is linked directly to the Airline's baggage tracking system. When you receive the bag, you just need to register the tag online with Okoban.com. Your bag then has lifetime protection using this lost and found system!
Check prices on Amazon | CabinZero
PacSafe VentureSafe
As a digital nomad, you'll be carrying around some high-value items with you, which means you'll want a backpack to keep it all safe.
One of the safest travel backpacks is the Pacsafe venturesafe EXP45.
The PacSafe VentureSage bag is built with an anti-theft design, with securable and puncture-resistant zippers that can also be locked with a padlock.
The fabric is cut-resistant and comes with a stainless steel cable to lock your bag to objects.
This anti-theft backpack holds up to 45 liters and comes with a large main compartment (suitcase style) and a smaller exterior for fast access.
You can fit a tablet, laptop, or travel binder inside the pocket. It also comes with a 5-year Pacsafe warranty!
FE Active – 25 Litre Dry Bag
Suppose you're an adventurous traveler who often finds themselves in situations where you may get wet, like on boats to go diving underwater or taking river cruises through the Amazon rainforest.
In that case, you'll want a bag that's guaranteed to protect your gear. The FE Active 25L Dry Bag is an ideal backpack for these type of adventures.
This bag is completely waterproof, and made of thick marine-grade vinyl tarpaulin built to withstand extreme outdoor activities.
It has built-in compartments to store essentials and accessories like a computer, notebook, and smaller personal items like a passport. So no matter what you're doing, this bag is sure to protect your gear.
As this bag is only 25l, it may not be big enough to hold all your belongings. Still, it could be an excellent second day pack to keep your electronics safe when you're going on water adventures.
LowePro ProTactic 450 AWII
If you're a digital nomad and a photographer, you'll want a backpack with secure storage space for all your cameras! The LowePro ProTactic 450 AW is a great choice.
Designed with professional photographers in mind, this bag can safely and securely fit 2 DSLRs, up to 8 lenses, and a laptop.
It has flexible and adaptive dividers inside that allow for multiple configurations, and the protective padding all around the bag ensures your equipment inside is protected!
The LowePro ProTactic is a great secondary bag to keep all your camera gear safe and sound.
Check prices on: LowePro | Amazon
REI's Rucksack 40
If you're looking for the best luggage for digital nomads that is also good for taking on outdoor adventures, then check out REI's Rucksack 40. It's marketed as both a hiking and travel bag, so you get the best of both worlds.
It's an extremely comfortable bag to carry, with lightly padded shoulder straps and a ventilated mesh back panel that promotes breathability.
This bag is great for long hikes, as the compression straps and load-lifters keep the pack's weight close to your back for stability.
The full-zip designs make packing and unpacking easy, and the easy-access side panel keeps your travel essentials convenient and well-organized. The sleeve along the back panel can hold a 3L hydration reservoir or a 15″ laptop!
This bag is made with rugged, recycled ripstop nylon, so it's highly durable and environmentally friendly. It also has a removable rain cover if caught in the rain.
Check prices on: REI
Osprey Farpoint
Osprey has long been a favorite bag for backpackers for years, famous for its long-lasting, reliable backpacks. But the Osprey Farpoint could also be a good option for digital nomads!
All of the Osprey backpacks are designed with comfort in mind. They are lightweight and come with an adjustable harness, hip belt, and lockable zippers on the main bag – making it ideal for digital nomads.
The Osprey Farpoint bags also come in various sizes – from 40L carry-on to larger 75l packs – so you can choose how much space you need.
The 40L small size is ideal as it can be taken as a carry-on and easily moved from place to place. It's also got a padded internal laptop sleeve and stash pockets for extra cables and electronics.
Check prices on: REI | Backcountry | Amazon
Digital nomad accessories
Now that you've picked out your perfect bag – what do you put in it?
Besides clothes, there are a few accessories you'll want to put on your digital nomad packing list.
Laptop stand – it took me years to get one of these, and I deeply regret it. It's so affordable and makes a huge difference for my back having my laptop just slightly perched up. The stands folds down to be compact, so this item barely takes any room in my backpack.
Compression packing cubes – these make your life so much easier when you're packing. You can fit significantly more in your travel backpack by using them, and it helps organize your clothes.
International plug adapter. A must have if you're moving between continents to ensure you keep your electronics charged. I like this one because it has multiple USB ports so you can charge multiple devices at one.
Portable power bank – because there's nothing worse then being stuck somewhere with a dead mobile phone.
External hard drive – a must if your job requires large file sizes or you want to store photos/videos from your trip. I like this hard drive because it's shock proof so it it gets dropped, your data is still safe.
Portable WiFi router – having consistently good WiFi can be a struggle as a digital nomad. This portable WiFi router allows you to strengthen the connection of WiFi networks to the room you're in.
A Grayl water filtration water bottle – In many countries the water is not safe to drink, but buying plastic water bottles is expensive and terrible for the environment. I got this water filtration bottle which allows me to safely drink water from anywhere in the world (and yes, I've used it many times without getting sick).
Digital nomad travel insurance
One of the most common questions I get asked is what I use for health insurance while traveling full-time as a digital nomad.
The answer is simple – I use and love SafetyWing!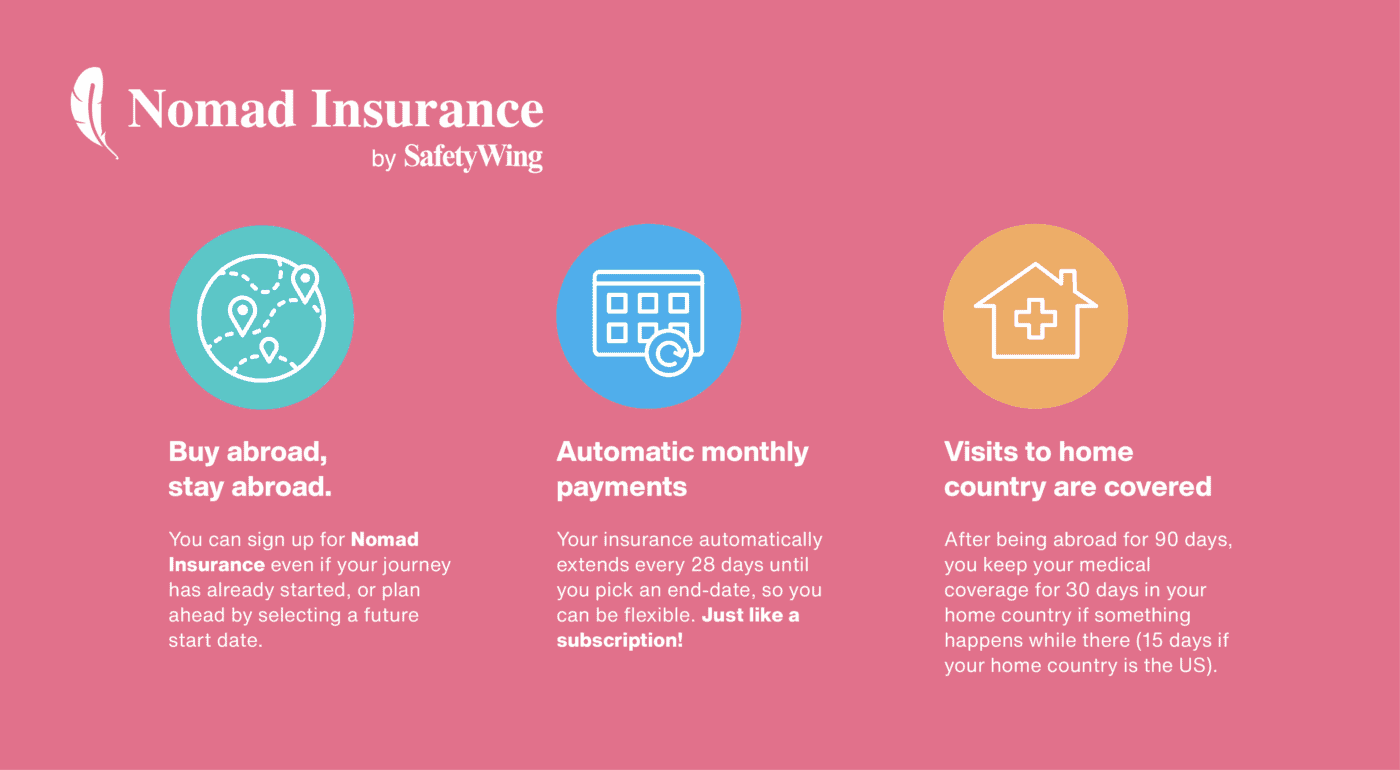 It's insurance made with digital nomad in minds – protecting you in almost every country in the world.
It's one of the most affordable options at just 42 USD a month and works on a subscription based service so you can start and stop it whenever you're on the road.
You can read my full SafetyWing review, including what it was like to claim with them.
—
There you have it – the best travel backpacks for digital nomads in 2023.
I've been pleased with my Nomatic Travel Bag since buying it in 2019, but there are certainly some other impressive nomad backpacks on the market. I hope this post could make your decision a little bit easier!
Is the Nomatic backpack worth it?
Yes. While it might seem like an investment, buying the Nomatic backpack was some of the best money I've ever spent. It hits all the features you need in a digital nomad bag and is built to last. And if anything happens, Nomatic has an excellent warranty and customer service.
What should I pack as a digital nomad?
Although it may seem like you need to pack your entire life into your bag, you only need to pack about a week's worth of clothes, toiletries, and electronics. Here's more tips on packing for long-term travel.
What are the best digital nomad jobs?
Wiith more and more jobs becoming remote, there are so many options for digital nomad jobs. Some common ones are online English teachers, web developers, travel blogger/freelance writer, and graphic designers. Find more inspiration for digital nomad jobs.
Jumping into the nomadic lifestyle? Check out these posts!
Enjoyed this post? Pin it for later!