This post may contain affiliate links. By clicking and making a purchase through the links, I earn a small commission at no extra cost to you. See my disclaimer for more information. This and display ads allow me to keep the site up to date and give back.
When it comes to eco tours in Puerto Rico, there's no shortage of fun adventures to go on. Few destinations offer such an incredible breadth of experiences that Puerto Rico does!
Although the Island is only 100 miles long and 35 miles wide, it has countless beaches, mangroves, forests, reefs, and caves where you can find hundreds of species.
Whether you're ziplining through the mountains, sliding down waterfalls in the jungle, or exploring inside a cave, you'll love all the eco adventures in Puerto Rico.
I visited Puerto Rico for the NATJA Conference and was hosted on a two-day trip with Discover Puerto Rico in the Central Region after the event. As always, all opinions are my own.
Sustainability in Puerto Rico
One of the things that struck me the most about visiting Puerto Rico in 2022 was how forward-thinking the locals were.
In 2017, Hurricane Maria devastated the Island with about $2 billion in agricultural damage. Since the Island recovered, there's been a significant shift in a mindset where local experiences and sustainable tourism policies are at the forefront of mind in an effort to protect the environment.
With so many sustainable initiatives and diverse landscapes to explore, Puerto Rico is one of the best islands in the Caribbean for ecotourism.
Plus, you can jam-pack many activities into your itinerary in a short time frame, given its relatively small size. Here are the best eco friendly tours in Puetro Rico to inspire your trip!
Best eco tours in Puerto Rico
Eat your way through Old San Juan
San Juan, the capital city of Puerto Rico, is full of colorful streets, restaurants, and cafes to explore. If you're looking for a great introduction to the city, join a walking tour with Spoon.
Local experts will guide you through the cobblestone streets and colorful buildings of San Juan, explaining the fascinating history of this 16th-century colonial city.
The three hour tour takes you through the city's impressive forts and historical landmarks, with four stops in cafes, bars, and restaurants to sip cocktails and taste traditional Puerto Rican food. There's nothing I enjoy more than slowly eating my way through a city!
My favorite stop was Deaverdura, where we had the chance to learn how to make Mofongo.
It's one of the most traditional Puerto Rican dishes you can find at just about any restaurant, but this was the tastiest one I had on the Island.
The main ingredient is plantains, which are then cut into pieces, fried, and mashed with salt, garlic, and butter in a wooden pilón
It's traditionally served with pork, but they prepared a special veggie version for me, which was delicious. All the food there looked amazing!
Spending the afternoon on the Spoon experience was a great introduction to Old San Juan and helped me discover some fantastic restaurants and bars to return to later in the week.
Learn about sustainable living at Finca Gaia
One of the problems brought to light after the hurricane was Puerto Rico's dependence on food exports. Since then, there's been a consciousness movement of farmers growing locally sourced food where possible.
We had the chance to visit Finca Gaia, a locally-owned farm in the town of Dorado. It's a family-run project dedicated to agro-tourism and agroforestry, where you can come and learn about Puerto Rico's flora, fauna, endemic species, and agriculture on a walk through the farm's 35 acres.
During the walk, they gave us practical tips on starting a home garden and sustainable living. They also offer cultivation and composition workshops and volunteer programs if you want to dive deeper into this.
While visiting, we also got to eat lunch with the family, which was all locally sourced. It was one of the best lunches I had on the Island! Plus, they have the cutest dog there to play with.
If you don't have the chance to visit a Finca, you can also try one of the many farm-to-table restaurants across the Island, particularly in the Calle Loiza area of San Juan. Tostado and Dreamcatcher are good options.
Explore Inside a Cave
Puerto Rico is home to over 2000 caves, many of which you can explore inside. Caves have an in incredibly unique ecosystem, so this is a a great activity for nature lovers in Puerto Rico.
One of the best caves to visit in Puerto Rico is Rio Camuy Cave Park, which is is the third-largest underground river in the world. It's carved out an extensive network of natural limestone caves and underground waterways that you can walk through part of!
Over 10 miles of caverns, 220 caves, and 17 entrances have been mapped, yet this is only a fraction of the complex!
On the tour, you'll get to walk through part of the cave complex while learning about the fascinating geological history that dates back millions of years.
We had a guide with our group, but I also listened to the audio tour, which I thought had better information about the geological history.
The stalactites inside are impressive in size and really makes you appreciate the slow process of nature when you consider their age.
At the end of the walk, a part of the cave is open to the sky, which is breathtaking to see with all the shades of green peaking through.
The tour was about two hours, a great way to spend a morning in Puerto Rico. Since you have to descend into the cave, It does involve a steep walk back up to the park's main entrance which can be pretty sweaty in the heat. I recommend going as early as possible in the morning!
The park's main entrance is in the area of Camuy, and you can visit from Wednesday through Sunday from 8:00 a.m. through 3:00 p.m. Reservations are not required.
Make cheese at Vaca Negra
Ever wonder how cheese is made? In Puerto Rico, you can find out and even have your homemade cheese sent back to your house.
If you are a cheese lover, this Puerto Rico eco tourism experience is for you.
Vaca Negra is one of the Island's most innovative agritourism centers in the town of Hatillo, where there are more cows than people. Here, you can sample and buy aged cheeses made in Puerto Rico.
We made our own gouda personalized with our favorite spices on our tour. They'll age it for two months in the cheese cellar, and then I can pick it up or have it shipped back to my house.
After the cheese-making workshop, we took a quick tour around the facilities and then sat down to sample a variety of aged cheeses alongside a glass of wine. It makes for a great date activity!
Visit one of the brightest bioluminescence bays in the world
One of the most unique adventures in Puerto Rico is visiting one of the world's brightest bioluminescence bays on the Island of Vieques.
In 2006, the Guinness Book of World Records recognized Mosquito Bay in Vieques as the "brightest bioluminescent bay" in the world, estimating that 700,000 microscopic organisms occur in every gallon of water!
I didn't have time to go to Vieques on my trip, which is one of my biggest regrets. It's an experience high on my bucket list.
The best way to visit the bay is on an eco-friendly kayaking tour, as this leaves a minimal footprint.
If you aren't up for kayaking, there's also Island Adventures, which takes you to the bay on an electric pontoon boat.
Other activities in the area include hiking, biking, snorkeling, kayaking, and diving trips around the Island, making Vieques one of the best destinations in Puerto Rico for ecotourism.
Tour a coffee hacienda
Puerto Rico grows some of the best coffee in the world! If you're a coffee-lover, be sure to visit one of the coffee plantations in the countryside.
There you can learn about the production of coffee from fruit to cup, drink a cup, and buy a bag of freshly roasted beans to take home with you.
One of the most eco friendly coffee plantations in Puerto Rico is Hacienda Buena Vista. It's a 19th-century coffee plantation and is only one of five working coffee plantations that use water power.
Go zip-lining through the mountains
Puerto Rico's central region is full of incredible mountain landscapes, and one of the best ways to experience them is via zipline. As you're flying through the air suspended by cables, the environmental impact is pretty small.
We spent a morning ziplining through the mountains at Toro Verde Adventure Park. They have a 7-course zip line that takes you across the spectacular mountain scenery, which is an excellent option if it's your first time as none of the lines are that scary.
If you're feeling a bit more adventurous, you'll want to try "the superman," which is one of the world's longest ziplines.
This experience isn't for the faint of heart, but you'll truly get to discover what it feels like to fly through the sky!
Taste Rum at Bacardi Factory
I never expected to learn about sustainability while visiting Casa Bacardi, but even they impressed me.
From the moment we arrived at the facility, you could see wind turbines, and our guide explained that they were working towards being 100% powered off renewable energy.
After trying a delicious cocktail, we took a tour around the facilities to learn about how rum is made, as well as a look into the room where the barrels are aged.
Afterward, we headed to the tasting room, where we sampled various aged rums.
Throughout the tour we learned that Bacardi not only pays their worker's fairy but ensures that the workers of all their suppliers are treated and paid fairly too.
Overall, I was impressed with efforts to be a responsible company – and it gave me a deeper appreciation of rum!
Slide down waterfalls in El Yunque National Forest
Visiting the only rainforest in the U.S. national forest reserve is an absolute must while in Puerto Rico. The park is just an hour away from San Juan, making it a perfect day trip.
There are natural waterslides inside the park, so one of the funnest things to do is join a tour that will take you hiking and sliding down the falls.
Take a look at this video from going down one of the natural waterslides!
If you aren't up for getting wet, you can simply enjoy the hiking trails where you can see more than 240 species of plants and animals that call this park home.
Leave nothing but footprints behind and take only pictures to ensure the park is preserved for future generations.
Hit the beach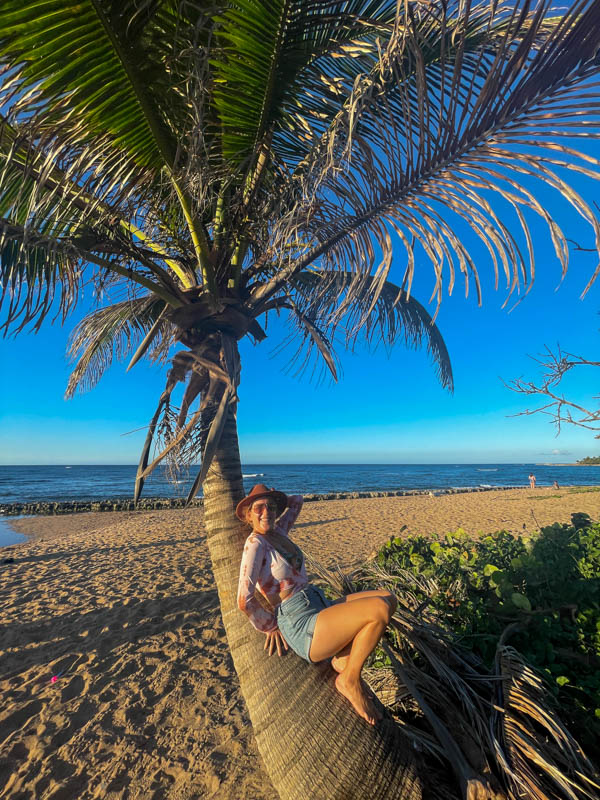 Although Puerto Rico is famous for its beaches, I didn't see one until about a week into my trip as I was so busy with all the other adventure activities.
But if you're looking for a day to relax in the sun, there's no shortage of beaches.
I enjoyed spending the afternoon at Playa Piñones, a local beach just a ten-minute drive from the city.
If you're visiting a beach, always take out what you bring, and use reef-safe sunscreen before getting in the water to protect the coral reefs.
Like Barbados, Puerto Rico is an excellent destination in the Caribbean for surfing.
It's not the best place for beginners as the waves can be rough, but if you're a confident surfer, there are plenty of places around San Juan to catch waves. It's also a great destination to go scuba diving!
Eco friendly hotels in Puerto Rico
To compliment your outdoor adventures in Puerto Rico, you'll want an eco-friendly place to stay.
Luxury: Royal Isabela is perched on a seaside cliff 200 feet above the ocean, where you can see stunning views of the hotel's 426-acre nature preserve.
They have an on-site organic farm, which supplies the acclaimed Jota Restaurant with local vegetables, herbs, and fruits.
If you're visiting the Island of Vieques, check out Finca Victoria.
This gorgeous farm has five rooms decorated with repurposed furniture, biodegradable toiletries, and hammocks overlooking the sea and forest. Your stay even includes a locally-sourced vegetarian breakfast!
Glamping: For a unique glamping experience where you can be immersed in nature, check out Pitahaya Glamping.
Your tent comes with a lovely double bed and private bathrooms, near pristine rivers and nature reserves where you can recharge your mind.
—
I hope this post could inspire you to join some eco adventures in Puerto Rico! There are so many fun activities to do there and get immersed in nature – let me know what one you would love to try.