This post may contain affiliate links. By clicking and making a purchase through the links, I earn a small commission at no extra cost to you. See my disclaimer for more information. This and display ads allow me to keep the site up to date and give back.
I had no idea before coming to Barbados that it was a world-class surfing destination, but it was a pleasant surprise to learn! The perfect weather, offshore winds, and reef breaks create these incredible surf conditions. And with access to both the Atlantic ocean and Caribbean sea, there are surf spots in Barbados for all levels – whether you're a complete beginner or a seasoned surfer.
If you're never tried it before, Barbados is the perfect place to learn to surf. I've been taking surf lessons in Barbados these last couple of months, and it's the most comfortable I've been with the sport since first trying it on Costa Rica's Pacific Coast. Plus, there's an incredible surfing community here – it's been one of the best ways to meet people while living in Barbados.
Freights Bay Barbados: Where to learn to surf
If you want to learn to surf in Barbados, head to Freights Bay. It's the longest left in Barbados and is not very powerful, making it an ideal spot for longboards and beginner surfers.
The Southeast swells wrap around South Point and roll straight into Freights Bay, creating these perfect surf conditions. Plus, there are a lot of qualified instructors around to teach you if you're a beginner!
I've been learning to surf with Bodie's school of surf, which I cannot say enough good things about. I was extremely nervous the first day I went surfing in Barbados as I was still getting over my near-drowning accident in Newfoundland, but Bodie was so calm and reassuring. I started the day with so much anxiety and by the end of it, I was catching waves and had the biggest smile on my face.
Freights Bay is also just a gorgeous place to hang out, the views are awesome, and there are sea turtles everywhere in the water!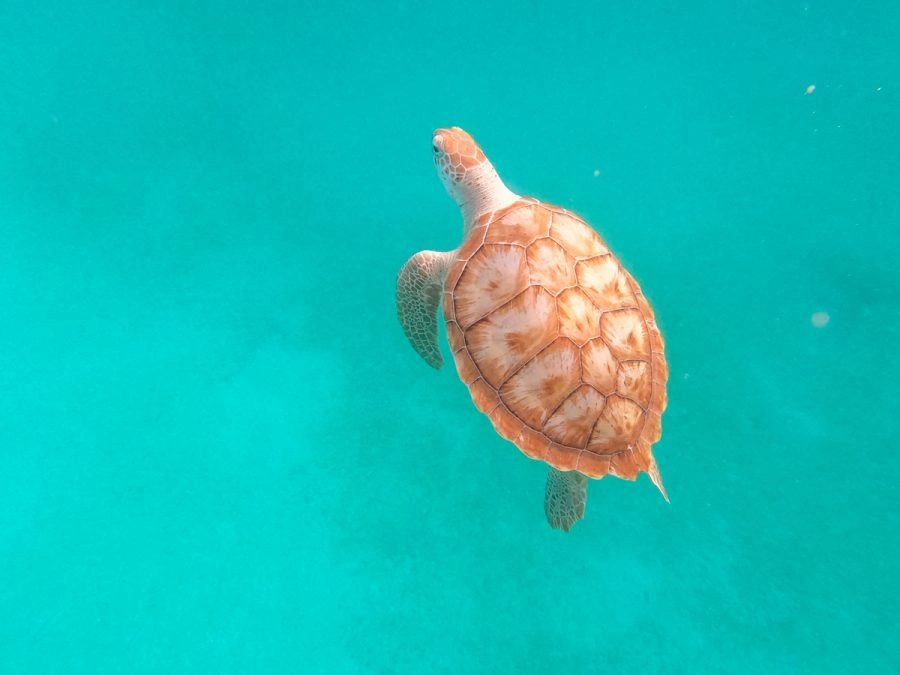 Even though it tends to be a busy area, there are plenty of waves for everyone. It's also a great place for meeting other travelers as everyone chats while you're waiting for the next set of waves to come.
Freights is on the South Coast of Barbados, which is a great place to stay if you're visiting the island. It's full of restaurants, bars, and nightlife, so there's always something fun to do after a day of surf. There are also a lot of beautiful Airbnb and accommodation options nearby.
Getting there: Freights Bay is on the South coast just after the town of Oistins. It is possible to get there by taking local transport (the 11 ZR bus goes nearby), but you'll have to walk 10 mins or so from where the bus drops you off.
If you're traveling with a board, you'll definitely want to rent a car to get there (which is the case with most surf spots in Barbados). If you're doing lessons with Bodie, you can meet him at Epic Surf Cafe and he'll take you in his van. I also highly recommend the smoothie bowls from here!
Other Barbados Surf Spots
Barbados Surf Spots on the South Coast
The south coast, on the Caribbean side of the island, has the best surf spots in Barbados for beginner and intermediate surfers. Aside from Freights Bay, here are some other Barbados surf spots on the south coast.
I haven't actually surfed all of these myself, so I've asked some of my surfer buds in Barbados to share their insights!
Surfers Point Barbados
Surfers Point is on the southern tip of the island. It's well sheltered, but the waves tend to break at different areas, making this an unpredictable and messy spot to surf.
The swell here tends to be larger than freights, so it's a good place if you're looking for a next step up. Surf lessons and rentals are available right at Surfer's Point with Zed's surfing adventures.
Surfer's Point is also a popular spot in Barbados for windsurfing, kitesurfing, boogie boarding, and kayaking.
South Point Barbados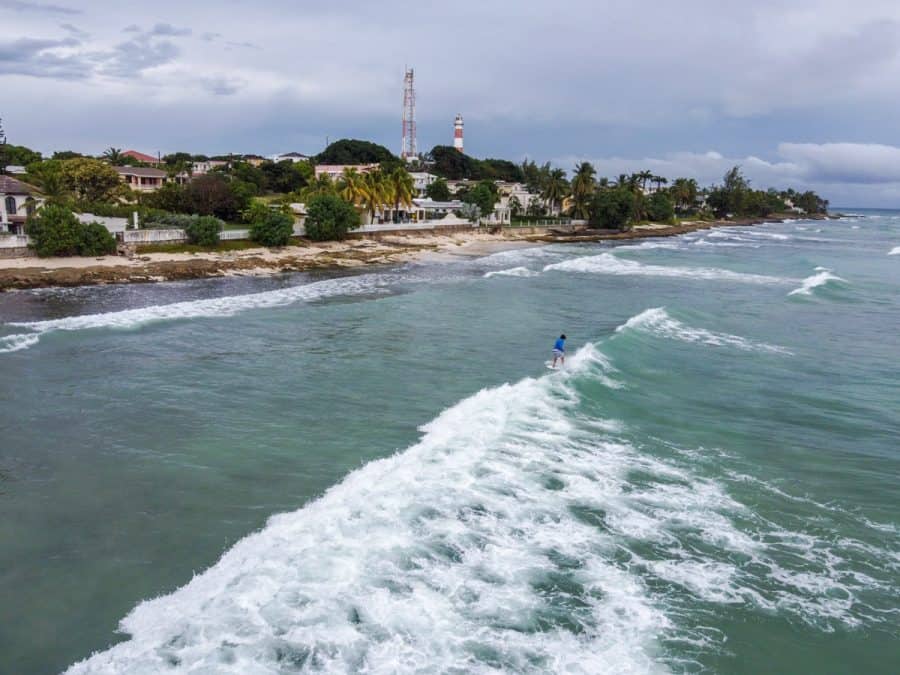 South Point is right next to Freights Bay, but it tends to have larger and more powerful waves, so it can be a good step-up if you're looking for something more advanced. There doesn't tend to be many people there, so it's a good place if you're looking to avoid crowds.
The currents can be strong there, and the shore is very rocky so it can be tricky getting in and out. It gets a lot deeper where the waves break.
Brandons Barbados
Brandon's is another surf spot on the south coast near Bridgetown, the capital city of Barbados. It's commonly referred to as drill hole by locals and tourists alike as there is another calmer beach called Brandon's further up the coast, so don't confuse the two!
Brandon's can be a good spot for beginners, but on a big northern swell, the waves can become much larger, making this a good spot for intermediate surfers as well. It's a long left wave with a big open face that makes it ideal for getting long rides.
Surf Spots on the west coast of Barbados
The west coast of Barbados can have fantastic waves, but this side of the island is very inconsistent, so you'll need to check the surf conditions before heading out. You can check them on magic seaweed!
Batts Rock Barbados
When there's a northern swell, Batts Rock becomes one of Barbados' most popular surf spots. This is the first place to check for good surf on the west coast!
It's a left wave that breaks in about 7ft of water, making Batts rock one of the safer spots to surf in Barbados. The waves here also tend to be pretty clean, so you can get out easily if you mess up. It's a great spot for intermediate surfers!
Batt's Rock is nearby La Cabane, one of the best restaurants in Barbados. It's not cheap, but the drinks and food are amazing. Go here at sunset!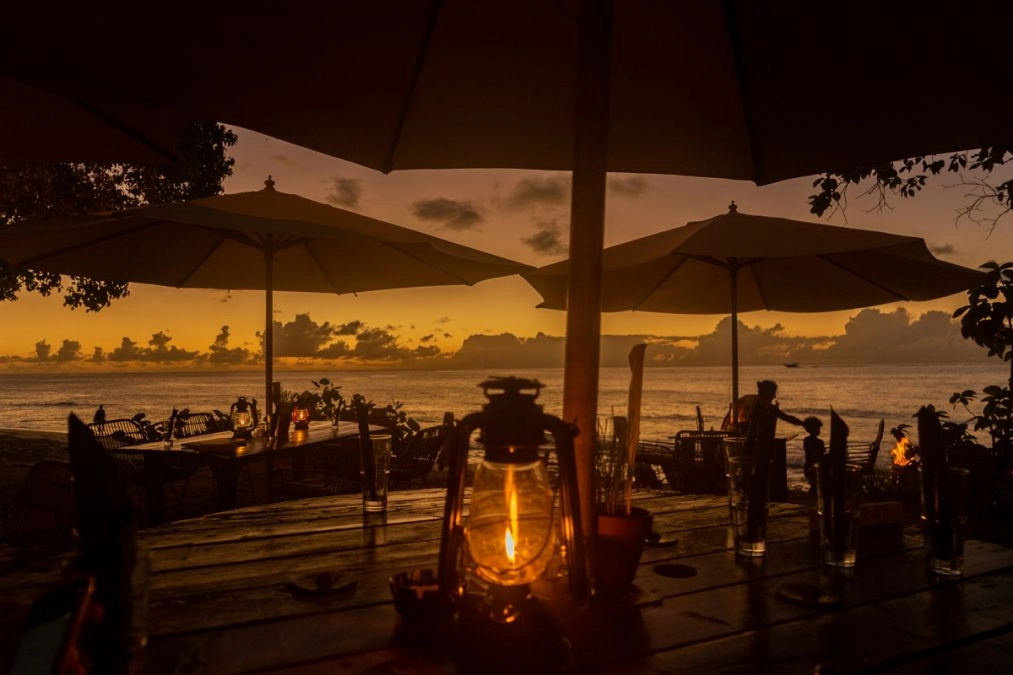 Maycocks Barbados
Maycocks is another popular surf spot on the west coast of Barbados. It's a super long right and is sheltered by a cliff, making this a surfers paradise when the conditions are right.
Surfing spots on the east coast of Barbados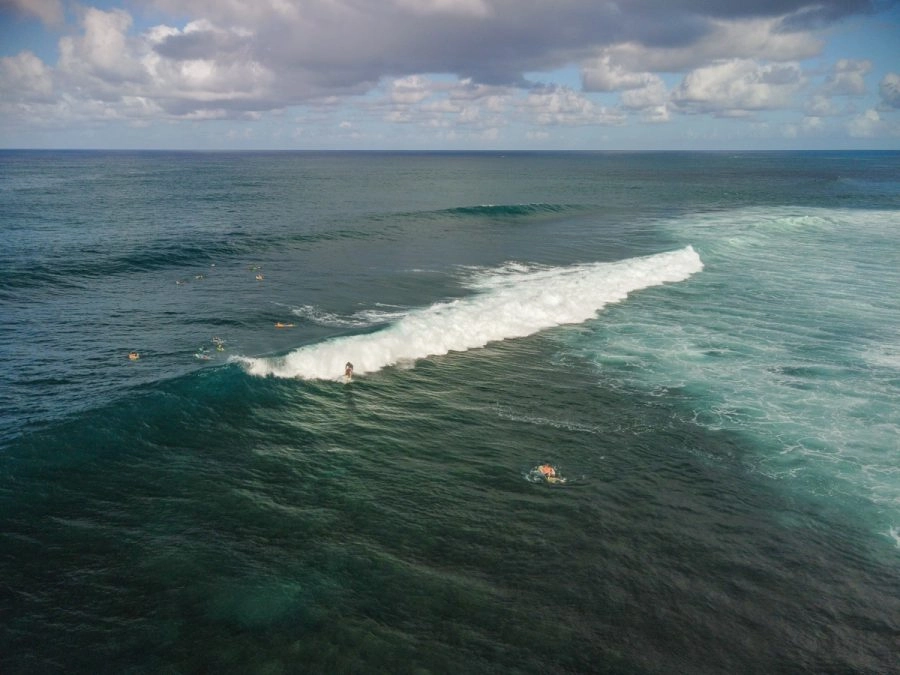 Soup Bowl Barbados
Soup Bowl, located on the east coast of Barbados on the Atlantic side, attracts surfers from all over the world. This wave is mainly a right that can be very heavy when the swells are big – it's famous for its heavy barrels and big surf. It's the most advanced spot in Barbados, so only go here if you know what you are doing!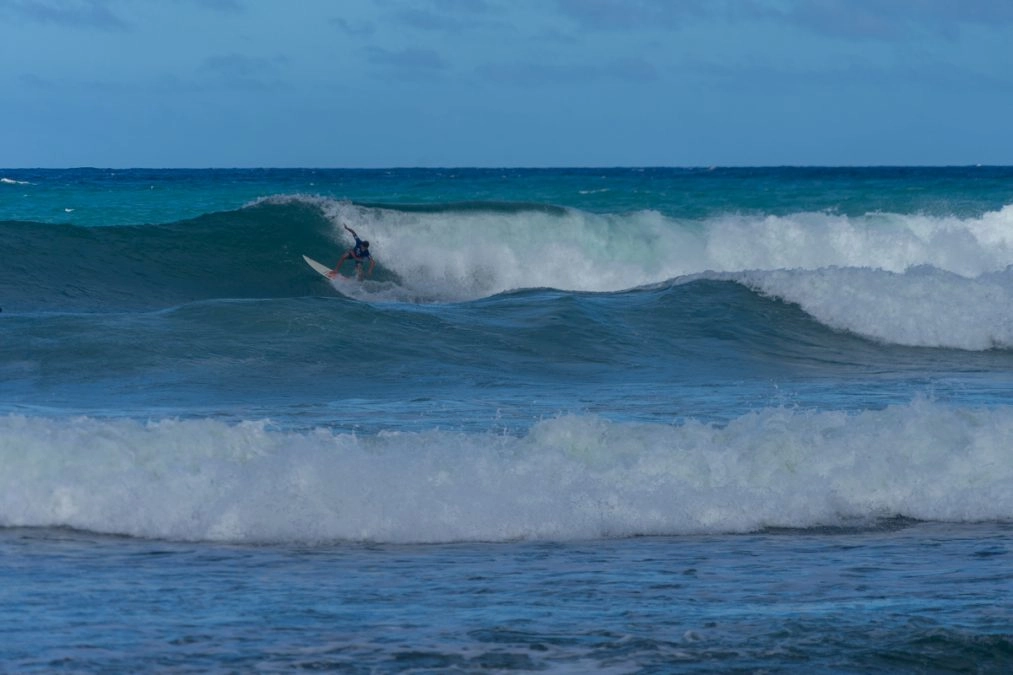 Even if you don't plan to surf soup bowl it's worth heading here to watch the surfers catch waves. There's even a yearly surf competition in November that I was lucky enough to see this year. It's incredible to watch them!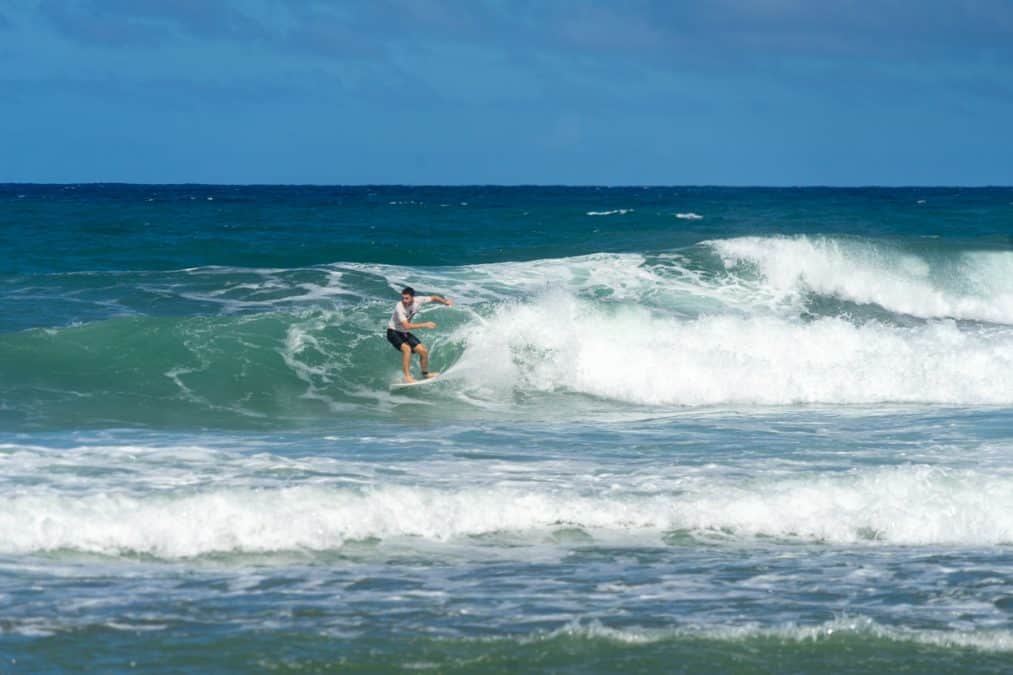 Soup Bowl is in Bathsheba on the east coast of Barbados. You'll need a car to get out here; it takes about 40 minutes from the south. Bathsheba is one of my favorite places on the island – the scenery out here is just spectacular. It's also where you can find the best sunrises on the island!
That said, besides surf and hiking, there's not a lot to do on the east coast. There are a couple of accommodation options and restaurants, but if you're looking for nightlife, then you'll definitely want to stay on the south or west coast. Roundhouse has good food and a great rum punch!
Where to stay while surfing in Barbados
If you are learning to surf and want to experience Barbados nightlife, you'll want to stay on the island's south coast. You can stay right on Freights Bay or out at Surfers Point – there are plenty of amazing Airbnb options around those areas. This apartment has great views!
You'll definitely want a car if you're out this way as it can be hard to get around without one. Also, there aren't that many bars and restaurants around here, with the exception of Surfers Bay Restaurant/Bar which is one of my favorite places to go out in Barbados!
If you stay further does the south coast in Oistins or Hastings, you can get away without having a car as the bus line goes right through these towns. This is also where most of the nightlife is! I live in Oistins, and since I take surf lessons with Bodie, I catch a ride with him to Freights Bay.
There are a lot of beautiful hotels around here. South Gap Hotel is a nice choice; it's right on the water and near St. Lawrence Gap, which is a popular spot for nightlife. Here is a full review of the South Gap Hotel!
There are also plenty of amazing accommodations on the west coast of Barbados, although these tend to be pricier, as is the case for this side of Barbados in general. The best places to stay are in Holetown and Speightstown. Coral Reef Club and Golden View Apartments are two highly-rated options.
The west coast doesn't always have good surf conditions, so this is something to keep in mind as you'll often be traveling south or east. You'll definitely want a car if you're out this way.
If you're an experienced surfer and want to be out in soup bowl every day, then you may want to stay on the east coast, as it can be tedious driving here from other parts of the island. But there really isn't much to do here in terms of nightlife, so expect quiet nights. That said, it's extremely tranquil on the east coast, so it could be a good option if you're looking for a quiet retreat. There are a few places to stay out this way, especially on Airbnb.
Can you surf in Barbados?
Yes, Barbados is one of the best places to go surfing in the Caribbean. There are varying surf conditions on both the Caribbean and Atlantic side, making Barbados a perfect destination for surfers of all levels.
When is the best time to surf in Barbados?
The Surf in Barbados is usually good for eight months of the year, from November to June.
Where can you rent surf boards in Barbados?
There are several places to rent surfboards in Barbados. Most of the surf schools will rent them to you, including Zed's surfing adventures at surfers point and Ride the Tide near over beach.
Whether you're a complete newbie or an experienced surfer, there's a place for you to surf in Barbados. It's a big part of the lifestyle here and a great way to make friends if you're new to the island, so give it a try when you get here!
Enjoyed this post? Pin it for later!