This post may contain affiliate links. By clicking and making a purchase through the links, I earn a small commission at no extra cost to you. See my disclaimer for more information. This and display ads allow me to keep the site up to date and give back.
Considering living in Barbados as a digital nomad? You should be! For nomads seeking out a sunny destination where they can work under palm trees and surf after work, it doesn't get better than Barbados.
Not to mention the high-speed internet, fantastic nomad community, and digital nomad visa if you want to stay for a while. There are so many reasons to put Barbados on the top of your digital nomad destination list.
In this guide, I'll walk you through everything you need to know about living as a remote worker in Barbados.
My experience living in Barbados
Barbados was the first country where I felt like a true digital nomad. I moved there because of the pandemic (it was one of the only countries accepting tourists at the time), and it was one of the best decisions I ever made.
Before the pandemic, I was traveling quickly between places, and it was in Barbados that I discovered how much better the slower-paced digital nomad lifestyle is.
I loved the people I met, being by the sea, the food, the lifestyle – everything about Barbados stole my heart!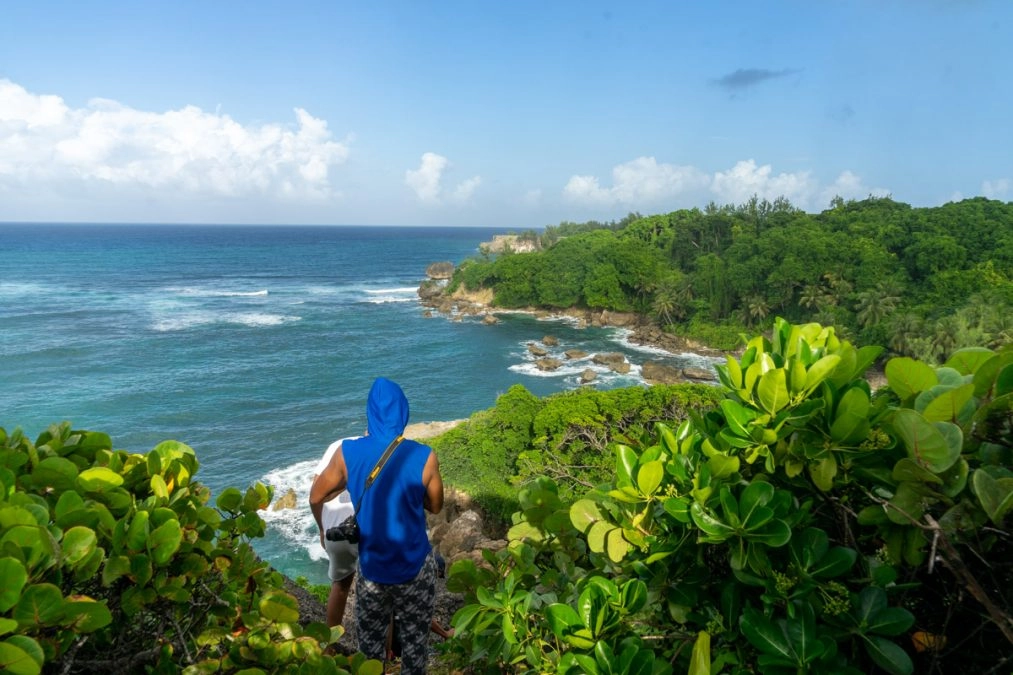 Lifestyle – why live in Barbados?
Living in Barbados was an absolute dream. My only regret was getting here sooner!
Active lifestyle
One of the best parts about Barbados is how easy it is to stay active here.
There are so many amazing outdoor things to do, whether that's surfing, swimming, snorkeling, hiking, diving, mountain biking, or windsurfing – just to name a few!
I spent most of my time by the water, swimming with sea turtles, snorkeling, diving with shipwrecks, and learning to surf.
Amazing surf
The surfing community is large as it's got some of the best surf spots in the Caribbean. So if you've got a flexible schedule, you can easily incorporate a couple of hours of surf into your workday!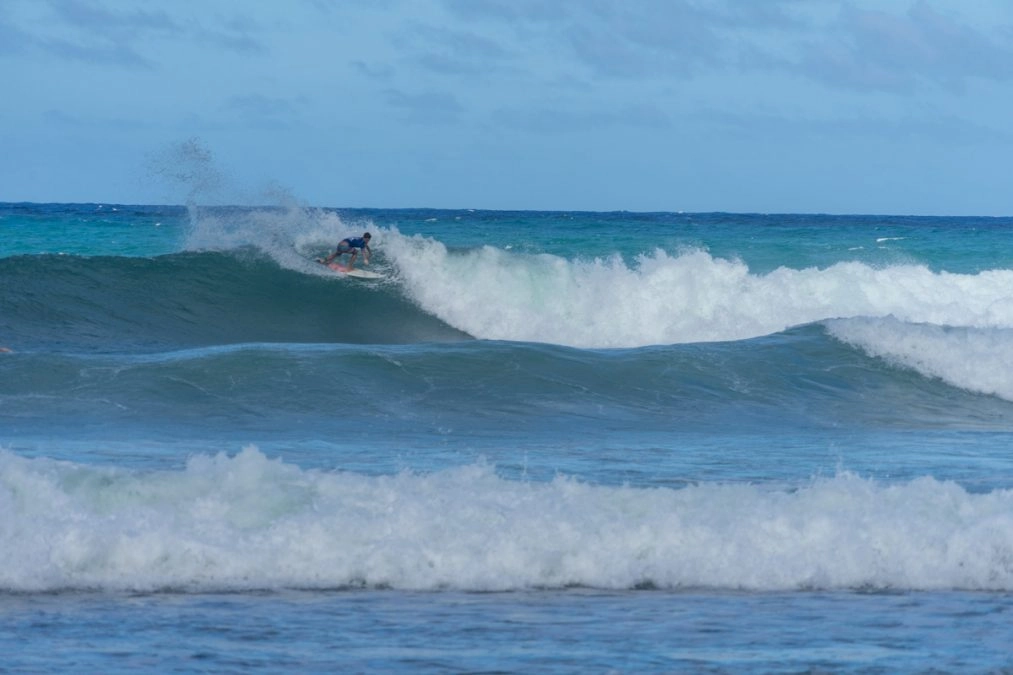 If you're new to surfing, you can join group lessons (I highly recommend Bodie's school of surf) or just rent a board and hit the waves on your own.
Everyone who surfs is super friendly, and there's lots of time to chat while you're waiting for a wave. The south coast is best for beginners, while the east coast has way bigger waves.
Social atmosphere
Having a social life again after the pandemic was so good for my soul. I went out almost every night of the week here for drinks or dinner with friends.
There are quite a few restaurants and bars spread throughout the island, and it's not hard to find one that's lively.
One thing I really love about Barbados is that there's live music happening all the time! Mojos has a great reggae band every Wednesday, and Surfers Bay does a jam session every Sunday.
Barbados has a pretty good nightlife overall. I've spent many a night here out until 4 am. You won't find fancy nightclubs here; most places have large outdoor spaces with a bar inside.
Not to mention all the beach clubs and catamaran parties, which are some of my favorite memories here.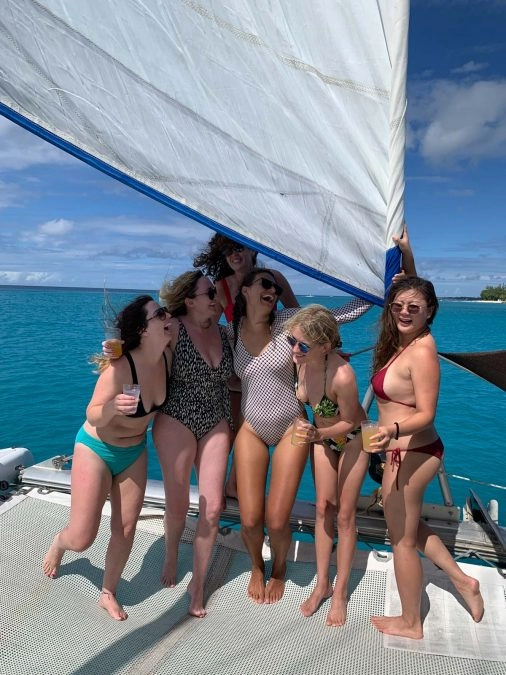 Lots of natural beauty
Barbados is a small but stunning island. You can definitely expect picture-perfect Caribbean beaches, but there are also gorgeous jungle areas and caves to explore!
One of my favorite things to do is just drive around Barbados and explore the different landscapes of the island. Each coast is so different!
A day in my life in Barbados
A day in my life in Barbados started with waking up and enjoying a morning coffee in the sunshine (I saw rain once during the two months I lived there).
Since I work for myself, I adapted my schedule to take part in activities like yoga in the morning or surf classes in the afternoon.
I often met up with friends to cowork in the day at one of the many cafes and always tried to be at the beach by sunset to catch the magnificent colors.
In the evenings, you can always find people to go out with. There's usually live music happening at a bar, which was one of my favorite parts about living there.
Happy hour drink specials are common, and most nomads meet up after the workday to enjoy a drink while the sun goes down.
Weekends are even busier on the island, with multiple events at the various bars and nightclubs around the island.
You can join tons of group activities, whether it's a hiking group, a dive club, or cricket games.
Beach clubs are a popular place to spend the weekend, and we often rented out a catamaran for the day on weekends.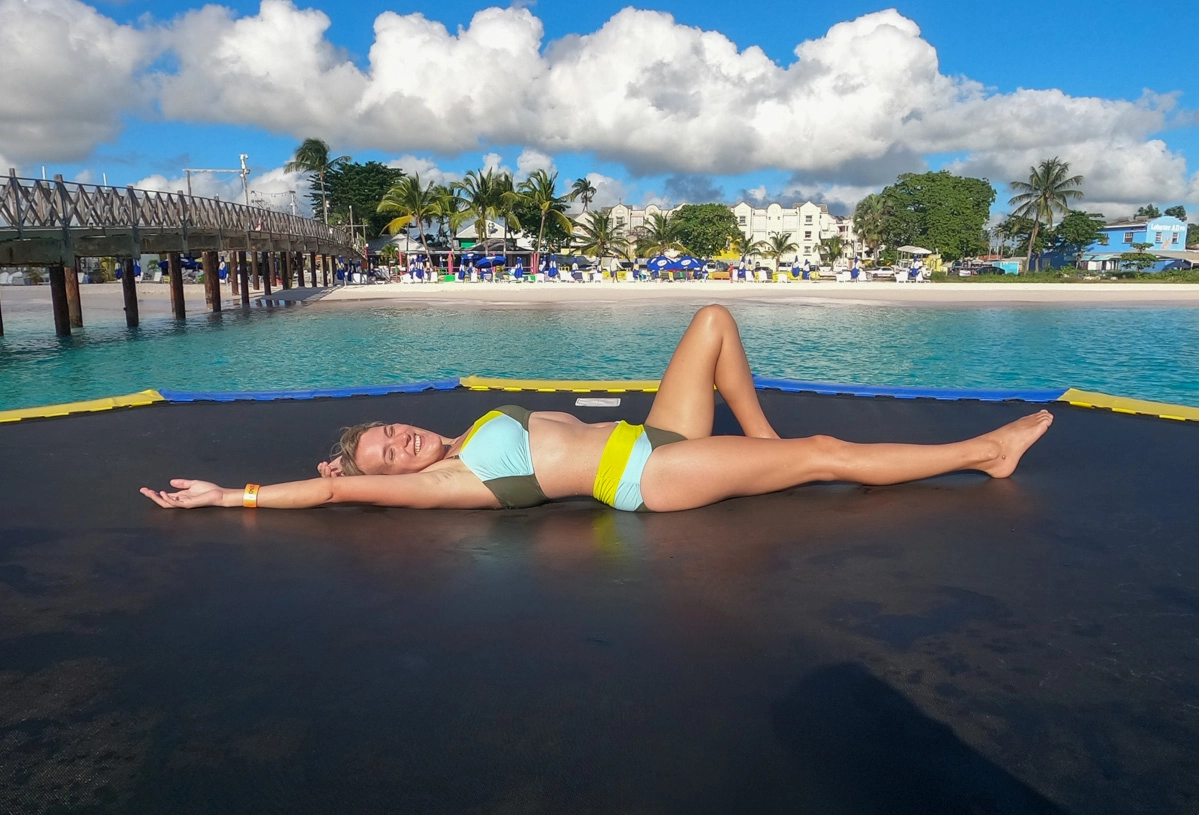 Nomad community in Barbados
Although I came here as a solo female digital nomad, I quickly made friends because of the digital nomad community and friendly locals.
I found it very easy to meet people in Barbados. While the nomad population is small, it's growing quickly and very active. There are Facebook, Slack, and Whatsapp groups you can join to connect with others and find out what events are going on as well as monthly nomad meetups.
The locals here are also extremely friendly and will always say hello to you when you're passing by! Overall, I have found the atmosphere here very warm and inviting.
These are the best groups for remote workers in Barbados to join:
Another great way to meet people is through outdoor activities – I made my first few friends during a surf lesson.
If surfing is not your thing, there are a ton of other activities where you can meet people. I joined a dive club, and went on regular hikes with a hiking group. Outdoor sports, fitness, and yoga classes are a great way to connect with the community.
Barbados is a small island, so you will quickly get to know the other nomads and expats as well as the locals, who I found extremely friendly.
After a few weeks, you'll start running into people you know, making Barbados quickly feel like home.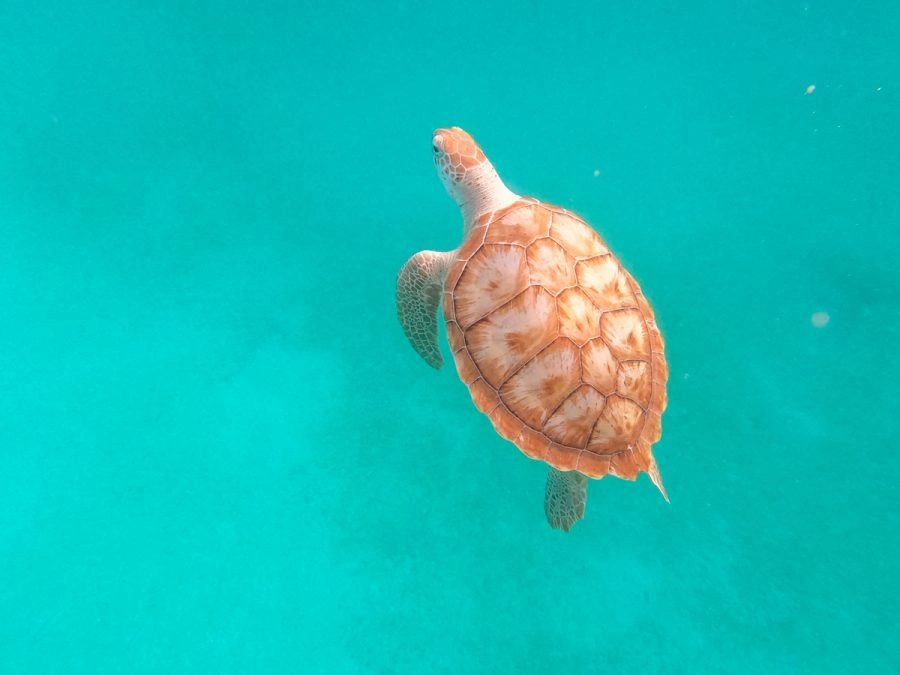 Cost of living in Barbados
Barbados is by no means the cheapest digital nomad destination, but it's not as expensive as you might think.
Barbados uses the Bajan dollar (BBD), although USD is widely accepted. The Barbados dollar (BDS) is pegged against the US dollar at 2:1.
While Barbados is famous for its high-end luxury beach resorts, there are plenty of ways to visit on a budget – especially if you stay long-term.
On average, I spent around 5000 BBD/2500 USD per month living in a one-bedroom apartment, enjoying a very active social life.
There are people I know who spent just on rent, but if you don't need to live in a luxury villa, it's relatively easy to keep costs low.
Food
Unfortunately, Barbados does have high import taxes, which means groceries aren't that cheap.
You have to be careful and look at the prices of everything when you're shopping, as some items are priced ridiculously (I'm looking at you, Hagen Daz ice cream).
Locally grown fruit and veggies are much more affordable, especially if you buy from the local markets. For example, locally grown lettuce is around 2 BBD/1 USD.
I usually had breakfast at home but often ate and cafes during the day and out with friends most nights, so my food expenses were pretty high. On average, I spent about 1400 BBD/700 USD on food (groceries and eating out) per month.
Sample costs for eating out in Barbados:
Delicious roti for 13 BBD/6.50 USD at De Roti Shop.
A local plate of food from a take-out restaurant by the beach will cost you around 20-30 BBD/10-15 USD. Oistins fish fry is one of the most popular places, so expect to pay 30-40 BBD/15-20 USD.
You'll pay 40-50 BBD/20-25 USD for a meal at an average sit-down restaurant by the beach.
There are some very high-end restaurants in Barbados, which I didn't go to much. My most expensive meal was a 3-course special for 160 BBD/80 USD.
Activities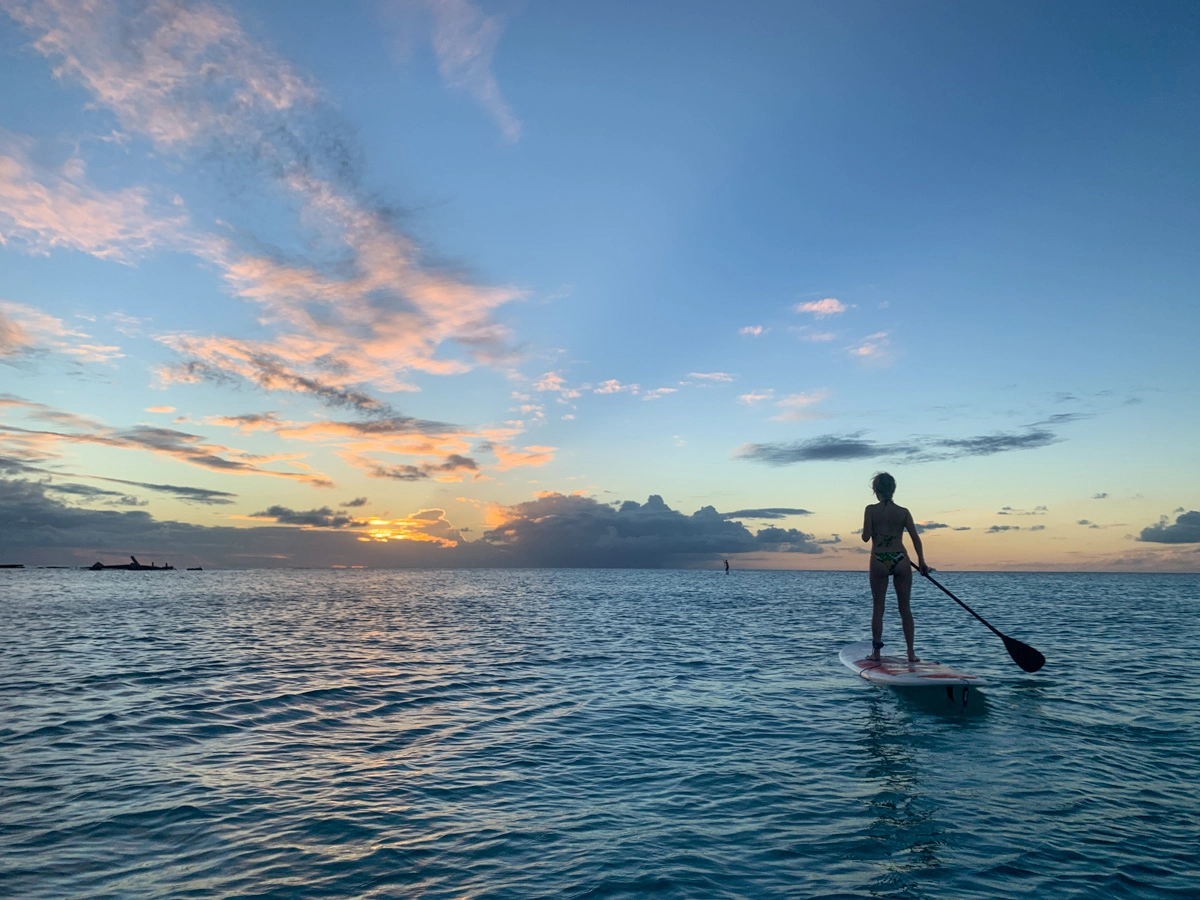 The sea is free to access, so if you want to go for a swim or have your own snorkel or surfboard, then that won't add up much to your expenses.
But if you want to rent a board from a shop or take lessons, it can add up. Here are some examples of the costs of activities in Barbados:
The entrance to Boat yard beach club is 45 BBD/22.50 USD which includes a snorkel trip to see turtles and shipwrecks, and you get 40 BBD back as a credit to use at the bar.
25 BBD/12.50 USD for a yoga class by the sea
Surf lessons – 120 BBD/60 USD
Diving with dive club – 80 BBD/40 USD per dive.
Barbados has some beautiful attractions to see (definitely go check out the many caves), but if you're doing a lot of these tours, it will increase your expenses.
Prices of attractions in Barbados:
Barbados Wildlife Reserve – 30 BBD/15 USD
Animal flower cave – 25 BBD/12.50 USD
Mount Gay Rum Tasting tour – 50 BBD/25 USD.
Catamaran with a group of friends – 140 BBD/70 USD per person.
Nightlife
Barbados has a very active nightlife scene, and fortunately, there isn't usually cover for bars or nightclubs (with lots of free live music)!
A beer at an average bar costs 4 BBD/2 USD or 6-8 BBD/3-4 USD at a more upscale place. Cocktails are more expensive, around 12-16 BBD/ 6-8 USD, so I save those for 2-1 happy hour specials.
My monthly entertainment budget was 1120 BBD/560 USD, but I had a very active social life.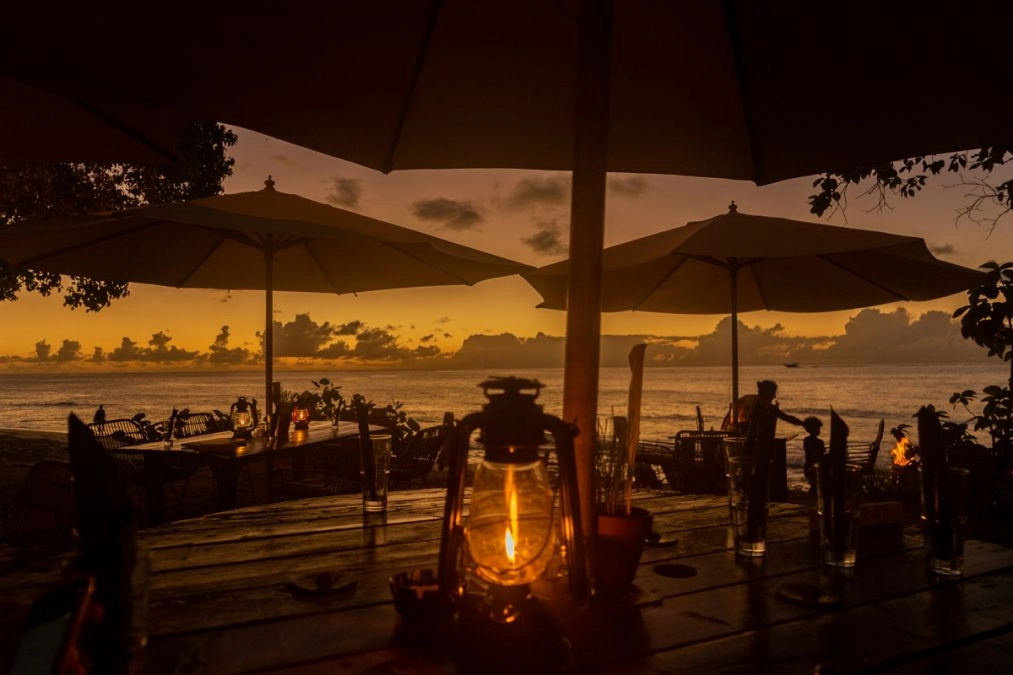 Transport
I walked, took public transit, or got a ride with friends, so my transportation costs were pretty low.
The local busses only cost 3.50 BBD/1.75 USD per ride and pass by every 5 minutes on the main road, making getting around the south coast convenient. Plus, they all had a different theme which made it fun!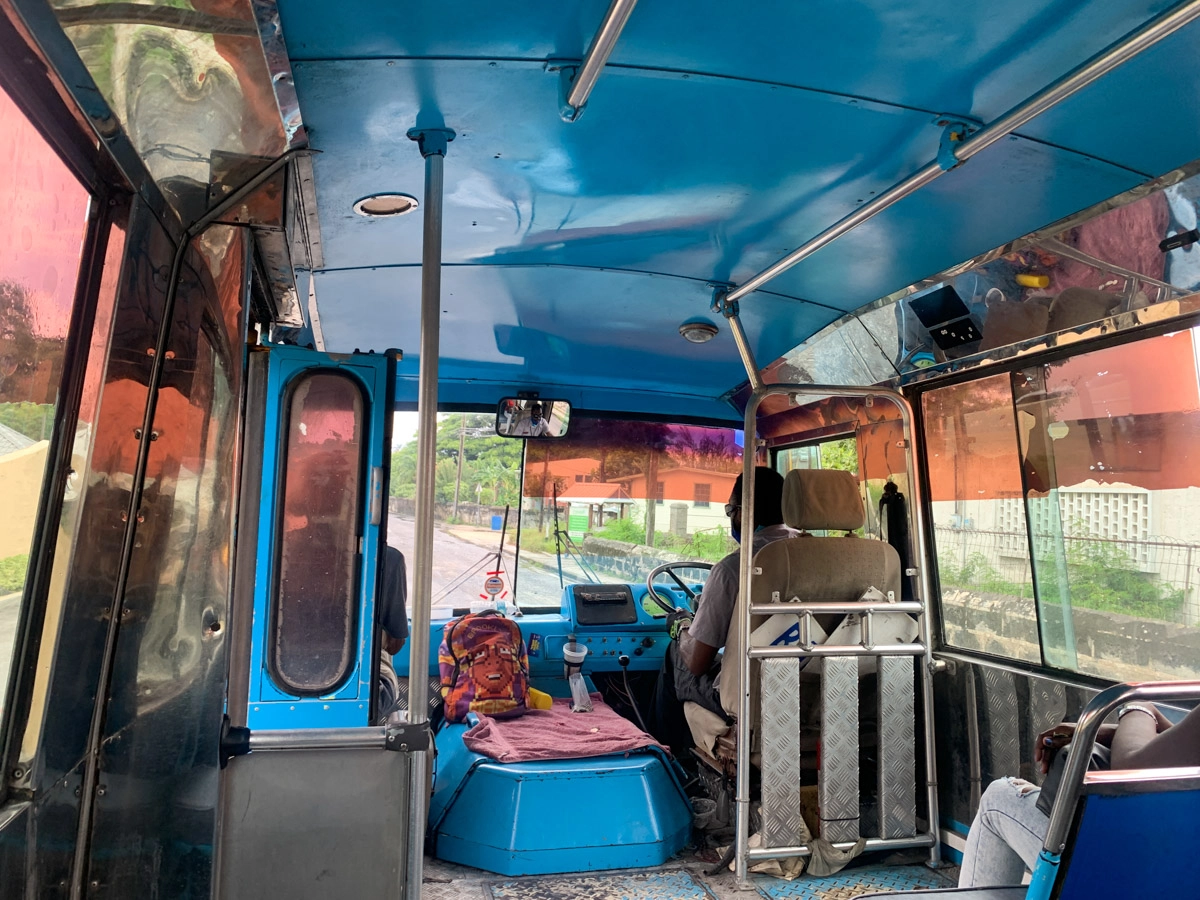 Because so many expats and digital nomads live near each other, carpooling is very common.
If I were to rent a car, it would add a lot to your expenses. My friends who had cars said it was about 1100 BBD/550 USD per month.
Barbados does not have Uber or Grab, but taxis are standard. I only got a taxi a handful of times, costing around 40 BBD/20 USD for a 15-minute ride.
Since I mainly used public transport, taxis, or walked, my transportation budget was only about 300 BBD/150 USD a month.
Healthcare
Although healthcare is free to residents here, it's expensive for foreigners, so I recommend buying digital nomad travel insurance to cover you.
I got dengue fever and had to have a home doctor see me several times, which cost almost 2000 BBD/1000 USD in total! Thankfully my travel insurance reimbursed me.
I use and love SafetyWing, an insurance provider for digital nomads. You can read my full review of them here.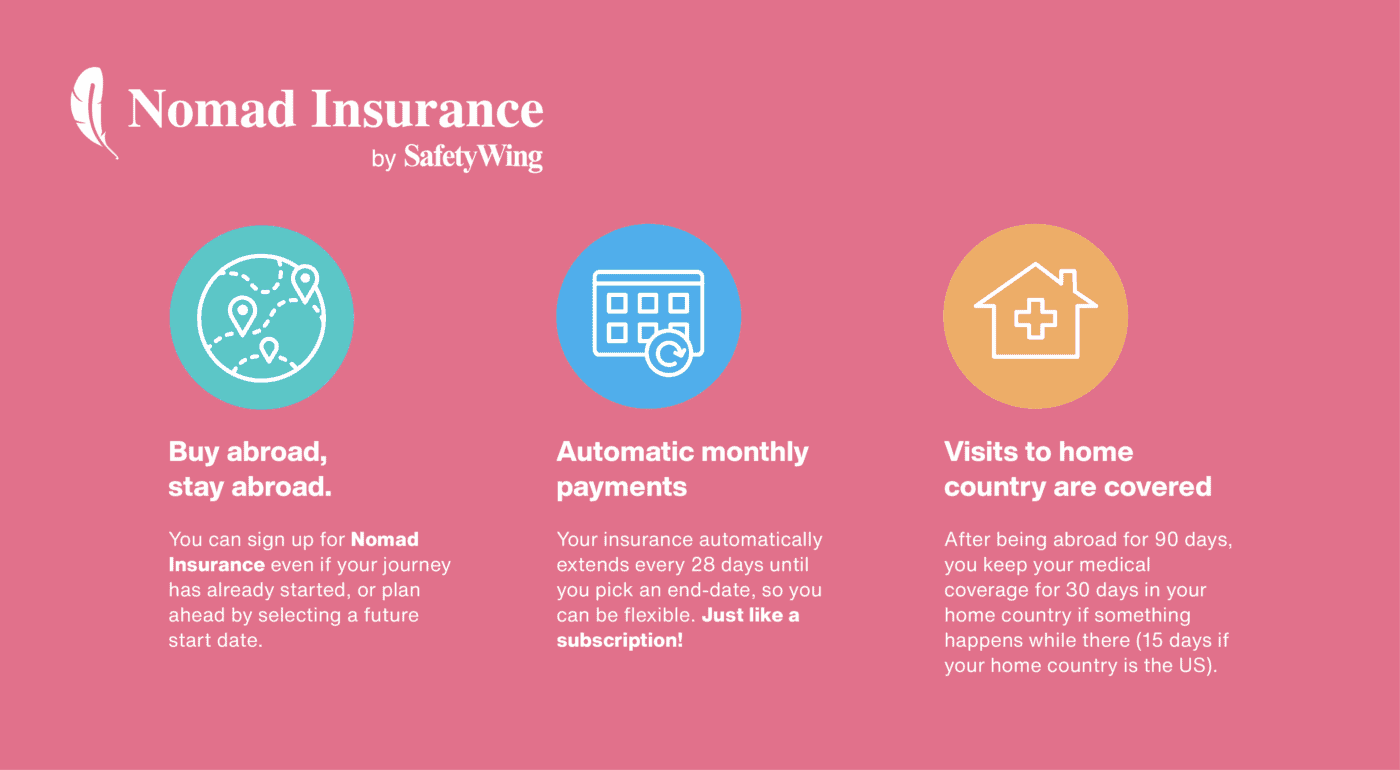 Other expenses
I purchased a local SIM for 20 BBD/10 USD and topped it up with a monthly 7GB plan for 70 BBD/35 USD.
Barbados has high import taxes on most things, especially electronic items and cars. Therefore, it's best to buy what you need before coming and avoid importing items as this can be very costly.
Where to live in Barbados
Barbados is a small island; you can drive around the entire thing in about 3 hours! Bridgetown is the capital city, but not many nomads live there.
Most stay in the smaller neighborhoods along Barbados' south and west coast, where you can find beautiful beaches, lively nightlife, and many accommodation options.
South Coast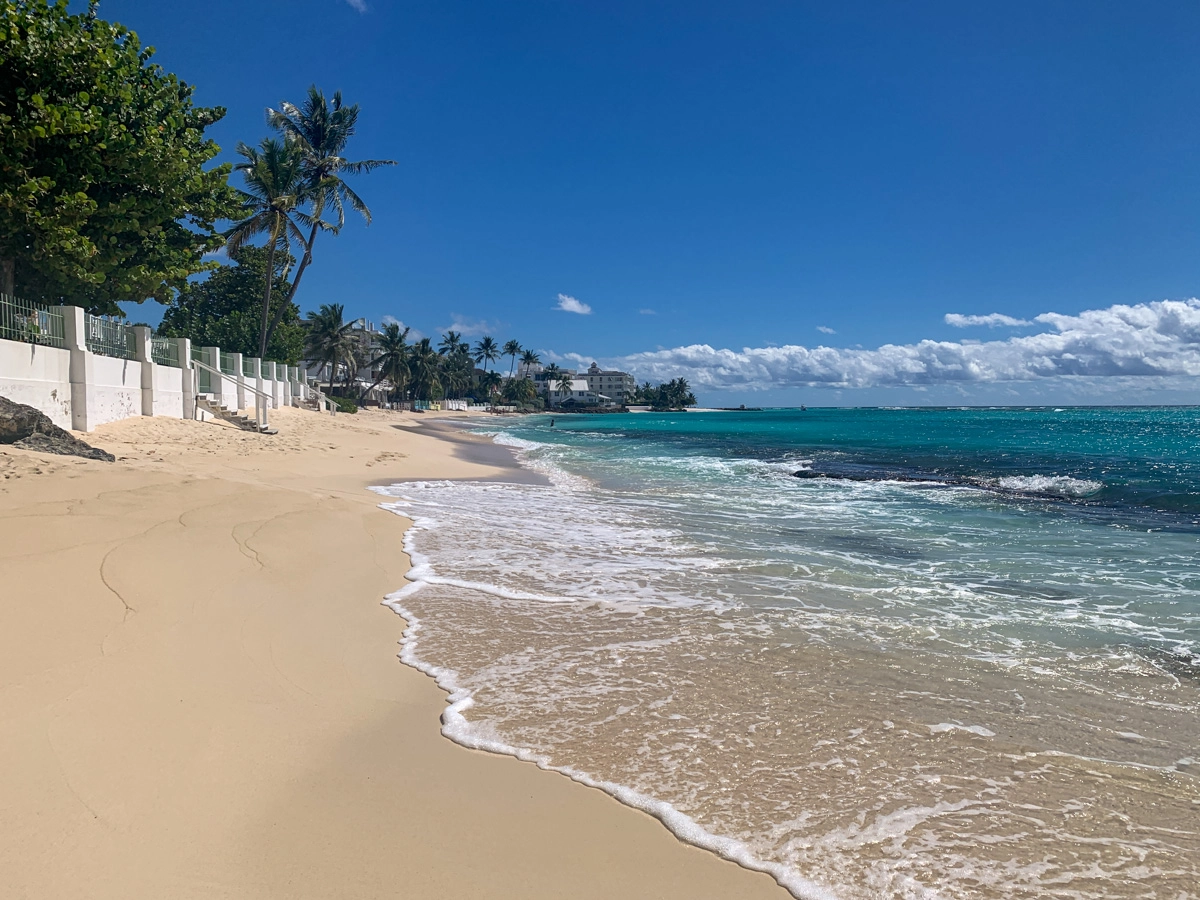 I rented a one-bedroom apartment in Oistins, a popular neighborhood on the south coast, for 2100 BBD/1050 USD per month. It was about a 15-minute walk to the beach and restaurants.
It was modern and clean, with one of the comfiest beds I've ever slept in. It included a solarium, a massive bathroom with double sinks, and a make-shift kitchen. Unfortunately, I didn't have an actual stove, which was the downside of living here. (Although admittedly, I ate out mostly anyways).
Cleaning maids are relatively common and affordable in Barbados. My apartment came with one weekly cleaning, which was included in the rent.
Other popular neighborhoods to live in on the south coast are Worthing, Silver Sands, and Hastings. These areas are best if you don't have a car as the public buses frequently run along the coast.
You can expect to pay anywhere from 1600-3200 BBD/800-1600 USD for a one-bedroom apartment on the south coast.
West Coast
The west coast is another popular area to stay in, but accommodation prices tend to be higher. Holetown and Speightstown are two of the most popular areas with some luxurious places to stay. I didn't spend a lot of time on the west coast.
East Coast
Bathsheba, on the east coast of Barbados, is home to the best surf on the island.
The nomads that stay out here are die-hard surfers. It's a much slower pace of life with few restaurants, so you'll definitely want a car if you live there.
How to find accommodation in Barbados
I found my apartment by posting in a Barbados Expat Facebook group. There are also specific housing groups on Facebook you can browse.
Many people find their first apartment on Airbnb or VRBO and negotiate with the owner for a lower rate once they arrive on the island. You can also join Whatsapp groups where expats and nomads post if they are looking for roommates or subletters.
If you are willing to sign a lease for a longer-term rental, you can save a lot of money.
Some people I know who got the welcome stamp worked with real estate agents to find them a place before coming, but this isn't overly common for short-term rentals.
Discover the best short-term rentals in Barbados
Coliving spaces in Barbados
Nhome Barbados is Barbado's first coliving space. They have two locations – one in Worthing Court Apartments on the south coast and another at Sugar Cane club in the northernmost part of Barbados' Platinum Coast.
Internet and coworking spaces in Barbados
Barbados has high-speed fiber internet around the island, so you'll have no problem working from here. Most restaurants, cafes, and hotels have free WiFi.
There isn't a great coworking scene in Barbados yet, so most digital nomads choose to work at home or from one of the many beautiful cafes by the sea.
One coworking option is Regus One Welches. They offer office space, coworking spaces with a hot desk or dedicated desk, and meeting rooms. You can even rent a virtual office for your business address.
Coworking cafes in Barbados
Barbados is full of beautiful cafes and restaurants you can work from and enjoy stunning views at the same time. Check out the video below to see what some of these are like!
Please remember to support these businesses and buy more than a coffee if you plan to sit there all day. I try to buy something every 90 minutes if I'm working from a cafe for multiple hours.
Surfers Cafe in Oistins, has stunning ocean views and delicious food. It's also near Miami beach when you're ready for some sun after work.
Artsplash Cafe offers a cozy interior full of art and a large, breezy verandah outside. The only downside is it closes at 3.
Bliss Cafe is a cute cafe near St. Lawrence Gap area. It serves great breakfast and lunch in a jungle-style setting surrounded by greenery. it's usually quite busy in the mornings so I advise going after 11.
Baby Doll is one of my fave places to go, with a prime front beachfront location and Insta-worthy decor.
Blue Pineapple is another great option near Baby Doll. Everything is outside, but they have shaded umbrellas, so this is a great way to enjoy the amazing Barbados weather while still getting some work done!
Epic Surf Cafe – there's limited seating, but the smoothie bowls are fantastic.
Barbados digital nomad visa
Canadians and Americans can stay in Barbados for six months on a regular tourist visa (you will have to extend at the immigration office after three months).
If you want to stay longer in Barbados than a regular tourist visa allows, you can apply for the Barbados Welcome Stamp, a digital nomad visa launched in 2020. This remote worker visa allows you to live and work on the island for 12 months.
To qualify, you must be employed in a country outside of Barbados and expect to earn more than $50,000 USD over the course of the year and/or have financial means to support yourself.
It costs 4,000 BBD/2,000 USD for a single person or 6,000 BBD/3,000 USD for families and takes less than 10 minutes to apply on the website.
If you're only planning to stay in Barbados for a couple of months, getting the welcome stamp is unnecessary, but it's a great advantage if you want to stay longer.
Getting to Barbados
Barbados is an island nation in the southeastern Caribbean. It's small, just 21 miles long and 14 miles wide!
The easiest way to reach Barbados is by plane. The Grantley Adams International Airport has direct flights to and from major cities in North America and Europe, including London, Miami, and Toronto.
There are also direct flights from nearby Caribbean Islands, such as St. Lucia.
If you're lucky enough to own a sailboat, Barbados is also a popular spot for yacht owners to come and dock.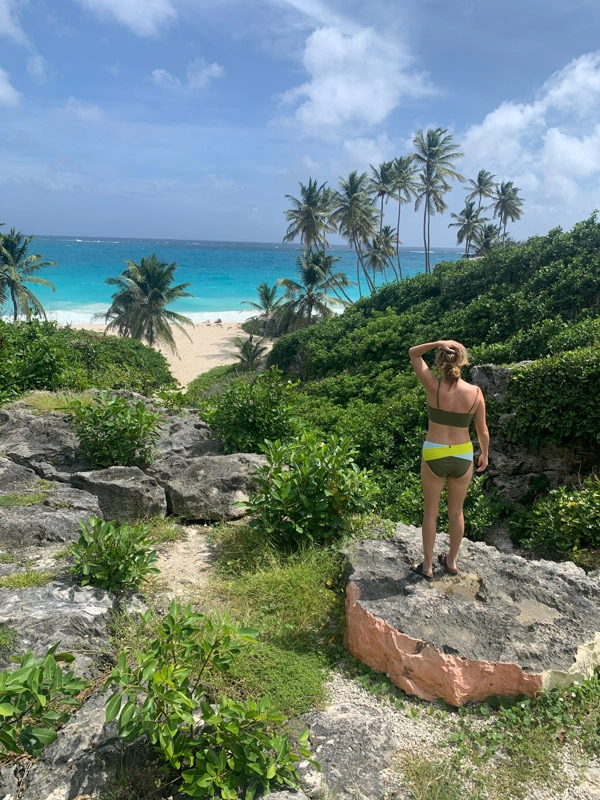 Best time to live in Barbados
Barbados has a wet and dry season, which coincides with the low and high seasons for tourism. Most people come during the cool, drier months that run from December to May – so this is when prices for accommodation and flights will be highest. You'll find much better deals if you live here during the low season from May to October.
3-6 months is the ideal time to live in Barbados to save money as a Canadian or American. You won't have to worry about paying for the welcome stamp but can enjoy discounts on accommodation by signing a longer-term lease than month-to-month.
—
I hope this post could inspire you to live as a remote worker in Barbados! It really is paradise; I miss living by the turquoise sea and hope to come back soon!