This post may contain affiliate links. By clicking and making a purchase through the links, I earn a small commission at no extra cost to you. This and display ads allows me to keep the site up to date and give back. Thanks for reading!
Nicaragua is quickly becoming a favorite on the Latin America backpacker trail and it's not hard to see why. Stunning beaches, volcanoes, charming colonial cities, and affordable prices make it an attractive place to go visit. I loved my time backpacking in Nicaragua and can't wait to go back!
If you're planning out your Nicaragua itinerary, this travel guide will help you find the best places to visit and how long to spend in each one. At the end of the post, I've included sample one to two week itineraries through Nicaragua plus travel tips for getting around and staying safe.
Best Places to Visit While Backpacking in Nicaragua
San Juan Del Sur (2-3 nights)
San Juan Del Sur is a surf town on Nicaragua's South Pacific coast. It's most famous for Sunday Funday, which is Central America's biggest pool party. As the name implies, it's a pool hopping party that happens every Sunday. It's a drunk mess and a ton of fun.
Aside from partying, San Juan is a great place for tacos, surf, yoga, and relaxing on the beach. Be sure to hike or drive/taxi up to the Jesus statue for the best views of San Juan Del Sur. It's a steep hike and the weather in San Juan is usually quite hot, so most people opt to take a car up, which is what we did.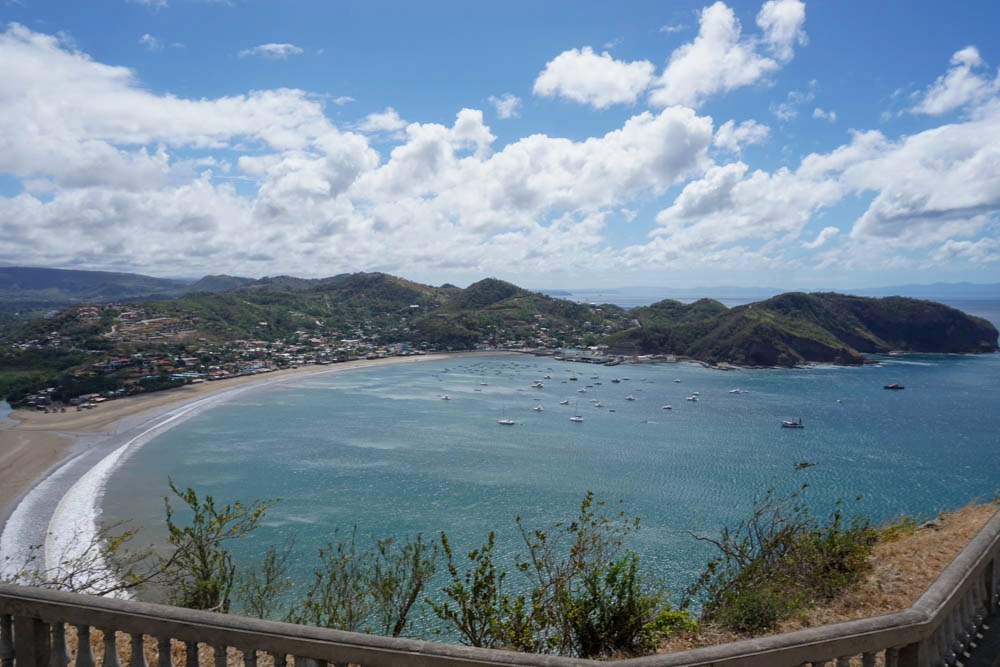 San Juan Del Sur is a great place to start your Nicaragua travel itinerary, especially if you are flying into Managua or coming from Costa Rica. Busses can easily be arranged from the border or from Managua.
The beach in San Juan Del Sur is okay, but it's not amazing. If you want a beach day, I'd head over to nearby Playa Hermosa. It's only half an hour from town and there are regular shuttles running there. It's a much nicer beach with hammocks you can chill out on.
Playa Del Coco is another beach you can visit, about 15 minutes past Playa Hermosa. We drove there in a car. It was a bit confusing because it seems like it's all private property, but you can access the beach via the restaurant entrance.
Playa Del Coco is a gorgeous white sand beach. It's huge and there was only a handful of other people there. There are beautiful cliffs to each side, and you can even Costa Rica from it. The waves are big and fun to play in, and I'd imagine surf.
Where to stay: Naked Tiger is one of the most popular hostels in Nicaragua. It's located on the hills of San Juan, so the sunsets from here are incredible. It's also the last stop on the Sunday Funday pool crawl and you get discounted tickets for staying here. It is away from the town, but they run shuttles back and forth. It's a party place on the weekends but was surprisingly chill while I was there during the week.
Ometepe Island (2 nights)
Ometepe Island is my favorite place in Nicaragua. It's a tropical island paradise made up of two volcanoes surrounded by Lago Nicaragua. It's a paradise for nature lovers, with waterfall hikes, swimming lagoons, and amazing wildlife.
Getting there: You have to drive/catch a bus to San Jorge and get the ferry from there. I found the boat ride rocky but it's cool to see the two volcanoes on the island appear as you get closer. The journey takes about an hour, you can see the schedule here.
I'd recommend spending at least two days exploring this gorgeous island. The best way to around is to rent motorbikes but only do this if you are comfortable on a bike. The road conditions are bad and accidents are common here. If you don't have your own way to get around you can also join a private tour which will take you to the main attractions in Ometepe.
You can also go hiking up either Volcano Concepcion or Volcano Maderas. These are both challenging hikes that you need to go with a guide for. I wasn't ready to face another volcano hike after recently completing Acatenango in Guatemala, but I'm sure they would be amazing.
Where to stay: I highly recommend Little Morgan's, which is further explained in my Ometepe travel guide. It's a beautiful hostel on the south side of the island with lots of animals around. The people who work there are so kind.
Although it has a reputation for being a party place, it was actually quite chill while I was there on the weekend. Apparently, this is because everyone goes to San Juan Del Sur to party for Sunday Funday, and the party at Ometepe is during the weekdays.
Granada (1-2 nights)
Granada is another charming colonial town in Nicaragua. It has quaint cobblestone streets and Spanish-style architecture. If you are spending a night in Granada, the best place to stay is around Parque Central.
From there, you will have easy access to most of the main attractions, restaurants, and shops. If you need a break from local cuisine, check out the Mediterranean restaurant Pita Pita. It was some of the best falafel I had in Central America!
It's well worth spending an afternoon walking around Granada and visiting some of the historic buildings. If you are interested in learning more about the history, you can also join a walking tour.
Granada is also a great base to explore some of the surrounding natural attractions on day trips.
Nearby is Masaya Volcano. This is a really unique place to visit in Nicaragua as it's one of the world's only places where you can stare down into an active volcano and see its bubbling magma. The best time to visit Masaya Volcano is around sunset so you can see the lava in the dark. Note that you are only allowed to stay there for 15 minutes to avoid any health issues, as the air quality is not great.
Another popular day trip from Granada is Apoyo Lagoon, which is a gorgeous lagoon that lies in a dormant volcano.
Where to stay: Selina is a chain of hostels throughout Latin America that I love. They are designed for digital nomads so they all have beautiful co-working spaces and guaranteed fast wi-fi.
Leon (1-2 nights)
Leon is a colonial city in Nicaragua that's most well known for its UNESCO Heritage cathedral. The cathedral is famous for the white roof, which will make you feel although you have been transported to Greece, or so I've been told. The day we visited the roof was closed and I'm still mad about it.
To be honest, I didn't get the best vibe walking around Leon outside of the Parque Central area. However, I didn't spend that much time there so it's probably not a fair assessment. Talking to other travelers it seems this is fairly common and that Leon grows on people with time. The city has an interesting history and there are some unique revolutionary murals throughout it you can see.
If you are coming from Honduras or El Salvador, Leon will likely be the starting point of your Nicaragua Itinerary as this is where the busses drop you off.
Aside from the city itself, Leon is most well known for being a base to take a day tour to go volcano boarding down Cerro Negro volcano. Yes, you read that right!
Cerro Negro, a dormant volcano covered in black ash, is one of Central America's most popular adventure activities. This is the only place in the world you can go volcano boarding, so it's a really unique thing to do here.
The hike up is grueling, and at the top, you'll be given a bright orange outfit to protect your skin. If you get the maneuvering right, you can get some speed going down the volcano!
Where to stay: If you want to go volcano boarding, Bigfoot hostel is an all-in-one hostel that runs daily volcano boarding tours at 9 am.
Las Peñitas (1 night or day trip)
Las Peñitas is a beach town near Leon that most people visit as a day trip. We heard about a full moon party at a beach in Las Peñitas while in Leon, so we decided to spend the night there at Hostal Caracolita, which is a nice chill spot with friendly folks. I really liked the vibe of Las Peñitas.
The full moon party ended up being a bit of a ridiculous journey. We had to take a boat across the water, and then a horse carriage through the woods. At which point all of us started questioning where the hell we were going, but alas we made it to the party at surfing turtle lodge.
It was actually a really good time but since none of us were staying there, we had to leave a couple of hours after to make sure we didn't get stranded. So we got back on the horse and the boat only to find an even bigger full moon party happening on the beach.
All that to say, Las Penitas is a fun place to visit if you're looking for another surf/party town.
Corn Islands
The Corn Islands are the one place in Nicaragua I really regret not visiting. They are two small islands (little corn and big corn) on the Caribbean coast known for their amazing beaches and diving opportunities.
They aren't easy to reach. You have to get to the Caribbean coast of Nicaragua which is a LONG bus journey, then take a boat which I have heard dodgy things about. You can also just fly there from Managua, which is what most people do.
Nicaragua Backpacking Itineraries
The main attractions of Nicaragua are all along the Pacific coast thus making it easy to plan a jam-packed itinerary even if you're only backpacking Nicaragua for a week. These itineraries are based on the assumption you are coming from Managua, but if you're starting in Leon, you can just reverse the order.
Nicaragua Itinerary 1 Week
If you just have a week in Nicaragua, I'd stick to the Pacific coast of the country which is what we did on our Nicaragua road trip.
Day 1: Fly into Managua, transfer to San Juan Del Sur
Day 2: San Juan Del Sur
Day 3: Transfer to Ometepe
Day 4: Explore Ometepe
Day 5: Transfer to Granada
Day 6: Granada Day Trip
Day 7: Return back to Managua
If you have 10 days in Nicaragua, you could add Leon/Las Penitas to this itinerary.
Nicaragua Itinerary 2 Weeks
Managua/Liberia -> San Juan Del Sur (3 nights) ->Ometepe (2 nights) -> Granada (2 nights)
Day 1: Fly into Managua, transfer to San Juan Del Sur
Day 2: Explore San Juan Del Sur
Day 3: San Juan Del Sur, day trip to another beach
Day 4: Bus to San Jorge, ferry to Ometepe
Day 5: Explore Ometepe
Day 6: Explore Ometepe
Day 7: Ferry to the mainland, transfer to Granada
Day 8: Granada
Day 9: Day trip from Granada
Day 10: Bus to Leon
Day 11: Leon
Day 12: Leon
Day 13: Day trip to Las Penitas from Leon
Day 14: Return to Managua to fly home
If you have three weeks in Nicaragua, you could add on the Corn Islands to this itinerary.
Getting to Nicaragua
By Air
If you are flying internationally into Nicaragua you'll be landing into Managua, the capital city. It's nothing to write home about and I would head off somewhere else in Nicaragua upon arrival.
If you're flying into Nicaragua it's a good idea to look at flights to Liberia, Costa Rica as well. It's close to the border (an hour and a half) and it's an easy crossing. Liberia often has the cheapest flights of anywhere in Central America from North America.
Nicaragua is between Honduras and Costa Rica so it's a perfect place to visit if you're backpacking Central America.
From Honduras / El Salvador
I traveled from the Utila (one of the bay islands in Honduras) to Leon, Nicaragua via a tourist shuttle which was a long journey of about 13 hours. Via the tourist shuttle, it wasn't that bad of a journey, as the drivers took lots of stops for snacks and bathroom breaks, and they play movies on the bus. I also may have also taken some melatonin and slept the majority of the journey.
There is also a tourist shuttle from the beach town El Tunco in El Salvador to Leon.
From Costa Rica
San Juan is almost on the border of Costa Rica, so it's an easy hop, skip, and jump from over there. Busses leave from Liberia or Tamarindo which is one to two hours away from the border, respectively.
You'll cross the Costa Rica/Nicaragua border on foot and then you can take a taxi or shared shuttle to San Juan Del Sur which is only half an hour away.
A note on drone laws in Nicaragua: If you have a drone you'll be disheartened to know that drones are completely illegal in Nicaragua and apparently, they will confiscate them.
I didn't do my research beforehand and was traveling with my drone through Central America, so I took it across the border from Honduras completely unknowing of these laws (as they say, ignorance is bliss). Thankfully for me, they didn't look through our bags so it wasn't an issue for me, but I just got lucky.
Getting around Nicaragua
Backpacking around Nicaragua you'll either be taking local tourist buses or chicken buses, which are retrofitted school busses used to transport goods and people throughout Latin America. The distances aren't that long between places so if you're trying to save money, chicken busses aren't a bad option.
Me and my friend actually rented a car in Nicaragua and road-tripped around the country, which is a pretty flashpacker way to get around. I enjoyed getting to drive around the country. We didn't run into any issues and it gave us the freedom to come and go from places as we wanted.
Safety while Backpacking Nicaragua
I visited Nicaragua in early 2018, just a few months later the country went into a period of political instability and it became unsafe to visit. However, since then things have settled and I know plenty of people who have visited the country since.
It's still a developing country as a result crimes of opportunity do happen. Pay attention to your belongings, especially on public transit. Use a bag like Pacsafe to protect your belongings.
Don't forget to protect yourself with travel insurance. I use and love World Nomads because it covers you for a wide range of adventure activities including dive related accidents.
—
Nicaragua is definitely calling me back for more adventures, I'd love to go back and explore the islands of the Caribbean. Have you been to Nicaragua before? Let me know your favorite place in the comments below!
Enjoyed this post? Pin it for later!