This post may contain affiliate links. By clicking and making a purchase through the links, I earn a small commission at no extra cost to you. See my disclaimer for more information. This and display ads allow me to keep the site up to date and give back.
Backpacking Central America is an amazing experience. From diving the blue hole in Belize to camping by active volcanoes in Guatemala, this region of the world is home to some amazing bucket-list experiences.
Central America was the region of the world that reignited my love for backpacking. I say reignited because it wasn't the first. I went on my first backpacking trip in Europe like a cliche, then got sucked into the working world and forgot how magical it was, until a trip to Costa Rica reminded me of my passion.
I'm obsessed with Central America. While I was working full-time in Canada, I would take short trips there every time I had a moment off work. It's not that far to travel for a week, and flights are affordable. When I decided to go backpacking for a year, I started my journey in Guatemala after falling in love while briefly visiting it on another trip. I've spent months of my life traveling Central America so I created this post to share all my favorite places with you.
This Central America travel guide will tell you everything you need to know about backpacking Central America including the best places to visit, costs, tips on getting around, solo female travel, safety, and more.
Can't read this right now? Pin it for later!
Mexico
Mexico is actually part of North America but as its neighbors with Guatemala and Belize, many backpackers add it to their Central America itinerary.
Flights are pretty cheap to Cancun Mexico from North America, so often times I would fly here from Toronto, even if I was planning a trip to Belize or Guatemala. It may seem crazy to travel to a country two away from the one you want to go to, but hear me out.
From Cancun, you can either take an overnight bus (directly from the airport) to Belize City or you can take the ferry from Chetumal to San Pedro, Belize. Chetumal is very close to Bacalar, which is a beautiful chill place to visit on Mexico's Yucatan Peninsula.
Cancun itself is very touristy, I'm not a big fan of it. It's a good place if you want to party, but Playa Del Carmen is even better and it's just an hour away. If you want to chill out, Tulum is an amazing place to visit and just two hours away from Cancun. It's got beautiful turquoise water, beaches, and Mayan ruins. There are also some wonderful Cenotes nearby you can swim in!
It's easy to get from Cancun to Playa Del Carmen or Tulum via bus!
Puerto Vallarta is another great destination to visit in Mexico. After moving there and falling in love, I made an entire website about it where you can find all the information you need to plan a trip there!
Belize
Belize is such a tropical island paradise, and makes for the perfect place to start your adventure backpacking Central America – especially if you are coming from Mexico! You can either take the bus from Southern Mexico to Belize City or take the ferry from Chetumal to San Pedro in Ambergris Caye, which is a gorgeous island in Belize.
Home to the second-largest barrier reef in the world, Belize is an amazing place to go scuba diving and snorkeling. It was snorkeling here that inspired me to get my diving certification! It's also home to some impressive Mayan ruins.
The atmosphere of Belize is different than the rest of Central America due to its Caribbean influence. The flavors of the cuisine here are wonderful, it was my favorite food outside of Mexico.
It's a relatively easy place to travel as the tourism industry is well established, and the official language is English. On the flip side of that, it's one of the most expensive countries to travel in Central America.
Best Places to Visit in Belize
There are many beautiful places to add to your Belize Itinerary, but here are some of my favorites:
Caye Caulker & Ambergris Caye – Two gorgeous islands that you can visit via boat from Belize City (there is also a boat from Chetumal Mexico to San Pedro).
Both islands have a variety of accommodation options, but Ambergris Caye has higher-end resorts. I prefer Caye Caulker, as it's slightly cheaper and is oriented towards backpackers. The two islands offer similar day tour options for snorkeling and diving. This is where you can go diving in the blue hole!
Placencia – Amazing place to go diving, especially for whale sharks. The best way to get here is via the Raggamuffin Sailing Tour, which leaves from Caye Caulker and ends in Dangriga (just an hour away from Placencia or Hopkins, another town you can visit).
Cayo District (San ignacio) – Great place in Belize for adventure and history. It's home to Mayan ruins, caves, wildlife, and rivers for tubing.
Guatemala
Guatemala is one of my favorite country in Central America. It's the perfect place for active adventures, with 37 volcanoes including several you can go hiking on. It's also a wonderful place to experience culture in Central America.
Guatemala is also one of the cheapest countries in this region, you can get by on $30 USD per day. It's also a great place to learn Spanish, with affordable lessons and an easy to understand accent. Knowing some Spanish will make your time backpacking Central America much easier, so this can be a great thing to do at the start of your trip!
Places to Visit in Guatemala
Flores (Tikal) – If you're coming from Belize to Guatemala, this is a great first stop on your Guatemala Itinerary. The Tikal ruins are some of the most impressive in all of Central America. Go at sunrise for an unforgettable experience, just don't stay up the whole night before like I did.
Semuc Champey – A not so hidden oasis in the middle of the jungle. No matter where you're coming from it's going to be a long ass journey to get here, but yes, it is worth it.
Antigua – One of the most charming colonial cities in Guatemala. This is a great place to start your itinerary in Guatemala if you're flying into Guatemala city, as it's only an hour away. It's also home to the Acatenango Volcano hike, which is one of the best adventures in Central America.
Lake Atitlan – Lake Atitlan is one of the most beautiful places in Guatemala for nature lovers. It's the perfect place to relax, but if you're craving more adventure you can go diving at altitude, hike more volcanoes, or kayak in the volcanic crater.
Xela – a true Guatemalan city, with access to Central America's highest peak. It's also home to some incredible hot springs to relax in after all that hiking.
Rio Dulce – This is a more of an off the beaten path destination, but a perfect place for wildlife lovers to come and relax in nature. Plus it has a hot spring waterfall!
For more inspiration on planning your trip through Guatemala, check out my Guatemala backpacking guide.
Honduras
If you're backpacking overland through Central America, you have a choice between El Salvador and Honduras after leaving Guatemala. Both have a reputation for being dangerous, but there are safe places to visit in either country. I chose Honduras and went straight from Rio Dulce to Utila via a boat from La Ceiba.
Places to visit in Honduras
Bay Islands – One of the safest and most beautiful places to visit in Honduras are the bay islands – Utila and Roatan. I spent a week learning to dive in Utila, which was a highlight of my time in Central America.
Utila is definitely a backpacker island, locals will say there are two things to do here: dive and party. If you're looking for more luxury and family-friendly options, Roatan may be a better option. To get to either island, you can catch a ferry from La Ceiba.
Another great lace to add to your backpacking route in Honduras is Copan, which is home to incredible ancient Mayan ruins.
El Salvador
El Salvador is the only country I haven't had a chance to visit in Central America, so I've asked Lara from Both Feet on The Road to share her first-hand experience about backpacking in El Salvador.
The smallest country in Central America is also the least visited one by tourists, El Salvador. When talking about the National Stereotypes of Central America, the standard people say to El Salvadorans is "Where is that?" or "Aah Mexico". Which is a shame, because El Salvador is not the same as Mexico and this tiny country actually has a lot to offer!
An ultimate El Salvador itinerary would take at least 2 weeks (preferably longer) and stops at El Tunco, Ruta de las Flores, Suchitoto, and Santa Ana. Getting around El Salvador can easily be done by public transport (taking the chicken buses). In fact, traveling around by those local buses is part of the experience that makes El Salvador such a great country to visit.
Best Places to Visit in El Salvador
El Tunco is a small beach village famous for its surfing, relaxed atmosphere and of course a little bit of a party. Though El Salvador is not really renowned for the parties. If you're looking for a quieter beach town you can check out El Zonte or El Palmarcito or head further down the coast to El Cuco.
Besides stunning beaches, El Salvador is also a great destination for nature and culture lovers, and the Ruta de las Flores is perfect for people who are interested in both.
Ruta de las Flores is a route of several small villages connected by a road that passes beautiful landscapes of hillsides filled with coffee plantations, green lush, and colorful flowers in bloom. That is if you visit in the right season which is generally from late November to February.
Though even if you do not find the colorful flowers in bloom, the scenery of Ruta de las Flores and the small lively villages are still worth a visit. Check out the beautiful murals, local markets, weekly food festivals, stunning waterfalls, or coffee plantation to fill your days at the Ruta de las Flores. Some of the popular villages are Juayua, Sonsonate, Nahuizalco, Ataco, and Apaneca,.
After the small villages, it is time to head to El Salvador's second-biggest city, Santa Ana. It's a nice city to check out the colonial architecture, visit the Cerro Verde National Park with the Santa Ana Volcano.
A smaller and lesser-visited town to enjoy the beautiful colonial architecture in El Salvador is Suchitoto. And for those interested in visiting world heritage, a visit to the archaeological site of Joya de Cerén has to be included, as this is the only site in El Salvador listed by UNESCO.
Costs of Traveling El Salvador: Expect to pay around 25-30 USD per day for traveling in El Salvador.
Safety in El Salvador: El Salvador has unfairly gained a reputation for being an unsafe country for travelers. And though I won't deny that incidents have happened with tourists getting robbed, if you use your common sense, make sure you are well-informed about which areas to visit with a guide or police escort, you will be just as safe (or unsafe) in El Salvador as you would in other Central American countries.
Nicaragua
Everyone always says Nicaragua is their favorite country in Central, and while I enjoyed it, it wasn't mine. That said, Nicaragua is one of the cheaper countries to visit in Central America, and has beautiful beaches, volcanoes, islands, and epic parties.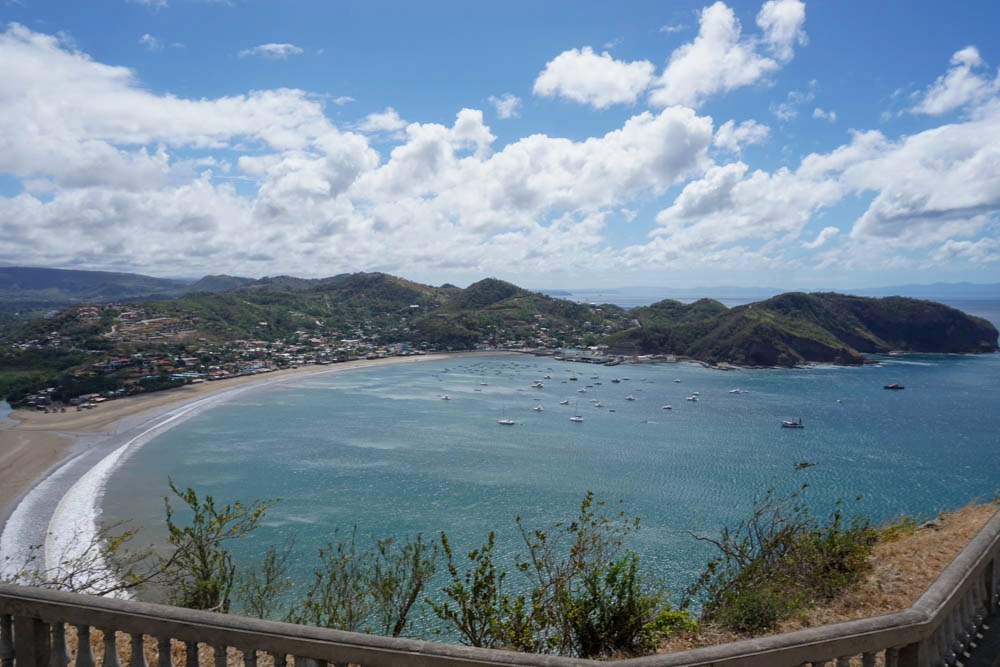 Places to visit in Nicaragua
Leon – If you're coming from El Salvador or Honduras, Leon will likely be your first stop on your Nicaragua itinerary. It's a colonial town that can appear rough on the surface but has its own charm. Leon is home to the volcano boarding which is the only place in the world you can do this.
Grenada – Another gorgeous colonial town in Nicaragua
Corn Island – two remote islands on the Caribbean coast of Nicaragua, that are a dream for diving. I didn't make it here and regret not going. They are out of the way, and most people fly here.
Ometepe Island – My favorite place in Nicaragua is Ometepe Island. This beautiful tropical island is home to two volcanoes which you can go trekking on (go with a guide, as it is not safe on your own). There is also a beautiful waterfall you can visit here, farm animals everywhere, and amazing sunsets.
San Juan Del Sur – A surf town that's home to Sunday Funday, Central America's biggest pool party.
Costa Rica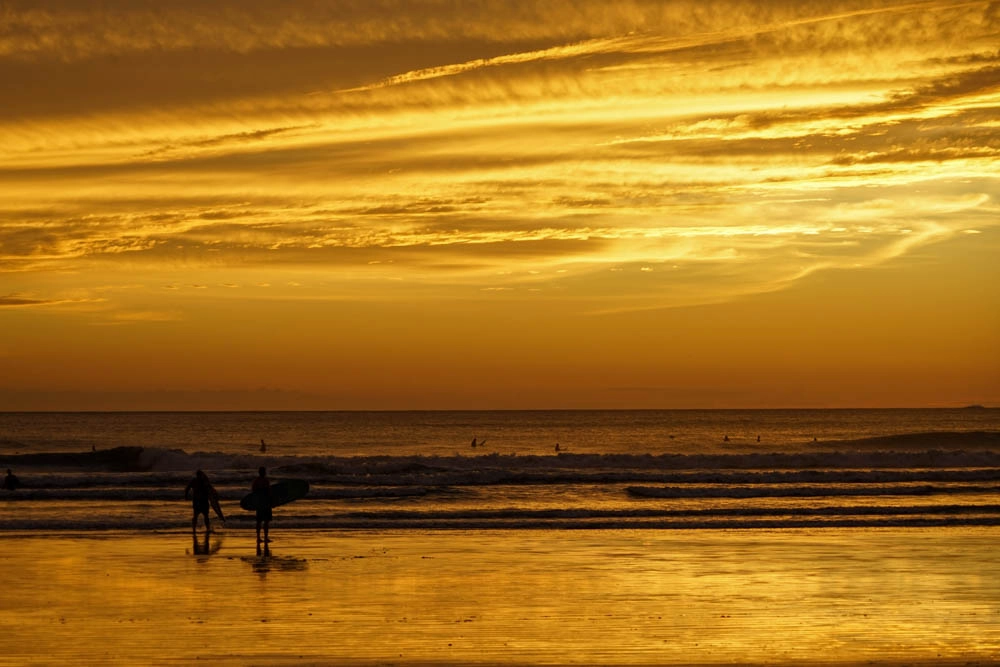 While pricier then its neighboring countries, Costa Rica is still one of my favorite countries to visit in Central America. I've come back four times, and I always discover new amazing places.
It's an ideal destination if you love wildlife, as over 25% of the country is protected land. There are so many amazing national parks here! It's also a hub for adventure travel, with plenty of zip-lines, hiking trails, diving sites, rafting, and more.
Places to visit in Costa Rica
Coming from Nicaragua, you'll be close to Liberia where there is also an international airport. There isn't that much to do in Liberia, so I would continue on to the Pacific Coast for beaches or head up to La Fortuna/Monteverde for adventure. Likewise, if you're flying into the capital city San Jose, I would continue on as there are much nicer places to be.
Tamarindo isn't the nicest beach on Costa Rica's Pacific Coast, but it's a popular spot for backpackers given its lively nightlife and proximity to the airport. It's also home to several music festivals with the recent addition of the BPM music festival
Nosara – Very chill beach town further down the Pacific Coast (although not particularly easy to get to given the horrible road conditions). It's a great place for Surf/Yoga.
Santa Teresa – very chill beach town on the Nicoya Peninsula
Manuel Antonio – Home to the countries most popular national park, Manuel Antonio National Park. It's probably one of the most touristy places in Costa Rica, but it is worth visiting.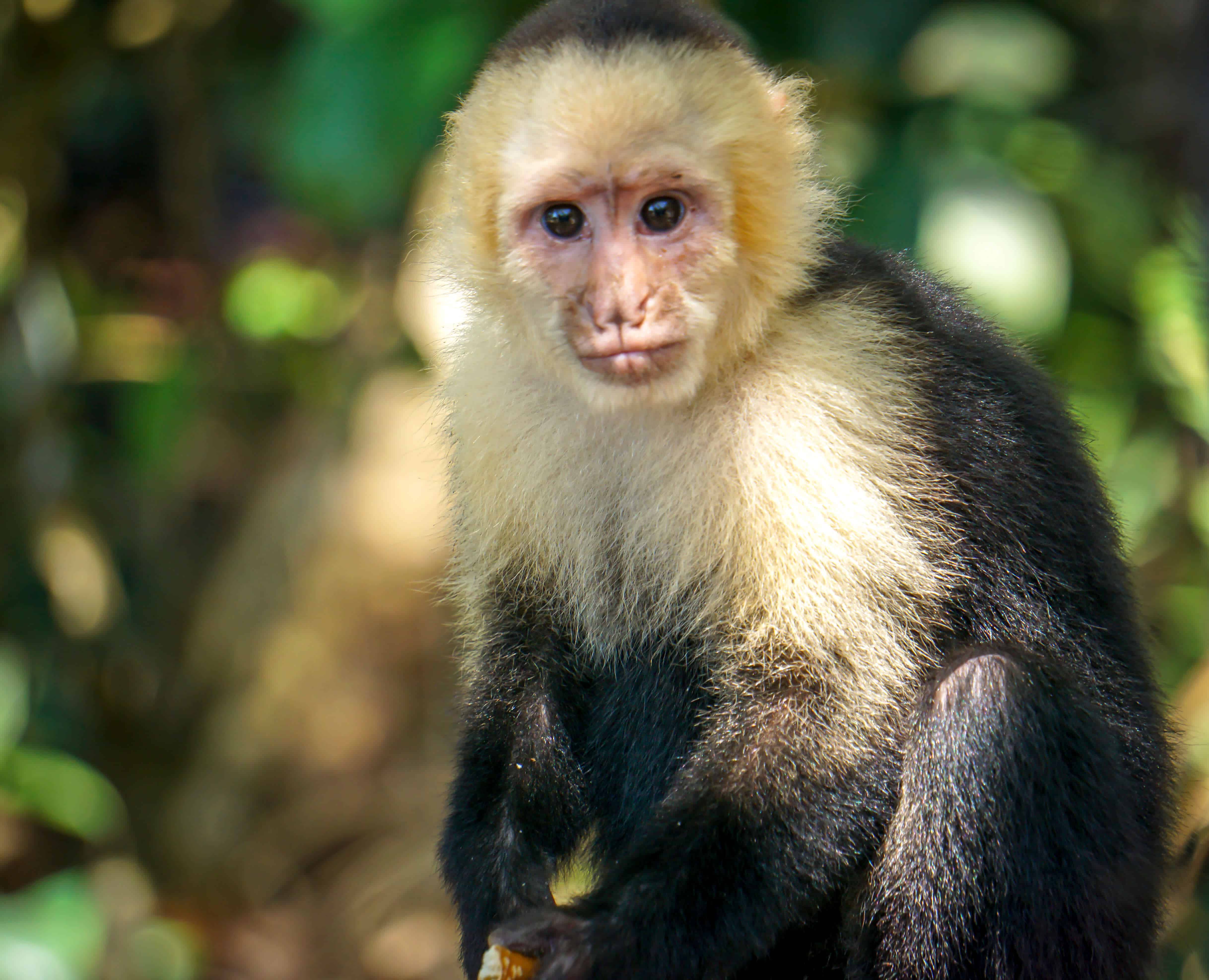 Uvita – My new favorite place in Costa Rica. Amazing opportunities for wildlife here, including whale watching and the best diving in Costa Rica at Cano Island.
La Fortuna – Great place for adventure in Costa Rica. You can go hiking on volcanoes, zip-lining, waterfall canyoning, and relax in hot springs to soothe your muscles afterward. It's also nearby to Rio Celeste, which is one of the most beautiful waterfalls in Costa Rica.
Monteverde – A beautiful Cloud forest reserve set in the mountains of Costa Rica. Perfect place for hiking, horseback riding, and bird watching. Bring a sweater here, it gets chilly at night!
Puerto Viejo – The Caribbean Coast is a completely different side of Costa Rica.
For more inspiration on backpacking Costa Rica, check out my ultimate guide.
Panama
Panama is a wonderful country to end your time in Central America in. It's got beautiful beaches for surf, amazing remote islands to visit, lush jungle and cloudforets to go hiking, and a vibrant capital city for all your shopping needs.
Places to visit in Panama
Bocas Del Toro – After crossing the Panama-Costa Rica Border, Bocas Del Toro is a logical next stop. It's a gorgeous island where you can go surfing, snorkeling, ATVing through the jungle, and much more.
Boquete – a beautiful town set in the highlands of Panama, where delicious coffee is made. You can stay in a super cool castle hostel and hike to lost waterfalls.
Panama City – Unlike most Central American country capitals, Panama City is one actually worth spending some time in. It's got so many fun things to do, from visiting the famous Panama Canal, nightlife, shopping, or just admiring the city skyscrapers.
San Blas Islands – incredible islands you can visit between Panama and Colombia in the middle of the Caribbean Sea. There are over 365 islands, few inhabited. It's the best way to travel between Central and South America, but you can also do a return trip from Panama city if you're not going to Colombia.
How long should you spend in Central America?
To see all of Central America, you're going to want to have at least two months. And that would be rushing it. If you're volunteering or sticking around to learn Spanish in one place, you could easily extend your trip for months, or even a year. I met backpackers who had been living in Guatemala for months just studying Spanish!
The amount of time to spend traveling Central America all depends on the pace you want to go. I'm a fast traveler, and would still want at least two months if I was going to backpack Central America for the first time.
On one trip I did in Central America, I backpacked from Antigua, Guatemala to Colombia in six weeks but I had already been to Belize, Panama, and Costa Rica previously, so I didn't mind skipping over some places.
Central America Backpacking Routes / Central America Itineraries
There's a pretty established backpacking route through Central America. The big decision you'll have to make is whether you are going to be traveling North or South. If you plan to go to South America, it makes sense to start at the top in Mexico or Belize, and then make your way down.
When I backpacked across Central to South America, I started in Antigua, Guatemala, spent two weeks backpacking Guatemala, then crossed the border to Honduras near Rio Dulce. I spent a week learning to dive in Utila, then met my friend in Leon, Nicaragua where we went backpacking Nicaragua for one week. From San Juan Del Sur, I crossed the border into Liberia, Costa Rica and spent another two weeks backpacking Costa Rica with two Swedish girls I met in Honduras. I crossed the border on the Caribbean Coast of Costa Rica into Panama, spent a week backpacking Panama, and then went to Colombia via the San Blas Islands.
The way Central America is shaped makes it a pretty straight forward itinerary. The only time you'll have to choose between countries is when leaving Guatemala, as you can go via El Salvador or Honduras. I went through Honduras, which is why I haven't gotten the chance to experience El Salvador yet.
You don't need to book everything in advance for your trip, nor do I recommend it. You're going to meet people, and your plans are going to change. For my big backpacking trip through Central America, I only booked my first two nights in the hostel in Antigua and had no trouble booking everything else as I traveled.
Getting around Central America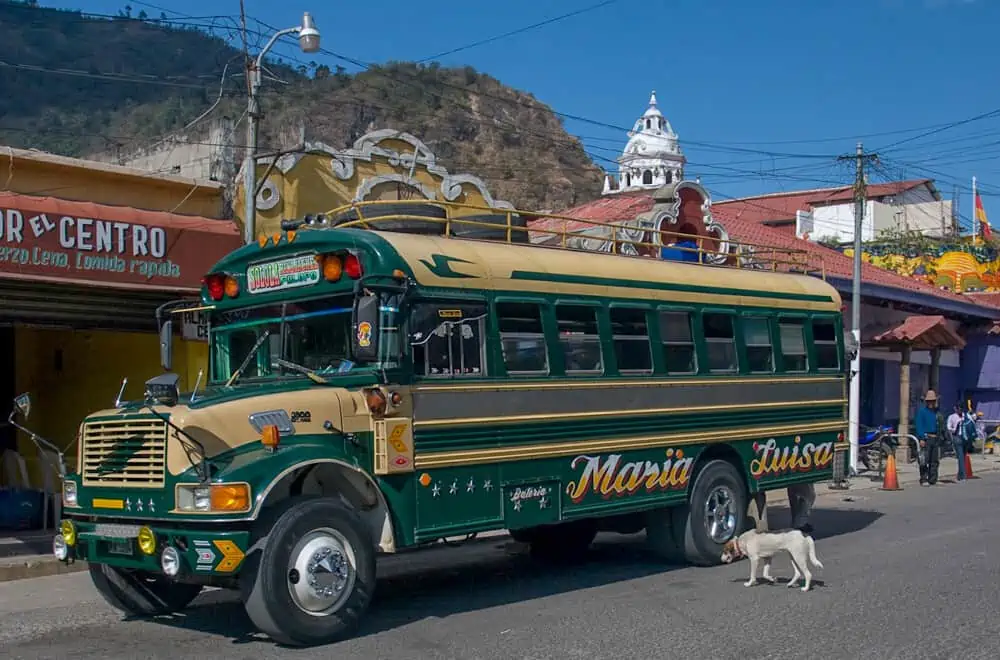 The backpacker trail is well established in Central America and you won't have any trouble getting around via busses. If you're on a shoestring budget the best bet is chicken busses, which are retrofitted school busses used to transport locals and goods. They usually only cost a couple of dollars for hours of travel, but can be hot and crowded.
I took a few chicken busses while traveling in Central America, but mostly used tourist shuttles. These are still relatively affordable, with the exception of Costa Rica where I found them to be quite costly. I actually think renting a car (especially if you have friends to split it with), is the best way to get around Costa Rica.
You can always fly between cities in Central America, but I believe overland travel is the best way to get around this region. It's a relatively small section of the world, so none of the distances you will be traveling are that far apart, making for short bus journeys. Many places are also only accessible by bus.
Crossing the borders between Central American countries is relatively easy. I've crossed between every country in Central America and have never run into any issues. Expect to spend an hour or two crossing the border. Many countries have an exit or entrance fee, but it's not more than $5-10 USD.
Visas for Central America
For many nationalities, including Canadians, Americans, and Europeans, Visas are not required for stays up to 90 days. Guatemala, El Salvador, Honduras, and Nicaragua have an agreement in place which allows you to travel freely between the four countries for 90 days. Belize, Panama, and Costa are separate from this but also allow visitors from those nationalities to stay for 90 days without a visa. This makes it very easy to stay backpacking Central America for months, without worrying about needing a visa.
Costs of Backpacking Central America
Central America is a relatively cheap region of the world to go backpacking in, but the costs do vary between countries. Costa Rica, Panama, and Belize are the most expensive, while the rest are very affordable. You can get by on $30 USD per day in Guatemala, Nicaragua, El Salvador, and Honduras but for Costa Rica, Panama, and Belize I'd budget $40-50 USD/day.
A good way to make your money stretch in Central America is to volunteer or work somewhere for a while. You can check on workaway for opportunities. You may also just come across opportunities while traveling. I've been offered jobs in hostels here in exchange for room and board.
Best Time to Visit Central America
As a whole, the best time to visit Central America is during the dry season from November to April. That said, the country is open year-round and if you don't mind a bit of rain, you'll be rewarded with cheaper prices and fewer crowds.
I've visited in May, and in my experience, it usually just pours for an hour in the morning, and then it's sunny all day. If you're a surfer, the best time to visit El Salvador is during the wet season as this is when the waves are at their best!
Safety & Solo Travel in Central America
Is Central America Safe? Even as a solo female traveler, I still felt safe backpacking through Central America. Most crime happens at night, so avoid going out by yourself during the night (I never did).
The crime also tends to be concentrated in the capital cities, which is why I never spent much time in any of them aside from Panama City. Most of the popular backpacker spots are small towns, and the locals tend to be quite friendly as tourism plays an important role in their economies. During all the months I spent backpacking Central America, I never had anything bad happen to me nor did I meet anyone who did.
The most common form of crime here is petty theft, such as bag snatching and pickpockets. A great way to avoid this from happening is by using pickpocket-proof garments, which ensure thieves don't know you're carrying valuables. I love Clever travel companion for this. They make pick-pocket proof gear for both men and women – everything from underwear to dresses!
Another way to stay safe is to lock up your belongings when you get to your hostel or hotel. I do bring my camera out with me when I'm walking around during the day, as I need to take photos. I strongly recommend getting travel insurance for both yourself and your belongings if you are going to be backpacking Central America. I use and love World Nomads!
—
Do you want to travel Central America yet? I hope this post could give you some inspiration! It really is an amazing region of the world, and so affordable to visit if you're coming from North America. Have you been before? Let me know your favorite place there in the comments below!
Enjoyed this post? Pin it for later!