This post may contain affiliate links. By clicking and making a purchase through the links, I earn a small commission at no extra cost to you. See my disclaimer for more information. This and display ads allow me to keep the site up to date and give back.
Looking for Guatemala hot springs? Check out Fuentes Georginas – they are my favorite hot springs I visited while traveling through Guatemala.
Guatemala is full of beautiful natural attractions, including many epic volcanos. And where there are volcanos, there is agua termales (hot springs).
While visiting the town of Quetzaltenango, I spent a day relaxing at the beautiful Fuentes Georginas hot springs. I'd just finished the Acatenango volcano hikes, so it was the perfect thing to do after!
⭐️⭐️⭐️⭐️⭐️
✅ Spend half a day at the Fuentes Georginas Hot Springs
✅ Hotel transport included
✅ Meet other travelers
The Fuentes Georginas hot springs are located near Xela, Guatemala. This guide will tell you everything you need to know about getting to these hot springs from Xela, plus tips on what to bring and where to go after.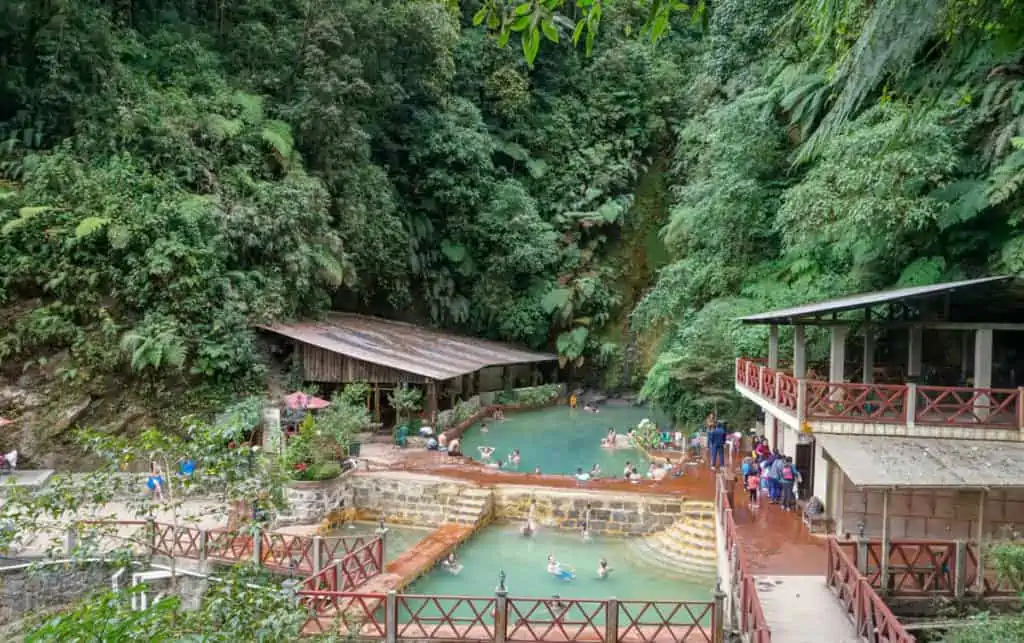 I had no idea about Fuentes Georginas before my trip to Guatemala. But, while spending time in beautiful Lake Atitlan, I met two guys who mentioned that they were heading to a town nearby to check out some natural hot springs.
In true backpacker spirit, they invited me along and before I knew it, we were on our way to find natural hot springs in Guatemala!
Where are the Fuentes Georginas Guatemala Springs located?
The hot springs are located in Zunil, Guatemala, about 9km from the city of Quetzaltenango. I know, I had no idea how to pronounce it either. The locals shorten it to Xela, pronounced 'Shell-ah.'
Xela is the second largest city in the country, next to Guatemala City. The city is set against a backdrop of volcanoes, which seems to be a theme in this country – not complaining!
What's refreshing about Xela is that it's much less touristic than the popular backpacking towns of Antigua and Lake Atitlan.
There's nothing wrong with these places, but it was nice to get a better representative of day-to-day life in Guatemala. Xela is an authentic working city where locals aren't just there to sell you tours.
That being said, there is enough to keep a tourist busy in Xela. The city has many Spanish schools offering competitive one-on-one tuition rates. It's also a cheap place to live in terms of food and accommodation. If you're on a budget but want to learn Spanish, Xela may be the place for you.
Where to stay in Quetzaltenango
The best area to stay in Xela is Parque Central. Xela is an important city in the history of Guatemala, with beautiful churches to see in the Parque Central area. There is also a great food market next to the main square. The food is super cheap and some of the tastiest I had in Guatemala. You just can't go from with 3 tacos for 10 Quetzales ($1)!
In terms of hostels, there isn't a huge variety in Xela. I recommend Casa Seibel. This friendly hostel is located just two blocks from Central Park and has affordable shared and private rooms.
Find more accommodation in Xela.
How to visit Fuentes Georginas hot springs from Quetzaltenango
The Quetzaltenango hot springs are about an hour outside of Xela. The easiest way to get there is to book a tour online.
We had planned to take the shuttle from our hostel but slept past the morning shuttle departure and wanted more time there than the afternoon departure would have given us. The staff at the hostel seemed to think it would be difficult to get there without a shuttle, but we found a way.
You can catch a chicken bus from Xela to a nearby town called Zunil for 5 quetzals. If you don't know, chicken buses are colorful, modified old-school buses that transport goods and locals in Latin American countries.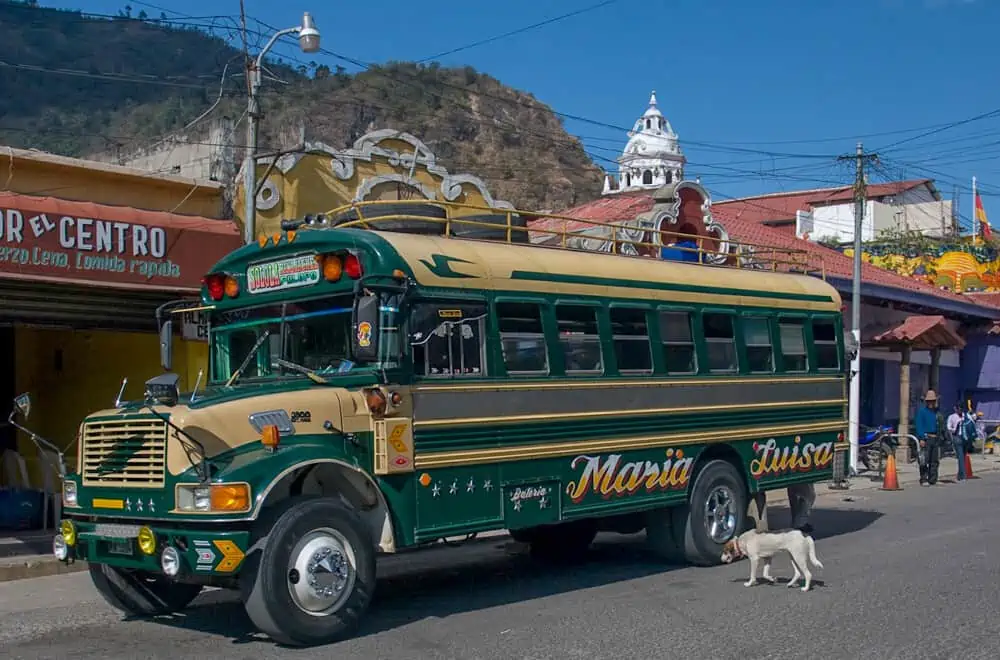 This was my first chicken bus experience, and I was stoked about it. Taking a chicken bus is definitely an experience everyone should have while backpacking Central America.
But it's better to do it on a short distance like this instead of a longer ride. The busses can become very hot and crowded and generally take a long time to go far distances. But for getting around day-to-day in the cities, they are great.
When you get off the bus at Zunil, you will immediately see taxi/tuk-tuk drivers. We negotiated 50 Quetzales for a ride to the hot springs for the three of us (this was in 2018).
It was a slow ride as the poor tuk-tuk could barely make it up the mountain, but the views were gorgeous along the way.
Coming back to Xela was much easier, as we found a shuttle in the parking lot. They brought us back to Xela for Q25 each.
Booking a tour from Xela is the easier option, but visiting Fuentas Georgias on your own through public transport is possible.
Visiting Fuentes Georginas Hot Springs
These Guatemala hot springs are heated by the thermal water that comes from Volcano Zunil. The springs have been converted into man-made pools, but it still felt natural with the lush jungle around us.
The pools are naturally fed by sulfur springs, and there is stunning scenery to enjoy as you relax in the heat.
There is an entrance fee of Q60 for foreigners to get in and Q30 for locals (I'm sure prices have increased since I visited in 2018). Once inside, you can spend as much time as you want in the pools. The hot springs are open from 9 am to 6 pm each day of the week.
I recommend getting to Fuentas Georginas hot springs as early as possible, as the pools were much busier in the afternoon. In the morning, only a few other people were in the pool with us.
At the hot springs, there is a restaurant where you can buy food and drinks. The food is pretty sub-par, but they do have cold beer.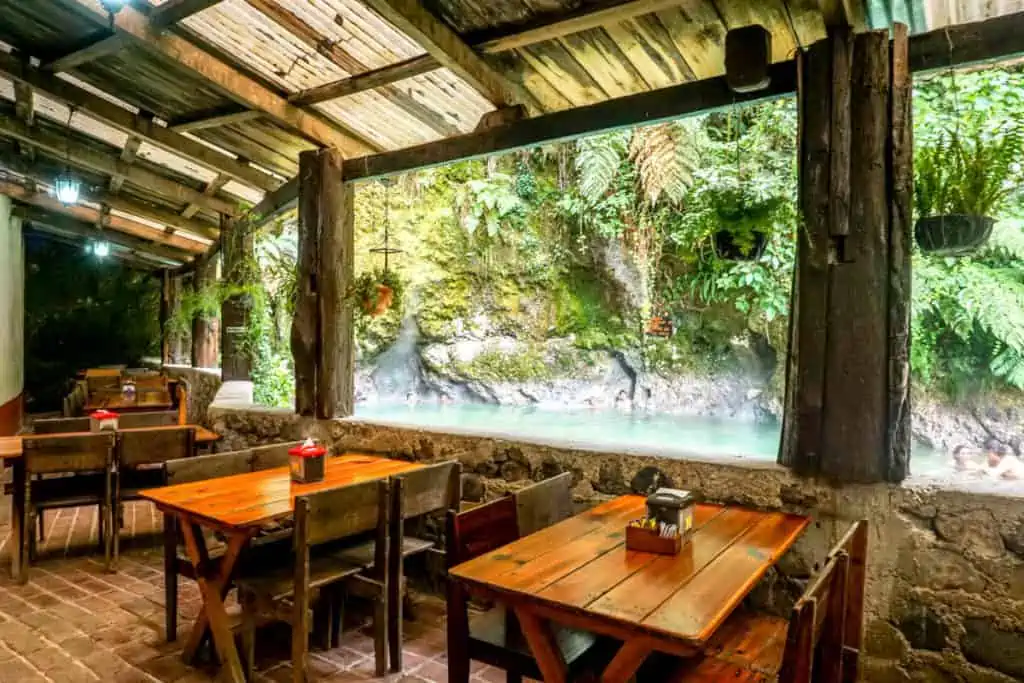 You can also do a small hike for no charge next to the hot springs. It takes about an hour and goes through a beautiful forest.
The hot springs are beautiful to relax in. There are four different pools there, all with varying temperatures. My favorite was the largest pool which was also the hottest temperature-wise. It has this gorgeous backdrop to look up at as you float in paradise.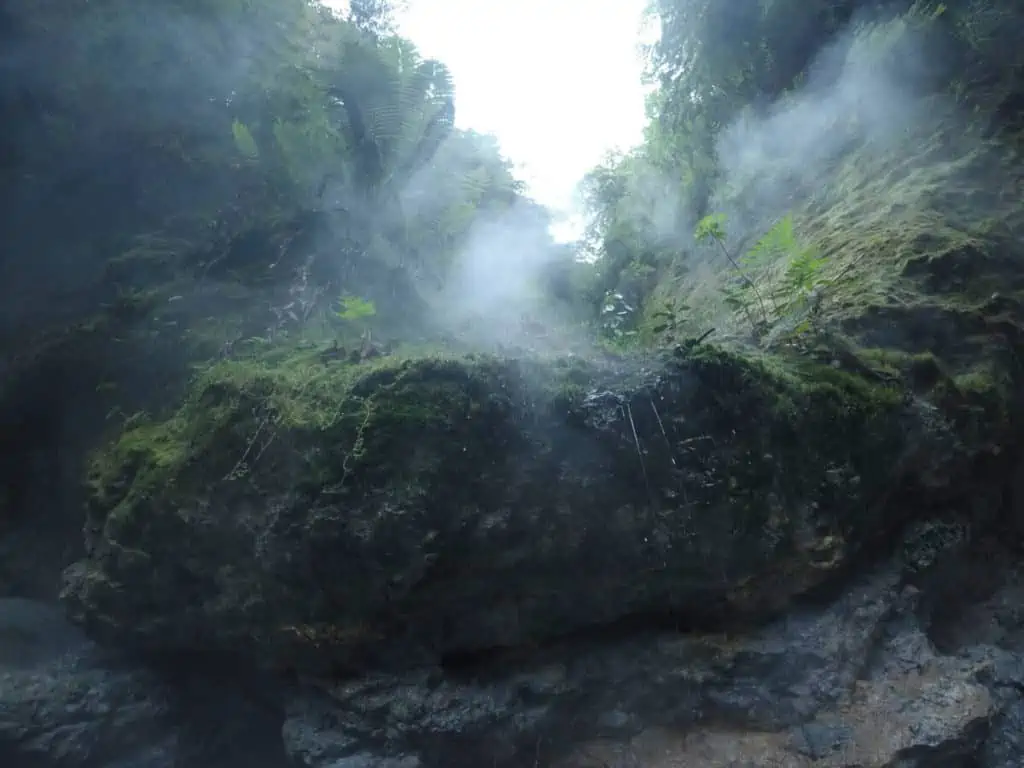 It's best not to swim in the pools and just relax. This is because when you enter a hot spring, the pressure of your body changes. If you add more physical activity, you may feel faint. If you start feeling dizzy in the hot springs, there are cold showers nearby you can cool off in.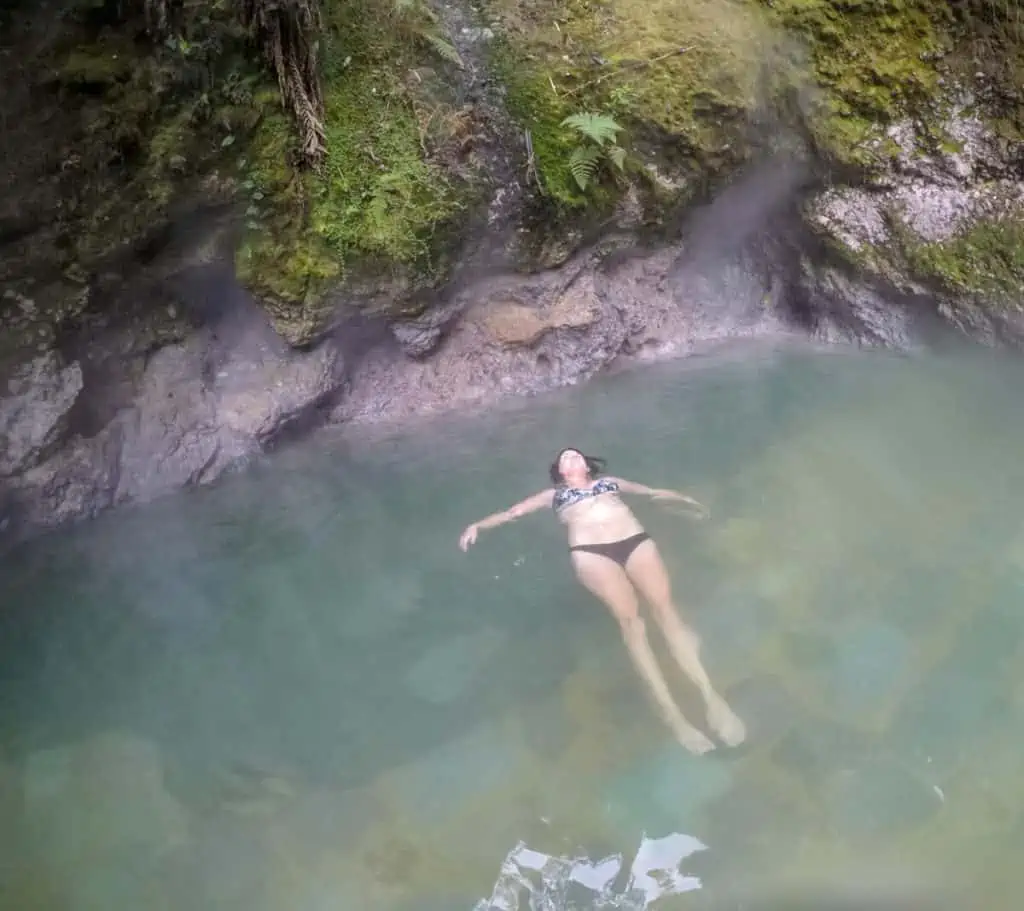 What to Bring to Fuentes Georginas
There are lockers at Fuentes Georginas where you can store your belongings while you enjoy the hot springs. Here is what I recommend bringing on your visit.
Swim Suit and Sandals
Warm clothes to change into after. It can get chilly in the highlands of Guatemala quickly.
A Towel . I recommend the microfiber towels as they pack super light.
Refillable water bottle (no plastic allowed) – I love hydro flask because they keep your drinks cool for 24 hour
A camera to capture the moment! GoPros are great for the hot springs because they can be used in water and can withstand heat.
Bring enough cash with you, as they don't accept cards there, and there is no ATM.
Other Things to do in Xela Guatemala
Hiking in Xela
Surrounded by volcanoes, Xela is the gateway to some of Guatemala's best treks. After conquering one of these epic hikes, soaking in Guatemala hot springs is the perfect thing to do.

Conquer Tajumulco
One of the most epic hikes in Xela is Tajumulco, the highest peak in Central America. It's a two-day 15km trek that takes you to an elevation of 4,222m. You can book it online here.
Unfortunately, my legs just weren't up for another volcano after hiking Acatenango Volcano, but this trek is definitely on my Guatemala bucket list to go back and complete.
Santa Maria Volcano Day Hike
Santa Maria Volcano is a perfect choice if you're looking for a day hike from Xela. The volcano is located in Llanos del Pinal, just 30 minutes from Xela. It's a challenging hike with an altitude of 3772 meters at the top, taking roughly three hours to climb up and two and a half hours to get back down.
Chicabal Volcano and Lagoon
Chicabal Volcano and Lagoon is one of the best day trips from Xela. The volcano has a unique crater lake inside with crystal blue water. On this five-hour tour you will go from the base of the volcano to the top, where you can get stunning views of the lagoon from above.
Day Trip to La Igualdad Waterfall
If you're interested in chasing waterfalls, head to San Marcos, two and a half hours from Xela. It's home to La Igualdad waterfall, one of Central America's highest.
Where to go After Xela
After a relaxing couple of days in the hot springs of Xela, we made out way to Semuc Champey via a VERY long bus ride.
Since Semuc Champey is literally in the middle of the jungle, it's notorious for being a long journey no matter where you are coming from in Guatemala.
I came to Xela from Lake Atitlan, which was only a couple of hours via bus. If you haven't visited this area of Guatemala yet, I recommend it as the next stop on your Guatemala itinerary.
You can even do a 3-day guided hike from Xela to Lake Atitlan, which would be a pretty epic way to get between the two.
For more inspiration on planning your Guatemala trip, check out these 9 incredible bucket list adventures in Guatemala!
Me and my legs loved our time at the hot springs. Like Xela, it wasn't overly crowded with tourists. In fact, there were more locals there than foreigners. It's the perfect place to head after conquering an epic hike in Guatemala!
Traveling around Central America? Check out these posts!
Like it? Pin it for later