This post may contain affiliate links. By clicking and making a purchase through the links, I earn a small commission at no extra cost to you. See my disclaimer for more information. This and display ads allow me to keep the site up to date and give back.
If you are on the backpacker trail in Central America, you will undoubtedly hear of the infamous Sunday Funday in San Juan Del Sur Nicaragua, each story more debaucherous than the next.
It's a weekly pool crawl that happens every Sunday, and it's a blast.
This post will cover all you need to know to prepare and make the most of Sunday Funday Nicaragua!
Where to stay in San Juan Del Sur during Sunday Funday
Pachamama Hostel is where the party starts, so this is the place to be if you want to be in the center of the action.
Budget – Hola Ola Hostel: If you're looking for a nice hostel that's not a constant party, Hola Ola is a good choice. I stayed here for my first few days in San Juan and found it very clean, plus they have two pools!
Mid-range: Hotel Alcazar: This is a lovely mid-range hotel in San Juan with excellent facilities. They have clean, spacious rooms with terraces overlooking the beach.
Luxury: Hacienda & Ecolodge Morgan's Rock: Private bungalows in the forest with your own pool? Yes, please! This place looks like an absolute dream for eco-lovers looking for a bit of luxury.
What is Sunday Funday?
Sunday Funday is similar to pool parties in Vegas, except it's catered to backpackers, so there are fewer douchebags, and the drinks are way cheaper.
As part of the backpacker circuit, you can expect to meet people from all over the world. Canadians dominate the attendees, followed closely by Australians.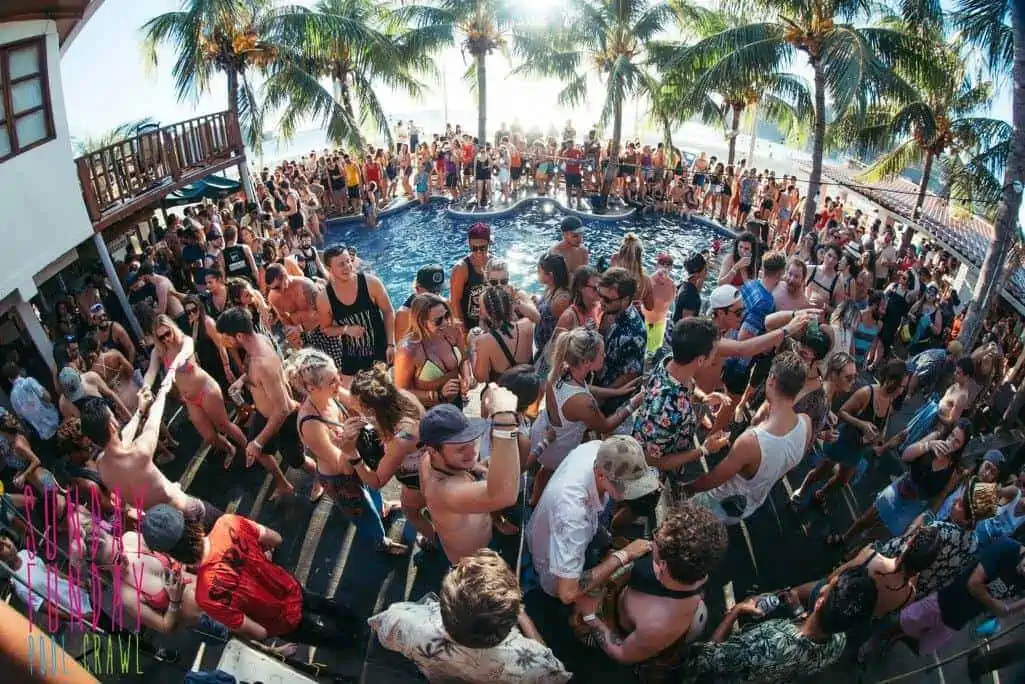 How much is Sunday Funday in San Juan Del Sur?
A ticket to Sunday Funday is 25 USD, which is pricey by Nicaraguan standards, but it gets you the official tank top, entrance to five bars, free shots upon arrival at each bar, and transportation to/from Naked Tiger, where the party ends. You can buy tickets here.
If you stay at either Pachamama Hostel or Naked Tiger, you can get a discount on your ticket by buying it in person.
You will see the Sunday Funday tops throughout Central America, as it becomes a main staple in many backpackers' wardrobe. I've seen the Sunday Funday tank top as far as the Philippines on my travels!
At the event, drinks were about 50 Cordobas/2 USD each.
The Itinerary for Sunday Funday
The schedule may change from week to week, but here is what I experienced in Feb 2018.
10 am Tickets on sale at Pachamama Hostel
There was a big line-up when I arrived around 11 am to buy tickets, so I'd recommend getting there early and grabbing brunch before the event so you have something to soak up all the alcohol.
I didn't take my advice and instead started my Sunday Funday with mimosas on the beach. A bottle of champagne before is probably unnecessary, but I was on vacation.
2 pm Pre-party at Pachamama
To be completely honest with you, I missed this part of the event.
After many mimosas, I met two friends at their hostel. Of course, we started drinking, making friends, and lost track of time. By the time we were ready to leave, the party had already moved to the 3rd stop.
By missing the first stop at Pachamama Hostel, it seemed we missed the official glitter party, as everyone was covered in pretty sparkles when we arrived at the next stop.
3 pm Walk to Hotel Anamar
At 3 PM, the party walks from Hostel Pachamama to Hotel Anamar, which is just down the road. It's a lovely little spot with a pool looking right at the beach.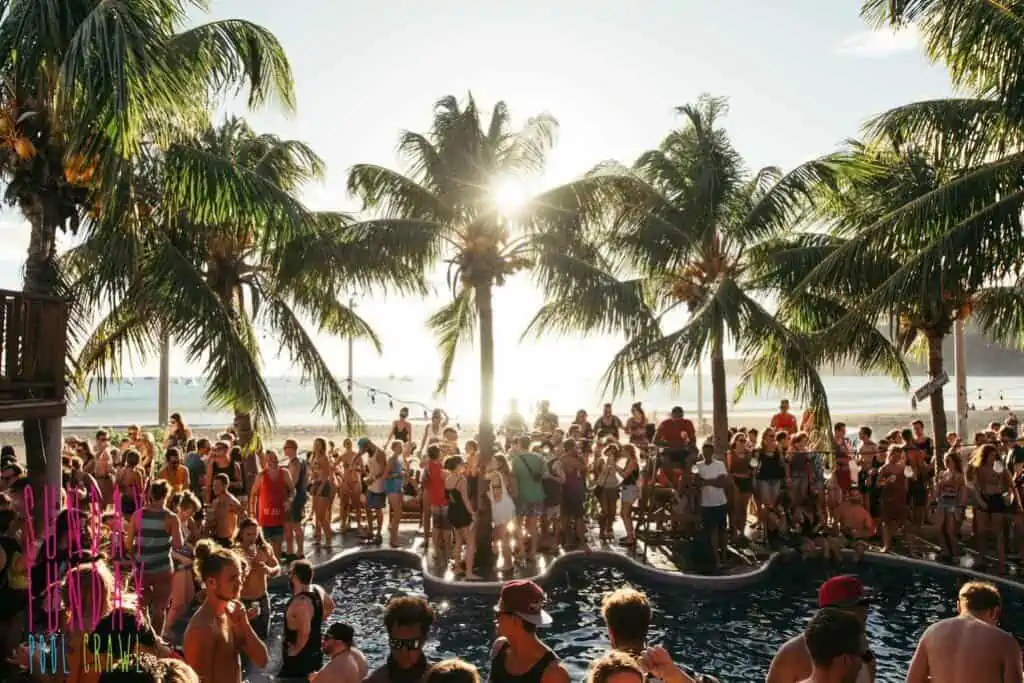 The first hour felt tame as most people just hung out drinking by the poolside, but once the alcohol started to flow, the energy picked up.
By the time we left Hotel Anamar, it was a giant dance party around the DJ/pool.
5 pm Transportation to Naked Tiger
Around 5 PM, shuttles (trucks) arrive to bring people from hotel Anamar to Naked Tiger, which is about a 15-minute drive.
Naked Tiger was definitely the highlight of my Sunday Funday experience. On arrival, the friendly staff will greet you with more free shots!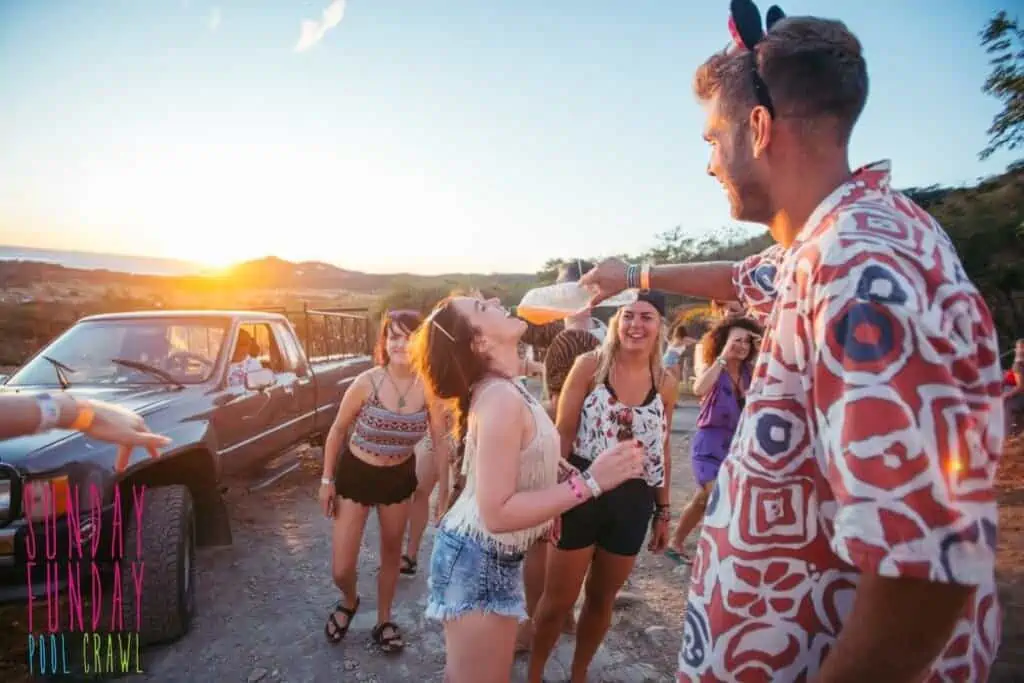 At this point in the day, everyone is Solang (sp). I learned that word from my Swedish friends. It's that sweet point when you start to get drunk, and everything feels great. In Newfoundland, we say "Getting a buzz on."
The sunset from Naked Tiger is beautiful. You watch the sun go down and then the crazy dance party continues with live DJs until 8 PM, when the trucks come to bring you back to town.
8 PM – Transportation back to Arribas Bar
Arribas Bar is the last stop of the night (no pool there), which is back in downtown San Juan Del Sur.
There you continue the dance party or hang out on the beach, where performers do fire shows.
I left around 1 AM as I had lost my friends, my phone was dead, and 14 hours of drinking is just enough.
I had a great time at Sunday Funday, but I felt going once was enough. Some people will pride themselves on how many Sunday Fundays they've been, and maybe if I was still 22 I'd do the same, but I'm not, and that's OK.
That said, I didn't feel too old to be there. There are tons of people in their late 20s, and, as they say, "you are only as old as you feel." I'm just starting to realize that my heart feels much younger than my body, at least after a night of drinking.
Sunday Funday Survival Trips
Hydrate. You bake in the sun all day, drinking copious amounts of alcohol.
Eat. This may be obvious, but if I drink enough beer, my stomach will confuse itself and not be hungry. This is a terrible idea. Get brunch/lunch before or eat at a food stand in town (they sell delicious wraps outside Arribas).
Pace yourself. This is an all-day drinking event, there's no need to be the fastest, or you are going to end up the as the drunk guy betting people that if the Patriots lose, you will do a butt chug. I'll spare you the details of what this is, but yes, he lost, and yes, he did it (and then even proceeded to drink from the same bottle? Ew!). Don't be that guy.
Wear comfy clothes. This goes from the early day into the night, so make sure you wear comfy clothes. It is a pool party, so most people wear their bikinis, but I didn't even end up in the pool aside from my legs. They give you a tank top when you pick up your ticket, but few people actually wore them that day. I went in shorts and a tank top.
Only bring what you need. I can't tell you how many people I know who lost their belongings at Sunday Funday. There are no lockers, so just bring the cash you need. I wouldn't even bring your phone since there's lots of water involved in the day. If you do bring your phone, use a waterproof case to protect it!
Be sure not to go pool crawling without travel insurance. In case of an injury (I saw it happen) means you end up with expensive medical bills, or even have to cancel your trip mid-way. I recommend using SafetyWing or HeyMondo.
Things to do in San Juan Del Sur Nicaragua
Explore San Juan Del Sur
Aside from the madness of Sunday Funday, San Juan Del Sur is a lively surf town with a lot of taco shops. I enjoyed my time there, there's always something going on and the beaches are beautiful.
If you have the energy, take a short 20-minute hike up to the church on the hill which provides stunning views of the area below.
Go Surfing
San Juan Del Surf is one of the most popular places in Central America to go surfing so take advantage of the waves here! If you haven't done it before, book a surf lesson ahead.
Visit Playa Hermosa
This gorgeous beach is just half an hour drive outside of town and there are regular shuttles running to it from San Juan Del Sur.
There is a nice chill spot to hang out in the shade with hammocks, as well as a restaurant.
Take a Day Trip
There are many other attractions around Nicaragua that you can visit from San Juan Del Sur, including Masaya Volcano, and the Colonial City of Granada.
Where to go after San Juan Del Sur
Depending if you're traveling north or south on your Central America backpacking route, here are some places to consider going next.
Visit Ometepe Island
Ometepe is a beautiful island off the coast of Nicaragua. There are many adventure activities to do in Ometepe including kayaking, chasing waterfalls, and hiking volcanoes.
To get to Ometepe from San Juan Del Sur, it's about a 40-minute drive to San Jorge, and then an hour-and-a-half boat ride to the island.
Costa Rica
San Juan Del Sur is close to the border of Costa Rica, about a 45-minute drive. It's common for backpackers to continue their journey after Sunday Funday towards Costa Rica.
You can book a bus shuttle in town from San Juan Del Sur to the Costa Rica border. Upon arriving in Costa Rica, the best place to go is Tamarindo which is just two hours south of the border.
—
I hope you found this post helpful if you're planning to head to Sunday Funday in San Juan Del Sur. I'd love to hear about your experience there!
If you're looking for more tips on traveling through Nicaragua, be sure to check out my Nicaragua travel guide.
Like it? Pin it for later!