This post may contain affiliate links. By clicking and making a purchase through the links, I earn a small commission at no extra cost to you. See my disclaimer for more information. This and display ads allow me to keep the site up to date and give back.
Looking for the best eco tours in Guanajuato state? Let me help! I live in Mexico, and one of my favorite parts about that is discovering all the incredible natural wonders it offers.
While images of idyllic beaches may come to mind when you think of Mexico, the interior offers a completely different but equally amazing experience.
Located in central Mexico, Guanajuato is a standout destination for ecotourism in Mexico, thanks to its varied landscapes, mild climate, and operators with a commitment to sustainable tourism.
Whether you're interested in horseback riding, taking a hot air balloon flight, or rappeling down cliffs, there are countless Guanajuato tours immersed in nature.
If you're an eco-conscious traveler looking to explore Guanajuato state in a way that aligns with your values, you're in the right place. I get you, and I've got you covered. In this post, we'll dive into the top Guanajuato tours that offer a perfect blend of adventure and sustainability.
This post was sponsored by the Guanajuato tourism board. As always, all opinions are my own.
Eco Tours from San Miguel de Allende
San Miguel de Allende is a beautiful city and popular base for many travelers in Guanajuato, including a vibrant community of expats and digital nomads in Mexico.
This UNESCO World Heritage Town, known for its well-preserved colonial architecture, is a draw, but don't let that keep you within its borders. The surrounding landscapes are equally compelling and deserve exploration.
If you're staying in San Miguel de Allende, these eco-tours are a great way to experience Guanajuato state's diverse natural beauty as day trips.
1. Half-Day Horseback Riding with Coyote Canyon Adventures
If you're looking to explore the natural beauty surrounding San Miguel de Allende, Coyote Canyon Adventures is your go-to. A family-owned company specializing in adventure and ecotourism, they've been operating since 2000 in Guanajuato.
Their half-day horseback riding tour is one of the most popular tours, taking you on a journey across the La Virgen River and through the picturesque Coyote Canyon.
You'll traverse stunning landscapes without the carbon footprint that comes with motorized vehicles. The route offers breathtaking cliffs and even a chance for a riverside hike, allowing you to connect deeply with nature.
If you're looking for a little extra excitement, you can upgrade your experience to include a soak in nearby hot springs or a heart-pounding 120-foot cliff rappel.
To cap off the adventure, you'll enjoy a hearty, organic Mexican lunch back at the ranch. It's not just a tour; it's a well-rounded, sustainable experience that leaves you feeling fulfilled. Its one of the best things to do in Guanajuato state.
Check out some of the landscapes you'll encounter on this tour in the video below.
2. Hot Air Balloon Flight
Having had the privilege of experiencing hot air balloon flights all over the world, such as Mexico's stunning pyramids and Egypt's ancient tombs, I can tell you it's an experience that never gets old.
For those looking to elevate their Guanajuato experience—literally—Globo San Miguel offers an unforgettable Hot Air Balloon adventure.
Founded in 1993, they're the original hot air balloon company in San Miguel de Allende. With over 25 years of local flying experience and more than 40 years in the international commercial balloon business, they have the expertise to ensure a safe and enjoyable flight.
Imagine starting your day floating above San Miguel de Allende as the sun paints the sky with shades of orange and pink. Globo San Miguel's daily hot air balloon rides offer this dreamy experience!
If you've wanted to try a hot air balloon ride, this scenic ride over San Miguel de Allende is the perfect opportunity.
3. Archaeologist-Led Cañada de La Virgen Pyramid Tour
My dad was an archaeologist, and I grew up going on archeological digs with him in Newfoundland. Those experiences made me feel like a real-life Indiana Jones, and this archaeologist-led tour of Cañada de La Virgen offers a similar sense of adventure and discovery.
Cañada de la Virgen is an intriguing pre-Hispanic pyramid complex dating from around AD 300 and in use until around 1050. It's one of the top historical places to visit in Guanajuato state.
Your guide, who participated in the site's 2004 excavation, provides unique insights you won't find anywhere else. The small-group setting allows the tour to be tailored to your interests and all your questions about the site answered.
4. San Miguel Adventure Park
With over six years in ecotourism, San Miguel Adventure Park knows how to deliver an unforgettable adventure experience immersed in the region's beautiful landscapes.
I'm a huge fan of ziplining and have tried various routes across Mexico, but the zipline at the park is a standout.
The park's circuit features seven ziplines and a suspension bridge that spans the Aguila Cola Roja canyon. You'll soar over 150 meters high, taking in breathtaking panoramic views.
The park also offers natural trails that you can explore on a quad bike or horseback, immersing you in the area's unique semi-desert landscapes.
Beyond the adrenaline, the park offers cultural experiences like a visit to San Miguel Viejo to discover Guanajuato's history or an Atotonilco tour that combines adventure with historical exploration. With certified guides leading the way, you're in good hands throughout your adventure.
Eco Tours from Guanajuato City
Guanajuato City is a lively blend of color and culture that I've enjoyed exploring. The city's narrow streets and brightly painted buildings make it a joy to wander around.
But many don't realize that just beyond the city center lie some incredible natural areas waiting to be discovered. These eco-tours offer a chance to dive into the natural beauty that surrounds the city of Guanajuato.
5. Cerro de la Bufa Hike in Guanajuato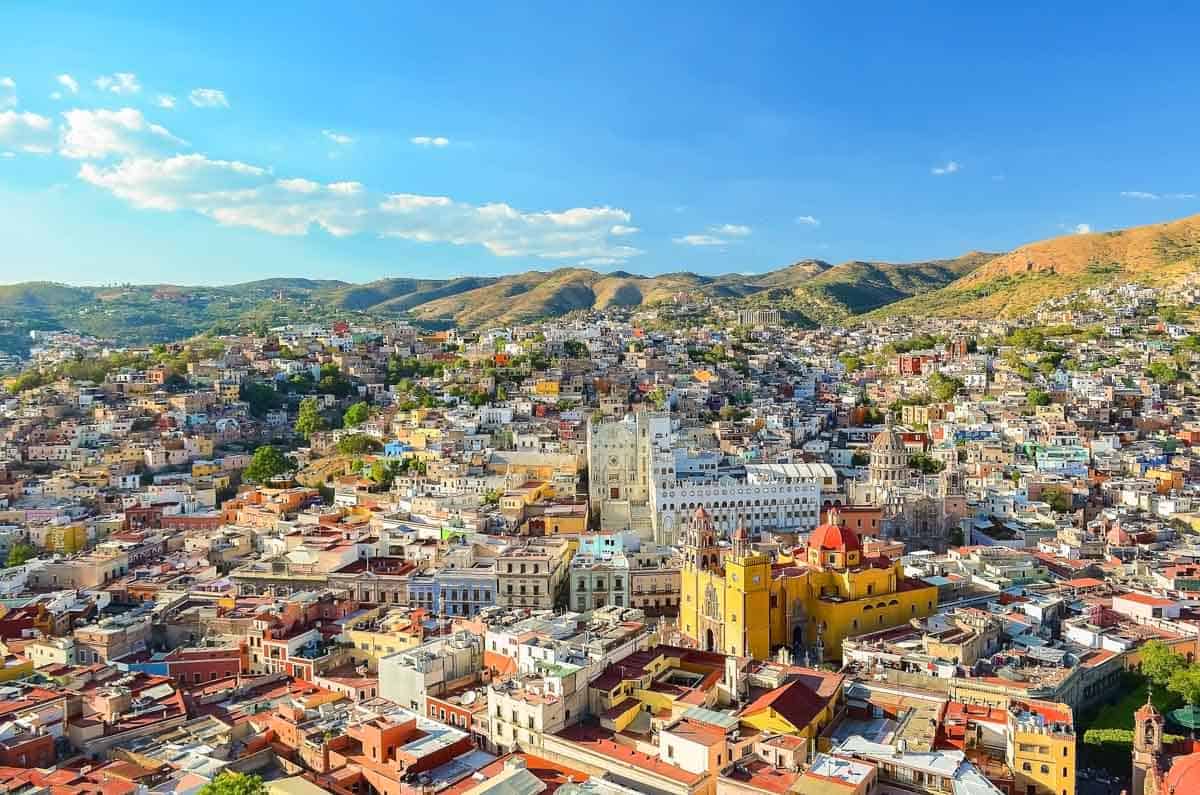 If you thought Guanajuato was beautiful from the ground, wait until you see it from the top of a hill.
Cerro de la Bufa, just outside Guanajuato City, is a must for those who love hiking. This moderate hike takes less than 5 miles round trip through some of the most scenic countryside and unique rock formations Guanajuato has to offer.
The route offers a nice blend of flat terrain and uphill sections, culminating in a stunning view of the city and surrounding areas from the top. You can find directions on AllTrails here or book a guided hike online here.
It's an eco-friendly way to appreciate the city from a vantage point that most visitors don't get to see.
6. Rappeling outside Guanajuato City
For those who crave an extra dose of adrenaline, rappelling down the cliffs offers a whole new level of excitement.
Imagine this: You've reached the summit, soaked in the panoramic views, and now you're gearing up to descend 90-degree natural walls.
You'll rappel down natural walls, letting the adrenaline flow. The tour also provides an intimate look at the local flora and fauna, adding an educational layer to this experience.
No need to worry about safety, as you'll be accompanied by experts from Turismo Alternativo En Guanajuato, one of the leading ecotourism operators in the state.
7. Kayak to Sunken Temple
If you're looking for a unique thing to do in Guanajuato, this kayak tour to the Sunken Church of Puruagüita is a must. I've been kayaking all over the world, but I can't say I've ever seen a sunken church!
You'll paddle through La Presa Solís, the largest dam in Guanajuato state, with a rich array of birdlife like pelicans, ducks, seagulls, and herons.
The scenery is equally captivating, featuring hills, mountains, crop fields, and local communities. But the real highlight comes when you reach the Sunken Church of Puruagüita.
Submerged for 70 years, this church still retains some of its original religious paintings and structural elements. It's a surreal experience to paddle up to a piece of history, offering a unique blend of adventure and cultural exploration.
Note that this area is a three-hour drive from Guanajuato City, but all transportation to and from is provided through Guanajuato VIP.
Other eco-tours in Guanajuato State
Beyond the popular cities of San Miguel de Allende and Guanajuato City, the state has many other natural areas and ecotourism activities to try.