This post may contain affiliate links. By clicking and making a purchase through the links, I earn a small commission at no extra cost to you. This and display ads allows me to keep the site up to date and give back. Thanks for reading!
Here are 41 adventurous and fun things to put on your Barbados bucket list!
Barbados is a dream destination for adventure seekers, with underground caves, shipwrecks, marine life, and endless beaches to explore.
Given the access to the calm Caribbean sea on one side and the rugged Atlantic ocean on the other, the best things to do in Barbados revolve around the water.
The ultimate bucket list of things to do in Barbados
#1 Hit the beach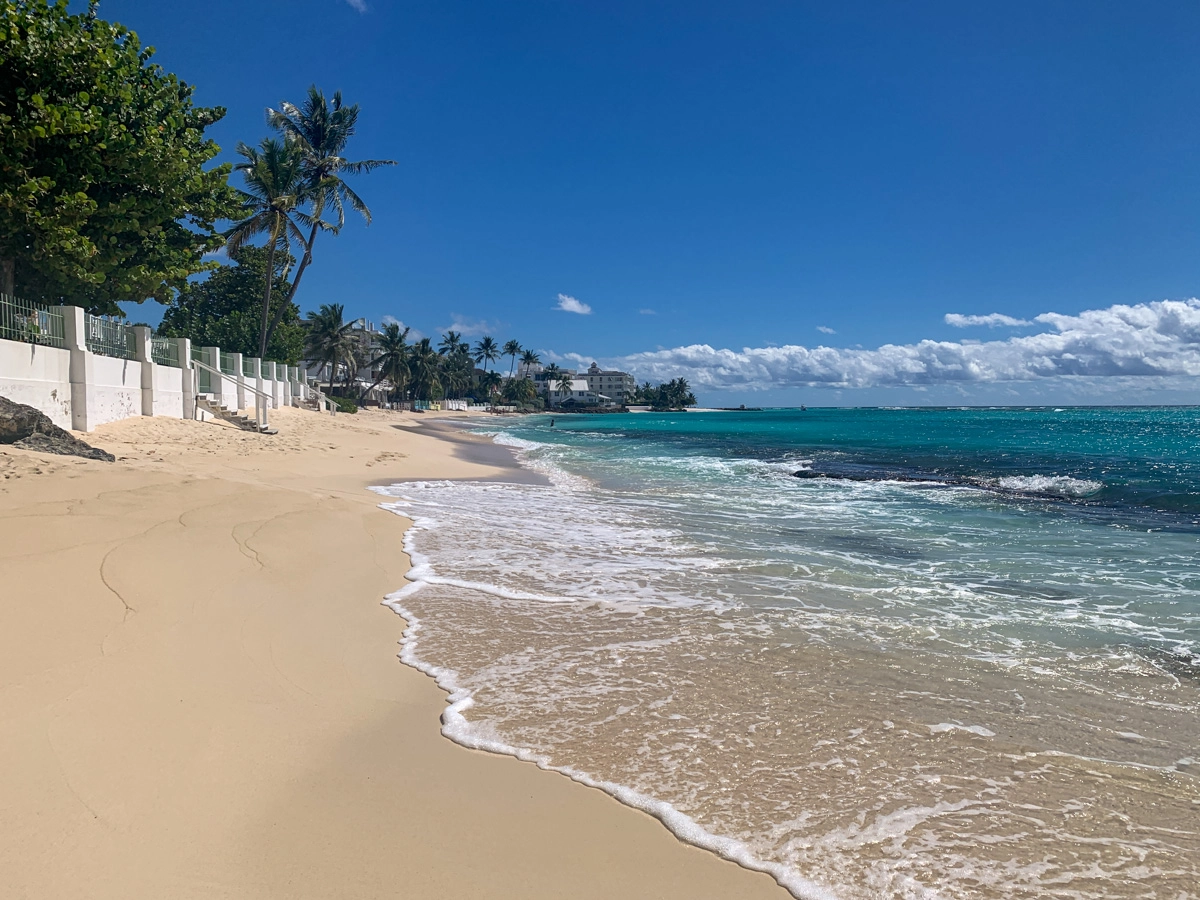 That's why we're here, right? Barbados is home to some stunning beaches on all sides of the island. For soft, white sand with calm turquoise water, the best place to go is on the south and west coast where the Caribbean sea is. For rugged beaches with big waves, head to the east coast.
Here are some of the best beaches in Barbados.
Pebbles – This popular beach near Bridgetown has soft-white sand and calm water that's great for snorkeling and sup. You can rent boards here, as well as beach chairs. It also has beachfront restaurants.
Miami beach – gorgeous beach in Oistins with soft white sand and calm turquoise water for swimming.
Dover beach – beautiful beach near St. Lawrence Gap with calm water for swimming.
Bathsheba beach – While this isn't a great place for swimming, it's a good place for surfing and soaking in the east coast's dramatic landscapes.
#2 Go swimming in Animal Flower Cave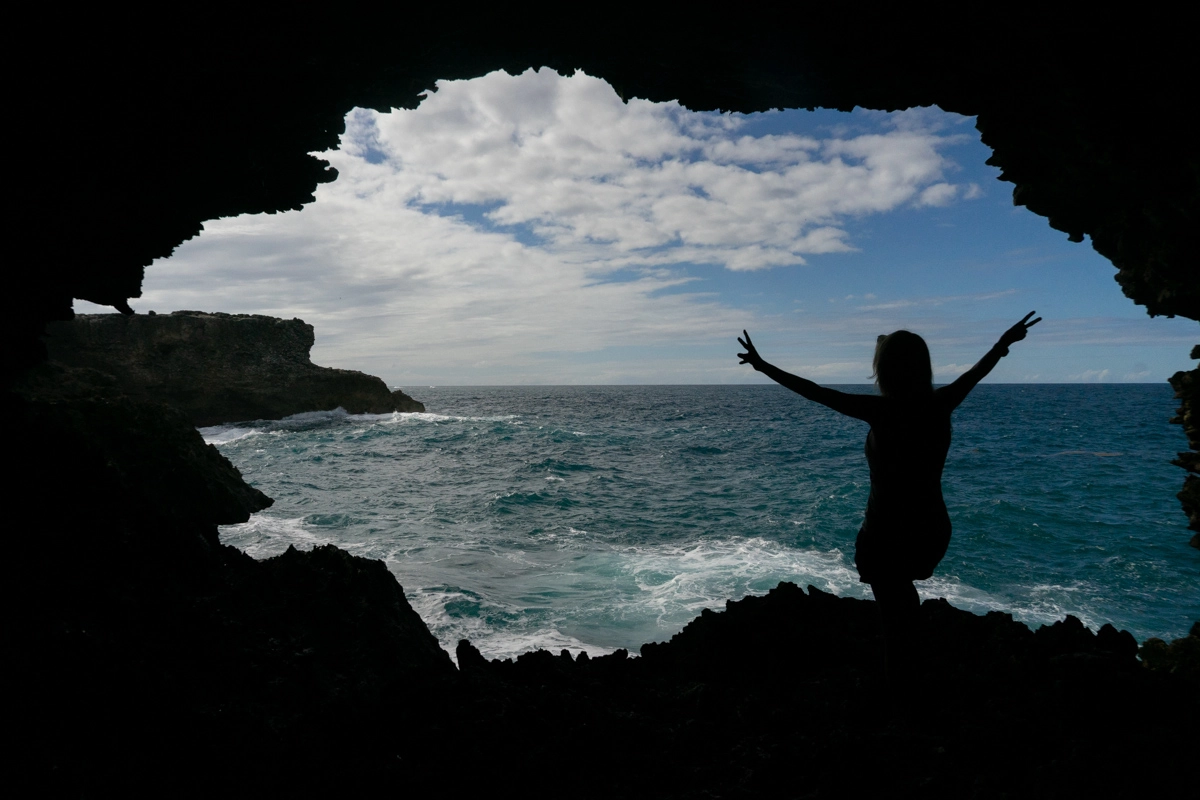 One of the most unique things to do in Barbados is to explore the complex cave systems! One of the most popular caves to see is Animal Flower Cave on the northernmost tip of the island in the St. Lucy Parish of Barbados.
You can book a tour of the cave once you arrive there.
It takes about an hour and includes a swim in a turquoise pool inside the cave.
#3 Go Surfing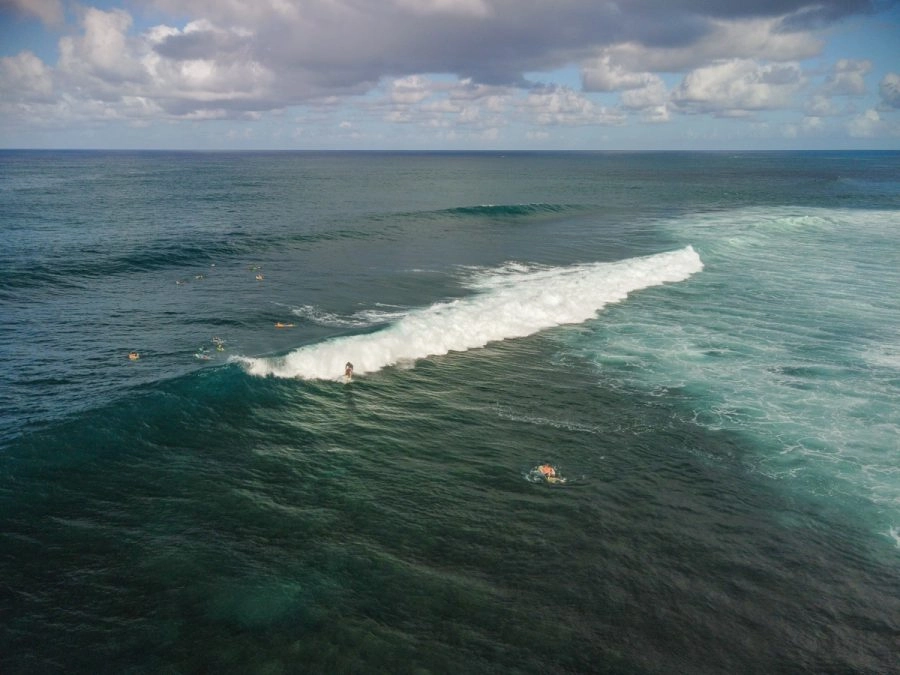 Barbados is hands down the best Caribbean island to go surfing. It has waves for all levels, whether you've never surfer before or are a pro.
There are so many great surf spots in Barbados. If you're a beginner, head to Freights Bay. This gentle surf area has small, consistent waves making it a perfect place to learn. It's also full of sea turtles!
If you're a more experienced surfer, then head to Bathsheba on the island's east coast. It's home to Soup Bowl, a world-class surf spot famous for its heavy barrels. Even if you're not a surfer, it's worth going there to check out others surfing. They also host a yearly surf competition in November!
#4 SUP at sunset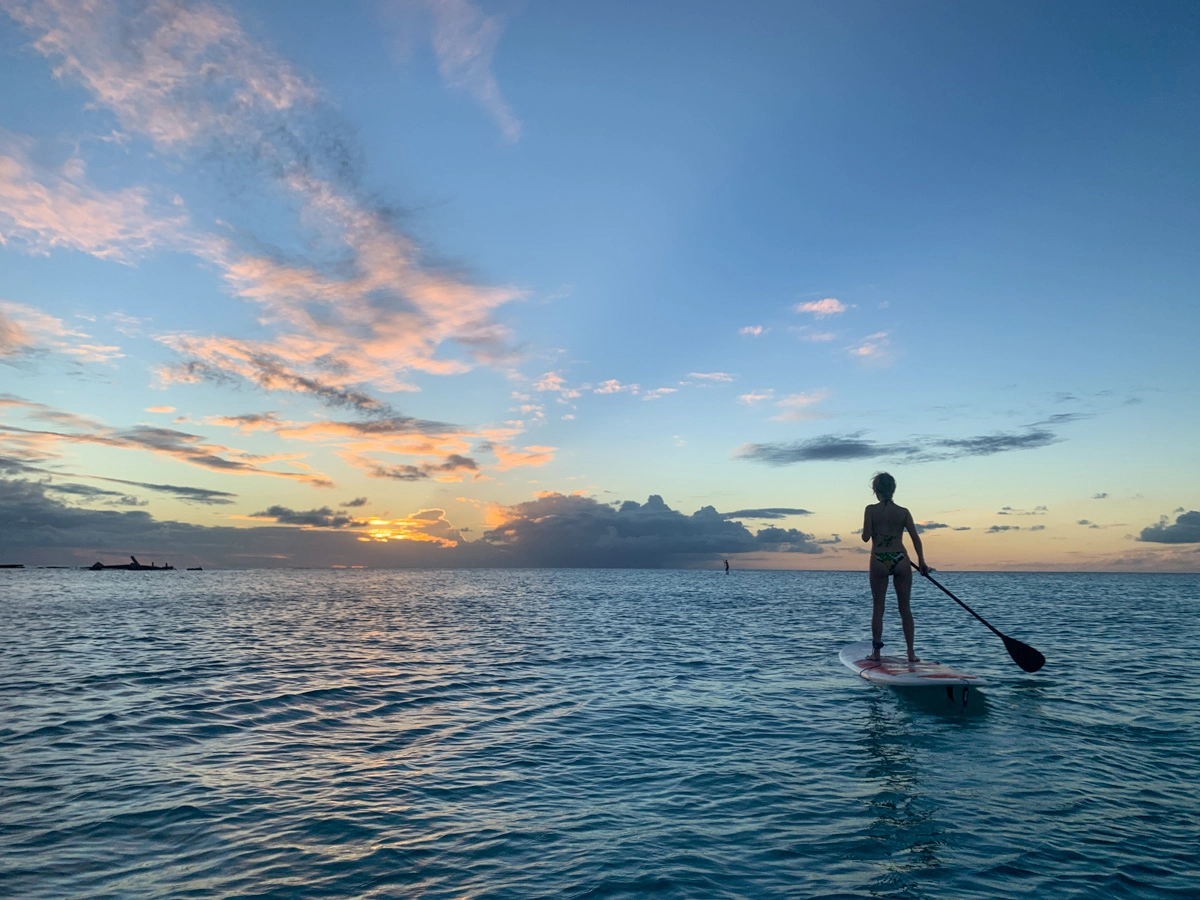 One of the best things to do in Barbados is rent a SUP board and paddle out on the turquoise waters. Many hotels and resorts have these on hand for guests to use, but if not, you can also head to Pebble beach and rent them from there for 10 USD. Go at sunset for an even better view!
#5 Take a clear kayak tour
Kayaking is another great way to explore the waters of Barbados. You can even join a guided clear kayak tour that will take you to Folkestone Marine Park – one of the island's best snorkeling spots. You'll discover the incredible hidden world below the surface as you paddle in a crystal clear kayak over a coral reef.
#6 Go snorkeling with shipwrecks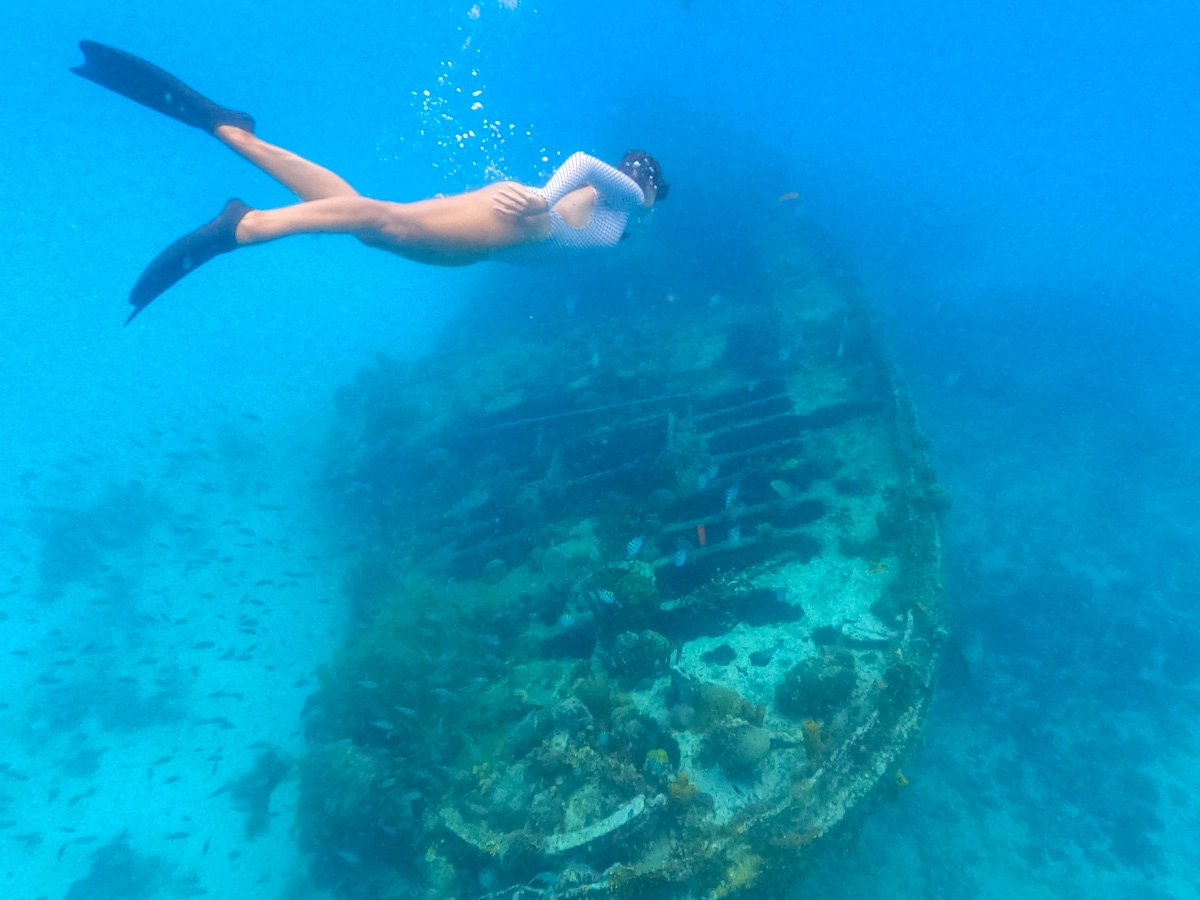 Barbados is a dream destination for snorkeling. Its coral reefs close to shore make it a great place to see marine life including sea turtles!
But what makes snorkeling in Barbados so special is the number of shipwrecks you can explore. In Carlisle Bay alone there are approximately 200 shipwrecks since the 17th century due to storms or pirating!
#7 Learn to dive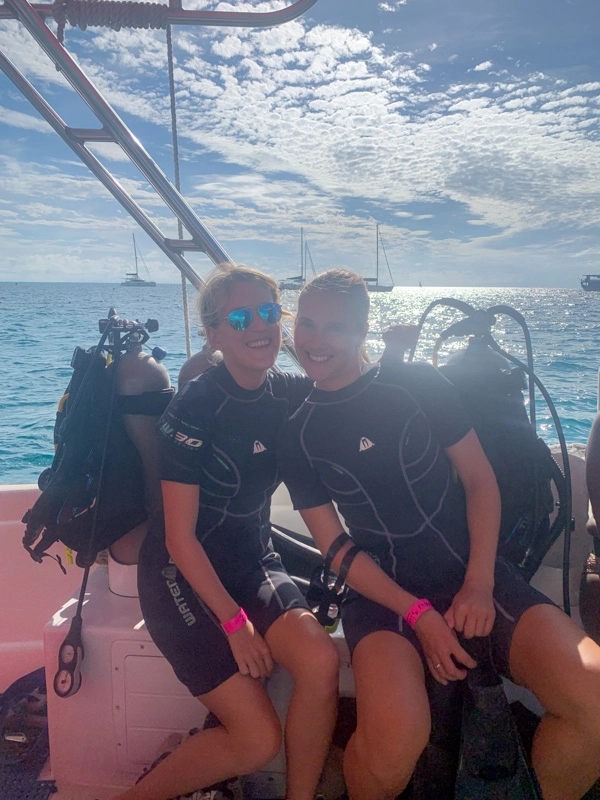 The water surrounding Barbados is home to a variety of marine life, including tropical fish and turtles, stingrays, manta rays, and barracudas – as well as colorful coral formations as the backdrop. It's one of the best places to go diving in the Caribbean.
If you aren't certified to dive yet, there are plenty of schools around to get your certification. Barbados Blue and Rogers Scuba Shack are two popular dive shops. If you're staying for a while, you can even join a dive club after to explore the various sites on the island.
#8 Go on an island-wide tour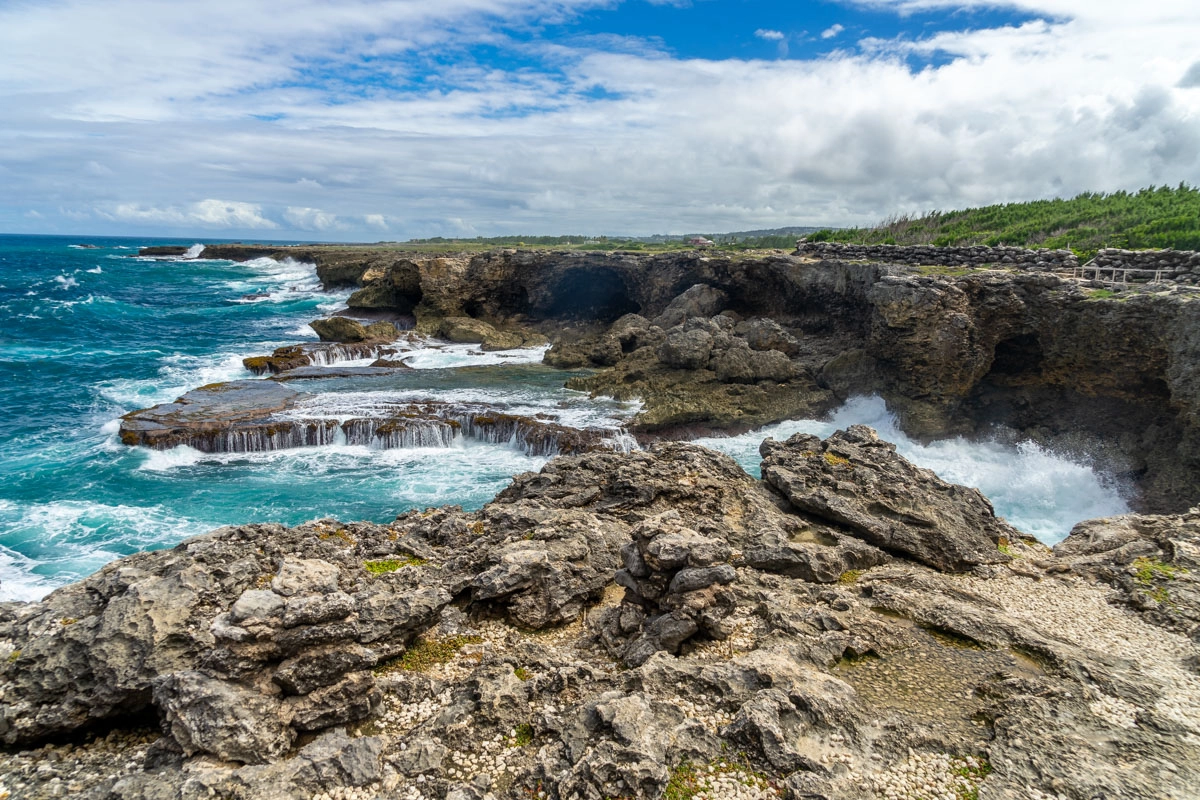 Barbados is a relatively small island – it only takes about 3 hours to drive the entire thing. If you want to get a taste of the whole island, one of the best things to do in Barbados is to join an island safari tour.
They will take you around to the best attractions and viewpoints including St. Nicholas Abby and Cherry Hill viewpoint. Plus, they supply you with rum so it's guaranteed to be a fun day. You could also rent a car or jeep and DIY your own island tour, but then you can't drink as much rum so what's the fun in that?
#9 Mountain bike tour
If you're looking for a fun adventure, check out this hike and bike tour along the Atlantic coast. You'll hike along the rugged east coast, which has some of the island's prettiest views, then bike along the former Atlantic Coast train line. All while learning about the history and heritage of the island from the expert guides!
#10 Hiking in Barbados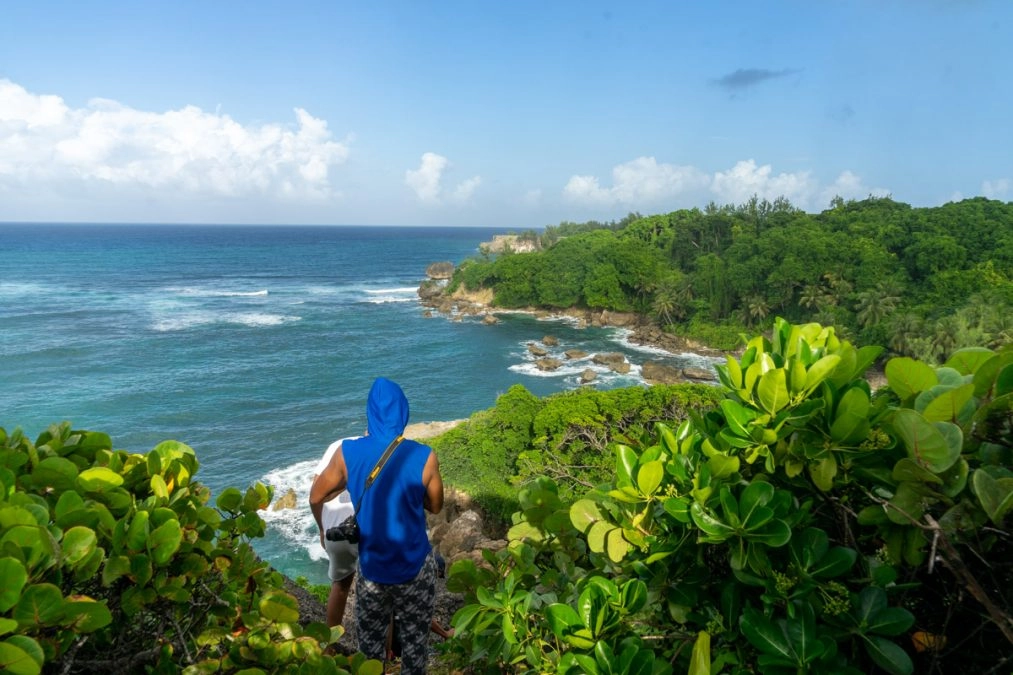 Barbados has some great hiking trails, but most of them aren't well marked. Luckily, you can join a few free hiking groups to go with guides who know the trails! This is also a great way to meet locals and other travelers.
I loved joining hikes with Pineapple Hikes Barbados, which are run by a local Bajan woman. She'll often partner with local restaurants, so you pay a set price which includes the hike and a meal at the restaurant afterward.
The Barbados Hiking Association is another group you can join for group hikes.
#11 Take a rum tour
Did you know Barbados is the birthplace of rum? If you're interested in learning about the history of rum on the island, take a tour at Mount Gay Distillery.
It's the oldest, continuously running rum distillery in the world, dating back to 1703. Head there to take a Historic Distillery Tour that will take you through the rum-making headquarters – rum tasting included, of course.
You can also tour the Foursquare Rum Distillery, which was once a working sugar factory in the 15th century.
#12 St. Nicholas Abby
Another great historical tour to go on in Barbados is St. Nicholas Abby. This historical plantation property has been operating since the 17th century – one of the few remaining plantations on the island from this period.
When you arrive at St. Nicholas Abbey, you'll purchase a ticket that includes admission to all the attractions there, including the Great House, the rum distillery, and the plantation grounds. There's also a fun small train ride you can go on, as well as an on-site cafe.
St. Nicholas Abby is in Northeastern Barbados, so if you're already planning a trip to Animal Flower Cave, this makes a great addition to a day trip itinerary. You can also join this guided tour which takes you there, Animal Flower Cave, Speightstown, and Cherry Hill.
#13 Oistins Friday night fish fry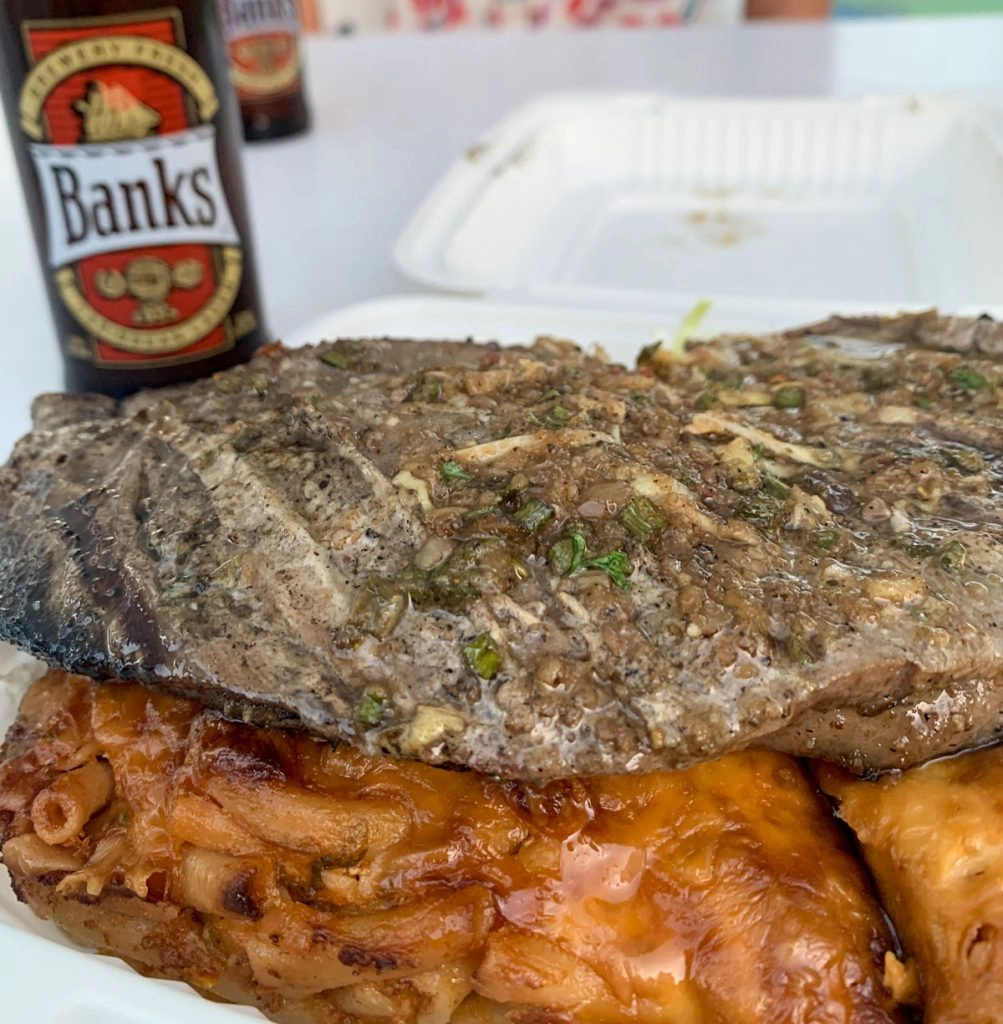 One experience not to be missed while visiting Barbados is eating at the Friday night fish fry.
The Oistins fish fry is actually open every day of the week, but Friday is the most popular day, so this is when you'll find the most vendors open, as well as live music which adds to the atmosphere.
For 15-20 USD, you can get a huge plate of food which typically includes a piece of freshly caught fish and two sides. Get the macaroni pie.
#14 Swim with sea turtles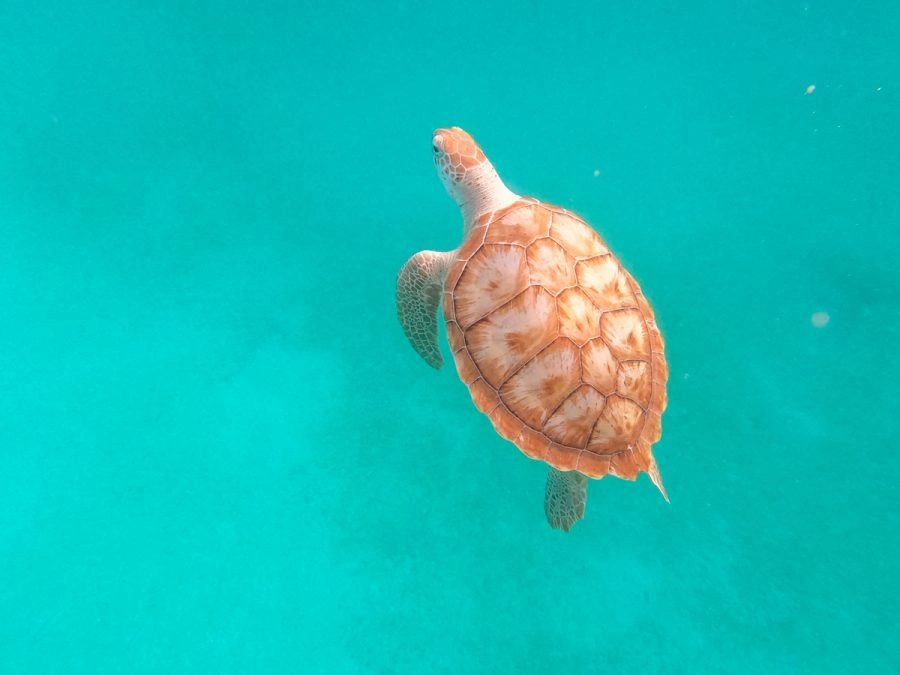 One of my favorite parts about living in Barbados was being able to go swimming with sea turtles every day. It's home to three different sea turtle species, which you can easily spot while swimming or snorkeling. Carlise Bay and Freights Bay are two of the best places to see turtles.
#15 Eat at a seaside restaurant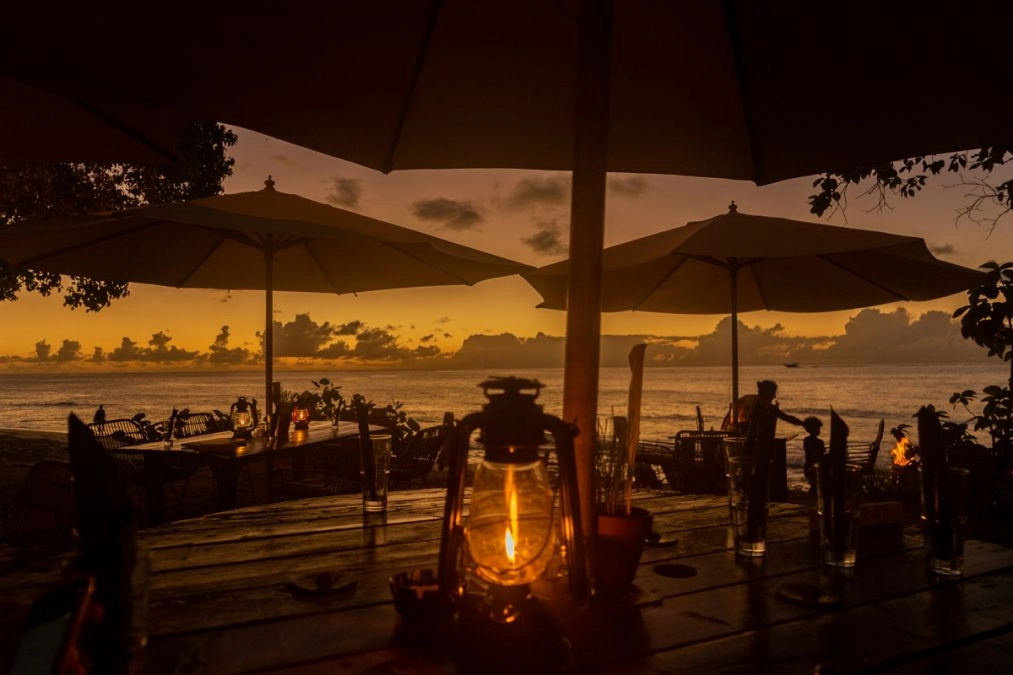 Barbados is home to some fantastic restaurants, many of which are right along the coastline, offering breathtaking views of the ocean with your meal.
If you're feeling fancy and want to splurge, head to The Cliff or La Cabane. These high-end restaurants offer fine dining experiences right next to the beach.
For something more affordable, check out Baby Doll on the south coast. This brightly decorated restaurant has delicious pizzas and often hosts live music. This is also one of my favorite places to work in Barbados.
#16 Explore Hunt's Garden
If you're seeking out some tranquility on your trip to Barbados, plan a visit to Hunt's Garden. There, you can take a leisurely stroll along the walking paths through tall palm trees and exotic flowers.
#17 Barbados wildlife sanctuary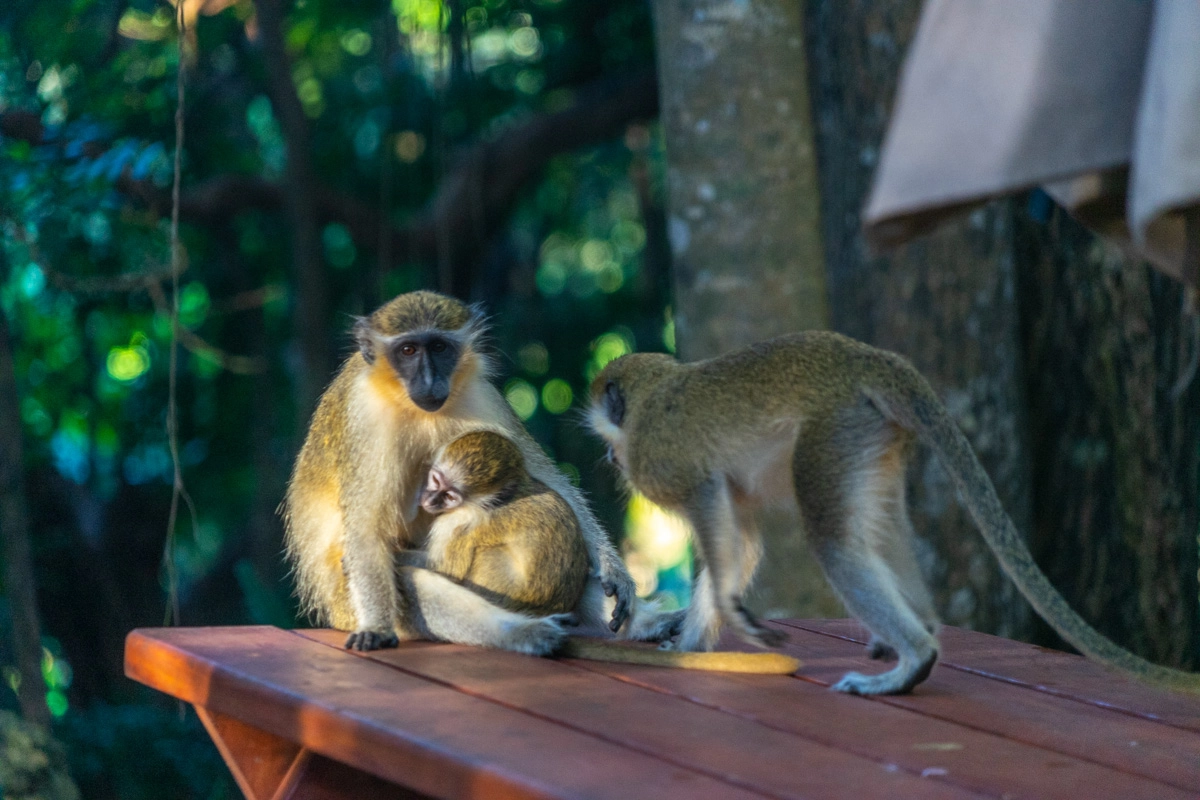 If you love wildlife, then you'll definitely want to check out the Barbados Wildlife Reserve. This is one of the best places on the island to see the playful green monkeys!
It's only 15 USD to tour the reserve and makes for a fun afternoon or morning. Aside from the monkeys, you can see deer, tortoises, snakes, exotic birds, and peacocks. One followed me around the entire time whom we named Roger. He's a great tour guide.
#18 Take in the views at cherry hill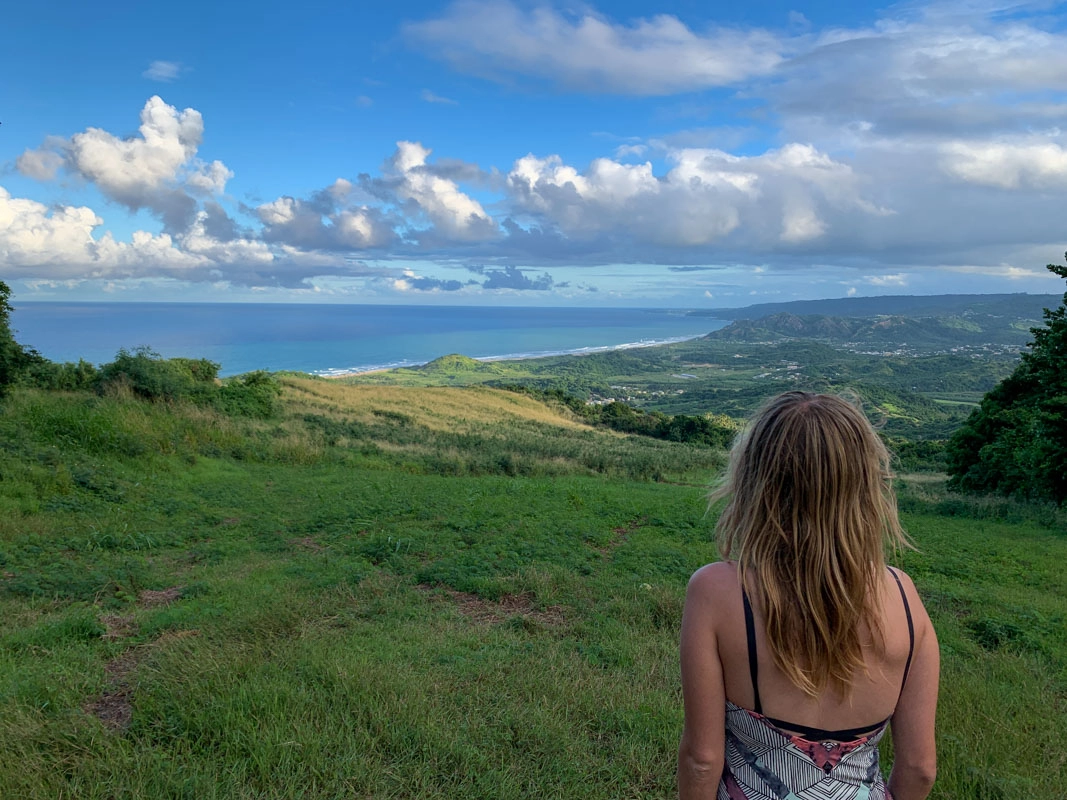 One of the prettiest viewpoints in Barbados is Cherry Hill Tree Reserve. It's 850 feet above sea-level, offering gorgeous views of the "Scotland District," named after the Patron Saint of Scotland. It's close to St. Nicholas Abby so this is a great place to stop in afterward!
#19 Spend the day at a beach club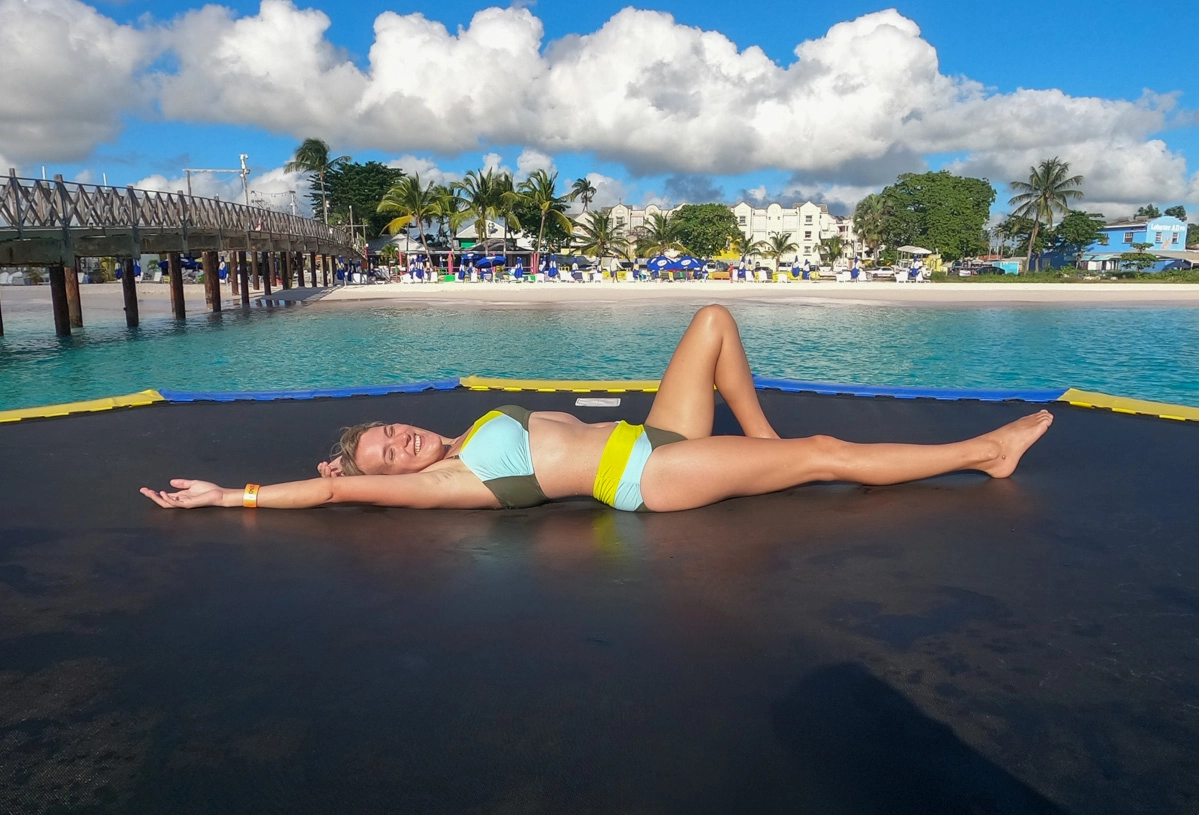 One of my favorite ways to spend a day in Barbados is at Boatyard beach club. For a 22.50 USD entrance fee, you can use the club's beach chairs and umbrellas all day and get a boat ride out to snorkel with turtles and shipwrecks. And you get the fee back in credit to use at the bar!
#20 Sam Lord's Castle
One of the most unique places to go in Barbados is Sam Lorde's castle. It's a mansion estate that used to belong to a famous Bajan buccaneer named Sam Lord.
It was later turned into a hotel which sadly burned down in 2010, but you can go and tour around the grounds of the castle on your own and see what remains! It's close by to Bottom Bay, so the two together make for a fun day trip in Barbados.
#21 Take a walking tour of Bridgetown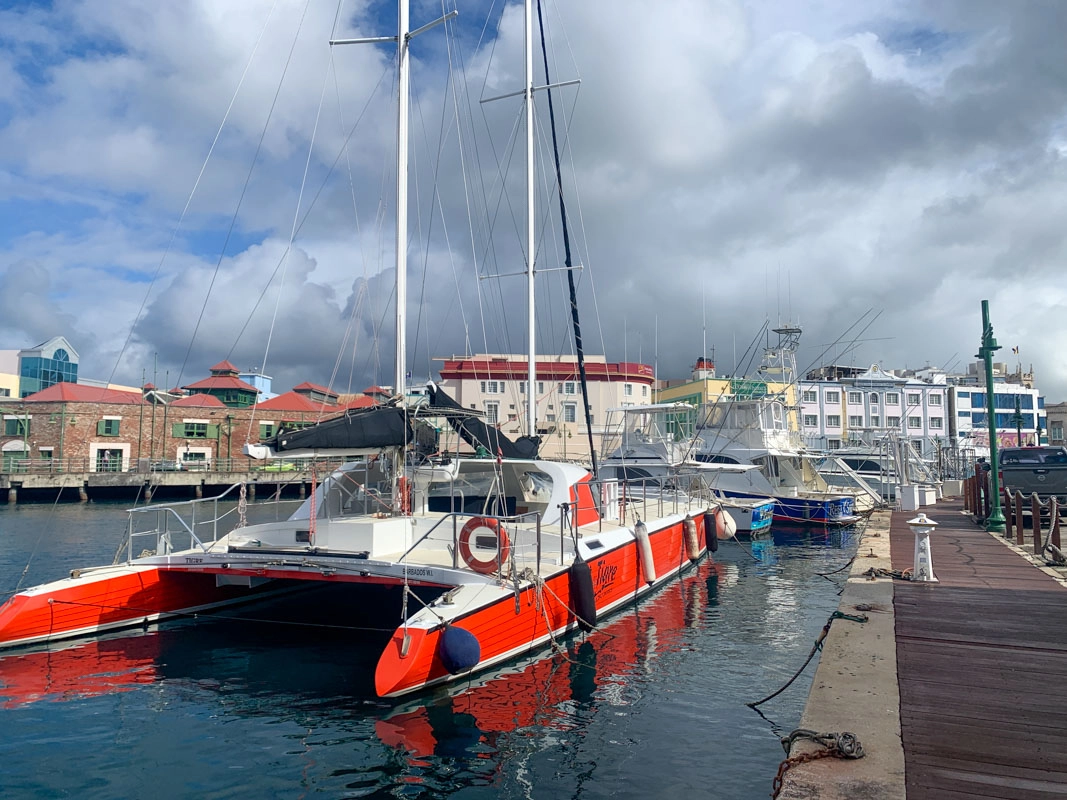 There are many things to do in Bridgetown, the capital of Barbados and a UNESCO world heritage site.
One of the best ways to explore it is on this walking tour of Bridgetown to learn about its fascinating history.
#22 Visit the Garrison Museum
If you're interested in learning about Barbados history, visit the historic Garrison and its museum to learn about the life and times of British military occupation in Barbados.
#23 Experience the nightlife
Barbados is a party island. There's always a place to go out here into the wee hours of the morning. St. Lawrence Gap is one of the most popular areas for nightlife.
Other popular bars are Mojo's on Wednesdays (reggae nights), Blakeys on the weekend, Surfers Bay Bar on Sundays, and Harbour Lights in Bridgetown. On Sunday nights in Holetown, they do karaoke on the street which is SO much fun! It attracts a huge crowd of locals and tourists.
#24 See the landscapes of Bathsheba
Bathsheba is easily one of my favorite places in Barbados. This is easily one of the most beautiful places on the island, with gorgeous rock formations sticking out from the ocean floor. It's also where pro surfers catch waves, which is a source of entertainment on its own!
#25 Watch the sunset
With so much beachfront, Barbados often puts on some incredible sunsets. The best places to watch the sunset in Barbados is on the south or west coast of the island.
Head to any of the beaches or beachfront restaurants/bars there to watch it go down. Many restaurants also put on happy hour specials during the sunset, so grab a rum punch to enjoy with the show.
#26 Abandoned surfers resort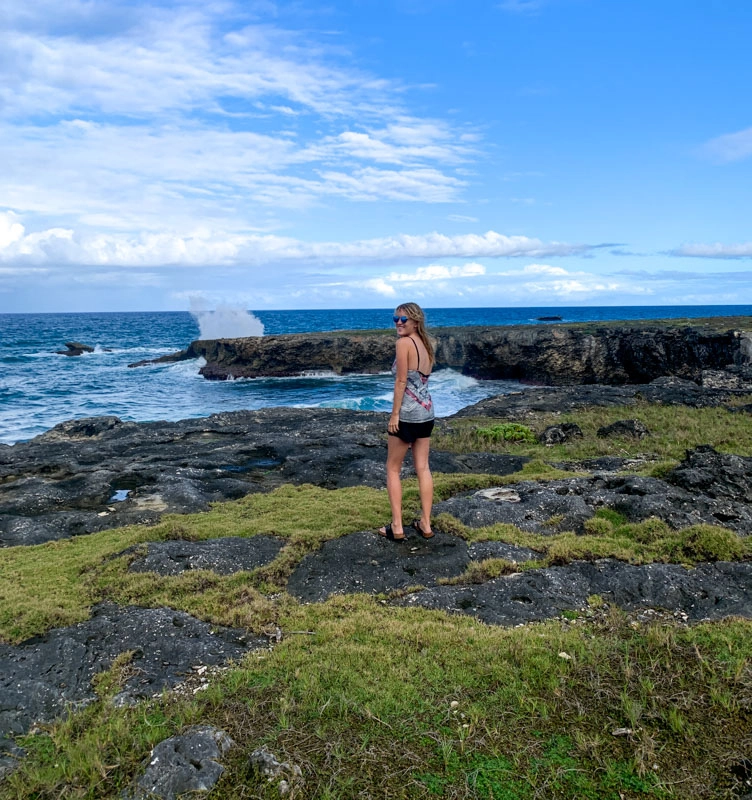 If you're into creepy things, then you'll want to check out the abandoned surfer's resort. This is precisely what it says – a surf resort that was abandoned years ago. It actually gave me chills! Right beside it is a lovely coastal area you can walk around, where you can see giant waves hitting the cliffs and splashing up.
It's on the northeast of the island, in-between Animal Flower Cave and St. Nicholas Abby. You can search it on Google Maps by 'north point surf resort'.
#27 Catch a live show
One of my favorite parts about Barbados is that there is always free live music happening! Mojos has Reggae nights every Wednesday, and Blakeys has live music most Fridays and Saturdays. Surfers Bay Bar has a jam session on Sunday.
#28 Take a catamaran trip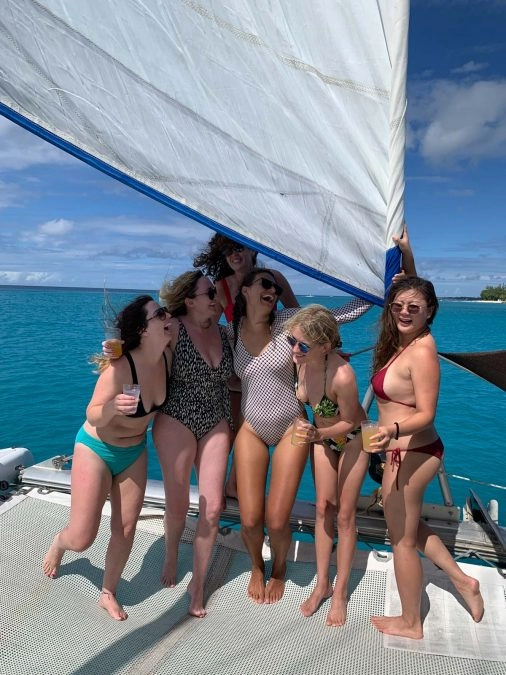 One of the most fun things to do in Barbados is head out on a catamaran tour with a group of friends. They'll feed you booze and food all day while you sail along the west coast of Barbados, stopping for snorkeling trips along the way. It's so much fun.
#29 Eat a flying fish sandwich
One local dish you must try while visiting Barbados is a flying fish sandwich. Cuz's Fish shack at Pebbles beach is easily the most famous place to try this delicious cuisine.
#30 Walk along the Barbados boardwalk
The Barbados boardwalk is a mile-long stretch of boardwalk that connects Accra and Camelot beaches. Along the way, there are beaches and restaurants, so it's a great way to get between places on the south coast. Many people use it to go running or to simply stop and take in the stunning sunsets.
#31 Play a round of golf
Barbados has several different golf courses you can play on. Some of the most popular ones are the Barbados Golf Club in Christ Church and the 18-hole Apes Hill Golf Course in St.
#32 See the only working windmill in the Caribbean
The Morgan Lewis windmill is a 1727 windmill used in sugar cane production in the 18th and 19th centuries. What makes it unique is that it is one of the only fully functional windmills in the Caribbean due to significant restorative efforts undertaken in 1999.
The windmill is just a 5-minute drive from Cherry Hill Tree Reserve, so the two combined make for a fun excursion along with nearby St. Nicholas Abby and the Barbados Wildlife Reserve.
#33 Atlantis Submarine
If you're looking for a unique thing to do in Barbados, check out the Atlantic Submarine. This award-winning tour takes you 150 feet underwater. You'll be in air-conditioned comfort while looking out the submarine windows at the exotic fish and coral reefs.
#34 Try windsurfing
One of the best sports to try in Barbados is windsurfing. Silver Rock Beach on the south coast of Barbados is one of the most popular spots to try this for beginners due to the trade winds here that create perfect windsurfing conditions.
#35 Walk around Speightstown
Speightstown, on the west coast of Barbados, is the second largest town on the island. It's a cute community with old – old architecture and townhouses you can walk around. To learn more about this area's history, join this Speightstown Heritage Walking Tour, which also includes dinner during sunset.
#36 Bottom Bay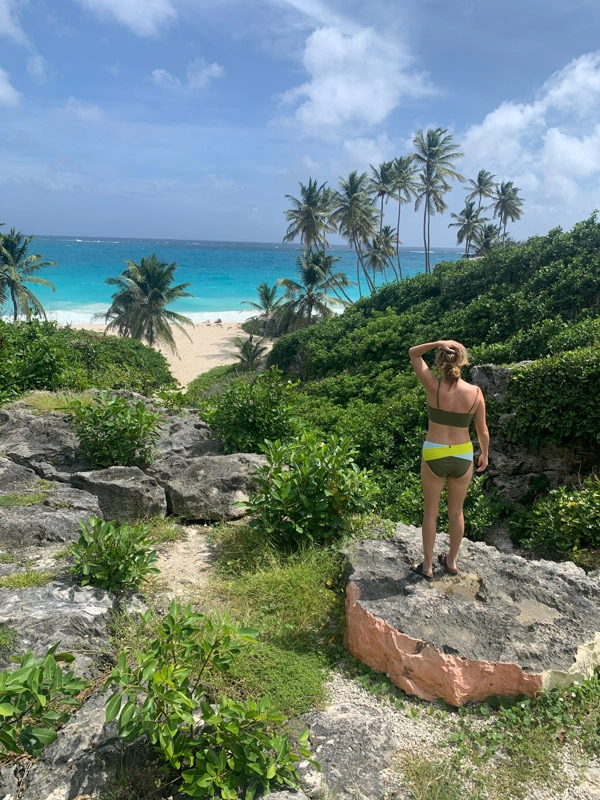 On the southeast coast of Barbados, near Crane Beach and Sam Lord's Castle, is Bottom Bay. This secluded beach has some of the most beautiful turquoise waters on the island, though visitors are strongly advised not to go swimming in the waters due to the strong currents. Instead, pack a picnic and soak in the sunshine on the beach!
#37 Watch horse racing at Garrison Savannah
The Garrison Savannah is a former military headquarters that's still used today as a horse racing site, with regular races taking place from January to April.
#38 Go swimming at shark hole
Shark Hole beach is a gorgeous swimming spot on the southern coast of Barbados. The ocean here is actually pretty rough but at shark hole, there's a break in the cliffs along with a rocky barrier at the end, which keeps the seas in shark hole relatively calm.
#39 Take the ZR bus
If you're traveling to Barbados on a budget or simply want to experience local life, then hop on a ZR bus. These are white mini-busses that locals use to get around the island. They are perfectly safe – this was actually my main form of transportation in Barbados.
#40 Go Fishing
Eating fresh fish in Barbados is one amazing experience, but if you want to take it to the next level, you can go on a fishing tour and catch some yourself. Spending a day on the water is so much fun in Barbados, and you'll get to take home what you catch, which may be mahi-mahi, marlin, tuna, kingfish, or wahoo!
#41 Take the tram through Harisson's cave
Harrisons Cave is the most extensive cave on the island. It has an underground cave system that visitors can explore by tram, where you can see gorgeous caverns and crystallized formations. Harrison's Cave is currently closed due to COVID-19, but you can follow their website for the latest updates!
Discover more things to do in Barbados
What is Barbados best known for?
Barbados is best known for being a fantastic beach destination. Across the island, you'll find gorgeous white-sand beaches next to turquoise waters. Given its proximity to the sea, Barbados is also well known for being an excellent place for water-based sports and, in particular, surfing and windsurfing.
What can you do in Barbados for a week?
Since Barbados is a small island, you can see most of the main attractions in one week. If you want to fill your days, you could even do everything on this list with one week in Barbados, although that would make for a very action-packed trip. One week is enough time to try a new water sport daily while still having time to relax on the beaches.
Is Barbados safe?
Barbados is overall a very safe country to travel to, especially in populated areas. I came here as a solo female traveler and felt safe the entire time. But like anywhere, petty theft and crime do happen, so you should stay vigilant in crowded places, especially if you are drinking. Unfortunately, homosexuality is still illegal in Barbados, so LGBTQ+ travelers may face some hostility.

Enjoyed this post? Pin it for later!