This post may contain affiliate links. By clicking and making a purchase through the links, I earn a small commission at no extra cost to you. See my disclaimer for more information. This and display ads allow me to keep the site up to date and give back.
One of the best things to do in Barbados is jump in the gorgeous blue, crystal clear waters and go exploring. With visibility between 40 to 70 feet most of the year, Barbados makes a great destination for snorkeling and scuba diving. It's one of my favorite aspects of living here!
You're almost guaranteed to see the friendly sea turtle residents while snorkeling in Barbados, along with a variety of other marine life. To make it even better – Barbados is home to dozens of shipwrecks. If you're looking for the best places to go snorkeling and diving in Barbados, this post has you covered!
Snorkeling in Barbados
Does Barbados have good snorkeling?
Barbados' stunning turquoise waters are perfect for snorkeling, with strong visibility up to 70 feet depending on the time of year. More importantly, there's a lot to see while snorkeling in Barbados, whether you're hanging out sea turtles or exploring sunken shipwrecks.
The water surrounding Barbados is home to a variety of marine life including tropical fish and turtles, stingrays, manta rays, and barracudas – as well as colorful coral formations as the backdrop. It's one of the best places to swim with sea turtles in the Caribbean!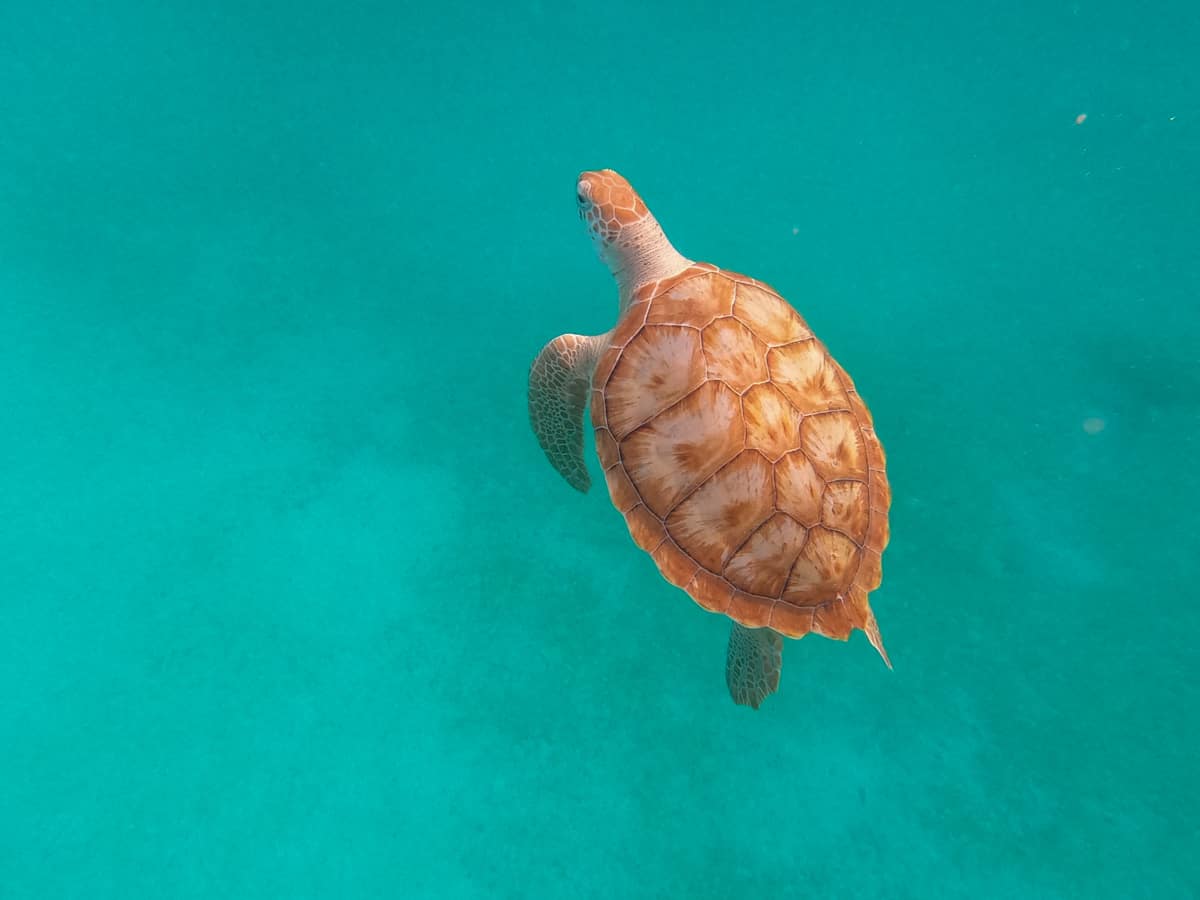 In Carlisle Bay alone there are approximately 200 shipwrecks since the 17th Century due to storms or pirating, many of which are accessible by snorkeling.
Another reason that Barbados is such a good destination for snorkeling is the easy access to shallow reefs, which are found close to the shore all over the island.
Best time to go snorkeling in Barbados
Barbados has a warm tropical climate that makes it pleasant to visit year-round. But the best time to go snorkeling is from December to May, as this is the driest time of year with little wind.
July to October are less popular because this is the Caribbean Hurricane Season. But since Barbados is outside of the Caribbean Sea Basin, it's not that affected by hurricanes – you'll just have a lot of rainy days.
That said, the dry season will be a more pleasant time to visit as you can expect a lot of hot, sunny days perfect for enjoying the gorgeous beaches and waters of Barbados.
What to bring snorkeling in Barbados
If you're planning to do a lot of Barbados snorkeling, then I recommend buying your own snorkel and mask to bring – it's one of the best free things to do here! You can even buy these full-faced snorkel masks that come with anti-fog inserts and a camera mount.
While some tour companies will provide you with snorkel equipment, having your own will make for a more enjoyable experience. I've been given so many crap snorkels on tours that end up flooding while I'm out in the water. It can really damper the experience! Plus, having your own snorkel is much more hygienic.
A GoPro is a great accessory to your snorkeling adventures in Barbados, allowing you to capture the amazing scenery under the water!
You'll also want to bring a beach bag with reef-safe sunscreen, water, snacks, and a towel to dry off.
What is the best beach in Barbados for snorkeling?
The calmest seas and nicest beaches are on the south and west coast, so this is where you'll find the best beaches for snorkeling in Barbados.
Carlise Bay Marine Park
Carlise Bay is a natural harbor on the west of Barbados near Bridgetown, a UNESCO world heritage site. It's one of the most popular places to go snorkeling, as more than 200 ships have been wrecked here since the 17th century.
The wrecks not only provide an incredible backdrop for your snorkeling adventures but provide a thriving habitat for marine life. Over time, the sunken ships have created a complex artificial reef system that attracts rich marine life to the area. There's always beauty in disaster, hey?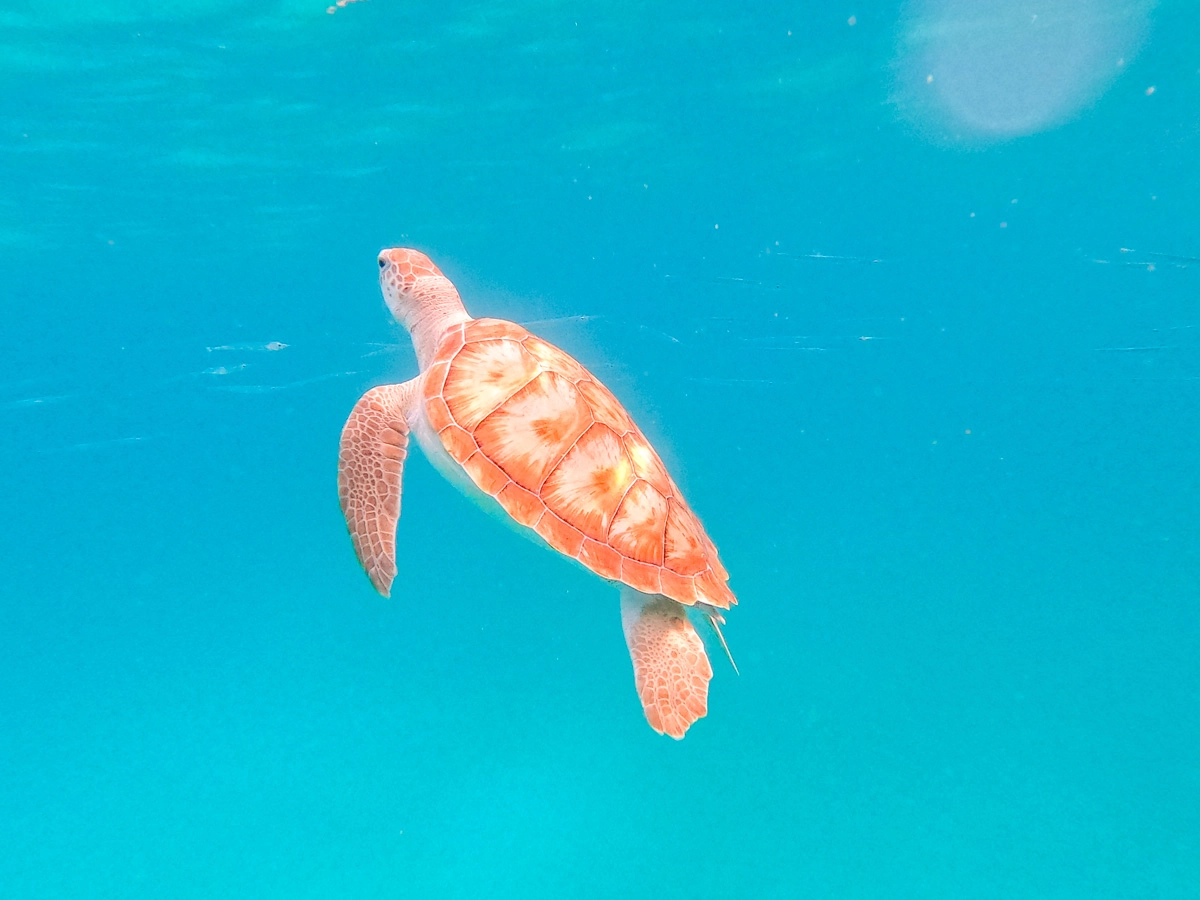 This is one of the most popular spots to swim with sea turtles – you are almost guaranteed to see them here. Unfortunately, this is because many of the tour companies feed them.
I disagree with this as it is not ethical animal tourism, and there are plenty of places to swim with sea turtles in Barbados naturally. I see them at Freights Bay every time I go surfing here!
There are also several shipwrecks in Carlise Bay. Some you will need to go scuba diving to see, but others are just a few feet below water.
The one you'll most likely be snorkeling is the Bajan Queen. Once a famed party spot on the island, it was donated to the Coastal Zone Management Unit and subsequently sunk on May 19th, 2002.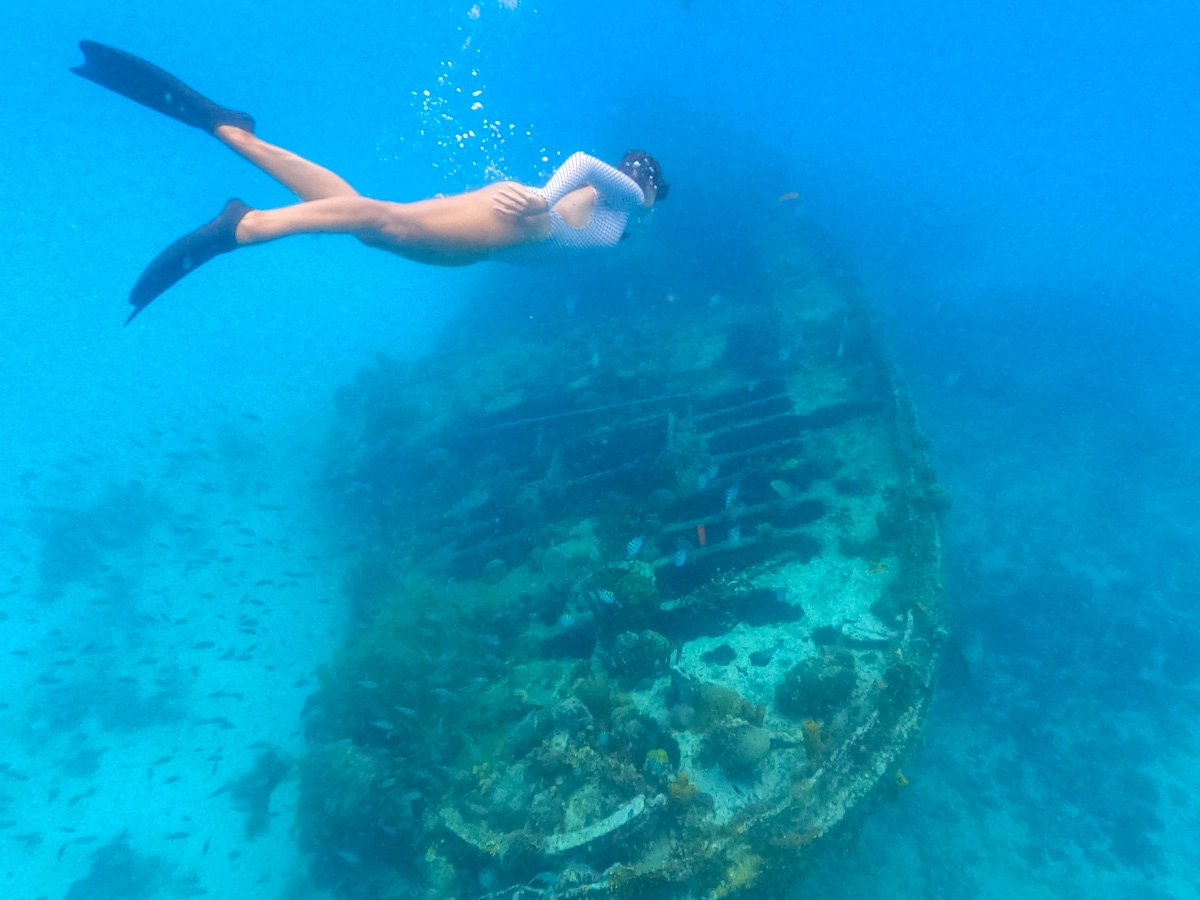 If you're joining a catamaran tour while visiting Barbados (which I highly recommend you do), then they will most likely take you to Carlise Bay as one of the stops.
Another great way to visit Carlise Bay is through the Boatyard beach club.
You pay a 45 BDS entrance fee ($22.50 USD), which gives you access to use the beach chairs and a short boat tour out to Carlise Bay to go snorkeling with turtles and shipwrecks. Plus, you get 40 BDS of that back as a credit to use at the bar on food and drinks. And they have a giant trampoline in the water!
I've spent several of my days living in Barbados at Boatyard, and it's always a day well spent. The only thing annoying about snorkeling with Boatyard is they make you wear a life jacket.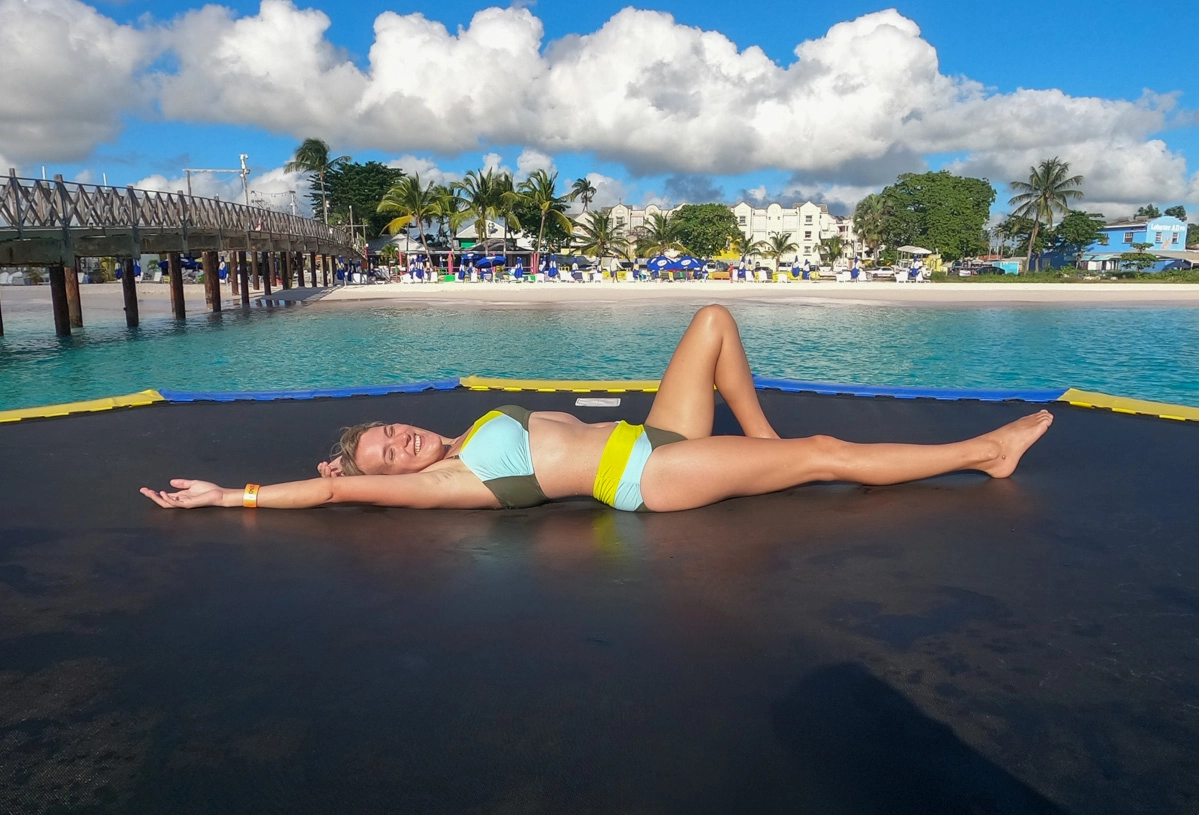 Brownes, Pebbles, and Bayshore are public beaches surrounding Carlise Bay, so you can head to any of these and swim out to the snorkel spots. My favorite is Pebbles Beach, where you can also rent SUP boards to explore the waters.
Folkestone Marine Park
If you're staying on the west coast of Barbados, one of the best places to go snorkeling is Folkestone Marine Park in St. James.
It's home to the Stavronikita Shipwreck, which was purposely sunk by the Barbados government in 1978 to create an artificial reef. It rests in 120 feet of water and is now home to many fish and coral.
This shipwreck is a great place to go diving in Barbados, but there's also an inshore reef for snorkelers to enjoy.
Dover Beach
Dover Beach is on the south coast of Barbados, close to where I live! It's a great place to spend an afternoon, with sun loungers, restaurants, and gorgeous white sand and turquoise waters.
The water is nice to snorkel in, but the reefs are a bit far out from shore, so only go here if you are a comfortable swimmer.
It's also a popular spot for other water sports, including Hobie Cat sailing, jet skiing, and boogie boarding. I've even seen people surfing here, although there are much better places to go surfing in Barbados.
Paynes Bay
Another great snorkel spot on the west coast of the island, with calm water and soft sand. This beach also has a lot of facilities available, including sports gear rental, shaded areas, and places to get snacks.
Worthing Beach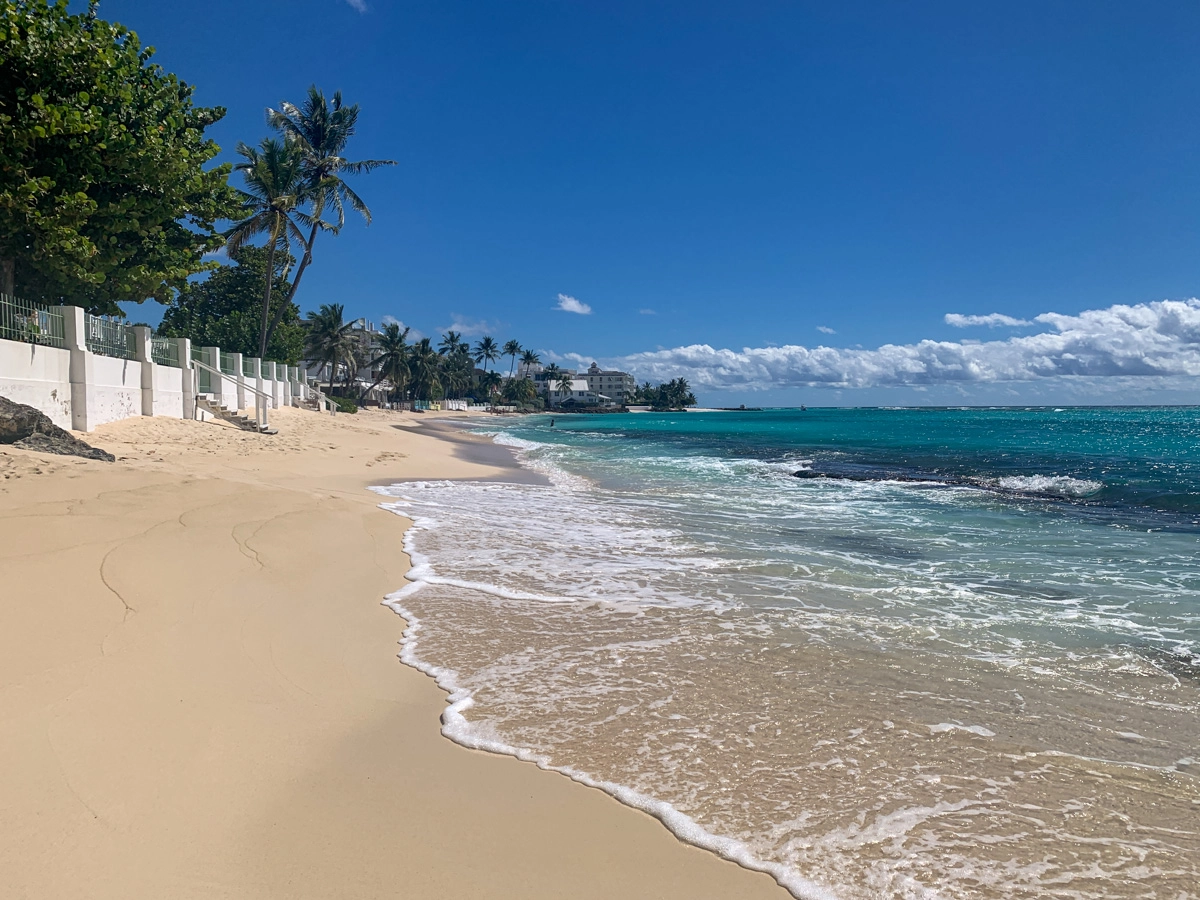 If you're looking for white sandy beaches along the south coast, then don't miss Worthing Beach. There usually aren't many people here, so it's a great place to relax.
Just off-shore, within swimming distance, there is a coral reef to snorkel. The water is calm and not very deep, so this is a good place to go if you aren't comfortable in deep water.
Just be sure to bring your own snorkeling gear, as there aren't any places to rent here! There also aren't any restaurants on Worthing Beach, but it runs parallel to the main road, where there are plenty.
Guided snorkeling tours in Barbados
If you don't have your own gear and want to be taken to the best snorkeling spots in Barbados, check out some of these guided tours.
This highly-rated snorkeling adventure tour will pick you up at your hotel and take you out to sail, swim, and snorkel off a luxury catamaran cruise.
Catamaran cruises are a great way to spend a day in Barbados and always include at least one snorkeling stop. This sailing tour departs from Holetown on the west coast of Barbados and sails to Holetown Beach's shipwrecks and coral reefs.
There, you get to stop to snorkel with sea turtles and fish-filled corals with a guide. It even comes with complimentary photos! With 5 stars and over 500 reviews, this tour is sure to be an enjoyable experience.
Where to stay in Barbados
If you want to spend your days snorkeling in the waters of Barbados, then it's best to stay on the south and west coast of the island. There are many beachfront hotels near snorkel spots that even have snorkel masks free for guests to use.
South Gap Hotel is a nice affordable choice on the south coast – it's right on the water by Dover Beach, and they have a lovely pool to use.
There are also plenty of amazing accommodations on the west coast, although these tend to be pricier, as is the case for this side of Barbados in general. Coral Reef Club and Golden View Apartments are two highly-rated options.
—
There you go, the best places for snorkeling in Barbados. It is easily one of my favorite things to do here – I never get tired of swimming alongside sea turtles. When planning your trip, be sure to add snorkeling to your Barbados itinerary!
Enjoyed this post? Pin it for later!