This post may contain affiliate links. By clicking and making a purchase through the links, I earn a small commission at no extra cost to you. This and display ads allows me to keep the site up to date and give back. Thanks for reading!
One of the most incredible things to do in Barbados for nature lovers is to explore the stunning caves found throughout the island.
Unlike other Caribbean islands that are primarily volcanic, Barbados is made up of about 80% coral limestone. This has led to an incredible underground cave system formed by water erosion through the limestone rock. If you're visiting the island, be sure to check out these incredible caves in Barbados!
Animal Flower Cave Barbados
Visiting Animal Flower Cave is one of my favorite things that I've done while living in Barbados. It may not be the biggest cave in Barbados, but the scenery is spectacular both around and inside. It's the only accessible sea cave on the island!
History of Animal Flower Cave
It's estimated that the Animal Flower Cave was formed 400,000-500,000 years ago out of coral. At one point, the cave would have been at sea level, but it now stands 6 feet due to the fact that Barbados is rising about 1 inch per 1,000 years. This just goes to show how old the cave truly is!
The cave was first discovered in 1780 by two English explorers. In 1912, the cave became more accessible when huge coral stone steps that lead down to the base of the cliffs were built.
The name animal flower comes from the colorful sea anemones that live in the cave, known locally as animal flowers. The tour guide will point them out to you while you're walking through the cave!
How to get to Animal Flower Cave
Animal Flower Cave is on the northernmost tip of the island in the St. Lucy Parish of Barbados. Due to its remote location, the easiest way to get there is by car or taxi.
You can get close to Animal Flower Cave by public bus. Take the 1C from Bridgetown (Princess Alive Terminal) to Connelltown. Animal flower cave is about a 15-minute walk from the bus stop at the intersection of Highway 1C and Animal Flower Cave Road.
While it's possible to get there by bus, I recommend renting a car for the day for a more pleasant experience. You can also check out some of the other sights around that area, such as the Barbados wildlife reserve and Cherry Tree Hill Viewpoint.
Alternatively, you can book this full-day tour that takes you to Animal Flower Cave, Harrison's Cave, and Cherry Tree Hill viewpoint with lunch!
Animal Flower Cave tour
Once you arrive, you can book a tour of the inside of the cave at the on-site bar. You do not need to book in advance, but if you're visiting on a busy day, you may need to wait around until a tour guide is available.
The cost to visit Animal Flower Cave is only 25 BDS (12.50 USD), making it one of the best things to do in Barbados if you're visiting on a budget. They accept both cash and credit card.
Due to COVID they do not mix groups and you will be required to wear a mask while in the cave.
A local guide will bring you down the staircase into the cave. Don't worry about being claustrophobic inside, as it opens directly into the Atlantic ocean with lots of natural light and space to walk around. The view of the sea from inside the cave is gorgeous, and it makes for great photos!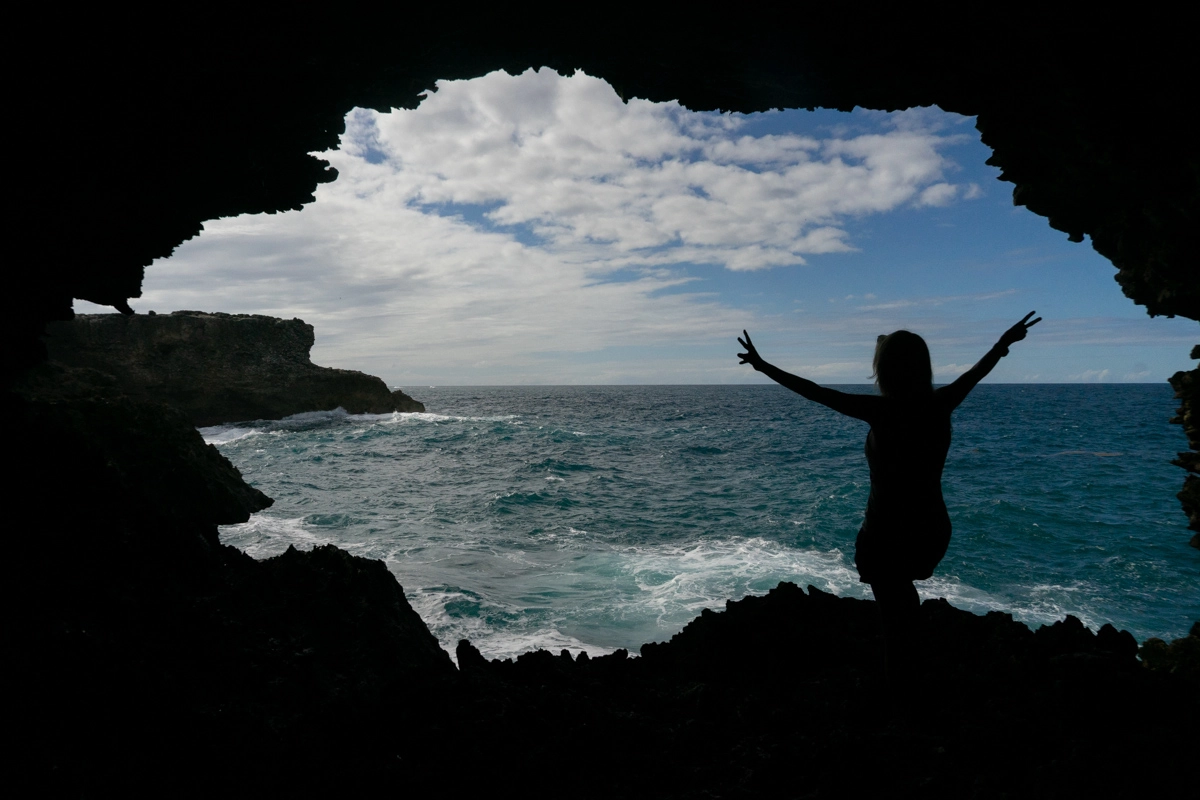 It only takes about 15 minutes or so to walk through the cave, and the guide will explain to you the natural history along the way. Keep an eye out for the anemones in the many natural rock pools that give the cave its name!
At the end of the cave, there's a pool of water you can swim in on calm days. Don't skip this experience – the water is so clear and a stunning turquoise color. It's such a unique experience to swim inside a cave overlooking the ocean.
When the waves crash into the cave it brings in fresh saltwater, and sometimes even fish! It's so tranquil to watch. Me and my friends sat in the pool watching the waves come in for almost an hour until a giant one came and literally pushed us to the shore! The tour guide had quite the laugh at us.
I believe the tours are generally limited to half an hour or so, but because we were there on a quiet day, the guide didn't mind us lounging around.
Animal Flower Cave is open every day from 11am – the last tour goes at 3:30 pm.
Animal Flower Cave Amenities
There is a bathroom where you can change in/out of your swimsuit, as well as an outside shower. Be sure to bring your swimsuit along with a fresh change of clothes when visiting this cave!
To the right of the cave entrance is a lookout point over animal flower bay and the start of a beautiful trailhead along the cliffs. It's a good idea to leave some extra time in your itinerary to walk along this coastal path, as the scenery is spectacular. There are also benches and picnic tables so you could even pack a picnic and make a day of it!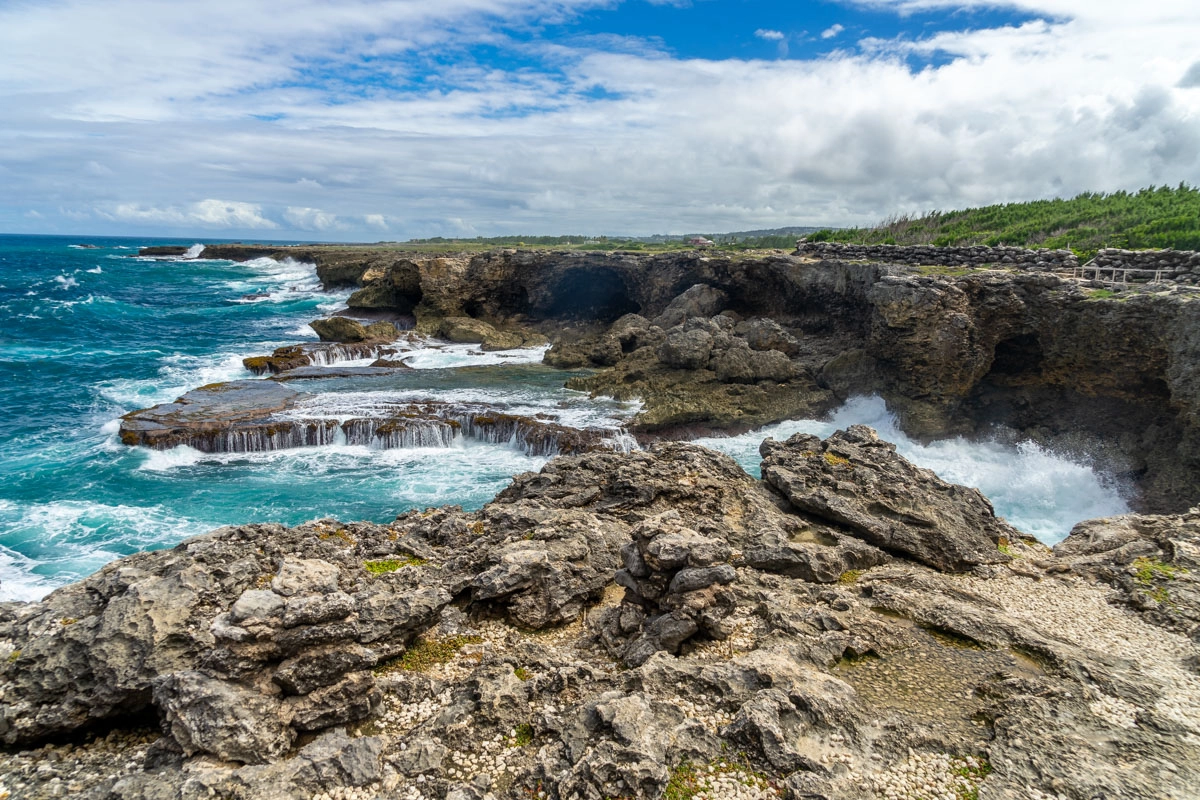 There are also several small stands around the entrance where craftspeople sell their artwork and jewelry. This is a great place to pick up souvenirs from Barbados.
Animal Flower Cave Restaurant
There's a great restaurant to the right of the cave that is open on Fridays, Saturdays, and Sundays from 11 am. The view of the northern cliffs from the restaurant is spectacular, and the food is just as good.
They are the only place on the island I found selling breadfruit tacos which were one of my favorite things that I ate in Barbados! You can see the menu online and make a reservation here.
Caves in Barbados: Harrison's Cave
Harrison's cave is one of the most well-known caves in Barbados. It consists of an underground cave system that visitors can explore by tram. Inside the active cave system, you'll find gorgeous caverns and crystallized formations.
History of Harrison's Cave
Harrison's Cave was formed hundreds of thousands of years ago by natural processes. The earliest records say the site was discovered in 1796, and there were several expedition attempts to explore Harrison's Cave in the 18th and 19th centuries.
Due to the hard to access entrances and internal cave networks, little advancement was made until 1970 when engineer Ole Sorenson of Denmark and Anthony Mason of Barbados rediscovered and mapped out the cave.
After 1974, the Barbados government started developing Harrison's Cave as an attraction and started excavating shafts and tunnels that could accommodate trams. It was officially opened in 1981!
How to get to Harrison's Cave
Harrison's Cave is in the center of the island in the Parish of St. Thomas. The easiest way to get there by car or taxi, but you can also take public transport. Get the bus to the terminal in Bridgetown and then take the Route 4 Shorey Village bus.
I recommend renting a car and combining a day trip to Harrison's cave with other nearby attractions like St. Nicholas Abby, Welchman Hull Gully, or the Barbados Wildlife Reserve. There you can see the playful green monkeys!
Alternatively, if you don't want to rent a car, you can join this all-day natural wonders tour. It takes you to Bathsheba beach on the east coast, the wildlife reserve, and Harrison's Cave.
If you visit Barbados on a cruise ship, you can book this 3-hour shore excursion that will take you on a full day Barbados cave tour via electric tram with round-trip transportation from the cruise port.
Harrison's Cave Barbados Tour
There are several tour options for exploring Harrison'sCave.
If you show up at Harrison's Cave on your own, you can book a one-hour tram of the cave for 60 BDS (30 USD). The best way to explore the cave is by tram as the underground system is so extensive!
If you're feeling adventurous, there are also cave walk-in tours and eco-adventure tours.
This half-day tour picks you up at your hotel and takes you to Harrison's Cave to explore by tram.
On a tram tour, you'll be taken around the complex cave system to see the stalactites, stalagmites, and unique rock and mineral formations. Harrison's cave is still considered active as there are underwater streams. Many of the walls are covered by flowstone, which causes them to glimmer in the surrounding lights and that of the tram.
Note: Harrison Cave has been closed for the last few months due to COVID-19. During this time, they are working on investing in the cave system. You can get the latest updates on their website. I am patiently waiting for Harrison's cave to reopen so I can explore inside!
Next to Harrison's Cave is another known as Coles Cave. I haven't been to it myself but have been told it is in the natural jungle and you enter via a steep gully. It is not gated, but I recommended hiring a local guide for safety if you want to check it out. If you decide to go on your own, you'll definitely want to bring a good headlamp.
—
Exploring the natural caves in Barbados is a must-do on your trip here. Hopefully Harrison's Cave will be open to the public again soon, but if not, be sure to check out Animal Flower Cave and the gorgeous northern coast of Barbados.
Enjoyed this post? Pin it for later!