This post may contain affiliate links. By clicking and making a purchase through the links, I earn a small commission at no extra cost to you. See my disclaimer for more information. This and display ads allow me to keep the site up to date and give back.
Planning to party in Europe this Summer in 2023? This guide has you covered!
Keep reading for all the top party islands in Europe, where you can dance the night away under the stars on a boat, or inside an air-conditioned nightclub!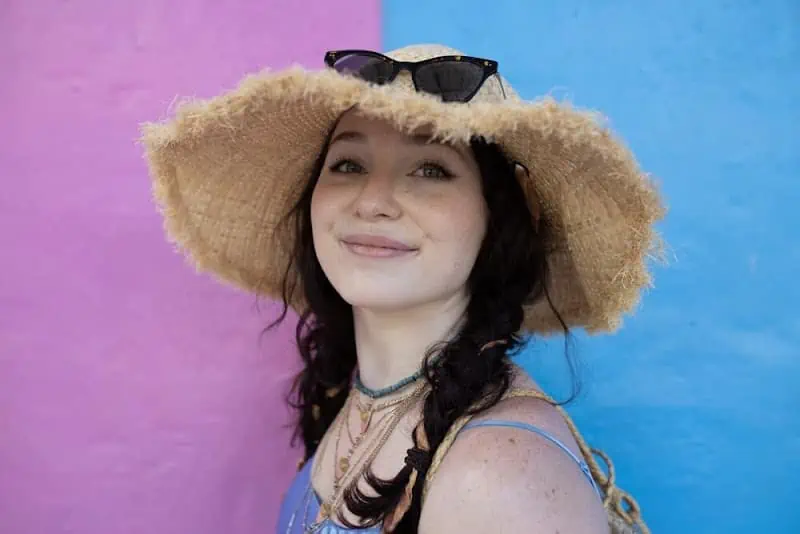 This post was written by Katie, an American travel blogger who is currently full-time traveling while being based in Bali.
On her blog, KatieCafTravel.com, she shares in-depth guides to travel in Europe, Asia, North Africa, and Latin America.
______________
✔️ Tips For Visiting A European Party Island
✅ Know How You'll Be Getting Home! Some party islands in Europe have modes of transportation just for travelers, like the famous "Disco Bus" in Ibiza, but a lot of them don't!
Always keep in mind how you'll be getting home after a night out because a lot of the smaller islands also do not have taxi-hailing apps like Uber, and instead still rely on traditional taxis you have to call from your phone or a taxi rank.
✅ Consider Taking A Party Cruise – Party cruises are a great alternative to clubs on dry land because you get to see more of the island on your night out than if you were inside a nightclub. Ibiza and Mykonos are known for having great party cruises!
✅ Stay Hydrated – There's nothing worse than being hungover on vacation; these Electrolyte Tablets are carry-on friendly and can turn any water into a hangover-fighter!
✅ Download Your Hotel's Location On Google Maps Offline – Don't get lost on a night out! If for whatever reason you lose service while on a night out, it's always helpful to have a Google Map of your location downloaded offline. You can save your hotel's location offline as well, so you can show taxi drivers where you are going.
✅ Bring Beach Clothes Cute Enough To Go Out In! Lots of Beach Cover-Ups today are nice enough in their own right to wear on a night out, which will save a lot of room in your suitcase.
✅ Know That You Might Need Tickets In Advance – Some of the popular clubs on party islands in Europe have admission tickets. Sometimes, especially if there's a popular DJ playing, they sell out far in advance!
✅ Don't forget travel insurance! The last thing you want to happen is to be sent home because of medical bills from a party accident. I recommend SafetyWing for remote workers and HeyMondo for shorter vacations.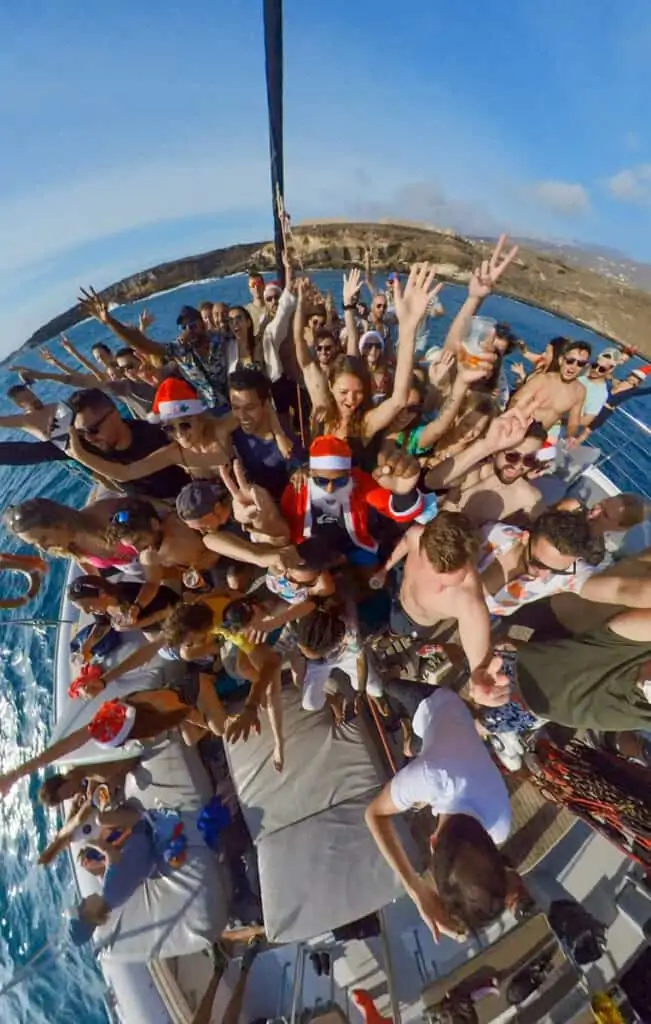 When Is The Best Time To Visit A European Party Island?
The BEST time to visit a European party island is definitely in the summer months, May through the end of September.
All of Europe's best party islands are located in the south of Europe, around the Mediterranean area, a region that truly comes alive in the summertime.
Visitors to some of the islands on this list in the off seasons (fall and winter), might be disappointed!
Many beach bars, nightclubs, and bars on Europe's southern islands are only open for their high season in the summer.
________________
The 8 BEST Party Islands In Europe In 2023
While mainland Europe has some 5-star party hotspots like Barcelona and Berlin, it's really the islands that have become world-renown for partying all night long.
In the summer in Europe, there's no better place to be than on a sun-drenched island in the Mediterranean. Or, sipping spritzes on a boat off the coast of one of the amazing party islands included in this list.
Keep reading for the 8 best party islands in Europe for summer 2023! ⤵️
1. Hvar, Croatia
Hvar is world-famous for being the party capital of Croatia, along with the city of Split on the mainland.
Most travelers visit Hvar from Split by taking a quick 2-3 hour ferry over from the mainland – making it the perfect addition to a partiers' Croatia itinerary.
Once you're on Hvar, you can visit the distinguished Carpe-Diem Beach Club.
Carpe Diem started as a beach bar in Hvar Town in the 90s but has since opened up a second location on their own private island 10 minutes off the coast of Hvar that you can only reach via water taxi.
Another top party spot on Hvar Island is Hula Hula Beach Bar. Hula Hula closes at 10 PM, and Carpe Diem Beach opens at 1 AM, so on the island every night in the summer, you'll see a mass migration of partiers crossing the island to the next hot spot!
________________
2. Ibiza, Spain
Ibiza is an absolutely gorgeous island whose name has become synonymous with partying.
Probably the most famous party island in the world, let alone in Europe, Ibiza has been attracting the EDM scene for decades! It's known for being the birthplace of electronica, with its own spin of electronic music, "Balearic Sound", still being played all over the island today!
You can dance the night away at one of Ibiza's celebrated Beach Clubs, where those who travel to the island in the summer sip drinks on sun lounges all day and then dance all night.
The Most Popular Beach Clubs & Nightclubs In Ibiza For Partying in 2023 Are: ⤵️
The Beach by Ushaïa
O Beach Ibiza
Hard Rock Hotel Beach Club
Lio Ibiza
🚢 Another popular way to party in Ibiza in the summer is by boat rental or taking a Party Boat Cruise around the island!
________________
3. Santorini, Greece
Santorini is known for its picturesque all-white architecture – but it's also known for being a world-class party hotspot. Every summer, Santorini is lit up with party-goers of all ages having fun and staying up all night.
The best party destinations in Santorini are all located in Thera (also spelled Fira), which is the capital town on the island. In Thera, you'll find all sorts of restaurants, bars, and nightclubs adding to Santorini's vibrant nightlife scene.
Some Of The most popular Bars & Clubs in Thera, Santorini in 2023 Are ⤵️
Two Brothers Bar
Enigma Club
Koo Club
💡 Tip: Santorini is known for its Jazz bars as well as its nightclubs, the oldest and most popular Jazz bar in Santorini is Kira Thira Jazz Bar, established all the way back in 1976!
________________
4. Tenerife, Spain
Tenerife is one of Spain's Canary Islands. Known for its black volcanic sand and beautiful beaches, Tenerife is a popular digital nomad destination well-loved by partiers and those on a sailing holiday.
Most of the nightlife in Tenerife is concentrated in the southern part of the island, and Playa de las Américas is known as the "Party Capital."
Some of the best Clubs & Bars In Tenerife For A Night Out Are ⤵️
Papagayo Beach Club
Coqueluche beach bar
Monkey Beach Club
Le Club
When you're not out partying, be sure to rent a car in Tenerife and explore the many attractions around the island.
Check out this guide for the best places to stay in Tenerife.
________________
5. Crete, Greece
Crete is a classic Mediterranean island with ancient ruins, sun-drenched beaches, and vibrant nightlife. Lots of travelers visit the famous archeological sites from antiquity in Greece in the daytime, like Knossos and Heraklion, and then party all night long!
The main party town on the island of Crete is called Malia. In Malia, you'll find nightclubs like Candy Club, Zoo Bar, and Zig Zag Club.
🚨 Boat parties are also very popular in Crete, you'll see party barges regularly sailing past Malia town.
________________
6. Mykonos, Greece
Another classic Greek island, Mykonos attracts all types of travelers – from 5-star luxury resort goers, families, and partiers.
It's truly an island that has something for everyone and has become increasingly popular in recent years with partiers looking to see internationally famous DJs that play on the island's clubs.
Mykonos Town is the main spot on the island for nightlife. The best clubs in Mykonos Town include Queen of Mykonos, Astra, and Lola Bar.
On the other side of the island Paradise Beach Club is another fantastic nightclub that attracts partiers from all over Mykonos! Paradise Beach Club is a chill spot in the day where you can relax on a sun lounger, but it truly comes alive once the sun falls.
Paradise Beach Club is one of the most exciting spots on the island for nightlife and has frequent fire shows, live DJs, and other performances.
________________
7. Pag, Croatia
The island of Pag is the second Croatian island on this list – along with Hvar, Pag is the party island on the Dalmatian Coast!
The most popular party spot on Pag is on Zrće, which is a stretch of beach known for having popular nightclubs like Euphoria Club, Kalypso, and Cocomo Club.
The main nightclubs on Pag are all conveniently located next to each other, which makes it easy to go club-hopping and arrange transportation home.
________________
8. Majorca, Spain
Majorca (also spelled Mallorca) is a Spanish island that has stunning beaches, lovely coves, and beautiful classic Spanish architecture. Aside from its natural beauty, it's also known for being a world-class party island. It's also one of the best places to live in Spain!
The best party spots in Majorca are in the towns of Magaluf and Palma. Magaluf especially is known for being one of the top party towns in all of Europe.
The Club BCM Planet Dance is one of the most popular on the island. BCM has a capacity for 4,000 people and frequently hosts themed parties like foam parties, paint parties, and water parties. 💡 Tip: Remember to buy tickets ahead of time!
The Best Party Spots In Magaluf, Majorca, in 2023 Are ⤵️
Piano Bar
Panama Jack
BCM Planet Dance
________________
I hope you enjoyed this guide to the best party islands in Europe for Summer 2023! Just to recap, the best islands to dance the night away are:
1. Hvar, Croatia
2. Ibiza, Spain
3. Santorini, Greece
4. Tenerife, Spain
5. Crete, Greece
6. Mykonos, Greece
7. Pag, Croatia
8. Majorca, Spain