This post may contain affiliate links. By clicking and making a purchase through the links, I earn a small commission at no extra cost to you. See my disclaimer for more information. This and display ads allow me to keep the site up to date and give back.
Barbados has a reputation for being a luxury destination, with five-star resorts towering over turquoise waters and white sandy beaches. But if you stay away from the all-inclusive packages, there are plenty of ways to visit Barbados on a budget and still have a fantastic time.
From finding cheap flights to affordable accommodation, eating out, and the best free things to do – this Barbados budget travel guide has you covered! I've been living in Barbados for the last few months and know all the best ways to make your dollar last while still enjoying this island paradise.
Getting to Barbados on a budget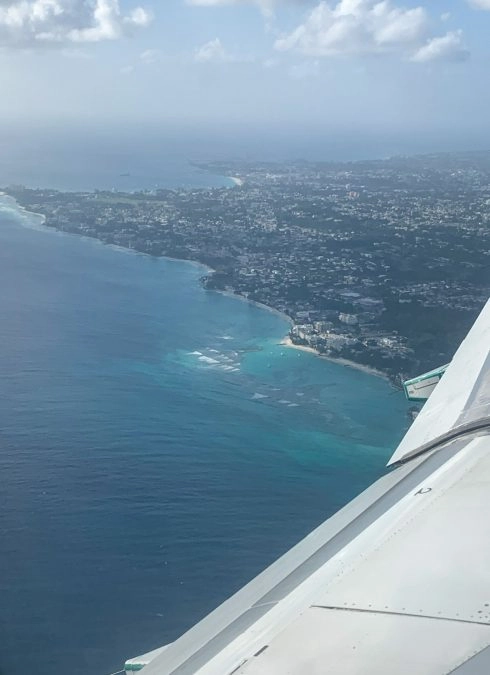 Like most vacations, one of your biggest expenses will be getting to the destination. Fortunately, Barbados has an international airport with direct flights from Canada, the United States, and the UK, making flying to Barbados more affordable than you probably think.
Barbados has many options for direct flights from major hubs, including Toronto, London, and Miami. I was able to get a one-way flight from Toronto to Barbados for 250 USD – and my friend got one from London Gatwick for even cheaper! That's a great deal for an 8.5-hour flight.
Another great way to get here would be using points for your plane ticket, whether that's Aeroplan points with Air Canada or Avios with British Airways.
My go-to resource for finding cheap flights is Skyscanner. Use the monthly calendar feature to see when the cheapest day to fly is – having some flexibility will allow you to get the best deal!
What is the cheapest time to go to Barbados?
Barbados has a wet and dry season, which coincides with the low and high season for tourism. Most visitors book their holidays in the cool, drier months that run from December to May – so this when prices for accommodation and flights will be highest. Definitely avoid Christmas and New Years', as many people come to vacation in Barbados during the holidays.
If you can visit during the low-season from May to October, you'll find much better deals. Fortunately, Barbados is not as affected by hurricanes and storms as other Caribbean islands due to its unique position. It often downpours intensely for an hour or so during the wet season, and then the weather is beautiful again. I was here in November and still spent plenty of days at the beach!
What currency is used in Barbados?
Barbados uses the Barbadian Dollar (BBD), which is pegged to the US dollar (1 USD = 0.50 BBD). Many places will accept USD but will give you back BBD in change.
ATM's in Barbados charge around 5 USD per withdrawal, so I recommend taking out what you need at once to avoid unnecessary transaction fees, or ask your bank to see if they can give it back to you.
Most restaurants and shops in Barbados accept Mastercard and Visa – few accept American Express. Get a credit card with no foreign transaction fee, and this will be the cheapest way to pay for things around the island – and get you some points for future travel at the same time!
Barbados budget accommodation
Hotels and resorts are usually on the pricier end in Barbados, and there aren't any hostels on the island unfortunately if you're backpacking Barbados. Therefore the best way to find cheap accommodation in Barbados is through Airbnb. If you are renting longer-term (even a month), you can often get steep discounts.
There are plenty of benefits to getting an Airbnb in Barbados. Bajans are quite friendly so your host will likely give you some insider tips for exploring the island. Secondly, most Airbnbs come with kitchens so you can save money by cooking at home. Lastly, if you are traveling as a couple or group, you can split the costs of a vacation rental. This will for sure be cheaper than everyone paying for individual hotel rooms.
There are lots of private rooms in highly-rated homes for less than $30 per night like this one centrally located on the south side of the island. The south coast tends to have cheaper accommodation options than the west coast, so I'd stay on the south if you're on a budget.
Here's a cute 1-bedroom apartment in Oistins where you'll have your own kitchen for cooking. It's just a 2-minute walk to the main road where you can grab the bus and only 5 minutes to the beach!
This highly-rated 3-bedroom house has a spacious interior with natural light and bamboo decor. It's just a couple of minutes walk to the supermarket and Miami Beach – one of the nicest beaches in Barbados!
Another option to find free accommodation in Barbados is through Couchsurfing and Housesitting – where you can stay in amazing places in exchange for watching someone's house and pets! Yes, this is real, and it's awesome. My go-to resource for finding house sits is TrustedHousesitters.
Getting around Barbados on a budget
Renting a car will add a lot to your budget in Barbados, and it's not necessary. I've been living in Barbados for months without a car.
The bus system in Barbados is actually pretty good. There are small white mini-vans (the ZR) that run along the south coast every 5 minutes (number 11), which I take all the time. They cost 1.75 USD per ride and are a fun experience – sometimes you get a reggae bus, sometimes you get a party bus! I've even seen a scooby doo themed bus.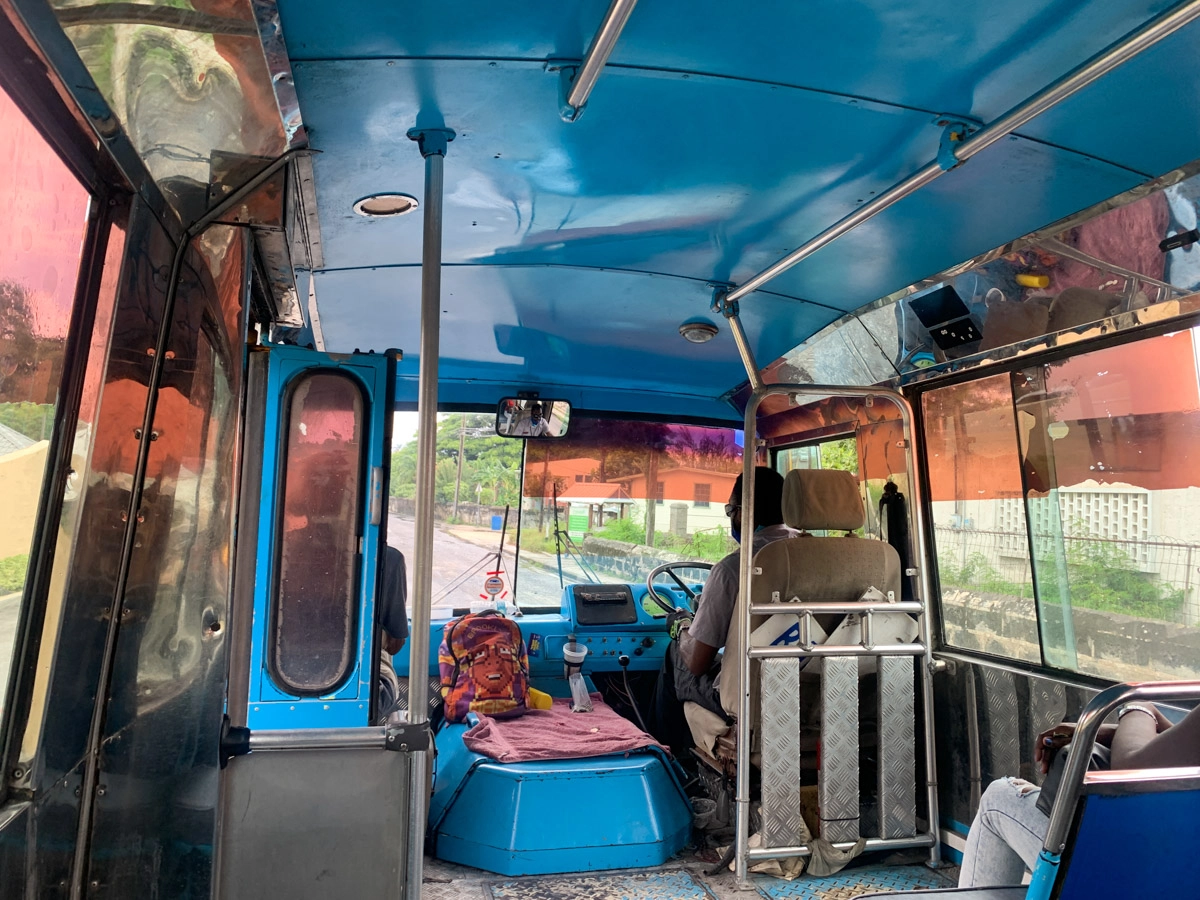 There are bus stops all over the island, but you can honestly just flag a bus down wherever you are and they will stop. Often they even beep when they see you on the road in case you want a ride! Sometimes there is a worker on the busses to collect the fare, otherwise you can just pay the driver at the end (it's best to have small change). There are buzzers on the bus to ring when you want to get off, or you can just let the driver know. It's straightforward to use!
There are also larger busses that will take you between the south and west coast if you want to visit those areas. They run less frequently but cost the same. The bus network actually goes around the entire island – including from the airport. If you leave one van/bus and change to another, you must pay again for the next ride.
If you don't want to rent a car, the best part of the island to stay on is the south coast as this is where you'll find beautiful beaches, restaurants, and nightlife. The west coast is also lovely to stay on, but it isn't as easy to get around without a car. The east coast is much more remote.
If you want to see other parts of the island, you can always join a guided island tour. That way, you can just sit back and drink rum punch, not having to worry about driving.
Or, you could also rent a car for a day or two and tour around the island during that time. A car rental per day should cost you around 50 USD.
Private taxis are also available around the island, but they tend to be quite expensive. I'd avoid taxis if you're visiting Barbados on a budget. If you do need to take one, always negotiate the price beforehand.
How to save on food and drink in Barbados
The water is safe to drink in Barbados, so don't waste money buying plastic bottles of water. Instead, bring a reusable water bottle and fill it up before you leave the house. Some restaurants will tell you the water isn't okay to drink so you'll pay for bottled water – this isn't true; you can drink it. Although admittedly, I don't love the taste of water in Barbados.
Eating out in Barbados is on par with what you'd expect to pay in North America – around 30 USD for a nice meal or 20 USD at mid-range establishments. Also, many restaurants tack on an extra 10% service charge. So if you're eating out multiple times a day, this can really eat into your budget.
Instead, buy groceries and cook at home to save money. Masseys is the main supermarket – avoid the smaller shops. Because Barbados imports almost everything, some food items can be costly. You need to check the price of everything before you buy it – I've seen a small tub of Häagen-Dazs ice cream for over 20 USD! That said, you can find affordable fruits, veggies, and staples like rice and bread. Buying groceries and cooking at home will for sure be cheaper than eating out.
While cooking at home is one of the best ways to save money in Barbados, you should try some local cuisine while visiting. Fortunately, some of the best places to eat on the island aren't that expensive!
Cheap restaurants in Barbados
Oistins Fish Fry is one of the most popular cheap places to eat in Barbados – you can get a delish plate of freshly caught fried fish, with two sides for $15-20. Get the macaroni pie – you won't regret it. Friday night is when the atmosphere is most busy at the fish fry with lots of people, locals, and music to enjoy. But if you go during the weekday, you will get a much larger portion of food (I always take some home as leftovers).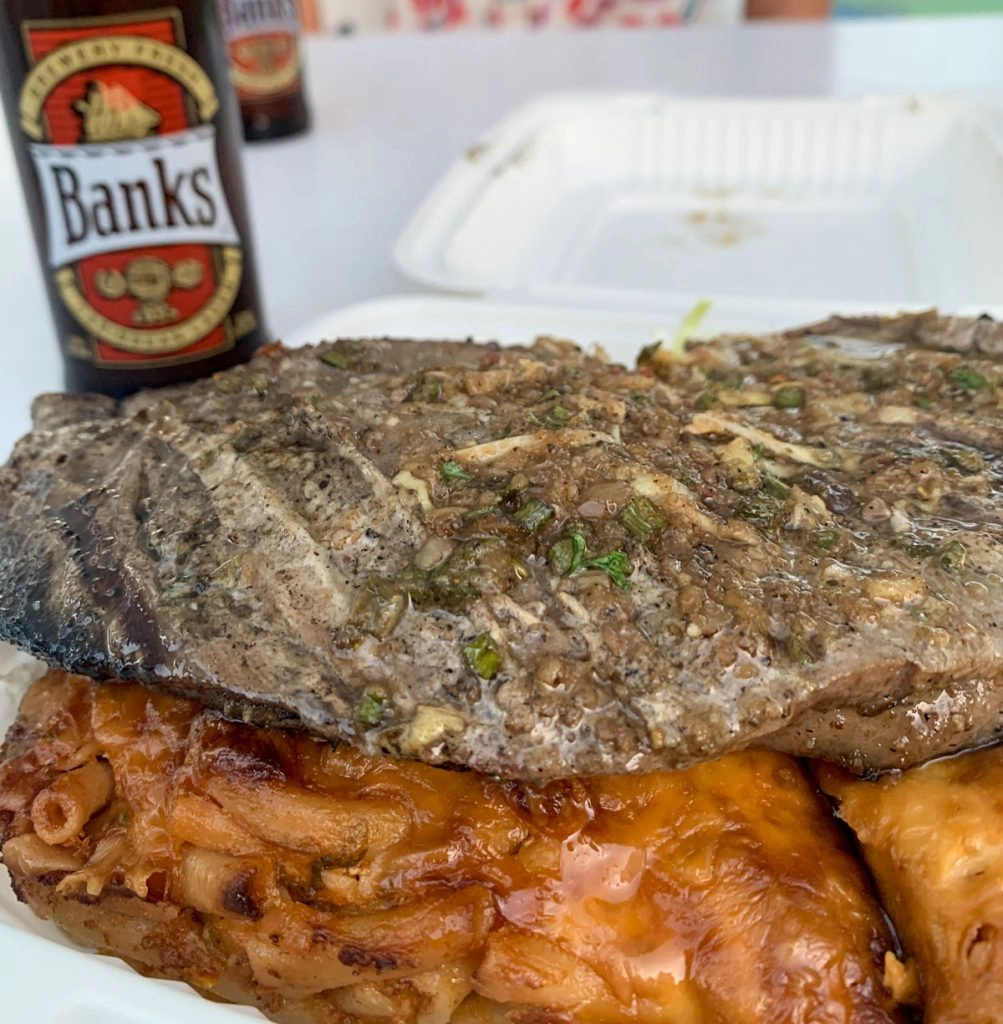 Roti is one of my favorite foods to eat in Barbados, and it's very inexpensive (less than 10 USD for a huge roti that will fill you up). You can find lots of roti' lunch vans' dotted along the road and on beaches around the island, and there's also 'De Roti' shop in Oistins.
Cuz's Fish Stand at Pebbles Beach is a staple in Barbados – it's one of the best flying fish sandwiches on the island.
Bliss Cafe, near St. Lawrence Gap, serves delicious and affordable brunch/lunch. Their flatbreads are so good!
Another great place to eat out in Barbados is Cheapside Market in Bridgetown, where vendors can be found cooking all kinds of Bajan snacks and street food.
As for drinking, stick to rum. Mount Gay is very cheap, especially if you purchase by the bottle at a local rum shop. This is also a fun experience as you'll almost always see locals here playing music or dominoes.
Most bars have happy hour specials where you can get 2-for-1 deals on drinks, which is one of the best ways to save money while being out in Barbados. Rum and beer are the cheapest things to drink – mixed cocktails will break your budget!
Free things to do in Barbados
One of my favorite parts about Barbados is that there is always free live music happening! Mojos has Reggae nights every Wednesday, and Blakeys has live music most Fridays and Saturdays. Surfers Bay Bar has a jam session on Sunday.
Barbados is one of the best destinations in the Caribbean for snorkeling, and it's free to do! Bring your own snorkel and mask and head to one of these spots to explore an underwater world full of marine life and shipwrecks.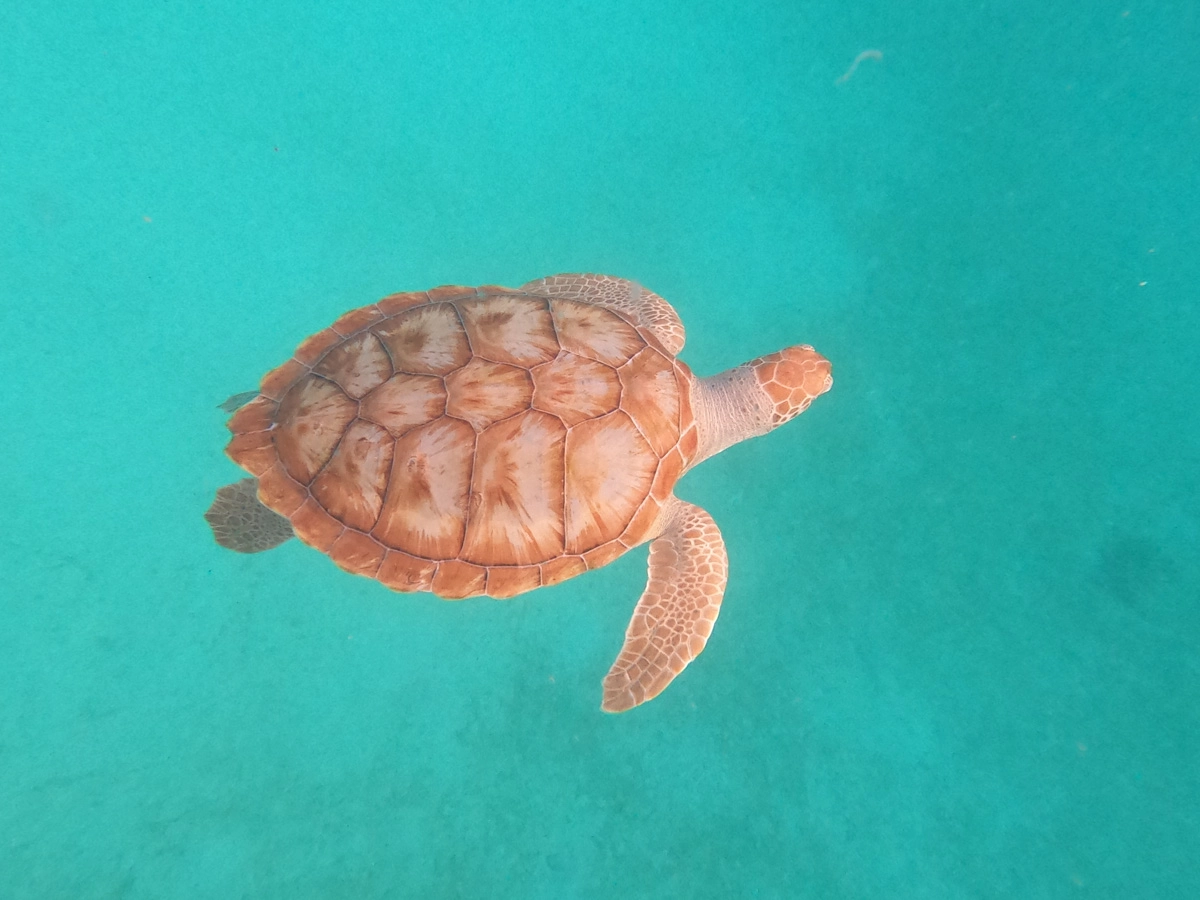 If you want to go swimming with sea turtles, you can do this relatively inexpensively as well at Carlise Bay. Catamaran tours will take you there, but another cheap way to go is through Boatyard beach club. For a 22.50 USD entrance fee, you can use the club's beach chairs and umbrellas all day and get a boat ride out to snorkel with turtles and shipwrecks. And you get the fee back in credit to use at the bar!
Go to a different beach every day – that's why you are here after all, isn't it? All Barbados beaches are free and open to the public! Some of my favorite beaches in Barbados are Dover, Pebbles, Worthing, Bottom Bay, and Miami Beach in Oistins.
Most beaches will have someone renting sun loungers and umbrellas, but you can just bring a towel and enjoy the beach for free. Better yet, pick up drinks from the store and pack a cooler to bring with you.
If you're an early riser, one unique experience is to watch the racing horses go for a morning swim at Pebbles beach. I haven't seen this myself yet, but I hear they go around sunrise!
Hiking is another free thing to do in Barbados and a great way to see the landscapes of the island. If you aren't comfortable hiking on your own, there are free hiking groups you can join.
Explore Bathsheba on the east coast of Barbados. This is easily one of the most beautiful places on the island, with gorgeous rock formations sticking out from the ocean floor. It's also where pro surfers catch waves, which is a source of entertainment on its own!
Go surfing! If you're a surfer, then you'll be happy to know that Barbados is home to some of the best surf spots in the Caribbean. The waves are free to use – you just need a board, which you can rent relatively cheaply at Dover Beach or south point.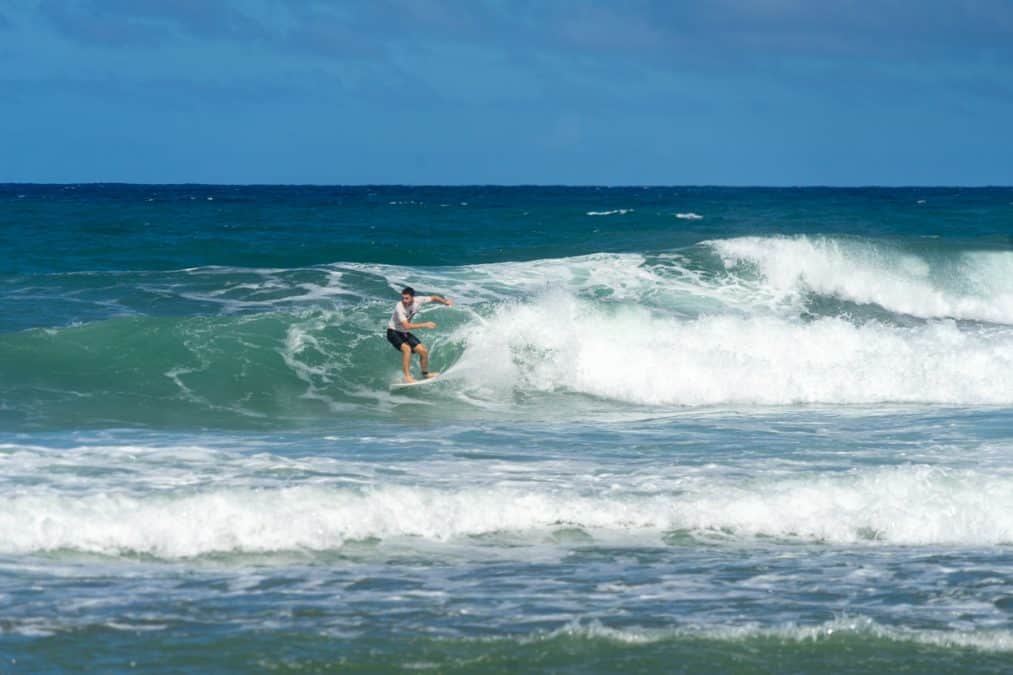 If surfing isn't your thing, rent a SUP board at Pebbles beach and explore the waters at sunset. It's only 10 USD to rent a board!
Cheap things to do in Barbados
Animal flower cave is one of the coolest things to see in Barbados, and it's only 12.50 USD to visit. The tour only takes about half an hour, but you can explore the outside of the cave as well or dine at the restaurant.
The Barbados Wildlife Reserve is a fun way to spend an afternoon, and it's only 15 USD per person. There you can see green monkeys, as well as other local wildlife.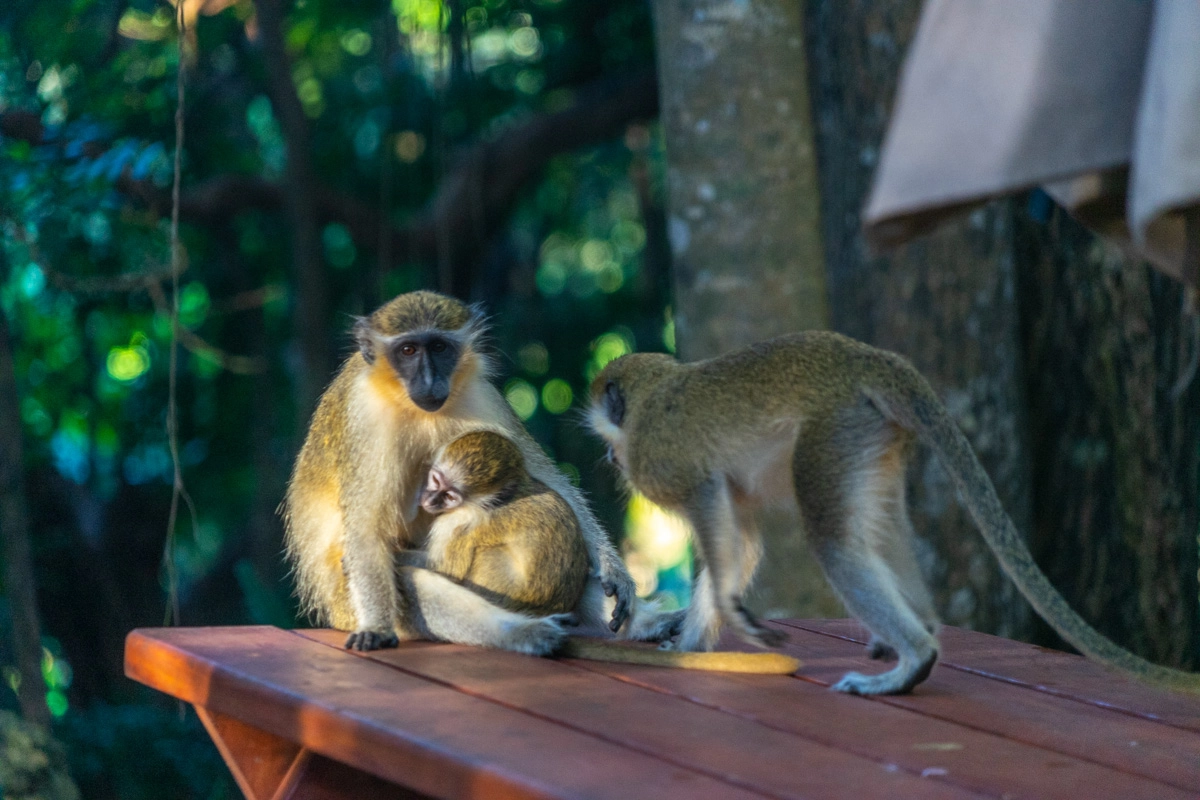 Huntes Gardens is a beautiful place to stroll around and only has an entrance fee of 15 USD.
Take a walking tour of Bridgetown to learn about this UNESCO world heritage site and its fascinating history!
Visit the historic Garrison and its museum to learn about the life and times of British military occupation in Barbados.
Discover more things to do in Barbados
Travel Insurance for Barbados
Whiile visiting, you'll want to make sure you have active travel insurance for Barbados, as medical costs on the island are not that cheap (I know this from my own experience of having dengue fever). I use and recommend SafetyWing as they are affordable (only 40 USD a month) and cover COVID-19.
Is Barbados Cheap?
While I wouldn't call Barbados a cheap destination, there are ways to visit even if you're on a budget. By following these travel tips and visiting during the low season, shopping local, staying in Airbnbs, and taking advantage of all the free things to do in Barbados – you can still have an awesome vacation without breaking the bank!
Enjoyed this post? Pin it for later!