This post may contain affiliate links. By clicking and making a purchase through the links, I earn a small commission at no extra cost to you. This and display ads allows me to keep the site up to date and give back. Thanks for reading!
The best places for digital nomads in Thailand depends on the kind of lifestyle you're looking for.
Overall, Thailand is one of the best countries for remote workers to live in. I've been here for the last two months and have completely fallen in love with the food, landscapes, culture, and community. Of course, the affordable cost of living doesn't hurt either!
From the idyllic islands in the south to the charming mountain towns in the north, Thailand has a wide variety of destinations to call home.
To help make your decision a little easier, I've rounded up the best places in Thailand for digital nomads to live, considering price, community, and things to do.
Best Thai islands for digital nomads
Koh Phangan
Recommended by Victoria of Guide Your Travel
The small island of Koh Phangan has become a popular destination for digital nomads in recent years. One of the main reasons why Koh Phangan is an excellent place to live for digital nomads is the low cost of living.
The island has a relaxed, laid-back vibe, and prices for food, accommodation and other essentials are generally quite affordable. It is possible to find a comfortable place to live for less than $500 per month.
The incredible beaches and dense jungles are another good reason digital nomads love this island.
Koh Phangan is surrounded by crystal-clear waters and is perfect for swimming, snorkeling, or simply relaxing on the beach after work. The island is also home to several national parks and nature reserves, offering opportunities for hiking, road trips, or exploring remote waterfalls.
The island has a thriving digital nomad, with many like-minded people living and working there. A number of co-working spaces and cafes cater to digital nomads, providing a great place to work and socialize.
There are also more and more events and meetups organized by the nomad community, giving you a chance to connect with others and make friends.
Of course, Koh Phangan is fantastic for nightlife and not only because of the famous full moon party. There are frequent events taking place in the jungle, and quite a few local bars turn into lively dance spots in the evenings.
Best Facebook group: Koh Phagnan Digital Nomads
Koh Tao
If you've always dreamed of becoming a dive master, then Koh Tao is one of the best islands in Thailand to live on.
This tiny island is one of the top diving spots in Thailand, evident by the 100+ dive shops that have opened up shop here. This is partly because it's one of the cheapest places to get scuba certified, and the conditions are easy to learn in.
It would be easy to find a dive shop here to do your divemaster training with.
The downside of living on Koh Tao is that the island is small (you can drive across it in 20 minutes), so you won't have all the modern amenities of a larger city here. Still, it has a fantastic diving community, and there's no shortage of parties.
Like the rest of the country, you can get a delicious meal at the local markets for less than a dollar. You can get a small apartment for around 300 USD/night, and if you feel like balling out – even a luxury villa won't cost you more than 100 USD/night (I stayed here for a week, and it was incredible).
Best Facebook group: Koh Tao Digital Nomads
Koh Samui
Recommended by Missy from Travels with Missy
Koh Samui is an island paradise and the perfect place for a digital nomad to stay in Thailand. It's the largest island in the Gulf of Thailand, next to neighboring islands Koh Phangan and Koh Tao.
Koh Samui is a wonderful place to base yourself, as the island has all the amenities you need to work remotely. There are various accommodation choices throughout the island, but for long-term rentals, the area around Bo Phut is best.
Rental prices vary across the island depending on the season – but a reasonable starting price for a 1-bed apartment with wifi starts from $700. 
On days away from work, consider a diving trip to nearby Koh Tao, where you can earn your PADI Scuba Diving license. Or head to the interior of Koh Samui and zip line through the jungles of the island.
Renting a scooter is the best way to get around the island, with prices starting as low as $5 per day for a long-term scooter rental. 
You can party the night away in Chaweng with tourists who flock to the island to enjoy the stunning white sand beaches. It's one of the most popular destinations in the south of Thailand.
Nomads will find an immigration office on the island to prolong their visas if needed.
There may not be an abundance of co-working spaces in Koh Samui, but there are endless cafes and restaurants that offer fast wi-fi and, of course, delicious Thai food.
Best Facebook group: Digital nomads on Koh Samui
Koh Lanta
Recommended by Asha from HomeTravelGuide
Koh Lanta is a great place for digital nomads to live as there is a vibrant expat community where you can meet and socialize with like-minded digital nomads to help get you settled.
With its tranquil beaches and lush tropical forests, Koh Lanta offers a more laid-back island experience than the others.
Despite being a more remote location than other popular spots in Thailand, Koh Lanta still offers all of the necessary amenities, like reliable Internet connection, cafes, and smartphone repair shops that make life on the road easier.
The Thai people are also incredibly full of warmth and hospitality, making it easy to settle into your new surroundings quickly.
Not to mention, Koh Lanta provides access to some of the most picturesque beaches in Thailand, with beautiful crystal-clear waters and gorgeous white sand. For nature lovers, you can discover hidden waterfalls deep in the jungle.
There are plenty of places to visit, including Mu Koh Lanta National Park, where you can go snorkeling or cycling. Or, for something unique, go and visit the Koh Phee Caves.
There are a few different areas where you can live in Koh Lanta, depending on whether you want something more lively or quiet.
A nice area to base yourself would be Saladan, a quieter part of the Island. Accommodation here varies according to your needs but roughly for a 1-bedroom apartment would be between $300 per month and a 2-bedroom villa around $600.
Best Facebook group: Digital Nomads Koh Lanta
Koh Mook
Recommended by Abi from I'm Going On An Adventure
If you're in Thailand as a digital nomad and looking for somewhere to disconnect while knuckling down on some work, you'll want to head to Koh Mook. The tiny island in the Andaman Sea is the perfect place to disconnect from the world.
It might not seem like the best place to live as a digital nomad in Thailand; it doesn't have the hip co-working spaces or lively nomad community such as in Chang Mai.
But, it does have endless beaches, tropical jungle, and a laid-back, sun-kissed, hippie vibe which is exactly what you'll need to crack down on work!
The island is still developing its tourism, which means it's a cheap place to live, one of the more affordable places in Thailand. You'll be able to negotiate prices for longer terms however for a week you'll need about £200.00 to cover your cost of living. 
There are a few interesting places and cafes to visit which have incredible views over the ocean alongside good wifi. Check out Joyful Bar & Restaurant, Perfect Bar & Restaurant, and Sivalai Beach Resort Restaurant. Perfect Bar & Restaurant does a brilliant coffee, which is rare on the island!
One of the best things to do on Koh Mook is to visit the Emerald Cave. It's a popular spot, hidden within the limestone cliffs on the water's edge and only accessible via boat or kayak. It's A sinkhole that has formed its own forest and sandy beach which appropriately shines emerald when the sun hits it at midday.
Best places for digital nomads in Thailand
Krabi
Recommended by Martina of PlacesofJuma
Krabi in Thailand is one of the coolest places to choose as a digital nomad in Thailand. Here, you'll find a large community of expats that like to meet to work and enjoy life together. It's a great place to meet like-minded people, and your schedule will be packed with dinners and events.
The Krabi region, especially Krabi Town, is famous in the expat scene, and there are good reasons for that. It's easy to communicate in English, good internet is widely available, and it's full of nice cafes and coworking spaces.
There are many amazing things to do in Krabi, like exploring the islands, hiking, visiting national parks, sightseeing temples, and relaxing on the beaches.
Also, the prices are still really reasonable. When you first move, it's easy to find an affordable hostel or B&B where you can meet like-minded people.
But you'll save even more money if you rent an apartment. A small apartment will cost around 370 USD/per month. You can hire a scooter for around 250 Thai baht (7 USD), or get around by walking, cab, or TukTuk. Laundry can be done for about 40 baht per kilo.
Another advantage is that Krabi has an airport, so you can easily travel to many top destinations in Thailand. In addition, there is a terrific ferry service to many islands in the Andaman Sea.
Phuket
Recommended by Sarah from Live, Dream, Discover
Phuket is the largest island in Thailand and one of the country's top spots for a tropical beach vacation.
That does mean there are lots of tourists enjoying the beautiful beaches and charming towns. But it also means a lot of amenities, things to do, and a well-developed infrastructure that digital nomads and ex-pats will like.
In addition, it's a great base for exploring other areas of southern Thailand, or anywhere else for that matter, as there is an international airport in Phuket.
You can find all the necessities in Phuket, including shopping malls, specialized shops, car, and motorbike rentals, public transportation, healthcare, gyms, grocery stores, and most importantly, good internet.
Your free time in Phuket will also be filled with beach days, sightseeing, jungle adventures, water sports, massages, nightlife, and an endless array of dining options, from inexpensive Thai street food to international menus at 5-star restaurants.
As far as where to base yourself, Phuket has a wide variety of great options for that as well. Phuket Town has a modern area with shopping malls and modern apartments, as well as the Old Town, with its pastel-colored old buildings that give off a lot of charm.
Kamala Beach is laid-back and has a large ex-pat community. Bang Tao, Karon, and Surin are best left for beach days off work. Patong is all about partying, but the quieter areas of town can appeal to digital nomads who want to be close to the action.
Many digital nomads choose Rawai on the southern end of Phuket for its less touristy vibe, cheaper real estate, and good coworking spaces.
Chalong Bay is another popular spot for digital nomads, but it is generally more expensive than Rawai. GrindTime Co-Workspace & Cafe has locations in Chalong Bay and Rawai. Garage Society is a good choice in Patong. BAYACO offers a co-working space in Phuet Town.
Apartment or house rentals vary greatly depending on the location, time of year, and length of stay. Prices can be as low as 10,000 Baht per month for a small studio in Rawai or upwards of 40,000 Baht for a 1-bedroom apartment near the beach. Monthly utilities should be around 3,000 Baht.
The cost of eating in Phuket again varies quite a bit. If you are happy dining out on the delicious local food, your monthly budget can be as low as 10,000 Baht, but if you choose to buy imported food, the cost will increase quite a bit.
Best Facebook group: Phuket Digital Nomads
Bangkok
Recommended by Babs from Mums on FlipFlops
Bangkok is a digital nomad's dream. Not only is it the capital city of Thailand, but it was ranked the 2nd best city for digital nomads around the world and the best in Asia.
Bangkok earned its position in the ranking because of the quality of life it gives to digital nomads. Many coworking spaces, thousands of wifi hotspots, great food, convenient public transportation, and cheap taxis make working remotely easy.
The cost of living in Bangkok is also relatively cheap compared to other metropolises around the world. A single person is estimated to spend $1500-$1900 per month on accommodations, food, transportation, etc.; sometimes even less if you can find cheaper apartments and your lifestyle isn't that luxurious.
Monthly rentals usually cost around $200 to $700 per month, which includes good facilities, but that can go higher depending on the luxury you want.
As a digital nomad, you'll never get bored! Bangkok is a city that never sleeps. If you want to experience the bustling nightlife, there are countless nightclubs and sky bars where you can enjoy your weekend while you sip your drinks watching the city's skyline.
If you're a foodie, Bangkok's night markets give you a culinary experience with delicious food being prepared right in front of you. If you want to take a closer look at Thailand's culture, tourist attractions in Bangkok, such as temples, palaces, and museums, will take you on that cultural journey.
There's no wonder why Bangkok scored second as the best city for digital nomads; the city has it all.
From its manageable cost of living and transportation options to its beautiful cosmopolitan scenery and rich cultural landscape to its great weather and fast broadband connectivity, there's no doubt Bangkok is one of the best cities for digital nomads in Thailand.
Best Facebook group: Digital Nomads Bangkok
Hua Hin
Recommended by Allan from Live Less Ordinary
As a long-time digital nomad in Thailand, I own a condo in Bangkok and a house in the rice fields (Isaan), but still like to do random monthly rentals for a change of scenery.
One of the best options I found recently was Hua Hin, a beach resort just a couple hours south of Bangkok, along the Gulf of Thailand.
As a beach resort Hua Hin is popular with retirees as well as a younger expat crowd who mostly work out of communal condo buildings and the beachfront cafes of Hua Hin Beach.
All the essential western amenities are easy to find, and even the provincial immigration offices are located in one of the large malls (Bluport Mall Hua Hin).
Price-wise, on our last visit (Oct 2022), a fairly high-end studio condo cost just 13,000 Baht for a month, motorbike rental was 3,000 Baht per month, and it was 1,000 Baht for daily car rental for road trips in Hua Hin and beyond. 
Otherwise, you are paying a slight premium for daily life, and while there are no changes in 7-11 and local supermarket prices, I would add 5-10 Baht onto local street food and food court meals above Bangkok prices.
The main benefits of Hua Hin over other destinations would be the serene seaside charm of the region and the soft sand beachfront that stretches for as far as you can see.
The night markets are also great places to kick back, not just the main Hua Hin night market, but more youthful hangouts, including both Tamarind and Cicada Night Market.
—
Next, let's look at the best places to live in the north of Thailand.
Chiang Mai
It's no secret that Chiang Mai is one of the best places for remote workers in Thailand. This northern capital city has been attracting remote workers for the last decade, yet prices have remained low.
There are so many reasons I love living in Chiang Mai, but a big part of it is the community. There are so many other expats and nomads here, and most have an entrepreneurial spirit that is distinct from other digital nomad hotspots I've lived.
There are multiple events weekly to meet people – whether it's a hike to a waterfall, kayak trip, coworking meetup, or after-work drinks. I met people on my second day in Chiang Mai, and it hasn't stopped since.
The weather is cooler than in the southern islands, but I find it much more pleasant. It's a paradise for nature lovers, with the mountains and elephant sanctuaries nearby. It's also a great base to explore other parts of northern Thailand, like Chiang Rai.
There are endless coffee shops to choose from in the Old City and Nimman area, as well as coworking spaces. Yellow Coworking is my favorite – where I'm writing this from at 201.1 Mbps speed.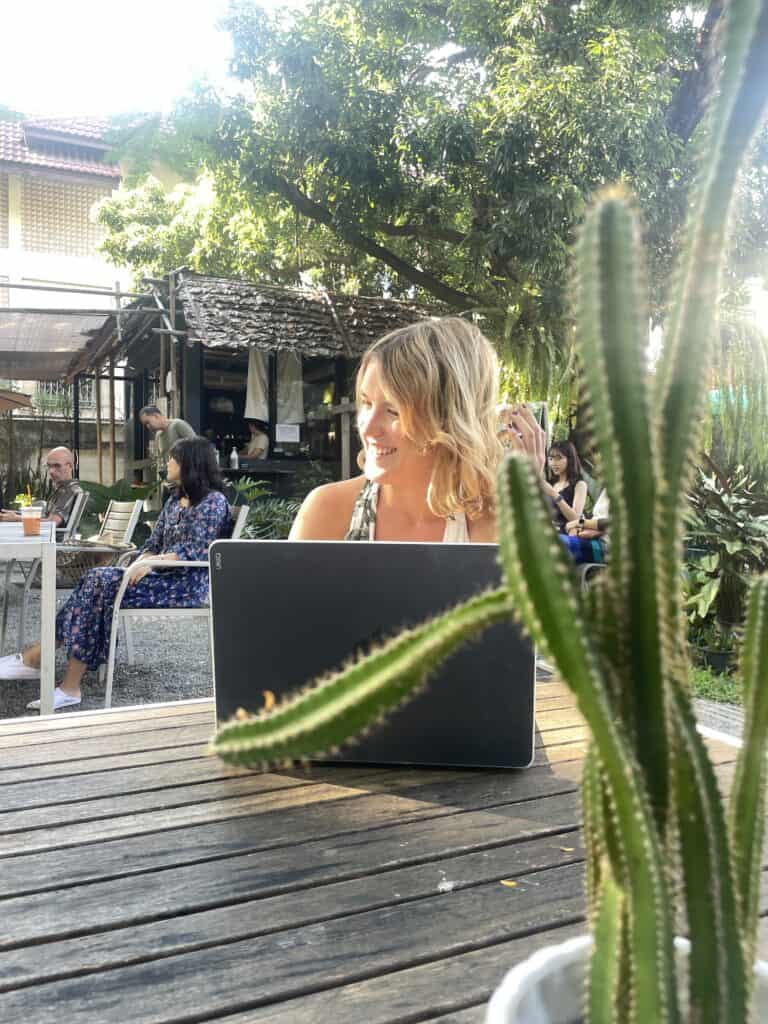 You can get a small studio apartment for 300 USD a month or a larger one with a pool and fitness facilities for around 500 USD + utilities. Motorbikes can be rented for about 100 baht a day, or a 10-minute grab (taxi) ride in town costs about 40 baht. Nimman and Old City are very walkable.
Meals in the market cost around 50 baht, whereas a western meal is about 200-300 baht. You can order a fantastic meal on grab and have it delivered to you for under 100 baht, which makes eating well easy here.
Chiang Mai also has an international airport with direct flights to other cities in Asia, making it very easy to do visa runs. Or, there are also immigration officers here if you want to extend.
Living in Chiang Mai is effortless. Everything you need is at your fingertips, and I haven't felt as inspired as I have been living here in a long time. I even got my first tattoo here!
Best Facebook group: Chiang Mai Digital Nomads
Pai
Up the windy mountain roads from Chiang Mai is the hippy town of Pai.
But it's not just hippies that live there. Many digital nomads are starting to flock to Pai, given its insane natural beauty.
This is a perfect place if you want to be connected to nature, with many hot springs, hikes, canyons, and waterfalls to explore on your time off. And surprisingly, the internet connections are solid here with many beautiful cafes to work and chill at.
However, living in Pai is not nearly as convenient as it is in Chiang Mai. They don't have grab, there are no big shopping malls or stores, and the closest airport is Chiang Mai (which is about three hours away by bus).
For me, Pai is too small. I love going there on trips from Chiang Mai, but I'm always happy to return to the city. But for many others, Pai is paradise. There's even a phenomenon when people get stuck in a "Pai hole" and can't leave.
If you're looking for a place to be around spiritually minded people, breathtaking natural scenery, and don't make the slight inconveniences of living there, Pai may be for you.
Best Facebook group: Pai digital nomads
Digital nomad visa for Thailand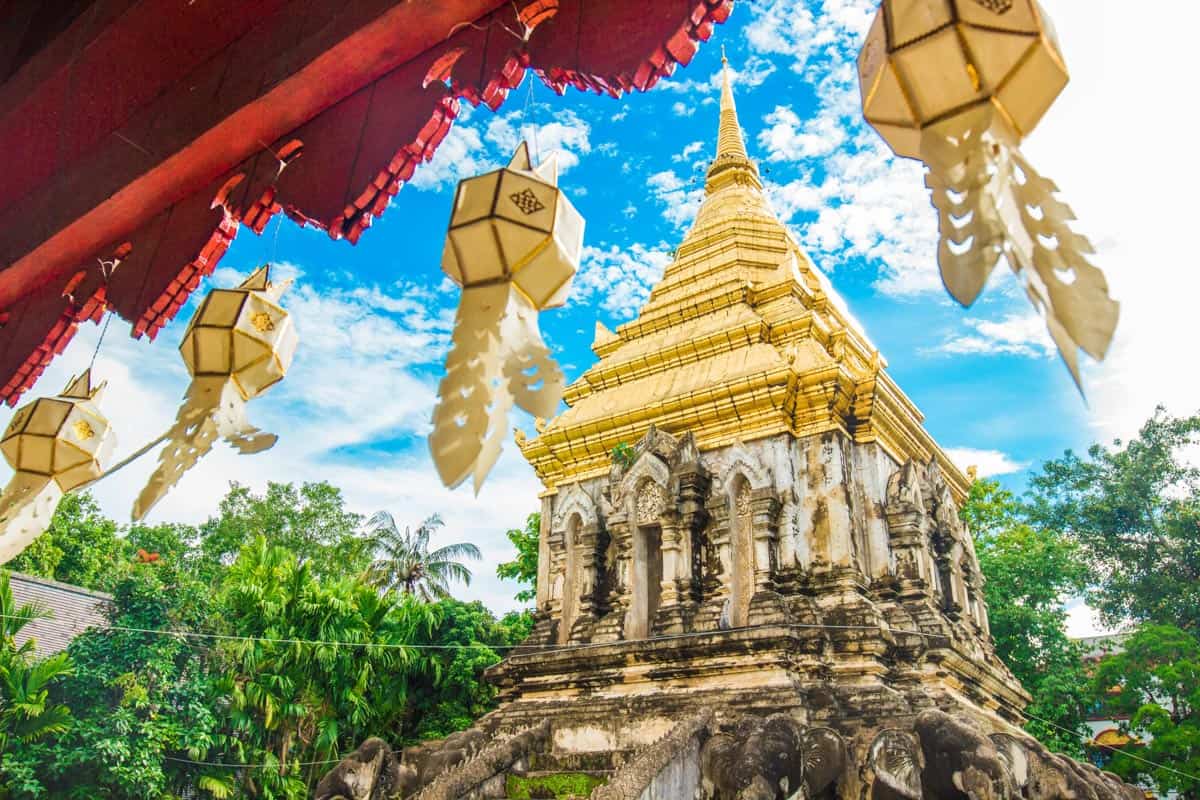 If you've decided to call Thailand your new home, you're probably wondering what the options for visas are.
At the time of writing (January 2023), Canadians and Americans get a free 45-day tourist visa on arrival. You can then extend that for another 30 days at the immigration office.
After that, most digital nomads do a visa run to another Southeast Asian country and return for another 75 days. Cambodia, Vietnam, Laos, and Malaysia neighbor Thailand.
If you want to stay longer without worrying about visa runs, there are a few options for long-term visas.
While there is no official digital nomad visa, the Thai government recently introduced the Thailand Smart Visa, which some remote workers may qualify for. You must earn 80,000 USD a year and work in the specific target industries aimed at skilled professionals.
There are also foreign direct investment visas if you spend a certain amount opening a business or buying property in Thailand. This is aimed at wealthy global citizens.
Lastly, there are education visas that you can get for studying Muay Thai or the Thai language, which is a fantastic way to immerse yourself in the culture while staying in Thailand longer.
Health insurance for Thailand
No matter where you choose to live in Thailand, it's important to protect yourself with travel insurance in case unexpected medical expenses come up.
I use and love SafetyWing, insurance made for digital nomads that costs only 42 USD/month. It covers a wide range of adventure activities around Thailand, including diving. You can read my full review here and get a quote below.
—
No matter where you choose to live in Thailand, you'll experience something special. It's rare that I come to a place so far away and feel instantly at home.
Thailand has stolen my heart, and it's a place I see myself setting up as a semi-permanent base in.
Looking for more inspiration on where to live?