This post may contain affiliate links. By clicking and making a purchase through the links, I earn a small commission at no extra cost to you. This and display ads allows me to keep the site up to date and give back. Thanks for reading!
Most people come to Tenerife seeking sun and sand in the south, but there are so many other parts of the island to discover. As the largest and most geographically diverse of the Canaries, there are endless fun things to do in Tenerife.
From stunning mountains hikes to stargazing over volcanoes, be sure to add some of these top Tenerife activities to your itinerary.
Getting around Tenerife
Before I tell you about all the amazing Tenerife attractions, you should know that getting around without a car can be a challenge.
If you want to visit many places, I highly recommend renting a car for at least a portion of your trip – especially if you plan to travel between the north and south.
There are buses in Tenerife that go between most places, but they are time-consuming. Traveling between the north and south on the express bus takes almost two hours, and you'll still likely need to make transfers for where you actually want to go. It's not impossible, but it's going to add a considerable amount of time to your day.
Otherwise, many of the tours recommended include pickup, so that's another way to get around without a car. Still, there's no better way to see the island than with your own vehicle. Is there anything better than the freedom of a road trip?
Car rentals in Tenerife vary considerably between rental agencies. To find the best price, look on Discover Cars which quickly searches all car rental agencies to find you the best deal.
Tenerife Photoshoot
The landscapes in Tenerife are a dream for photos. From the black-sand beaches to lava-carved forests and snowy top of Mount Teide; there are so many different scenes to explore here. You'll definitely want some beautiful vacation photos to take home with you!
While I used to rely on my friends or those around me for photos, I've realized the value of getting them done by a local, professional photographer.
They know all the best spots for photos and can take stunning pictures of you in several locations, so you can then just enjoy the rest of your trip without worrying about trying to capture everything.
I did a Tenerife photoshoot with Andy Cannon, a UK photographer based between Tenerife and Barcelona. He knows the island quite well and can take you to some really unique places in Tenerife that you wouldn't otherwise find on your own.
During our photoshoot, we went to Arco de Tajao, a fascinating natural arch formation in the east side of the island.
It's one of those landscapes in Tenerife that made me feel although I had been transported to another continent!
Aside from showing you the best spots on the island, Andy is a joy to work with.
He'll talk with you first to understand the look and feel of the images you want and then combine those ideas with the stunning natural landscapes of Tenerife. He's a visual storyteller, and you'll end up with some breathtaking images to remember your time in Tenerife (or even use professionally).
As a reader, you can get an extra 5% off and 5 extra photos if you book a shoot with Andy. Just mention my name or Explore with Lora when you reach out to him.
Things to do in Tenerife South
Whale watching Tenerife
Tenerife does not have much going on in terms of wildlife experiences when it comes to land mammals, but what it lacks, it makes up for it in marine life.
The warm ocean waters are home to an abundant variety of animals, including over 25 species of dolphins and whales. Pilot whales are the most commonly sighted, as they live here year-round.
If you love wildlife, don't miss the chance to go on a whale-watching cruise in Tenerife. There are tours departing from Los Cristianos, Costa Adeje, and Los Gigantes every day.
Your chances of seeing whales and dolphins are excellent in Tenerife. I went on five boats and saw pilot whales every time. But by far my favorite memory was seeing pilot whales on my friend's sailboat, swimming by the side of it at sunset.
Please choose an accredited dolphin watching tour that respects the animals and the local laws which protect them.
This tour from Costa Adeje goes with a biologist to respectfully observe the whales and dolphins in the Teno-Rasca Marine Protected area of Tenerife. They even bring a hydrophone so you can listen to the whales!
Los Gigantes Natural Pools
Tenerife has many natural pools, but my favorites are the ones by The Acantilados de Los Gigantes, towering 600m cliff formations formed by volcanic rock.
From the natural pool, you get a great view over the towering cliffs. There's also a ridge you can sit on and feel the ocean water splash up over you. I could have sat there for hours! It's one of the most beautiful things to see in Tenerife.
Surfing
One of the main reasons so many digital nomads come to Tenerife is for the surfing opportunities.
One of the best things to do in Playa de Las Americas is go surfing, where you can find plenty of surf lessons and board rentals readily available.
Some other popular beaches for surfing in Tenerife south are Las Conchas, Punta Blanca, and Las Galletas.
Tandem Paragliding
For a completely different view of Tenerife, check out this tandem paragliding tour.
You'll take off from a hillside and soar in the sky, getting an incredible birds-eye view. Enjoy the scenery as you descend into the golden beaches for a soft landing.
Tenerife Horse Rescue
One organization that is making a difference in the lives of animals here is the Tenerife horse rescue.
While they started out rescuing horses, the center now provides a safe home to dozens of animals in Tenerife, including donkeys, dogs, cats, guinea pigs, birds, and more.
What's even more impressive is that they are 100% sustainably run! They feed all the volunteer sand animals using food waste from the local supermarkets, and everything there is powered with renewable energy. It's an amazing place to see in Tenerife and talk with the volunteers who are so passionate about what they do.
They are only open for tours by donations, so be sure to contact them in advance to arrange.
Go windsuring in El Medano
El Medano is the official windsurfing and kitesurfing capital of Tenerife, so this is the place to go if you're into those sports!
After spending some time in the water, fuel back up at one of the town's bohemian-inspired cafes. I loved Bliss Cafe, which has delicious and healthy bowls.
Siam Park
One of the best things to do in Costa Adeje is visit Siam Park. It's an epic waterpark full of adrenaline-packed rides, an enormous wave pool, and a mile-long lazy river. There are also lush gardens around that make this park feel like paradise.
Visit Playa Las Amarilla
Okay, I know I said besides the beach in the title, but Playa Amarilla is so beautiful I can't leave it out.
Just a couple of minutes' walk from the parking lot you'll see the sparling turquoise water against sandstone cliffs. But you can walk along them further to get an up-close look at their unique carvings. At the end, there's a place you can go cliff diving into the water!
Go sea kayaking with dolphins
One of the best ways to see Tenerife is from the coast! On this kayaking tour, you'll get the chance to paddle through marine reserves in search of dolphins and turtles.
Tenerife is home to five species of dolphins, including bottlenose, striped, and common dolphins. After watching the dolphins play in the water, you'll then jump in to snorkel with sea turtles.
Visit underground caves
Did you know Tenerife is home to the 4th longest lava tubs in the world? And you can go inside them on a guided tour!
Visiting La Cueva de Los Vientos (the Cave of the Winds) is a Tenerife must see. Tours are limited in size and number per day, so you'll want to book this one in advance.
Join a sailing tour
There's no better way to spend a day in Tenerife than on a sailboat
We joined a private sailboat for the day and watched pilot whales, swam in the warm water, and enjoyed a fantastic seafood lunch before taking in the breathtaking sunset. It was one of my most memorable days in Tenerife!
Rent a jet ski
With so much ocean around to play in, renting a jet ski is one of the best ways to go Tenerife sightseeing.
On this tour, you can choose to ride a single-seater or a double-seater jet ski with a friend, bouncing over the Atlantic past cliffs and beaches.
Go diving
There's a whole other world in the waters of Tenerife! While the diving here wasn't as spectacular as the Galapagos or Malaysia, it's probably the best you're going to get in Europe. You can see marine life like sea turtles, stingrays, eels, and colorful fish.
Swim with sea turtles
I will never get tired of swimming with sea turtles, and Tenerife provides a great place to do with its rich marine habitat
This snorkeling trip from Costa Adeje takes you to the best sea turtle viewing spots and includes snorkeling gear, so you don't need your own equipment.
Barranco Del Infierno Hike
Many people say that there isn't any good hiking in the south of Tenerife, but clearly, they haven't seen Barranco Del Infierno. This nature preserve is just a 10-minute drive from Playa Las Americas.
The trail takes about three hours round-trip, taking you through a stunning canyon with a small waterfall at the end.
Permits must be booked online in advance here as space is limited to 300 people a day, and you are required to wear a helmet.
Visit Masca Village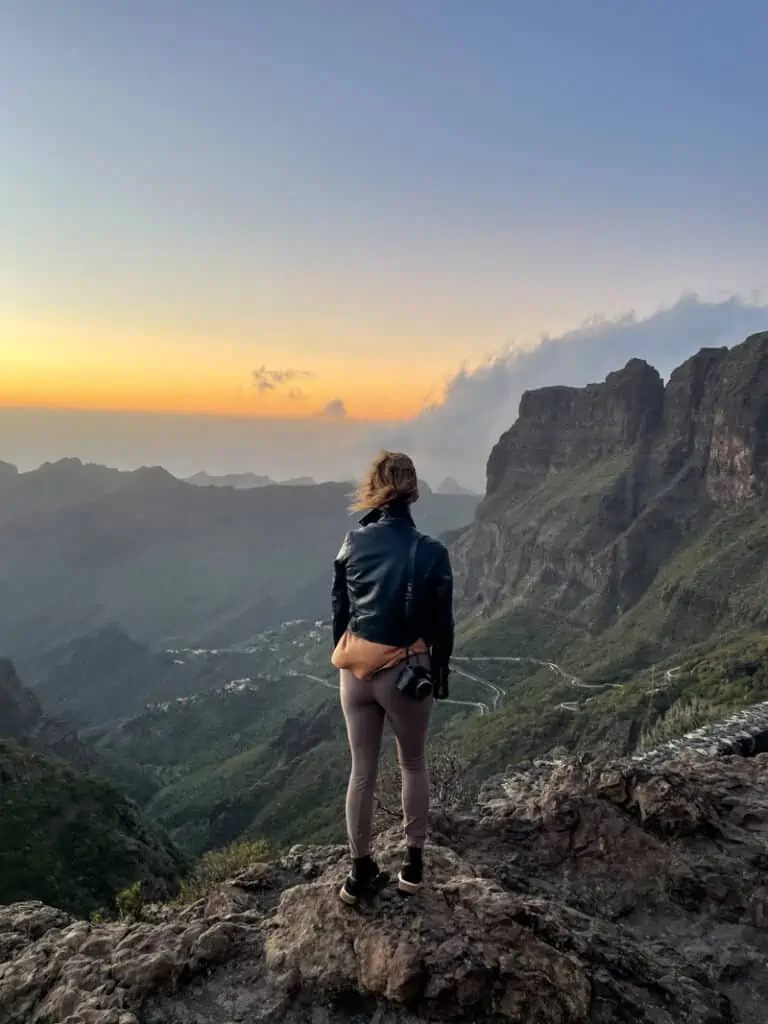 Masca Village is one of the best places to visit in Tenerife and my personal favorite place on the island.
Nicknamed the "Machu Picchu" of Spain, this quaint village is nestled in the Toro mountains. It's where residents used to hide out when they were being attacked by pirates!
As you drive down the curvy road into the village, you'll want to pull over constantly to soak in the spectacular views (and luckily, there are a few places to do so safely).
Masca is also one of the best places to go hiking in Tenerife. The most popular hiking trail, Masca Gorge, requires a permit that gets booked up well in advance. This 7km trail begins at the village and descends to the rocky beach below, with gorgeous views along the way.
But if you can't get a permit, don't worry. Check out some of the other trails on WikiLoc. We did this one, and the views were breathtaking.
Visit Punta de Teno lighthouse
Punta de Teno lighthouse is the most westerly point on the island. There's a small lighthouse there you can see, but what I loved most about this area was watching the waves crash over the jagged cliffs.
Yoga class
Tenerife is a very spiritual place and has a huge yoga community. You can find yoga retreats and classes all over the island, and many people visit for that reason alone.
I did classes regularly with Sandrita at Playa Del Duque, which was a great way to start or end my day.
Things to do in Teide National Park
Teide National Park is one of Tenerife's top attractions, so it's worthy of its own section with so many exciting activities to do within the park.
Designated a UNESCO world heritage site, Teide is Europe's most visited national park, with around three million visitors every year! It's a hub for outdoor adventure, with endless hiking trails and rock climbing areas.
Climb the highest point in Spain
Tedie Nationa Park is most famous for Mount Teide, an epic volcano with a height of 3,718 meters. It's Spain's highest peak and can be spotted from all over the island.
It's free to climb to the top of Teide, but you must obtain a permit in advance if you want to climb it in the day. For this reason, many people climb it at night and watch the sunrise from the top.
Take the cable car to the top
If you want to see the highest point without breaking a sweat, you can get (almost) to the top by taking the cable car up.
It's a dramatic ascent up to 3500m, and if you want to get to the highest point, you'll have to hike another 200m (and you need the permit).
The Teide cable car is one of the most popular Tenerife tourist attractions, so be sure to book your tickets online in advance.
They are also canceled often due to weather (sadly this happened to me), so leave some flexibility in your travel plans or add this to the start of your Tenerife itinerary so that you don't miss out. Make sure to bring a jacket to the top, as it can be quite cold.
Watch the Sunset at Teide
One of my most memorable experiences inside Teide national park was watching the sunset over the clouds.
As you're driving along the windy roads (which is an experience in itself), you'll gain thousands of meters of elevation, putting you above the clouds.
And if you're driving along around sunset, you'll see many people parked off the side of the road to watch the spectacular sunset. Be sure to join them; it's incredible.
Go stargazing
Due to the lack of light pollution around the park and geographical location, Teide offers some of the best stargazing in the world. You can see 83 of the 88 officially recognized constellations!
If you have a car you can go stargazing on your own, but if not, you can join a guided night tour.
This one combines two tours in one – a romantic sunset experience followed by stargazing. And it comes with a glass of Cava to go with the view! At night comes, your guide will provide you with information about the constellations and night sky.
Go Hiking Inside The Park
Aside from Mount Teide, there are several other excellent hiking trails inside the park.
One of my favorites is the Chinyero Volcano Loop, an easy two-hour loop with epic views of Tenerife's newest volcano. This hike also takes you through pine forests, which are interesting to see in contrast to the desolate landscapes.
Another place you must see in Teide National Park is the Roques de García, which are fascinating 3000m+ rock formations created by millions of years of erosion.
ATV tour
For an adventurous alternative to exploring Teide by bus or car, check out this ATV tour.
You'll get to enjoy the sun, breezes, and unobstructed views as you drive through rolling forests, with the chance to get off the paved road and discover dirt tracks inside the park.
Fun things to do in Tenerife North
Visiting Tenerife north is like going to a new country. After Teide, the landscapes completely change, and everything becomes much more green and lush. If you want to spend your Tenerife trip hiking, the north is the place to stay.
Anaga Rural Park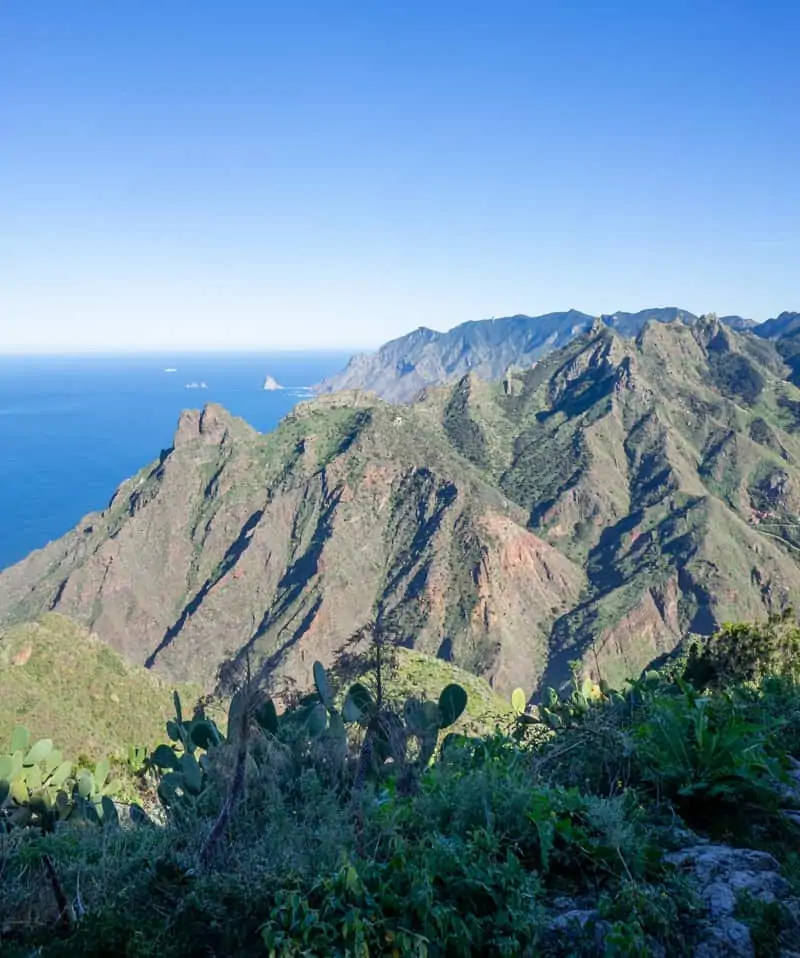 Covering the north of the island, Anaga rural park is one of the most beautiful places to visit in Tenerife. Here you'll find green, jagged mountain peaks descending into volcanic black-sand beaches.
Anaga is accessible from Santa Cruz and La Laguna, so if you want to do multiple hikes within the park, it's best to book a few nights' accommodations in one of those places. Otherwise, you'll be doing a lot of driving. From Playa Las Americas, it's an hour+ drive to hiking trails within the park.
Known as the "enchanted forest," Anaga is also one of the best places to see Laurel forests in Tenerife, which you can see driving through the park.
Another must-see place in Anaga is the black sand beach of Playa Benijo. It's a popular place for surfing and has one of the best views of the Roques de Anaga. It's also a nudist beach!
If you're driving out of the park to La Laguna, be sure to stop at Mirador Cruz del Carmen viewpoint on the way out. It's right off the road, and you'll see many people pulled over admiring the stunning rolling hills and quaint villages.
See the Drago tree
While there used to be a lot of Drago trees in Tenerife, few remain today. However, you can still see one of the oldest known Drago trees in the world in Tenerife at Icod de los Vinos in the 15th-century historical quarter. It's estimated to be over 1,000 years old!
San Cristobal de Laguna
San Cristobal de Laguna is one of Tenerife's most charming Spanish towns. This UNESCO world heritage site is one of the best places to go if you're interested in learning more about the island's history; it was the island's original capital.
Walking through the well-preserved 15th-century colorful buildings made me feel although I'd been transported back to Colombia!
You'll also find many of Tenerife's top cultural attractions here, including The Cathedral of La Laguna and Plaza del Adelantado. As La Laguna is also a university town, you'll find plenty of trendy cafes and bars here.
Visit the island's capital Santa Cruz
Santa Cruz is the capital of Tenerife and the largest city. It's full of history, with architecture dating back to the 15th century.
There are many things to do in Santa Cruz Tenerife, as it's home to the top museums and architecture including the Tenerife Auditorium and the stunning Tenerife Espacio de las Artes.
Another must-see place is The Museum of Nature and Man, which contains an extensive collection of native tools and carving related to the history of the Canary Islands.
For one of the most local experiences, time your Tenerife vacation with Carnival in February. It's considered the second largest in the world after Rio in Brazil and has been a Festival of International Tourist Interest since 1980.
Eat at a local Guachinche
Guachinches are local Canarian restaurants, and they are one of the best places to eat on a budget. Go with a group, as you'll want to order several items and share.
Typical foods include potatoes with spicy sauce, fried goat cheese, grilled peppers, and lots of meat and seafood (it's not great for vegans).
They will also serve you a liter or so of homemade wine to go with your meal. It's extremely satisfying and will leave you feeling full for hours, and each person's bill shouldn't be more than 10 euros. To find one, just put ' Guachinche' into Google Maps – they are mainly in the north of the island.
Visit Puerto de la Cruz
I spent my first three weeks living in Puerto de la Cruz which is a lovely seaside town. If you're visiting the north, stop in for an afternoon and take a stroll along the palm-fringed promenade and through the town's square. It has some nice restaurants, shops, and many street art murals thanks to the ongoing Puerto Street Art Project.
Some of the top things to do in Puerto de la Cruz are the castle of San Felipe, stroll along the boardwalk, the Botanical Gardens, and Plaza del Charco.
Go wine tasting
The rich volcanic soil in Tenerife provides the right environment to produce delicious wine that you can try on a wine tasting tour.
On this guided tour, you'll visit a family-owned winery in the North of Tenerife surrounded by rolling hills.
The passionate sommelier will tell you all about the traditional production methods used on a tour of the cellars and vineyards, followed by a wine tasting paired with an aperitif.
Take in the views of Playa de las Teresitas
Ok, I'm making another exception about the beach because I can't leave this one out. It's not just black-sand beaches in the north; this part of Tenerife is home to one of the most beautiful golden sand beaches – Playa De Las Tersitas.
The sand was imported from former Spanish colonies in the Sahara. To truly appreciate it, head up the road that goes to Anaga to get a viewpoint from above. The contrast of the turquoise water next to the beach with the mountains in the distance is stunning!
Garachico Natural Pools
Garachico is one of the prettiest towns in the north of Tenerife. Many people visit for the natural salt-water rock pools that you can swim in. It's a fun place to spend the afternoon in Tenerife, playing in the natural currents and chilling in the sun between swims.
Bonus: Take a day trip to La Gomera
La Gomera is the closest island to Tenerife and well worth a day trip. You can take a ferry there with Fred Olsen, which takes just under an hour. I recommend joining a day tour to maximize your time, as there is a lot to see.
The views of Teide from here are epic as you drive up the windy road from the port. Head up to the highest point on the island, Alto de Garajonay, where a quick 30-minute hike takes you up to sweeping views over the island. La Gomera is also home to some of the best-preserves Laurel forests in the Canary Islands.
End your day walking around the charming town of San Sebastian. It's so colorful and cute!
There you have it, the top things to do in Tenerife in 2022! Did I miss any amazing Tenerife tours? Let me know in the comments below!
Thinking about moving to Tenerife? Don't miss these posts!