This post may contain affiliate links. By clicking and making a purchase through the links, I earn a small commission at no extra cost to you. See my disclaimer for more information. This and display ads allow me to keep the site up to date and give back.
Wondering how to take a cheap workation? You're in the right place! I travel the world full-time, all while running my business remotely from beautiful destinations around the globe. And the best part is, it costs me less than it would to stay in my home country.
Taking a workation might just be the perfect solution to the remote work rut you're in. Picture this: a change of scenery, the perfect balance between work and leisure, and best of all – it doesn't have to drain your bank account.
Yet, you're hesitating. If you're among the one in four Americans who are remote workers, you might think that a workcation is financially out of reach or could disrupt your workflow.
According to a Harris poll reported by Axios, 74% of Americans working from home in 2021 were open to the idea of a workcation – but many are held back by these very fears.
I've been a digital nomad for nearly six years, working from all sorts of dreamy locations. A workcation is not just possible—it's a game-changer for your well-being and productivity.
Keep reading to discover how to plan the perfect workcation that seamlessly blends work and relaxation, all while keeping your budget intact.
8 tips to take a cheap workation
If the word "workation" sounds like an expensive venture, I'm here to show you how. You can absolutely plan an affordable workation that enriches your life and work. Let's jump into my tried-and-true tips for doing just that.
First up, let's talk about Noad Exchange. This is a game-changing platform for any remote worker looking to escape the routine without depleting their savings.
Noad Exchange is a membership-based home exchange network tailored specifically for digital nomads and remote workers like us.
Here's how it works: you pay an annual fee to join and earn credits primarily by allowing other members to stay in your home.
Each night someone stays at your place, you earn two credits. These credits can then be used to stay at other members' homes worldwide for just one credit per night.
Think of it as a win-win: your home isn't sitting idle while you're away, and you get to stay in a new location without the hotel bills.
The pricing is incredibly straightforward. After using your credits for the stay, all you're responsible for is the cleaning fee, which varies by location.
I browsed around, and some of the homes listed are BEAUTIFUL. Think, Ski chalets in France, luxury apartments with pools in Dubai, or cozy apartments in New York City with a view of the skyline. These are homes that would rent for hundreds a night!
Whether you're lodging in a charming Amsterdam canal-side flat or a luxe penthouse in a ski resort, the cost remains the same—one credit per night.
The real magic happens when you start renting out your own place. As you accumulate more credits, your average nightly cost decreases, making travel even more affordable. Essentially, just one house swap could easily offset your membership fee.
Plus, When you sign up for Noad Exchange, you get five travel credits free, and you can get 3 EXTRA travel credits by using the code ExploreLora!
With most homes listed for one credit, that's over a week of accommodation free just for listing your home!
While I've just signed up for Noad Exchange myself, the potential for unique and cheap workation experiences has me super excited.
If you're like me, always seeking new opportunities to combine work and travel without straining the budget, this is something you'll want to check out.
2. Choose an affordable destination
While you can get affordable stays through Noad Exchange, choosing a destination with a low cost of living can make your workation even cheaper, especially if you're accustomed to the living costs in the U.S. or Canada.
For example, while living in Chiang Mai Thailand (a digital nomad haven with great coworking spaces and delicious food), I was spending less than $1000 USD a month – including plenty of massages and dinners out with friends!
In places like this, not only will your money go further, but you'll also maintain a work-life balance that'll make you wonder why you didn't take a workation sooner.
3. Travel hack to save on flights
Okay, so we've got the accommodation and living expenses covered – but what about the flights? If you're going from the U.S. to Asia, it's not exactly cheap. But did you know there's a way you can fly for free?
Being based in Canada for a while, I got into the habit of collecting points and miles by signing up for multiple credit cards to get the bonus points. All that work paid off because I accumulated hundreds of thousands of points I'm still using to this day.
I've reached the point where I rarely shell out cash for international trips. Instead, I redeem the points I've accumulated. If you're American – even better! There are so many more credit options for those in the U.S. (I'm not jealous).
So, start gathering those points and miles now. The sooner you start, the sooner you'll be jet-setting around the globe without denting your wallet.
4. Choose alternate forms of transit
Opting for public transportation like metros and local buses is a greatway to save in cities. But if that's different from your style, Uber can be a wallet-friendly alternative in many countries.
For example, in Puerto Vallarta, you can grab an Uber for just $5 for a 20-minute ride. Either way, you're keeping your transportation costs minimal while exploring your new locale.
Biking and walking can also be ideal. I've used biking as my main form of transportation in small towns like Dahab, where a car really isn't necessary.
5. Cook Your Meals
Eating out all the time is tempting while you're traveling, but cooking at home is a real money-saver. Opt for accommodations with well-equipped kitchens to get creative with local ingredients. Noad Exchange has lots of listings with stacked kitchens.
Treat yourself occasionally, but remember that home-cooked meals are both healthier and cheaper in most places.
5. Utilize Co-working Spaces Efficiently
Instead of opting for daily passes, find coworking spaces that offer weekly or monthly rates. Many even offer free trials or discounted first-timer rates.
In places like Chiang Mai and Bali, coworking spaces are where I met some of my closest friends. Don't underestimate the community aspect!
6. Find Free Local Activities
You don't need to break the bank to explore your destination. Cities often have free walking tours, events, and beautiful nature spots. Digital nomad groups frequently organize free or low-cost activities, from hikes to tours.
While living in Bali, I had a blast exploring the island nearly every weekend with digital nomad pals. So, don't shy away from community get-togethers—they can also be a way to share costs!
7. Local SIM Over Roaming
International roaming can cost you an arm and a leg. A local SIM card can cut those costs significantly. An even simpler option? Airalo eSIM. It's the easiest way to get connected without the hassle and one of the best eSIMS on the market.
8. Off-Peak Travel
Traveling during the tourist season can cost you more in flights and accommodations. If your work life allows, aim for off-peak travel. Not only will you save money, but you'll also dodge the tourists.
How to Plan Your Workation
Clear it With Your Manager
First things first, make sure to clear your workation plans with your manager or team. Transparency is key, and ensuring everyone is on board will help you relax and focus on your workation without stress.
Decide on Your Destination
Your next step is picking the ideal spot for your workcation. Consider factors like time zones, internet speeds, and living costs.
Having spent years living and working in different corners of the globe, I've compiled a list of the best workation destinations in the next section of this guide.
Make Plans for Your Home
While you're away, your home could be making travel more accessible for someone else.
With Noad Exchange, you can list your home and earn travel credits for free stays in other members' homes. Use code ExploreLora for three extra travel credits when you sign up!
Set Clear Boundaries and Stay Productive
It's easy to blur the lines between work and leisure when you're in a new and exciting place. Establish a daily routine and set boundaries to ensure you remain productive. Trust me, setting a schedule makes a world of difference.
Enjoy!
Last but definitely not least, remember to enjoy your workation! After all, you've earned it. Take time to explore, indulge in local cuisine, and make some new friends in the digital nomad community.
Best Workation Destinations
If you're still scratching your head over where to jet off for your cheap workation, I've got you. These best places for a workstation are not only picturesque but also come equipped with strong WiFi, coworking spaces, and lively digital nomad communities. Yep, I've lived in all of these destinations.
Lisbon, Portugal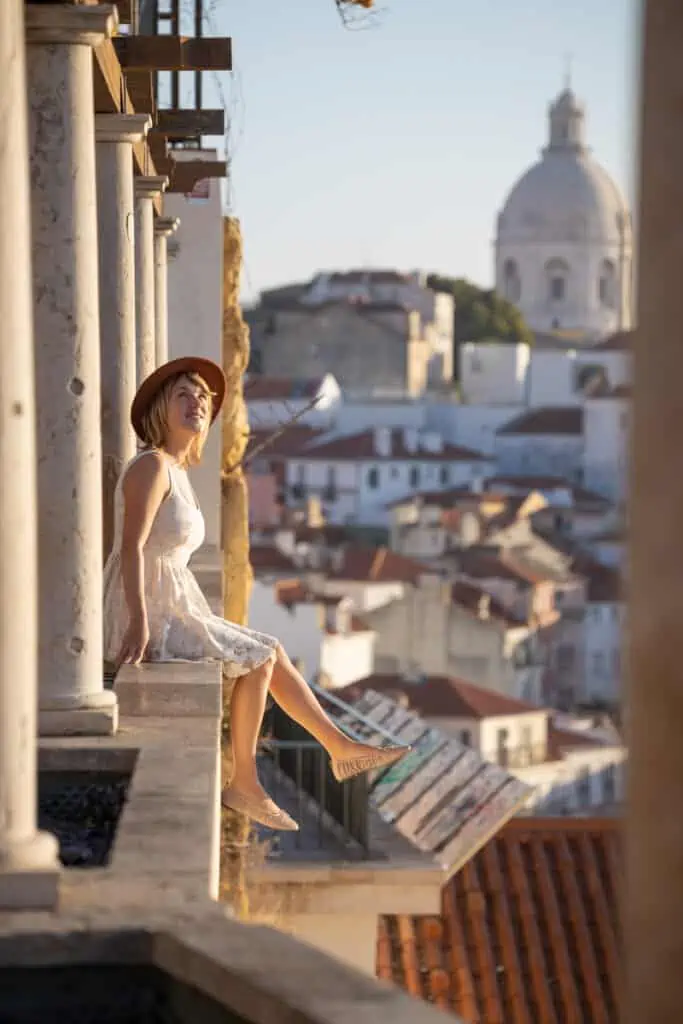 This coastal city is a haven for remote workers, blending old-world charm and modern conveniences like plenty of coworking spaces and cafes with high-speed internet.
It's got one of the strongest digital nomad communities in Europe, and many even say it's where digital nomads go to die because they never leave. I have felt that myself, as I almost moved to Lisbon permanently.
Puerto Vallarta, Mexico
This ocean-side locale gives you a perfect balance of work and play. Puerto Vallarta is where I decided to buy my first property, and I'm completely in love with it.
There's nothing like finishing up your workday and heading to the beach to play volleyball with friends, followed by a plate of fresh ceviche. The beaches, community, water activities.. there are so many reasons to move to Puerto Vallarta!
Bansko, Bulgaria
This Bulgarian town is becoming a digital nomad hotspot thanks to its mix of natural beauty, outdoor activities, growing nomad community, and affordability.
It's more popular during the winter when you can go skiing, but summer is also a beautiful time to visit Bulgaria. And if you go in June, you can take part in the Bansko nomad festival!
Tenerife, Spain
Offering year-round good weather and stunning landscapes, Tenerife is a magnet for digital nomads in Europe, with several vibrant coliving spaces and great outdoor adventures.
I lived in Tenerife in 2022 and loved the community, beaches, and hiking opportunities. The Canary's are volcanic islands, so the landscapes are stunning.
Chiang Mai, Thailand
Known as the digital nomad capital of the world, Chiang Mai offers an affordable cost of living without skimping on quality. From coworking spaces to delicious affordable cuisine and endless day trips, you'll find everything you need to work efficiently while soaking in a new culture. It's my favorite digital nomad destination in Asia!
Oaxaca City, Mexico
If you're looking to immerse yourself in Mexico's vibrant culture, this is the place for you. Oaxaca City is not only affordable but also offers a rich culinary scene and colorful markets that you'll adore. I loved spending time in Oaxaca last year!
Bali, Indonesia
Last but not least, who can resist the allure of Bali, Indonesia? This tropical paradise is more than just an Instagram-worthy spot; it's a haven for remote work. With a thriving digital nomad community and reasonable living costs, you'll find it easy to work and play in Bali.
Benefits of Taking a Workation
Visit Friends and Family
One of the sweetest perks of a workation is the chance to reconnect with loved ones. Since you're not tied to a specific location, you can choose to work near family or friends you haven't seen in a while.
Experience a Change in Scenery
A new backdrop can inject a fresh dose of inspiration into your work life. Even just the act of setting up your laptop in a different city can reinvigorate your workflow. I've felt the creative juices flow just by switching up my environment.
Explore a New City or Location
Being in a different location lets you play tourist during your off hours. You'll get to know new places, foods, and cultures, enriching your life experiences along the way.
Reduce Stress and Improve Mental Well-being
A change of scenery often comes with a much-needed mental reset. Ditching your regular routine, even briefly, can result in a significant stress reduction and overall improved mental well-being.
Mitigate Burnout
Workations can be an effective way to fight off job burnout. Switching up your work environment can recharge your batteries and renew your passion for what you do.
Tools for a successful workation
When it comes to a successful workation, your laptop isn't the only tech you'll need. A well-chosen set of digital tools can make your life much easier, helping you stay organized, focused, and connected.
Project Management: Asana or Trello
These platforms help you keep all your tasks in one place, allowing you to assign deadlines and collaborators. I've used both, and they're game changers for staying on top of projects while you're sipping coconut water on the beach.
Communication: Slack and Zoom
Slack is great for quick chats and team updates. Zoom calls are essential for those unavoidable video meetings. Both are user-friendly and have free versions.
VPN
Using a VPN is critical, especially when you're accessing sensitive information over unsecured public WiFi networks. I've been using NordVPN for years without a hitch.
Time Management
Apps like Be Focused or Focus Booster use the Pomodoro Technique to break your work into intervals, traditionally 25 minutes in length, separated by short breaks. This method has helped me focus intensely and accomplish more.
eSIM
Forget about expensive international roaming fees. Airalo offers eSIM data plans that are easy to set up and incredibly affordable. They can also serve as a backup if your internet drops out.
Laptop Stand
Don't underestimate the value of good ergonomics, even on a workation. A portable laptop stand elevates your device for a more comfortable typing and viewing angle.
Noise-canceling headphones
Noise-canceling headphones are a game-changer for a workation. They help you focus on your tasks by drowning out any background noise, whether you're in a bustling coffee shop or an airplane. I don't know how I lived so long without them.
Insurance
Don't overlook the importance of travel insurance. I've been using SafetyWing for years and can't recommend it enough for digital nomads.
It offers comprehensive coverage for health, travel delays, and now even covers your electronics. Having that peace of mind lets me focus on what I love—exploring new places and meeting new people, all while getting the job done.
FAQ: Cheap Workation
What is a workation?
A workation is a blend of work and vacation where you travel to a new destination but continue to work remotely.
How do you take a workation?
To take a workcation, first clear it with your manager or adjust your freelance schedule, then choose a destination and book your stay and travel arrangements.
Should you take a workation?
Absolutely, especially if you feel burnt out or stuck in a routine. A workation offers a refreshing change of scenery and can improve your overall well-being.
What is an example of a workation?
An example would be spending two weeks in Bali while working from a co-working space, allowing you to explore the island during your free time.
How much does Workcation cost?
How long is a workcation?
The length can vary, but most workcations last between one to four weeks.
Why is a workcation important?
A workation can combat burnout, provide new perspectives, and enhance your work-life balance
What is the disadvantage of workation?
One downside is the potential for blurred lines between work and leisure, which could impact your productivity or relaxation.
What are the different types of workation?
Types include rural retreats, city escapes, beach getaways, and even work-from-hotel options that some places offer.
What is the Workation policy?
Workation policies differ by company, so you'll need to check with your HR department for specifics
What is the difference between staycation and workation?
A staycation is a vacation spent at home, while a workation involves traveling to a new location and working remotely.
Final thoughts: Taking a workcation
Taking a workcation is more than just a buzzword; it's a lifestyle choice that combines the best of both worlds—work and vacation.
Start by clearing your schedule and getting the nod from your manager. Decide on your dream destination, and don't worry about leaving your home vacant—Noad Exchange has you covered.
Once you've touched down, a mix of planning and spontaneity is crucial. Create a routine that allows you to explore your new surroundings without compromising on productivity.
A workcation is your ticket to balancing work and leisure, and with savvy planning and the right digital tools, it's an experience that can be both enriching and budget-friendly.
Jumping into the remote work and travel lifestyle? Check out these guides!