This post may contain affiliate links. By clicking and making a purchase through the links, I earn a small commission at no extra cost to you. See my disclaimer for more information. This and display ads allow me to keep the site up to date and give back.
One of the best parts about remote work is that it can allow you to be location-independent – meaning you can work all over the world! But with so many places to choose from, you may be wondering where the best places for remote workers to live are.
To help you decide on your new home base, I've rounded up my favorites.
There are many things to consider before settling on the perfect place. Affordable cost of living, fast wifi connection, access to coworking spaces, and if there is an established expat or digital nomad community all play a role.
In this post, I have listed some of the best digital nomad destinations, considering the most important requirements remote workers need to manage a good work-life balance.
Since many companies in the United States do not give the opportunity to work remotely outside of the country, I have included a handful of domestic destinations to choose from at the end of this post.
Want free accommodation around the world with great workspaces? Sign up for Noad Exchange, a home-swapping platform for remote workers. Get 3 free credits when you use code ExploreLora!
Best places for remote workers to live in Latin America
Puerto Vallarta, Mexico
Mexico has become a mecca for digital nomads. There are many destinations to choose from, from the vibrant capital of Mexico City to the colorful and quaint San Miguel de Allende. But when it comes to the best places to live on the beach in Mexico, Puerto Vallarta is top of my list.
I moved here for the first time in 2020 and return every year. Not only is the expat and digital nomad community amazing, but Puerto Vallarta is surrounded by natural beauty. It offers an array of outdoor activities, from hiking to diving, where you can experience some of Mexico's best ecotourism.
There are also many fantastic day trips from Puerto Vallarta to nearby islands and villages. And did I mention the tropical temperatures and turquoise waters?
Combine that with great internet access, amazing cafés, affordable coworking spaces, and easy-to-get residency visas – there are many reasons to move to Puerto Vallarta.
Puerto Vallarta makes you instantly feel at home, which is why it's become one of my main digital nomad bases.
Best Facebook group: Puerto Vallarta digital nomads
Barbados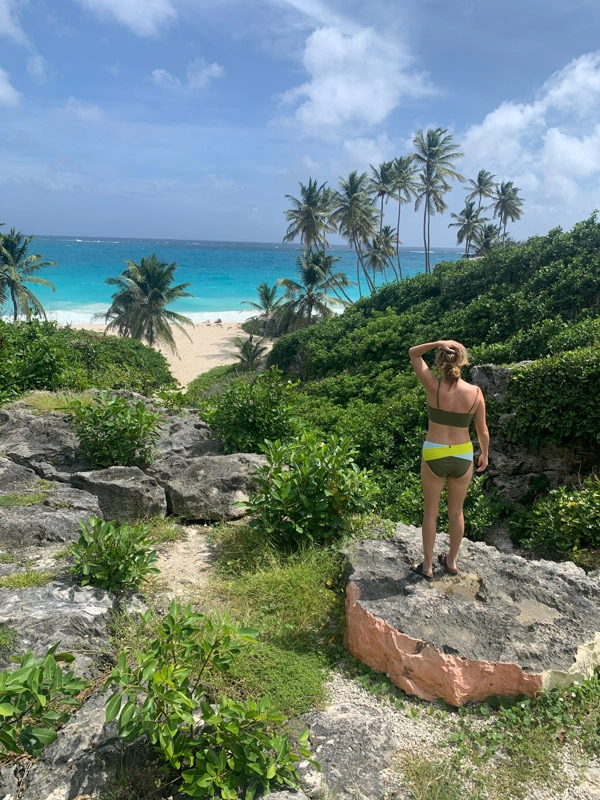 If you've ever dreamt of working remotely in the Caribbean, Barbados is one of the best islands to pick.
Since the island introduced the 'Welcome Stamp' visa, it's attracted many remote workers, creating a wonderful community.
But you don't even need to get the visa if you only plan to spend a few months, as Barbados has a three-month tourist visa for Americans and Canada that can be extended for another three.
Living in Barbados is a dream. Spend your days working from cafes by the sea, learn to surf after work, and dance all night to fantastic live music. It's just such a fun place to be!
Prices are comparable to living in the U.S. or Canada, so it's by no means the cheapest place to live on this list.
Best Facebook group: Barbados Welcome Stamp
Antigua, Guatemala
Antigua, Guatemala, is one of the most underrated places to live and work remotely.
With a rich history and culture, the city is not as busy as Latin America's big cities. Antigua is also a fairly safe city as foreigners are taken well care of.
Accommodation is affordable, and being a walkable city, you can easily get around without using public transport or taxis. There are also a whole lot of exciting things to do in your free time around Antigua. You only have to look up, and you will see one of the biggest attractions, Acatenango Volcano.
Generally, Antigua is not known for having great wifi-speed, but several coworking spaces have popped up in the last few years that offer a stable and fast internet connection.
Medellin, Colombia
Medellin, Colombia, has become one of the hottest digital nomad hot spots and a favorite among remote workers due to the lower cost of living.
There has been an influx in coworking spaces in the last few years as the demand has rocketed, so you can be assured that you will have a place to work with high-speed internet.
As with most South American countries, safety is a concern. But as long as you take precautions, avoid flashing your fancy jewelry, and do not walk in dark alleys at night, you are usually safe.
And for the guys, if a to-good-to-be-true beauty shows interest, it usually is too good to be true. Unfortunately, this is a frequent robbery scheme in Medellin, so better be aware!
With this in mind, Medellin is actually one of the best cities for remote workers in South America.
Best Facebook group: Digital Nomads Medellin
Best places to work remotely in Europe
Canary Islands, Spain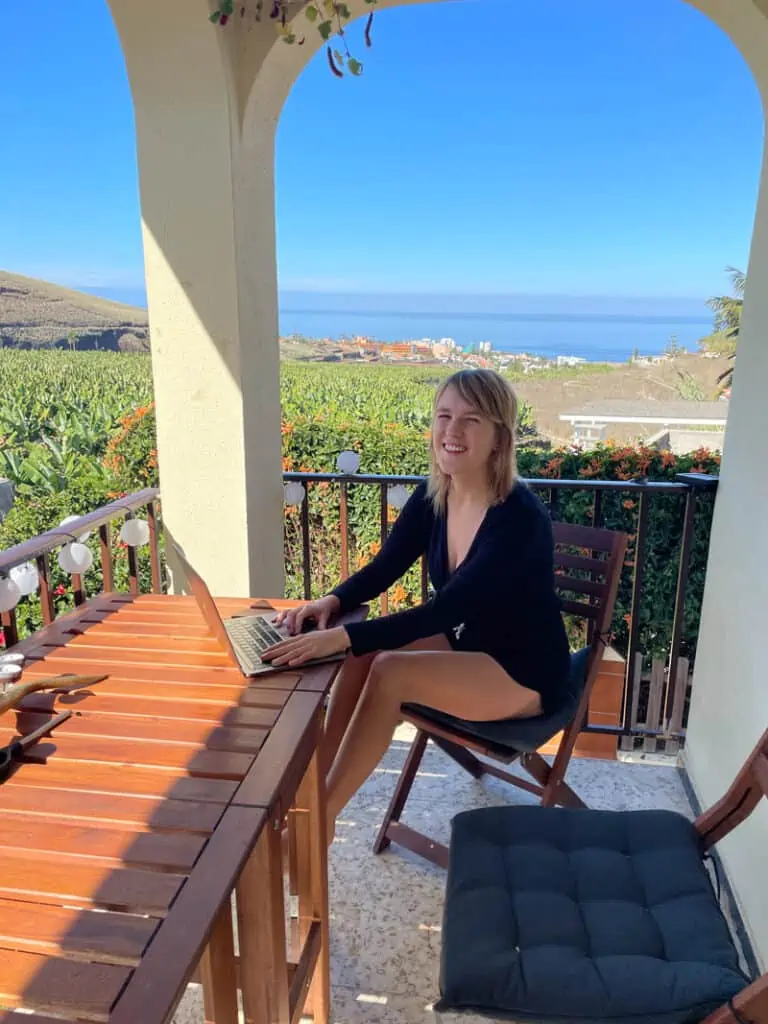 The Canary Islands, especially Gran Canaria and Tenerife, have welcomed remote workers for years. Being the only place with tropical winter temperatures in Europe, it is especially popular among digital nomads in the winter months.
It is one of the cheapest places to live in Europe, with a wonderful community of expats and remote workers. The internet connection is fast in the major cities, and there are more and more co-working spaces popping up.
The islands are heaven for outdoor lovers with an array of water sports on offer, as well as incredible hiking opportunities, but also a foodie paradise. With a cuisine that is a fusion of Spanish, Northern African, and South American, your taste buds will fall in love.
On top of that, Spain is introducing a Digital Nomad Visa in 2023, which will be beneficial to non-EU remote workers who can only stay in the Schengen zone for 90 days.
Best Facebook group: Tenerife Remote Workers & Digital Nomads
Lisbon, Portugal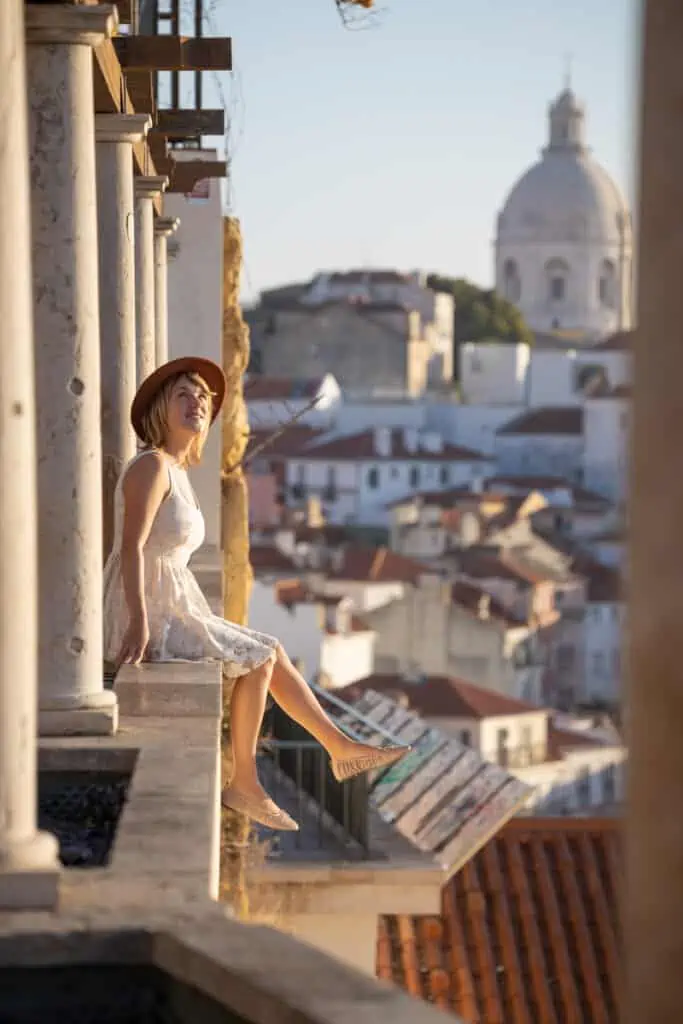 Portugal's quaint capital city has become a popular hot spot for remote workers in recent years, and the country offers different visas for remote workers to live and work there.
There is a lovely community of expats and digital nomads living in Lisbon, and there are endless cozy cafés to work from as well as coworking spaces with great internet speed.
Portugal also has a lower cost of living than many other European destinations, which makes it attractive for those who want to live and work in Europe.
Besides a charming aura and a whole heap of attractions, Lisbon is also situated close to a whole lot of wonderful places like Sintra, Cascais, and other charming beach towns.
Best Facebook group: Lisbon Digital Nomads & Expats
Tbilisi, Georgia
If you are looking for a truly affordable place to work in Europe, look no further than Tbilisi in Georgia.
The up and rising remote worker destination is rated among the cheapest cities in the world, and the fact that there are plenty of things to do, friendly people, and a growing expat community makes it noticeably attractive.
That said, internet speeds are not yet on the high end, and if you need a high-speed internet connection for video calls and uploading larger files, you might find it frustrating. Therefore, I suggest getting a SIM card with an unlimited plan, so you do not have to rely on Wi-Fi.
Nonetheless, Tbilisi is a great destination for anyone that wants an adventure and to explore a lesser saturated place among remote workers. It is also one of the easiest countries to obtain tax residency, and it is cheap too.
Best Facebook group: Tbilisi Digital Nomads
Budapest, Hungary
Another affordable place to live for remote workers is Budapest in Hungary. The dazzling capital city has attracted tourists and digital nomads for a long time for its beautiful scenery right on the Danube River, affordable cost of living, safe for tourists, and incredible thermal baths.
Budapest has fast internet, a whole lot of coworking spaces, and nice coffee shops to work from, and is often rated the best city in Europe for remote workers. It is easy to fall in love with the city and many remote workers and digital nomads end up staying longer than planned.
It is easy to find a one-bedroom apartment in Budapest for 380 USD a month with easy access to the top attractions and to public transportation. If you crave some outdoor recreation, you will find that Budapest is surrounded by nature. There are also a whole lot of beautiful parks in the city.
Best Facebook group: Budapest digital nomads
Bansko, Bulgaria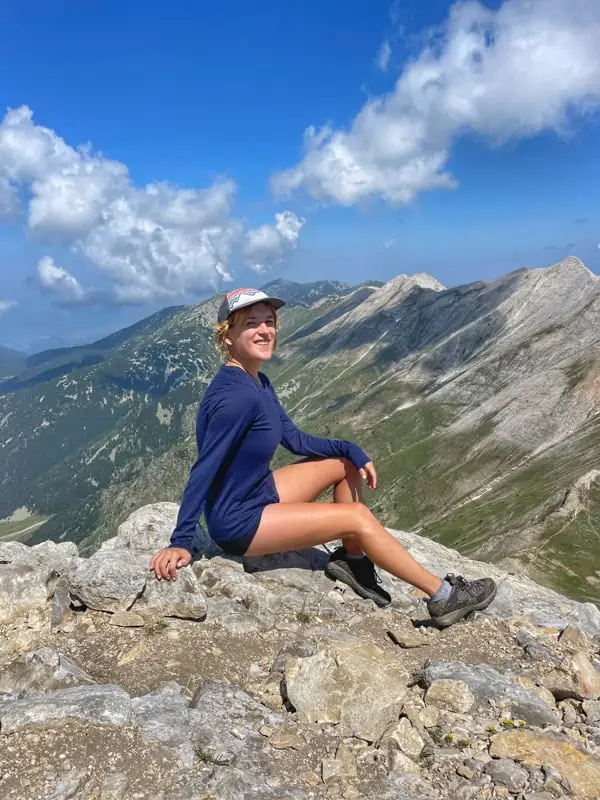 I would never have considered living in Bulgaria until I went to Bansko Nomad Fest last summer.
This small mountain town has become a hub for nomads in Eastern Europe, with the community mostly centered around Bansko Coworking. They have three locations around town, which is a great place to meet other digital nomads.
Bansko is a great place to be if you love the outdoors, with some of Europe's most beautiful mountain scenery. During the summer, you'll love hiking up the peaks or skiing down them in the winter.
It's also an incredibly affordable place to live, with apartments as low as 150 euros a month!
Best Facebook group: Coworking Bansko
Malaga, Spain
If Europe is on your radar, another wonderful place to work remotely is the coastal city of Malaga in southern Spain. The city is a wondrous melting pot of cultures, incredible food, and the perfect base for exploring the rest of Spain as well as Europe.
What attracts the vast majority of the many expats that call Malaga home is no doubt the weather and quality of life. With more than 320 days of sun a year, mild winters, and summers that are cooler than other cities in southern Spain, you can enjoy outdoor activities all year round.
Wifi is reliable and fast, and the number of coworking spaces and laptop-friendly cafes is growing fast. It's one of the cheapest places to live in Spain, especially compared to the larger cities in Spain like Barcelona and Madrid.
If you want to work from a small town for a day or two, there are many cute villages to choose from within an hour's drive.
Best Facebook group: Malaga Digital Nomads
Best places for digital nomads in Asia
Chiang Mai, Thailand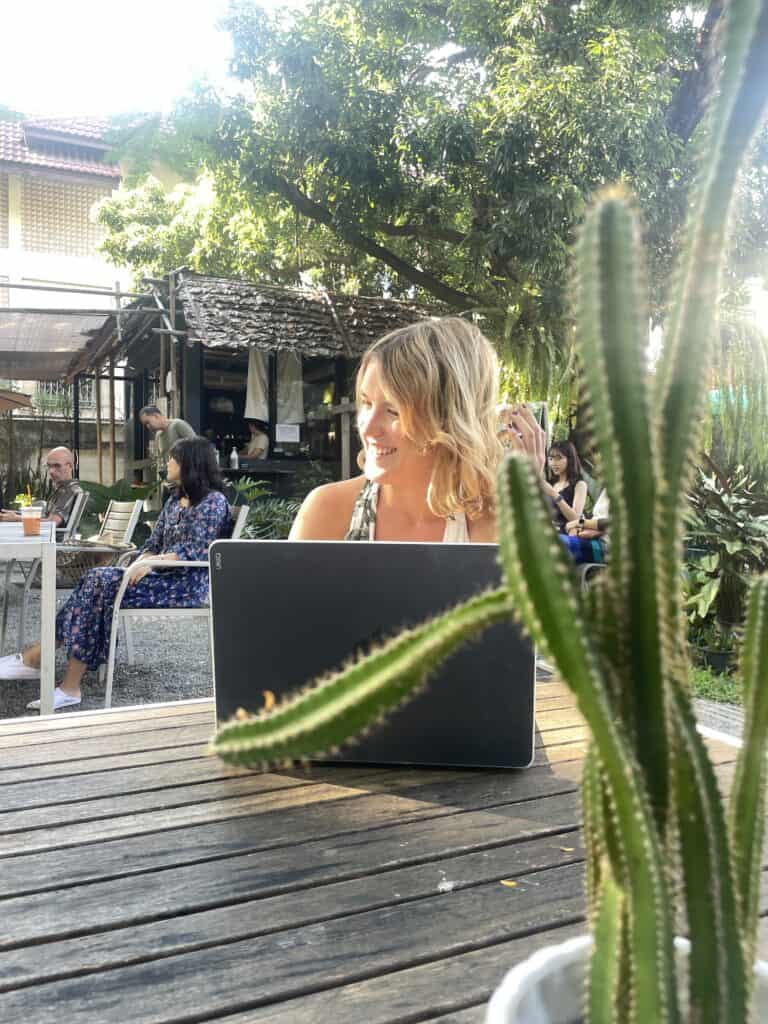 One of the top destinations for digital nomads in Thailand is the northern capital of culture, Chiang Mai. The city is jam-packed with temples, nature getaways, and exceptional food, with a large and welcoming expat community.
I moved to Chiang Mai at the end of the city and have fallen in love with the city. I even got my first tattoo here!
In Chiang Mai, you will find lovely coffee shops and coworking spaces to work from with high-speed internet connections.
Rent is affordable, and the cost of living is generally low, even if you like to enjoy the vibrant nightlife that Chiang Mai offers.
It is also affordable to rent a scooter to explore the surrounding natural wonders and hike to the many waterfalls. With some planning, you can live on less than 1000 USD/month in Chiang Mai.
On top of that, the city is an excellent base for traveling around northern Thailand.
The downside to living in Thailand is that there is no digital nomad visa. However, Canadians and Americans can get a tourist visa for 45 days which can be extended for another 30. After this, most people do a visa run to a neighboring country and return.
For new nomads looking for an easy place to move with a great community and low cost of living, Chiang Mai is easily one of the best places for remote workers to live.
Best Facebook group: Chiang Mai Digital Nomads
Bali, Indonesia
No list of places to live for remote workers is complete without mentioning Bali. The island group has long been a favorite among remote workers and digital nomads.
If you dream about working remotely from an attractive villa with an outdoor pool surrounded by palm trees, Bali will surely be a place to fulfill that dream.
There is no need to mention the thriving community of expat workers you can find in Bali. Wifi is fast, safety is not a concern, and the tropical weather is amazing.
Canggu is the most popular spot in Bali for digital nomads, although it was not my favorite. While it is an unbelievably convenient place to live (coffee shops, gyms, and parties everywhere), it also comes with the cost of terrible traffic and rising prices.
Uluwatu, in the south of the island, offers nicer beaches and is growing in popularity. Ubud is also a great place to live if you're looking for a spiritual community and easy access to nature.
Ho Chi Minh City, Vietnam
Another Southeast Asian place that is wonderful for remote workers is Ho Chi Minh City in Vietnam. Being close to Laos and Cambodia, it is a great base for travel in Southeast Asia.
Ho Chi Minh City offers fast wifi, succulent food, affordable living, and all over a fast pace as the largest and most populated city in Vietnam. The best way to get around is by motorbike, so you might as well buy a scooter like most people in the city. Or rent one for cheap when you need to get around.
When it comes to working remotely in Ho Chi Minh City, you will find a multifold of coworking spaces and work-friendly cafes. There is also a solid expat community to connect with, though generally, the people in Ho Chi Minh City are warm and welcoming to new faces.
Best Facebook group: Expats in Ho Chi Minh
Best places to live and work remotely in Africa
Dahab, Egypt
Egypt for digital nomads? It's not a place that crossed my mind either until I spent some time living in Dahab last winter.
Dahab might be one of the most underrated places for remote workers to live. It's situated on the Red Sea and is a hub for scuba diving and freediving, as well as kitesurfing and hiking in nearby mountains.
The main strip is lined with cute cafes where you can work all day, eat fantastic food for a few dollars, and jump into the ocean during your lunch break.
The vibe in Dahab is simply amazing. I felt instantly welcomed by the community, including the locals which is not always the case. It was Dahab that gave me the confidence to travel Egypt as a solo female traveler.
Best Facebook group: Dahab digital nomads
Best places for remote workers to live in the U.S.
San Diego, USA
California is generally known for its high cost of living, but if this is not an issue, San Diego is a great place to live as a remote worker in the sunshine state.
The laid-back vibes and beach culture attract numerous remote workers and nomads, especially those who love outdoor activities like surfing. San Diego is jam-packed with nomad meet-ups and activities you can join to meet other remote workers.
You can find coworking spaces and cafes to work from in San Diego, though you can save a lot by working from your home office and making your own morning coffee and lunch – at least some days a week.
Situated in the far south of the United States, you can reach Mexico in less than an hour, which makes for a great escapade in your free time – or even to work away for a few days.
On top of that, California is home to some of the most epic national parks in the country, so if you have not explored them yet, you have a good excuse to live in San Diego for a while.
Miami, USA
Another sunkissed coastal city to consider moving to as a remote worker is Miami. Situated within a short flight from several Caribbean islands, it is a perfect place to live for outdoor lovers, with Everglades National Park right at the doorstep.
With a vibrant nightlife, golden beaches, and a great nomad community, Miami turns out to be one of the best destinations for remote workers that embrace a laid-back lifestyle.
You can also enjoy a vast influence from South America, which makes Miami even more exotic.
Miami is also a city on the higher end when it comes to the cost of living, though you can save a bit by searching for a roommate or even staying in the suburbs.
Boston, USA
If you are looking for a place to work remotely on the east coast of the United States, Boston is a great choice. The city has everything from fine dining to rooftop bars with a view. A spectacular harbor and some of the oldest architecture in the United States.
This gives Boston the perfect mishmash between modern and quaint, which so many of us love. There is nothing to say about the quality of life in Boston, with a good public transportation network, though the cost of living is generally higher than in other destinations on this list.
New Orleans, USA
Another U.S. city that makes the list of the best places to work remotely is New Orleans. The vibrant city is famed for its jazz scene and live music venues, but there is so much more to do in New Orleans that you will not be bored. Cafés and coworking spaces are available in abundance.
More and more young professionals choose the city as a base for remote work as the cost of living is slightly lower than other North American destinations.
But one of the top draws, besides the cost of living and the exceptional music scene, is the great food that you find in New Orleans. A delicious fusion of Caribbean, European, and African-American will make your tastebuds dance.
Austin, USA
Austin, Texas, is a popular hot spot for remote workers within the United States. Famed for its amazing food, vibrant nightlife, and warm temperatures, Austin is a great city to live in. After spending the weekend in Austin, I considered moving there!
The city is easy to get around by bike and public transport, and the cost of living is lower than other popular remote working destinations in the country.
There is a wealth of laptop-friendly coffee shops and coworking spaces to work from with reliable internet connections. There is also a large community of remote workers and digital nomads in the city, which embraces the young culture of the city.
The warm weather also makes Austin an extremely attractive city for outdoor activities, with plenty of public parks and water activities in the Colorado River.
—
We all have different needs and things we prefer when we move somewhere new. If it is familiarity, staying in the country or in a country with a similar culture might be crucial. Others might crave the unknown, culture shocks, and off-the-beaten-path destinations.
Besides, your line of work might affect the destination you choose. Maybe you must stay within the United States, maybe you must stay in a similar time zone due to working hours, or you need a reliable high-speed internet connection at all times to maintain the quality of your work.
Looking at all these amazing places to live while working remotely, I hope you found a few places that resonate with you.
There are many things to take into consideration before moving to a new place to work remotely, which makes it so awesome that there is such a vast variety of places to choose from.
Jumping into the digital nomad lifestyle? Don't miss these guides!