This post may contain affiliate links. By clicking and making a purchase through the links, I earn a small commission at no extra cost to you. See my disclaimer for more information. This and display ads allow me to keep the site up to date and give back.
Living in Bali has become somewhat of a right of passage for digital nomads. After two years of lockdowns, I finally had the chance to live as a digital nomad in Bali and see what all the hype is about.
Known for its natural beauty, large nomad community, and affordable cost of living, Bali offers a unique blend of traditional and modern living.
It's become one of the most popular destinations for remote workers, but its popularity has also led to some major downsides, like increased pollution, traffic, and other strains on the island.
This guide will take you through everything you need to know about living in Bali Indonesia as a digital nomad.
We'll go over the pros and cons, cost of living, the best areas to live, visa requirements, ways to find community, and more tips for making the most of your time on the island.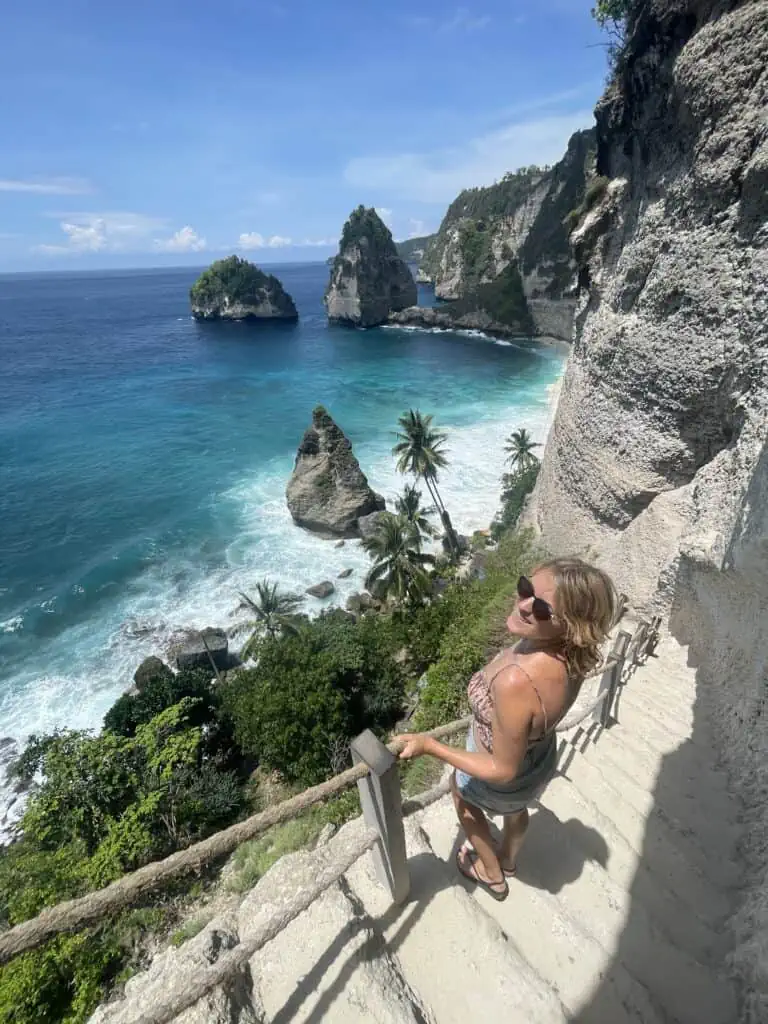 Why live in Bali?
Bali is a beautiful tropical island that offers digital nomads a high quality of life. It's probably the most convenient place I've ever lived in terms of amenities.
You can have a delicious meal delivered to you for just a couple of dollars, you can't walk two minutes without running into a coworking cafe in Canggu, and there are endless meetups to network and party with other nomads.
Here are some of the highlights that Bali has to offer.
Surf and outdoor adventure
One of the main attractions for many nomads is that Bali is a world-class surfing destination. There are options for both beginners and experienced surfers, including plenty of surf camps. Bali hosts a world-famous surf competition every year where you can see some of the best compete!
The island is a paradise for outdoor adventures. You can go hiking up volcanoes and sliding down waterfall slides all on the same day. The diving around Indonesia is some of the best in the world – especially with the manta rays in Nusa Penida which you can visit as a day trip from Bali.
Stunning landscapes
Bali offers beautiful and diverse landscapes, such as rice terraces, waterfalls, and lush jungles, making it perfect for all kinds of adventures.
There's no shortage of photo ops in Bali, evident by its popularity on Instagram. However, be prepared to wait in line or pay a fee for some of the most popular photo spots – some locals have really monetized the islands beauty.
Great weather
Bali a tropical island with a humid climate, so it's an ideal destination if you're like me and love to chase summer year-round.
Yoga, wellness, and spirituality
Bali is a popular destination for yoga and wellness retreats, with many yoga classes, studios, and retreat centers. Known as the island of the gods, Bali has a certain magic about it and is a place many come to explore their spirituality.
Bali's wellness community is huge, making it easy to live a healthy lifestyle and find classes and groups to stay active with.
It's also very easy to eat healthy in Bali, especially living in Canggu. This is because there are so many health restaurants to choose from, many of which include nutritional information and protein intake on the menu. Fresh fruit is also abundant.
Cultural and historical sites
Bali is home to many beautiful temples and traditional Balinese ceremonies, such as the Kecak fire dance.
Nightlife and entertainment
You won't find yourself getting bored when it comes to nightlife in Bali. In Seminyak, you can find clubs and bars with promotions every night of the week that make it possible to drink for free (or at least, very cheaply).
Beach bars in Bali are next level. Many digital nomads hang out at Finn's recreation club after work, and further south in Uluwatu, you'll find one of Southeast Asia's most famous clubs – Savaya. They host some big-name DJs, which is reason alone to love living here.
Fast Internet and coworking spaces
Bali has fast, reliable internet connections throughout most of the island as well as 4G data.
There are endless coworking spaces and cafes to work from, especially in Canggu. In every cafe you walk into you'll see laptops open, and coworking spaces and events make it easy to find friends to work with.
Nomad community
Speaking of friends, one of the reasons so many remote workers love Bali is because of the large community.
On the Bali Digital Nomads Facebook page, there are over 45,000 members! It's one of the largest digital nomad communities in the world, and you can find multiple meetups every day of the week.
This makes it easy to integrate into the community. Whether you're looking for fellow yogis, friends to surf with, clubbing companions, or someone to play board games with – you'll find it in Bali.
The local people are also generally very kind and welcoming to the community.
Affordable luxuries
Luxuries like private villas with pools and daily massages that would cost a fortune at home are available in Bali for a fraction of the price.
Pros and cons of living in Bali
Pros:
While prices have gone up, Bali still offers an affordable cost of living, especially compared to digital nomad destinations in Europe and North America.
Known for its beautiful beaches, lush jungles, waterfalls, and rice terraces, Bali has breathtaking natural scenery and is a content creators' paradise.
Friendly culture: Balinese people are known for being welcoming and friendly towards visitors.
Diverse activities: Bali offers a wide range of activities, from surfing and yoga to cultural and historical sites.
Huge digital nomad community with lots of events, making it easy to make friends.
Cons:
Crowded: Bali has become a popular tourist destination, leading to overcrowding in some areas. While visiting Nusa Penida, I was shocked at how crowded the beaches were compared to what it was made to be on social media.
Traffic in touristy areas can be congested, making it difficult to get around.
Environmental degradation: Bali's rapid growth and development have led to environmental issues such as pollution and deforestation.
Visa restrictions: As a digital nomad, you may have trouble getting a long-term visa. Most digital nomads have to do a visa run every 60 days.
Bali belly is real, and you will probably get sick at least once (I got sick twice during my time there)
A lot of tourists who come here are obnoxious and disrespectful to the island, and it can be annoying being around them.
Cost of living in Bali
The cost of living in Bali can vary depending on your lifestyle, dramatically. While you can live in Bali quite affordably, plenty of people here spend thousands and thousands of dollars on villas and gym memberships (some high-end gyms cost 300 USD per month)!
How much money you spend will depend on the western luxuries you want there, and what area you decide to live in.
If you rent a room from a homestay or stay in a hostel, eat local food like nasi goreng from Warungs, and minimize your spending on booze and tours, you could live in Bali on a tight budget of under 1,000 USD a month. This is especially true if you choose an area outside of Seminyak, Canggu, or Ubud.
On average, you can expect to spend around $1,000 – $1,500 per month on accommodation, food and water (you can't drink the tap water), transportation, and other expenses.
This includes a mid-range apartment in a central location or staying in guesthouses, food at local restaurants, and activities and excursions.
Your biggest expense will likely be rent, but the value of what you get can be phenomenal in Bali. Gorgeous villas with outdoor pools that cost thousands at home are actually attainable here, especially if you split the cost with a group of friends.
Nomadlist says the highest cost of living in Bali is Canggu and Ubud, at just over 1900 USD/per month. The lowest cost place listed is Seseh, at just over 500 USD/per month.
Best place to live in Bali as a digital nomad
Canggu
Canggu is a popular community known for its surfing, parties, and wide range of coworking spaces and cafes, such as Dojo, The 5lements, and The Slow. The Canggu community is one of the biggest in Bali.
It offers a wide selection of affordable accommodation options, including villas, apartments, homestays, and hostels. It also has a wide range of food options, from local warungs to upscale restaurants and plenty of bars and coffee shops.
One of the big downsides to Canggu is that it's crowded, and the traffic is horrible, especially during peak tourist season (which seems to be all year now).
Overall, I thought Canggu was pretty ugly. It has black sand beaches, but they are full of trash. There aren't many attractions or beautiful sights in Canggu; you have to drive away from the city to see the beautiful landscapes Bali is known for.
Still, many digital nomads and expats live in Canggu. This is mostly because of the large community there and that it's an incredibly convenient place to live with all the western comforts you could want. Big clubs, western restaurants, high-end gyms, beautiful cafes, and plenty of coworking spaces.
Seminyak
Seminyak offers a more upscale atmosphere and a good variety of cafes and coworking spaces, such as The Work Room, The Elephant, and The Junction.
It's a great place for those looking for nightlife, with many bars and nightclubs. It also has a wide range of accommodation options, from budget-friendly homestays to luxurious villas.
However, it can be quite crowded and busy, especially during peak tourist season.
Seminyak and Canggu are close enough together that you can live in one and still enjoy the amenities of the other on a regular basis.
Ubud
Known for its yoga and wellness scene, Ubud is a quieter, more traditional town surrounded by rice fields and forests. It has many coworking spaces and cafes like The Yoga Barn, Hubud, and Seniman Coffee Studio.
It is also known for its cultural and traditional activities, temples, and ceremonies. Ubud is a great option for those looking for a more peaceful and authentic Balinese experience, or if you're looking to be closer to nature.
On the downside, it can be more expensive than other areas and may not have as many nightlife options. During the rainy season, it's also much wetter in Ubud compared to other areas due to its location.
Sanur
This coastal town is a bit more laid back and less crowded than other tourist areas, and it's well known for its beach, which is good for swimming. You can also find coworking spaces and cafes like LaFave, Bali Beach Shack, and Blue Sail.
Sanur is also a great option for those looking for a more traditional and authentic Balinese experience. However, it may not have as many nightlife options as other areas, and the beach can be quite crowded during peak tourist season.
Uluwatu
This was my favorite area in Bali. Unlike Canggu, it has beautiful sandy white sand beaches with great surf. While the community here is not as large, it's growing by the day as Uluwatu becomes more popular.
As you can see, each area has its own unique atmosphere and characteristics. It's important to consider your lifestyle and preferences when choosing where to live in Bali.
If you're new to Bali, visit a few different areas before making a final decision. This way, you can get a sense of what each area has to offer and what feels like the best fit for you.
Getting around Bali
The best way to get around Bali is on a motorbike, as the traffic is so bad a car will take twice as long (if not more). On a motorbike, you can weave in and out of traffic.
If you aren't comfortable driving, you can hire motorbike taxi drivers through the Grab and GoJek app. It's very affordable here – a half hour is just a couple of dollars.
There are also plenty of shuttles and tours to take you between tourist areas on the island.
Tips on finding long-term accommodation
When looking for long-term accommodation in Bali, there are a few things to keep in mind:
Look for accommodations that are offered for a minimum of three months, as this is the usual requirement for getting a monthly rate.
When signing a lease, be prepared to pay a deposit, usually one month's rent.
Be aware that most accommodations in Bali do not include utility bills, so you will have to pay for electricity and water separately.
Look for apartments or villas managed by a reputable company, as they are more likely to be well-maintained and have reliable utilities.
Consider sharing an apartment or a villa with other digital nomads to save on costs.
If you're in Bali for a shorter period, you can find pretty good deals on Booking.com and Agoda. I stayed in a combination of hotels, villas, and guesthouses during my time there which was 25 USD a night on average.
While I could have saved money by getting a longer-term place, I appreciated the flexibility of being able to come and go as I wanted to visit other parts of Indonesia.
Internet in Bali
Internet access in Bali is generally good, but it can vary depending on your location. If you're living in a tourist area like Canggu and Ubud, you're likely have access to fast, reliable internet wherever you are staying, and definitely in the coworkings. I never had any issues while I was there.
The internet may be slower and less reliable if you're living in a more rural area. Most accommodations in Bali will offer internet, but it's best to check the speed and reliability before you move in. Ask the host to send you a screenshot of the internet before you commit to a place.
It's always good to get a SIM card as a backup. Bali has 4G service throughout much of the island, and data is very cheap.
Bali Digital Nomad Visa
Most remote workers in Bali are on a tourist visa which is valid for 30 days, and can be extended for an additional 30 days through a visa agency. It's around 65 USD to do a visa extension. Canadians and Americans can get a tourist visa on arrival for 25 USD.
After 60 days, most nomads do visa runs by leaving and reentering the country, as it is challenging to get a long-term visa. Since Bali is an island, many people fly to Kuala Lumpur to do their visa run.
I don't recommend overstaying your tourist visa, as the penalty is 65 USD per day. And yes, they will bill you even if it's just a day!
The good news is that the Indonesian government is creating a digital nomad visa that will allow foreigners to stay in Bali for up to five years. However, specifics on how this will be implemented are not clear yet.
It's important to note that visa regulations can change frequently, so it's best to check with the Indonesian embassy or consulate for the most up-to-date information.
Additionally, it's important to keep an eye on the COVID-19 restrictions and rules for entering the country and also make sure to take into account the health & safety measures that might affect your travel plan and your stay in Bali.
You can see below what it was like entering Bali on a tourist visa in October 2022.
How to find community in Bali
Bali has a large digital nomad and expat community, so it's easy to find like-minded people to connect with. One of the best places to start is the Facebook groups below:
Digital Nomads Bali and Bali Expats & Community are great resources for finding information and connecting with others. Some of the posts are also pretty entertaining. You can also find specific groups for popular areas like Canggu and Ubud.
Nomeo.io is one of the best places to find community in Bali. It was created by two digital nomads living on the island and is a place where you can post and find events.
I went on a hike to Mount Batur that I found through Nomeo on my third day in Bali, which is how I met my main group of friends! After that, we went on trips to the north of Bali, Uluwatu, Gili T, and East Java.
They also list all the main WhatsApp groups, which is the best way to find out about the events while you're there. However, the groups can be overwhelming with hundreds of messages a day, so I don't recommend joining them until you're on the island (and putting them on silent to save your sanity).
Meetup groups such as "Professional Networking in Bali" or "Nomad List Meetups" are also a great way to find events and activities in your area. Additionally, coworking spaces and cafes often host events and meetups, providing a great opportunity to connect with others in the community.
Best time to live in Bali
The best time to live in Bali largely depends on the type of experience you're looking for. The peak tourist season, or dry season, is from June to August and December to January. The weather is generally dry and sunny during this time, but it's also more crowded and expensive.
These months tend to be the busiest and the most popular among tourists, making it difficult to find accommodation, and the prices for housing, food, and activities may be higher than usual.
The shoulder seasons, or rainy season, from September to November and February to April, offer a more comfortable temperature and fewer crowds, making it a great time to explore the island.
The crowds are not as thick as peak season, and the prices are also slightly more reasonable. However, these are the wettest months, so keep in mind that it might not be the best time to enjoy the beach or outdoor activities as much.
Bali has become so popular and busy that it felt extremely crowded even though I was there during the "off-season" in October and November. I can't imagine what it's like during peak season!
Medical insurance for Bali
As a digital nomad, you should have international health insurance that covers you everywhere, and Bali is no exception.
Motorbike accidents are more than common here, and there are risks of other tropical diseases like dengue fever. Monkey bites are also fairly common, and I heard that they were airlifting people to Singapore due to a shortage of the rabies vaccine.
This is NOT cheap, but travel insurance will cover you. I use and love SafetyWing, insurance made for digital nomads. You can read my review of SafetyWing here and get a quote below.
Cultural customs and etiquette
Bali has a rich and unique culture, and it's important to understand and respect local customs and etiquette. For example, when visiting temples, it's important to dress modestly, cover your shoulders and legs, and remove your shoes.
Additionally, it's important to be aware that Balinese society is generally conservative, and public displays of affection are not accepted.
Also, it's worth noting that the Balinese Hindu calendar is filled with ceremonies and rituals, which can affect transportation and the availability of certain services, so be aware and respectful of those times.
Giving back in Bali
Many people who travel to Bali also look to give back to the community in some way. One way is by volunteering at local schools and educational centers, teaching English or other skills.
Additionally, there are several environmental and conservation projects in Bali where you can contribute by participating in beach clean-ups, teaching sustainable living practices, or helping with wildlife conservation.
Another way to contribute positively is by supporting local social enterprises, and buying products and services from businesses that invest in community development and fair trade.
—
Bali is a vibrant destination that has a lot to offer for digital nomads. The combination of stunning landscapes, a friendly culture, and a relatively low cost of living make it an attractive place to live and work.
However, social media makes it out to be that it is a perfect paradise – and many people come here only to be disappointed with the excessive crowds, traffic, pollution, and mass tourism.
Overall, I had mixed feelings about Bali. I can absolutely see why people love living here – it's convenient, beautiful, and full of fun things to do. But I had more than one "Instagram vs. reality" moment while living here, and I know many other nomads who felt this way too.
I wish I could have lived in Bali a few years ago – I couldn't help but feel that the best days are behind it.
I did enjoy my time here, but I wouldn't put it at the top of my list of places to live. However, many do. Like any place, you should go and see for yourself – Bali still has a lot to offer; just know that it may not be everything you expect.
Bali not your jam? Check out what it's like living in these other digital nomad destinations!