This post may contain affiliate links. By clicking and making a purchase through the links, I earn a small commission at no extra cost to you. See my disclaimer for more information. This and display ads allow me to keep the site up to date and give back.
If you're looking for the best day trips from Chiang Mai, you're in the right place as I have been living here for the last few months, exploring the surrounding area every weekend.
While there is plenty to do in Chiang Mai, like visiting the 300+ temples or wandering the markets, it's also an excellent base for exploring other parts of Northern Thailand.
As the cultural capital of Thailand, there are many temples and immersive cultural experiences nearby.
It's also a paradise for adventure travel, surrounded by waterfalls, elephant sanctuaries, and magnificent mountains, including Thailand's highest peak.
I've rounded up the best Chiang Mai day trips in this travel guide to help you plan an amazing trip!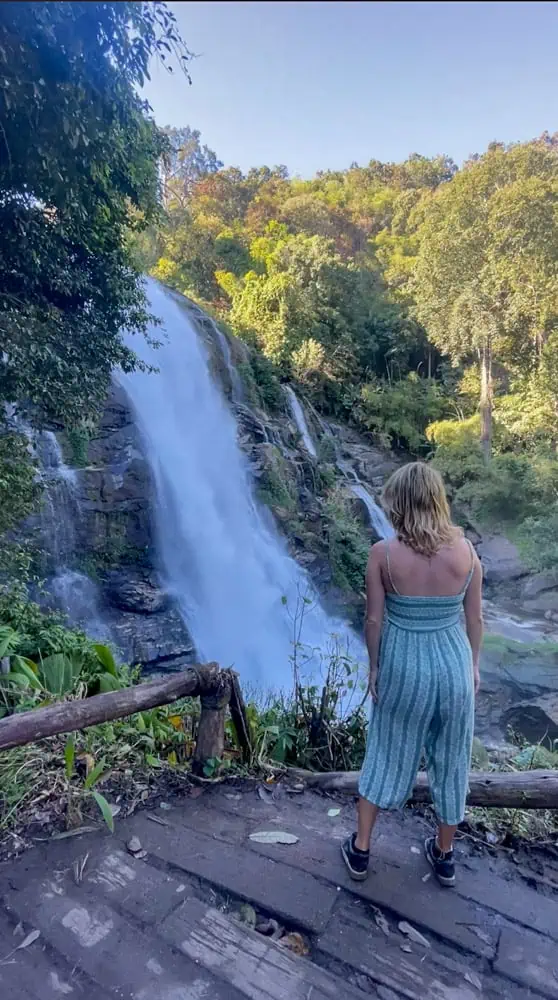 Doi Inthanon National Park is one of the most popular day trips from Chiang Mai. It's about a 1.5-hour drive from the city center.
This national park covers a whopping 248,341 acres! It's home to Thailand's highest mountain, Mount Inathon, at 8,000 above sea level.
Due to the park's elevation, the weather is much cooler in Doi Inthanon all year (during December, it was 15 degrees in the day). This is a nice break from the heat of Chiang Mai and is a great temperature for hiking through the many trails.
One of the best times to visit is early in the morning when the fog is rolling down from the mountain into the plains below.
The Great Holy Relics Pagodas are the main attraction in the park. Not only are these two purple pagodas one of the most unique temples to see in Thailand, but they are surrounded by breathtaking scenery perched on the mountaintop.
The pagodas are surrounded by colorful fields of flowers with a backdrop of mountain ranges stretching as far as Myanmar. It felt like I was walking through a fairytale!
The cost to enter the park is ฿300 (9 USD) for adults and ฿100 to enter the temple.
Getting there
To get to Doi Inthanon from Chiang Mai, you can rent a car or motorbike, book a full day taxi service or hop in a shared songthaew (red truck taxi) heading in the direction of the park.
The drive follows the highway and then up a well-paved (but long) winding road to the park. You may want to take a motion tablet in advance if you're prone to car sickness.
Alternatively, there are several day tours from Chiang Mai, which is a more comfortable way to visit.
While Doi Inthanon is a fantastic day trip, you could also make it an overnight trip and stay nearby in the mountains.
We spent the night at Wild Beat Glamping which made for a fantastic weekend.
It's a beautiful campsite with large glamping tents and extremely comfortable mattresses inside! The scenery around the campsite is gorgeous, and the staff were so lovely to us.
A day trip to Chiang Rai from Chiang Mai is a must-do for any traveler looking to explore Northern Thailand's natural beauty and culture.
The route to Chiang Rai is full of stunning views and is easily accessible by public bus or day tours.
Start your day in Chiang Rai by visiting the White Temple (Wat Rong Khun), the most popular attraction in the city.
During the day, the light causes the temple to sparkle, which I've never seen before. Make sure to wear sunscreen because the temple's reflection will give you a mean sunburn!
The temple was designed and constructed by Chalermchai Kositpipat in 1997, who believed building it would grant him immortal life. In total, the temple cost around 1.080 million baht to construct.
Saying to be an offering to the Lord Buddha himself, the temple is full of symbolism and meaning.
The bridge, which you can see depicted in any photo of the temple, symbolizes "the cycle of rebirth," a common belief in Buddhism.
Next to the white temple is an ornate, gold restroom. This is said to represent the body and all worldly desires. With Kositpipat's white temple situated just next to the golden structure, he tries to remind us not to be tempted by material possession and, instead, focus on making merit.
The temple is open every day from 8:00 am to 5 pm. It costs ฿50 (1.50) to enter for foreigners.
While visiting temples, always cover your shoulders and knees, remove any hats and shoes before entering, and avoid pointing your feed at the Buddha.
Afterward, you can visit the blue temple, relax in the natural hot springs, explore the local markets, take a scenic drive through the countryside, or join a cooking class.
Getting to Chiang Rai from Chiang Mai
You can do a DIY trip to Chiang Rai by taking the public bus, or the easier option is to join a guided tour that will take you to the main highlights.
The drive takes about three hours each way, so it makes for a long day.
Rather than drive back and forth on the same day, I spent the night at this hotel which was so peaceful. They have cozy cabins on the river bank, with a nice outdoor pool and breakfast.
Staying overnights gave us two days to explore Chiang Rai, which felt like the right amount of time.
The Golden Triangle marks where Thailand, Laos, and Myanmar officially meet at the Ruak and Mekong rivers. So, if you're at the Golden Triangle, you're technically in three countries at once!
Since the 1950s, this area has been one of the largest in the world for producing opium which you can learn about at the Hall of Opium museum.
If you want to visit the Golden Triangle, you'll need to take a boat since the convergence of the three countries is in the middle of the river. There are several group tours you can take from Chiang Mai – most combine it with the temples of Chiang Rai.
4. Visit an elephant sanctuary
One of the most popular Chiang Mai day trips is visiting the elephant sanctuaries, which are about an hour outside the city.
Some of these "sanctuaries" are actually elephant camps that offer riding. Please don't do this, as these elephants are abused for tourism. You can learn more about this in this guide to ethical elephant sanctuaries.
Elephant Nature Park is the largest and most popular ethical sanctuary near Chiang Mai.
Located just an hour from the city, this sanctuary is home to more than 70 elephants rescued from the tourism, logging, and entertainment industries. It's received several awards and recognition for its work.
Visitors can observe and interact with the elephants in their natural habitat and participate in feeding and bathing them.
Day visits include transportation from Chiang Mai, but you can also drive there via motorbike. However, you need to make an appointment to visit, and they do not accept walk-ins. I know from personal experience!
Elephant Love is another sanctuary nearby, which is where we went instead. They only have three elephants, but the experience is very intimate.
You'll get to feed the elephants, walk them down the river, and help them bathe. It ended up being a happy mistake, as I loved my time at Elephant Love. They are a great alternative to Elephant Nature Park.
One of my most memorable day trips from Chiang Mai was getting a Sak Yant tattoo.
This unique form of tattoo has been practiced by Thai people for centuries and is a profoundly spiritual and religious experience.
The tattoos are done by monks or ajarns (tattoo masters) using a bamboo needle to create intricate designs that have meaning and magical properties.
I organized my Sak Yant experience through this company and couldn't have been happier with the experience.
The tour came with a knowledgeable local guide who acted as a translator between me and the Ajarn, which meant he could truly understand what I wanted to get from the tattoo.
Wat Phra Thai Doi Suthep, or Doi Suthep for short, is the most popular temple near Chiang Mai. It's located in Doi Suthep-Pui National Park.
It's said that everyone who comes to the city must visit the Doi Suthep temple to bring them good luck and fortune.
A staircase of nearly 300 steps leads to the temple, with dragon statues on either side as guardians. When I visited, a friendly guard dog was also at the top. He kindly let me pass after some cuddles!
This beautiful temple is perched on a mountain overlooking the city, and the views are breathtaking from the top. One of the best times to go is s at sunset!
The temple is home to a sacred relic said to be part of the shoulder bone of Buddha, and it is an important place of pilgrimage for Buddhists. Be sure to explore the grounds and admire the ornate architecture and artworks.
The temple is open every day from 6 am to 6 pm. It's ฿30 for foreigners to enter.
Getting there
There are several ways to get up to Doi Suthep mountain. You can go on a small group tour, go via car or motorbike, take a red truck taxi, or hike the monk's trail.
If you have the time, hiking the monk's trail is a great way to go, as there are hidden Buddhist temples that you can only access via the trails. It takes about two hours to hike up.
You can get a ride back down in a red truck afterward, so you don't need to worry about making the trip both ways.
7. Dantewada Land of Angels Waterfall Park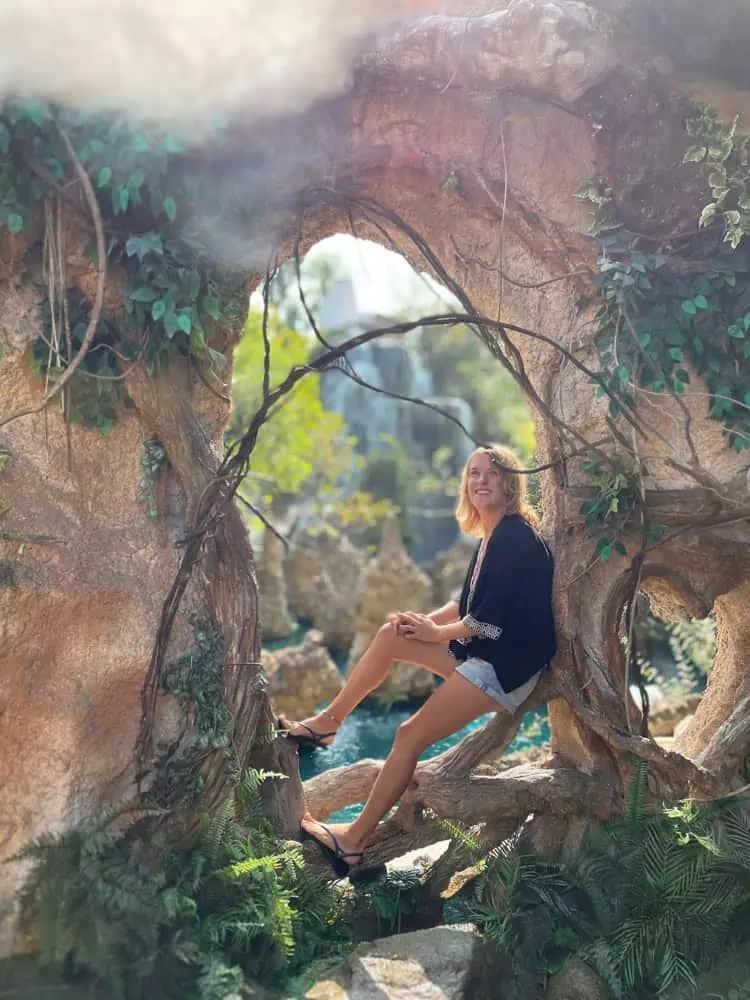 One of my most unexpected but favorite memories in Chiang Mai was visiting the Dantewada Land of Angels Waterfall Park, about an hour outside the city.
While the park is entirely artificial, it's a fantastic place to take photos as they have created a beautiful pathway with beautiful waterfalls and gardens flooded with natural lights.
But the best part about this park is that they have baby goats and baby rabbits you can cuddle and feed. If you need any serotonin, this is the place to go!
On the way back to Chiang Mai, a great place to stop for lunch is Elely Cafe, where you can cuddle excessive amounts of Dashaunds and even see some elephants while enjoying a delicious Pad Thai. This is a great day trip from Chiang Mai for animal lovers!
8. Cocoon Chiang Mai
If you're looking for a relaxing way to spend the day in Chiang Mai, head to Cocoon Sauna and Ice Bath, which is about half an hour outside the city. The easiest way to get there is by Grab.
It's such a nice way to spend the day, circulating between the outdoor pool, steam room, and ice bath. For extra relaxation, you can get a Thai massage.
They have a restaurant with great food, including vegetarian options, so you can easily spend a day here.
9. Queen Sirikit Botanic Gardens
About 45 minutes outside the city is one of the most beautiful gardens in all of Chiang Mai.
The Queen Sirikit botanical gardens are over 2,500 acres, showcasing a variety of native plant life, including some of Thailand's largest glasshouse complexes.
You'll get a map when you enter the park to navigate the gardens, and there are shuttle buses that go around the park.
One of the signature activities at the Queen Sirikit Botanic Garden is the canopy walk, a metal bridge that takes you through the trees of the jungle. If you're lucky, you might even see some monkeys!
Fun fact: The garden is named after Queen Sirikit, the former queen of Thailand, reigning from 1950 – 2016. If you visit the garden on Thai Mother's day, August 12th, there might be some special activities or free entry.
10. Mae Sa Waterfall
The Mae Sa waterfalls are a great day from Chiang Mai. They are near the botanical gardens, so you could combine the two into one trip.
Mae Sa refers to a series of ten waterfalls, all in Doi Suthep-Pui National Park. It's a great place to go hiking, and afterward, you can cool off in the waterfall pools.
It's best to go to the Mae Sa waterfall in the summer when the heat is in full swing. The waterfalls will still be beautiful in the winter but probably not feel as good if you want to go for a dip!
The Chiang Dao caves are one of Thailand's most famous cave systems, with huge stalagmites and stalactites that you can see as you walk through the numerous chambers and tunnels.
One of the best ways to explore the caves is on an adventure group tour. This full-day tour combines kayaking and caving, while this one includes a trip to stick waterfalls afterward.
Besides the long system of caves, you can find a gorgeous temple nearby — Wat Tham Chiang Dao. The monks there are very friendly and sometimes give blessed Buddhist amulets away for free!
Bua Tong, otherwise known as the Sticky Waterfall, is one of the most unique waterfalls in Chiang Mai. While they are located about an hour and a half away, the trip is well worth it.
This waterfall is unique because there are stepping rocks with a mineral deposit coating, which means you can walk up and down the waterfall easily. The stones have so much grip!
I visited the waterfalls with a group of digital nomads in Chiang Mai, and we had so much going up and down the falls, just hanging out in the flowing water.
The best way to get there is via red truck taxi if you have a large group or joining a group tour. Most tours combine the waterfalls with other activities nearby, which is a great way to explore the surrounding area.
Just 26 miles from Chiang Mai is Lamphun, and 46 miles from Lamphun is Lampang. These are two quaint, local cities you can visit in one day.
Lamphun is the capital city of the ancient Mon kingdom of Haripunchai. It's known for its old town center and the stunning Wat Phra That Hariphunchai temple. The oldest parts of the city date back to the 10th century, and you can walk through the ruins of the old city walls.
Another beautiful place to visit a little outside of Lamphun is The Terracotta Garden. This is a lovely garden to explore if you have time, and it has a café serving delicious pastries and drinks.
There's also a great night market on the main road in Lamphun every Friday from 17:00 to 23:00.
The trademark of Lampang is its horse-drawn carriage rides. You can find them all around the city or at the city's famous temple, Wat Phra That Lampang Luang.
The best way to visit these cities is on this day tour, which will take you to the most famous temples in each.
14. Chiang Mai Erotic Garden
The Chiang Mai Erotic Gardens are one of the most unique day trips you can take.
Located just outside of the city, this garden offers visitors the opportunity to explore a variety of sculptures, statues, and artwork depicting traditional Thai eroticism.
The grounds are open year-round and provide plenty of photo opportunities. Visitors can take photos with the sculptures and chat with the owners!
Discover more things to do in Chiang Mai
Final Thoughts: Day trips from Chiang Mai
From ancient temples and traditional Thai culture to natural wonders and outdoor adventures, a trip to Chiang Mai offers something for everyone.
Whether you're looking for a relaxing day at the spa or an adrenaline-filled adventure, you can find it on these day trips from Chiang Mai.