This post may contain affiliate links. By clicking and making a purchase through the links, I earn a small commission at no extra cost to you. See my disclaimer for more information. This and display ads allow me to keep the site up to date and give back.
Egypt never crossed my mind as a digital nomad destination until I spent some time living in Dahab last winter.
As I spent my days working in cafes by the red sea, learning to free dive, and enjoying delicious meals with like-minded friends, I wondered why more people didn't know about Dahab.
If you're considering moving to Dahab, here's what to know about this special place.
Where is Dahab?
Dahab, Egypt, is a small beach town on the southeast coast of the Sinai peninsula near Jordan and Saudi Arabia. The closest airport is Sharm El Sheikh, which is 85km/an hour's drive away.
I got a flight to Sharm El Sheikh from Milan, Italy for 20 euros, so it's pretty affordable to reach if you're coming from Europe.
If you're already in Egypt, it's well connected by bus. From Cairo, there are daily/nightly buses that take about 8 hours (it may be longer depending on the wait at the big checkpoint leaving the Sinai peninsula. You can book buses on GoBus or We Bus.
If you're in Jordan or Israel, you can also get here by boat across the Aqaba sea. The boat leaves from Nuweiba, which is about an hour from Dahab.
Why live in Dahab?
Spectacular Diving
Once just a dusty road, Dahab has grown in popularity thanks to the incredible scuba diving opportunities.
It's home to some of the most pristine coral reefs in the world, with many of Egypt's most spectacular scuba dive spots. There are over 30 dive sites around Dahab, but the most famous is the blue hole. While the marine life here isn't that impressive; the corals make up for it.
It's one of the most popular destinations among free divers and is a great spot to learn the sport. Once you've taken a freediving course, you'll have a large community of freedivers to practice with.
The landscapes though
I don't think I could ever get sick of look at the sea with the Sinai mountains as the backdrop. There's just something about the scenery in Dahab that instantly makes you feel at peace. Assalah beach is a great place to hang out and take in the scenery.
Outdoor adventure
It's not just water sports – Dahab is an ideal place for all kinds of adventure sports, including rock climbing and hiking in the nearby mountains.
If you want to get away from it all – you can head to Ras Abu Galum or the Blue Lagoon for an overnight stay.
It's just a vibe
Dahab has this laid-back bohemian vibe that instantly makes you feel distressed. Most people bike everywhere, which I love.
I found it easy to make friends here with the locals, which is not something you'll experience in every country. There are also plenty of international people here, mostly divers. Within a few days, you'll start recognizing people on the streets, making Dahab quickly feel like home.
While drinking is not a big part of the culture in Egypt, Dahab had some fantastic parties. I really didn't expect to be partying in Egypt, but I went to some of the most fun villa parties of my year here. Yalla bar is always a good time if you're looking for a place to drink in town.
Lastly, the dress code here is much more relaxed than in the rest of Egypt. Most people in Dahab roam around in swimsuits, flip-flops, and cover-ups.
Cafes and restaurants
If you love to work out of cafes, then you'll love Dahab. The road along the ocean is lined with colorful cafes and restaurants where you can sit and enjoy a beautiful ocean view with good coffee.
As long as you buy some food or drinks, you can leave your stuff in the cafe while taking a dip in the ocean.
Being by the sea, you can get some fantastic fresh seafood here. It's not just Egyptian food either – Dahab has a fantastic selection of diverse cuisines from Italian to Russian. There's even a German bakery here.
Animals everywhere
Cats and dogs rule the town, and you'll most likely have a furry companion in any cafe you visit.
It's similar to Istanbul, in that the community looks after all of the dogs, so they are well taken care of and always up for a cuddle.
Cost of living in Dahab
Dahab is one of the most affordable destinations to live as a digital nomad.
While there, I got free accommodation by housesitting. But if you're renting a 1-bedroom apartment, you can expect to pay 5000-10000 Egyptian pounds (200-370 USD) depending on how close you are to the beach.
You can always get better rates in person, so I recommend booking a place online for just a few nights and looking on the ground.
I ate out almost every meal which cost anywhere from 1-5 USD per meal for a plate of good food. I actually found it more expensive to buy groceries!
You can walk or bike almost everywhere in Dahab, which keeps transportation costs low.
The prices of mobile phone plans and internet access are among the lowest in the world.
What can make your time in Dahab more expensive is if you do a lot of water activities, but even those are a bargain compared to other places.
A dive around the area costs about 30 USD, and a freediving course is 250. However, once you learn, the sea is free to practice in.
Nomadlist lists the average cost of living in Dahab at 1,175 USD/month, while Living Cost estimates the monthly cost for a single person ar $468/month, noting it's in the 8% of least expensive cities in the world.
I would say it's somewhere in the middle of that on average. Dahab is definitely a place you can get by living for less than 1000/month.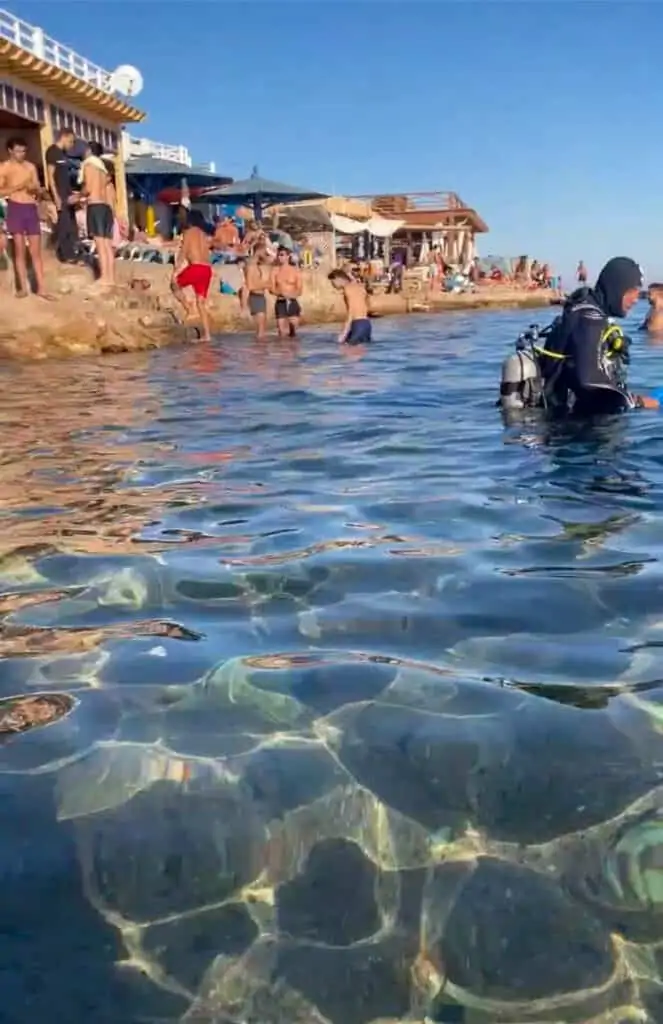 Dahab digital nomad community
The digital nomad community isn't as large as other popular destinations like Chiang Mai or Tenerife, but there is a small one. I hung out with a mix of foreigners and locals, which was refreshing.
One thing I loved about Dahab (and Egypt in general) was how friendly the locals were. And not just friendly in a surface-level kind of way. I loved spending time with the locals I met here!
Connect with more remote workers in Dahab through these Facebook groups:
Internet in Dahab
One of the downsides of being a digital nomad in Dahab is that the internet can be somewhat unreliable. When looking for an apartment, make sure to find a place with a reliable internet connection (they do exist).
Still, it's best to get a 4G SIM card to use as a backup or if you're working somewhere without WiFi. Egypt has some of the lowest data rates in the world, so this won't add a lot to your budget.
Most cafes in Dahab do have WiFi that works well; it's just that sometimes there can be cuts, so it's always good to have a backup.
The major telecom networks are Vodafone, Orange, and Etisalat, which all have stores in Dahab.
You can pick up a SIM at the Sharm El Sheikh airport, but just buy a bit of data and go to the store on the main road in Dahab to recharge it as it's cheaper.
Best coworking space and cafes in Dahab
Mojo Co-work Cafe is the only coworking space in Dahab, but I didn't love it. The cost to work there around the same as eating out, so I'd much rather go to one of the many cafes. I also found the room stuffy, and the internet wasn't any better than in the cafes.
Here are some cafes I loved working from in Dahab:
TIM's Munch: They have an upstairs terrace overlooking the sea, great food, and don't mind you working for hours. There's also usually a dog there. It's located above the H20 dive center, one of Dahab's best dive shops.
EEL Garden View: Some of the best Wifi I found in Dahab, with great food and an ocean view.
Best area to live in Dahab
Dahab is a small town, and the best areas to live are all within walking/biking distance of each other. El Mamsha, Assala, and lighthouse are some of the most popular places to live around the city center.
I biked or walked everywhere and didn't spend any money on additional transportation aside from taxis from the airport and day tours.
I lived in the Lighthouse area, which is the heart of the city and offers everything a digital nomad could need in Dahab.
Unlike Sharm El Sheik, you won't find many big resorts in Dahab, and that's all part of the appeal. Instead, you'll find locally owned hotels and guesthouses.
When you first move to Dahab, book a guesthouse or Airbnb for your first few days to get a feel of the different areas while you're looking for an apartment.
Places like Dolphin Camp offer affordable accommodations, including private rooms. Many remote workers stay in a camp or hotel during their stay because it is so cheap. You can usually get better rates negotiating in person.
You can also look for apartments before on Dahab accommodation.
Egypt Visa Requirements
Foreigners from Canada, the U.S., and most European countries can get a 30-day tourist visa on arrival at the airport for $25, which you can extend for up to 4 months at the embassy in Sharm or Cairo.
There's also a free 15-day visa for the Sinai region available if you arrive at Sharm El-Sheikh airport, but this doesn't extend to the rest of Egypt and gives you less time.
I was in Egypt for six weeks, and all my friends told me not to bother extending my visa and to just pay the penalty when I left as it would cost less than extending.
In the end, I overstayed my visa by two weeks, and nothing happened when I left the airport. Just sharing my experience – this is not legal advice!
If you want to stay past 30 days, head to the visa office in Naqb outside of Sharm el Sheikh. It's 600 EGP for a taxi, but you can usually find someone to split the cost. The whole process takes about two days, so it makes sense to spend the night there.
Travel insurance for Dahab
While living anywhere abroad, it's important to keep yourself protected with medical insurance.
I use and love SafetyWing, an insurance provider for digital nomads that covers almost the entire world, including Egypt. It also covers adventure sports like diving!
When is the best time to live in Dahab?
Dahab gets extremely hot during the summer season (June to September), so I'd avoid this time unless you have a high tolerance for heat.
The best time to visit and live in Dahab is during the shoulder(spring season) when the temperatures are mild and pleasant.
I was living in Egypt in February/March, and the temperatures were lovely. It was warm enough to swim in Dahab during the day, but I wasn't swelteringly hot.
It was also the perfect time to visit places in the south of Egypt, like Luxor and Aswan, which become unbearable in the hottest months.
Is living in Dahab safe?
I felt extremely safe in Dahab, despite being nervous about traveling to Egypt as a solo female traveler before getting there.
However, it was Dahab that put all my concerns to rest. I immediately felt welcomed into the community here and never had any encounters that made me feel uncomfortable.
Compared to Cairo and Luxor, locals in Dahab are much more relaxed and aren't trying to scam or push you into buying anything.
I parked my bike everywhere around Dahab without locking it (no one does), and it was never taken. If I left my bike alone for 5 minutes living in Toronto, it would be gone.
Things to do in Dahab
The best things to do in Dahab revolve around the sea. Scuba diving, kite surfing, and snorkeling are great ways to pass the time after work.
Hiking Mount Sinai is a must. You can book a tour from town, but check the weather before. I managed to do it on the one day a year it snows in Egypt, which was a unique experience, to say the least.
Going out to the Sinai desert is always a beautiful experience. The colorful canyons are awe-inspiring to see, and many people go rock climbing out in the mountains.
Bedouin dinners in the mountains are another special experience to have in Dahab. I had many campfire dinners with local Bedouins during my time in Egypt, and it was always memorable.
—
Dahab is an ideal place to save some money while enjoying a fantastic lifestyle living by the sea. I had a great experience here and would happily return.